Thoughts of camping chairs may conjure up images of $15 specials out front a big box retailer, but let's reorient ourselves to a slightly higher standard. We expect a proper camping chair to not only fold up for easy transport, but to be comfortable, supportive, and made to last—even in rough and tumble weather. All of our top picks for 2016 have these qualities in spades. But let's be clear: there is no single "best" camp chair for everyone. How it will be used dictates the category: hiking and backpacking, camping or everyday use (this grouping includes anything from beach days to outdoor concerts). We cover these distinctions along with other important camping chair features in our comparison table and buying advice below the picks.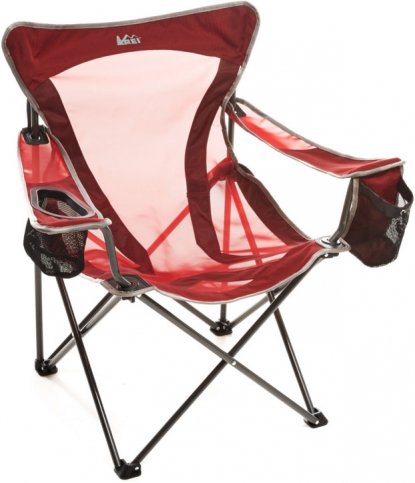 Category: Camping and everyday use
Weight: 7 lbs. 3 oz.
Packed size: 7 x 33 in.
Seat back height: 31 in.
What we like: Breathable and quick dry fabrics, quality construction.
What we don't: Back height is a touch short for our tastes.
From base camping to the beach, the REI Camp X Chair is as well-rounded of a camp chair as they come. Folding chairs for casual outdoor use don't necessarily have to be light—and at 7+ pounds it's not a featherweight—but this chair best balances features, comfort and durability while remaining easy to carry. The mesh fabric doesn't sag and is plenty tough—we've experienced absolutely zero durability issues after years of use—and breathes far better than chairs with solid fabrics in warm weather. Should the chair get wet, it also dries extremely quickly—something the thick fabrics in the Quad Chair and King Kong below fail to do nearly as well. Value usually is an REI strong suit, but the Coleman below, which lingers in the low $20s on Amazon, is a better deal at half the price of Camp X. But our REI chairs don't have a lick of rust on them with exactly zero maintenance and are just as functional as their first use. We take that as a convincing sign of a great camp chair.
See the REI Camp X
Category: Camping and everyday use
Weight: 9 lbs. 14 oz.
Packed size: 6 x 6.5 x 38.2 in.
Seat back height: 40.5 in.
What we like: Cheap, comfy, drink cooler.
What we don't: Steel can rust over time.
The popular Coleman Quad checks off all necessary boxes that make up a quality camp chair: its padded seat and seat back are comfortable, there's a tall back and roomy bottom for easy lounging, and it's simple to fold up and carry. If you've been tempted by cheapy $15 camp chairs, trust us, the additional money it costs to get the Coleman will be worth it. The steel frame and burly fabric will outlast its flimsy competition by years. And who can argue with a built-in cooler? Throwing in an ice pack will reduce the 4-can storage space but will keep beverages cool enough to be ready when called upon. Complaints? At the price, you can't expect top-notch materials and the steel frame will start to rust if you don't take good care of it. But this chair outperforms its price tag, falling only a little short overall in comfort to the more expensive King Kong and Camp X from REI.
See the Coleman Quad Chair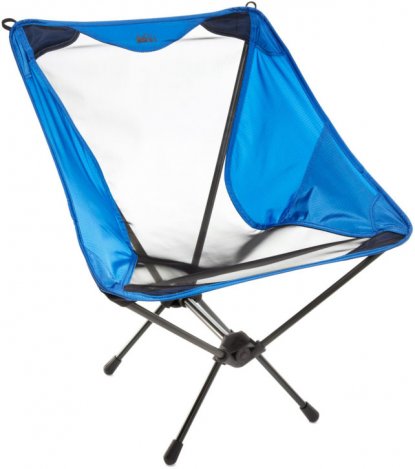 Category: Backpacking, camping
Weight: 1 lb. 10 oz.
Packed size: 4.5 x 15 in.
Seat back height: 26 in.
What we like: Lightweight, compact and a good value for a backpacking chair.
What we don't: Limited back support.
There are a few inherent compromises in opting for a lightweight and packable chair, including features (say goodbye to a cup holder), the height of the seat bottom and all-around back and neck support. That said, the REI Flex Lite is a sub-2-pound solution to getting you off the ground no matter where your travels take you. An 11-inch seat height is tall enough for most, although the 2-inch taller Treo below is that much easier to get in and out of. For the backpacking models, we give the slight edge in overall comfort to the Therm-a-Rest and Helinox chairs below, but the REI is the clear winner in value, undercutting them by $20 or more. For the price, weight, packed size, and a chair that is still pretty darn comfy and can go anywhere, the REI Flex Lite gets the edge.
See the REI Flex Lite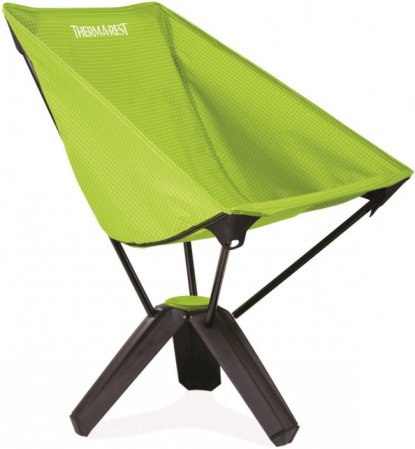 Category: Backpacking, camping
Weight: 2 lbs. 4 oz.
Packed size: 4 x 10 in.
Seat back height: 27 in.
What we like: Tall seat height for a backpacking model, small packed size.
What we don't: Heavy for its intended use.
Backpacking sleeping pad aficionado Therm-a-Rest dipped its toes into the camping chair world with the Treo, a packable backcountry seat with a tripod base. The benefit of its plastic feet is that the legs fold closed into a burrito shape, and the entire seat and structure fit inside. For this, Therm-a-Rest gets high marks. Measuring 4 x 10 inches, it has the smallest packed size on the list by a good margin. However, the tough plastic legs do add some weight compared with its aluminum legged competition: a notable extra 6 to 10 ounces to its primary lightweight competition. For 2016, Therm-a-Rest has added a 4-legged version, the $120 Quadra. It's more stable, but adds precious ounces, which is why we still prefer the Treo between the two chairs.
See the Therm-a-Rest Treo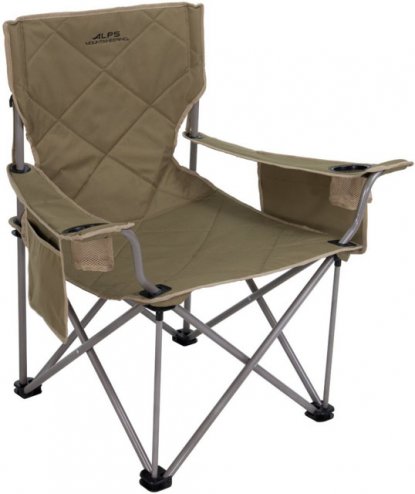 Category: Camping and everyday use
Weight: 13 lbs.
Packed size: 7 x 41 in.
Seat back height: 38 in.
What we like: Padded, comfortable elegance.
What we don't: Overkill for the average camper.
We can't think of a better name for this chair from Alps Mountaineering than the King Kong. For one, it's the largest and most padded chair on this list. Our assumption is that the listed 800-pound limit was more a result of building a burly chair rather than a target number they set out to hit. That said, it's 2 to 3 times the weight capacity of the competition, and feels it, with fabric that is taut and supportive. But all of this does beg the question: is it necessary? Don't get us wrong, it's a supremely comfortable and large chair that definitely has its appeals, but we'd rather save a few bucks and go with the Coleman or REI for our casual camping needs.
See the Alps Mountaineering King Kong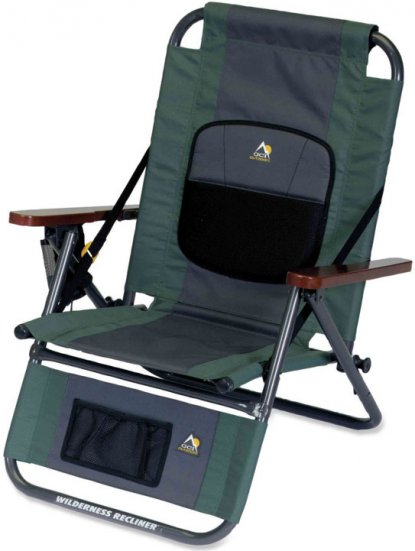 Category: Camping and everyday use
Weight: 7 lbs. 8 oz.
Packed size: 4.25 x 25.72 x 28.5 in.
Seat back height: 30.3 in.
What we like: Reclining back function works seamlessly.
What we don't: You pay a pretty penny for the features.
A long-time camping favorite, the GCI Outdoor Wilderness recliner is a feature-rich but spendy option. The reclining function is Wilderness' calling card, and the strap adjustment system works well, moving the back of the chair up and down. Keep in mind that it's only the back that reclines—there isn't a deployable footrest.
What are the downsides of this chair? If you won't be using the recliner, we recommend more affordable options like the Camp X or King Kong above, both of which offer similarly strong builds and comfort levels. And while a 30.3-inch seat back height makes it pack smaller and weigh less, the support unfortunately ends towards the top of the middle of the back.
See the GCI Outdoor Wilderness Recliner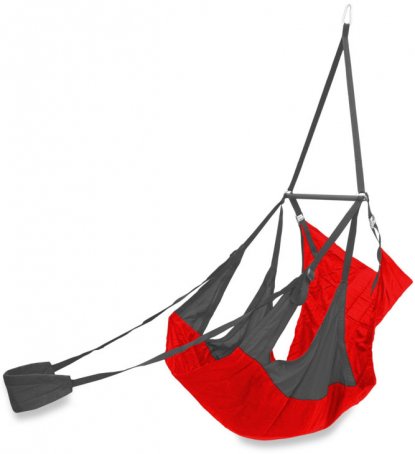 Category: Backpacking, camping, everyday use
Weight: 1 lb. 13 oz.
Packed size: 7 x 22.5 in.
Seat back height: n/a
What we like: Hammock-like comfort.
What we don't: Limitations on where you can set it up.
Better known for their line of backcountry hammocks, Eno's inventive Air Pod hanging chair is a fun alternative to traditional camp furniture. The Air Pod works a lot like a hammock but attaches from a single point above your head. There's a simple brilliance to the design, with the only real structure being a short section of aluminum. Comfort is top notch with the attached footrest.
Naturally, there are a few limitations in this hanging style. You need something formidable to hang from, which isn't always a guarantee on a hike or at a campsite. And while the weight is acceptable for backpacking, the packed size is a bit much for an item that may or may not be used. But Eno gets major points for a cool product (literally, as air flows nicely through the ripstop nylon) that's extremely comfortable on any trek into the woods.
See the Eno Air Pod Hanging Chair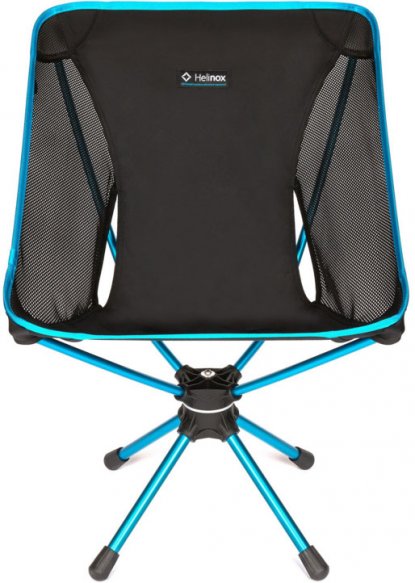 Category: Backpacking, glamping, everyday use
Weight: 2 lbs. 8 oz.
Packed size: 5.5 x 16.5 in.
Seat back height: 28.3 in.
What we like: Swivel function is convenient, stable construction.
What we don't: Pushing the weight limit for backpacking use.
As camp chairs get more and more comfortable, it's only logical they start to mimic the features we enjoy at home. Helinox is taking a stab at the lightweight swivel chair, and with a stable, 4-legged platform, it's a great product. As with all Helinox gear, it's comfortable and very supportive for its diminutive size, but also comes with an astronomical price tag. Avoid giving it a test sit if you want to save those extra dollars.
Alternatively, Helinox does make a traditional portable model, the Chair One, which, to our eye, inspired design of the REI Flex Lite. Their frame and leg designs are quite similar, and while the Helinox is the more comfortable option, the REI undercuts it in price by over 40%--enough to supplant it on the list.
See the Helinox Swivel Chair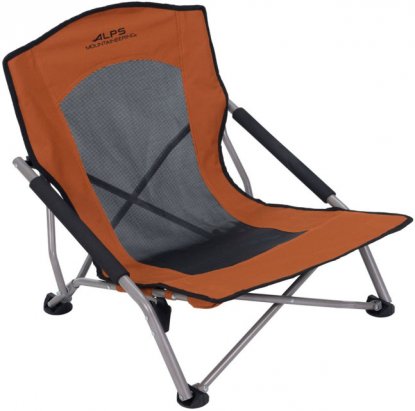 Category: Camping, everyday use
Weight: 6 lbs. 13 oz.
Packed size: 8 x 28 in.
Seat back height: 24 in.
What we like: Our favorite low slung model.
What we don't: Unless you need a low chair, there are more comfortable options.
Chairs with a low seat height like the Alps Mountaineering Rendezvous excel in places where it's required, like an outdoor concert, or for times when it's best to be low to the ground, like a beach. Of these chair types, the Rendezvous is a standout in terms of comfort—the chair sits at a recline to stretch out your legs—and material quality. At a campsite, we find it low and not as comfortable overall as an upright model, and we do miss not having a cup holder. The 600-denier fabric and a powder coated steel frame is borderline overbuilt for its use, but other than costing a little more, we sure won't complain about a tough construction. The Rendezvous is a great long-term purchase for certain uses.
See the Alps Mountaineering Rendezvous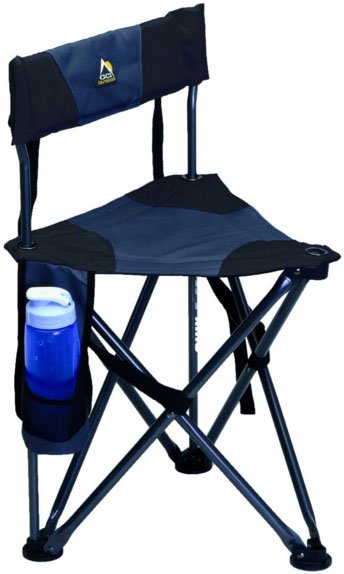 Category: Camping, everyday use
Weight: 4 lbs. 4 oz.
Packed size: 4.7 x 5.5 x 26.8 in.
Seat back height: 27.4 in.
What we like: Simple, on-the-go seating.
What we don't: Too heavy to backpack with but not all that comfortable.
Despite having a name made for an infomercial, the Quik-E-Seat delivers on its claims and with surprising durability. Calling it a chair is a bit of a stretch: it's more a strong stool with a minimalist back. Beyond the well-built steel frame, you do get a few creature comforts. The cup holder is more of a holster attached to the side of the frame, but it's there and functional. It's also inexpensive. Our biggest issue is the chair is that it's caught in the middle of categories, not fully satisfying any of them. It's too heavy for backpacking and lacks the comfort for hanging around a campfire or watching a show. Its easy folding design and reasonable weight are redeeming qualities, making it a nice option for when you need a place to sit for a short time.
See the GCI Outdoor Quik-E-Seat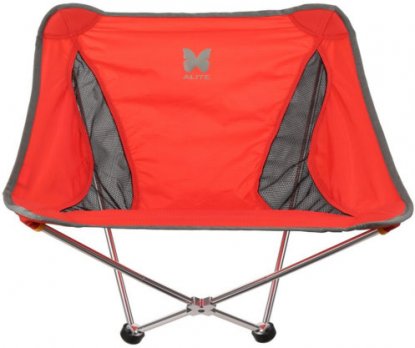 Category: Backpacking, camping
Weight: 1 lb. 4.8 oz.
Packed size: 4.5 x 12 in.
Seat back height: 23 in.
What we like: Superlight, fun to use.
What we don't: Always having to balance.
When it was released in 2009, the Alite Monarch was an instant hit. Here was a 21-ounce chair that could be folded up into about the size of a 1-liter bottle. The caveat was the two-legged structure meant you'd have to balance with your feet to keep it upright, but it became popular not just for lightweight seekers, but for a trip to the park because it's pretty darn fun to rock back and forth on its legs. The rocking style can be a love it or hate it kind of deal, depending on how you'll use it. And in part because always having to balance can be a distraction around camp, the Monarch has lost its spot as the top backpacking model, but remains a great chair nonetheless. It's also the most affordable backpacking-ready option, even undercutting the REI Flex Lite by a few bucks.
See the Alite Monarch
Camping Chair Comparison Table
| Chair | Price | Weight | Packed Size | Opened Size | Seat Height | Best Use |
| --- | --- | --- | --- | --- | --- | --- |
| REI Camp X | $39.50 | 7 lbs. 3 oz. | 7 x 33 in. | 20 x 31.25 x 31 in. | 15 in. | Camping and everyday use |
| Coleman Quad Chair | $30 | 9 lbs. 14 oz. | 6 x 6.5 x 38.2 in. | 24 x 37 x 40.5 in. | 18 in. | Camping and everyday use |
| REI Flex Lite | $79.50 | 1 lb. 10 oz. | 4.5 x 15 in. | 20 x 20 x 26 in. | 11 in. | Backpacking, camping |
| Therm-a-Rest Treo | $100 | 2 lbs. 4 oz. | 4 x 10 in. | 20 x 22 x 27 in. | 13 in. | Backpacking, camping |
| Alps Mountaineering King Kong | $50 | 13 lbs. | 7 x 41 in. | 20 x 38 x 38 in. | 18 in. | Camping and everyday use |
| GCI Outdoor Wilderness Recliner | $60 | 7 lbs. 8 oz. | 4.25 x 25.72 x 28.5 in. | 26 x 27 x 32 in. | 12 in. | Camping and everyday use |
| Eno Air Pod Hanging Chair | $100 | 1 lb. 13 oz. | 7 x 22.5 in. | n/a | varies | Backpacking, camping, everyday use |
| Helinox Swivel Chair | $150 | 2 lbs. 8 oz. | 5.5 x 16.5 in. | 21 x 20 x 28.3 in. | 15.5 in. | Backpacking, glamping, everyday use |
| Alps Mountaineering Rendezvous | $45 | 6 lbs. 13 oz. | 8 x 28 in. | 14 x 20 x 24 in. | 6 in. | Camping, everyday use |
| GCI Outdoor Quik-E-Seat | $30 | 4 lbs. 4 oz. | 4.7 x 5.5 x 26.8 in. | 14 x 18 x 27.4 in. | 17.3 in. | Camping, everyday use |
| Alite Monarch | $70 | 1 lb. 4.8 oz. | 4.5 x 12 in. | 17 x 21.5 x 23 in. | 7 in. | Backpacking, camping |


Buying Advice
Categories: Camping, Hiking & Backpacking, and Everyday Use
The term "camp chair" encompasses just about any type of chair that can be folded up, squeezed into a car, and carried to your final destination, so your first order of business is narrowing it to your intended use. True camping chairs—provided you have the space in your car—can be large and luxurious. They have taller backs, are farther off the ground, and have the best support. More, they have the most features, from cup holders to storage pockets.
When you'll be hauling the chair on a backpacking or hiking trip, weight and packed size take precedence over comfort. All dimensions of these chairs shrink dramatically, the fabrics and frames become a whole lot thinner, and they'll pack down small enough to strap to the outside of—or sometimes even squeeze inside—a backpack. The compromises make them less than ideal for around town or camping use, but if you're only wanting one chair for all uses, you need to choose a lightweight option like the REI Flex Lite.
Everyday camp chairs cover just about anything you can think of: visits to the beach, back yard relaxing, or outdoor concerts. An everyday chair crosses over quite a bit with the traditional camp chair category, but is differentiated with a lighter overall weight and occasionally a lower seat back height to meet restrictions at outdoor concerts (more on this in the seat back section below). They're too heavy to take hiking, but reward you with an improvement in all-around comfort and support. Examples of an everyday chair include the low-slung Alps Mountaineering Rendezvous and GCI Wilderness Recliner.
Build Quality: Seat Fabric and Frame Construction
We've found that overall build quality correlates with price, but it's slightly more nuanced than that. A budget camping chair like the Coleman Oversize Quad, which has no business on a backpacking trip, is durable and reliable because Coleman didn't have to worry about keeping weight down. It can withstand a whole lot more abuse when compared with a lightweight model like the Therm-a-Rest Treo. Backpacking chairs cost more because they require thin but strong frame materials, like aluminum, which is more expensive than thick steel. That said, the build quality of the Coleman is still lower than the similarly designed REI Camp X or overbuilt Alps Mountaineering King Kong.
It's more than simply the frame and rivets: seat fabric quality also improves with price. Cheap camp chairs are notorious for seat fabrics that sag over time, seams that fray, and mesh that develops holes. All of the models that made our list generally avoid these maladies and are designed to perform well for years. True, we'd expect the cheaper Coleman to start to fail before the King Kong or GCI Wilderness, but they cost 2x as much and may not last you 2x as long.
Weight and Folded Dimensions
The question isn't if the camp chair folds but how it folds. Some fold flat—and the GCI chairs do so by pulling up as you naturally would on the carry strap. The advantage is the folded dimension is pretty thin (around 4 to 6 inches), but it takes up a very significant 30 x 30 inch square in your car. Carrying it on your back can also be cumbersome, which is why these chairs sometimes come with backpack style straps. The more popular style folds inwards, like the REI Camp X, and ends up a torpedo shape that you can slide into a carry bag. The smaller, more manageable dimensions make these chairs easier to carry.
While few people fret over the weight and packed size of a camping chair, backpacking-ready chairs are a lesson in creative packaging. The Treo, Flex Lite and Monarch all pack down to extremely small dimensions, with the disadvantage being you have to reassemble the chairs each time. None of the styles take all that long to set up, but it is a small sacrifice in time that you make with the portable chair style. For us, we try and keep our packable chairs under or around 2 pounds to minimize their impact on our pack weight. Bringing along a chair is already outside of the typical realm of "essentials," but 2 pounds is something worth swinging for a short weekend trek.
Seat Height
Seat height is simply a measurement from the ground to the bottom of the seat. For those that frequent concerts or sporting events and don't want to bother folks behind them, a low seat height is important. That said, a low seat height means a less comfortable position for your legs and more effort for getting in and out. If you're needing to stay low, a chair that's 5 to 9 inches off the ground is best, with the lower options obviously the safer choice for a concert venue.
The taller the chair the more natural the seating position for most folks, and chairs like the King Kong and Coleman Oversized Quad are standouts in terms of a tall seating height. In fact, at 18 inches they're downright throne-like. We've found the most comfortable chairs have a seat height starting around 15 inches. This is another area where backpacking chairs have to compromise—most range from 9 to 13 inches. No matter their height, just remember: it sure beats sitting on dirt.
Seat Back Height
As with seat height, seat back height is a consideration for concerts. But for general use, it's also a great indicator of back and neck support. We've listed the seat back height in our specifications for each model to help compare models. Backpacking chairs aren't known for providing great support of your back. They're too small and focused on trimming weight to cover much more than the top of your lumbar. That said, there are some points of differentiation: the 27-inch Therm-a-Rest Treo holds you in place nicely, while the 23-inch Alite Monarch falls short.
Storage: Cup Holders and Pockets
Camp chairs are not feature-rich items, but storage is one area where a few thoughtful extras can be really handy. Let's start with beverages. Cup holders are a must for a chair that'll be used for camping—ground-based beverage storage is a major camping faux pas and just plain silly. Some of the larger models include side mesh pockets, which are great for items you need close at hand or want tucked away, including keeping your stuff in place on a windy beach day. Backpacking models eschew most if not all of these features. And the reason is rather obvious: there's little need for them when precious ounces matter. But if you don't have to haul your chair very far, we recommend making storage a priority.
Learn More About Camping Gear