Boots may be the most important piece of ski gear you own. Nothing ruins a good powder day faster than cold or painful feet, and ill-fitting boots also run the risk of not properly transferring energy to your skis and thereby harming your performance. Amid this doom and gloom, however, is the welcome news that ski boots have never been more foot-friendly than they are today. Most new boots have customizable liners and some even come with heat-customizable shells. Below are our picks for the best downhill ski boots of 2015-2016, broken into categories of skiing type and ability (which corresponds with how much the boot flexes). For more background on downhill ski boots, see our buying advice below the picks.
Intermediate Downhill Ski Boots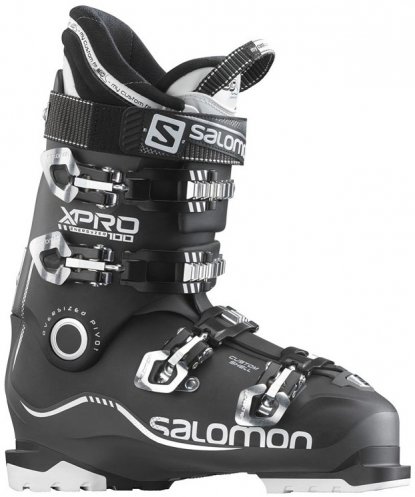 Last: 100 mm (medium width)
Flex: 100
What we like: Awesome heat moldable shell.
What we don't: Those that require maximum stiffness should look elsewhere.
Women's version: Salomon X Pro 80 W
There have been a number of recent innovations in ski boot design, but outside of advances in safety, a head moldable shell tops the list for us. It delivers 90% of the fit and comfort that used to require a big money bootfitter, and all that's needed is a ski shop with an oven. The highly customizable shell found in Salomon's X Pro 100 is one of our favorites. Referred to as a 360-degree custom boot, every part of the shell that is black in color can be heated and manipulated for a tailored fit. The boot itself has a downhill focus and has been lauded for its support and smooth forward flex. Advanced or powerful downhillers may want to look into the upgraded 120 or 130 flex models, but we think the mid-range X Pro 100 is a great choice for intermediate skiers that spend more of their time carving the groomers.
See the Salomon X Pro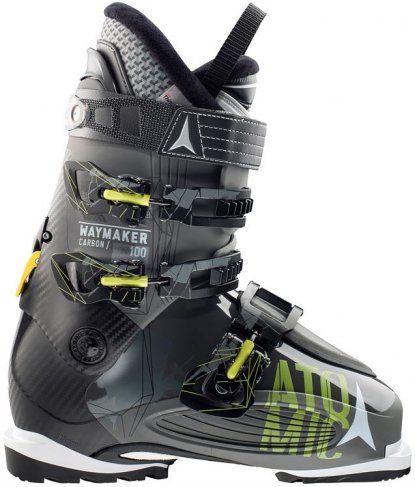 Last: 101 mm (medium width)
Flex: 100
What we like: Strong but lightweight enough for sidecountry use.
What we don't: Not a great fit for narrow feet.
Women's version: Atomic Waymaker Carbon 80
Incorporating advanced materials in an affordable package, the Atomic Waymaker Carbon 100 hits a nice balance for aspiring advanced-level skiers. The Waymaker has a tight heel pocket for those that struggle with heel retention, but is moderately wide in the toebox with a 101mm last. In addition, it has a unique zone of stretchable material built into the shell where lots of people have "sixth toe" issues, which basically negates the need to have a bootfitter stretch the shell manually. The Waymaker feels like it flexes softer than its 100 rating, but that's not necessarily a bad thing. A walk/tour mode gives it 35 degrees of movement: just enough for skiers who primarily ski in the resort, but who want to tour to the goods beyond the ropes every once in a while.
See the Atomic Waymaker
Last: 100 mm (medium width)
Flex: 90
What we like: Great range of motion.
What we don't: No 4th buckle for maximum hold.
Women's version: Tecnica Cochise 85
Prized by bootfitters for being both comfortable and customizable, the Tecnica Cochise is a great value at under $500. A medium-stiff boot with a flex rating of 90, it's designed to be used both in-bounds and the backcountry. Indeed, the Cochise has a walk/tour mode and comes with both standard alpine soles and swappable tech binding soles. A beefy powerstrap functions as the fourth buckle up top, a feature intended for added mobility when touring. Sacrificing the top buckle means top-end power transfer suffers when bombing down the hill, but for intermediate skiers that will appreciate the added mobility, the Cochise is light, fun and versatile.
See the Tecnica Cochise
Advanced/Expert Downhill Ski Boots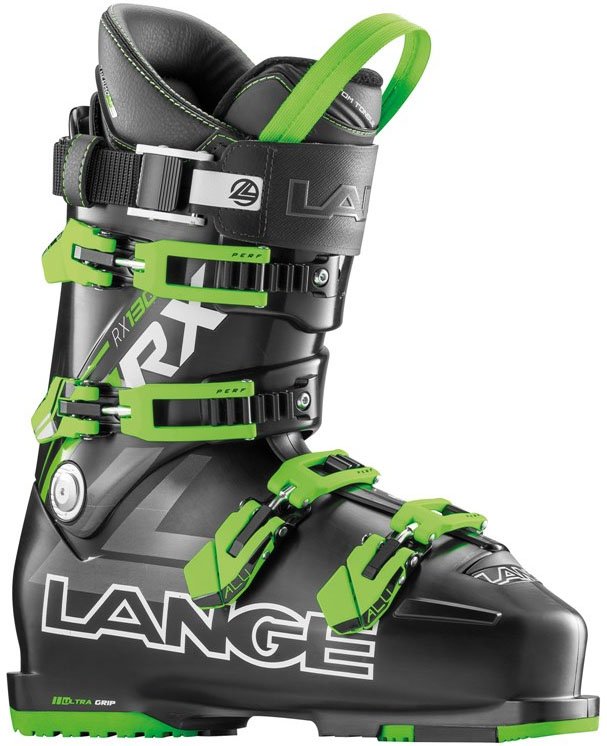 Last: 97 or 100 mm (narrow or medium width)
Flex: 130
What we like: Successful all-mountain adaptation of a downhill racing boot.
What we don't: Steep price tag.
Women's version: Lange RX 110
Dating all the way back to its origins in the 1940s, Lange has been an innovator in ski boot design. Among their "firsts" is the first women's specific ski boot and the first incorporation of metal buckles into a plastic boot. For the 2015-2016 season, Lange has released a stellar follow up to the all-mountain RX line. Inspired by their race-bred RS boots, which is evident in the burly 4 buckles and cam locking power strap, the RX is a supremely aggressive boot that responds precisely to small inputs. It's a boot that will make demanding skiers quite happy, from former racers to teenage wunderkinds and everything in between. The RX adds all-mountain flair to all of this downhill performance with a decent hike mode and swappable soles. It's the full meal deal for those that can afford the $700 price tag.
See the Lange RX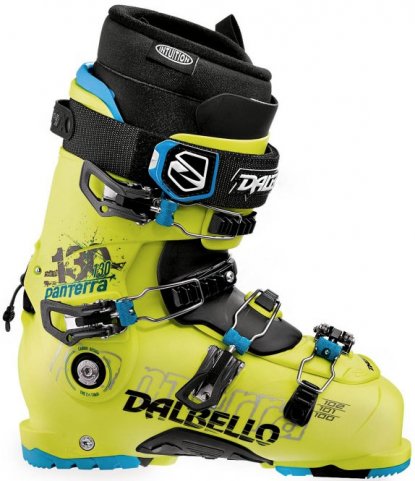 Last: 100-102 mm (variable fit and medium width)
Flex: 130
What we like: Supremely supportive with a comfy liner.
What we don't: Fit technology isn't a universal fix.
Women's version: Dalbello Kyra 95 I.D.
A great boot for skiers that cover all of the mountain, the Panterra is made with a slick 3-piece shell. The lower portion is super stiff for superior power transfer and a slightly more forgiving upper flexes smoothly when you tuck it and go. The upgraded I.D. liners are a real treat: comfortable, light and resistant to packing out, they land in that ideal space of warmth and support. Should you not have the option or not want to spring for a bootfitter, the liner and shell are designed to give a custom fit without any of the after-the-purchase work. Contour 4 Technology means the low-volume performance liner is given a little extra breathing space between liner and shell around the toes, and heel and bend in the foot and ankle. The result for most folks with normal sized feet is a snug fit that doesn't pinch at the usual pain points. And at $600, it undercuts some of the competition quite nicely.
See the Dalbello Panterra
Last: 100 mm (medium width)
Flex: 120
What we like: High volume fit for performance-oriented skiers.
What we don't: Logically is limiting for narrow feet.
Women's version: Atomic Hawx 90
Proudly declaring the Hawx the most popular ski boot for medium-width feet, the Atomic Hawx 2.0 is a successful encore to the original. The big deal with this boot is the high volume fit that dishes out serious performance. It does the little things nicely with an adjustable forward lean that can be tailored to your angle preferences, a strong 4-buckle design, and replaceable soles should you take a short hike to find that elusive powder stash. Those looking for a regular fit boot may be better served with the Dalbello or Lange above, but if you're a hardcharger that just can't find a boot that keeps the blood flowing to every toe, the Hawx 2.0 may well be your ticket to comfort.
See the Atomic Hawx
Budget Or Beginner Downhill Ski Boots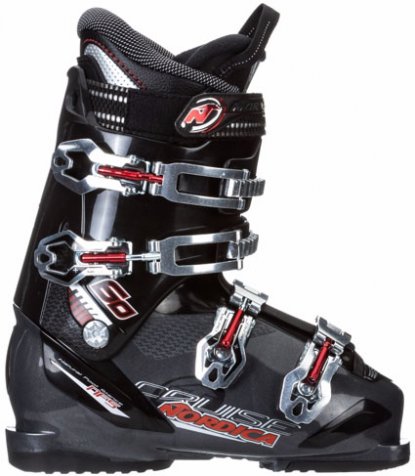 Last: 104 mm (wide width)
Flex: 60
What we like: Flexible, comfortable, and cheap.
What we don't: Aggressive skiers or those looking to maximize performance will be sorely disappointed.
Women's version: Nordica Cruise 55
Not everyone requires a rigid boot that's been designed to extract every last ounce of performance. Some folks just want to head to the slopes and cruise down their favorite blue run time and again, hence the aptly named Nordica Cruise 60. With a roomy 104 mm last and super forgiving flex, it's about as comfortable as any skiing experience out there. This combination of flex and cush is a great way to get a reluctant beginner into the sport. We don't recommend these boots, however, for anyone that loves carving down the hill. Even beginners that are planning to spend a lot of time on the mountain may want to upgrade to a boot like the Tecnica Cochise 90 so they don't outgrow its limited capabilities.
See the Nordica Cruise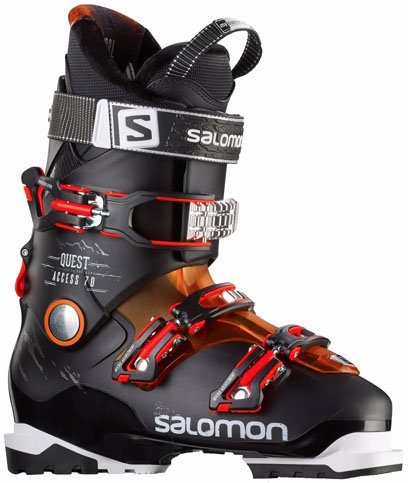 Last: 104mm (wide width)
Flex: 70
What we like: The liner is made with a wool hybrid material for warmth.
What we don't: Not for narrow feet.
Women's version: Salomon Quest Access 60
The Quest Access 70 is another solid beginner boot from one of the most well respected brands in the business. One of our favorite features is the hike/ski switch on the back—when flipped to hike, the lower and upper cuff unlock to allow for normal upright walking, which is handy for schlepping gear from the parking lot or standing in the bar after a long day. The three-buckle design is simple to operate, and the liner is heat-moldable to customize fit before you head out. The 104mm last width is the widest in the Salomon lineup, and the Quest Access 70 is designed to work best with an average calf volume. A slight step up in terms of stiffness and overall quality from the Nordica Cruise above, this boot should serve beginners and lightweight intermediate resort goers quite well.
See the Salomon Quest Access
Downhill Ski Boot Buying Advice
Boot Flex and Performance
A great place to start your boot search is choosing the proper flex. Every downhill boot on the market is given a flex index number ranging from approximately 60 to 130. Lower numbers are softer, have more give, and are more comfortable, making them ideal for beginner skiers. Moving up in stiffness to intermediate and advanced models gets you a boot that isn't as cushy but more efficiently transfers your inputs to the bindings and skis. Less energy is waster in flexing the boot forward and the response is instantaneous. A preferred stiffness also correlates with your body weight, which is why women's boots have a lower flex rating relative to performance. Below are general recommendations; there are ranges within ranges but this paints a good picture.

Men's Flex Ratings
Beginner 60-80
Intermediate 80-110
Advanced 110+

Women's Flex Ratings
Beginner 50-60
Intermediate 60-85
Advanced 85+

Sizing
Ski boot sizing is one of the most difficult things to hone in online. It's not as simple as taking your shoe size and matching it to a Mondo size (ski boot sizing nomenclature) on a chart. The length, width, volume and underfoot profile need to be dialed in for a boot to be "the one." As a result, we recommend getting to a local shop to get sized. If this is not an option, find a reputable online retailer that allows for returns and order a couple sizes with the expectation that they probably won't fit exactly as you may expect. For a good baseline level of knowledge, here are the most common boot sizing terminology and considerations:

Mondo
Both men's and women's ski boots are listed in unisex Mondo (or Mondopoint) sizing: the length of your foot measured in centimeters. You can measure your foot by tracing its outline on a piece of paper or marking the bottom of the heel and top of the toes. If your foot measures 30 centimeters in length, your Mondo size is 30. Getting measured in a ski shop is preferred, but this is a rough way to do it at home.
Every manufacturer or retailer provides a sizing chart that matches shoe sizes to ski boot sizes, but your actual Mondo size may be a size or two smaller than what you see on the chart. This is because tight fit is recommended with ski boots. Ski boot liners are made of foam and will and mold to your feet over time, so it's best to start with a very snug fit and wear them in.

Last
Footbed width, referred to as last, is another important specification for ski boots. This measurement is based on the width of the forefoot and listed in millimeters. Most manufacturers make ski boots with varying lasts to accommodate those with narrow, average and wide feet. Side-to-side motion is a given when descending a hill, and a boot that's too loose around the sides of your feet will negatively affect performance.
Narrow: 97-98mm
Average: 100-102mm
Wide: 104mm+

For those with narrow feet or looking for performance boots with a more precise fit, look in the 97-98mm range. Average lasts are around 100-102 mm wide for men and 100mm wide for women. Those work well for most skiers with normal width feet. For folks with wide feet, there can be some challenges in finding the right pair. You'll find the occasional boot with 104mm width or more, but your options become more limited.

Replaceable Footbeds/Insoles
No matter how well you do in selecting the proper fit, you still may experience discomfort during a full day of skiing. That's where the final piece of the fit puzzle comes in: replaceable insoles. Most downhill ski boot liners have a removable insole, much like a hiking boot. Swapping these out for a quality aftermarket insole that better matches your foot profile can really make a difference. New insoles can provide better arch support, more or less volume, and a heel cup that better locks your feet in place. Good aftermarket insoles can be found from brands like Superfeet and SOLE.
Another alternative is getting a custom footbed from a boot fitter (which requires getting fit in-person). This is an expensive process but can be worthwhile for those with stubbornly shaped feet or who ski a ton each year. You can call your local ski shop and ask if they make custom footbeds.
Boot Liners
Most all-mountain ski boots are made up of two independent pieces: a hard plastic outer shell that provides structure and strength and a removable liner that delivers comfort, support and insulation. The liner is filled with varying amounts of foam, depending on the type of skiing the boot is intended for. It's not always the best idea to get the most plush and cushiest liner (beginners and comfort-oriented skiers are an exception). The softer foam will not hold your foot and shin as well while carving, and it may not mold as well to your feet over time.
Supportive but comfortable is the preferred place to be for most intermediate and advanced skiers. As we mention above, your liner will conform to your feet, so don't be too concerned if it feels snug at first (but make sure it's not overly restricting or that your toes aren't smooshed against the hard-sided shell.).
Heat-moldable liners can be custom fit to your feet in a ski shop that has the necessary equipment). This is a nice way to get the liner to fit your feet right out of the box, but isn't mandatory for most folks. You can get much of the same fitting accomplished just by wearing the liners around the house or in a few early season ski days.
Buckles and Strap Systems
To start, it's helpful to know that buckles and strap designs do not vary dramatically between brands. The buckle systems on most downhill ski boots follow a similar methodology: two buckles across the foot, one at the bend near the ankle and another along the shin. Look for buckles made mostly with aluminum for greater durability (plastic is cheaper but a bit more prone to breaking). Some boots try and cut some weight by removing the buckle at the ankle, but for downhill purposes when total boot weight isn't as important, we find it well worth having the more supportive four aluminum buckle design.
The strap at the top of the boot near the cuff is another important piece of the design. Sometimes referred to as the power strap, it keeps that top portion nicely locked into place to help bring out the full performance potential of your boots—and at a lower weight and more comfort than adding a 5th buckle. Having a full compliment of buckles as well as a quality power strap also helps in really dialing in the fit, which can make accommodating varying sizes of legs and calves that much easier.
Boot Soles
Boot soles are pretty standard fare for alpine setups. They need to be what's called DIN-rated, which essentially means they are able to release properly from a downhill binding should you taken an unfortunate tumble. They also share a common shape that fits any downhill binding, listed as ISO 5355. Resort skiers should avoid boots that have a rockered sole and are listed as being compatible with AT (touring) bindings. These are for backcountry setups and will not work with standard downhill bindings.
In your search, you inevitably will run into some alpine boots that have been set up to accommodate both AT and downhill bindings. If you're interested in getting in to skiing both and trying to save some money, you can get a boot with a removable/replaceable sole, such as the Rossignol All Track. But keep in mind that this boot is not optimized for uphill travel. It's heavy and doesn't pivot as naturally while walking. Multi-purpose gear can be fun, but it's often worth the extra dough to get a second boot that's been specifically designed for backcountry use.
Walk/Hike Mode: Gimmicky or Worthwhile?
You'll see a number of downhill boots that tout a walk or hike mode. In reality, these modes are best enjoyed in the trek from the car to the resort, as they don't have the necessary range of motion and flex to be truly comfortable when walking long distances. In addition, downhill-focused boots are heavier than dedicated backcountry and randonee boots. It's not all bad news, and the walk feature has its appeals for folks that primarily ski downhill but want the option to do some light skinning or hiking. Just steer clear if you need to spend any more than a few minutes heading uphill.
Ski Socks
Modern ski socks reflect the improvements made in boot liner technology. You no longer need a thick, heavy-duty sock, and the market is now full of trimmed-down options. Modern boots are better insulators and far more comfortable, which all adds up to a more enjoyable experience. Of course, merino wool is the standard and cotton is scarce. For a full list of options, see the best ski socks of 2015-2016.
Choosing the Right Skis and Bindings
Boots are a great place to start in assembling your ski kit. For one, it hopefully means you get the pair that end up fitting you best. It also should help guide the rest of your buying considerations. If you choose an advanced boot, you should pick out a correspondingly aggressive binding and ski that can help deliver the performance the boot is capable of. A stiff boot transfers power very efficiently as long as the binding and ski are capable of responding to those inputs. To help get you properly outfitted, our picks for the best all-mountain skis and ski bindings are organized in a similar fashion as boots, moving from the best beginner and intermediate options up to advanced.
Learn More About Ski Gear