A quality ski sock gets the basics right: a close but not restricting fit, soft touch materials that don't itch, and enough cushioning to keep you on the slopes all day. Every sock that made our "best of" list for 2016 accomplishes this and more. The current top dog in sock construction is merino wool, and it's seen in just about every leading model on the market. It's not scratchy like wool socks of old—in fact it's quite soft and comfortable—and repels odor extremely well. Modern ski socks also are thinner than in the past—boot liners have improved so much that you no longer need an ultra-thick and bulky wool sock to combat cold and discomfort. You still have a choice of ultralight, light and mid-weight options (we break down the pros and cons of these decisions in our buying advice section), and you can expect to spend around $25-$30 for merino down to $10 for a basic wool/stretch nylon blend. Below are our favorites for the 2016 ski season.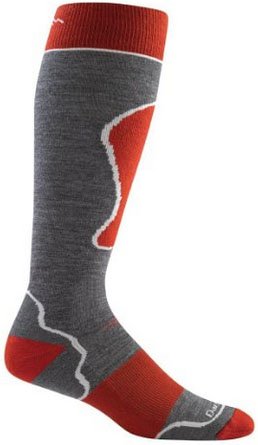 Materials: 60% merino wool, 36% nylon, 4% lycra
What we like: The whole package: comfort, fit and durability.
What we don't: Not the softest on the market, but it's not far off.
Women's version: Over-The-Calf Ultra-Light
Based in Vermont, Darn Tough has emerged on the sock scene in a big way, challenging, and in this case overtaking, market leader SmartWool. We like Darn Tough—they make high quality merino wool socks with great designs that stand the test of time (and they come with a lifetime warranty). For the top overall ski sock for the 2016 season, our pick is Darn Tough's Padded Over-the-Calf Ultra-Light. Its official name is the "Darn Tough Merino Wool True Seamless Padded Over-The-Calf Ultra-Light Ski Sock," which pretty much says it all. The seamless design helps to avoid irritation against your foot from a long day on the mountain, and the sock has padding in the most critical area, the shin, for added comfort. The Ultra-Lite insulates enough for most conditions and slips easily into your boots, but those who want even more warmth and a little higher volume fit should try Darn Tough's Over-the-Calf Padded Cushion.
See the Darn Tough Ultra-Light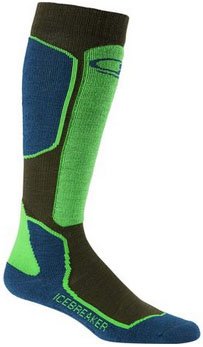 Materials: 70% merino, 26% nylon, 4% lycra
What we like: Warm and comfortable.
What we don't: Pills up over time.
Women's version: Icebreaker Ski+ Light
Without a doubt, New Zealand-based Icebreaker is one of the top manufacturers of merino wool outdoor gear. Icebreaker's Ski+ Light offers the highest percentage of merino of any ski sock on this list, and combine that with Icebreaker's deft ability to make merino feel silky smooth, and you have one of the comfiest socks available. The Ski+ light is a step up in thickness from super thin ultralights and features ample padding in the foot and shin for added comfort. These socks are slighter warmer than similar models by Darn Tough or SmartWool and wick moisture extremely well, but are prone to pilling up after a few run throughs of the washer (try and avoid drying them). Given the similarity in price between these socks and the Darn Tough socks above, it's a very close call and you can't go wrong with either brand.
See the Icebreaker Ski+ Light OTC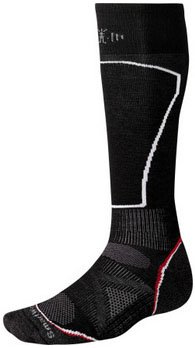 Materials: 67% merino wool, 31% nylon, 2% elastane
What we like: Great fit and performance.
What we don't: Questionable durability.
Women's version: SmartWool PhD Ski Light
It wouldn't be a proper sock list without SmartWool, and our favorite model for skiing is the PhD Ski Light. Like many of SmartWool products, this sock is comfortable, fits and performs extremely well, and looks good to boot. Within the PhD line, the snug fit over around the top of your foot and under the instep and arch is unparalleled in support. And that intentional shape keeps the sock in place for anything from ski touring to bombing laps downhill. Our biggest concerns are with durability—in recent years our SmartWool products have given out earlier than those by competitors like Darn Tough. We've found that this model does need a little bit of extra care to keep it lasting more than a couple seasons. The drop in long-term performance at a comparable price to the choices above places the otherwise excellent PhD Ski Light away from the very top of the pack.
See the SmartWool PhD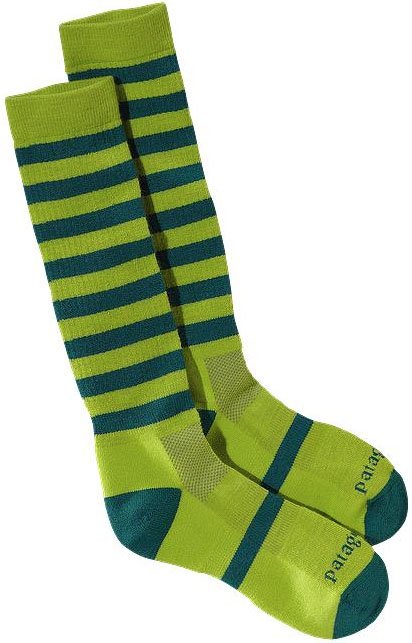 Materials: 62% merino wool, 35% nylon, 3% spandex
What we like: Supremely soft and comfortable.
What we don't: No women's-specific option.
Patagonia's Snow Socks, designed to work for both skiing and snowboarding, has a comfortable fit that should treat downhillers of all kinds to a comfortable ride. One nice feature is the socks comes up really high—for us it ended right at the bottom of the knee—which prevents the cuff of the sock and the cuff of your ski boot from interacting in a potentially uncomfortable way. The lightweight sock (also offered in ultra lightweight and midweight) has a great mix of cushioning and breathability. Padding in the toe, heel and around the shin is contrasted with thin, open weave merino and nylon along the top of the foot and ankle. We would like to see a women's specific design, but the socks are available in a wide range of sizes that should fit most foot types. Despite a slightly higher price tag than the options above, fans of Patagonia clothing will be quite pleased with the performance of their lightweight merino socks.
See the Patagonia Lightweight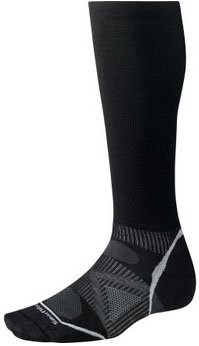 Materials: 48% merino wool, 42% nylon, 10% spandex
What we like: Impressive support, low profile fit.
What we don't: Only for those with finicky cold feet.
Made with liberal amounts of nylon for a very tight fit, the SmartWool PhD Compression Ultralight socks are for those that suffer from cold feet or want to get a leg up on muscle recovery. The higher price tag is due to the graduated compression technology that gently squeezes critical muscles in the foot and lower leg to promote blood flow for warmth and recovery. While it's been difficult for us to prove the degree to which these socks actually improve blood flow, we have enjoyed the snug and supportive feel, although you do lose the soft feel of the more merino-intensive builds. In a counterintuitive way, this ultralight model has a longer lifespan than the PhD Ski Light model above, and we've gotten a few seasons of use out of a pair. Perhaps the greater concentration of nylon and less merino contributes to some added toughness. No matter the reason, it's our favorite compression sock on the market.
See the SmartWool PhD Compression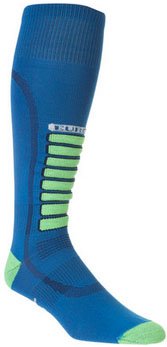 Materials: 70% Silver DryStat, 15% nylon, 10% Microsupreme, 5% spandex
What we like: The best synthetic sock available.
What we don't: Slightly less comfy than a merino option.
The lone synthetic model on our list, the EURO Socks brings an excellent fit and decent value to your ski days. Made up primarily of Silver DryStat, these socks are specifically designed to combat the biggest complaint of synthetic socks: stink retention. While a well-designed merino wool sock can usually last a couple days before absolutely needing a wash, most synthetics smell rather ripe by lunch. The EURO Socks do an admirable job—falling just a little short of merino—and at $20, they also undercut the competition while still delivering a fit that compares well to the options above. Editor's note: the lightweight moniker actually aligns with competitor's ultralight options. If you require a little cushioning and shin padding, we recommend the EURO Socks Silver Supreme.
See the EURO Socks Silver
Materials: 60% nylon, 36% merino wool, 4% lycra
What we like: Great fit and feel.
What we don't: Expensive for those that won't benefit from the compression.
While Bridgedale may lack the cache of a SmartWool, Patagonia or Darn Tough, the company has been pumping out quality socks since World War I. And outside of a few forays into knit hats and gloves, the company is singularly focused on sock technology. Their compression model has a lightweight construction with some padding under the heel and toe—something the ultralight SmartWool's above do not. If you desire some cushioning in your compression socks, we recommend these over the PhD Ski Light from SmartWool for their improved durability. In the end, the Bridgedale Compression, which costs a cool $40, is a niche product. It's more limited to those that consistently suffer from cold feet and toes and are running low on good options. If that's you, give these Bridgedales a try.
See the Bridgedale Compression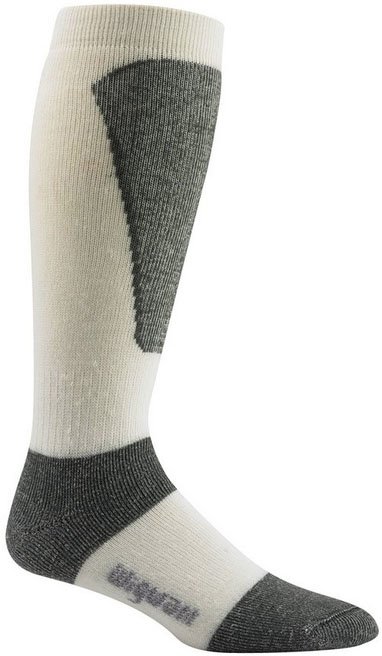 Materials: 40% wool, 24% stretch nylon, 21% polypropelene, 7% stretch polyester 5% olefin, 1% spandex
What we like: Padded calf (and keeps your wallet padded).
What we don't: Bulky and gets stinky quicker.
Made with enough materials to recreate a high school science experiment, the Wigwam Snow Sirocco is an extremely popular budget ski sock. Despite—or maybe thanks to—the truly impressive mix of materials, the socks have a secure fit and aren't prone to bunching or causing pressure points. We still like socks with more merino wool for comfort and fighting odor, but let's face it, as long as you aren't out there in your cotton crew socks, you are going to be fine. Prices can vary based on color, but we've found them as cheap as $10 even in the heart of the winter buying season. That's a downright bargain for a reliable pair of ski socks.
See the Wigwam Snow Sirocco
Ski Sock Buying Advice
Sock Materials
Merino Wool
Despite a higher cost, merino remains the most popular and our most recommended ski sock material for a number of reasons: excellent fabric feel that's soft and comfortable, superior temperature regulation and odor resistance. It's the full meal deal for your sock needs. Granted, merino wool socks are rarely pure merino. A blend of fabrics, usually including some nylon for toughness and elastane or spandex for stretch, is required to provide a supportive fit that stays in place. Additionally, the fabric weave and construction is an important consideration, because some brands like Darn Tough prioritize long-term durability over supreme softness with a dense weave, while others like SmartWool sacrifice on lifespan for coziness.

Synthetic
Most of our top picks are made with merino. However, not everyone is totally smitten with the higher costs. For a more cost effective alternative, you can turn to a synthetic option. The designs will vary depending on brand, but some common features in synthetic socks are a performance fit and superior moisture wicking properties. Granted, within a ski boot you're not going to experience amazing breathability—the hard shell of the boot prevents that—but these synthetic socks do manage to pull sweat away from your feet as efficiently as possible. The downside is stink prevention, however, some brands have worked very hard to combat this. Silver DryStat from EURO Socks is an example of a synthetic that does a decent job at keeping the smells to a minimum.

Nylon
Merino and synthetic are the two most common materials used in sock construction, while nylon is a secondary fabric that boosts durability and gives the socks a consistent shape. Ski socks are designed to fit snugly and not bunch up or slide around (we cover this more in the "fit" section below), and this is where nylon and spandex come into place. The elastane or spandex lets the fabric flex, while nylon gives the sock a structure that retains its shape even after being stretched, and supports your foot, ankle and lower leg. We list the fabric construction for each product on this list and you'll notice a theme: 15-40% nylon. More nylon is usually associated with a performance fit that should retain its shape and avoid sagging over time.
Sock Thickness and Cushioning
Ultralight
Amazingly, a super thin ultralight sock can be a suitable option even in cold conditions—as long as you've spent big bucks on a nice pair of modern ski boots. Boot liners insulated with products like microfiber Thinsulate are able to trap hot air against your feet far better than ever before. As long as your liner fits you well and you don't go out in positively frigid conditions, an ultralight sock is perfectly suitable. The closer, streamlined fit also improves contact with the boots for improved performance.
Regarding durability, ultralight socks fall short of the other options simply by the thickness of their design. We wouldn't suggest wearing them too much out of the boots. These ultralight options are most popular with those that work hard—hiking or ski touring. Those that require a little extra cushioning or warmth may want to look at the more all-around friendly lightweight category below.

Lightweight
For standard downhill skiers, the lightweight category is a great place to be—with enough cushioning around and under your foot to be comfortable but not so thick and bulky that it feels awkward inside your boot. Those that like to run an ultralight sock for average conditions or for ski touring may want to have a slightly thicker, lightweight option for those chilly days.

Midweight
Ski socks of old used to fall into this category, but the changes in ski boot technology have made a thicker sock far less important. The benefits of a midweight sock is added cushioning inside a boot, and for those that run cold no matter what, it may be worth having a midweight option. But keep in mind, boot liners are meant to fit snug, so a sock that is too thick can actually restrict blood flow and make your feet even colder. Be sure to dial in your fit just right if you plan to run a thicker, midweight sock.
Shin Padding
Shin padding, not to be confused with cushioning, which is the extra thickness under your feet, most often correlates with the listed sock thickness. There are, however, a few ultralight padded options out there that combine a non-cushioned sock underfoot with some shin protection (including our top pick, the Darn Tough Ultralight Padded). We usually recommend choosing a ski sock with some degree of padding along the shin for all-day comfort. It's something that is enjoyed in both resort and backcountry skiing.
Compression Socks
Following trends in running and performance gear, ski socks brands have been offering up more and more compression options. The goal of a compression sock is improved blood flow. In a ski sock application, the goal is to leverage this improved blood flow to boost warmth as well as possibly reducing muscle fatigue. While it's a difficult thing to prove, in our experiences with compression socks, we've found them to have a very close fit that just may offer a slight increase in warmth. What we can say definitively is compression socks do offer a very supportive fit that performance skiers should enjoy.
A compression sock fits exactly as you'd expect: very tightly. Enough so that it can require a bit of strategy to slide them on the first time. The downside of the design is a substantial bump in price, which can be nearly double the cost of a comparable standard ski sock. The average skier absolutely does not need a compression sock, and only those that are looking for a very tight and secure fit, and perhaps a slight improvement in recovery time and warmth, should consider spending the $30 to $50 for a pair of socks.
Fit
More so than nearly any other application, having a proper fitting sock for skiing is essential. Make sure your socks feel tight around your toes, ankle and shin without being restrictive. Any excess material can spell trouble when pinched in between your foot or leg and boot liner. This can create hot spots or worse, blisters. You also shouldn't have to peel the socks off (compression options are the exception). Look to the sock fit range for sizes, and if you're right on the fence, we recommend sizing down.
Caring For Your Ski Socks
The advanced construction and materials used for ski socks do not lend themselves to being particularly durable. The nylon and merino wool blends are focused on a low profile fit that sits well in your boot, and less so on handling the heat from a drier or the agitator of a washer. As such, we recommend taking pretty good care of your expensive ski socks. Turn them inside out and wash in cool or warm water—and use tech wash to help get out any lingering smells. To avoid pilling and premature wear, we always suggest avoiding the drier and instead hang or line drying.
Learn More About Ski Gear