Nikon's FX (full-frame) cameras are the best of the best and the company makes spectacular FX lenses. It's hard to avoid the weight and expense of FX lenses but the quality and optical performance are unmatched. Below is a summary of the best Nikon FX lenses, current for 2013. The lenses below are compatible with Nikon FX cameras including the following models: Nikon D800, D800E, D700, D610, D600, D4S, D4, and D3. FX lenses are compatible with Nikon DX (crop-frame) cameras, but FX lenses generally outperform DX cameras and therefore you will lose some of the value.

The Nikon 14-24mm f/2.8 is the top ultra wide-angle zoom of any brand and captures exceptionally sharp images. To highlight just how impressive this lens is, the Nikon 14-24mm is sharper than the top prime lenses at each of their respective focal lengths. It is heavy, but the Nikon 14-24mm is the top choice among professionals and enthusiasts for a wide-angle FX lens.
Weight: 34.2 oz.
Pros: Nikon's best ultra wide-angle zoom
Cons: Weight, cost

A great alternative to the Nikon 14-24mm lens above is the Nikon 16-35mm f/4, which is cheaper, lighter, and covers more focal lengths (it's not quite as wide at 16mm). For those who frequently shoot in low light, the Nikon 16-35mm can't match the Nikon 14-24mm in this category. Otherwise, the Nikon 16-35mm is an excellent FX zoom lens.
Weight: 24 oz.
Pros: Versatility, good value for an FX lens
Cons: Distortion at the wide end

The 24mm f/1.4 is one of Nikon's top prime lenses. It captures spectacular images in low light, is extremely sharp corner to corner, and has minimal distortion (overall it's far better than the older Nikon 28mm f/1.4). One downside to the Nikon 24mm f/1.4 is its weight at 21.9 ounces, which is hefty for a prime lens.
Weight: 21.9 oz.
Pros: Excellent optics
For portraits and people photos, the Nikon 50mm f/1.4 is Nikon's best FX prime lens. The lens excels in low light, has a fast and accurate autofocus, good bokeh, and weighs less than 10 ounces. A similar lens is the Nikon 50mm f/1.8 ($250), which is not quite as good in low light but considerably cheaper.
Weight: 9.9 oz.
Pros: Excels in low light, lightweight, low cost
The Nikon 24-70mm f/2.8 is Nikon's best mid-range zoom. It is an extremely versatile lens that is sharp across its full zoom range and features a fast and accurate autofocus. The Nikon 24-70mm is heavy but can replace a handful of prime lenses.
Weight: 31.8 oz.
Pros: Versatile and sharp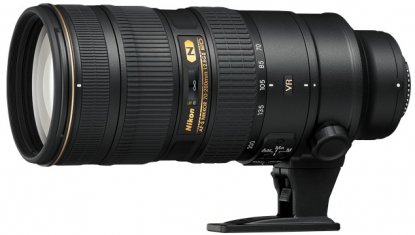 Nikon 70-200mm f/2.8 VR II ($2,399)
The Nikon 70-200mm is Nikon's best telephoto zoom lens for everything from wildlife to sports and school plays. The autofocus is fast and accurate, the sharpness and colors are exemplary, distortion is low, and the lens comes with vibration reduction (VR). All things considered, it's one of Nikon's most impressive lenses.
Weight: 54.3 oz.
Pros: Nikon's top telephoto zoom