Despite smartphone cameras challenging the low end of the point-and-shoot market, 2015 should be a strong year for mid-range and high-end point-and-shoots. These compact cameras have larger sensors, more megapixels, and an array of features and connectivity options. And if you're willing to spend, you can get features like professional-grade low light performance and even 4K Ultra HD video. Whether you're an amateur looking for better image quality than your smartphone, or a professional photographer looking for a pocket camera as an alternative to a larger set-up, below are our picks for the best point-and-shoot cameras of 2015.

Megapixels: 20.1
Sensor Size: 116 sq. mm
Zoom: 24-70mm
What we like: The best point-and-shoot on the market.
What we don't: The steep price tag.
With its continued dominance of the high-end point-and-shoot market, Sony just keeps rolling out new versions of its RX100 series. The fourth is the best and most expensive, featuring new 4K video capabilities, faster shooting speeds, and a higher resolution LCD screen. And you get all the functionality that made the RX100 III so popular, including a large sensor, fast Carl Zeiss zoom lens, and unique pop-up electronic viewfinder. It's the top compact camera on the market in 2015 for professionals and enthusiasts.
At nearly $1,000, that's a whole lot of cash for a point-and-shoot. If you don't need the 4K video, we love the RX100 below at around $450—it lacks an electronic viewfinder but offers similar overall image quality. With the release of the newest version, the RX100 III is now cheaper than ever before. The RX100 II is the worst value of the bunch in our opinion.
See the Sony RX100 IV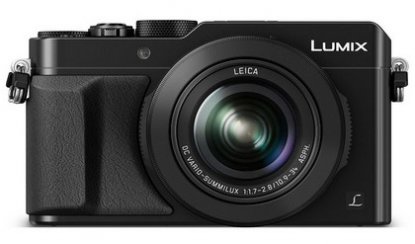 Megapixels: 12.8
Sensor size: 225 sq. mm
Zoom: 24-75mm
What we like: 4K video and impressive image quality overall.
What we don't: Again, $800 is a lot to spend for a point-and-shoot.

The Panasonic Lumix LX100 is a polarizing camera: it has tons of upside but notable shortcomings too. Its big feature here is 4K Ultra HD video—the LX100 is the only point-and-shoot on the market that shoots 4K and one of only a handful of cameras of any type. It also performs extremely well in low light with a Leica f/1.7-2.8 lens and comes with built-in Wi-Fi. The price tag is a bit tough to swallow, but with 4K video and advanced features like an electronic viewfinder, the LX100 is an intriguing option for enthusiasts and professionals.

Given that this is the first version of the camera and Panasonic was aggressive with the new functionality, there have been issues. Some users have reported receiving lemons, and others have had problems with the automatic level feature. And if you take out the 4K video factor, we wonder how much better the image quality is than the trusty LX7 that is less than half the cost. We look forward to future versions of the camera and hopefully an LX8 as well.
See the Panasonic LX100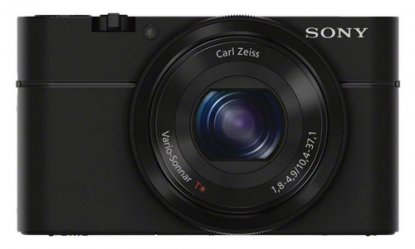 Megapixels: 20.2
Sensor size: 116 sq. mm
Zoom: 28-100mm
What we like: Still one of the top point-and-shoots on the market.
What we don't: No electronic viewfinder.
Over the past few years, Sony has released four versions of its high-end RX100 series. The new RX100 IV is selling for a pricey $948, but the original RX100 is a steal at $450 and can go head-to-head with any camera on this list. The biggest difference between the RX100 and the RX100 III and IV is the lack of an electronic viewfinder on the older model, but you still get a large 20.1-megapixel sensor, a fast Carl Zeiss lens, manual settings, and RAW capability, all packaged in a lightweight and durable body. Both the RX100 and RX100 II have longer zoom ranges at 28-100mm than the III and IV at 24-70mm, but the latter is slightly faster at the telephoto end. All are terrific pro-level cameras, but we love the value of RX100.
See the Sony RX100
Megapixels: 20.2
Sensor size: 116 sq. mm
Zoom: 24-100mm
What we like: A camera to challenge the RX100 series.
What we don't: No electronic viewfinder and pricier than the comparable Sony options.
Sony had a long run at the top of the high-end compact heap, but Canon has released a direct competitor to the RX100 series. The Canon G7 X features a 1" CMOS image sensor that is same size as Sony's RX100 III, and the lens and form factor are eerily similar. With the G7 X you get a fast f/1.8-2.8 maximum aperture, 24-100mm of zoom (more than the RX100 III and roughly the same as the first two versions), and a size at 10.7 ounces that essentially amounts to a large pocket camera.
The biggest shortcoming on the Canon G7 X is the lack of an electronic viewfinder. The LCD screen is large and easy to view, but many photographers who spend $700 on a camera prefer not to shoot via the rear display. In addition, the RX100 and RX100 II, which also lack electronic viewfinders, are cheaper than the G7 X. It's a close call, but at the G7 X's current price, we give the nod to Sony.
See the Canon G7 X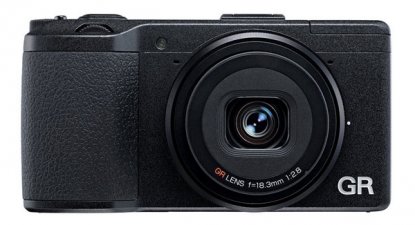 Megapixels: 16.2
Sensor size: 328 sq. mm
Zoom: N/A (28mm prime lens)
What we like: Large APS-C image sensor.
What we don't: Fixed lens limits versatility of the camera.
Ricoh's GR series has a cult following and this pro-level compact is particularly adept for outdoor and street photography. Despite weighing only 8.6 ounces, the Ricoh GR boasts a massive APS-C image sensor, the same that you'll find on many digital SLRs. The catch for some is the 28mm equivalent fixed lens, meaning you don't get any zoom capability at all. Therefore even though the image quality is superior to any other camera on this list, you don't get the versatility of Sony's RX100 series of the Canon G7 X. The 28mm f/2.8 lens does sit exactly half way between our preferred 21mm for landscapes and 35mm for street photography, making it a viable camera for both. The Ricoh GR quietly has been discontinued but there are rumors of a 2015 successor, likely without the GR moniker.
See the Ricoh GR
Megapixels: 12
Sensor Size: 58 sq. mm
Zoom: 28-112mm
What we like: Fujifilm color.
What we don't: Not everyone loves the retro styling.

Fujifilm is known for its accurate color rendition and retro styling, and it's a brand that we use for personal use. For travel and street photography, the Fujifilm X30 can go head-to-head with any compact camera on the market. With a fast 28-112mm f/2.0-2.8 lens, electronic viewfinder, Full HD 1080p video, and RAW capability, the images produced by the FujiFilm X30 are superb.

Given the price, you can think of the original Sony RX100 as a competitor (that camera is now under $500). It's a tough call between the two as the RX100 has a considerably larger sensor but no electronic viewfinder. If you've shot with Fujifilm in the past and want a viewfinder, the X30 is a nice option. If you prefer a more modern-feeling camera, try the RX100.
See the FujiFilm X30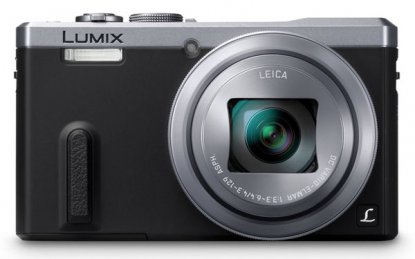 Megapixels: 18.1
Sensor size: 28 sq. mm
Zoom: 27-720mm
What we like: Huge zoom, electronic viewfinder and Leica lens.
What we don't: Smaller sensor than the Panasonic LX7.
Canon dominates the budget end of point-and-shoot spectrum, but Panasonic is a contender in the mid-range and high-end. The Panasonic DMC-ZS40S is an excellent compact camera for travel and any other use that requires serious zoom. With a small form factor and weight under 10 ounces, you still get a massive 27-720mm. Others perks are the electronic viewfinder, which is rare in the price range, and a plethora of connectivity options including Wi-Fi and GPS.
If you don't need the zoom, we prefer the older Panasonic DMC-LX7. Boasting a larger sensor than the ZS40S and a fast maximum aperture of f/1.4, the LX7 has the best low-light performance of any point-and-shoot on this list. In addition, the camera shoots fast at up to 11 frames per second and has a handy manual aperture ring. Both cameras are solid options.
See the Panasonic ZS40S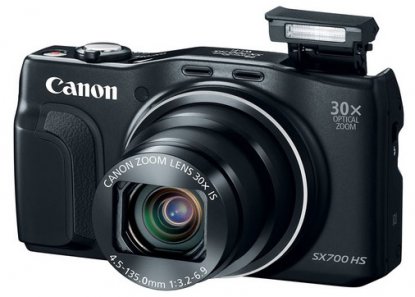 Megapixels: 16.1
Sensor size: 28 sq. mm
Zoom: 25-750mm
What we like: Huge zoom.
What we don't: Smaller image sensor than the Canon G16 below.

Powerful zoom is one way that point-and-shoots can differentiate themselves from smartphone cameras, hence the rise of the compact superzoom. The Canon PowerShot SX700 HS is one of the leading cameras on the market under $300 and checks all the boxes for most consumers. For travel, kids, and sports, the camera reaches an equivalent of 25-750mm, shoots Full 1080p HD video, and has built-in Wi-Fi. At only 8.2 ounces, the SX700 HS also easily fits in your pocket.
It's a tough call between this camera and the Panasonic DMC-ZS40S above. Both have similar zoom ranges, image sensors, and apertures, with the Canon SX700 HS coming in about $70 cheaper. However, the Canon lacks a viewfinder, meaning that you must line up your shots using the rear LCD screen. If you want a viewfinder, go with the Panasonic. If not, we recommend saving some dough and choosing the SX700 HS.
See the Canon SX700 HS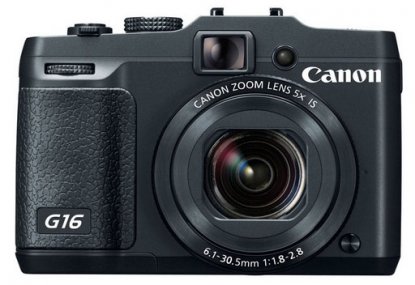 Megapixels: 12.1
Sensor Size: 41 sq. mm
Zoom: 28-140mm
What we like: Great image quality and feature packed.
What we don't: For $400 you can buy a decent mirrorless camera.

The Canon PowerShot G16 is a feature-packed compact camera geared toward enthusiasts. First and foremost is the lens, which has a handy zoom range of 28-140mm and maximum aperture of f/1.8, producing great images when natural light is low. You also get Full HD 1080p video, an optical viewfinder, and a number of manual controls. Despite all the functionality, the Canon G16 still is pocketable (to achieve this, Canon went without a flip-out screen that was on previous models).

Given the image quality and controls, the G16 is a nice option for those who own a DSLR but also want a smaller camera option too. The addition of Wi-Fi from the older G15 is a nice touch, although connectivity has become fairly standard in this category. If you want a compact camera from Canon with a larger sensor, check out the new Canon G7 X above.
See the Canon G16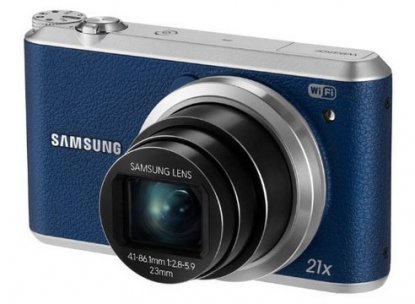 Megapixels: 16.3
Sensor size: 28 sq. mm
Zoom: 23-483mm
What we like: A great value and a lot of zoom.
What we don't: Samsung prioritizes features over sensor size.
Everyone seems to like Samsung's easy-to-use functionality, and the electronics giant is making a push in digital cameras. The Samsung WB350F is a winner on most fronts: it has an impressive zoom range equivalent to 23-483mm, Wi-Fi and NFC connectivity, and a nice design with range of color options to choose from. We also like that the WB350F can slide into your pocket for travel and photography on the go.
Two shortcomings of the Samsung WB350F are its relatively small 1/2.3" image sensor and required MicroSD memory card. The cost of a MicroSD card actually is a bit less per MB than a traditional SD card and you can use them in many non-Apple smartphones, but if you already have an SD card from a previous camera, you'll have to spend the extra $10 to $20. For even more functionality and a larger touch screen, try the Samsung Galaxy Camera 2.
See the Samsung WB350F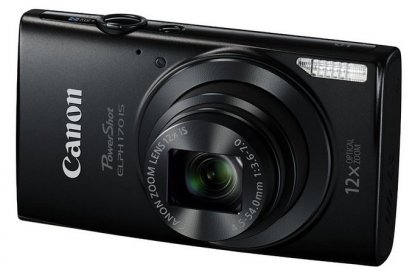 Megapixels: 20
Sensor size: 28 sq. mm
Zoom: 25-300mm
What we like: Impressive zoom for the price.
What we don't: No 1080p video or Wi-Fi.
If you're in the market for a budget point-and-shoot, you want a clear delineation in quality or features from a smartphone. Setting the Canon ELPH 170 IS apart is the 12x optical zoom, equivalent to 25-300mm. You also get a 20-megapixel image sensor and easy-to-use 720p video. For travel and everyday use, the ELPH 170 IS far exceeds the 8 megapixels and 3x digital zoom of the iPhone 6, although the latter does shoot 1080p video. In this price range you won't get Wi-Fi connectivity or a high resolution rear LCD screen, but the image quality is great for the price (isn't that what really matters?).
See the Canon ELPH 170 IS
Point-and-Shoot Camera Comparison Table
Point-and-Shoot Camera Buying Advice
Sensor Size
Marketers push megapixels as the central factor in determining the image quality your camera produces, but in reality it's the size of the sensor. A common analogy in photography is that megapixels are like buckets used to collect rain (rain being light and color). The larger the buckets, the more rain they will collect. Accordingly, 20 megapixels on a small sensor (small buckets) are much less effective at capturing light than 20 megapixels are a large image sensor (large buckets).
Below are common sensor sizes found on point-and-shoot cameras:
1/2.3" (6.17 x. 4.55mm = 28 sq. mm)
1/1.7" (7.60 x 5.70mm = 41 sq. mm)
1" (13.2 x 8.8mm 116 sq. mm.)
Micro Four Thirds (17 x 13mm = 224 sq. mm)
APS-C (23.6 x 15.6mm = 368 sq. mm)

Almost all entry-level and some mid-range point-and-shoots have 1/2.3" CMOS image sensors. The higher the price the more likely you are to get a larger sensor—most high-end point-and-shoots either have 1" or 1/1.7" CMOS sensor. Some professional compact cameras have Micro Four Thirds or APS-C sensors but those are a rarity.
Megapixels
A pixel is one dot of information, and digital photographs are made up of millions of these dots. To make the calculations more palpable, we use the term megapixels (mega = million). So if a camera has 18 megapixels, the photographs are comprised of 18 million tiny dots.
As described above in relation to the image sensor, the number of megapixels can be misleading. If Camera X has 24 megapixels and Camera Y has 12 megapixels, this does not necessarily mean that Camera X produces higher quality images. If Camera Y has a larger sensor, higher ISO sensitivity, and a superior lens, you can expect better photos from fewer megapixels.
You shouldn't totally ignore megapixels either. An astute camera buyer should look at sensor size first, then the number of megapixels, and try to gauge how those two numbers stack up against the competition (we've tried to make things easier with our handy comparison table above). Generally, the more you pay for a camera the larger the sensor and higher the number of megapixels.
Zoom
Point-and-shoot cameras have an attached lens, as opposed to interchangeable lenses like DSLRs or mirrorless cameras, and many models have a fairly versatile zoom. For example, the Sony RX100 has a zoom range of 24-70mm; the Canon G16 has a longer zoom range of 24-140mm; and the Canon PowerShot SX700 HS offers a very impressive 24-700mm, albeit at the sacrifice of other features.
A popular trend in 2015 is superzoom cameras, which have an extremely long zoom range up to 1000mm or more. Smartphones are notoriously poor at zooming and this is one way that camera manufacturers can continue to drum up interest. Superzooms are really cool cameras—we love the Canon PowerShot SX530 HS, for example, which has 24-1200mm of optical zoom and costs under $300. Superzooms have two main issues, however. They are considerably heavier and bulkier than normal point-and-shoots (closer to a DSLR than a point-and-shoot, in fact), and the image sensors on superzooms usually are small, often 1/2.3". But for travel, sporting events, school plays, or wildlife photos, these are very fun cameras to use.
Before making a purchase, we recommend thinking through which types of photos you will be taking most. Generally, wide-angle photos are taken from 18 to 24mm, street photography at 24 to 35mm, portraits from 50 to 100mm, and telephoto shots from 100mm and up. Only get a superzoom if you plan on using that end of the zoom range frequently.
Low Light Performance
A major point of differentiation between budget and high-end point-and-shoots is the low light performance of the lens and camera. In terms of the lens, the important number to look at is maximum aperture, expressed in f-stops ranging from f/1.4 to f/22 or higher. The lower the number, the wider the lens can open and the more light enters the camera. At the low end of the spectrum is a camera like the Pansonic Lumix LX7 with a maximum aperture of f/1.4, the Panasonic Lumix LX100 with a maximum aperture of f/1.7, and the Sony RX100 IV with a maximum aperture of f/1.8. Most mid-range and budget point-and-shoots have maximum apertures from around f/2 to f/3.5. You'll notice that maximum aperture is expressed in two numbers covering both the wide and telephoto end (f/1.8-4.9, for example).
In terms of the low light performance of the camera itself, the number to look for is ISO sensitivity (commonly referred to simply as ISO). The higher the ISO, the more sensitive a camera is to light and the less likely you are to get noise (graininess you often see on photos taken by cheap cameras or your smartphone). A camera like the popular Canon ELPH I70 IS isn't particularly good in low light with an ISO sensitivity of 100-1600, while the Sony RX100 IV has a much more impressive range of 125-12800. Taken together with the maximum aperture of the lens, these factors are what determine the low light performance of your point-and-shoot.
Video
Like zoom, video is an increasingly sought-after camera feature. Full HD 1080p (1920 x 1080 pixels) is standard in 2015, even on point-and-shoots. Some budget models only shoot 720p (1280 x 720 pixels) but they are increasingly scarce. At the top end of the spectrum, some professional compacts are now offering 4K video (4096 x 3072 pixels) like the Sony RX100 IV and Panasonic LX100.
In terms of overall video quality, there is more to evaluate than just the resolution. The quality of the autofocus, ISO sensitivity, size of image sensor, and other features like image stabilization all play a role in the video your point-and-shoot produces. Dedicated videographers also like to experiment with different movie speeds, with the most common being 60 fps, 30 fps, and 24 fps. Pricier point-and-shoots usually offer more video speeds to choose from.
A final feature you'll often see referenced is a "dedicated movie button." This means that instead of having to navigate through the menu via the buttons or touchscreen, one button (usually red) on the outside of the camera will have you shooting video almost instantaneously. Again, point-and-shoot manufacturers have to compete with smartphones, and the dedicated movie button is another way that they do so.
Wi-Fi
The method of plugging in your camera to a USB port on a desktop or laptop and uploading photos manually is becoming increasingly unnecessary. Built-in Wi-Fi is a nice perk on many new point-and-shoot cameras, allowing you to transfer and upload photos and video to your device or social media platform directly from the camera. Some even offer light editing directly on camera. The software and Wi-Fi platforms vary by manufacturer, and some are easier to use and less buggy than others, but we like the option of using Wi-Fi when it's convenient.
LCD Screen
The rear LCD screen is another point of differentiation between point-and-shoots. Most screens are LCD and around 3 inches in size, with the resolution varying significantly across price points. Higher resolution and brighter screens come in handy when the conditions are tough and you are trying to line up a shot. On some high-end models you get a tilting LCD for difficult angles and even touchscreen functionality that can be easier to navigate than with buttons. The LCD screen isn't a make-or-break feature for us, but they do get nicer as you spend more and the difference is noticeable.
Viewfinder
Some advanced point-and-shoots have either an electronic or optical viewfinder. This desirable feature means that instead of lining up photos via the rear LCD screen, you can look through the viewfinder located at the top of the camera. For professionals and enthusiasts who demand accuracy and produce a high volume of photos, a viewfinder almost is a necessity. Again, electronic viewfinders are rare on point-and-shoots and usually the territory of DLSRs and some mirrorless cameras, but on new high-end models like the Canon G16 or Sony RX100 IV, having an electronic viewfinder undoubtedly is advantageous.
Rugged Cameras
There are a number of "rugged" digital cameras on the market, with our favorite being the Olympus TG-4. These cameras are essentially entry-level point-and-shoots with an exterior casing that makes them waterproof, dustproof, and shockproof (the specificities such as waterproof depth depend on the model).
First and foremost, no camera is actually waterproof—you can see by combing through various reviews on sites like Amazon that rugged cameras can spring the occasional leak. More, you pay quite a premium for the extra protection, often getting a camera that is relatively basic in terms of image quality. The Olympus TG-4 currently retails for a pricey $379, despite having entry-level specs—you can get an excellent mid-range point-and-shoot that isn't weather resistant like the Canon G16 for around that price.
Rugged cameras make the most sense for activities with serious exposure to the elements like rafting, surfing, fishing, climbing, and skiing and snowboarding in inclement weather. They work well for beach vacations too—sand is one of the biggest enemies of any camera or lens and the extra sealing helps to prevent tiny pebbles from entering your electronics. For normal travel and outdoor use, we recommend buying a regular camera that is optically superior and taking reasonable care to store it. Even a normal case inside a Ziploc bag will protect your camera in most conditions.
What About a Memory Card?
The good news for consumers is that memory cards continue to get faster and cheaper. Just a couple of years ago, Class 10 cards, which have a minimum write speed of 10 MB per second, were expensive and there was an actual decision to make between those and slower Class 4 cards. By 2015, the price of Class 10 cards has dropped to the same range as Class 4 cards and it's a no-brainer (Class 4 cards soon will be extinct).
Our favorite SD memory card for point-and-shoots is the SanDisk Extreme, which offers fast write and read speeds (up to 40 MB/s write and 60 MB/s read). You also get protection for the elements: the SanDisk Extreme is rated as waterproof, shockproof, X-ray proof, and can operate in temperatures from -13 to 185 degrees Fahrenheit. We like the extra peace of mind, but if you don't care about the durability of your card, the SanDisk Ultra is slightly cheaper.
In terms of storage, 16GB is a good size that won't have you consistently running to your computer to upload and delete photos. If you frequently shoot high resolution video or won't have access to uploading or another card, 32GB or 64GB cards are available and offer even more bang for your buck.
Read More About Photography