Superzoom cameras continue their meteoric rise in popularity, offering the look and feel of a DSLR is an easy-to-use package that doesn't require changes lenses. Of course, the star of the show is the powerful zoom, which consistently tops 1000mmm even at the budget end of the spectrum. The Achilles heal is the relatively small 1/2.3" image sensor—the same as most other point-and-shoots—but these cameras make up for it in features. Below are our picks for the best superzooms of 2015 ranging from entry-level to high-end. As you spend more you can expect faster lenses, larger sensors, and more features like image stabilization and increased video options.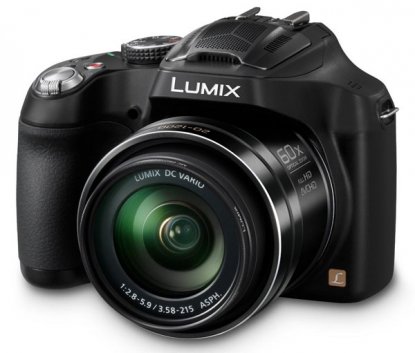 Zoom: 60x (20-1200mm)
Megapixels: 16.1
What we like: 1200mm of zoom for around $250.
What we don't: Light on features.
A handful of entry-level superzooms fall at around $250, and we gave serious consideration to including the Nikon L840 on this list. However, it just doesn't stack up very well against the Panasonic FZ70. The latter has a longer zoom range at 1200mm, uses a rechargeable lithium-ion pack instead of conventional AA batteries, and offers superior low light performance with an aperture range of f/2.8-5.9. You don't get many features with entry-level superzooms and the FZ70 is no exception to that rule, but we love the zoom range and value.
See the Panasonic FZ70


Zoom: 50x (24-1200mm)
Megapixels: 16
What we like: Lightweight and comes with image stabilization.
What we don't: Autofocus can be slow.
Canon has been a central player in the superzoom market for years, and the SX530 HS is their latest and greatest rendition. The main specs are similar to the Panasonic FZ70 above: 16 megapixels of resolution, 1200mm of zoom, and a 1/2.3" image sensor. You do get some nice bonus features like image stabilization and built-in Wi-Fi for transferring and sharing images, but what you're really paying for is Canon's easy-to-use functionality and consistent quality. We also like the relatively low weight of this camera: the SX530 is the only traditional superzoom on this list to come in at under 1 pound. If you're looking to save, the older Canon SX520 currently is selling for around $200 while supplies last.
See the Canon SX530 HS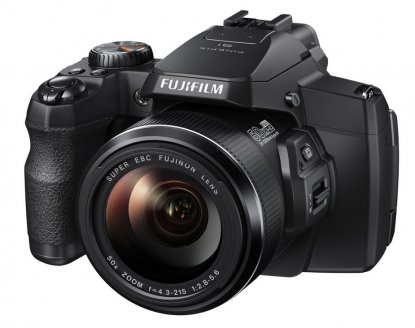 Zoom: 50x (24-1200mm)
Megapixels: 16.4
What we like: Weather sealing and electronic viewfinder.
What we don't: Fujifilm isn't known for video quality.
The image sensor here is similar to the cameras above, but at over $300 we are getting into some serious features. For all of you travel and outdoor photographers out there, the Fujifilm S1 is weather-sealed for protection from the elements (this usually only is available on high-end mirrorless cameras and DSLRs). It also boasts a fast f/2.8 lens, a handy electronic viewfinder, and image stabilization for better hand-held photographs. This all adds up to a fantastic camera for those who want the convenience of a superzoom without sacrificing on functionality. One gripe is that the video quality produced by the S1 is subpar, but that's not why most people choose this type of camera in the first place.
See the Fujifilm S1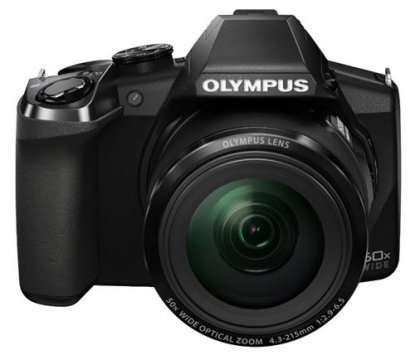 Zoom: 50x (24-1200mm)
Megapixels: 16.4
What we like: Unique "Dot Sight" feature is great for wildlife.
What we don't: Over a year and a half old and could use an update.
Olympus is best known for its mirrorless interchangeable-lens cameras, but they stepped up in a big way with the SP-100 IHS. This superzoom camera offers some advanced and very unique features, namely the "Dot Sight" technology that allows you to focus more easily on moving subjects far away. A small red light is projected above the electronic viewfinder and below the flash that allows you to zero in on your subject. This feature is very useful for wildlife photographers and birders in particular. Keep an eye out for a successor as this camera was originally released in early 2014 (this could result in a price drop if and when it happens).
See the Olympus SP-100 IHS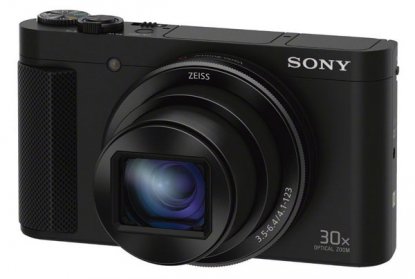 Zoom: 30x (24-720mm)
Megapixels: 18.2
What we like: Half the weight and doesn't sacrifice on features.
What we don't: 30x zoom lags behind.
There are a number of compact superzooms available in 2015, but most can't stand up to their larger siblings in terms of image quality. However, it would be a shame to leave the new Sony HX90V off this list, which offers a 30x optical zoom while weighing only 8.4 ounces total. The glass isn't cheap either: Sony went with a Carl Zeiss lens and electronic viewfinder to help you line up your shots. Image stabilization? Yes, Sony included that too, and they even added built-in Wi-Fi to keep up with the times. Some photographers may want more zoom than the HX90V can offer, but we think it's a terrific pocket superzoom that is considerably lighter and smaller than any other model on this list.
See the Sony HX90V


Zoom: 60x (24-1440mm)
Megapixels: 16
What we like: The longest reach on this list at a whopping 1440mm.
What we don't: $450 a lot to spend for a 1/2.3" sensor camera.
You have two main options in this price range: the Nikon P610 and the Canon SX60. It's a close call, but we give the nod to the former, which has a longer zoom and slight faster maximum aperture. Contrary to some of Nikon's past compacts, the P610 also boasts full Wi-Fi and NFC connectivity for downloading and sharing. It's true that $450 is a lot to spend for a superzoom with a small image sensor, and even more so with some of the attractive and unique options above. But you can't argue with the impressive 1440mm reach of this camera or Nikon's history of making quality cameras.
See the Nikon P610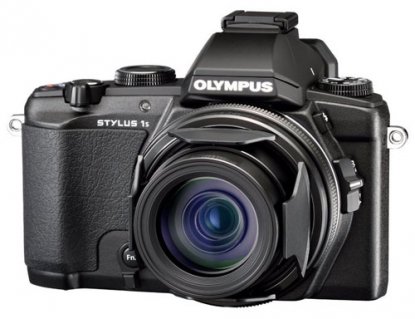 Zoom: 10.7x (28-300mm)
Megapixels: 12
What we like: Larger sensor and faster lens than any of the cameras above.
What we don't: Only 300mm of zoom.
The cameras above are battling in features, but the Olympus Stylus 1s is the first to offer tangible upgrades in image quality. Most notable is the sensor, which at 1/1.7" is a healthy increase over the 1/2.3" sensors above. You also get a very impressive lens with a constant maximum aperture of f/2.8, meaning that this camera will perform extremely well in low light all the way to the end of its range. What are the downsides of choosing the Stylus 1s? The zoom only extends to 300mm, which is healthy by DSLR standards but considerably shorter than many superzooms that reach over 1000mm or more. We think 300mm is plenty for travel and most other uses, but wildlife photographers likely will want more.
See the Olympus Stylus 1s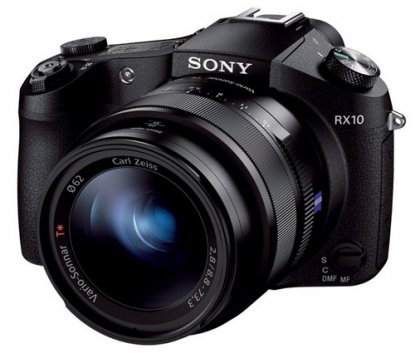 Zoom: 8.3x (24-200mm)
Megapixels: 20.2
What we like: The largest sensor on this list.
What we don't: Pricey and the zoom isn't exactly super.
Sony has been dominating the compact point-and-shoot market with its RX100 series—now on the RX100 III—and the RX10 plays off many of those strong points but in a superzoom package. The 200mm of reach is the shortest on this list, but it's still comparable to most telephoto and all-in-one lenses for your DSLR. More, the large image sensor, high megapixel count, and fast Zeiss f/2.8 combine to offer superb image quality. In many ways, the Sony RX10 is the only true DSLR alternative on this list. Our biggest hang-up here is the price, which can easily get you a DSLR like the Nikon D3300 with a 55-300mm lens added (you would even save some money in the process).
See the Sony RX10


Superzoom Comparison Table


What Exactly Is a Superzoom?
A superzoom is a type of point-and-shoot camera that, as the name implies, features an extra long zoom range. There isn't a strict definition of superzoom, but in most cases you'll see an optical zoom of 30x or more and a body that more closely resembles a DSLR than a compact. A key distinction is that superzooms do not have interchangeable lenses like mirrorless cameras or digital SLRs. They are extremely popular for travel, wildlife photography and other uses that require the use a wide variety of focal lengths.
Almost all superzooms that cost $500 or less have a 1/2.3" image sensor that is same size as most point-and-shoots. This means that although you will get more zoom power than a DSLR and a similar feel, overall image quality unfortunately can't compete. However, the lenses in this category are extremely impressive and most people choose a superzoom for its convenience and ease of use. You won't have to carry a large camera bag with multiple lenses and spend time switching them out. Instead, superzooms are an all-in-one solution that can capture just about any situation you encounter.
Using 30x optical zoom as a general cutoff—not including the high-end models that have less zoom but other huge upsides—there is a new breed of compact superzooms like the Sony HX90V above. These cameras have the body of a normal point-and-shoot with a special lens designed to reach around 30x zoom or more. Depending on the camera, the image quality can be questionable due to the small size on the internal components and lenses. Accordingly, we've decided to only include the Sony HX90V on this list, but there are a couple of other intriguing options like the Panasonic DMC-ZS40S and even the inexpensive Canon SX700 HS.
What Do You Get By Spending More?
Choosing a superzoom can be more confusing than other type of digital cameras. As mentioned above, the majority of models have a 1/2.3" image sensor and a similar megapixel count ranging from around 16 to 20. Aside from compact superzooms like the Sony HX90V, all are relatively bulky and therefore size and weight aren't major considerations.
Some of the high-end superzooms at the bottom of this list have larger sensors that really make a difference in terms of image quality. You also should look for quality of the lens aside from its zoom capability. Most importantly, the aperture range will determine how well it performs when natural light is low (you can see the differences in our comparison table above). You also should compare features like image stabilization, video, and built-in connectivity that vary from camera to camera and help explain differences in price.