Reine, Norway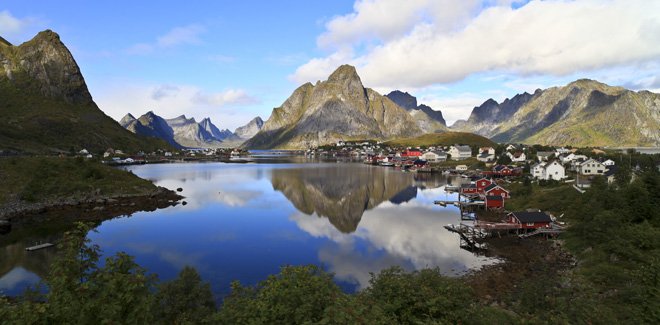 Reine, Norway
The breathtaking village of Reine is located on the island of Moskenesøya on northern Norway's Lofoten archipelago. With red and white fishermen's huts dotting the shoreline and surrounding peaks of granite shooting out of the Reinefjorden, the village has earned a reputation as "the most beautiful place in the world."
Reine is our favorite destination on the Lofoten Islands. It is a quiet village—Henningsvær is a bit livelier—but for natural scenery it can't be topped. Many of the best hikes on the Lofoten Islands are within a short distance of Reine and the fishing village of Å is less than 10 kilometers down the road. For kayaking, biking, and skiing in the winter, outfitter Reine Adventure has its office in town.
Some of the best rorbuer on the Lofoten Islands—traditional fishermen's cabins converted into accommodations for travelers—are in or near Reine (see Where to Stay in Reine). And a Coop Market is located in the center of the village, great for stocking up on supplies and having the option of cooking your own meals.
 
Things to Do in Reine
Reinebringen (map; from Reine; short but challenging)
This steep scramble leads to one the biggest viewpoints on all the Islands: an epic panorama of Reinefjorden and the Lofoten Wall.  The trail can be found just past the tunnel west of town.

Bunes Beach (map; ferry from Reine to Vindstad; easy)
The walk to Bunes Beach is similar to Horseid Beach only shorter. Take the same Fjordkyss morning ferry from Reine to the village of Vindstad, then follow the path northwest along the fjord, over the ridge, and down to the beach. The path is relatively easy and good for families.

Horseid Beach (map; ferry from Reine to Kjerkfjorden; moderate)
Take the 15-minute Fjordkyss morning ferry from Reine to the hamlet of Kjerkfjorden. Upon disembarking, turn right from the pier and follow the signs to the trail. Horseid Beach, a magnificent patch of white sand surrounded by towering granite, is approximately two hours walking each way.

Village of Å
Less than 10 kilometers west of Reine is the village of Å and the terminus of the E10 (the road across the Lofoten Islands). The Norwegian Fishing Village Museum is located in Å, offering a look into life in villages and the Lofoten fishery over the centuries. For those interested in camping, Å has a formal campground and there is free camping on the point.

Kayaking in the Reinefjorden
Reine is one of the premier kayaking destinations on the Lofoten Islands. For calmer conditions, try the interior waters of the Reinefjorden—the views are superb. Experienced kayakers looking for a full day on the water should consider the adventurous paddle from Reine to Å. Contact Reine Adventure for more information.