Best Travel Cameras 2014
Best Travel Cameras 2014
An ideal travel camera is lightweight, versatile, and can capture high-quality images. The choices range from point-and-shoots—the smallest and lightest cameras on the market—to digital SLRs, which are the bulkiest option but capture professional-grade photographs. In the middle is a very interesting choice for travelers: mirrorless interchangeable lens cameras that offer DSLR-like image sensors in a compact body. Below we break the best of each category with our picks for the best travel cameras for 2014.
Best Point-and-Shoots for Travel
The only truly pocketable camera for a travel is a point-and-shoot (mirrorless interchangeable-lens cameras have a noticeably larger profile). Point-and-shoots have come a long way in recent years, offering larger image sensors and popular features like in-camera panorama mode and built-in Wi-Fi. They also are the most economical choice and the lowest liability should something happen on the road.
 
The Panasonic Lumix LX7 is a favorite among photography enthusiasts and a great value at around $300. Boasting a high-quality Leica lens with a maximum aperture of f/1.4, the
Panasonic LX7
has the best low-light performance of any compact camera (a lot of great travel photos are shot in low light situations). In addition, the LX7 shoots fast (up to 11 frames per second), has Full HD 1080P video capability, and in-camera HDR. 
Megapixels: 10.1
Sensor Size: 41 sq. mm
Weight: 
10.5 ounces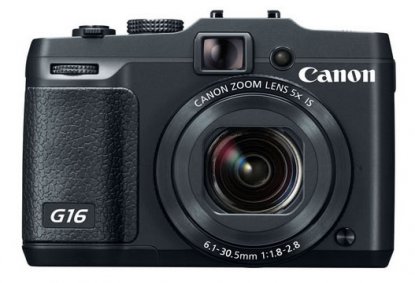 Canon PowerShot G16 ($499)
The Canon G16 is one of the top advanced performance point-and-shoots on the market and a great travel camera. The Leica lens has a maximum aperture of f/1.8 for excellent low light performance, and the camera has features like Full HD 1080p movie capability, an optical viewfinder, in-camera HDR and panorama modes, and a number of manual controls. Given its image quality and features, the Canon PowerShot G16 truly is pocketable (to achieve this, Canon went without a flip-out screen that was on previous models like the G12). 
Megapixels: 12.1
Sensor Size: 41 sq. mm
Weight: 12.4 oz.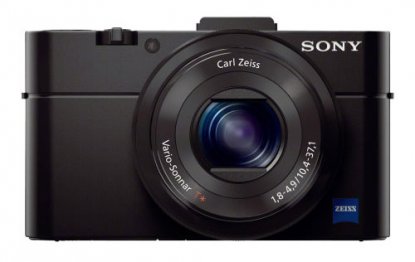 Sony RX100 II ($698)
The Sony RX100 II is one the best point-and-shoot ever made—it's what many professionals and enthusiasts will use when they can't carry larger set-ups. The camera has an extra large sensor that produces high-quality 20.2 megapixel images, a fast Carl Zeiss lens, and RAW capability, all in a lightweight durable body. Compared to the original Sony RX100 ($548), the new version comes with Wi-Fi connectivity, a tilting LCD screen, and 24p video, among other features. Both versions are relatively discrete for travel, meaning that people around you won't necessarily know that you're carrying such a nice camera.
Megapixels: 20.2
Sensor Size: 116 sq. mm
Weight: 9.9 oz.


Best Mirrorless Cameras for Travel
Mirrorless interchangeable-lens cameras were built entirely for digital, fitting DSLR-like image sensors into compact bodies. This class of digital camera is arguably the best for travel in 2014, offering outstanding image quality in a lightweight set-up.  Below we've picked three of the best options for travel from the budget NEX-3N up to the new full-frame Sony A7.
Sony makes top-notch mirrorless cameras and the
NEX-3N
is its leading budget model. The NEX-3N features a DSLR-like image sensor in a compact body that weighs only 7.4 ounces (the total weight including the kit lens is 11.5 ounces). You won't get the bells the whistles of higher-end mirrorless models like the 
Sony NEX-6
, but the NEX-3N will outperform most point-and-shoots, many of which are similar in cost or more expensive.
Megapixels: 16.1
Sensor Size: 
366 sq. mm
Weight:
 7.4 oz. (210 g)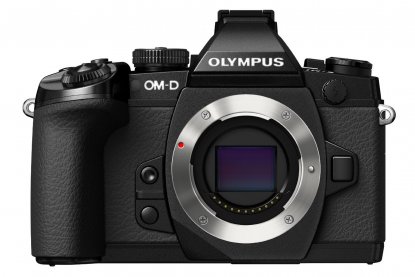 Olympus OM-D E-M1 ($1,399)
Continuing the tradition of the popular OM-D E-M5, the Olympus OM-D E-M1 is our pick for top mirrorless camera of 2014. Compared to its predecessor, the OM-D E-M1 has improved autofocus, a larger viewfinder, faster shutter speed, and almost all of the features that made the E-M5 such a hit. For travel, the E-M1 has a sturdy magnesium alloy build that is dustproof, splashproof, and freezeproof, along with access to the full array of Micro Four Thirds lenses. For those looking to save, the Olympus OM-D E-M5 is currently available at a discount (it's also 2.5 ounces lighter and has longer battery life).
Megapixels: 16.3
Sensor Size:  221 sq. mm
Weight: 17.5 oz. (497 g)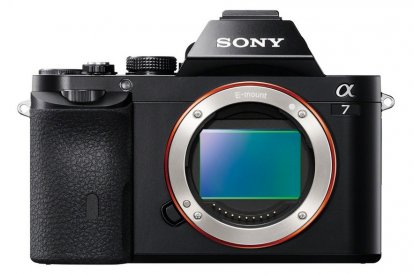 Sony Alpha A7 ($1,698)
Billed as the world's lightest full-frame interchangeable lens camera, the Sony Alpha A7 is considerably lighter and thinner than its full-frame DSLR counterparts from Nikon and Canon, offering professional image quality in a sleek compact body. So what are its weaknesses? Low light performance is sub-par for a camera in this price range, the autofocus could be improved, and the lens options are still limited. However, the Sony Alpha A7, along with the more expensive 36.4-megapixel Sony Alpha A7R, are impressive technological feats and excellent cameras for those who value mobility. 
Megapixels: 24.3
Sensor Size: 855 sq. mm
Weight: 16.7 oz. (477 g)


Best DSLRs for Travel
Digital SLRs have the largest sensors, the most precise lenses, and capture the highest overall image quality of any type of camera. They also are bulkier and heavier than mirrorless cameras or point-and-shoots and come with a higher price tag. For travel, many of the entry-level models are lightweight, offer great image quality along with features like built-in Wi-Fi and GPS.
The new D3300 is a lightweight DSLR with some nice improvements over the older Nikon D3200. First, Nikon removed the optical low pass filter for better sharpness. Second, they added Nikon's newest EXPEED 4 image processing engine to reduce noise and improve low light performance. Finally, Nikon lightened the camera body slightly and cut the weight of the new 18-55mm VR II kit lens by 20%. This means the
Nikon D3300
offers great image quality in a lightweight set-up to rival mirrorless cameras and the compact Canon SL1 (below).
Megapixels: 24.2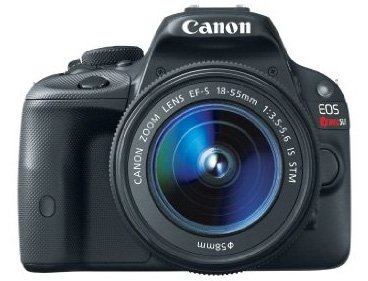 Canon EOS SL1 ($649 with 18-55mm STM lens)
The Canon SL1 is one of the smallest and lightest DSLRs ever made, weighing in at approximately 14.4 ounces without a lens. It's serious competition to the increasingly popular mirrorless cameras but has the lens offerings of a DSLR (lenses are still a weak point of the mirrorless camera market, although they are catching up). With the Canon EOS SL1, you won't get a flip-out screen like the Rebel models and the autofocus isn't quite as advanced, but many prefer the compact size for travel and other uses that require portability.
Megapixels: 18
Sensor Size: 332 sq. mm
Weight: 14.4 oz.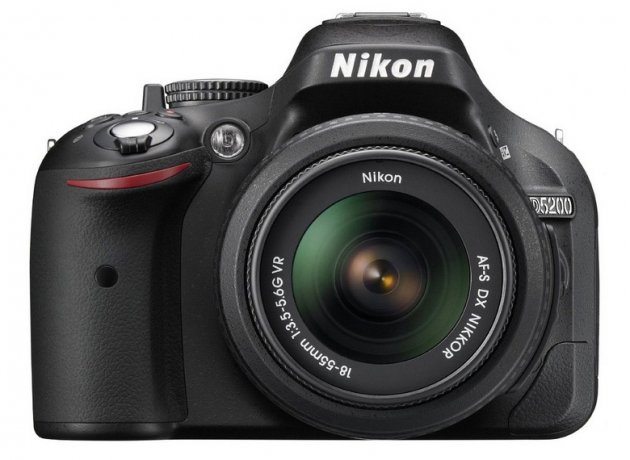 Nikon D5200 ($749 with 18-55mm VR lens)
The 24.1-megapixel Nikon D5200 is a nice step-up from the Nikon D3300 with added features like in-camera HDR and panorama modes, a flip-out screen for movies, and an advanced 39-point autofocus. This camera is easy-to-use with a number of automatic shooting modes but also offers more manual control for those who want it. The new Nikon D5300 ($797) has built-in Wi-Fi and does not have an optical low pass filter for improved sharpness. But if these features aren't important to you, we recommend saving with the D5200. 
Megapixels: 24.1
Sensor Size: 366 sq. mm
Weight: 17.8 oz.
Lenses: See our Best Lenses for Nikon D5200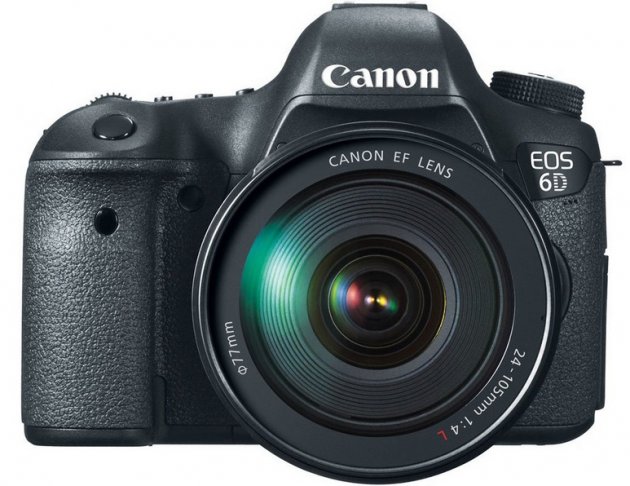 Canon EOS 6D ($1,899)
The weight of a full-frame DSLR isn't optimal for travel, but if you decide to take this route for image quality over convenience, the Canon EOS 6D is an excellent option. The 6D is Canon's "budget" full-frame DSLR, hitting the sweet spot among consumers and enthusiasts with excellent image quality, Full HD 1080p video, and built-in Wi-Fi and GPS. The autofocus of the 6D is slightly disappointing, making it inferior to other full-frame cameras for action and video, but it's still an impressive camera and a great value.
Megapixels: 20.2
Weight: 26.8 oz.
Lenses: See our Best Lenses for Canon 6D


More About Cameras
The mirrorless revolution has yet to fully take hold—particularly in the United States—but 2014 could be the year that everything changes. Mirrorless cameras pack DSLR-like image sensors into... 
Read More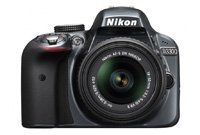 Best DSLR Cameras 2014
DSLR cameras are the best of the best—they have the most megapixels, largest sensors, highest quality lenses, and allow for the most manual control. The majority of DSLRs on the market... 
Read More