Ski socks have come a long way. Some socks are still synthetic, but we're glad most manufacturers have gravitated back towards wool, specifically the Merino variety. It's not scratchy like wool socks of old and repels odor extremely well. Modern ski socks also are thinner than in the past—boot liners have improved so much that you no longer need an ultra-thick, itchy wool sock to combat cold and discomfort. A thinner sock also gives you a more precise fit in your boot, resulting in better power transmission and performance. You still have a choice of light and mid-weight options, and you can expect to spend around $25 for merino down to $10 for a basic wool/stretch nylon blend. Many of the socks below are men's or unisex, and when available we've included the women's-specific version.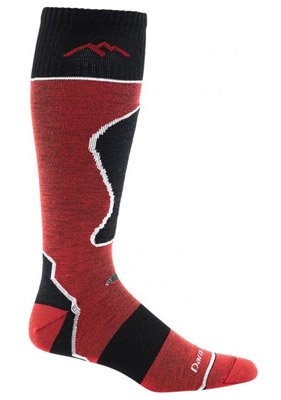 Based in Vermont, Darn Tough has emerged on the sock scene in a big way, challenging market leader SmartWool. We like Darn Tough—they make high quality merino wool socks with great designs that stand the test of time (and they come with a lifetime warranty). For the top overall ski sock for the 2014-2015 season, our pick is Darn Tough's Over-the-Calf Padded Ultra-Lite. Its official name is the "Darn Tough Merino Wool True Seamless Over-The-Calf Padded Ski Sock," which pretty much says it all. The seamless design helps to avoid irritation against your foot from a long day on the mountain, and the sock has padding in critical areas like the shin for added comfort. The Ultra-Lite is warm, but those who want even more warmth should try Darn Tough's Over-the-Calf Padded Cushion.
Materials: 67% merino wool, 30% nylon, 3% lycra
Women's version: Over-The-Calf Ultra-Light Women's
What we like: Comfort and color schemes.
What we don't: Don't make us repeat that name.
Without a doubt, New Zealand-based Icebreaker is one of the top manufacturers of merino wool outdoor gear. Icebreaker's Skier+ Mid offer the highest percentage of merino of any ski sock on this list and feature ample padding in the foot and shin for added comfort. These socks are slighter warmer than similar models by Darn Tough or Patagonia and wick moisture extremely well (perhaps more merino has something to do with it). Given the similarity in price between these socks and the Darn Tough socks above, it's a very close call and you can't go wrong with either brand.
Materials: 80% merino, 16% nylon, 4% lycra
Women's version: Icebreaker Skier+ Mid Women's
What we like: Warm and comfortable.
What we don't: A bit much for spring skiing.
It wouldn't be a proper list without SmartWool, and our favorite model for skiing is the PhD Ski Light. Like many of SmartWool's products, this sock is comfortable, fits and performs extremely well, and looks good to boot. Our biggest concerns are with durability—in recent years our SmartWool products have given out earlier than those by competitors like Darn Tough, Icebreaker, and Ibex. This doesn't mean that you shouldn't buy SmartWool, and merino products do have limited lifespans in the first place, but it is a consideration given the price.
Materials: 67% Merino wool, 31% nylon, 2% elastane
Women's version: Smartwool PhD Ski Light Women's
What we like: Great fit and performance.
What we don't: Questionable durability.
Patagonia takes a simpler route and eschews tons of technology for a simple, great fitting ski sock. One nice feature is it comes up really high—to just below the knee—which prevents the cuff of the sock and the cuff of your ski boot interacting in a potentially uncomfortable way. The Lightweight sock is Patagonia's medium thickness—this sock is also available in Ultra Lightweight and Midweight.
Materials: 57% merino wool, 40% nylon, 3% spandex
What we like: Simple and uses Merino wool.
What we don't: No Ultra Lightweight version specifically for women.
Compression Ski Socks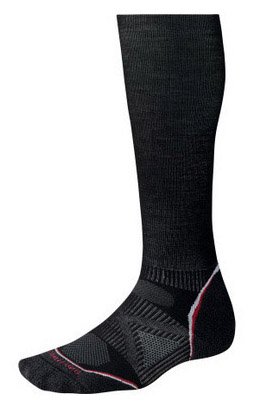 The actual utility of compression socks is up for debate—some people prefer to ski with them on and others wear them for recovery afterward. They are, however, very comfortable and warm, making compression a viable option for those with cold feet or who like the pressure. This SmartWool PhD does what the Ski Light above does, including—despite it not being in the title—being seamless in the toes. The higher price tag is due to the graduated compression technology that gently squeezes critical muscles in the foot and lower leg to promote blood flow for warmth and recovery. If you suffer from cold toes, the PhD might be just what the doctor ordered.
Materials: 50% merino wool, 45% nylon, 5% elastane
What we like: Compression technology.
What we don't: Pricey for a ski sock.
Ski Socks on a Budget
There might be some new materials in the mix, but these are awfully close to the ski socks your dad wore in the 1980s. And let's face it, as long as you aren't out there in your cotton crew socks, you are going to be fine. We still like socks with more merino wool for comfort and fighting odor, but if you just want to stock up on a solid, cheap ski sock, the Sirocco is all you need.
Materials: 40% Wool, 35% Olefin, 20% Stretch Nylon, 5% Spandex
What we like: Padded calf (and keeps your wallet padded).
What we don't: Bulky and gets stinky quicker.