Alpine touring requires serious know-how, as does choosing the right AT gear. For this piece we went straight to the source, polling a handful of top ski guides who combined spend hundreds of days each year exploring and skiing backcountry terrain all over the world. Jeff Ward is co-owner of North Cascades Mountain Guides in Washington and has been working full-time as a professional mountain guide since 1995. Bruce Goodlad runs the Mountain Adventure Company based in Chamonix at the foot of the famed Mont Blanc massif. Karen Bockel guides year-round in mountains from Wyoming to Alaska and is Co-Owner of Chicks Climbing and Skiing. Emilie Drinkwater is an AMGA-certified guide that owns and operates Cloudsplitter Mountain Guides in New York, and has explored mountains from the Northeast to Alaska and the Karakoram. Together they offer decades of experience and invaluable insights into the increasingly popular sport of alpine touring.

1. Can you please give us your background with skiing and alpine touring?
Jeff: I've been skiing for 35 years, and am a former ski racer and instructor. I have been a ski guide for 15 years, leading trips to Washington, Alaska, Canada, France, Italy, and Switzerland. I'm also Lead instructor for the American Mountain Guide Association guide training program.
Bruce: I came to skiing through climbing. The first time I climbed in the Alps in winter, a friend and I were postholing down the Argentiere glacier after a route on the North face of the Droite when a bunch of continental climbers wizzed passed us on skis on their way home. I remember turning to him and us both saying that we need to learn to ski. 25 years later we are both guides and ski 100+ days a year.
Karen: I am an AMGA certified Ski Guide. I have been skiing in the backcountry around the San Juans of Southwest Colorado since 2002 and have travelled to all kinds of places in search of powder and sweet lines like the Alaska Range and the Chugach, the high Andes in Chile, the Canadian Rockies, and of course, the Alps. I raced in ski mountaineering for several years, twice winning the overall U.S. series. My first big expedition was skiing from the summit of Denali in 2008. I'm also a guide and co-owner of Chicks Climbing and Skiing, which offers guided women's ski programs around the globe (as well as rock, ice, and alpine climbing) and work for Exum Mountain Guides, Jackson Hole Mountain Guides, Valdez Heli Ski Guides, Mountain Trip, and teach for the American Avalanche Institute. I like mostly everything that has to do with snow. I am a physicist by training, so I even like sticking my head in the snow and learning what's going on with the snowpack.
Emilie: I grew up ski racing in New Hampshire first as an alpine skier, and later switched to nordic. After college, when pursuing racing any further became impractical, I started backcountry skiing in New York's Adirondack Mountains, first as a telemark skier, then as an AT skier.

2. What type of terrain and conditions do you ski most?
Jeff: I spend most of the winter skiing powder in the North Cascades and interior British Columbia. In the spring, it's skiing the European Alps and high mountain hut-to-hut trips.
Bruce: Most of my winter is focused on touring and I generally do quite a lot of off-piste skiing early season. I ski in a mix of places but spend a lot of the season in high alpine terrain, then head to the arctic in the spring to ski in Norway. I don't really focus on anything specific but ski everything from steeps to low-angled powder.

Karen: I work in Alaska and get to ski a lot of big glaciers, faces and couloirs in the Chugach Range. I also guide in the Tetons, which has great ski mountaineering terrain as well as nice long tours. This year I will be leading a women's ski trip to Japan for Chicks Climbing and Skiing, which will include powder skiing in the trees (bring your snorkel!) and ski touring up beautiful volcanoes in the national park.
Emilie: By default, I've probably spent the most amount of time on eastern hardpack. Sometimes we ski powder but more often than not what arrives as powder is quick to be rained on and then frozen or blown away. So I end up skiing a lot of crust: ice, rain, wind, you name it. In the spring, I ski a lot of corn, either on the East Coast or in the Alps. Corn is great but that too can be inconsistent, and last year in particular, I skied a lot of rotten isothermic snow, first in the Alps and then in Alaska. Not ideal, but it's still skiing! As far as terrain, I've sampled just about everything from big mountain to wooded glades to technical ski mountaineering terrain. Overall, I've spent the most amount of time in somewhat technical but lower elevation ski mountaineering terrain, largely on the East Coast (yes, we have phenomenal ski terrain here, too!) though I've put in a lot of time in the Alps.

3. What characteristics do you look for in an alpine touring ski?
Jeff: A playful shape and flex: not too stiff but not a noodle. I prefer a ski with considerable tip and tail rocker and spend most of the year skiing something around 110 under foot.
Bruce: There is no such thing as a quiver-of-one ski, but we are getting closer and closer with today's design. The ski I tour with in Japan in January will not be the same ski I am ripping corn on in May at 70 degrees north. My alpine touring ski has to be my go-to set-up that I will be happy with no matter the conditions. I look for a balance between weight, width, and performance, and generally like a ski between 95 and 100mm underfoot. Any wider and there is too much lever on harder snow, but this also gives plenty of float in powder even with a guide pack on.

Karen: I like to spend all day out and have fun on the down. In other words, it's got to do everything. The ski must break trail well, can't be too heavy, needs some float, and deliver solid performance in variable conditions.
Emilie: Stability, dampness, and a ski that functions well in a variety of terrain and conditions. Unlike a lot of my peers, I prefer a slightly heavier touring ski. I'm not even afraid of a ski with a little metal! To me, stability and control on the downhill is just as important, if not more so, than a lightweight ski for uphill travel. In other words, I'd rather be a little slower going up and have a little more control going down.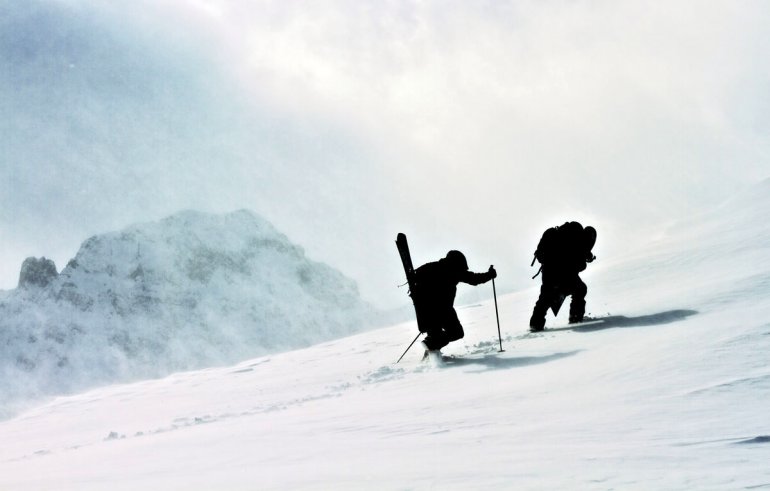 4. How much does ski weight factor into your decision?
Jeff: Weight is a considerable factor since I average 20,000+ vertical per week in the winter. That being said, all the climbing isn't worth it if the ski down isn't fun.
Bruce: A bit but not too much. A super light ski is easily deflected when skiing crud and variable snow, and this is a big consideration in Europe as the vertical is so big compared to North America. If you are skiing in Chamonix or La Grave, you could easily ski 2,000 meters vertical in one run and encounter every kind of snow.

Karen: It's definitely a big part of the equation, but I am no longer a ski randonee racer. A ski that's too light reduces reliability in the backcountry, especially if you are on a remote expedition, so I go for something that can take the abuse over many long days.
Emilie: Oops, I guess I just answered that. That said, when thinking about purchasing a ski, I'm looking for something middle of the road: neither super light nor super heavy. Skiing down should be fun.

5. What touring skis and boots currently are in your quiver? Which have impressed you and have any been disappointments?
Jeff: By far my favorite ski right now and my all-time favorite ski is the DPS Wailer 112. It's the perfect size and shape for the type of skiing I do the majority of the winter and the weight is very reasonable considering the size. Other skis in my quiver include the 4FRNT Raven for ski mountaineering, K2 Pontoon for the deep days at the area and when working Heli skiing, and a pair of K2 Petitors for the days that aren't super deep. For boots, I've been in the Dynafit TLT5 for the past 5 years and couldn't imagine using anything else. The walk mode and weight are amazing and they are stiff enough to work with any of the skis I tour on. For my short tour/off piste and Heli ski boot I use the K2 pinnacle 130 with tech fittings.
Bruce: On deep days I am skiing the Dynastar Cham 107 HM with G3 Ion bindings and a Dynafit Mercury boot. This set-up is not too heavy to push uphill and great in the fluff. The shape of the central section of the ski means that should the conditions go wrong, I won't have a disaster of a day. As a go-to, do-anything ski, I have the Dynastar Cham 97hm with a pair of Dynafit TLT radicals. I can put the Mercury boots on these or adjust them for a pair of Dynafit TLT6 Performance to save a bit of weight. I have changed out the liner on these as the Dynafit model wore out in weeks, and have replaced it with a Palau wrap around hard liner, which is warmer and has massively improved the ski-ability of the boot. I just got my set up for this season: the new Dynastar Mythic, which is the same shape as the 97 but 400g lighter per ski. I have matched this with the Dynafit TLT Superlite 2 with brakes (I hate bindings without brakes). I haven't skied it yet but am super excited. And another advantage is that it takes the same skins as the 97.

Karen: I currently have three backcountry set-ups (one of them lives in Alaska, though): the Dynastar Cham 107 HM with Dynafit bindings. I love this ski in crud, powder, and the resort, but it's little big for long days of touring. The second is the Black Diamond Carbon Convert with Dynafit bindings, which is awesome for long days with big vertical. And in Alaska, I have my DPS Yvettes with Dynafit bindings, a ski that just makes skiing so much fun. For boots, I have Dynafit Mercurys that I use with all three skis. They work well and provide a good mix of performance, comfort, and weight.
Emilie: My go-to, all-around, one-ski quiver for alpine touring is my Dynastar Cham HM 97's. They are pretty much the best ski I've ever used and what I'm on 90% of the time. I've also been happy with my Kastle TX 107's as a backcountry powder ski and my K2 Coombacks as another good all-around ski. The one and only pair of boots I have is the Scarpa RS Maestrale; they're great boots for me for all-around use. I've never really been truly disappointed with a touring ski or a boot. Sure, there are some that I've used briefly before they've fallen into obscurity, but these days manufacturers really make high quality equipment.
Editor's Note: The popular Dynastar High Mountain (HM) Cham referenced above has been changed for the 2015-2016 season. Dynastar no longer has an HM model, but their new CHAM 2.0 closely resembles the HM design. According to a representative from Rossignol Group (Dynastar's parent company) that we contacted, the 2.0 "has a more-moderate rocker that improves tracking and decreases deflection, a new pintail enhances maneuverability and float, and a five-point sidecut offers easy turns and control at speed." In addition, an all-new carbon laminated high-mountain ski has been introduced, the Dynastar Mythic, which shares a similar design but in an ultralight package.

6. What are your favorite skins?
Jeff: Right now my favorite skins are the Black Diamond Mohair Pure. They have great glide and reliable glue. I've also liked the old G3 Alpinist skins. Glide and glue are the most important aspects of skin performance for me.
Bruce: I use the Dynastar factory skins, which are made by Pomoca (the same as Dynafit skins). They provide a good blend of weight, grip, glide, and packability. Packabilitiy is a big thing that folks miss when choosing skins. My old Black Diamond skins took up half my pack but the Pomoca ones seem to go pretty flat when they have softened a bit with use.

Karen: I use Black Diamond skins, and usually go for the mix of mohair and synthetic. They have solid grip, good glide, and a pretty long lifespan.
Emilie: The Black Diamond Glidelite Mohair Mix skins. They're a good combination of being lightweight, smooth, relatively fast, and durable. In the past I've also used Dynafit Speedskins, which are very smooth and fast though they're made to fit only Dynafit skis.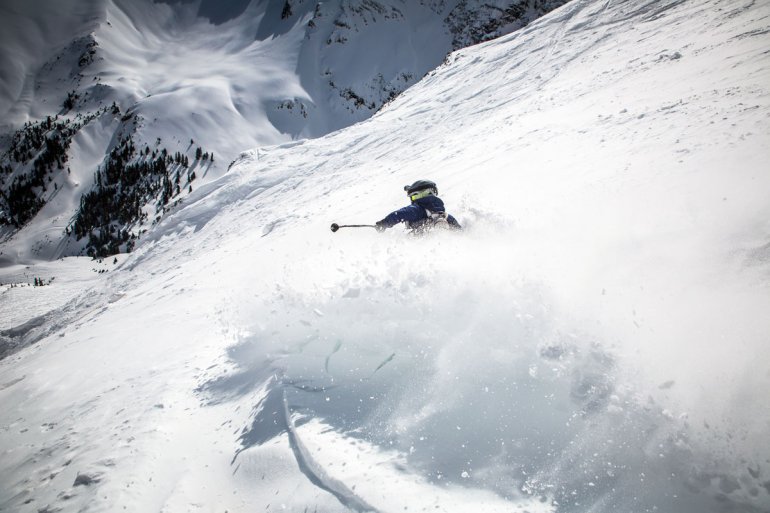 7. What advice do you have for those just getting started with ski touring?
Jeff: Tech bindings are the only way to go in the backcountry. It's totally worth going through the steep learning curve. Comfortable boots with a good walk mode will make you a happier person and get you more turns. Wider skis with rocker handle the variable conditions better than skinnier skis. Also, don't learn to ski in the backcountry. Learn to ski in the ski area and then take those skills to the backcountry. Education and mentorship are key to traveling safely in avalanche terrain. Don't shortcut this important step.
Bruce: Start small and build up. Tours close to the resort are a great way to build confidence and hone your skills before vanishing into the wilderness. Take the time to learn how to kick turn properly. It may be difficult and frustrating at times, but if you can nail it early on you will save a lot of energy and a few scary moments down the road. Get some avalanche eduction so you can make your own informed decisions. Avalanche forecasts are a great tool but they are only one part of your decision making framework. Tour in small groups. Big groups make bad decisions and are not as fun to ski with.

Karen: The equipment is so good these days that you don't need to fret the details. Get something that is usable in a wide range of conditions, then specialize later. Just getting out there is fun, and before you know it, you'll be hooked on the backcountry. Get some avalanche skills and education down before heading out. Chicks is offering a women's avalanche course this spring in the Tetons in collaboration with the American Avalanche Institute, a great opportunity to learn backcountry skills in a great group of women.
Emilie: If you are about to put a bunch of money into a backcountry set-up but haven't ever toured in the backcountry, there's a lot more to it than you might think. Consider hiring a local guide for your first trip out. This person should have intimate knowledge of everything from the snowpack, to the best aspect to ski at any given time during the day, to where secret powder stashes are. They also can teach you invaluable fundamentals including proper pacing, hydration and nutrition, what to bring in your backcountry pack, and how to best navigate backcountry terrain. And that's just naming a few important things you might learn.

8. Where is your next big ski trip?
Jeff: I will be spending Christmas Week at Powder Creek Lodge with my family. This will be my 6-year-old daughter's third fly-in hut trip but the first one where she will have her own backcountry set-up. She can't wait to earn her turns and "shred the pow". I think she is more excited than I am, and I'm super excited.
Bruce: I have a busy winter teaching avalanche courses in December and early January then backcountry sking in Japan in late January. Then loads of touring in the Alps through February, March, and early April before heading to Finnmark in Norway for three weeks. I have a touring trip in Svalbard in May to finish off the winter. We have a sail and ski trip to Antarctica in November next year so am making plans for that already. Have a great winter wherever you are!

Karen: Japan in February! I can't wait to ski some super deep powder, eat sushi, and relax in traditional Japanese onsen hot springs.
Emilie: Iceland!

More About the Guides
Jeff Ward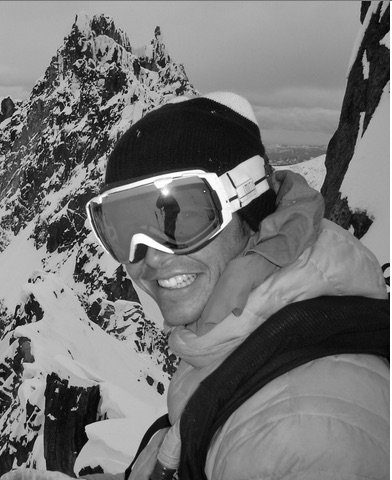 Jeff Ward, co-owner of North Cascades Mountain Guides, is a fully certified AMGA and IFMGA Mountain Guide, and has been working as a full-time professional mountain guide since 1995. In addition, Jeff is an instructor and examiner for the American Mountain Guides Association (AMGA), teaching the next generation of American mountain guides. Jeff also works for the Northwest Avalanche Center (NWAC) as a professional observer. He lives in Leavenworth, Washington with his wife Kristen and 6-year-old daughter Allison.

Bruce Goodlad
Bruce runs the Mountain Adventure Company in Chamonix at the foot of the Mont Blanc massif and is the Technical Director for the British Mountain Guides. He has been an IFMGA guide since 2001 and worked as a mountaineering instructor in the United Kingdom prior to that. He has guided on skis and foot all over the world working from Antarctica in the south to Greenland in the North. He spends about 100 days a year guiding on skis. Bruce has a special interest in avalanche education and works each year on a number of avalanche courses for professional and recreational skiers. He recently published a book called Ski Touring: Essential Knowledge for Off-Piste, Backcountry, Ski Tourers, and Ski Mountaineers.

Karen Bockel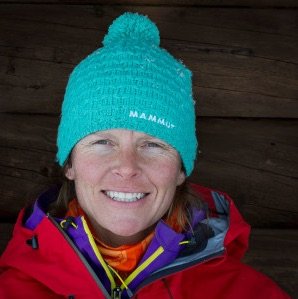 Karen grew up Germany and moved to the United States in 1995. She has a M.S. in Physics and competed as a professional athlete in ski mountaineering and road cycling. Her passion is being in the mountains: she has skied many of the Colorado Fourteeners, the Grand Teton, and Denali, along with trips to the Canadian Rockies, the Coast Range in Alaska, the European Alps, and Andes in Chile.
In 2010, Karen began guiding on the West Buttress of Denali, and now guides year-round in the mountains. She started guiding for Chicks Climbing and Skiing in 2012 and loves the clinics and the amazing positive energy from climbing with a group of women. She also works for Exum Mountain Guides, San Juan Mountain Guides, Valdez Heliski Guides, and Mountain Trip. Karen is an AMGA Certified Rock and Certified Ski Guide, is Avalanche Level III certified, and is a member of the Search and Rescue Team in San Miguel County, Colorado.

Emilie Drinkwater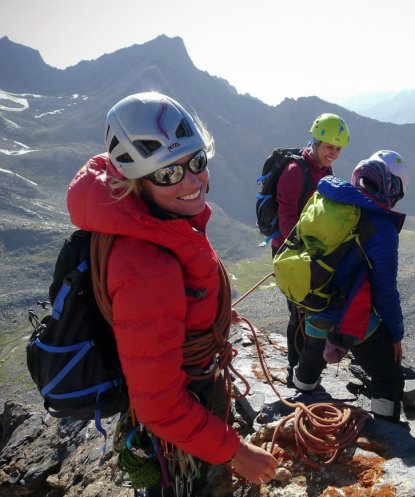 Emilie is an American Mountain Guide, certified (Rock, Alpine, Ski) by the AMGA and licensed internationally by the IFMGA/UIAGM/IVBV. She was first introduced to rock climbing while attending St. Lawrence University and began guiding a few years later in 2001. Her climbing and guiding lifestyle has taken her worldwide from the Adirondacks to Asia in pursuit of exploration and adventure whether climbing up mountains or skiing down them (preferably both!). Despite a preference for technical ice, rock, and alpine climbing, Emilie has an extensive endurance background that includes four years as an NCAA Division I Nordic skier, two Ironman USA triathlons, and numerous long distance running and multi-sport races. She now owns and operates Cloudsplitter Mountain Guides with her husband in Keene Valley, New York.
Learn More About Outdoor Gear