Once you've settled on new skis for the season, you will need proper bindings to keep them attached to your boots. We've separated the best bindings of 2014-2015 below into three categories: traditional alpine bindings, alpine touring bindings, and tech bindings. All the makes come in different DIN ranges. A heavier, expert skier will tend to go with a high DIN binding, while a less advanced or lighter weight skier can save money and go with a lower DIN option. Many binding companies license their models to multiple ski companies, so you can often find the same binding with different graphics under different brands (see our "other options" in the specs).


Alpine Ski Bindings
These are traditional downhill bindings and all that most skiers need. They provide the most security for skiing in a resort and are the least expensive. The heel is fixed, so you cannot tour with these. Plenty of people hit resort's sidecountry zones (like Jackson Hole) on alpine bindings that only require a short traverse or bootpack to access.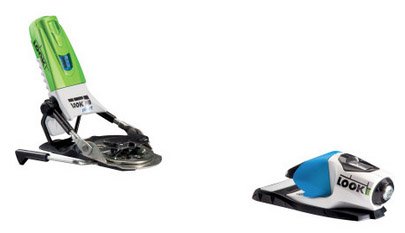 The Look Pivot series bindings are classics in the world of alpine skiing, and for good reason. Look nailed the mechanics on the Pivot heel when they designed it over a quarter-century ago: it gives the binding a short footprint on the ski, which allows for natural flex, and it has industry-leading elastic travel to help prevent knee injuries. This binding has served some of the world's best skiers for decades, and continues to be a solid choice for intermediate to advanced level skiers. The brakes are not swappable on the Pivot's heel, so make sure you purchase the correct width for the ski it will be paired with. The Pivot comes in an all-metal 18 DIN version as well and is the same as all Rossignol FKS bindings. For lighter weight and women skiers, try the 12-DIN version.
DIN: 5-14
What we like: Great pop between turns and for ollie-ing your skis in the park.
What we don't: Limited adjustment range: if you get new boots you may need to remount.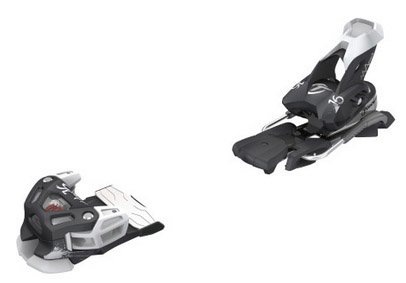 In the past, Tyrolia has repackaged their world-cup race bindings to sell to big-mountain and park skiers. Starting last year, they've come up with an all-new model aimed at these two crowds. The Attack 16 has features like an all-metal AFD for durability and the lowest stand height on this list at 17mm, keeping your boots close to the ski for better responsiveness. Tyrolia also made the toe quite a bit more compact from years past, which helps keep down weight and the swing weight when mounted on the ski. With a 180-degree release in the toe, these bindings are both safe and have a great feel from the park to the peaks. Lighter weight skiers should look at the slightly lower DIN AAAtack 13 version to save a good bit of money. The Tyrolia AAAtack series is the same binding as the 4FRNT and Fischer Attack series.
DIN: 5-16
What we like: 180-degree release toe protects knees well in backwards falls.
What we don't: Despite being solid bindings they look plastic-y.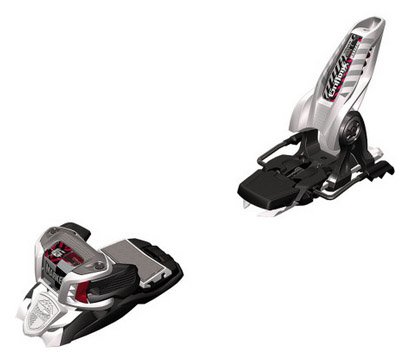 The Griffon has been on the market for at least seven years now and is a solid choice for skiers from beginner-intermediate to experts with a lighter weight. With a respectable DIN range from 4-13, this binding is a great option for aggressive expert female skiers as well. The toe is fully automatic, meaning it adjusts itself for new a boot or for those who've been worn down a bit from a few seasons of use. The brakes are easily swappable for varying ski widths and available in different sizes when ordering. They have a confidence inspiring "ka-chunk" when stepping in and are an easy, no-nonsense option for resort rippers. Larger, more aggressive skiers should take a look at the Marker Jester and Jester Pro, which is essentially the same binding in 16-DIN version.
DIN: 4-13
What we like: Solid reputation and performance.
What we don't: Not much, for the right skier they are perfect.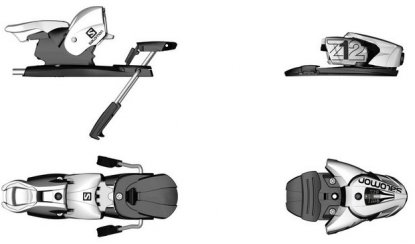 Very reasonably priced, the Z12 is a no-brainer for beginners to advanced intermediates putting together a new ski package. The fully automatic toe requires no adjustment or maintenance, and it's designed for modern wide skis. Indeed, Salomon engineered the Z12 to have excellent transmission of lateral forces, which aids in ski performance and control. The brakes are quickly swappable for different widths of skis. These are relatively light and also available in a titanium version to save even more weight. The Z12 also is a great option for women.
DIN: 4-12
What we like: Value and performance from a trusted name.
What we don't: Again, not much to dislike for the right skier.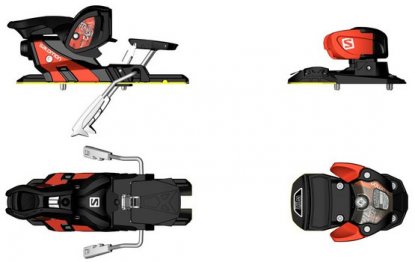 Noteworthy for it's unique purpose, the Warden is a whole new beast for Salomon, and Marker has a similar offering: the Lord. In basic terms, this is an alpine binding that will safely accommodate normal alpine boots AND touring boots with lugged, alpine soles (think Dynafit, Scarpa, etc.). Sure you could jam a touring boot in an alpine binding before, but the Warden is DIN-certified for both types of soles, making it safer to use and ensuring proper release in a fall. This binding is right for someone who wants to run a full touring boot all them time, including in bounds. Really, the Warden would be for their second set of skis, as they function like a normal alpine binding without a touring mode.
DIN: 4-13
What we like: Added functionality is always welcome.
What we don't: Fills the needs of very specific kind of skier.


Alpine Touring Bindings
This is a fairly new category pioneered by the Marker Duke, and born out of the desire to have a binding with touring abilities that was as secure and responsive as an alpine binding on the way down. With all major alpine binding manufacturers now offering multiple alpine touring options, this is a popular category for those who want to do it all with one ski/binding combo. The downside is they are fairly heavy for touring—pure backcountry enthusiasts usually opt for a tech binding.



With only a couple of seasons on the scene, the Tracker is well liked for its low stand height that keeps the boot close to the ski for optimal downhill feel. It also is able to transition between ski and tour mode without stepping out via a switch near the back. The flat front on the toe of the Tracker makes for a 90-degree range of motion in the touring mode. The "MNC" in the name stands for "Multi-Norm Certified"—this means the Tracker will safely accept a normal alpine ski boot sole or the lugged, rockered sole of a touring boot. The Atomic Tracker 16 MNC is the same binding as the Salomon Guardian series and both are available in a cheaper 13-DIN version for smaller skiers.
DIN: 7-16
What we like: Versatile and accepting of all types of boots.
What we don't: Climbing bar can be difficult to operate.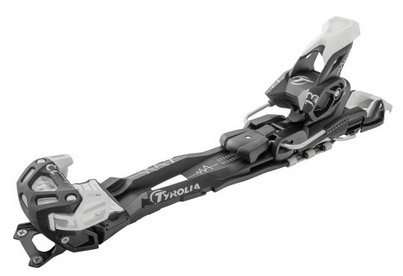 This is another alpine touring binding that will accept alpine or touring boot soles safely, adding to versatility. The Adrenalin 13 also has a 180-degree release toe, which could be the little feature that saves your knees in a backwards fall. It has a wide footprint and mounting pattern on the ski, so it's designed to be used with a more modern wide ski. When going downhill the Adrenalin is responsive and solid, and going uphill a three-height climbing bar will be there no matter how steep the terrain gets. The Tyrolia Adrenalin series is the same as the 4FRNT and Fischer Adrenalin series and comes in a 16-DIN version as well.
DIN: 4-13
What we like: Ergonomic touring stride helps you go further.
What we don't: High stand height.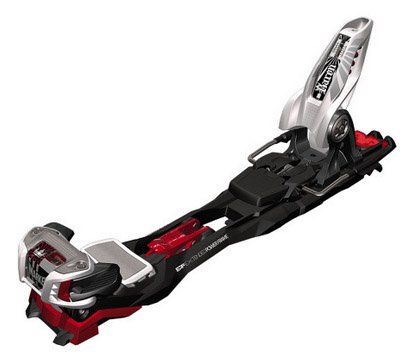 The Baron is the little brother of the legendary Marker Duke, and all but the most aggressive skiers should find that it sufficiently suits their needs. When locked into ski mode, this is a thoroughly alpine binding making a solid connection between the skier and ski going downhill. Flip a switch in the middle of the ski, throw on skins, and you are ready to tour beyond the boundaries for fresh snow. A three-position climbing bar can be flipped up to aid when terrain gets steep. The Baron is a great entry-level alpine touring binding for anyone aspiring to more backcountry adventure.
DIN: 4-13
What we like: Time-tested downhill performance.
What we don't: Stand height is higher than most.


Tech Bindings
Frame touring bindings like the Fritschi Freeride are old technology we don't recommend (unless you score a really cheap touring setup at a garage sale). Tech bindings are much lighter and are preferred nearly universally by the touring crowd these days and some aggressive big-mountain pros, like Eric Hjorleifson, ride them whether they are banging in-bounds laps or doing multi-day tours. Recently, tech bindings have received major upgrades to make them feel much more like an alpine binding going downhill. They were always fine in soft snow conditions, but when things got icy they had a very rigid feel. Bindings like the new Dynafit Beast series are putting an end to that.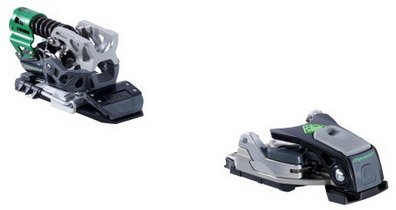 For most backcountry users, a time-tested standard like the Dynafit Radical FT is enough binding to equip a backcountry setup with. What Dynafit is really going after with the Beast is taking the lightweight and excellent touring abilities they are known for and marrying them to the solid and responsive performance of a alpine binding going downhill. The Beast is just that, with the elasticity and feel in the toe and heel that has thus far been mostly absent in tech bindings. Simply put, this is the lightest 16-DIN touring binding on the market with the best touring abilities. A 14-DIN version of the Beast is also available. Marker recently announced an interesting competitor to the Beast with the Marker King, but that binding doesn't look to be available until next year.
DIN: 6-16
What we like: Dynafit is the leader of the tech binding movement.
What we don't: Very expensive.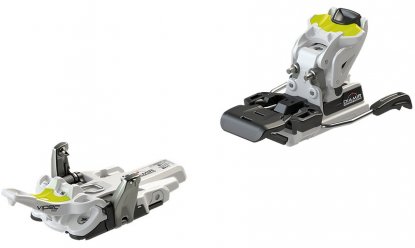 Released last year, the Vipec is Fritschi's first foray into tech bindings and has been heralded as a success. The most notable thing about the Vipec is a two-stage release in the toe unit. Simply, despite being a tech binding, it has more of the feel of a downhill binding—something absent from tech bindings until recently. The toe will also release while in touring mode, an important safety feature in the event of an avalanche while going uphill. Otherwise, the Vipec is as light and functional as any comparable tech binding on the market.
DIN: 5-12
What we like: Big improvement over Fritschi frame bindings of old.
What we don't: Replaceable toe pins can wear down.