Well-versed campers are comfort experts. Packing incredible amounts of gear into their vehicles, they literally set up a home away from home. And one item they don't skimp on is a sleeping mattress. Comfort rules here and a mix of air and foam are the magic ingredients, bringing softness and support. That foam also makes for great insulation from the cold ground (measured in R-value), even when the temperature drops. Below are the best camping mattresses of 2016, and for more information, see our handy comparison table and buying advice. To complete your camping kit, we've tested and written about camping tents and sleeping bags.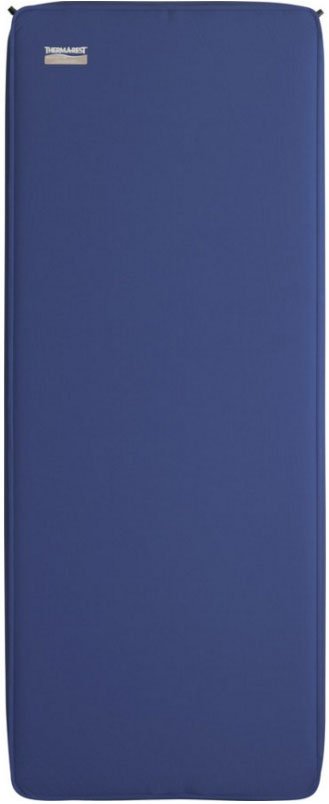 Type: Self-inflating
Dimensions: 77 x 25 x 4 in. (L)
Weight: 5 lbs. 8 oz.
R-value: 11.4
What we like: Pure camping luxury.
What we don't: Heavy, and not everyone needs this much cushion.
The formula may not be revolutionary: a foam core and self-inflating style, but the result is pure camping luxury. Therm-a-Rest's MondoKing 3D is 4-inches thick, and the new vertical sidewalls allow you to enjoy every inch of the soft 77 by 25-inch platform. A ridiculous R-value of 11.4—nearly double the Camp Bed below—makes it a no-brainer for 4-season camping. Given the choice between air and self-inflating, we still come back to the tried-and-true original Therm-a-Rest design for its ease of use. There's no pump to bring along and it only takes a few breaths to get it just right. Yes, this mat is heavy and doesn't pack down small. Get the NeoAir Dream below if those are important considerations. But for the whole package of convenience and comfort, the MondoKing reigns supreme.
See the Therm-a-Rest MondoKing 3D

Type: Self-inflating
Dimensions: 72 x 25 x 3.5 in. (Regular)
Weight: 4 lbs. 9 oz.
R-value: 6.0
What we like: Excellent price to comfort ratio.
What we don't: One (small) step down in comfort from the MondoKing.
A favorite camping mat of ours for a number of years, the Camp Bed 3.5 from REI wins you over with heaps of air and foam. While it's a step down from the truly luxurious MondoKing that took our mattress crown, with 3.5 inches of thick padding and dual valves to expedite the self-inflating and deflating processes, it's no slouch. Soft-touch fabric both holds you well and is comfortable enough to lie on directly if you're camping in a hot environment. The regular size's 25-inch width—when most at this price are 20-inches wide—is sprawl out ready. If you don't need the full 3.5 inches of pad thickness, there is a 2.5-inch Camp Bed for about $30 cheaper that should suit most campers quite well. Both are great values, and the $60 price difference between the Camp Bed and MondoKing was enough to give us some pause in which to give our top rating. Truth be told, you can't go wrong with either.
See the REI Camp Bed 3.5

Type: Air mat with foam
Dimensions: 77 x 25 x 4 in. (L)
Weight: 4 lbs. 2 oz.
R-value: 6.0
What we like: Pillow top levels of comfort.
What we don't: Costs as much as a decent tent.
The Therm-a-Rest NeoAir Dream is the closest you'll come to stuffing your pillow top mattress into a tent. Combining the thickness of a NeoAir sleeping pad with an additional inch of foam brings lightweight extravagance. And while the air pad doesn't self inflate, it's still an easy setup process with the included electric pump. The air pad and foam layer are housed inside a washable microfiber cover that is both comfy to lay on and convenient to take care of. No more scrubbing the dirt off to get the pad ready for the next trip. Speaking of your next trip, the separate NeoAir sleeping pad can be used on its own when you need to pack lighter, making the Dream setup a true 2-in-1. Through that lens, the $230 price tag seems reasonable (almost).
See the Therma-a-Rest NeoAir Dream

Type: Air mat
Dimensions: 76 x 25 x 4 in. (L)
Weight: 2 lbs. 2 oz.
R-value: Rated at 10° to 20°F
What we like: Nice touches like a built-in pump and pillow.
What we don't: Air pad style isn't quite as comfy.
Breaking from the top 3 picks, the Nemo Cosmo Insulated is a pure air mat—there's no foam to be found in its construction. And while it can't quite match their comfort, the Cosmo sure wins out in weight and packed size. One thing that stands out is there was some real thought and engineering that went into the mat's construction. To start, the pad is inflated via a built-in foot pump. With a 4-inch thick cavernous mattress to inflate, the assistance is greatly appreciated (just make sure to take off your dirty shoes prior to pumping). More, the head end of the pad is raised, creating a pillow for your weary head. No more forgetting the pillow at home—provided you remember the mat. With a reasonable weight and packed size (6.5 by 9 inches), the Cosmo also does the trick as a luxury backpacking sleeping pad.
See the Nemo Cosmo Insulated 25L

Type: Air mat
Dimensions: 77 x 25 x 3 in. (L)
Weight: 2 lbs. 5 oz.
R-value: 2.2
What we like: SpeedValve inflates nearly effortlessly.
What we don't: Low R-value is limiting.
A spinoff from the uber popular NeoAir backpacking sleeping pad line, the NeoAir Camper is tuned for the car camping crowd. An extra half-inch of pad thickness brings it up to a cushy 3 inches and more durable 75-denier polyester adds security from dog nails and jumping kiddos. For 2016, the SV designation has been added for an innovative new inflating system (SV stands for SpeedValve). In use, we were blown away with the simplicity and convenience of the design—you can literally inflate the pad from completely flat in 3 breaths. And the extra weight for the new valve isn't a problem for the average camper. Don't plan on bringing it camping in the winter or colder shoulder seasons, however, as the mat has a very low 2.2 R-value. Being an air pad, it also lacks the plush feel of a self-inflating foam option, but for the reduced packed size, weight and setup time, it might be worth the compromise.
See the Therm-a-Rest NeoAir Camper SV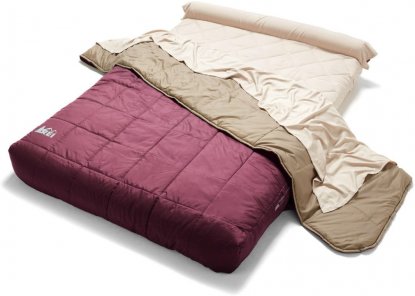 Type: Airbed
Dimensions: 79 x 56 x 6 in.
Weight: 15 lbs. 9 oz.
R-value: No insulation
What we like: A true home-in-the-woods experience.
What we don't: Un-insulated airbeds are best in the warm months.
If the 2-piece NeoAir Dream above is like bringing your pillow top mattress on the road, the Kingdom Sleep System is like throwing in the box spring, bedding and headboard. A truly unique setup, the Kingdom Sleep System starts as a quality 6-inch tall queen-sized airbed, and tacks on a mattress pad, top sheet and insulated quilt. And the headboard we referenced? It's inflatable and nicely integrated into the mattress as a way to prop up your head for nighttime reading or to keep your pillows in place. The tall airbed design does mean there is no insulation beneath you, which can spell trouble in cold weather. The mattress pad does help a little, but we wouldn't suggest using the Kingdom system when temperatures drop into the 40s without adding at least one more insulating layer. It's definitely not for everyone, but the Kingdom Sleep System is a great execution of a novel concept, and our favorite airbed of 2016.
See the REI Kingdom Sleep System

Type: Self-inflating
Dimensions: 77 x 30 x 3.9 in.
Weight: 5 lbs. 11 oz.
R-value: 9.5
What we like: Warm with a large sleeping space.
What we don't: Expensive, and have to bring along the mini pump to fully inflate.
It may be getting a little long in the tooth, but the Exped Mega Mat still brings big-time comfort to your camping adventures. Nearly four inches of foam and air pad goodness should win over the most reluctant campers. Consider it the pad you buy to finally convince your significant other that "roughing it" doesn't actually have to be rough. And with an extremely high R-value (9.5), the Mega Mat should help keep them toasty warm. The design unfortunately does show its age a little in the inflation process—while it's technically a self-inflating pad, you need to use the included mini pump to get it fully inflated. And considering the large price difference between the MegaMat and similarly large and supportive MondoKing 3D, the Exped has slipped further down in our rankings for this year.
See the Exped Mega Mat 10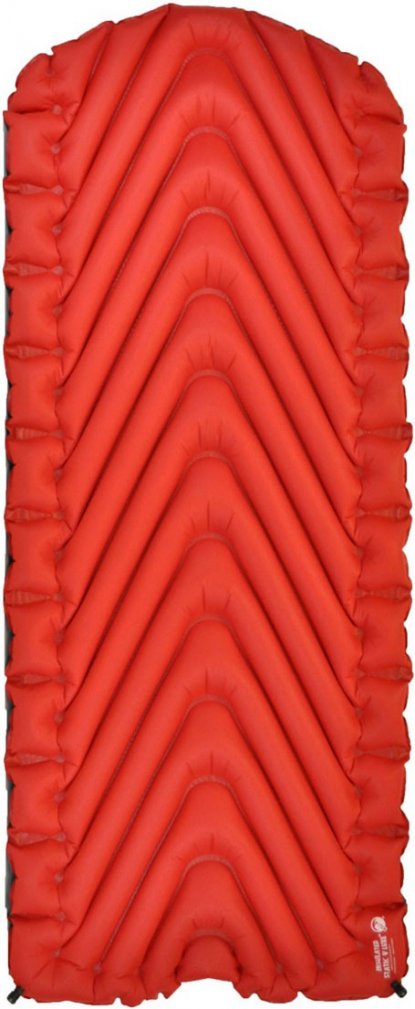 Type: Air mat
Dimensions: 76 x 30 x 3 in. (XL)
Weight: 2 lbs. 11 oz.
R-value: 5.0
What we like: 30-in. width and small packed size.
What we don't: Takes some time (and effort) to blow it up.
Klymit broke into the sleeping pad scene with their wild looking Inertia pads that appealed to minimalist trekkers, but, more impressively, they really hit a cord with the mainstream camper and backpacker with the Insulated Static V series. These are pure air mats, with no foam in the construction. A benefit is a much smaller packed size, but it does lose some of the inherent structure and support when inflated. Klymit addresses this with a very wide build (30-inches!) and side rails that keep you securely in place. The v-shaped air channels are quite comfortable, but we still give the edge to the foam options above. Get the Klymit if a small packed size and wide fit are your priorities. The price isn't half bad, either.
See the Klymit Insulated Static V Luxe

Type: Self-inflating
Dimensions: 77 x 25 x 2.5 in. (L)
Weight: 2 lbs. 7 oz.
R-value: 1.7
What we like: Lightweight and packable warm weather basecamp
What we don't: Very low R-value.
If you weren't aware of it already, it's probably becoming quite obvious that Therm-a-Rest knows a thing or two about building a good camping mattress. New for 2016 is their BaseCamp AF mat, which fits nicely into the budget end of their self-inflating lineup. Originally introduced in their backpacking Evolite pad, the mattress' Air Frame construction uses alternating foam and air channels as a way of reducing weight without compromising the self-inflating feature and extra support you get with foam. Largely successful, the BaseCamp is nearly as comfortable as many of the pads above but at a weight that undercuts them by ½ or more. What pushes it down on our list, however, is the surprising drop in insulation. By cutting away foam, the pad's R-value drops to 1.7. At that rating, it becomes a mild weather option and not much more.
See the Therm-a-Rest BaseCamp AF

Type: Self-inflating
Dimensions: 77 x 25 x 2 in. (L)
Weight: 4 lbs. 1 oz.
R-value: 5.0
What we like: Great value and decent comfort.
What we don't: A bit thin for side sleepers.
It's tough to find a decent self-inflating sleeping pad for under $80, but the Alps Mountaineering Comfort Series is just that. Blending foam, air, and a tough polyester shell, the Comfort Series, true to its name, provides good warmth and sufficient comfort for camping. A unique feature is the maze of plasticky dots on the bottom of the mat, which help to keep it from sliding around at night. The trick works, and the suede finish on the topside does an equally good job keeping your sleeping bag in place. For the price, the self-inflating technology works well and the pad is durable enough to last for multiple seasons. It's a bit thin at 2 inches for the 25-inch model (avoid the regular-sized 20-inch pad that's only 1.5 inches thick), so side sleepers will probably need to look elsewhere. For the occasional camper, budget seeker and/or back sleeper, this is all you'll need for a good night's sleep under the stars.
See the Alps Mountaineering Comfort Series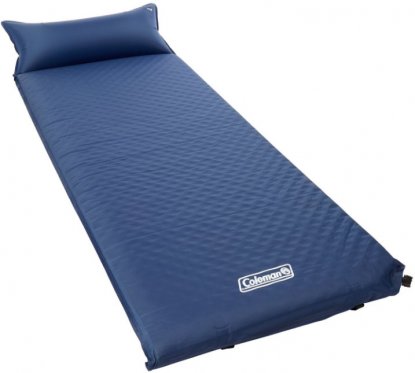 Type: Self-inflating
Dimensions: 76 x 26 x 2.5 in.
Weight: 5 lbs.
R-value: Unavailable
What we like: Cheap, decently comfortable, and durable.
What we don't: Slippery top fabric, less comfortable than the pads above.
For casual campers that sleep outside once or twice a summer, the Coleman Camp Pad is a durable and very affordable option. At $46, you get self-inflating construction, foam padding, and even a built-in pillow. We didn't find the pillow very comfortable (it doesn't have any foam inside and the nylon exterior isn't soft), but it is nice to have in case you leave yours at home. The 76 by 26-inch sleeping space equals that of the large-size pads above and is plenty roomy for spreading out. Overall comfort does fall short of even the budget-oriented Alps Mountaineering above, despite an extra 0.5-inch of thickness (2.5 vs. 2.0 inches). It's the compromise for a good deal, however, and the Coleman is still far plusher than your old 1-inch foam pad.
See the Coleman Self-Inflating Camp Pad
Camping Mattress Comparison Table


Camping Mattress Buying Advice
Mattress Types
Self-Inflating
Therm-a-Rest released the first self-inflating mattress in the early 1970s, and the same basic design has soldiered on for years, although modern iterations are thicker and far more luxurious. The interior is filled with an open cell foam that compresses for hauling and expands when you open the valve(s) to provide both comfort and support (hence, the self-inflating designation). In comparison to air mattresses below, a self-inflating mat has a cushier feel and better structure (it doesn't compress in the corners or sides like some air mattresses). And if you happen to get a puncture, you still have a modicum of support underneath you. For camping when weight and packed size aren't the highest priorities, self-inflating mattresses are our favorites. It's no coincidence the plush Therm-a-Rest MondoKing 3D tops our list.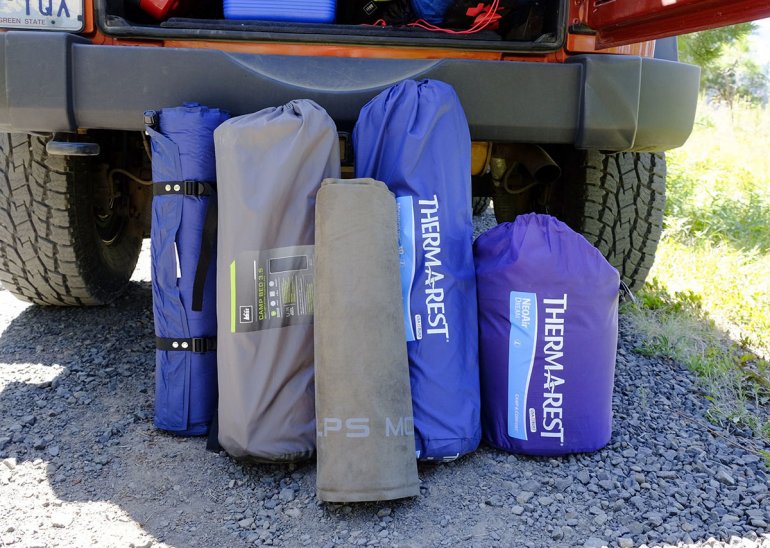 Air Mattresses
As the name indicates, an air mattress is filled completely with air. The big benefit of this design is weight savings. For a given thickness, an air mat might weigh half or even less compared with a self-inflating mattress. If you're looking to trim weight, there's simply no better option, and they're also far more compressible. Even insulated models with synthetic or down-fill inside the pad can be rolled into a compact size, which makes storage and transport that much easier. And the large air chambers with easy to use valves make it a simple process to adjust the firmness. Overall, however, they're not the cushiest or most supportive option. Look to self-inflating pads for that privilege.

Foam Pads
Your classic sleeping pad is made of closed cell foam. It's cheap, durable, and decently lightweight, but it's also one of the main reasons why people are hesitant to go camping in the first place. These pads are thin enough that nearly every undulation in the ground is felt and they offer very minimal insulation. If you're the type that can comfortably crash on a friend's floor—and we mean directly on the floor—save yourself some coin and get the Therm-a-Rest Ridgecrest. This pad will set you back about $30 and offer all the comfort your steel body requires. If you're like the rest of us, one of the pads from our "Best Of" list will suit you much better.

Sleeping Mat vs. Airbed
With plenty of sleeping space in your camping tent, you may have the luxury to decide between a traditional sleeping mattress or a full-on blow up airbed. So which one should you choose? We'll start with a simple scenario: if the temperatures dip below 50-60 degrees overnight, don't go the way of the airbed. With no protection between you and the cold ground (other than drafty and frigid air), airbeds can be downright freezing even in mild 3-season conditions.
For warm weather, the decision becomes more complicated, if only a little. The main benefit of an airbed is it gets you further off the ground for easier in and out (a cot can do the same, and more). And if you're trying to save some dough, airbeds are friendlier for use at home for guests, especially if you choose a 2-person queen-sized airbed. Comfort-wise, however, we give the standard sleeping mat the upside, particularly those that have foam in the construction. One exception is the all-in-one REI Kingdom Sleep System. The combination of an airbed, mattress pad and headboard are enough to win us over. So, to sum up: get the airbed for warm weather, if the extra height is helpful and if you want a very large sleeping platform. Otherwise, stick with a sleeping mat.

Mattress Comfort and Thickness
In the same way buying your mattress at home is a personal decision, not everyone will agree on which camping mattress is best. The good news is that most quality mattresses are in fact quite comfortable. Back sleepers, side sleepers and even stomach sleepers should all be happy after adjusting the firmness by adding or letting out air.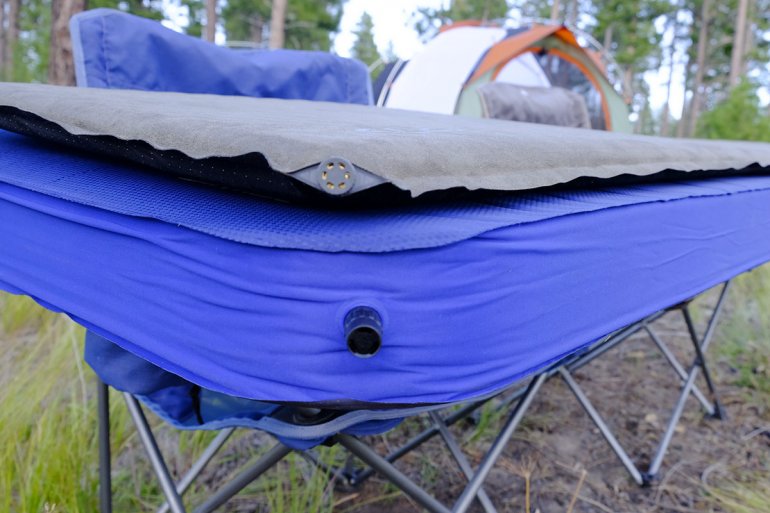 For some general guidelines regarding pad thickness, side sleeping puts a higher percentage of weight around the hips and shoulders, so a pad that's 3.5 inches thick or more is a good idea. And to increase your chances of a restful sleep, get a thick self-inflating foam design. True, lightweights and tolerant sleepers can deal with less, but without having an opportunity to try before you buy, we recommend sizing up in thickness.

Sizing: Width and Length
In the spirit of comfort, camping pads and mattresses have a much larger footprint than their backpacking cousins. Some are offered in the smaller 72-inch length, but most start at 77 inches, and extend to 80 to 85 inches (the XXL version of the Therm-a-Rest MondoKing 3D is 80 x 30 inches). The longer length is great for taller folks, but just about everyone can appreciate the extra width. 20-inch pads are standard fare for backpacking and usually mean at least one arm is sliding off the pad during the night. The 25 or 30-inch widths you get with a camping pad are a welcome relief and can make a real difference in nighttime comfort. Active sleepers that roll around in their sleeping bag will also appreciate the additional space.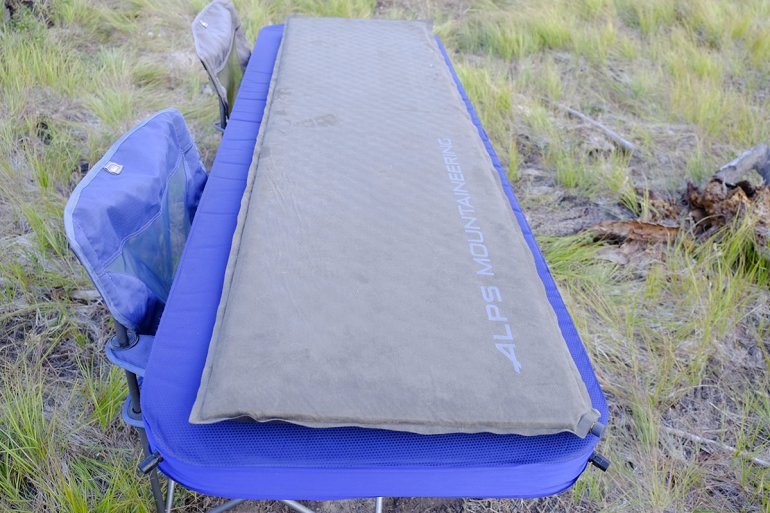 Mattress Insulation: R-Value
The beauty of a camping sleeping mat that's packed with foam or synthetic insulation is that it does an excellent job of keeping you protected from the cold. Beyond the airbeds that we touched on in the mat/airbed section above, nearly all sleeping mats are comfortable for 3-season use. A mattress' ability to insulate you from the cold ground is measured in R-value, and a higher number indicates better protection. For 3-season use, we always recommend getting a pad with at least an R-value of 3 (all but the Kingdom Sleep System, BaseCamp and NeoAir Camper accomplish this). If you'll be out in the winter, potentially sleeping on top of snow, get a mattress with a rating above 5. And for these conditions, it's often a good idea to combine your inflatable mattress with a foam pad, not only for a boost in insulation, but also a level of security should your inflatable pad spring a leak.

Weight and Packed Size
Camping is typically a drive up and unload kind of activity, so the weight and packed size of your gear isn't always the number one consideration. And in choosing your camping gear, it's almost always worth taking the more comfortable and durable route rather than the lightest or most compressible. That said, if you don't have a whole lot of extra space in your rig (or home for long-term storage), it's worth checking the specs before buying a massive camping mattress. And if you'll be dabbling in some backpacking, definitely take note of that information to make sure the pad will fit in or on your backpack.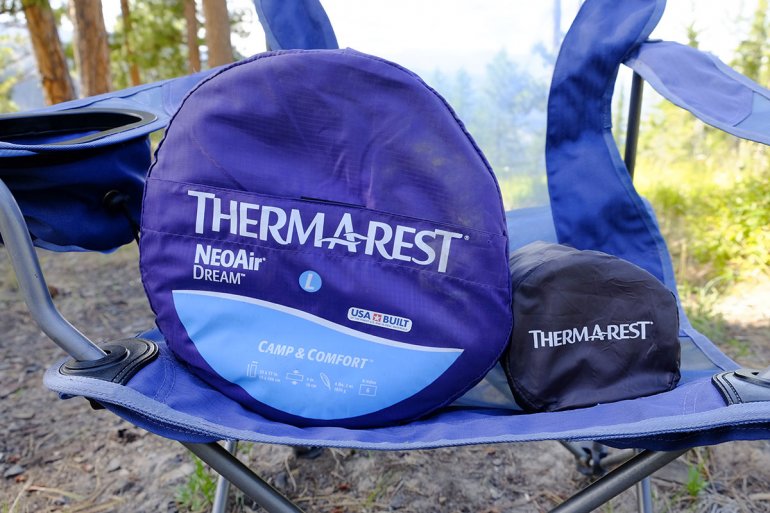 Durability (Denier)
With weight out of the equation, most camping mattresses are very durable. Their thick fabrics are far less likely to get a puncture or spring a leak than a backpacking model, which is nice if you plan to sleep outside without a tent or have dogs. There are, however, still differences between models, which is why we suggest checking the denier ratings (if available). For camping mats, denier ranges from about 50D to 150D, with the higher numbers offering greater tear resistance. The underside of a pad often gets the most abuse, so we prefer a slightly thicker bottom fabric. That being said, the 75-denier fabric bottom on our MondoKing is plenty durable and we've had no hesitations laying it directly on dirt.

Valve Types
The vast majority of camping mattresses are self-inflating and utilize a familiar twist valve. Opening the valve allows the pad to work its self-inflating magic and expand the foam. Depending on the model, you may or may not need to blow a few extra breaths to get the mat fully inflated. We've found that the quality of the valves does vary by price, and budget pads like the Coleman Camp Pad have a flimsier plastic than premium options from REI or Therm-a-Rest, which impacts long-term durability. In addition, some of the large self-inflating pads, like the REI CampBed or Therm-a-Rest MondoKing, have 2 valves to shorten inflation and deflation times.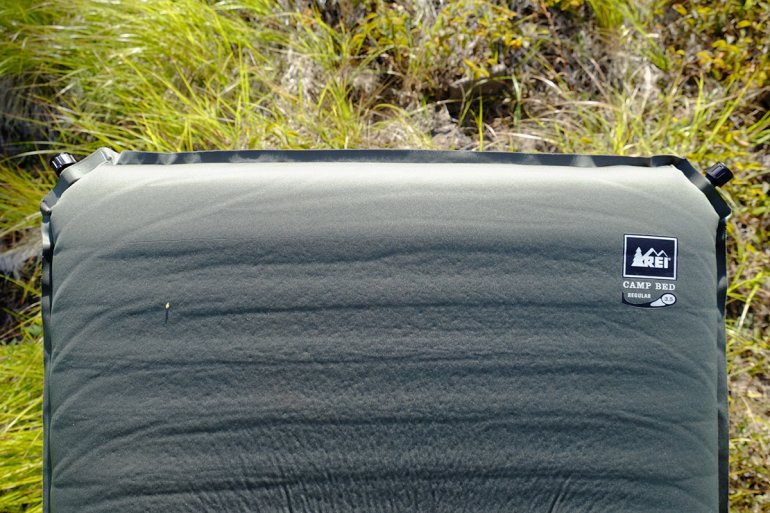 Having to manually inflate a large air pad can be a time consuming and dizzying experience, so most manufacturers will include some sort of pump. Therm-a-Rest has the Torrent battery-operated pump for the NeoAir Dream, which attaches to the valve and pushes air into the mat. It's not particularly fast, but it does save your breath. Nemo's Cosmo Insulated pads have a built-in pump at the foot-end of the pad that you inflate by pushing down with your feet. Neither pump type is as simple as a self-inflating pad, but they both fully inflate their respective sleeping mats in only a couple minutes.
Another air pad valve type is a brand new rapid inflation technology made by two companies: Windcatcher and Therm-a-Rest. Both designs have a large opening at the head end of the pad that you blow into from a few inches away. This pulls in surrounding air and allows you to inflate the pad in about 4 to 8 breaths. We've been impressed with the technology (you can read more about it in our review of the Therm-a-Rest XLite Max SV), and it's great if you need to set up camp quickly. Most campers will still be happiest with the simplicity of a self-inflating pad, but the technology has its practical benefits.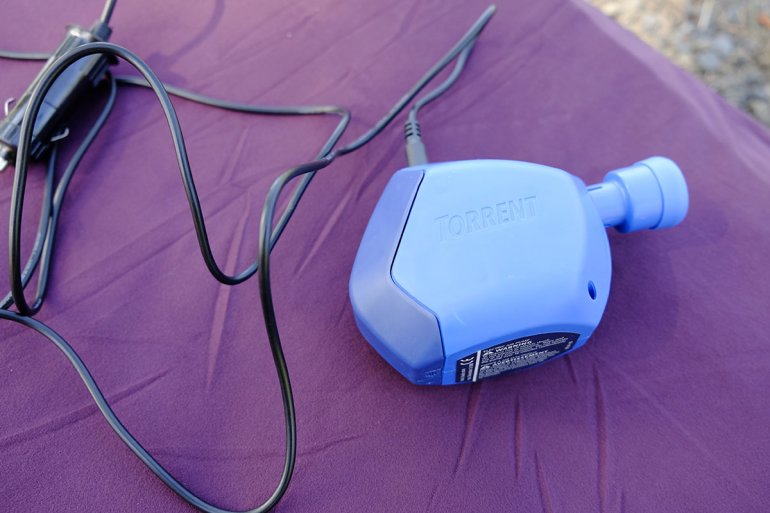 What About Backpacking Sleeping Pads?
Sleeping pads designed for backpacking are about keeping weight as low as possible, while retaining enough warmth and comfort. The downside of then using your lightweight backpacking pad is that it's another opportunity for the thin fabrics to spring a leak. It's strange to say, but we've found that the easygoing camping life can actually be more damaging to your lightweight gear than being in the backcountry. Whatever the reason, we've had backpacking pads that never sprung a leak catch a dog's nail or other hazard and deflate on the simplest of camping trips.
We do understand the financial motivation to only purchase a single pad, and there are options that crossover nicely. Of the mattresses that are most comfortable for camping, we recommend the Nemo Cosmo Insulated to take backpacking (but in the narrower 20-inch width). For a full list of our recommendations, see our article on the best backpacking sleeping pads.
Learn More About Outdoor Gear