Choosing a Camera for Landscape Photography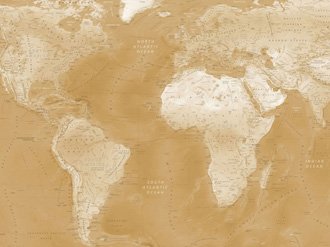 Choosing a Camera for Landscape Photography
Buying a camera can be overwhelming, but the process should be fun and not just a leap of faith. First, choose among the three tiers of cameras: point-and-shoot, entry-level digital SLR (digital single-lens reflex: bigger cameras with interchangeable lenses) and professional-grade digital SLR (full-frame). Then do some research based on your price range and specifications. Here is what you need to know—all of the information below is current for 2013. 
 
Point-and-shoot cameras are about the size of a notecard with an attached zoom lens and mostly automatic features (hence the name). Don't be fooled, technology keeps advancing and these cameras capture great images, are easy to use, easy to carry, and relatively cheap.
The point-and-shoot has experienced a megapixel explosion and superzooms (with a 30x zoom or more) are popular. The reality is that the smaller sensors and lenses can't capture quite as much sharpness or light as bigger cameras. If you want large, professional-grade prints, consider a digital SLR camera below. Otherwise, point-and-shoots have a lot of advantages. When making prints, an average point-and-shoot should produce approximately a 12" x 18" print without a significant drop-off in quality. 
Pros: Cheap, easy to use, lightweight
Cons: Mostly automated, struggle with large prints 
Things to Remember: Don't be overwhelmed by features—focus on fundamentals like megapixels, zoom, battery life, cost, and reputation
Price Range: $70-$650
Top High-End Point-and-Shoots: Sony DSC-RX100 ($648), Canon Powershot S110 ($336)
Top Superzoom Point-and-Shoots: Sony Cyber-shot HX200V ($348), Nikon COOLPIX P510 ($315)
Top Budget Point-and-Shoot: Nikon COOLPIX S9200 ($149)
More: See our page on the Best Point-and-Shoot Cameras 2013
 
Digital SLRs—bigger camera bodies with interchangeable lenses—take professional grade images and foster the greatest photographic expression. Cameras of this type have considerably larger sensors than do point-and-shoots and capture fantastic detail and color. They also operate with less automation, allowing for adjustments in shutter speed, ISO, and aperture, among others (some point-and-shoots offer variations of these adjustments but it's not the same).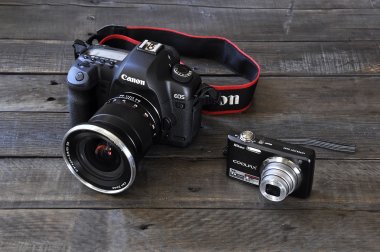 The downside of the digital SLR comes with a higher price tag and increased size and weight. These cameras are considerably bulkier than a point-and-shoot and you will need at least one lens and a camera bag to protect your gear. You will also be carrying a much higher dollar value.
On the whole, the image quality produced by the digital SLR is substantially better than the point-and-shoot and generally worth the extra bulk (consider it a form of cross-training). These photographs can be enlarged and hung on the wall for a lifetime.
Pros: Less automation (more room for creativity), professional grade image quality, great for large prints
Cons: Less automation (more room for user error), size and weight, cost
Things to Remember: Get to know the camera before your trip by reading the manual and going out for some test shoots. Many digital SLR's have automated settings such as 'landscape' and 'portrait' but you will want a baseline of familiarity
Price Range: Budget DSLR camera/lens kits start at around $500; high-end set-ups can cost $2,000 and up
2013 Market: Things can change quickly, but Nikon cameras currently dominate all tiers of the entry-level DSLR market (the new Nikons have bigger sensors, are lighter, and cheaper than the Canon counterparts)
Top DX Cameras: The new Nikon D7100 ($1,196) is the best DX camera on the market. The 24-megapixel Nikon D5200 ($696) is a powerhouse mid-range DSLR, and the Nikon D3200 ($496) is an outstanding lower-cost DSLR
Top DX Lenses: The Nikon 18-200mm VR II ($850) is an excellent all-purpose lens for everything from grand landscapes to wildlife close-ups. The Nikon 16-85mm VR ($629) and Nikon 17-55mm ($1,399) are high-quality lenses that are well suited for landscapes and everyday use. The Nikon 18-55 mm VR ($199) is a good budget lens that comes with kits for the Nikon D5200 ($796) and Nikon D3200 ($596)
More: See our page on the Best Entry-Level DSLR Cameras 2013
 
The critical distinction between entry-level and professional digital SLRs is the jump to full-frame—professional DSLRs have extra large sensors that take full-frame images equivalent to 36 x 24 mm.
In the image to the right, the inner box represents a DX photograph and the outer box is an full-frame or FX photograph. The difference is rather astounding: full-frame images contain substantially more visual information.
Full-frame cameras are phenomenal, the best of the best, and if you can afford one it will not disappoint. There are few deals in the full-market market and lenses are particularly pricey—the extra large sensors require extremely precise (and therefore expensive) glass.
There are only a handful of full-frame camera models, including the new 36.3-megapixel Nikon D800 ($2,796) and Canon EOS 5D Mark III ($3,200). Prior to 2012, the runaway camera choice for professional landscape photographers was the Canon EOS 5D Mark II ($2,332)—it captured the highest quality images and was considerably cheaper than the Nikon D3 or Nikon D3X.  In 2012, Canon released the 22.3-megapixel Canon Mark 5D III without any monumental changes, but Nikon released with the powerhouse 36.3-megapixel D800 for $400 cheaper. The tides have changed—the Nikon D800 now is the world's best camera for landscape photography.
Pros: Exceptional image quality (the best), high resolution prints of any size
Cons: Cost, learning curve, size and weight
Things to Remember: With a full-frame camera you should be prepared to invest in quality full-frame lenses (some smaller lenses are compatible but the images will be cropped)
Price Range: The camera bodies start at around $2,000; lenses are $1,000 and up
Top Models: The Nikon D800 ($2,800). For lenses for the D800, the Nikon 14-24mm Wide Angle Zoom ($1,999) and Carl Zeiss 21mm ($1,881) both are phenomenal for landscapes
More: See our page on the Best Full-Frame Cameras 2013
More on Cameras
Best Compact Cameras 2013
See our guide to the Best Compact Cameras 2013 for the top compact options from high-end to budget.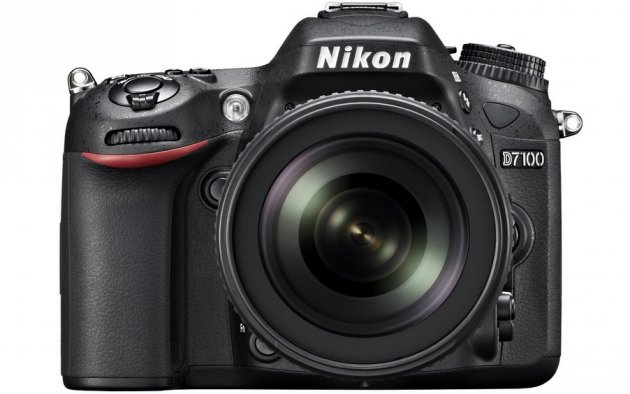 Best DSLR Cameras 2013
Our guide to the 
Best DSLR Cameras 2013
 covers the full spectrum of DSLRs including full-frame and crop-frame along with top lens choices. 
Some of the product links on Switchbacktravel.com are affiliate links, meaning that we may receive a small commission for purchases made after clicking through from this site. All reviews are made independent of affiliate relationships and they do not influence our content.