Length: 8–12 days
Difficulty: Moderate
Starting Elevation: 940 meters (3,085 feet) at Pokhara
Peak Elevation: 4,130 meters (13,550 feet) at Annapurna Base Camp
Guiding: Recommended but not required
Accommodations: Teahouses
When to Go: Fall peak season is from October to early December; spring trekking season is in March and April
Access: Pokhara, a 30-minute flight from Kathmandu or full day by ground transportation 
Paperwork: The Annapurna Conservation Area Permit (ACAP) and TIMS card can be purchased from the Nepal Tourism Board in Kathmandu or Pohkara or through a registered guide; each requires two passport photos

Trek Summary
The Annapurna Sanctuary trek, also known as Annapurna Base Camp (ABC) trek, is a powerhouse—it's one of the shortest major treks in Nepal and gets up close and personal with some of the biggest mountains. The trek begins with lowland bamboo forests and rhododendrons before making it up through the Modi Khola Gorge into the mountain amphitheater that is the Annapurna Sanctuary. This high glacial basin is wild Himalayan country ringed by ten of the most impressive peaks in Nepal, including Annapurna I, Annapurna II, and Machapuchare. If you visit the Annapurna Sanctuary during the good weather months in the fall and spring, you can expect clear mornings and evenings and a glowing panorama of snow-capped peaks and starry skies.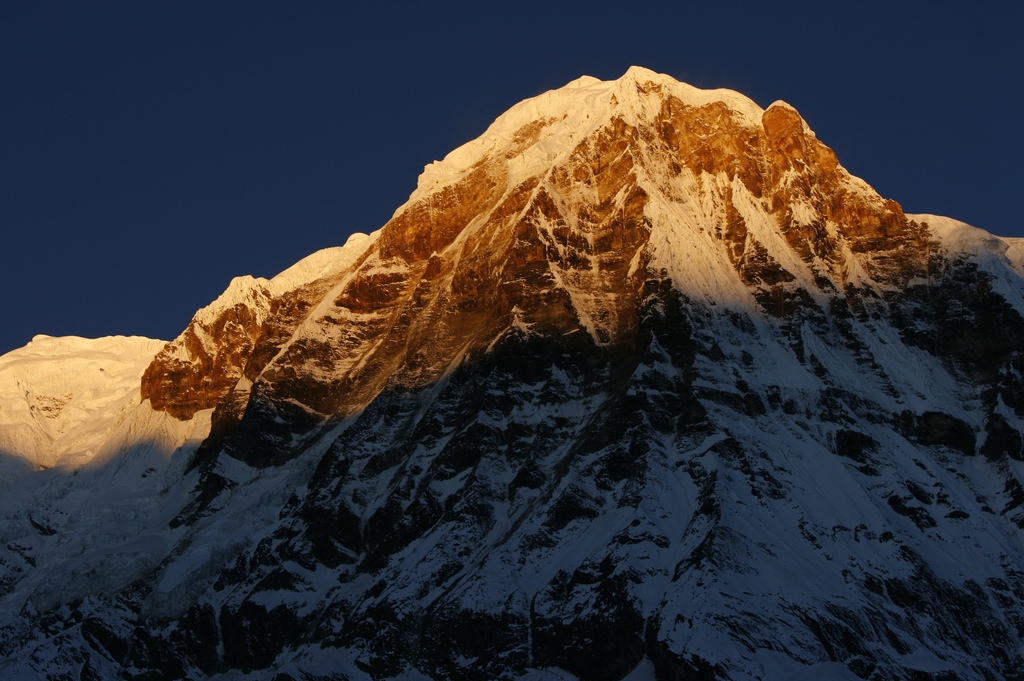 So what are the downsides of the Annapurna Sanctuary trek? First, the section from Chhomrong to Annapurna Base Camp, more than half the trek, is an up-and-back, meaning that you will be hiking down the same trail you hiked up. This is the reality of the geography—the Modi Khola Gorge is the only way into the Sanctuary for trekkers. Second, the gains in elevation are quicker than preferred, rising from Pokhara at 940 meters (3,085 feet) to Annapurna Base Camp at 4,130 meters (13,550 feet) in 5–6 days. This elevation change isn't optimal, but the highest point on the trek is considerably lower than other major treks in Nepal, many of which reach 5,000 meters (16,400 feet) or more. Trekkers should be particularly aware of the issue and follow closely the rules of acclimatization.

The journey to the Annapurna Sanctuary kicks off from Pokhara with a one-hour taxi or bus to Phedi, where the trekking begins. The bottom portion of the trek near Phedi is a small network of trails and Gurung villages from which it takes two days to get to the village of Chhomrong. From Chhomrong, the trail passes up the Modi Khola Gorge into the heart of the sanctuary and some of the most dramatic mountain scenery on the planet.
 
20,000-meter Peaks of the Annapurna Sanctuary
Hiunchuli: 6,441 m; 21,132 ft
Annapurna South: 7,273 m; 23,862 ft
Annapurna I: 8,091 m; 26,545 ft
Khangsha Kang: 7,485 m; 24,557 ft
Tarke Kang: 7,193 m; 23,599 ft
Gangapurna: 7,454 m; 24,455 ft
Annapurna III: 7,555 m; 24,787 ft
Annapurna IV: 7,524 m; 24,685 ft
Annapurna II: 7,937 m; 26,040 ft
Machapuchare: 6,997 m; 22,956 ft