The Everest Base Camp trek passes through the land of the Sherpas to the foot of the world's highest mountain, Sagarmatha, Nepalese for Mount Everest. The fullest views of Mt. Everest actually are from the Tibetan side, but this trek is about so much more than one mountain. Multiple 8,000-meter peaks line the Khumbu region, the grandest stage of all for alpine trekking. You'll have to stomach the hair-raising flight into Lukla and this is one of Nepal's most popular trekking routes, but the mountain views are simply unmatched anywhere else in the world. 
 
Everest Base Camp Trek Facts
Length: 14–18 days.
Difficulty: Moderate to challenging. The main EBC trail is in good condition but the initial jump in altitude to Lukla can be challenging.
Starting elevation: 2,800 meters (9,200 feet) at Lukla.
Peak elevation: 5,364 meters (17,598 feet) at Everest Base Camp.
Elevation profile: via Adventure Alternative
Guiding: Recommended but not required.
Accommodations: Teahouses (camping is possible but not recommended). 
When to Go: Fall peak trekking season is from October to early December; spring trekking season is in March and April.
Access: Lukla, a 35-minute flight from Kathmandu.
Best Viewpoints: Gokyo Ri and Kala Patthar.
Paperwork/cost: Entrance to Sagarmatha National Park and the TIMS card can be purchased from the Nepal Tourism Board in Kathmandu or through a registered guide. The cost is 2000 rupees (about $20 USD) for a Free Individual Trekkers (FIT) card and 1000 rupees (about $10 USD) for a Group Trekkers card. Foreigners also have to pay a Sagarmatha National Park fee of 3000 rupees (about $30 USD) at the park entrance station in Monjo. 
 
Trek Overview
The journey beings with the flight from Kathmandu to the hair-raising Lukla airstrip, perched at a lofty 2,800 meters (9,200 feet). The small airstrip frequently makes lists of the world's most dangerous airports and there have been numerous crashes over the years. But you likely are safer making the journey by air than by Nepal's system of mountain roads with sheep drops into steep canyons, no guardrails, and buses that could be described as "aging" at best. Altitude is an important consideration on the Everest Base Camp trek and nearby Namche Bazar (3,440 m; 11,286 ft), the Sherpa village and gateway to the Khumbu region, is often used as an early layover for rest and acclimatization.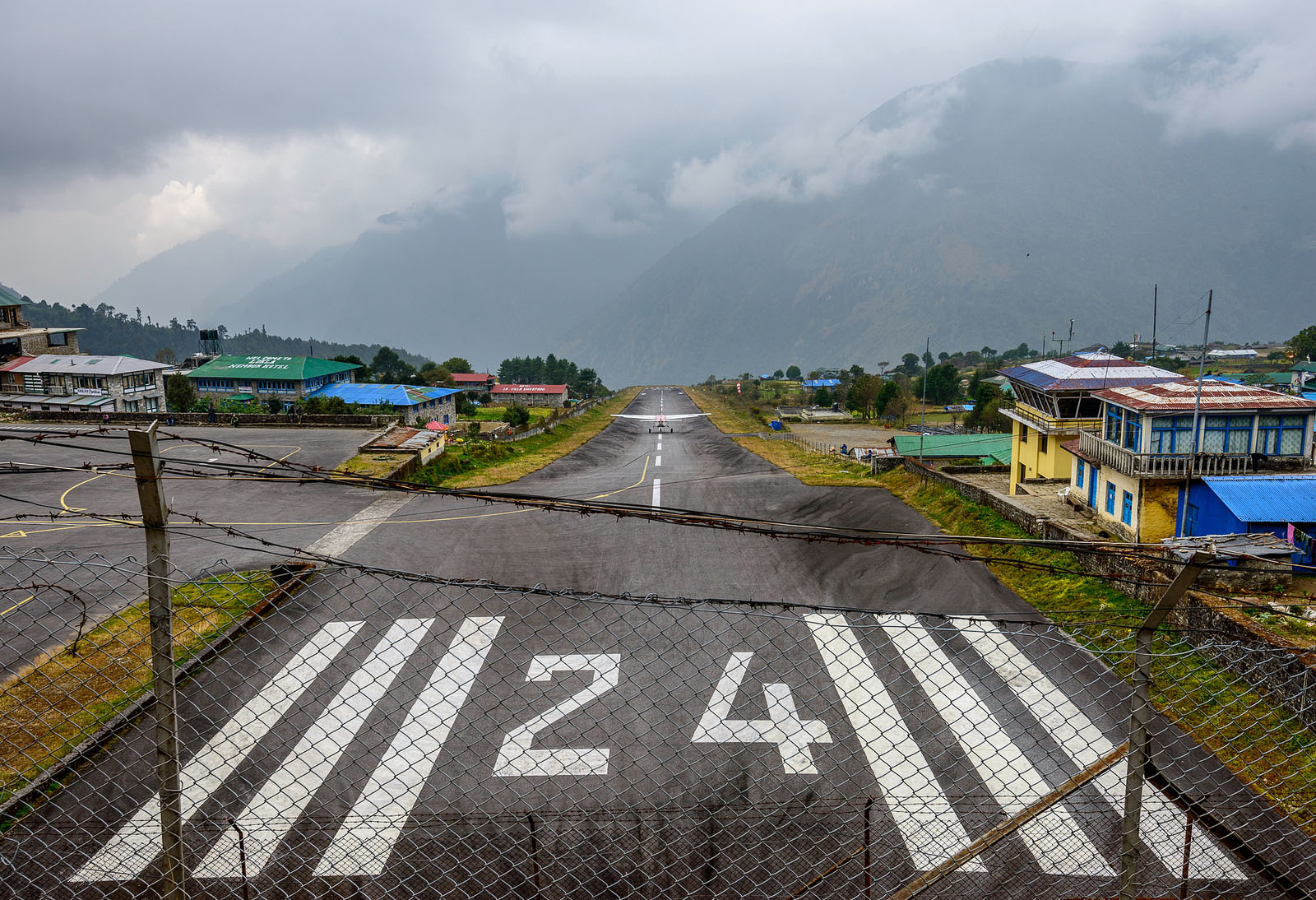 From Namche the trek heads upward through colorful Sherpa villages along the Dudh Kosi River. Terraced rice fields and rhododendron forests eventually turn into hardened landscapes of rock and ice. On the approach to Everest Base Camp is the final outpost of Gorak Shep; there are no teahouses at Everest Base Camp so trekkers can either day hike from Gorak Shep or bring camping gear. The scramble to nearby Kala Patthar (5,545 m; 18,192 ft) offers a panorama of Everest, Lhotse, and Nuptse that bests the views from base camp itself. The main Everest Base Camp trail is an up-and-back route, meaning that you hike down the same trail you hiked up.

Everest Base Camp is Nepal's most popular trek with upward of 30,000 trekkers per year and 10,000 per month during peak season (these numbers are from before the 2015 earthquake and reliable information since then unfortunately is not available). An upside to the number of trekkers is a well worn trail and facilities are as good as anywhere in Nepal. For those seeking to get off the beaten path, side trips up the Gokyo Valley and Chukhung Valley will greatly enhance the trip.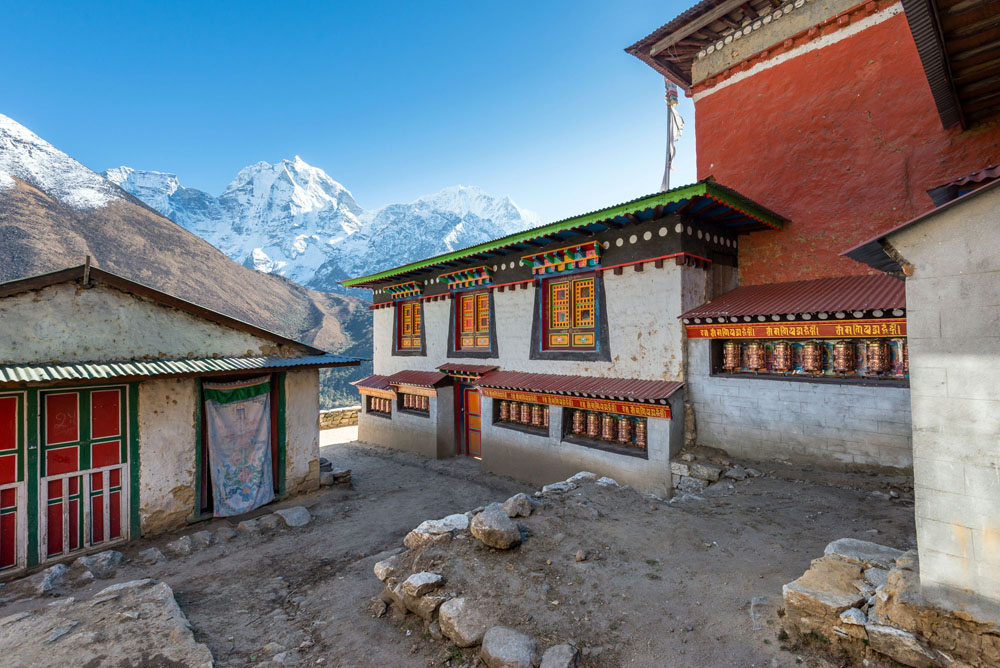 Side Trips off the Main Trail
Gokyo Valley and Gokyo Ri (2–5 days; moderate to challenging)
With turquoise lakes, small villages, and big views, the Gokyo Valley is a return trip from the main trail or there is an alternate route over challenging Cho La Pass (5,420 m; 17,782 ft). Cho La Pass is high, rocky, and can become technical in bad weather; inquire with your guide if you feel up to the task. The summit of Gokyo Ri (5,340 m; 17,519 ft) at the end of the valley offers one of the best views in the Khumbu: an 360° spread that includes four 8,000-meter peaks: Everest, Lhotse, Cho Oyu, and Makalu.

Chhukhung Valley (2–3 days; moderate to challenging)
The peaceful Chhukhung Valley offers close-up views of Ama Dablam, Lhotse, Nuptse, and Everest. The summit of Chhukhung Ri (5,546 m; 18,195 ft) has a wideranging vista that includes Makalu and a number of other Khumbu peaks. For ambitious and experienced trekkers, there is a difficult side route from Lobuche to Chhukhung crossing Kongma La Pass (5,535 m; 18,159 ft).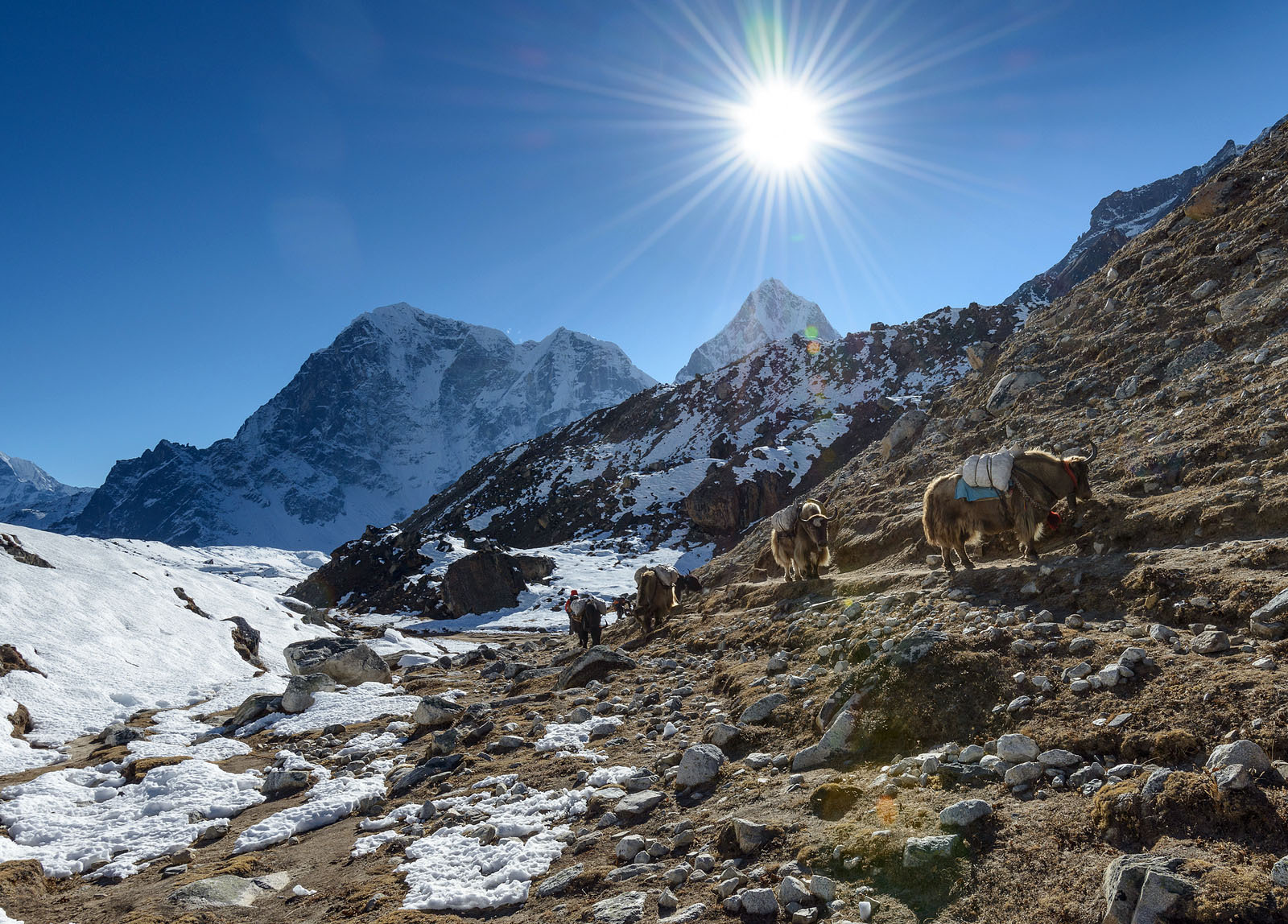 Three Passes Trek (16-21 days total; very challenging)
The Three Passes trek is one of the most ambitious routes in the Khumbu and conditions can be downright challenging. The passes are as follows: Kongma La (5,535m), Cho La (5,380m), and Renjo La (5,388m). Crossing them allows you to complete a large circle of the Khumbu and visit Everest Base Camp without doing the standard up-and-back of the main route. The duration depends heavily on your hiking speed and the weather, but expect to spend 16-21 days or more for the full Three Passes Trek.
 
The Everest Base Camp Trek after the 2015 Earthquake
We have not trekked to Everest Base Camp after the 2015 earthquake, but we have spent time gathering information. All reports indicate that as of fall of 2015, the Everest Base Camp Trek is open for business. The Khumbu region was further away from the epicenter of the quake than treks like Langtang and Manaslu, and most of the damage was at elevations below Namche Bazaar. The Lukla Aiport was not affected and is open and operating normally.  
In June and July of 2015, Miyamoto International, a California-based structural and earthquake engineering firm, was hired to provide risk assessments for treks in the Everest and Annapurna regions. Their detailed assessment of the Everest Base Camp Trek was that the villages and bridges generally were not affected. 83% of the buildings were not affected nor were the nine major bridges that were assessed. To be sure, a number of teahouses and other buildings suffered minor structural damage but local villagers were active in repairing infrastructure. Nepal's Department of Tourism has encouraged trekkers to return to the region.