Patagonia's Torrentshell is a common sight on the streets and muddy trails of the Pacific Northwest. Its reliable weather protection, lightweight materials, and good looks make it an everyday staple. The jacket isn't a standout in terms of value—most of its direct competitors cost about $30 less—but it's a versatile shell that delivers typical Patagonia quality. Below we break down the Torrentshell's water and wind protection, breathability, weight and packability, durability, fit and sizing, and more. To see how it stacks up to the competition, see our article on the best rain jackets.
 
Performance
Water and Wind Protection
The Patagonia Torrentshell doesn't provide bombproof protection, but considering its lightweight build, the jacket performs surprisingly well in extended rain and wind. With an in-house 2.5-layer waterproof design, the jacket has shrugged off years of Seattle drizzle while commuting and wearing around town. The exterior will start to absorb moisture in heavy rain, which can press the wet material against your skin, but the DWR coating and windproof exterior offer more than enough protection for daily wear and moderate outdoor use. And its packable nature means we consistently stuff into its our suitcases, backpacks, and bike panniers in case of an unexpected storm.

For the most part, the jacket has the features we want in a rain shell in its price range. The hood fits great and offers excellent coverage, and it's easy to adjust the hem and cuffs to seal out cold and wet weather. One feature that we've never liked, however, is the center flaps that cover the main zipper. Unlike most competitors that use a single large piece of fabric that secures with Velcro, the Torrentshell has two small, unsecured overlapping flaps. Not only does the material occasionally get caught in the zipper on its way up, but it doesn't always stay in place and we often have to re-flatten the two pieces throughout the day. There is a secondary storm flap underneath the zipper to prevent leaking, but we prefer the more foolproof design of jackets like the Marmot PreCip and The North Face Venture 2.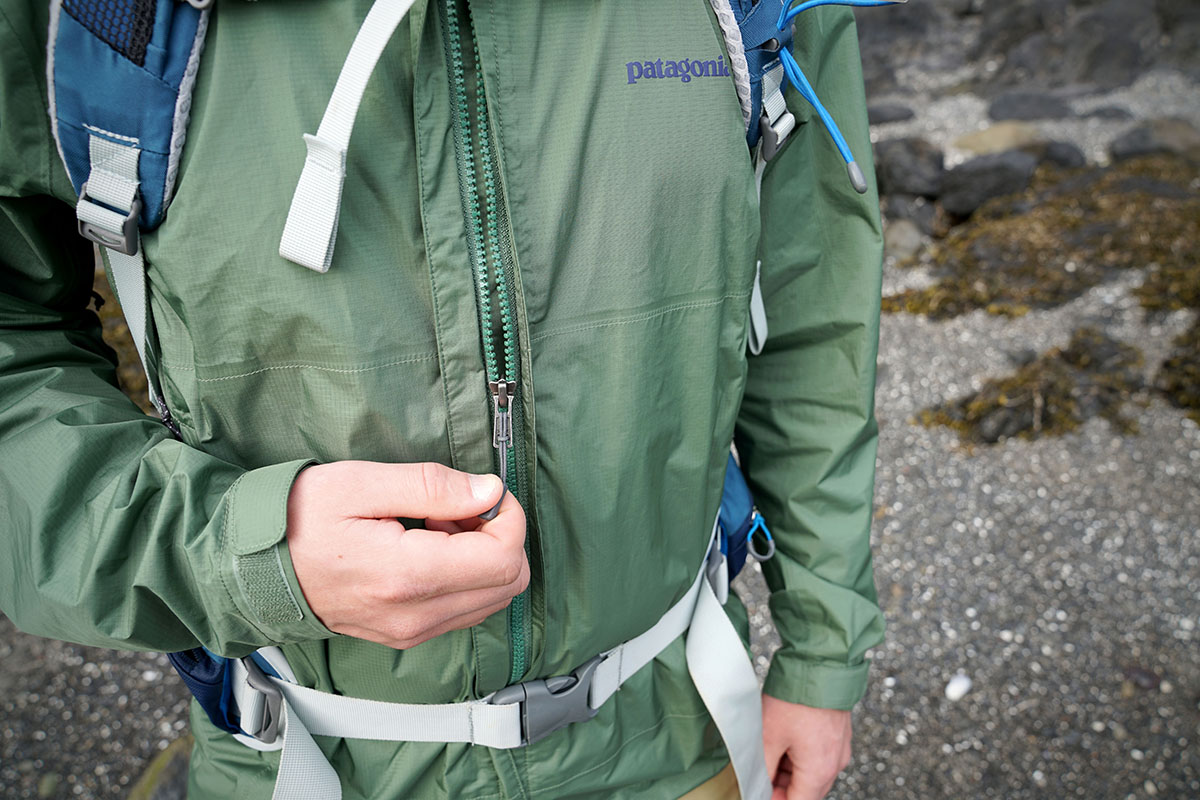 Breathability
As with weather protection, it's important to have reasonable expectations in terms of the Torrentshell's breathability. At $129, this is not a high-performance piece, so you'll quickly overheat and feel clammy as you work up a sweat. There are pit zips to help regulate body temperature, but we've found the Marmot PreCip is the better breather overall when opening its mesh hand pockets (the Torrentshell's pockets are a solid nylon). For uses like cold-weather hiking and snowshoeing, the Torrentshell will do the trick if you layer right, but its best uses are light activities like walking or hanging out around camp. If you need a packable waterproof shell with greater breathability, the Outdoor Research Interstellar, Arc'teryx Zeta SL, and REI Co-op Drypoint GTX are great options, but they are about double the price of the Torrentshell.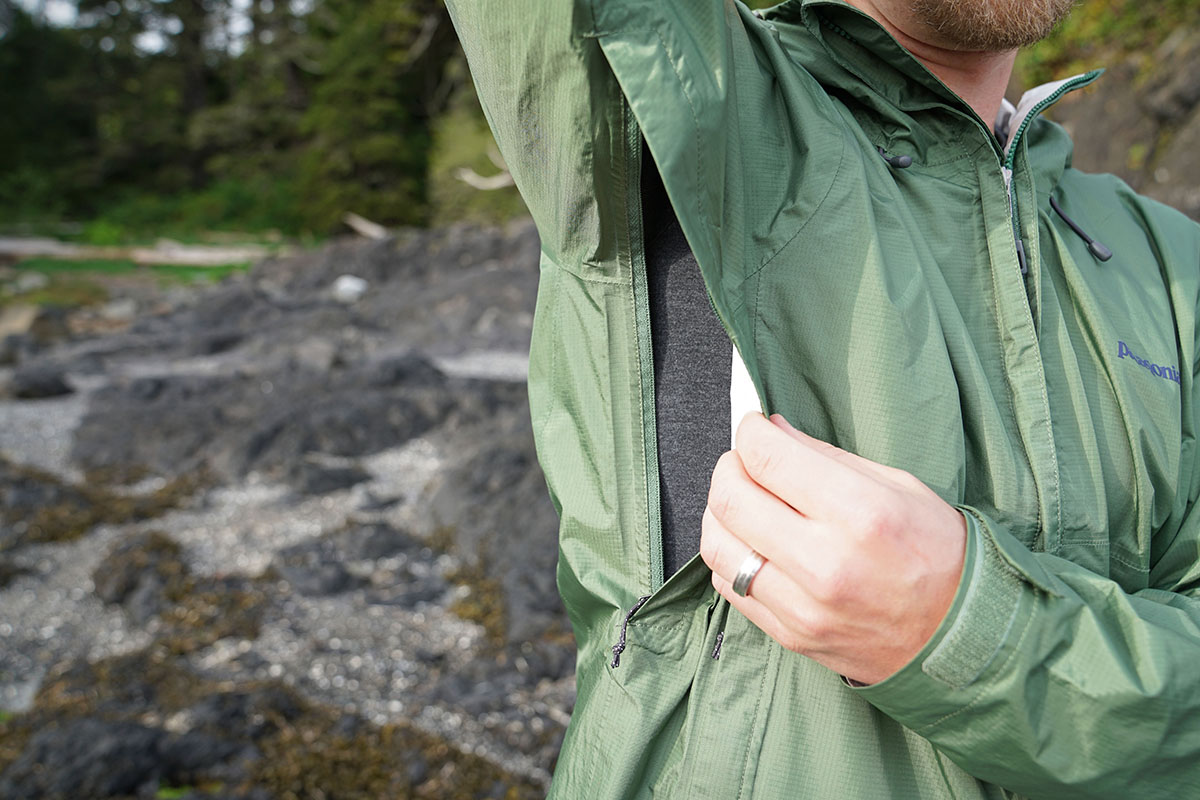 Weight and Packability
The Torrentshell doesn't offer best-in-class weight, but it's not far off. Our men's medium weighs 11.3 ounces on our scale (Patagonia lists it at 12.1 oz.), which is exactly one ounce more than our medium-sized Marmot PreCip. Another popular 2.5-layer rain shell is The North Face Venture 2, which splits the two jackets at 11.1 ounces. Patagonia makes a lighter rain jacket in the Stretch RainShadow (10.8 oz.), but that model is $70 more expensive and has more of an alpine focus with a helmet-compatible hood and stretchy construction (for more, see our in-depth Stretch Rainshadow review). For an everyday design that you'll haul around on occasion, we think the Torrentshell's weight is very reasonable.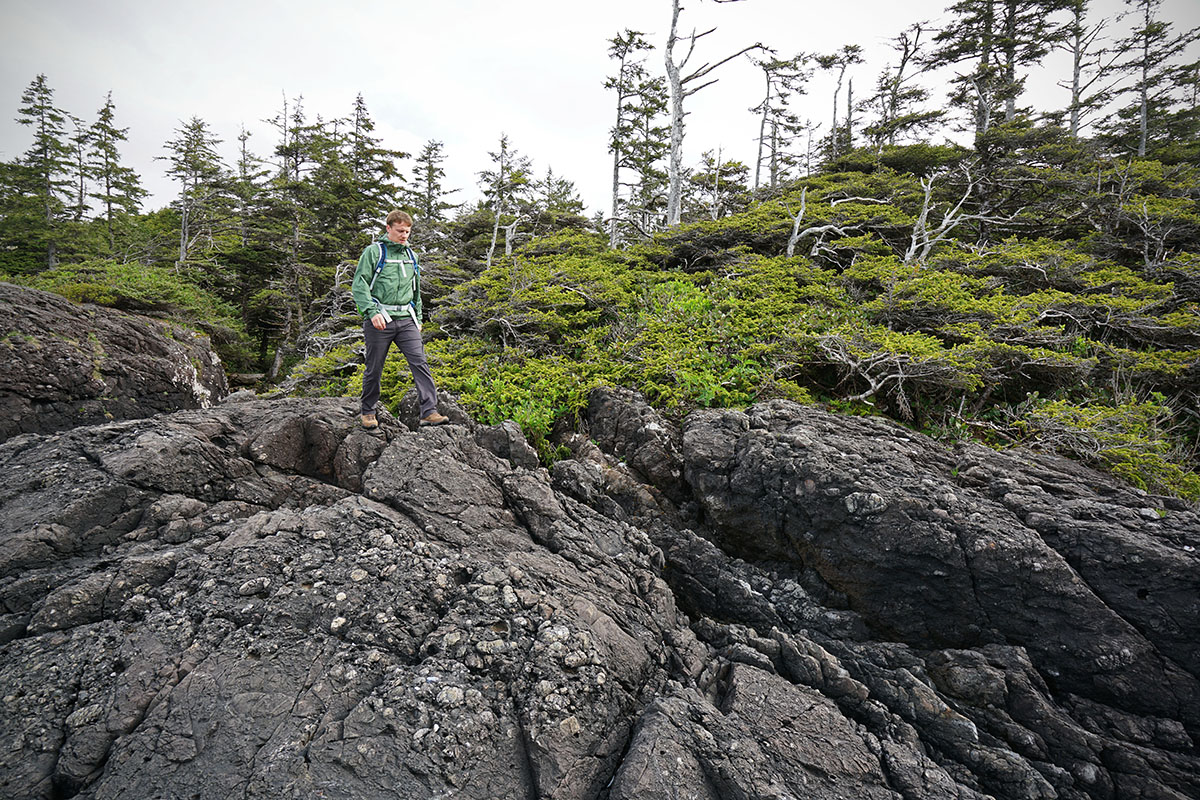 The same goes for packability: the Torrentshell stuffs easily into its left-hand pocket and secures with a two-sided zipper. Fully compressed, the jacket is a little larger than the PreCip, but both are approximately the size of a large grapefruit. We've never had issues stuffing the Torrentshell into packs and suitcases, and we've stored it many times underneath a seat in our car for emergency use. Moreover, in a nod to their climbing roots, Patagonia includes a reinforced loop on the stuff pocket for securing to a harness.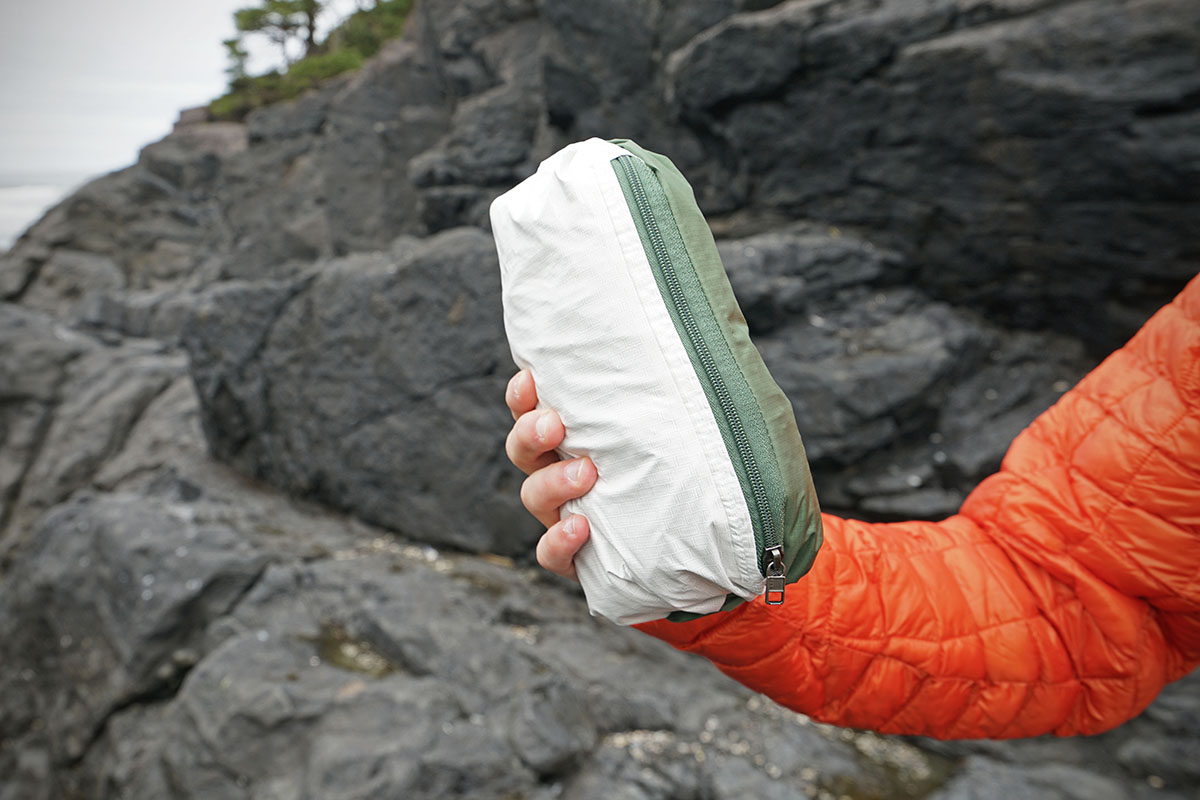 Build Quality and Durability
Similar to most lightweight rain jackets in its price range, the Torrentshell isn't a standout in long-term durability. The biggest culprit of any 2.5-layer shell is the inner lining, which can breakdown and peel away over time. The Torrentshell does a good job avoiding this issue for the most part, and we've gotten years of wear out of our jackets. Overall, it's nicely made with smooth zippers, quality Velcro at the cuffs, and toggle and cord adjusters that have held up to years of consistent use. For a budget-oriented shell, you can't ask for much more.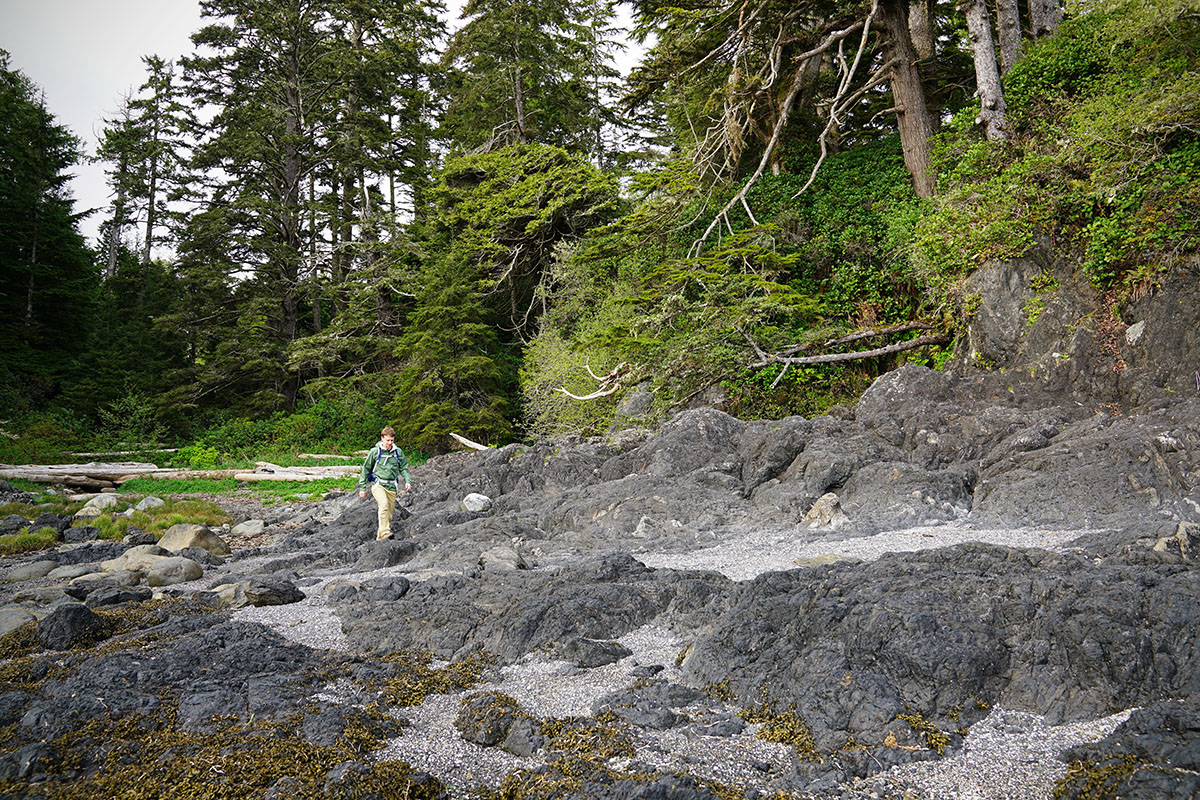 The Torrentshell's build quality stacks up well to its main competitors, but the problem is those alternatives are about $30 cheaper. Marmot's PreCip is a great example of a jacket that delivers similar performance, features, and fit and finish, but at $100 instead of the Torrentshell's $129. You do get little niceties with the Patagonia like a patch of fleece at the back of the neck, and the shell fabric does feel slightly thicker, but it hardly justifies a jump in price in our eyes.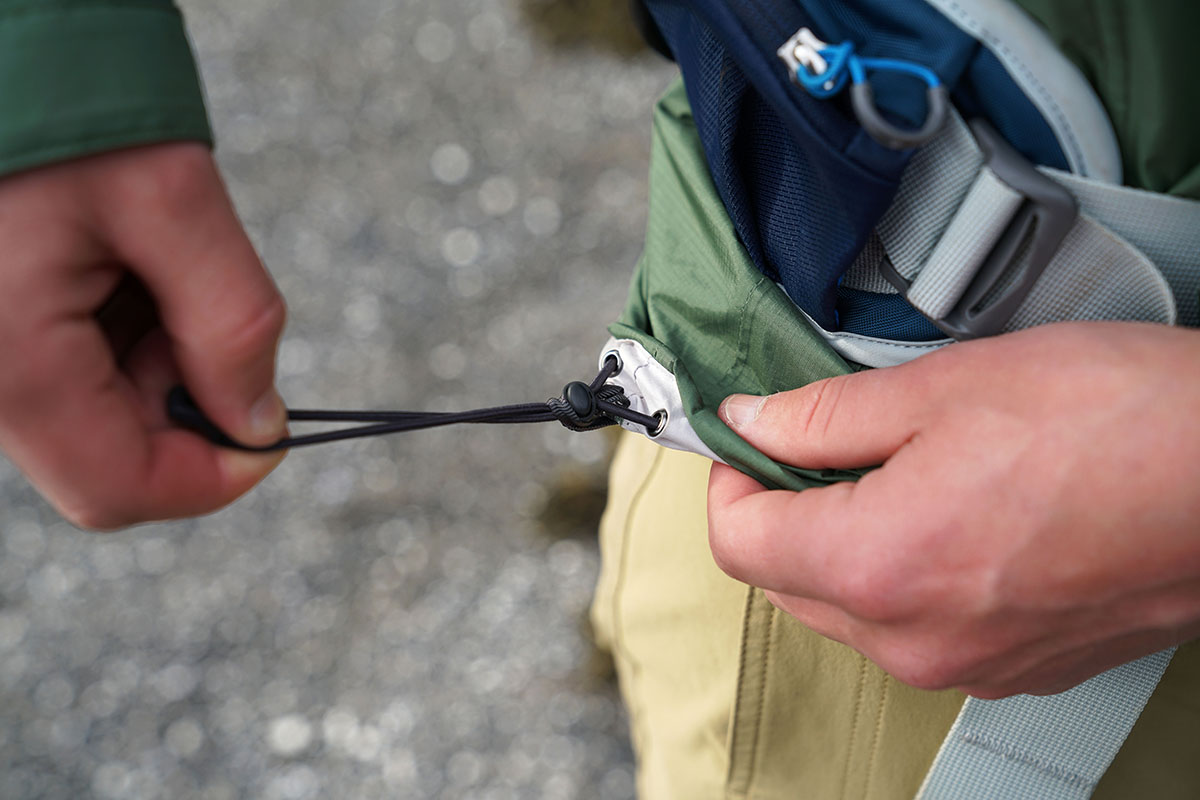 Features: Hood and Pockets
We consistently enjoy Patagonia's hood designs and the Torrentshell is no exception. Most importantly, it provides excellent coverage and stays in place even in rough conditions. The hood adjusts around the sides and back of the head with a single toggle, and two pull cords at the front tighten the brim and seal around the face. The hood itself is quite large but it cinches down nicely, so we've found it fits most head sizes and shapes quite well. All in all, the Torrentshell's hood provides the fit, coverage, and weather protection we want in an everyday or emergency shell.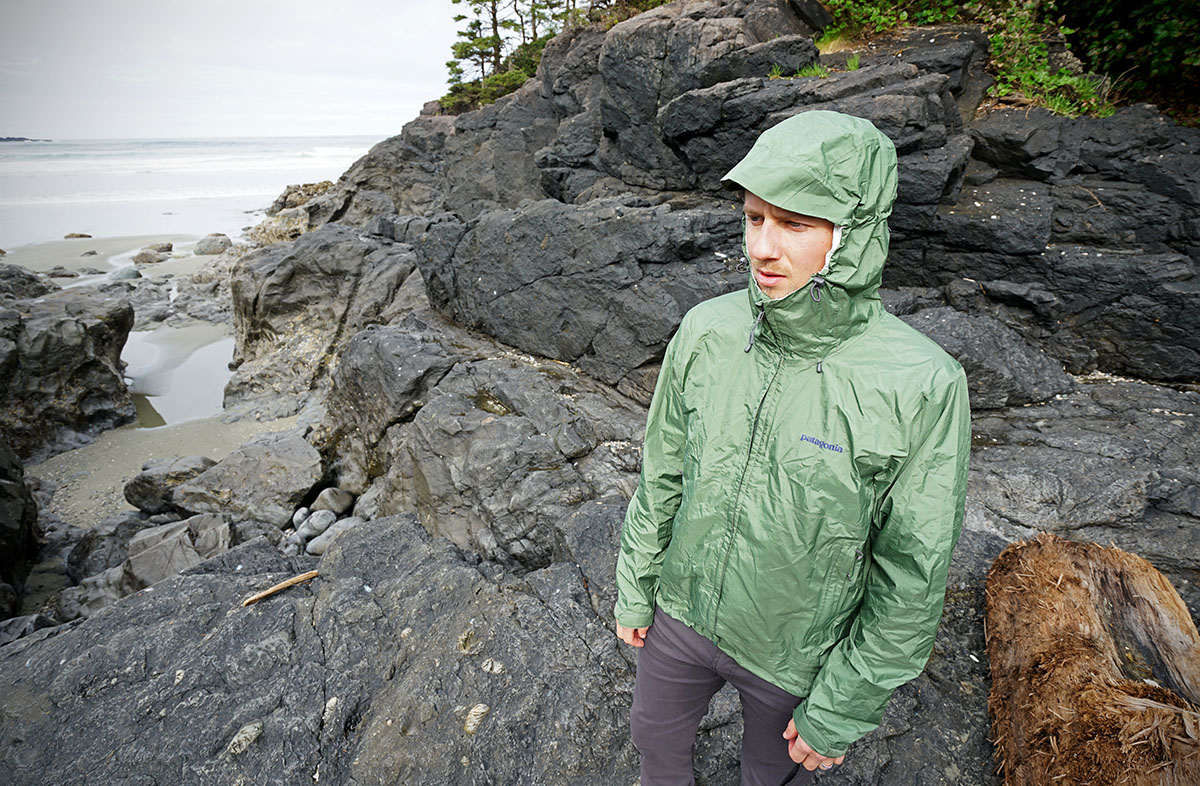 Patagonia kept things simple with storage on the current version of this jacket. You don't get an interior and exterior chest pocket, but the two hand pockets are nicely sized and keep you protected from rain and wind. Some may miss the convenience of a Napoleon pocket for storing a phone or camera, but we don't typically recommend using those pockets for such valuable items as they're not fully waterproof (even on many high-end hardshell jackets). As a result, we consider the weight savings a worthwhile tradeoff and prefer to use the chest pockets on our midlayers for storing electronics or travel documents.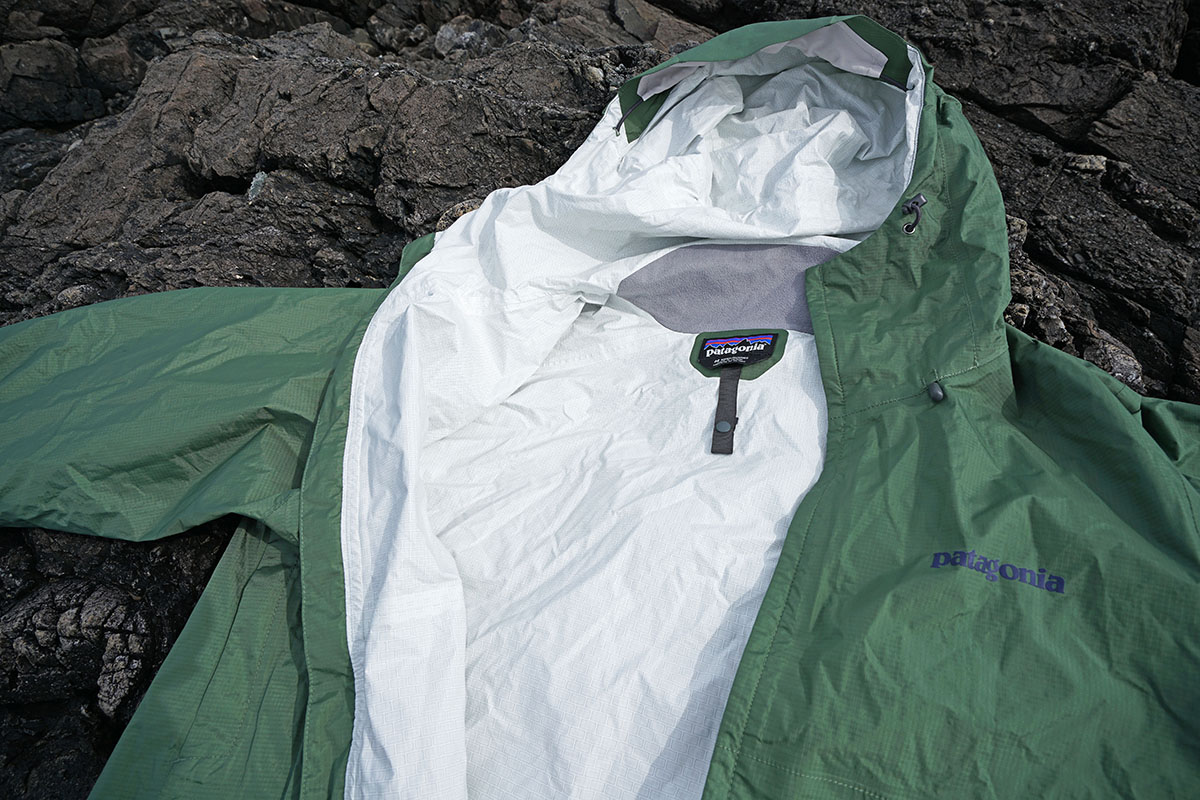 Fit and Sizing
Among rain jackets in the $130 and under price range, the Patagonia Torrentshell has our favorite fit. We ordered it in our typical men's medium (at 5'9" with a trim build), and the cut is fairly athletic for an outer layer. We found mobility to be excellent even when wearing a thin baselayer (something that can be a problem with a rain jacket with a relaxed fit), but there's still enough room to throw on a lightweight down puffy underneath. Those that like a little extra space may want to size up or go with a jacket like the Marmot PreCip, but we've been very happy with the Torrentshell in this regard. Another potential downside is that it doesn't have as long of a cut as many of its competitors, but it still sits well below the waist and we've found the coverage is sufficient for most uses.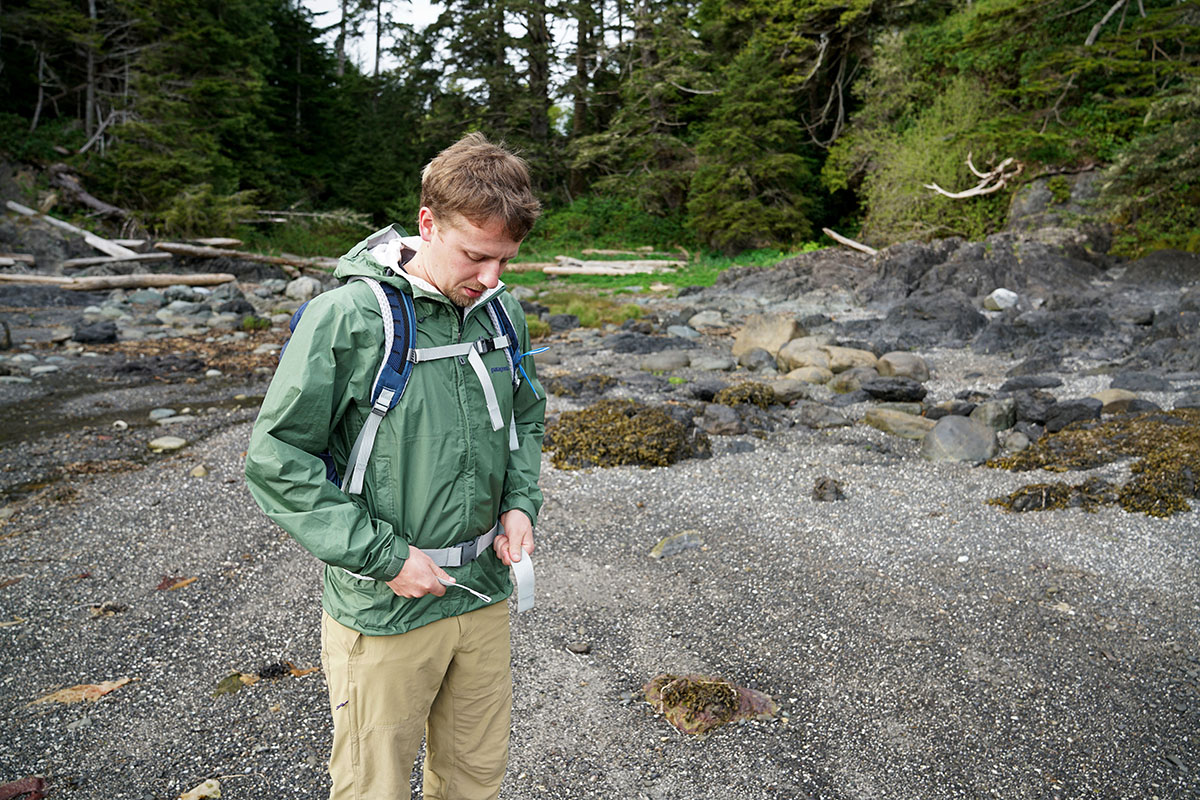 What We Like
Light, packable, and good all-around weather protection for moderate conditions.
Patagonia build quality with durable materials considering the jacket's weight.
Microfleece along the back of the neck is a nice touch.

What We Don't
Not a great value: the Marmot PreCip offers very similar performance for $29 less.
As with many 2.5-layer designs, breathability and long-term durability are not very good.
The main zipper can get caught in the exterior storm flaps (which don't have Velcro).


Comparison Table
Editor's Note: "Packable" indicates the jacket has a stuff pocket.
 
The Competition
The Torrentshell may not be our all-time favorite rain jacket, but it has a strong following thanks to its clean design, solid performance, and decent price considering the Patagonia patch on its chest. Its closest competitor, the Marmot PreCip, is another big seller. The two jackets share a lot in common, including lightweight and packable 2.5-layer constructions, functional features like two hand pockets and pit zips, and sufficient storm protection for everyday use and most backpacking trips. Where the PreCip has the clear advantage is value. At $100, it saves you $29 compared with the Torrentshell, without giving up anything in terms of build quality or performance (for more information, see our PreCip review). We do prefer the slightly trimmed down fit of the Torrentshell, but otherwise it's difficult to justify the added cost stacked up to the Marmot.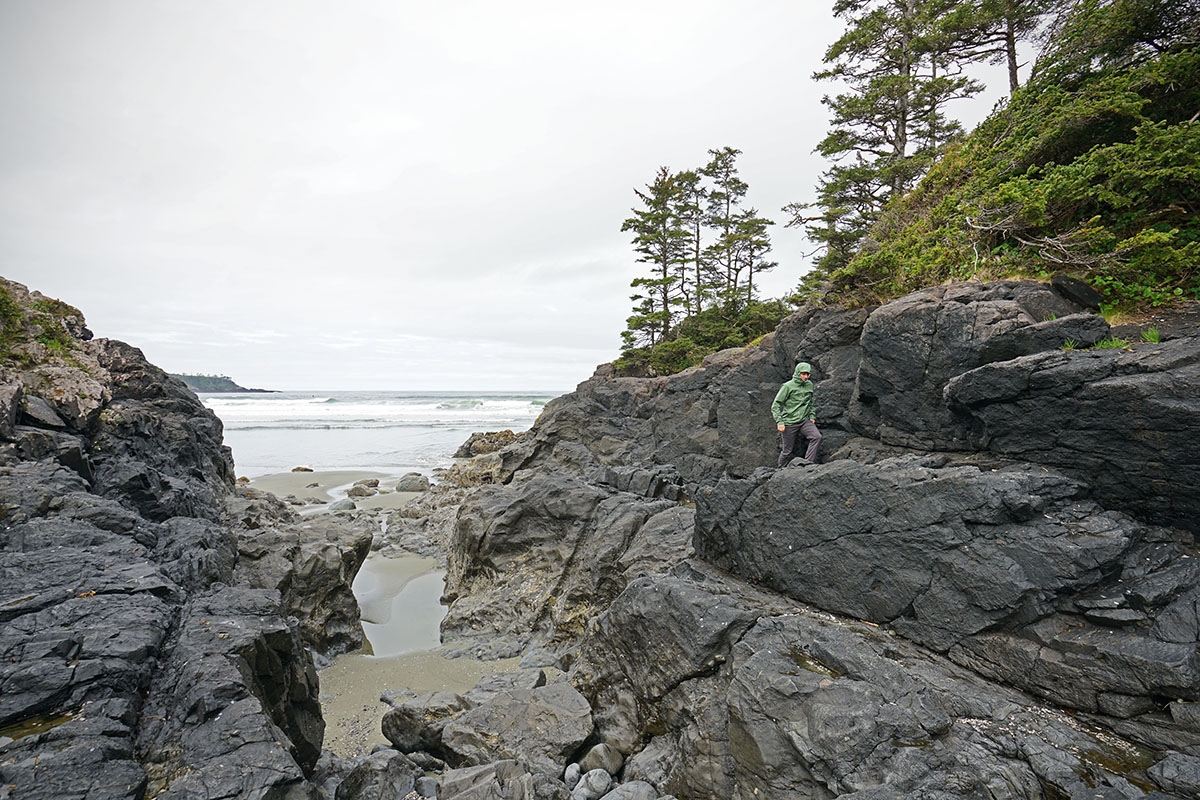 Another popular $100 rain shell is The North Face Venture 2. As with the PreCip, the recipe is very similar to the Torrentshell, but we've found the Venture to be the weak link of the three. While all the jackets provide comparable levels of weather resistance and weigh about the same, the Torrentshell and PreCip are noticeably better made. The Venture's shell fabric, zippers, and Velcro feel cheap, and it has the baggiest and most generic fit of the three. If you're weighing the Torrentshell and the Venture 2, we recommend spending the extra money for the Patagonia (but the PreCip is our top choice overall).
The Torrentshell's $129 price lands it in between popular affordable jackets like the PreCip and Venture 2 and mid-range Gore-Tex designs like the REI Co-op XeroDry GTX and Marmot Minimalist. By stretching the budget to the $159 XeroDry or $189 Minimalist, you get better weather resistance with Gore-Tex Paclite, even more secure hood designs, and longer-lasting constructions. The downside is weight—at 12.5 and 14.9 ounces and with fairly large stuff sizes, they're not as easy to throw in a pack. For everyday use or in rough weather, we think the Minimalist is the best of the three (it ranks at the top of our rain jacket round-up), but the Torrentshell has the advantage in weight and price.
If you're thinking about buying gear that we've reviewed on Switchback Travel, you can help support us in the process. Just click on any of the seller links above, and if you make a purchase, we receive a small percentage of the transaction. The cost of the product is the same to you but this helps us continue to test and write about outdoor gear. Thanks and we appreciate your support!
Depending on the seller, most products ship free in the United States on orders of $50 or more. International shipping availability and rates vary by seller. The pricing information on this page is updated hourly but we are not responsible for inaccuracies.
Learn More About Outdoor Gear