REI Co-op Half Dome SL 2+
Price: $279
Measured weight: 5 lbs. 0 oz. (w/footprint)
Floor denier: 40D
Capacities: 2+, 3+
What we like: Well-built, easy to use, and tons of room at a good price.
What we don't: Relatively heavy and only comes in "plus" sizes.
See the REI Co-op Half Dome SL 2+
Beloved by backpackers for years, REI Co-op's Half Dome has been updated for 2021 with a significant drop in weight. But despite using thinner fabrics (they're still tough by modern standards), the latest SL+ model should remain a backcountry favorite: it's extremely roomy inside, easy to set up and use, has every feature you need for 3-season adventuring, and is a solid value. We put the Half Dome SL 2+ to the test in Washington's Hoh Rainforest, and below we break down our experiences. To see how the Half Dome stacks up, see our article on the best backpacking tents.
 
---
Table of Contents
---

Performance
Livability and Interior Space
Like the prior-generation "Plus" model, the latest REI Co-op Half Dome SL 2+ is an absolute standout in terms of interior space. The expansive 35.8-square-foot floor is more than 3 square feet larger than most of the competition (more on this below), and we found that it accommodates two regular backpacking pads with inches on all sides to spare. Further, the floor is symmetrical (nice for sleeping head to foot with a backpacking partner), the ceiling is tall at 42 inches in the center, and the vertical mesh side walls only enhance the roomy and spacious feeling. This all adds up to an honest-to-goodness livable option for two people, something almost no other two-person backpacking model can claim (those that are worried about space commonly size up to a three-person tent).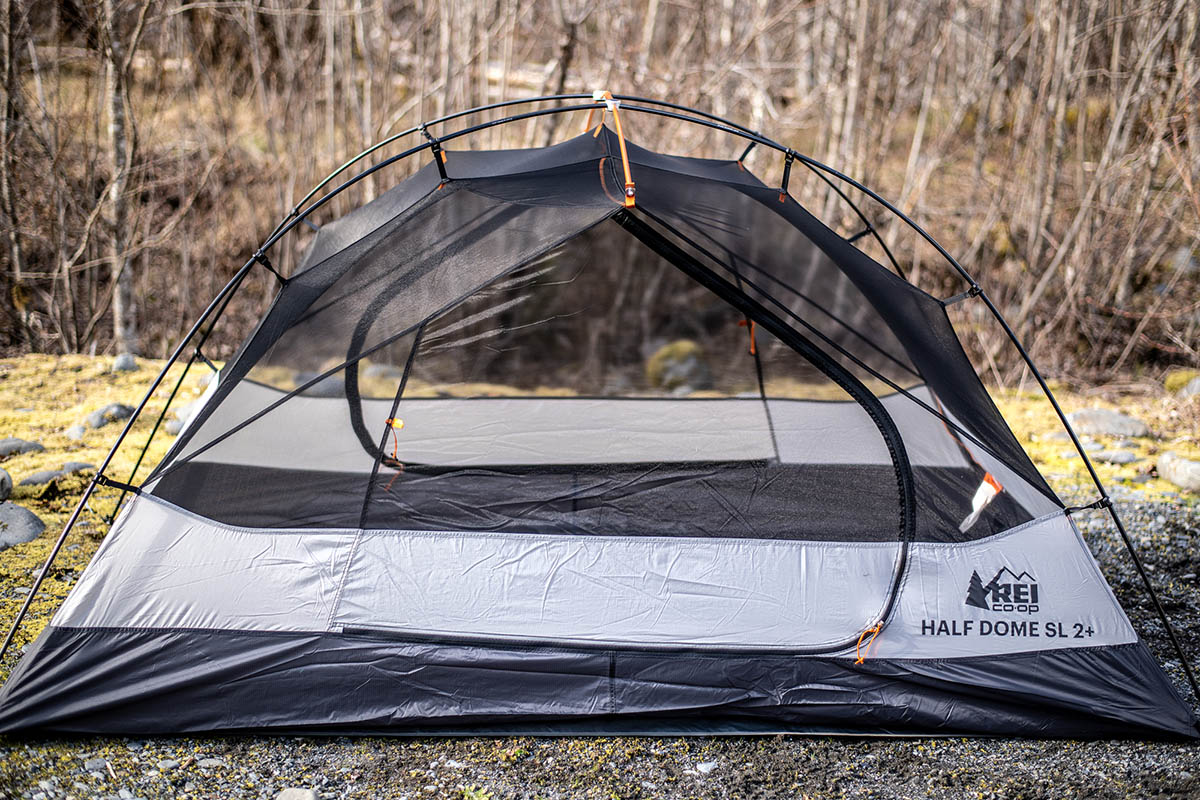 All that said, it's worth noting that like every other backpacking tent we've tested, the Half Dome's interior dimensions measure noticeably smaller than the listed numbers. At the corners, the floor is 88 inches long and 52 inches wide (compared with the 92 x 56 in. specs), which makes it difficult to fit two "wide" 25-inch backpacking pads—you can expect the sides to be right up against the walls. To be clear, the Half Dome is a class leader in livability, especially when you consider its reasonable weight. But those looking to really spread out may still want to size up to the larger SL 3+ model (dimensions are listed at 92 x 80 in. with 50.1 sq. ft. of floor area and a 44-in. peak height).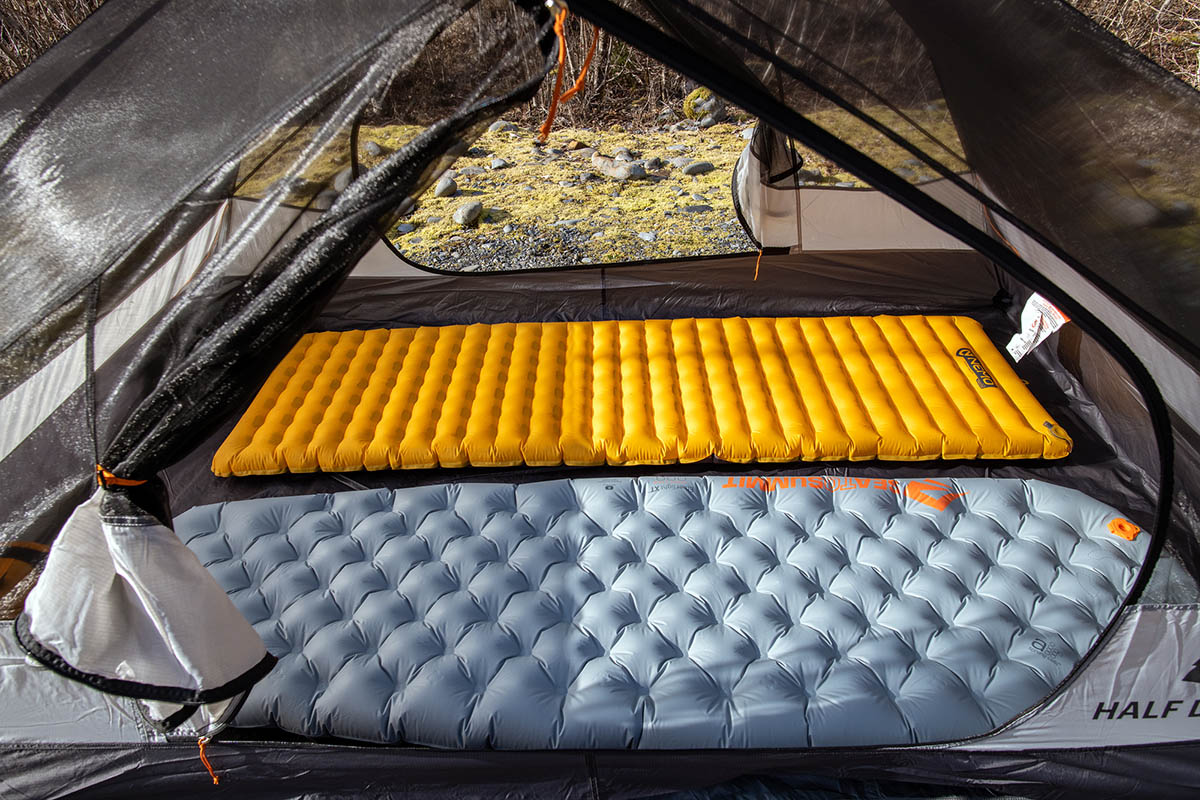 Weight and Packed Size
The Half Dome prioritizes interior space and durability over weight, and even though the SL model is much lighter than its predecessor, it's still on the heavy end of the market. On my scale, the full packaged weight of the tent is 5 pounds even (its listed weight is 4 lbs. 13.5 oz., and the past-generation model was 5 lbs. 5 oz.). However, it's worth noting that this number includes the footprint, so you can trim away 7.8 ounces by leaving that behind. And since most tents do not include footprints, you should subtract the footprint's weight when comparing specs. For reference, leading backpacking tents like the Nemo Dagger 2P and MSR Hubba Hubba NX (both 3 lbs. 14 oz.) undercut the Half Dome by about 10 ounces, but they also cost significantly more and use thinner and less durable materials. Within the sub-$300 category, Marmot's Tungsten 2 w/Footprint (5 lbs. 4 oz.) and Kelty's Dirt Motel 2 (4 lbs. 13 oz.) are comparable in weight but can't match the Half Dome's interior space or overall build quality.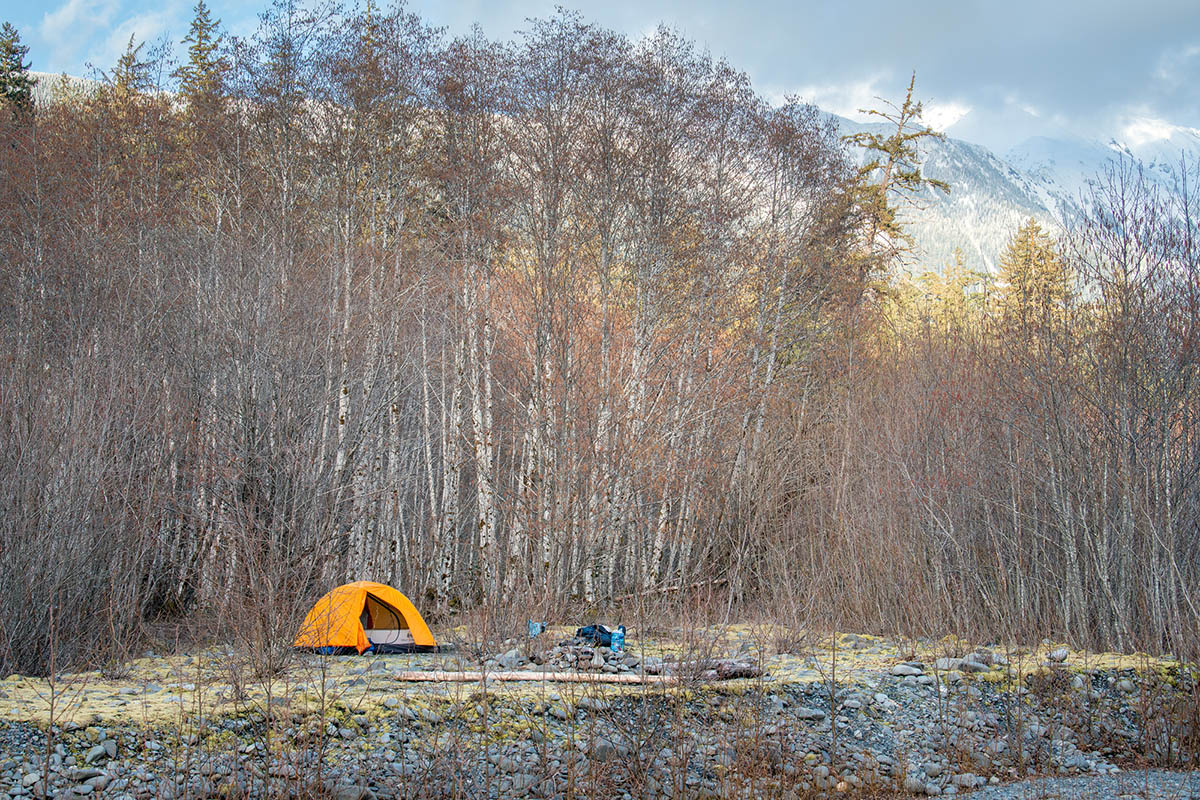 Packed size nearly always goes hand-in-hand with weight, so it's not a surprise that the Half Dome measures a fairly large 7 x 20.5 inches. One of the culprits that increases the bag's diameter is the single-pole hubbed design, which is bulkier when broken down than tents that come with multiple poles. That being said, it's only about an inch longer and a couple inches wider than a lightweight model, and we never had issues storing the tent (plus, you can always separate the poles from the tent body and rainfly when stowing them in your backpacking pack). And a final note on packed size: as with many of REI's stuff bags, the Half Dome's is generously sized to accommodate less-than-perfect packing, which we appreciate.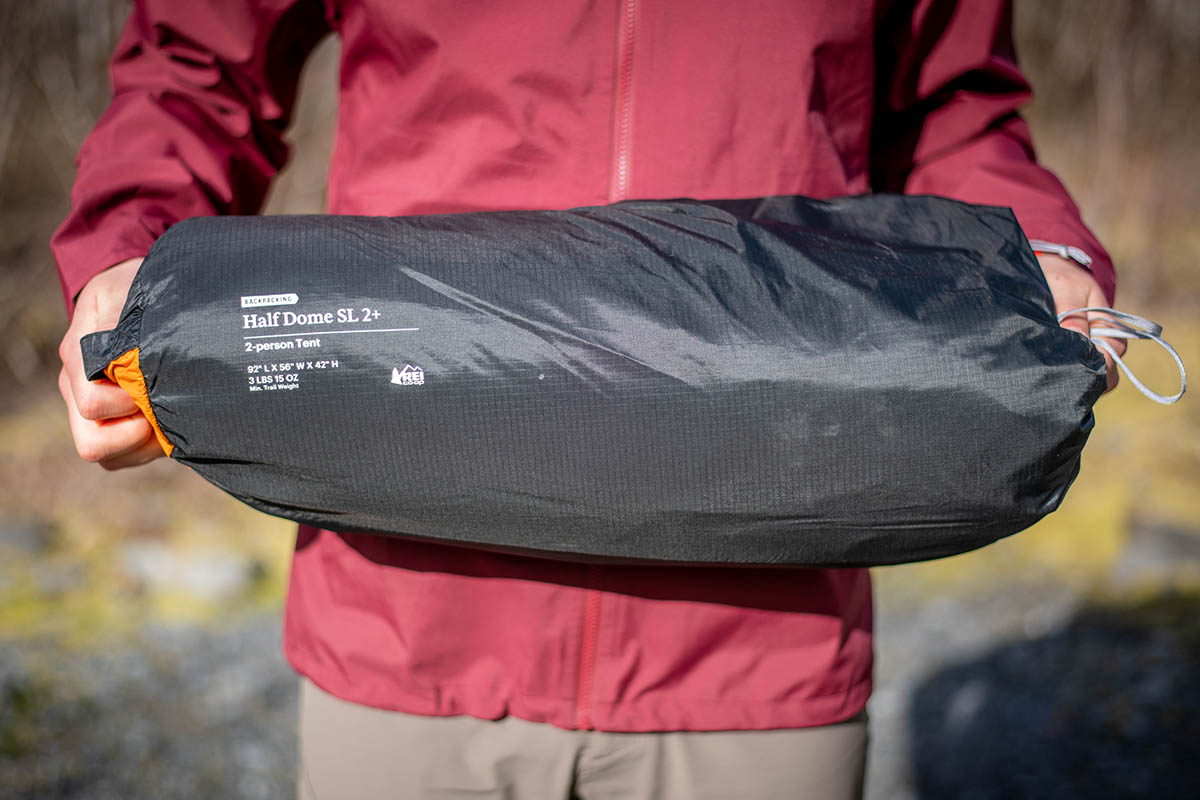 Build Quality and Durability
Backpacking gear is light for a reason and always requires some care, but the REI Co-op Half Dome SL 2+ is among the tougher tents on the market. With a substantial 40-denier (D) floor and 30D rainfly (down from 70D and 40D respectively from the older, heavier model), it doesn't require nearly as delicate of a touch as the 15 x 20D floor on the Big Agnes Copper Spur HV UL2, for example. Using the included footprint can help extend the life of your tent, but otherwise, there are very few areas of concern.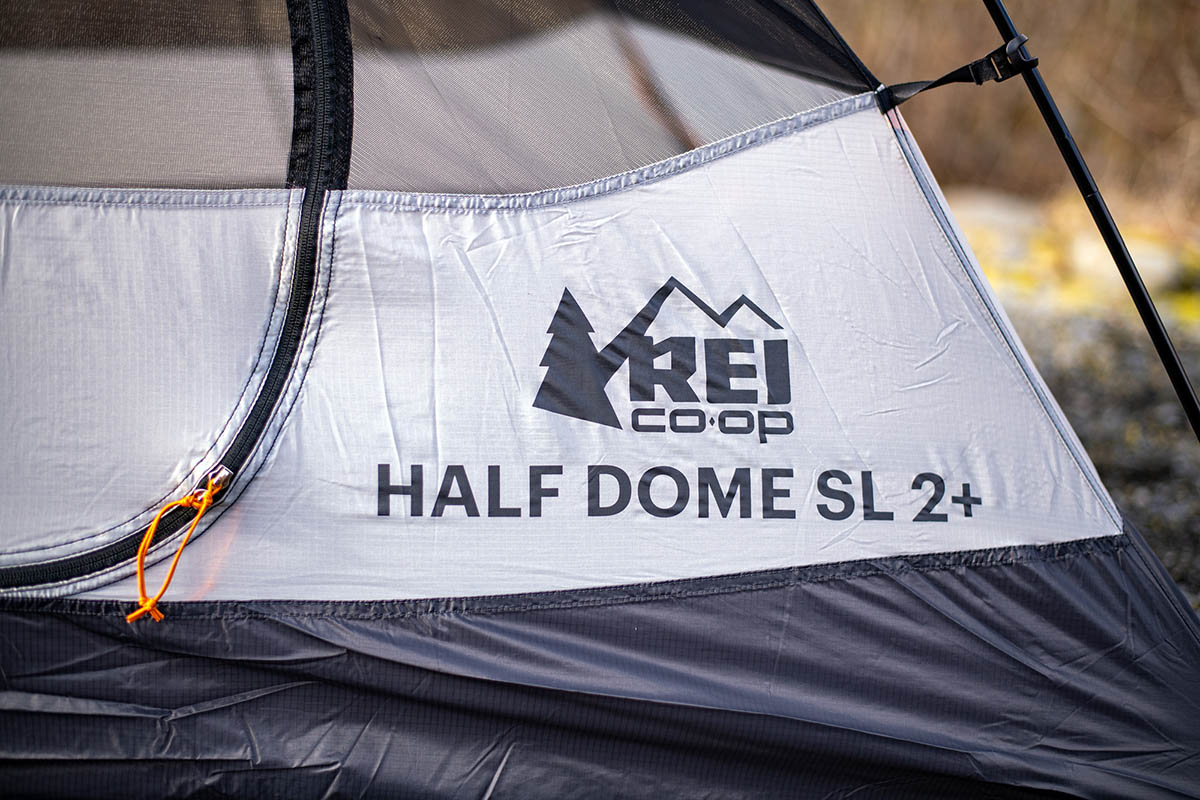 The rest of the Half Dome SL 2+ is equally well-built. The 20-denier mesh on the tent body is still snag-free, and the zippers all slide very smoothly. REI turned to industry leader DAC for their hubbed aluminum pole system, and it has a quality look and feel, plus the hubs themselves are solid units (two generations ago, the Half Dome had cheaper plastic hubs which had some durability issues). REI also upgraded the stakes with the SL version to a DAC set, which is another positive change as we bent a number of the pegs that came with the old model.

Weather Protection
The Half Dome SL is equipped to handle most 3-season conditions with its sturdy, freestanding construction, full-coverage rainfly, and raised bathtub floor with quality seam taping. We haven't had a chance to test the new model in a proper storm yet, but its structure is nearly identical to the prior version, which held up extremely well in rain and sleet on Patagonia's Huemul Circuit (as long as we remembered to close the roof vents if the rain was blowing sideways). That said, the tent's tall profile will likely make it more vulnerable to bowing in high winds (an issue we had in Patagonia). For increasing weather worthiness, it's wise to pack extra stakes to guy it out, as only eight are included.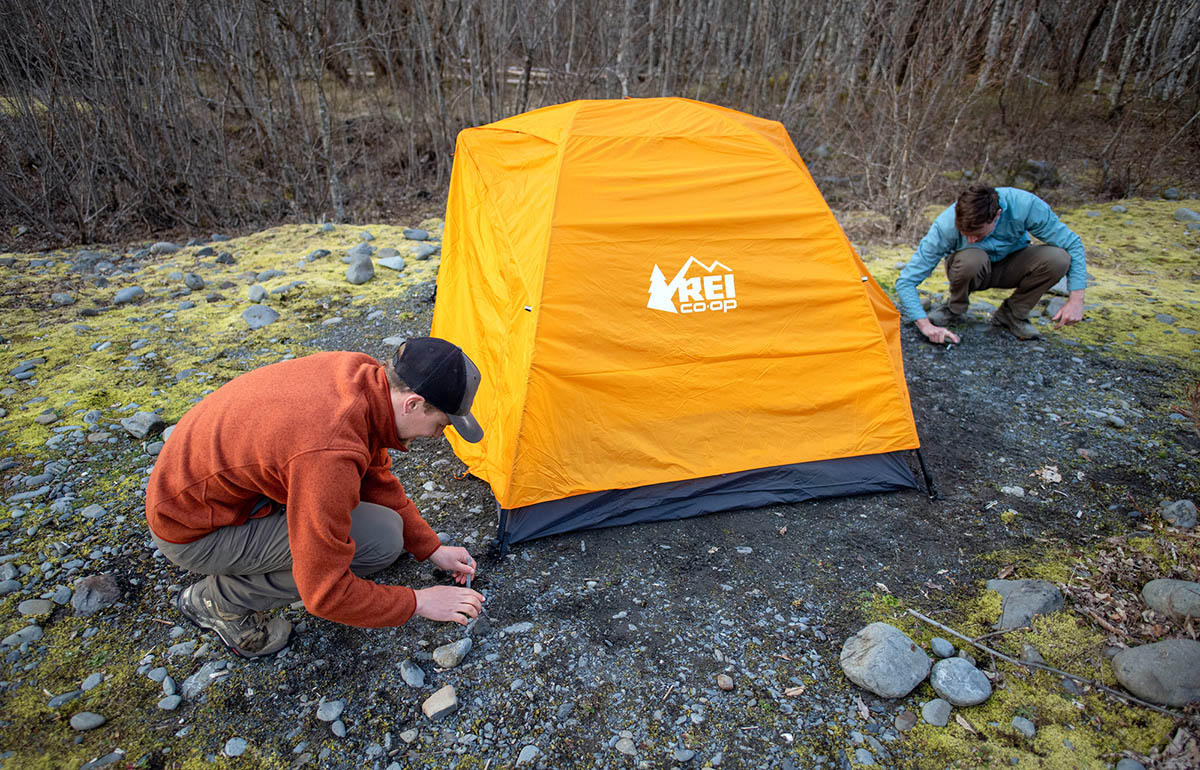 Ventilation
With large vents, lots of mesh, and enough space separating the rainfly and tent body, the REI Half Dome SL 2+ is a good ventilator. The vents are nicely designed and easy to access right over the side doors, and the Velcro tabs create a generous opening (and are simple to close). This means that you can get some serious air movement for keeping condensation to a minimum on muggy nights. In the cold—temperatures dipped into the mid 20s for us overnight—we did notice that the extra airflow made it feel a bit drafty inside, but closing one of the vents helped with that issue (and we still woke up with a dry interior).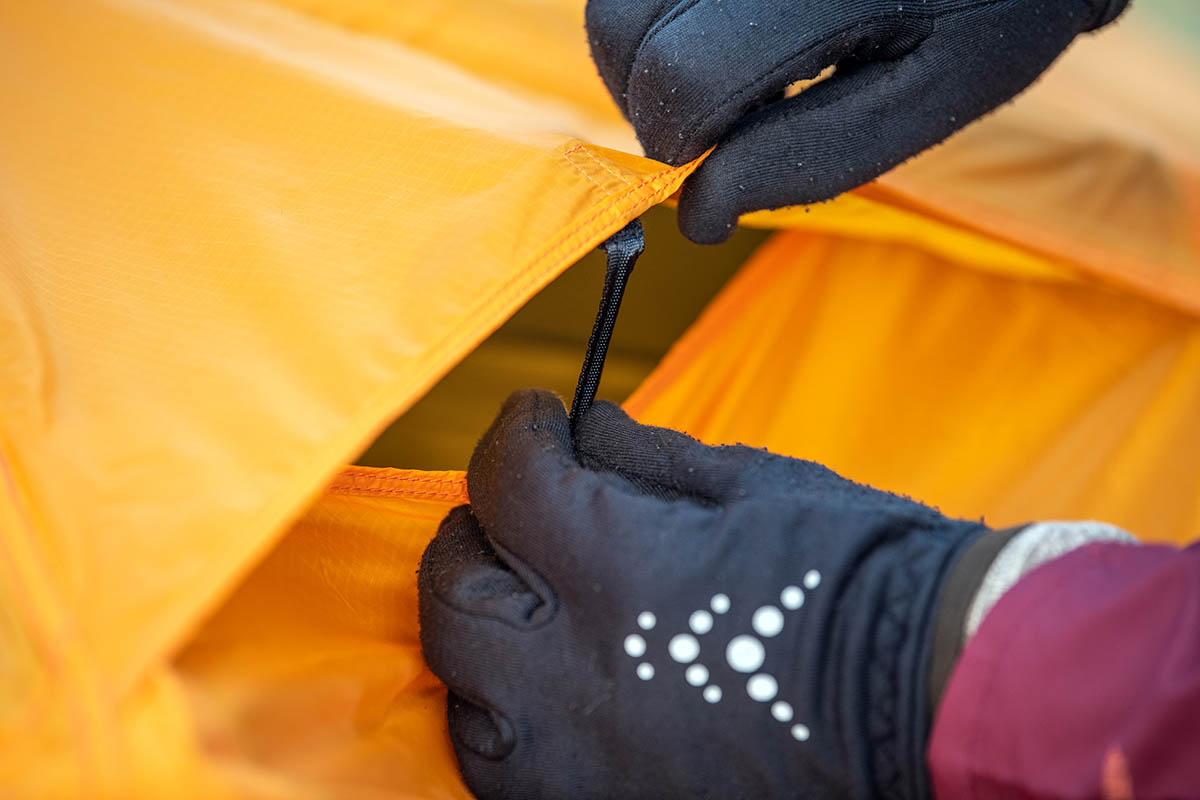 Storage
The Half Dome's two-door-and-vestibule design means it's easy for two people to store their packs, hiking shoes, and other gear on either side of the tent with plenty of room for entry and exit. Like the old Half Dome model, the updated SL has 22.5 square feet of space, split evenly between the sides. We also love the zipper design on the fly that opens to the side and down, creating a wide and protected opening for getting in and out. In addition, the rainfly is very adaptable: you can roll the ends halfway up for stargazing, pull the sides back to increase airflow, or zip it all up for protecting your gear in rough weather.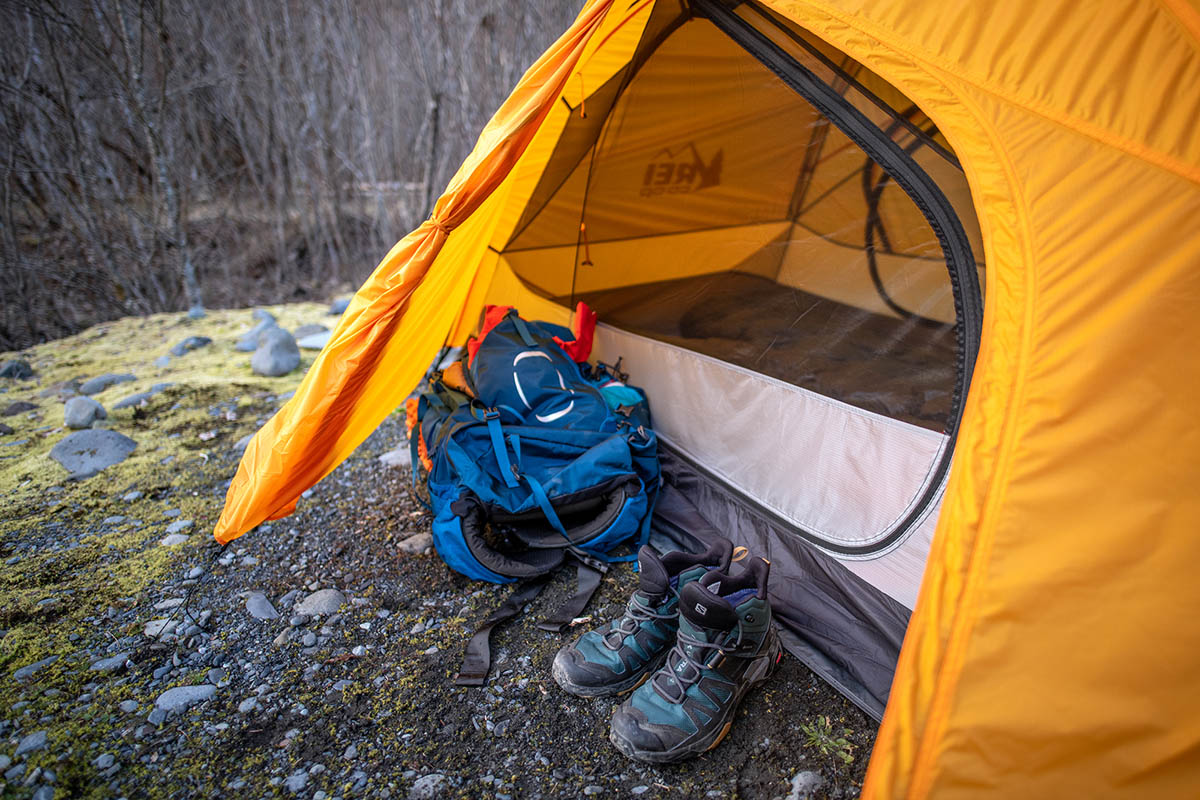 Storage is a little more limited with the latest SL version—one sacrifice in trimming weight—but it's still sufficient for two backpackers. Just inside the doors are large pockets along the roof, and you also get triangle-shaped mesh pockets at each corner for easy access while in your sleeping bag. Finally, there are plenty of loops along the ceiling for hanging a light for a nighttime game of cards.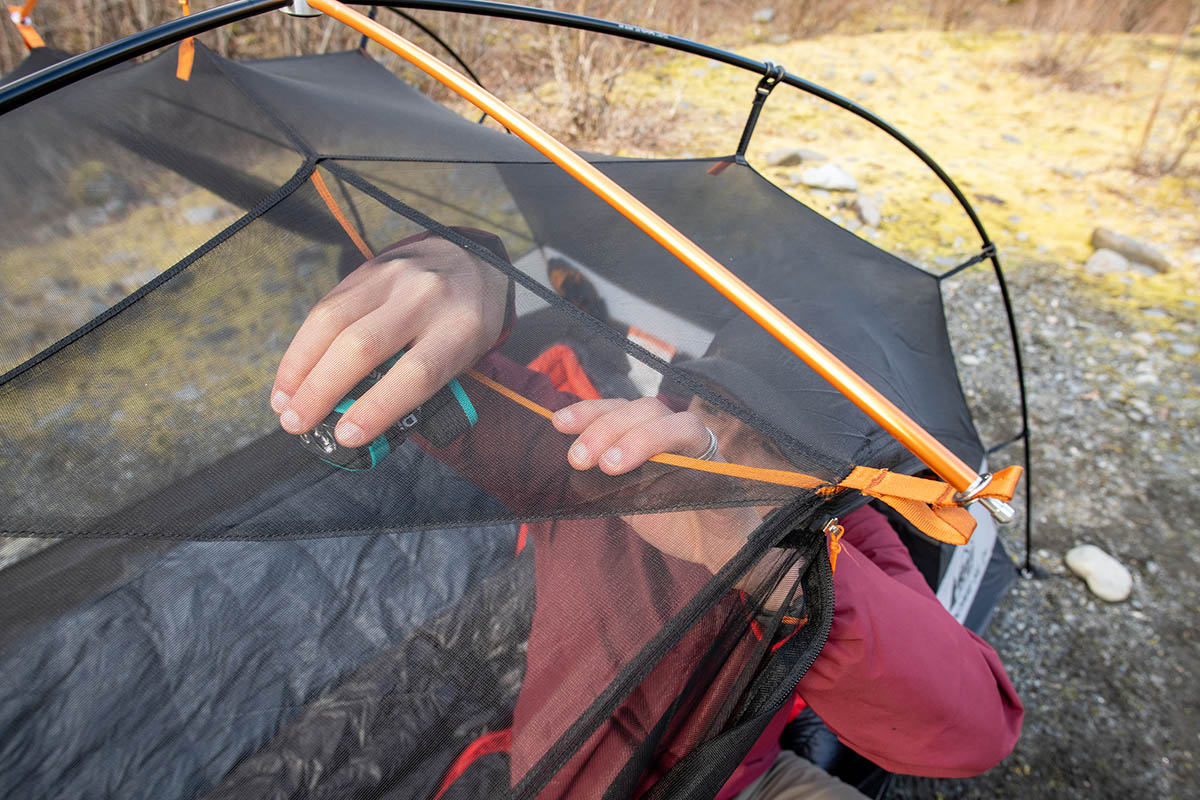 Set up and Take Down
The freestanding tent body, symmetrical design, and one-piece hubbed pole makes the REI Co-op Half Dome SL 2+ incredibly easy to assemble and take down. As long as you line up the poles correctly (with the gold ridgepole across the middle of the tent), it's as easy as connecting the four corners, clipping it all together, and connecting the ridgepole. Heck, even the footprint comes connected to the bottom of the tent body, so you can just leave it there (removing it is also a simple process). Adding the rainfly is just as painless, although we did find that it's a good idea to connect the ridgepole's grommets before buckling the rainfly into the bottom, which keeps from having to strain to make it fit. REI also includes set-up instructions on the tent bag, but it's a process that you will have down pat after very little practice.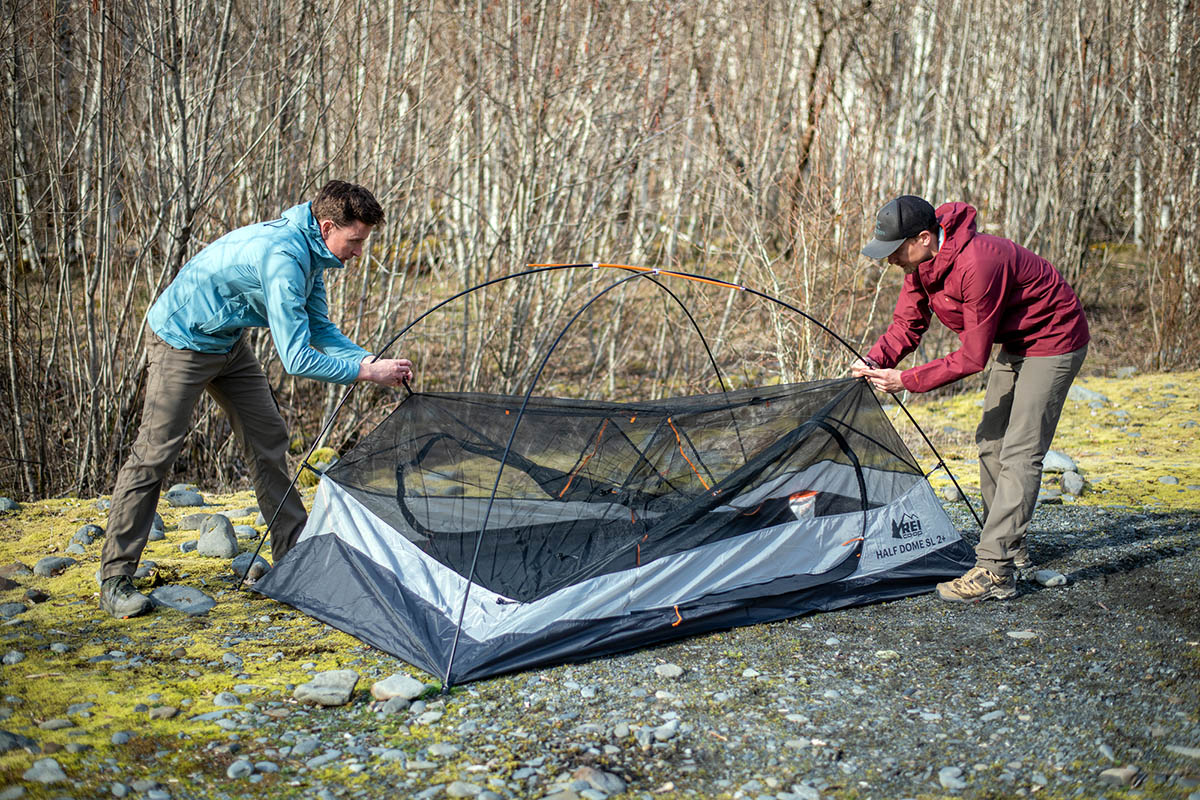 Other Capacity: REI Co-op Half Dome SL 3+
In addition to the SL 2+ model tested here, REI also makes the Half Dome in a larger SL 3+ version. The 3+ model costs $329, weighs 5 pounds 15.7 ounces all in, has 50.7 square feet of floor area and a 44-inch peak height, and packs down to 7 x 23 inches. As we touched on above, those who like to spread out will likely benefit from upgrading to the three-person model, although we do miss the old 4P option for use on more casual car camping trips. And REI also did away with the single-person Half Dome, although it wasn't much of a standout in terms of weight (one of the main reasons backpackers choose 1P models in the first place).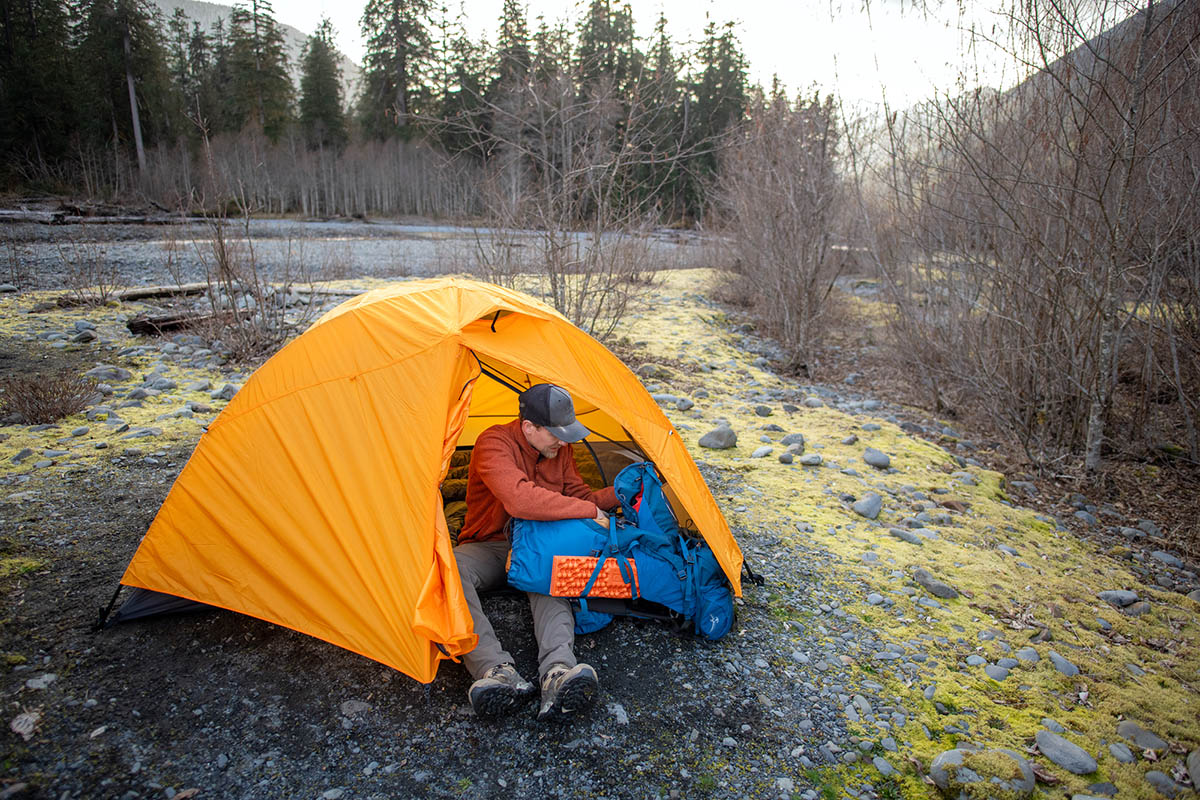 What We Like
Truly comfortable inside for two people with a large footprint and near-vertical walls.
An excellent value at $279: this tent is very well-made and has tons of thoughtful touches like adaptable vestibules and great stargazing.
The tent uses durable materials that should hold up over the long haul (especially compared to most backpacking models).
The spacious interior makes it a viable crossover option for car camping.

What We Don't
Despite cutting some weight, the latest Half Dome still is pretty heavy at 5 pounds all in (4 lbs. 8.2 oz. without the footprint) and doesn't pack down very small.
Tall profile prioritizes interior comfort over all-out wind protection.
We'd love to see an even lighter, standard-sized version become available (and we miss the old 4 Plus for casual camping trips).


Comparison Table
| TENT | PRICE | WEIGHT | Floor | Area | Height | Door(s) | Capacities |
| --- | --- | --- | --- | --- | --- | --- | --- |
| REI Co-op Half Dome SL 2+ | $279 | 4 lb. 13.5 oz. | 40D | 35.8 sq. ft. | 42 in. | 2 | 2P, 3P |
| MSR Elixir 2 | $250 | 6 lb. | 70D | 29 sq. ft. | 40 in. | 2 | 1P, 2P, 3P, 4P |
| Marmot Tungsten 2P | $214 | 5 lb. 4 oz. | 68D | 32 sq. ft. | 42 in. | 2 | 1P, 2P, 3P, 4P |
| REI Co-op Passage 2 | $159 | 5 lb. 10 oz. | 75D | 31 sq. ft. | 40 in. | 2 | 1P, 2P, 3P |
| Kelty Dirt Motel 2 | $260 | 4 lb. 13 oz. | 70D | 28 sq. ft. | 42.5 in. | 2 | 2P, 3P, 4P |
| Nemo Firefly 2P | $350 | 3 lb. 5 oz. | 68D | 29 sq. ft. | 41 in. | 2 | 2P |

The Competition
The REI Co-op Half Dome SL 2+ successfully builds on its predecessor and remains at the top of the heap in the sub-$300 backpacking tent category. A strong competitor is MSR's Elixir 2 tent, which shares a similar design to their core Hubba Hubba NX, but with a wallet-friendlier build, more durable materials (including a 70D floor and 68D fly) and less mesh, and a roomier interior. Moreover, at $250 with the footprint included, it's $29 cheaper than the Half Dome SL 2+. If you want the extra privacy and increased warmth and wind protection that comes with the Elixir's solid fabric on the tent body, the MSR is a good buy. But the Half Dome is larger in every dimension and weighs 1 pound 2.5 ounces less, which is a pretty hard-to-beat combination.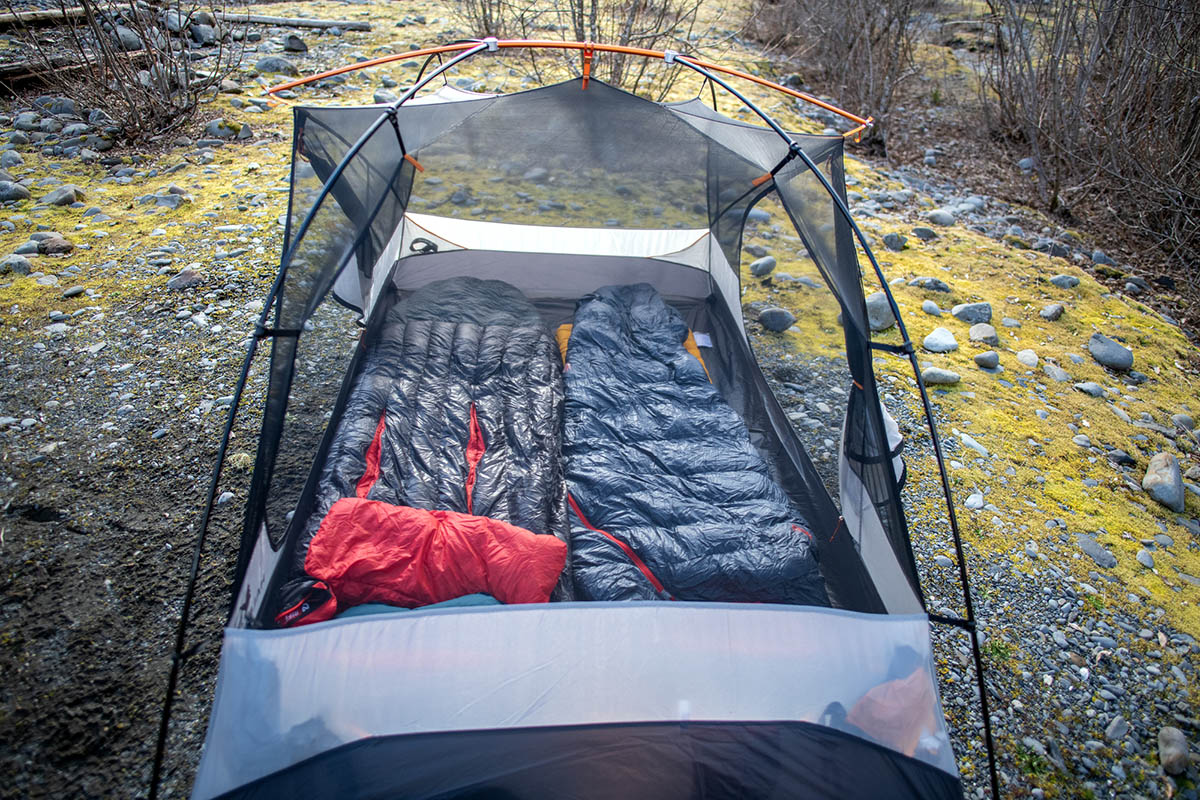 Marmot's Tungsten 2 is another budget-oriented design from a reputable tent brand. Where the Tungsten gets the clear edge over the Half Dome is value: at $214 including the footprint, it undercuts the Half Dome by a considerable $65 while remaining pretty competitive in terms of floor area (32 sq. ft.) and weight (5 lbs. 4 oz. all in). But given the choice, we'd stretch the budget to the Half Dome. It's more spacious inside, has larger and better-designed vestibules, and is made with higher-quality materials overall (although the Tungsten's floor is thicker at 68D). Unless you're on a strict budget and can't wait for one of REI's coupons to bring down the cost, we prefer the Half Dome.
Within REI's own lineup, their budget Passage 2 tent is a solid option for new or infrequent backpackers. For $159 (footprint included), you get a freestanding set-up with similar features including two large doors, ample storage, and a durable build. That said, the Half Dome SL 2+ is a roomier option both in terms of floor area and peak height, and the Passage feels noticeably dated with its simple X-shaped pole structure (it's worth noting REI also offers the Trail Hut, which splits the difference at $199 and includes a center ridge pole for improved livability). All told, the Passage is an undeniable value for those on a strict budget (for more, see our in-depth Passage review), but we think the $120-pricier Half Dome is worth the investment for those who get outside regularly.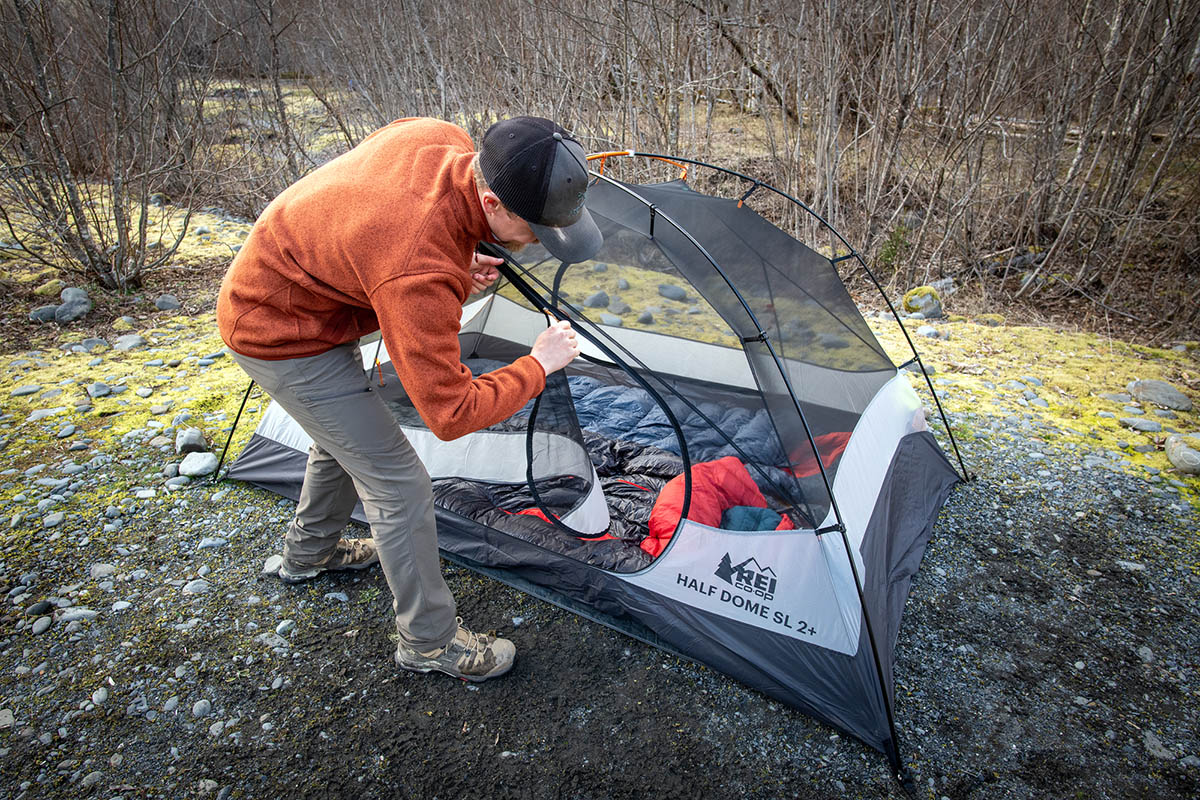 Kelty's Dirt Motel 2 follows a similar recipe as the Half Dome with a competitively low price ($260), durable build (70D on the floor), and near-vertical walls. The Kelty also weighs around the same as the Half Dome SL 2+ at 4 pounds 13 ounces, and its "Stargazing" mesh design offers a nice, open view without the rainfly. However, the REI has a bigger interior in terms of floor area (peak height is nearly identical), and its vestibules are larger (22.5 sq. ft. vs. 17.8 for the Kelty). All things considered, it's simply hard to match the Half Dome's livability, and the REI is undeniably the better value.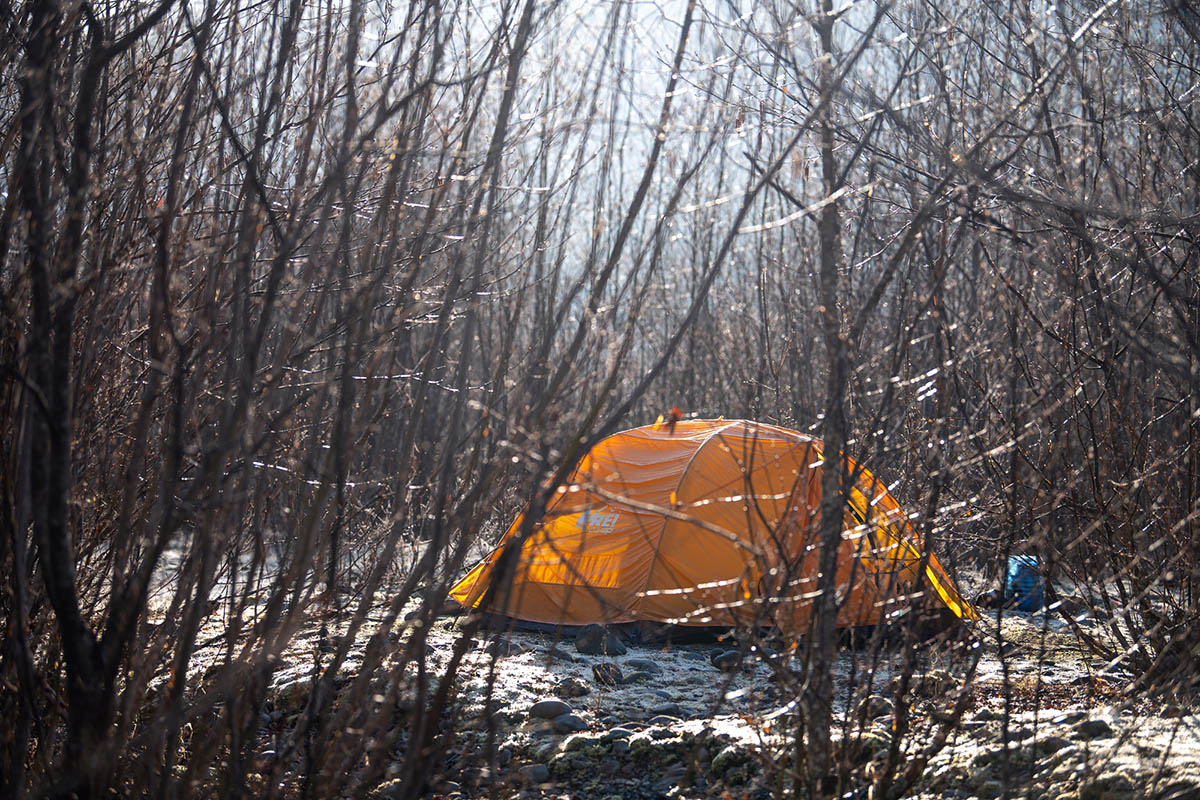 A final alternative to consider is Nemo's Firefly 2P, which an excellent example of the weight you can save by stepping up in price. At $350 and 3 pounds 5 ounces all in, the Nemo undercuts the Half Dome by over a pound and a half without compromising in durability (it has a 68D floor and 15D fly and is a surprisingly tough tent). However, you do sacrifice overall livability with a snugger interior (especially in width, which is listed at 50 in. compared to the Half Dome's 56 in.), and its asymmetrical floor tapers at one end, which makes it harder for two campers to sleep head-to-toe. Unless the increase in weight is a deal breaker for you, we consider the Half Dome the more well-rounded option.
Editor's note: We usually provide a live price comparison table below our outdoor gear reviews, but the Half Dome is sold exclusively by REI Co-op. You can see the Half Dome SL 2+ page here and support us in the process. Thanks!
Learn More About Outdoor Gear