Nearly ten years ago, Patagonia released their lightweight wind shell, the Houdini jacket. For mountain athletes, this layer has been a game changer like none other. It is incredibly lightweight, blocks wind better than you would expect such a thin layer to, packs down tiny into its own pocket, and can even be clipped to a carabiner. I've had one kind of wind shirt or another for 5 years now, and it's one of my most trusted and relied upon layers for climbing.
The Patagonia Alpine Houdini is a thoughtful revamp of the legendary original. The Alpine Houdini is basically the same as the original Houdini jacket, but with the added benefit of a waterproof/breathable membrane, and seam taping added to the interior of the nylon shell. The result is an almost magical answer to my prayers for a lightweight do-it-all layer for highly aerobic mountain activities. I don't even entertain the notion of leaving the Alpine Houdini at home - this layer goes literally everywhere I go. There's just no reason not to bring it. Below we break down the Alpine Houdini's weather protection, weight, features, and more. To see how it stacks up, see our comparison table and article on the best rain jackets.

Performance
Wind and Wet Weather
What makes the Patagonia Alpine Houdini such a virtuosic shell is that it actually sheds light precipitation quite effectively, in spite of being so lightweight and breathable. While Patagonia touts the jacket as highly water-resistant, I had my doubts. Layers as thin as this one have never performed well in my experience in heavy precipitation, excelling instead on those typical '30-40% chance of rain' summer days in the mountains when the most you'll get is a light shower. Yet the Alpine Houdini completely exceeded my expectations, keeping me mostly dry through a heavy downpour of rain, hail, and gropple (see video below) on a day when staying dry was incredibly important. I would still be hesitant to use this layer on a 100% chance of rain kind of day, but in a pinch, it's as good as any other ultralight rain shell I've come across.
 

Weight and Packability
Although the Alpine Houdini is slightly heavier and less packable than the original Houdini, the extra protection it provides is worth its weight in gold. In addition to water resistance, the seam taping and slightly thicker shell fabric (now 30-denier in the 2016 version) makes the jacket more durable and wind resistant—both features that were somewhat lacking in the original model.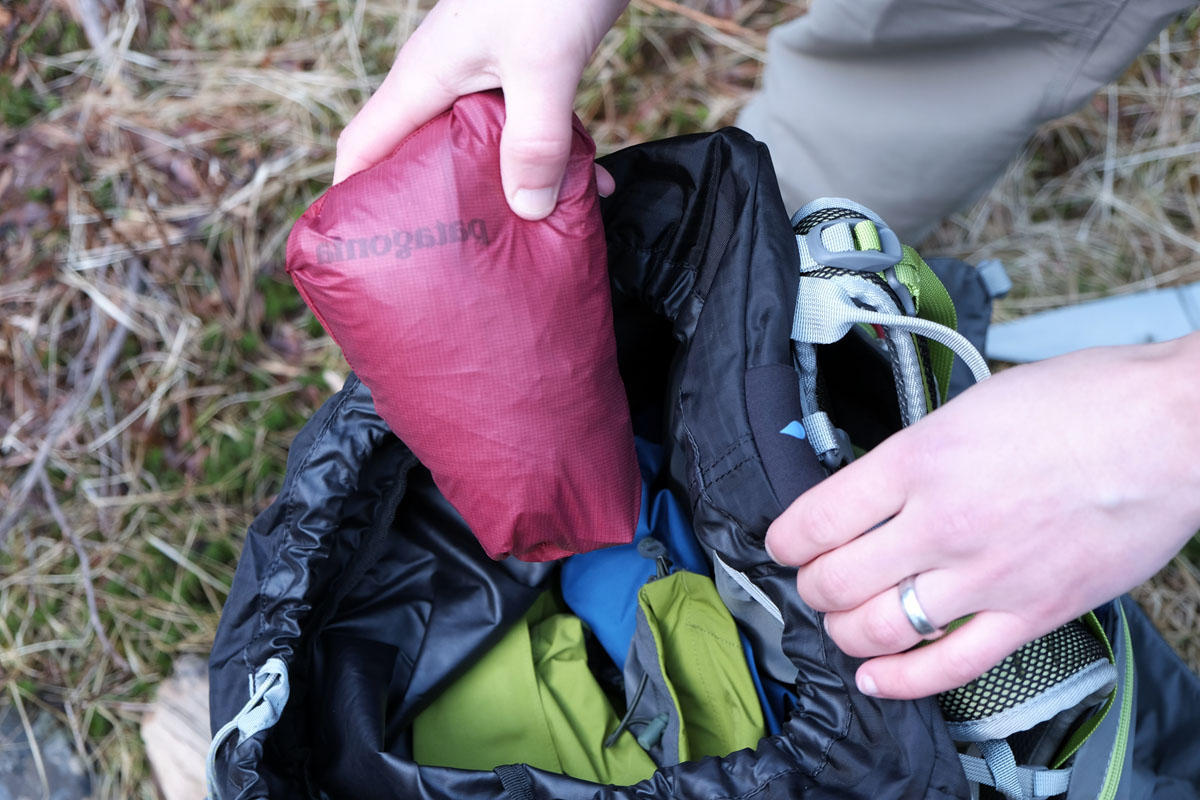 All in all, when stuffed into its chest pocket the jacket is so light and small (measured at 6.41 ounces and smaller than your forearm) that it is barely noticeable. This is slightly heavier than some newcomers like the Arc'teryx Norvan SL (4.2 oz.) and Montane Minimus 777 (4.7 oz), but impressive nonetheless. Whether clipped to a harness, stuffed into a CamelBak, or slipped into an overnight pack, the Alpine Houdini is unobtrusive enough to stay out of sight and out of mind when you want it to.

Minimalist Design and Features
The helmet compatible hood is a major plus for climbing adventures, and the drawstring on the hood keeps it in place when the wind picks up. When not wearing a helmet, however, the hood does expose the sides of your face to driving, sideways rain. The chest pocket is perfect sized for most smart phones and portable music devices, and doubles as a stuff sack. Elastic cuffs and a single pull drawstring for the waist keep wind from blowing in, and create a snug fit. Taped seams provide extra water resistance where you need it most.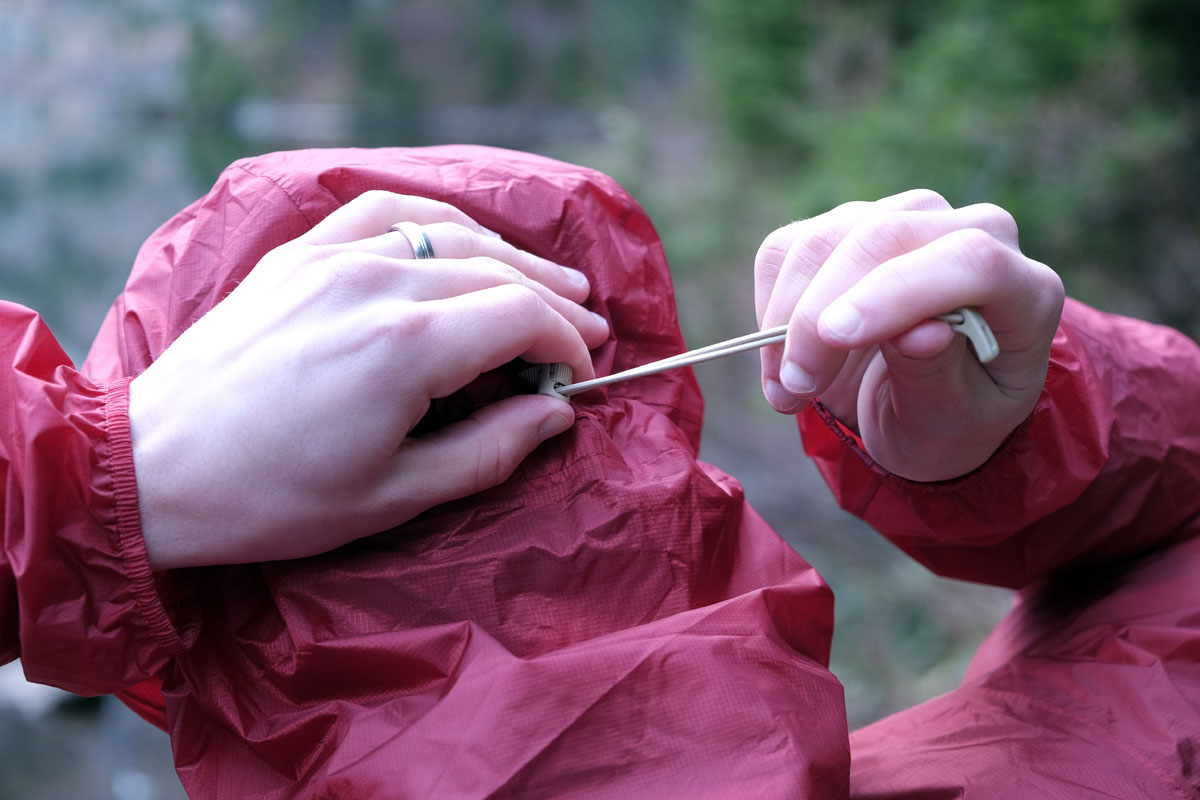 Comparison Table

The Competition
As we covered above, the Alpine Houdini represents a step up in water protection, durability, and cost from the standard Houdini jacket. It weighs twice as much but is arguably the better option for just about any trip to the backcountry (except maybe a long trail run). There are a couple of fully waterproof jackets that undercut the Alpine Houdini in weight, including the Arc'teryx Norvan SL Hoody (see our in-depth review) and Montane Minimus 777 (check out the review). From our experiences, we've found these jackets to be ideal as emergency shells and for trail running rather than as a rock climbing layer that requires a slightly more substantial construction and a large, helmet-compatible hood (neither the Montane or Arc'teryx have this feature).
Among climbing-ready ultralight shells, the Alpine Houdini stacks up fairly well. The Outdoor Research Helium II is the long-standing favorite in this category, and it makes a compelling case. The Helium II is $40 cheaper and a little lighter at a listed weight of 6.4 ounces compared with the Alpine Houdini (7.1 ounces). The Alpine Houdini has a more premium feel overall and isn't as prone to being clammy when you're working hard, but we do prefer the fit (and value) of the Helium II. In the end, both are fantastic lightweight alpine shells that serve their purpose: to keep you protected in rainy and windy conditions. 
If you're thinking about buying gear that we've reviewed on Switchback Travel, you can help support us in the process. Just click on any of the seller links above, and if you make a purchase, we receive a small percentage of the transaction. The cost of the product is the same to you but this helps us continue to test and write about outdoor gear. Thanks and we appreciate your support!
Depending on the seller, most products ship free in the United States on orders of $50 or more. International shipping availability and rates vary by seller. The pricing information on this page is updated hourly but we are not responsible for inaccuracies.
Learn More About Outdoor Gear