Arc'teryx's Beta SL Hybrid isn't your typical rain shell. As its name suggests, the hybrid construction blends two Gore-Tex fabrics of different thicknesses to maximize weatherproofing, minimize weight, and boost durability in wear-prone areas. I took the women's version on a week-long mountain biking journey, several hikes in Colorado's San Juan Mountains, and backpacking in the Cascade Range. After enduring a number of torrential downpours, I'm confident in saying that this is one of the most well-rounded and weather-ready shells I've ever tested. Below we detail our experiences with the Beta SL Hybrid. To see how it stacks up to the competition, see our articles on the best rain jackets and best hardshell jackets.
 
---
Table of Contents
---

Performance 
Water and Wind Protection
Using both 2-layer Gore-Tex with Paclite Plus and 3-layer Gore-Tex with C-Knit, the Arc'teryx Beta SL Hybrid is a formidable barrier against the elements. The 3-layer Gore-Tex on the front and shoulders is designed to boost protection in critical areas: when hiking or biking, and particularly with a pack, the front of the body and shoulders tend to take the brunt of the precipitation and wind. Using 2-layer Gore-Tex on the rest of the design allowed Arc'teryx to shave ounces without sacrificing wet-weather performance. I've worn the Beta SL Hybrid in torrential rainstorms and it has shown no signs of leaking or wetting out. I've also thrown it on while traversing windy mountain passes and it has done an admirable job at sealing out strong gusts. I haven't yet gotten to test the Beta SL Hybrid in rough winter conditions, but I'm confident enough in its performance thus far to throw it in my backcountry ski pack this coming season.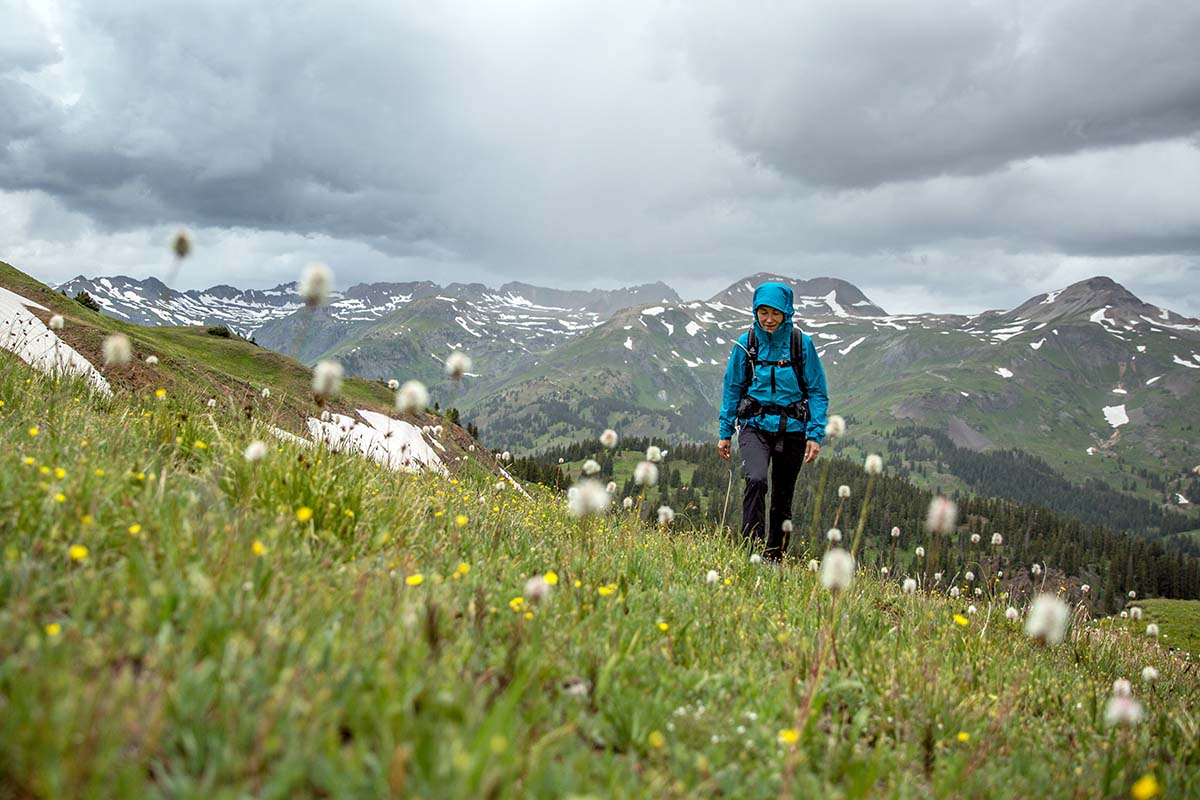 In addition to the hybrid construction, Arc'teryx included a number of details that boost the jacket's weather worthiness. The fully taped seams prevent water from seeping in, and the front zipper uses Arc'teryx's WaterTight Vislon waterproofing to seal out moisture (importantly, all the zippers are water-resistant and not completely waterproof, but I haven't had any issues stowing valuables in the pockets). Further, the bottom hem is easily adjustable on both sides and can be cinched tight in heavy rain or wind, and the 68-centimeter (26.8 in.) back length kept my back dry even when my arms were outstretched on my bike's handlebars. Finally, the full-coverage StormHood has been exceptional at keeping the elements out while hiking, the stiff laminated brim was surprisingly great at shielding my forehead and eyes in driving rain, and the adjustable Velcro cuffs are sturdy and can be pulled tight either under or over gloves.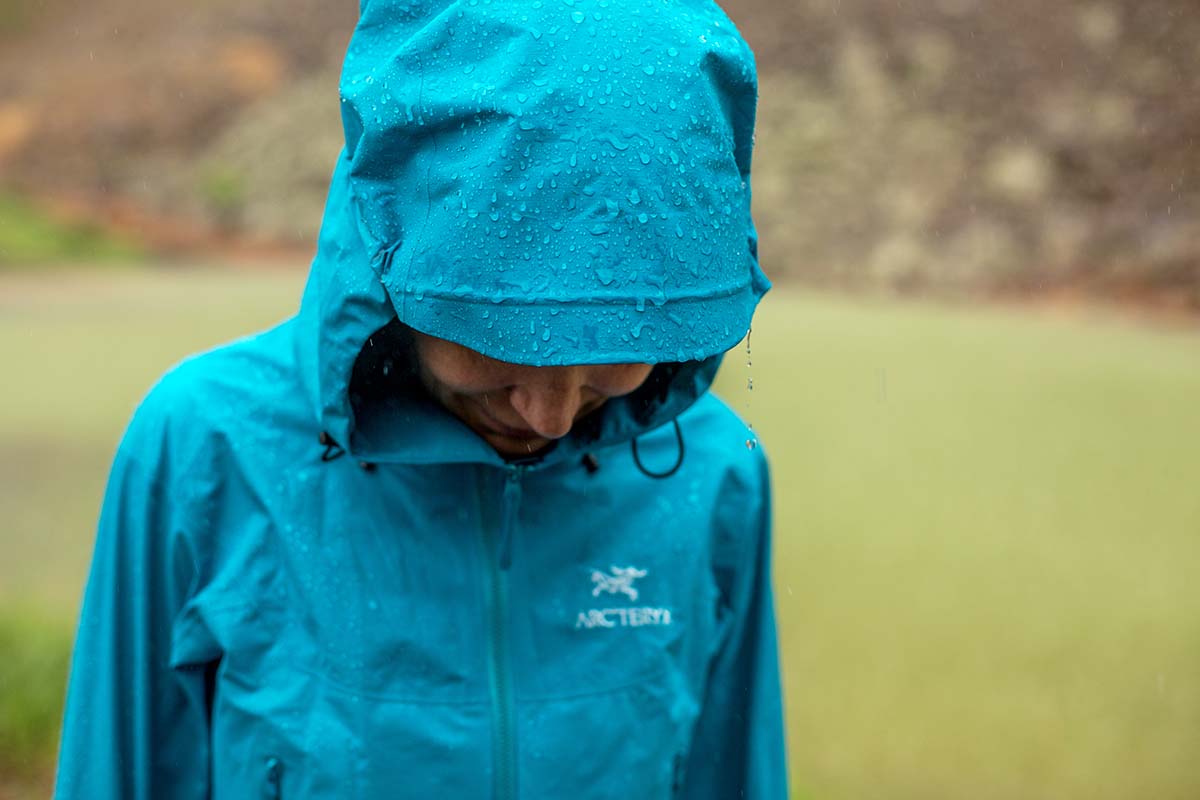 Weight and Packability
The "SL" in the Beta SL Hybrid's name is short for "superlight," and we think that's an appropriate designation. At 10.9 ounces for my women's small (Arc'teryx lists it at 10.6 oz.), it's the lightest jacket in the Beta lineup—the Beta SV is 15.3 ounces, the AR is 14.5 ounces, and the FL is 11.1 ounces. Outside of Arc'teryx's lineup, Black Diamond's Liquid Point (12.3 oz.) and Mountain Hardwear Exposure/2 Gore-Tex Paclite (11.2 oz.) also outweigh the Beta SL Hybrid, although you get more durability with the Liquid Point and a fuller feature set with the Exposure/2. But all in all, we think Arc'teryx hit a nice balance between weight and features with the Beta SL Hybrid.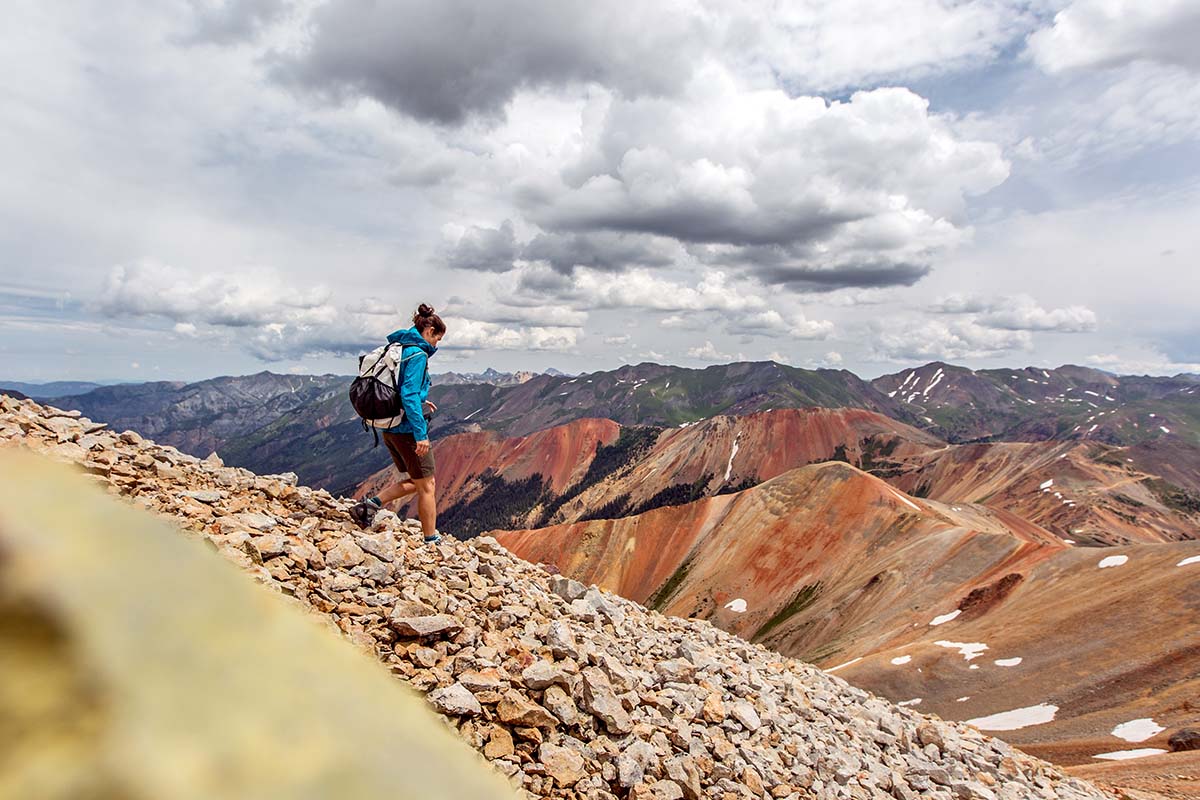 The Beta SL Hybrid technically isn't packable—the hand pockets don't feature two-sided zippers to double as a stuff sack—but it does stuff into an inverted hand pocket. As the name implies, Gore-Tex Paclite is designed to be packable, and the jacket compresses down to roughly the size of a grapefruit. All in all, given the low weight and small form factor, we think the Beta SL Hybrid is a good option for backcountry missions where weight and space are at a premium.
 
Breathability
Gore-Tex shells typically prioritize weatherproofing over breathability, but the Beta SL Hybrid allowed for a good amount of airflow during exertion. On one particular outing, I threw the shell on while descending a mountain pass only to have the storm above clear and the sun appear as we began climbing again. Exhausted and with more miles to cover, I decided to keep the jacket on rather than to stop, remove my pack, take the jacket off, and stuff it away (this felt like a huge task when I was already tired). As we ascended, I was extremely impressed by how breathable the Beta SL Hybrid felt. To help with airflow, the jacket's pit zips are generously sized and have double zippers to allow for customized venting, which is a feature I found very valuable.

Build Quality and Durability
Arc'teryx was incredibly thoughtful in designing the Beta SL Hybrid. First, the two Gore-Tex fabrics are strategically placed to boost durability in wear-prone areas, with 2-layer Paclite (40 denier) around the body and thicker 3-layer standard Gore-Tex (42 denier) in places more likely to abrade, like under the arms and along the shoulders. As we've come to expect from Arc'teryx, all other details are meticulously executed: the seams and taping haven't peeled, the jacket has shown no signs of fraying or wear, and all zippers still operate smoothly after months of heavy use. And perhaps most notably, the shoulders and back look like new despite being rubbed against a heavy backpack frequently.

Features
Hood
Most of Arc'teryx's premium shells feature their generously sized and helmet-compatible StormHood, and the Beta SL Hybrid is no exception. I love the versatility and adjustability: the hood sports three drawcords that are intuitive and easy to manipulate, and it can be cinched tightly over a hat when I'm not wearing a bulky helmet. When snugged down fully, the collar covers my chin and cheeks without obstructing peripheral vision. Further, the hood's brim is laminated and has held its shape even after being repeatedly stuffed into compression sacks. All that said, I found it difficult to wear the hood over my biking helmet while riding. It was fine when I was standing, but when leaning forward, the collar pulled tightly and was uncomfortable. But if you're wearing the Beta SL Hybrid for any other activity—including hiking, backpacking, or even climbing—this shouldn't be an issue.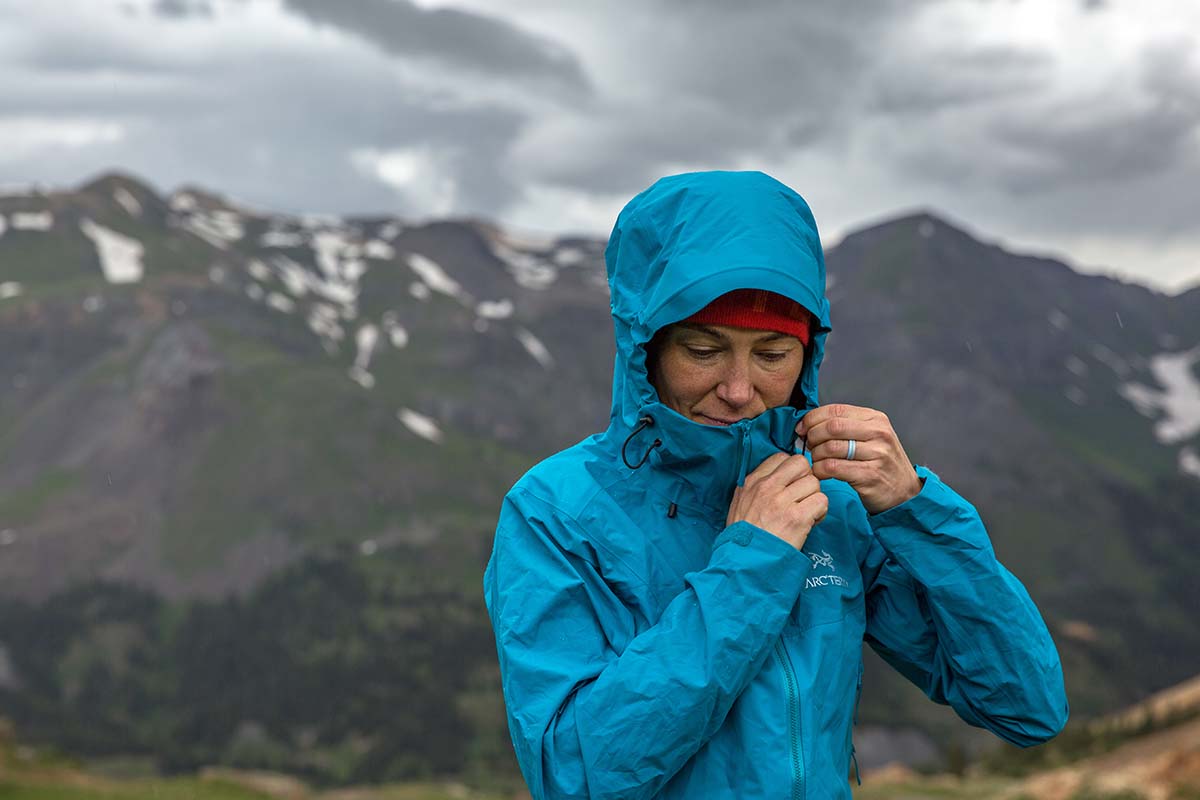 Zippers
Zippers aren't often a major talking point, but the Beta SL Hybrid's WaterTight zippers with RS sliders have a unique construction worth mentioning. Whereas zippers typically leave a small gap at the top and require a "garage" to seal out water, Arc'teryx's design on the hand pockets is self-sealing, eliminating the need for a cover. In use, this shaves a bit of weight and bulk and also makes the jacket look sleeker. I do struggle with grabbing the rubber pull-tabs when my hands are cold, but to be fair, I haven't found a zipper that I can consistently open and close with frozen fingers (and these zipper pulls are the best I've used). And although Arc'teryx specifies that their WaterTight zippers are water-resistant rather than waterproof, I have had no issues leaving items like my iPhone in the pocket during heavy rain. If you're concerned about moisture seeping in, I recommend putting valuables in a Ziplock bag before stowing them in your pocket.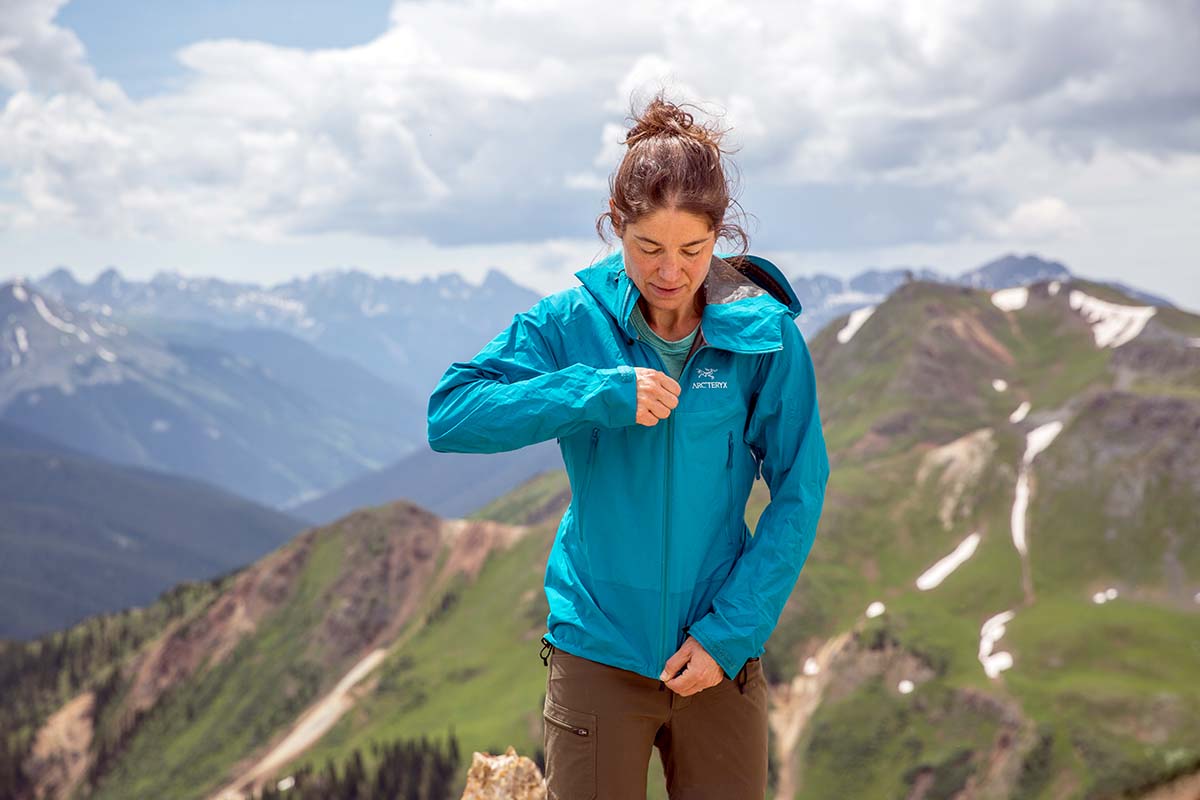 Storage: Pockets
The Arc'teryx Beta SL Hybrid only has two hand pockets, but this makes sense given the jacket's ultralight focus. And the pockets are nicely sized, although I would prefer that one doubled as a stuff sack with a two-sided zipper and carabiner loop for attaching to a harness. However, the pockets are high enough to ride above a pack hipbelt or climbing harness, which was great news for my chronically cold hands (I take any chance I can get to stuff them inside).
 
Pit Zips
Many ultralight designs forego pit zips to shave critical ounces, but the Beta SL Hybrid bucks that trend. As I touched on above, these pit zips are very generously sized and have two zippers (one at each end) that allow you to customize venting. In practice, I've found the pull tabs to be easy to manipulate and slide, and I've even managed to adjust them while riding technical terrain without stopping. That said, to fully open the pit zips, you have to outstretch your arms and hold the sleeve taut at the cuff. To be fair, this isn't unique to the Beta SL Hybrid, and I've had the same issue with almost all hardshell jackets.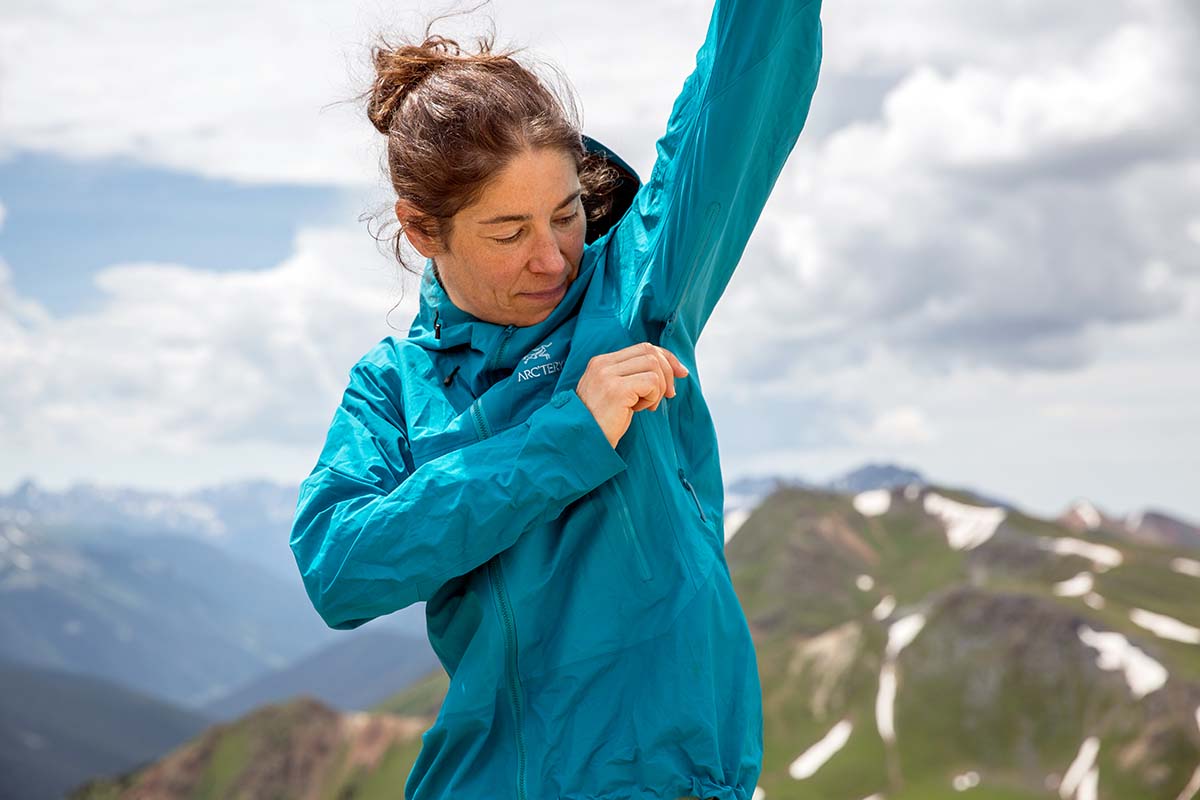 Comfort
Hardshells aren't often lauded for their comfort, but the Beta SL Hybrid deserves high praise here. This is mainly due to the two Gore-Tex fabrics: Paclite Plus is noticeably less plasticky than standard Paclite, and the sections with C-Knit backer are soft and smooth against the skin. Both of these materials are less crinkly than that of many other shells, which is especially nice when the wind is blowing. In addition, the underarms are gusseted for mobility—I was able to comfortably reach forward while riding—and the collar has a soft chin guard over the zipper to add next-to-skin comfort. All in all, the Beta SL Hybrid is a super comfortable shell.

Fit and Sizing
The Arc'teryx Beta SL Hybrid has a "trim" fit that keeps the shell close to the body but leaves room for light layers. If you plan to layer heavily underneath, I recommend sizing up to ensure you have enough room in the arms and at the waist. I opted for a small (rather than an extra small, which I occasionally wear) and found that it was perfect for my needs. It allowed me to wear what I wanted underneath without feeling bulky on its own. If I were to use it solely as an emergency shell, I instead would have gone with the extra small to shave weight. But even sized up, I found that the jacket had an athletic fit.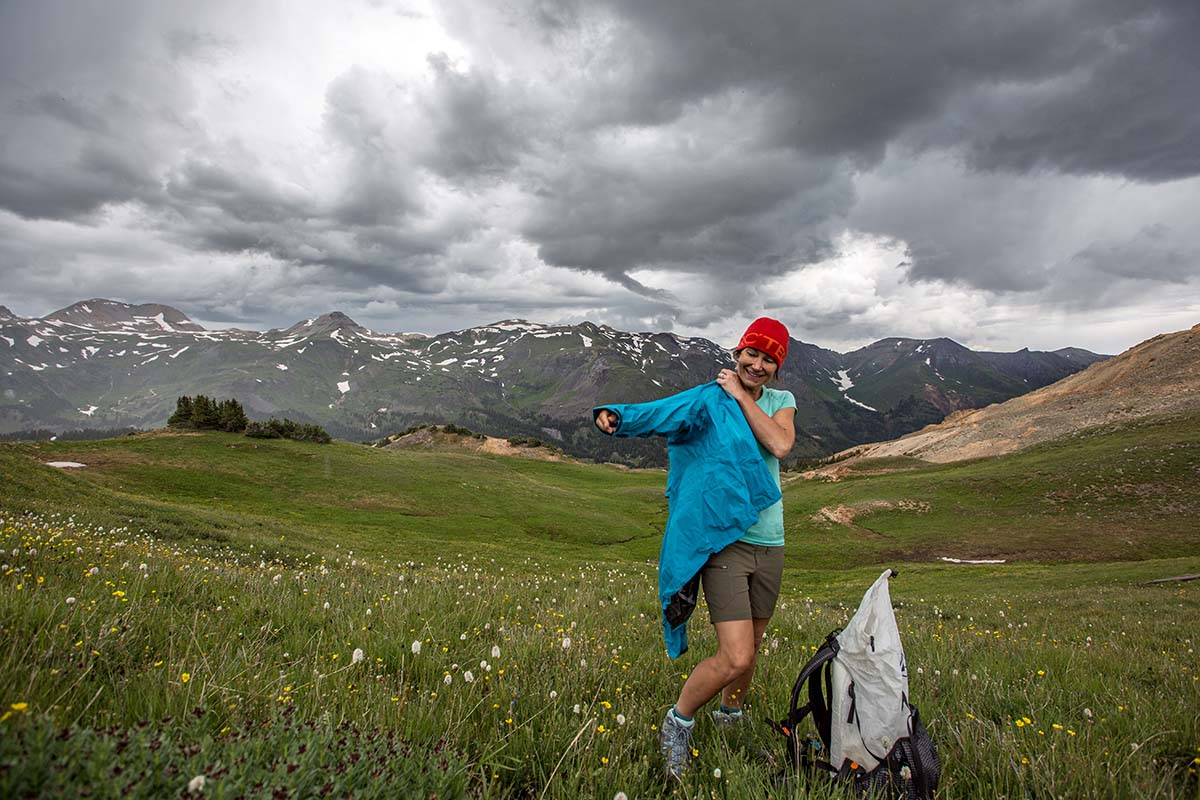 Men's Version of the Arc'teryx Beta SL Hybrid
We put the women's Beta SL Hybrid to the test, and Arc'teryx also makes the jacket in a men's-specific version for the same price. The men's Beta SL Hybrid shares the same 2- and 3-layer Gore-Tex construction as the women's and sports an identical feature set including a helmet-compatible StormHood, pit zips for venting, an adjustable hood and hem, and Velcro cuffs. The only notable differences are colorways and fit, and the men's jacket clocks in slightly heavier than the women's at 12.7 ounces.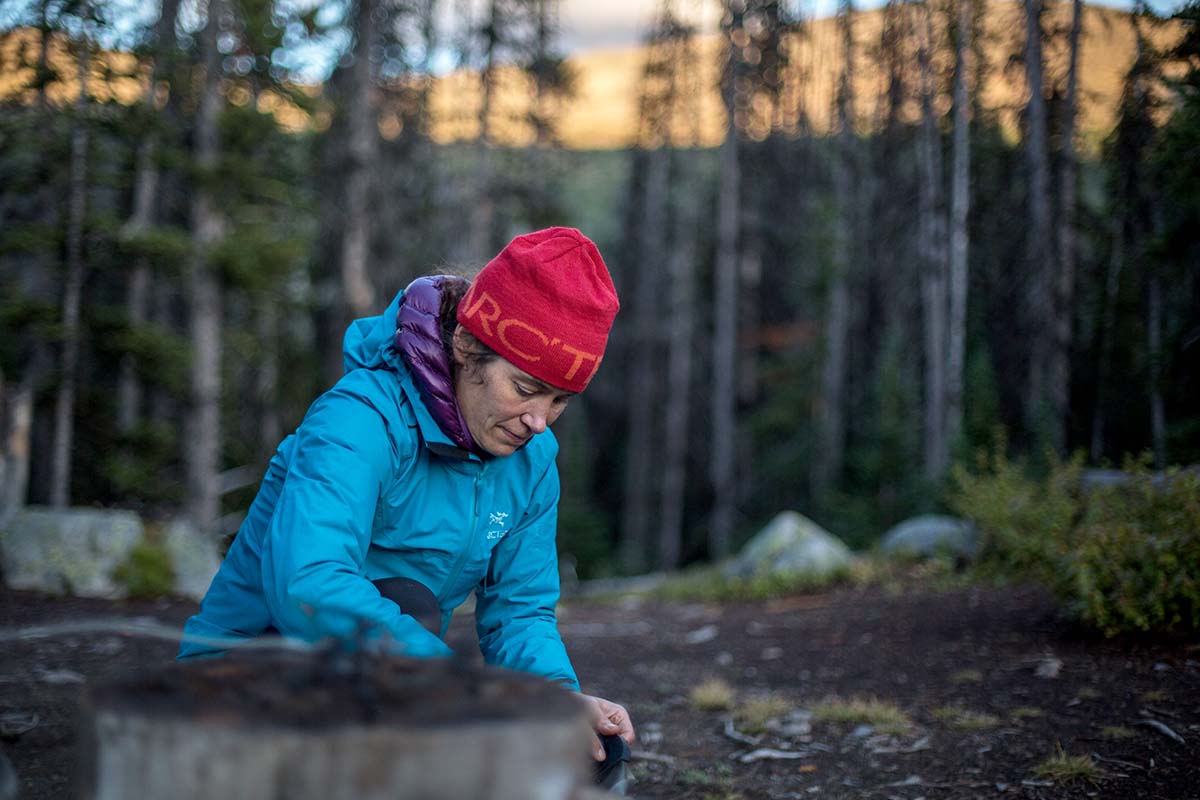 What We Like
Combination of 2- and 3-layer Gore-Tex fabrics maximizes weather protection and durability in wear-prone areas.
Nicely appointed for the weight. We especially appreciated the pit zips for dumping heat quickly.
Fabrics are soft and supple against the skin, which isn't always the case with rain shells.
 
What We Don't
Like most Arc'teryx pieces, the Beta SL Hybrid doesn't come cheap at over $400.
No internal pocket for stowing valuables.
Lacks a stuff sack or dedicated pocket for packing the jacket away, although we were able to use a hand pocket without a two-sided zipper.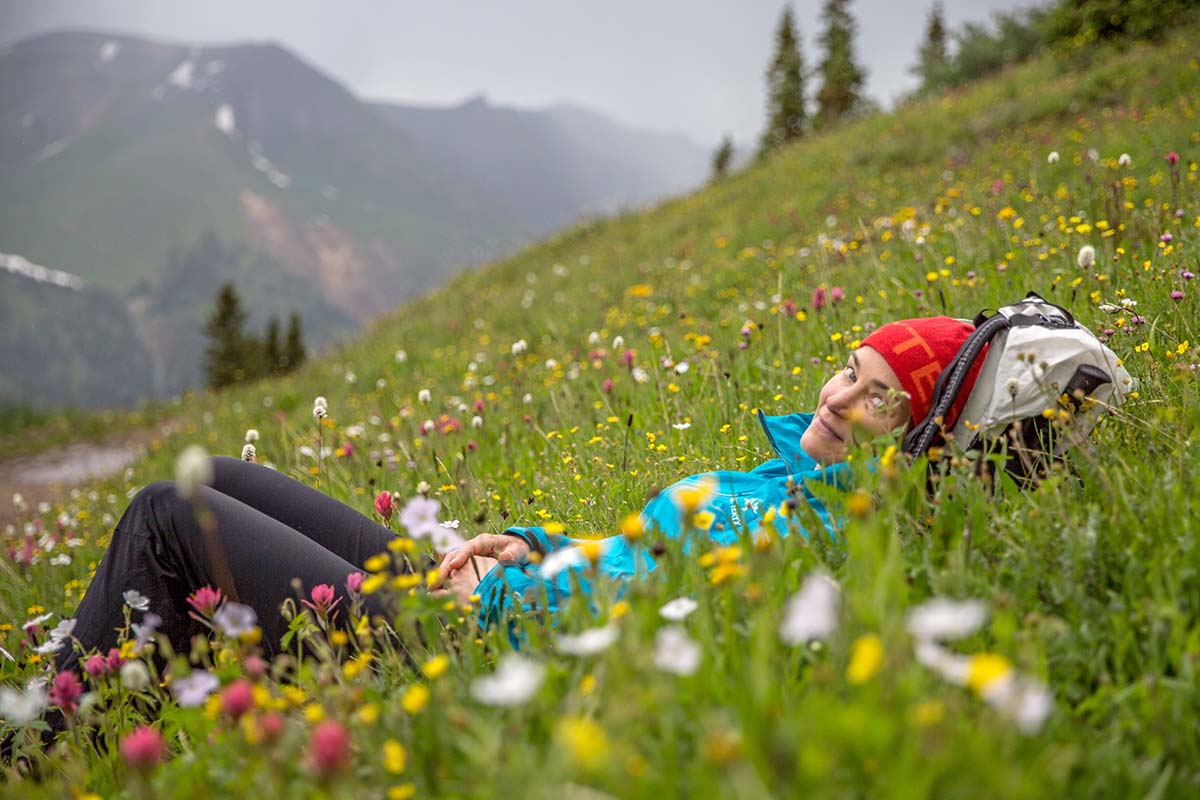 Comparison Table

The Competition
Arc'teryx's Beta SL Hybrid is a versatile and weather-worthy shell designed to be used for a variety of activities. Another option in Arc'teryx's "superlight" category is the Zeta SL. Built for summer hiking and trekking, the Zeta SL lacks the strategically placed 3-layer Gore-Tex of the Beta, instead opting for 2-layer Gore-Tex with Paclite Plus throughout, which translates to a bit less durability and protection in truly inclement weather. The Zeta SL also foregoes pit zips and the StormHood isn't helmet-compatible, which makes it less of an alpine performance piece than the Beta (for more, see our in-depth Zeta SL review). If you need a shell specifically for hiking and around-town wear, we think it's worth saving around $125 with the Zeta SL. However, those headed into rough conditions or who intend to use the technical features should opt for the Beta SL Hybrid.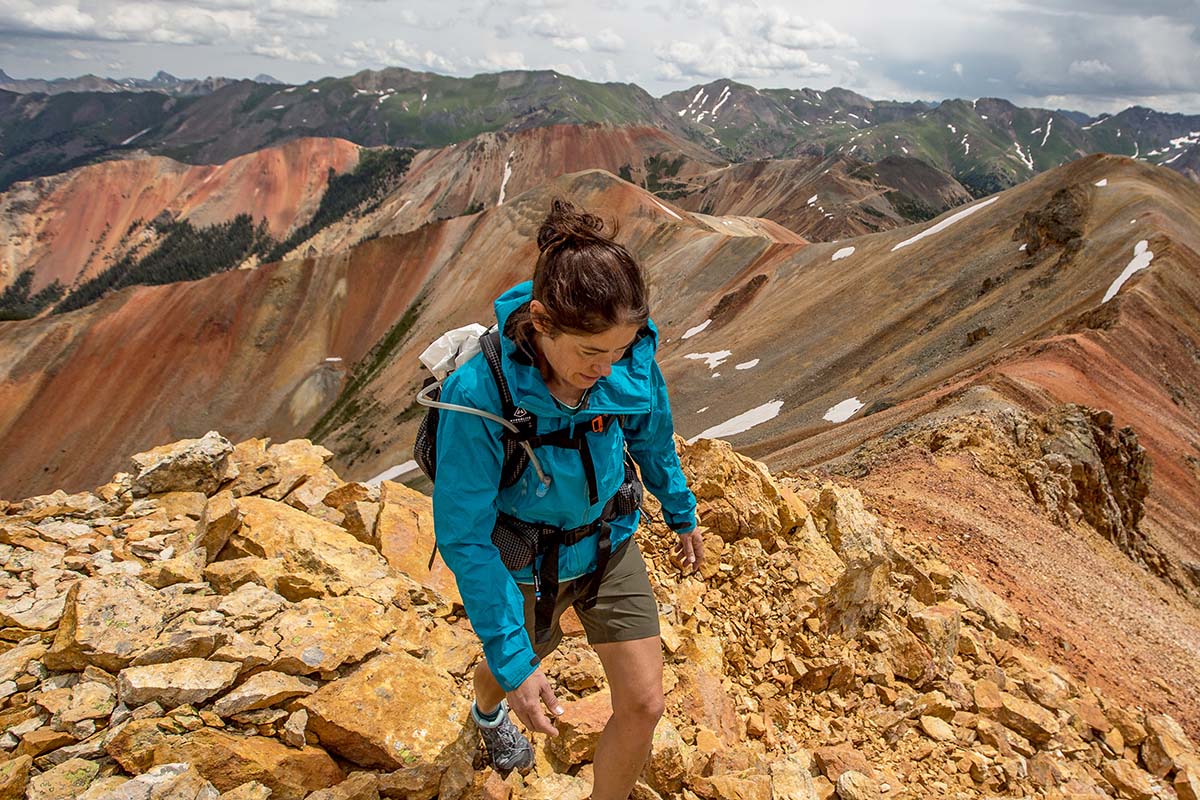 Another option in the Beta family is the FL ("fast and light"). With the new design, you get an upgraded Gore-Tex Pro construction—including a mix of their new Most Rugged and Most Breathable fabrics—that offers better protection in harsh conditions. The FL also includes an internal chest pocket for stowing valuables, which the SL doesn't. Like the Beta SL Hybrid, the Beta FL sports all the necessary trimmings for serious backcountry use: a helmet-compatible StormHood, WaterTight zippers, Velcro cuffs, and an adjustable hem for sealing out weather. However, the Beta FL lacks pit zips for dumping heat quickly, and the burlier Gore-Tex Pro construction comes with a bump in both weight (11.1 oz. vs. 10.6 for the Beta SL Hybrid) and cost ($549). In the end, the FL is a better crossover piece for demanding winter use, but for the summer and shoulder seasons, we like the cost savings you get with the SL Hybrid.
Staying within the Beta lineup, our top-rated hardshell this year is Arc'teryx's Beta AR ("all round"). As the name indicates, this is the do-all hardshell in the collection and a great match for a range of backcountry activities, from hiking and backpacking to skiing. Updated for 2020-2021 with a new Gore-Tex Pro construction (a mix of 40 and 80D "Most Rugged" fabrics), the Beta AR handily wins out in all-out protection and durability, and you get a premium feature set including a helmet-compatible DropHood, pit zips, adjustable hem and cuffs, three total pockets, and even a RECCO reflector in the collar for additional assurance in the event of a rescue while skiing. You do pay for the added performance in both weight (14.5 oz.) and price ($599), but for demanding backcountry use, the Beta AR is hard to beat. For less intensive activities in milder conditions, however, the Beta SL Hybrid is a viable and cheaper alternative.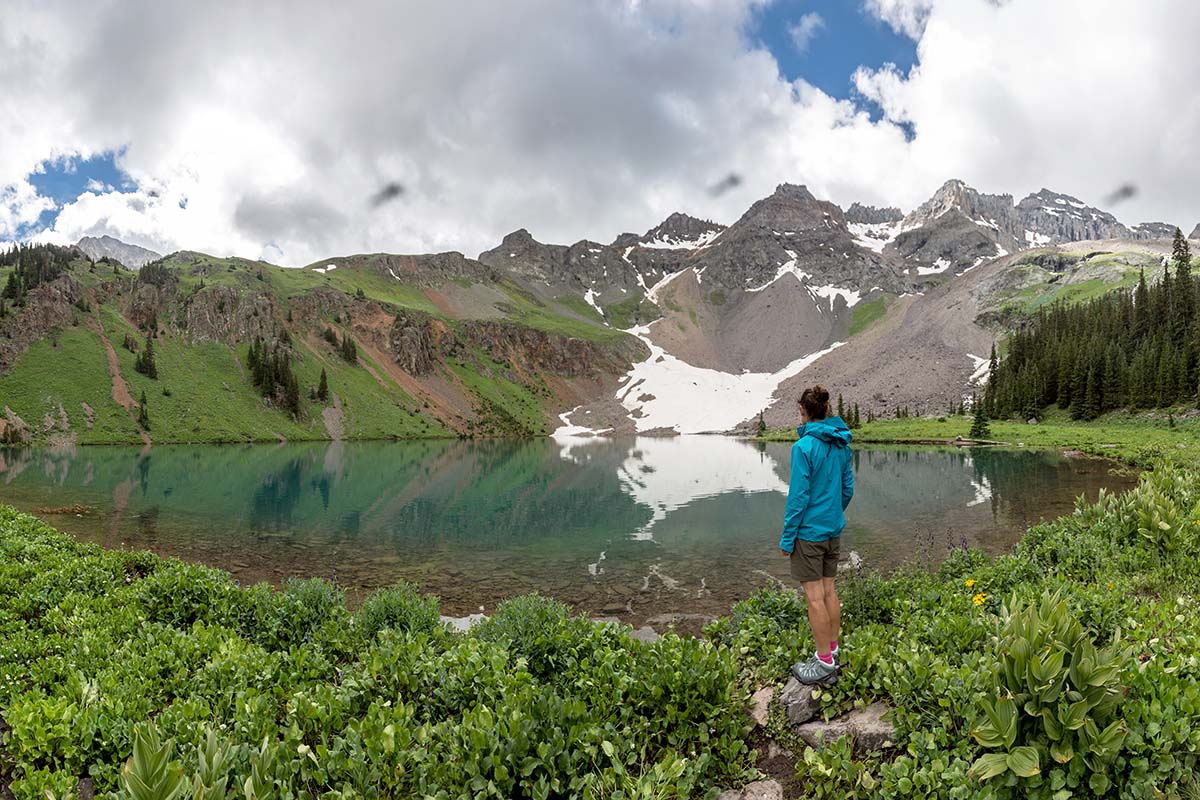 Outside of Arc'teryx's offerings, Black Diamond makes another intriguing competitor to the Beta SL Hybrid in their Liquid Point Shell. These two jackets share a lot in common: both sport two-way pit zips, two hand pockets, helmet-compatible hoods, water-resistant front zippers, and an adjustable hem and cuffs. The Liquid Point uses a less weather-ready and crinklier 2.5-layer Gore-Tex Paclite construction and clocks in heavier at 12.3 ounces, but it gets the edge in durability with a tough 75-denier build that's noticeably more durable than the Beta SL's mix of 40 and 42D. We consider the Beta SL Hybrid the better performer and more capable at fending off the elements, but the clincher for many will be price: at $259, the Liquid Point undercuts the Arc'teryx by around $165.
Last but not least, Mountain Hardware's Exposure/2 collection has impressed us with its all-around performance, and the Gore-Tex Paclite Plus model is a close competitor to the Beta SL Hybrid. For starters, you get more storage with two hand pockets and a zippered chest pocket, easier packability with a dedicated stuff pocket, and a competitive weight of 11.2 ounces for a women's small. The Exposure/2 also undercuts the Beta SL Hybrid in price by $125, although you do get a slight downgrade in all-out protection with a 2.5-layer build. All in all, we consider the Beta SL Hybrid the more premium and protective rain shell, but the Exposure/2 is a viable alternative that costs significantly less.
If you're thinking about buying gear that we've reviewed on Switchback Travel, you can help support us in the process. Just click on any of the seller links above, and if you make a purchase, we receive a small percentage of the transaction. The cost of the product is the same to you but this helps us continue to test and write about outdoor gear. Thanks and we appreciate your support!
Depending on the seller, most products ship free in the United States on orders of $50 or more. International shipping availability and rates vary by seller. The pricing information on this page is updated hourly but we are not responsible for inaccuracies.
Read More From Switchback Travel