The outdoor industry has been notoriously slow to produce apparel in sizes beyond small to extra large, and finding even basic items like well-fitting hiking pants and baselayers in plus sizes can still be an uphill battle. The good news is that many top outdoor companies are increasing their offerings, in addition to a number of cottage brands that have popped up to fill the gaps. We sorted through the options to determine where to find the most—and best—plus-size apparel, paying particular attention to each brand's technical offerings. Below our picks, check out our ranking criteria, in addition to our recommendations on the best places to shop for plus-size outdoor apparel (both online and in-store).
Editor's note: Thank you to our consultants Sam Ortiz, Ashley Manning, and Drew Hulsey for their detailed contributions to this article. We also acknowledge the problem of the term "plus size" as an arbitrary distinction versus other sizes, but have used it throughout this piece for clarity, as it's the most commonly used term among mainstream brands.
 
---
Our Team's Top Plus-Size Outdoor Apparel Picks
---

Best Overall Selection of Plus-Size Apparel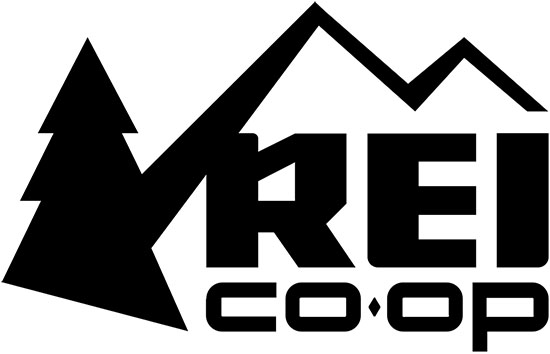 Location: Kent, Washington
Size range: Women's XS-3X, men's S-3XL
Popular products: 650 Down Jacket 2.0, Sahara Shade Hoodie, Rainier Rain Jacket
What we like: Trustworthy basics and an ever-growing selection of plus-size apparel. 
What we don't: Not the most technical offerings.
Seattle-based REI Co-op is one of the biggest names in outdoor gear—and thankfully they've been paying attention to requests from the outdoor community to extend the sizes they carry. As a retailer, REI has pressured its partners to increase their sizing assortments, but they've also focused on their own in-house brand. While most of the line isn't super technical, they offer good quality for the price (their plus-size items are the same price as their non-plus-size items), and include a few basics and budget pieces we love, including the Stormhenge Down Hybrid, women's Sahara Bermuda Shorts, Rainier Rain Jacket, and the Sahara Shade Hoodie. Their new Trailmade collection is also a great reflection of their progress, featuring outdoor basics in sizes up to 3X, many of which include playful patterns and fun colorways. 
When it comes to shopping, REI's in-store selection is another boon. "Who has the capital to order seven different types of pants all at once and try them all on, only to have just one pair of pants fit your body?" says Sam Ortiz. "In-store try-on is amazing. When it's available, it's huge." While very few outdoor retailers carry plus sizes in store, REI is working toward carrying up to size 20 in each of their 180+ locations nationwide. In the meantime, using filters on their website can help you research what's in stock at your local store before visiting. We also appreciate that the Co-op offers free shipping on orders of $50 or more (shipping is free for all member purchases; a lifetime membership is $30), and allows returns for up to 90 days, or a year for members. You can also pick up online items—and return them, too—for free at any of their brick-and-mortar locations.
Visit REI.com
Best Technical Plus-Size Apparel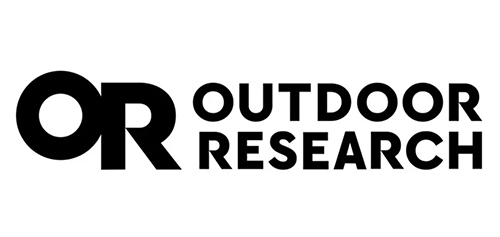 Location: Seattle, Washington
Size range: Women's XS-4X, men's S-XXXL
Popular products: Helium Rain Jacket, Cirque Pants, Superstrand LT Hoodie
What we like: Performance-oriented apparel at a good value.
What we don't: Not as many men's items in extended sizing; REI has a wider selection and better return policy.
Based in Seattle, Outdoor Research (OR) is best known for their Pacific Northwest-friendly mountaineering, ski, and rain gear. They've expanded their size offerings in recent years, including for some of their most technical pieces. "When a brand starts to launch into plus sizes, they typically have a small, select offering and only do the athleisure-type products, like quick-dry leggings and t-shirts," Ortiz says. "But that's not what we need. We need things like snow pants, durable hiking pants." OR stands out with their backcountry-ready plus-size offerings. For example, our favorite ultralight/emergency rain jacket, their Helium Rain, is available in up to 4X for women, as is their Echo Hoodie—our go-to breathable, quick-drying sun protection shirt for hiking above treeline. Another longtime favorite is the Cirque Pant, which has handy adjustable waist tabs that allow for different layering options or fluctuations in size.
They may not have the name recognition of some of the other outdoor industry giants, but Outdoor Research gear has long been a staple in the mountaineering world, and their flagship products can often be found in mainstream outdoor shops. But finding OR apparel in plus sizes is a different story, and the best way to try on their plus-size gear is to order it online. They do offer free shipping for orders over $99 and allow returns within 60 days—or after that for store credit. However, return shipping is the customer's responsibility. If the OR item you're interested in happens to be available from REI, you may be better off ordering it there.
Visit OutdoorResearch.com
Most Inclusive Size Range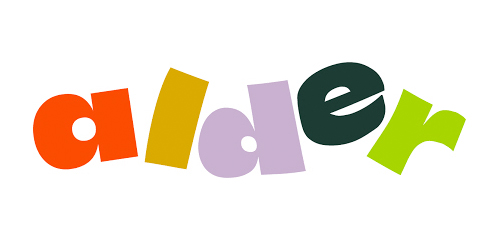 Location: Toronto, Canada
Size range: Women's XS-6X
Popular products: Open Air Pant, Take a Hike Shorts
What we like: Stylish offerings, lots of different sizes, and strong sustainability focus.
What we don't: Fit shape may not work for all, only women's styles, and expensive.
While most of the companies here stop at 3X or 4X, Toronto-based Alder Apparel makes tops, bottoms, and swimwear in sizes up to 6X. The brand made a name for themselves with the introduction of their modern-styled Open Air Pant, developed by former Arc'teryx and Lululemon designers with crowd-sourced feedback from more than 600 women. Initially launched via Kickstarter in sizes XS to 4X, the Open Air Pant did so well that they're now available in up to 6X and gets mostly rave reviews for their flattering fit, comfort, and myriad pockets.
Alder was founded with a strong focus on sustainability—for example, the Open Air Pant is made mostly of modal, a breathable and moisture-wicking biodegradable material sourced from a carbon-neutral, bluesign-approved manufacturer. They also provide information about their factories, aiming for transparent, ethical production processes, and have started a secondhand section on their website where you can trade in or shop for used Alder items. All that said, Alder's apparel is on the less technical side, and some reviewers note that their fit works better for hourglass figures, which may be limiting for some (for more diverse fit options, check out Alpine Parrot below). The prices can also be steep—their Take a Hike Shorts are an eye-watering $105, for example. But for a competitive mix of style, sizing, quality, and commitment to sustainability, Alder is tough to beat. 
Visit AlderApparel.com
Best Budget Plus-Size Apparel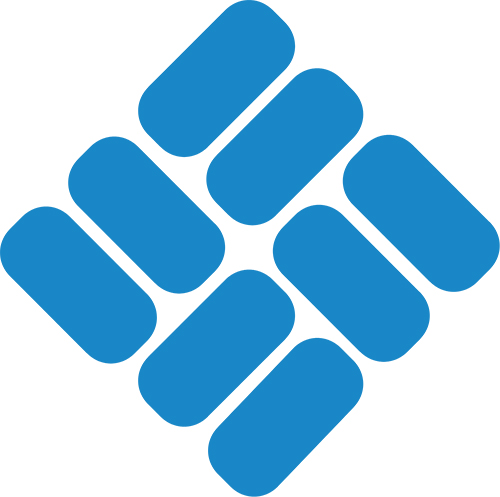 Location: Portland, Oregon
Size range: Women's XS-3X, men's XS-6X
Popular products: Saturday Trail Pants, Steens Mountain Fleece
What we like: Great size selection and trustworthy quality at affordable prices
What we don't: Not a standout in the technical performance realm.
No list of plus-size outdoor apparel would be complete without mentioning the longtime outdoor mainstay Columbia. Founder Gert Boyle reportedly served as the brand's first plus-size fit model, and they've been quietly providing outdoor basics in extended sizes for at least 15 years. Between 2015 and 2016 the brand took it up a notch, doubling its plus-size offerings and moving beyond their best-selling items. But it wasn't until this year that the company announced they would offer price parity, with each item in the spring 2023 line costing the same regardless of size. Columbia may not have the high-end brand cachet of many other outdoor apparel brands, but their products are solid and often priced much lower than the competition. From sun shirts and hiking shorts to snow pants and down jackets, they're a great one-stop shop for trustworthy pieces that won't break the bank.
Columbia is a great brand to shop if you're on a budget or only plan to use the items occasionally. You may not be getting a high-end performance piece, but you can expect decent longevity from a trusted name. For example, if you only ski a few days a year and don't want to shell out $500 for super-premium bibs from the likes of Trew Gear below, you can get a solid pair from Columbia (the Bugaboo Omni-Heat Insulated Ski Pants are $120, or less on sale). Similarly, hiking gear like their women's Saturday Trail Pants and men's Steens Mountain Fleece consistently show up on our top gear round-ups, often snagging our "best budget" superlative. And while the fit and finish reflect the price you pay, Columbia stands by their outerwear with a limited lifetime warranty (other apparel gets a one-year warranty), and offers returns and exchanges for 60 days after purchase. 
Visit Columbia.com
Best Plus-Size Athleisure Apparel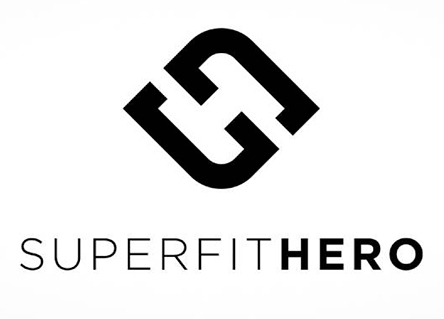 Location: Los Angeles, California
Size range: Women's L-7X
Popular products: Pocket Leggings, Pocket Bike Shorts
What we like: Great fitting leggings with performance fabrics and features.
What we don't: Not durable enough for more intensive backcountry endeavors.
There's really nothing like the comfort of stretchy, soft athleisure apparel. It may not be recommended for bushwhacking or climbing, but for more casual outdoor use, leggings can be tough to beat. Superfit Hero's offerings are our top recommendation: High-quality compression fabric, gussets, and multiple large pockets make their popular Pocket Leggings more trail-worthy than most. And unlike most brands here, they didn't start with straight sizes and then convert their products into plus sizes—they've only ever made plus sizes, offering tops and bottoms in sizes from large to 7X. They also fit-test their products on models of each size they offer before going into production, which shows in the final product. One of our contributors has tried several of their styles and had very positive experiences with the fit.
If you're on the fence about ordering, Superfit Hero offers tons of guidance online about sizing and how to take your measurements, and encourages customers to call for a customized fit recommendation. Returns are free for 30 days, and ordering multiple sizes and returning what doesn't work is also encouraged. We also appreciate Superfit Hero's strong values: They only work with Oeko-Tex-certified fabrics and materials (tested for the presence of lead and other harmful substances) and produce their items in factories that are certified for ethical working conditions and sourcing. But we should reiterate: While Superfit Hero is known for quality and comfort, these styles are best left to frontcountry outings like on-trail hiking, camping, or casual bouldering—we would look to more durable options from brands like Outdoor Research or The North Face for more rugged backcountry use. For other quality athleisure offerings, Gap-owned Athleta also offers plus sizes online, but only up to 3X.
Visit SuperfitHero.com
Best Plus-Size Ski/Snowboard Apparel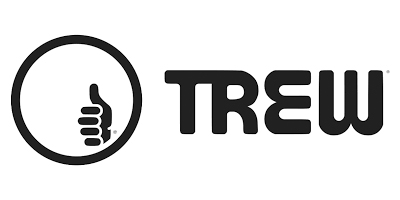 Location: Portland, Oregon
Size range: Women's XS-4X, men's XS-5XL
Popular products: Chariot Bib Primo, Trewth Bib Primo
What we like: High-end performance gear for big days on the mountain.
What we don't: Only a couple styles currently available in extended sizes.
The majority of our typical top picks for best outerwear and ski/snowboard gear—often from brands like Patagonia and Arc'teryx—are typically not available in sizes larger than XL or XXL. One shining exception to this is Trew Gear, a rapidly growing start-up out of Portland. This past winter, Trew began offering their women's Chariot Bib Primo and men's Trewth Bib Primo (our current favorite ski and snowboard bibs) in a wider range of sizes—up to 4X in women's and 5XL in men's, including three different inseam choices. Their options are limited, but these bibs are so premium we can't help but highlight Trew here.
We love Trew's combination of stylish looks and impressive weather protection (being based in the Pacific Northwet helps), and the Chariot and Trewth bibs are the top of their line. The bibs are easy to move in and show great attention to detail in the fit and finish, from smooth-operating waterproof zippers to well-designed side vents. Trew also makes returns and exchanges easy, although you'll pay an $8 restocking fee if you want a full refund (and beware, their outlet items can only be exchanged, not returned). At $499, you're definitely paying a premium for the bibs, but for skiers and riders putting in serious days on the mountain, we think Trew Gear's apparel is worth the price. And stay tuned: We were excited to hear they're making plans to offer jackets and other items in a wider variety of sizes, too.
Visit TrewGear.com
Best of the Rest
Location: Seattle, Washington
Size range: Women's XS-3X, men's S-XXXL
Popular products: Guide Pro Pants, Resolution Hoodie, Microtherm 2.0 Down Hooded Jacket
What we like: Large selection and more colorway options than most.
What we don't: Relatively limited in-store plus-size offerings.
Another Pacific Northwest brand, Eddie Bauer has very deep roots in the American outdoors scene, having outfitted some of the most notable alpine climbing expeditions of the past century. Today they make a wide range of more casual clothing with a smaller selection of performance-oriented items like lightweight insulated jackets and durable hiking pants. Importantly, they're one of the few outdoor brands actively marketing their plus-size products on models and in their branding imagery—both online and in-store. We also particularly appreciate that Eddie Bauer's plus-size offerings come in a wider variety of colors than most. For example, their popular Guide Pro Pants are offered in seven different shades for women and five for men. Take note: Our testers have found that some Eddie Bauer pants, including the women's Guide Pro, tend to work best for hourglass-shaped figures.
With more than 250 stores, Eddie Bauer is one of the more ubiquitous outdoor apparel shops in the U.S., but you won't find plus-size apparel in all of their brick-and-mortar locations. They do offer free shipping to their stores (great for trying items on without paying any extra shipping or return fees), and free regular shipping on orders over $100. They also offer free return shipping for up to a year for unused items. In the end, we appreciate Eddie Bauer's wide array of plus-size offerings and their expansion past basic, neutral color tones, but wish they carried more items in-store for an easier shopping experience.
Visit EddieBauer.com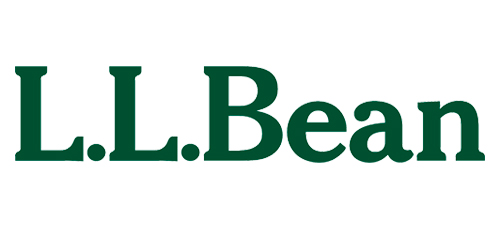 Location: Freeport, Maine
Size range: Women's XXS-3X, men's S-XXXL
Popular products: Sweater Fleece, Comfort Trail Pants, PrimaLoft Packaway Hooded Jacket
What we like: Wide selection of more casual offerings and generous return/exchange policy.
What we don't: Limited availability outside the East Coast, fewer plus-size offerings for men. 
If L.L. Bean is famous for one thing, it's their iconic duck boots, which are a staple in the Northeast. But since L.L. Bean was founded in the early 1900s—selling only those boots—they've drastically increased their offerings of outdoor apparel, accessories, and even home goods. This also includes dozens of plus-size items: They've sold up to size 3X for women for many years, including more performance-oriented gear like lightweight down jackets, fleeces, and rain shells, as well as their more generic casual styles. Reviewers often comment that L.L. Bean's styles tend to fit a bit larger in general than other outdoor brands, so keep in mind that their plus sizes may fit more generously than others. Some of our favorites are their Sweater Fleece jackets, Comfort Trail Pants, and PrimaLoft Packaway Hooded Jacket.
As we previously mentioned, L.L. Bean specializes in casual outdoor apparel, and dips just a little into the performance side. In other words, most of their products are better suited for frontcountry activities like hiking, snowshoeing, and camping than more technical backcountry adventures. But for as many options as they carry, L.L. Bean only sells their products in their own (limited) retail stores in the Northwest and online. They do offer free shipping on orders of $50 or more and have a generous return policy to boot, but this still requires the time and gamble of ordering items to try on. And like most other brands, L.L. Bean offers plus sizes in women's products but only "tall" offerings for men. Still, we appreciate the sheer number of plus-size options they carry and their overall quality.
Visit LLBean.com

Location: Berkeley, California
Size range: Women's 14-30
Popular products: Ponderosa Pants, Bristlecone Flannel
What we like: Multiple "fits" for different body shapes and excellent customer service.
What we don't: Limited offerings and only for women.
Alpine Parrot is unique in the apparel industry: In addition to offering several sizes of each product, they also make different "Fit Styles" for various body shapes. Founder and CEO Raquel Vélez applied her decades of experience in engineering to solving the problems of poor-fitting outdoor apparel, and the results have garnered many positive reviews so far. How it works: For bottoms, the Mountain Fit is cut to work for people with curvier builds, while the River Fit is designed for folks whose hip and waist measurements are more similar; for tops, the Coastal Fit is like a traditional flannel fit but a bit more roomy all over, while the Forest Fit is designed to fit larger busts with a unique chest dart to avoid gaping.
To nail down these specific fits, Vélez met with dozens of fit testers in person around the country and continues to collect data to keep improving the line. Alpine Parrot products are available to try on in person at 13 independent outdoor shops across the U.S., as well as online with free shipping on returns. For those who struggle with fit—even in their supposedly correct size—this could make a major difference. The downside: Right now, the company only makes one pair of pants and one shirt, and they're both priced relatively steeply at $139 and $89, respectively. But for such a dialed-in fit with high-quality materials and keen attention to detail, we think that's a reasonable price to pay. We look forward to seeing more products from Alpine Parrot in the future.
Visit AlpineParrot.com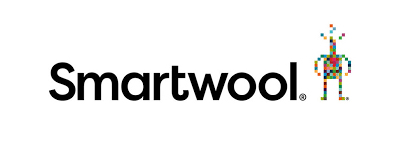 Location: Denver, Colorado
Size range: Women's XS-4X, men's S-XXL
Popular products: Classic All-Season Merino Crew, Classic Thermal Merino 1/4-Zip
What we like: Super-soft, wicking, high-quality baselayers and casual pieces.
What we don't: Expensive and not as many sizes for men.
Smartwool rose to popularity for their hiking socks but has since become practically synonymous with quality baselayers. So, it goes without saying that we were excited when they expanded their offerings to women's sizes 1X-4X. Their Classic Thermal 1/4-Zip has been our top-rated baselayer for years running—it's made from 100% merino wool, making it extremely soft, warm, and resistant to moisture and stink. And when it comes to wool products, it's hard to beat Smartwool's fun variety of colors and different designs including bottoms, crew-neck tops, and other more casual, everyday styles like a drape-neck hoodie with a longer cut. We've come to trust Smartwool's quality, and their plus-size offerings are backed by positive reviews regarding sizing and cut as well.
What's not to love about this top brand? Well, quality merino simply doesn't come cheap. For instance, a simple crew-neck baselayer top from Smartwool (their Classic All-Season Merino Long Sleeve) will set you back $90. That investment might feel painful for such a basic item, but we've found overall quality and performance to be top-notch. As we noted, the fabric is soft, wicking and naturally odor-resistant, and resists pilling and holds its shape better over time than many competitors. Treated with care, Smartwool baselayers will hold up to quite a bit of wear. We only wish they sold more sizes for men, too. However, they do offer free three-day shipping on orders of $89 or more (most single items will cost at least that much) and free returns for 45 days.
Visit Smartwool.com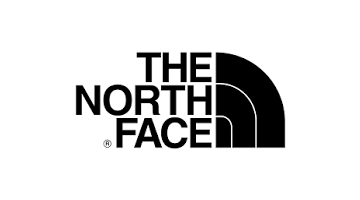 Location: Denver, Colorado
Size range: Women's XS-3X, men's S-3XL
Popular products: ThermoBall Eco Hoodie, Denali Jacket, Freedom Bibs and Pants
What we like: Trustworthy quality and cool styles.
What we don't: Most of their performance-oriented apparel is only available in straight sizes.
The North Face may be one of the most recognizable brands in the outdoor industry, but their plus-size offerings have mostly flown under the radar (we don't see much variety in body shapes or sizes on their homepage or social media). Several of their most popular pieces are available in plus sizes for women or extended sizes for men, but because they added them to the line without a big announcement, many shoppers—one of our reviewers included—have mostly overlooked the brand when looking for plus-size outdoor gear. However, some of our highly rated jackets—like ThermoBall Eco Hoodie and the Denali 2 fleece—and our favorite budget ski bibs and pants (the Freedom Bibs and Freedom Pants) are available in a wide range of sizes, which we appreciate.
As far as quality, The North Face has a hard-earned reputation for durability and performance in extreme environments (and their apparel comes with a limited lifetime warranty to boot), but few of their more performance-oriented pieces are available in plus sizes. For example, none of their premium Summit Series items are available in plus sizes, so we'd look elsewhere for more technical or backcountry-oriented apparel. And within this category of popular outdoor companies that sell a few plus-size items but don't do much to market them, it's also worth mentioning Prana. While they're not displayed on their homepage and the selection is limited, Prana does offer some quality pieces in plus sizes, including one of our top-rated women's hiking pants, the Halle Pant II.
Visit TheNorthFace.com
Location: Crossroads, Texas
Size range: Women's XS-6X
Popular products: New Horizons Baselayer Top, Blaze Cushy Crew Pullover
What we like: Available in more sizes than most and exceptional customer service.
What we don't: Limited product selection (for now).
While many outdoor gear companies have been slow to respond to the needs of their customers as far as more inclusive sizing, a cottage industry is springing up to fill the gaps. One of those smaller businesses, Ottomatic Threads, was born when founder Alisa Otto grew frustrated with ill-fitting clothing distracting her from enjoying time outdoors. Ottomatic Threads currently offers their products in extra small to 6X (with the goal of bumping up to 10X by the end of this year), and produces everything in a Texas microfactory using mostly sustainable materials like recycled polyester and bamboo. The lineup includes staples like shorts, tanks, baselayer tops and bottoms, and fleece pullovers. 
Aside from the great selection of sizes, Ottomatic Threads stands out in the customer service department, where they offer a personal touch and strive to get things right—including taking feedback for future product iterations. The company also gives back 1% of all sales to the National Parks Foundation. What's not to like? Currently, the line is limited to a few basics, baselayers, and fleeces, and all their baselayers are synthetic (we prefer merino wool for its superior temperature regulation and odor resistance). But Ottomatic Threads has plans to expand in the future and are very focused on using customer feedback to create better products, so we look forward to seeing what comes next.
Visit OttomaticThreads.com
Ranking Criteria
Our picks above only represent a portion of the plus-size outdoor apparel market, so how did we select the companies to feature and rank them? To start, we asked our contributors for a deep dive on their experiences with gear in the field—the good and the bad—and how different products compared to each other in terms of fit, performance, and quality. We also took into consideration current online and in-store availability, shipping and return policies, and our team's collective experiences with each brand or retailer. Below is a detailed breakdown of the various factors we used to vet the options.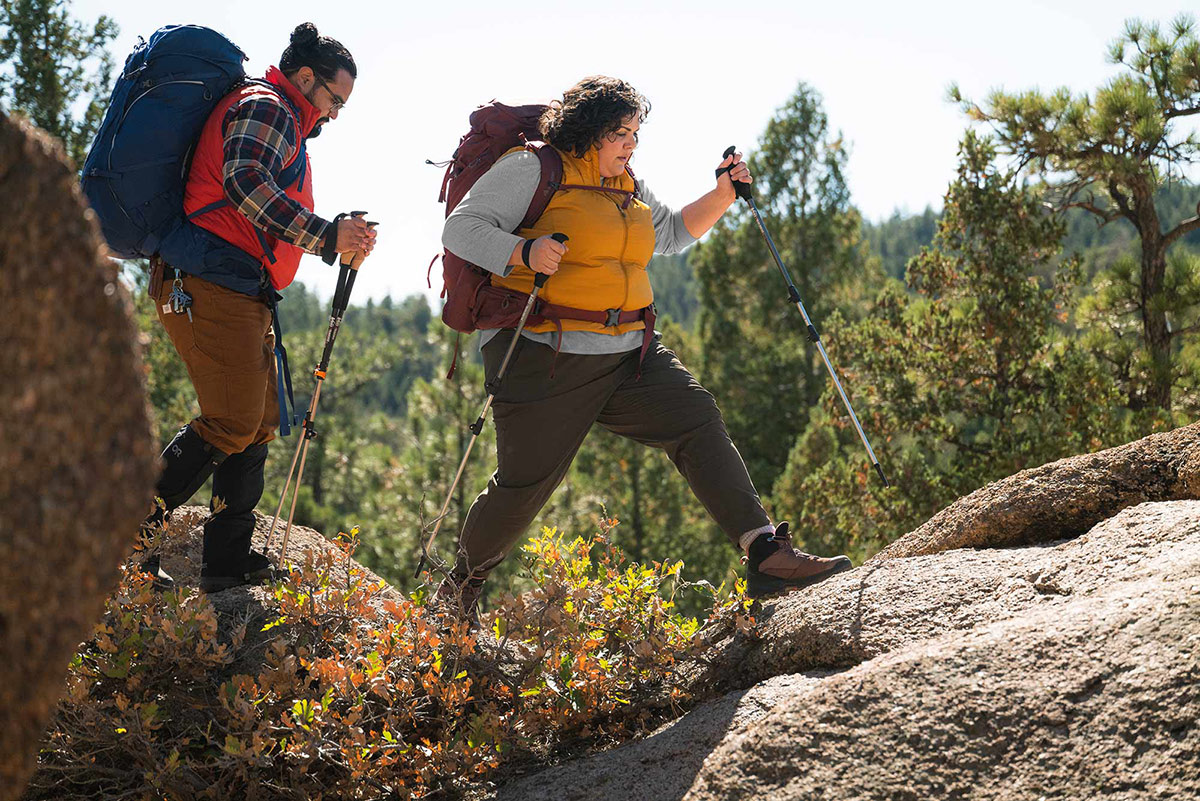 Number of Plus-Size Offerings
While evaluating brands to rank on this list, one of our top considerations was the sheer number of plus-size items they offer. You can find plus-size tops, bottoms, and outerwear from a number of companies we didn't mention here—including trustworthy names like Patagonia, Mountain Hardwear, and Marmot—but typically, it's just a small handful of products. In this article, we focus instead on brands offering a more complete collection, including plus sizes of their flagship collections rather than mostly casual offerings. Some of the smaller brands included here also have more limited collections, but we've chosen to include them as they focus solely on plus-size apparel or have gone above and beyond in their fit and quality for plus sizes.

Fit, Quality, and Durability
There are as many body shapes as there are people, and each brand's fits and styles will inherently work better for some outdoor-goers than others, no matter the size. But we applaud those—like Alpine Parrot—who've gone out of their way to do extensive size testing. It shows when a brand has done their homework and created pieces that are comfortable and move well with the body. For our list, our reviewers also evaluated overall quality and durability from their experiences in the field, and we gave an edge to brands that have proven track records for quality. However, many companies—especially the smaller ones—are continuing to hone their designs, and as they refine their fits and increase their offerings, we may see a shake-up in the rankings.

Shipping and Returns
As we've mentioned, plus-size apparel is rarely available to try on in brick-and-mortar stores. Until there are more options to shop in person, shipping rates and return policies can make a big difference for both saving money and for the overall shopping experience. Therefore, we give the nod to brands that won't penalize you for ordering multiple items at once to try on, knowing you may return most—if not all—of them. While free shipping is becoming increasingly common, you may have to spend a certain amount to qualify. REI Co-op, for example, offers free shipping to members on all purchases (non-members must spend $50 to qualify), while most of the other brands require a purchase of around $75 or more to earn free shipping.
While free shipping is nice, it's only half of the equation if you need to order multiple sizes and styles to try on and are planning to return what doesn't work. It's wise to read the fine print to make sure you know whether or not you'll be responsible for the shipping fee (as with Outdoor Research), or might need to pay a restocking fee (as with Trew Gear). You may be able to find those items at a different retailer—like REI Co-op—where returns are free in-store. But overall, the bulk of brands we've ranked above make shipping and returns very easy, and usually free. Some, like Superfit Hero, even encourage ordering multiple sizes to make sure you get exactly the right fit.

Customer Service
Fit and quality are obvious considerations, but when deciding on brands to include, we also took into account our reviewers' experiences with customer service. Whether a certain brand's fit works for you or not, how they treat you as a customer can leave a taste in your mouth—either good or bad. As we decided on which brands to include and where they should rank on the list, friendly sales people and prompt replies to communications made a difference. For example, Ottomatic Threads may be a smaller company with a limited overall selection, but our reviewer's positive experience with the brand and their motivation to make things right was enough to earn them a spot in our rankings.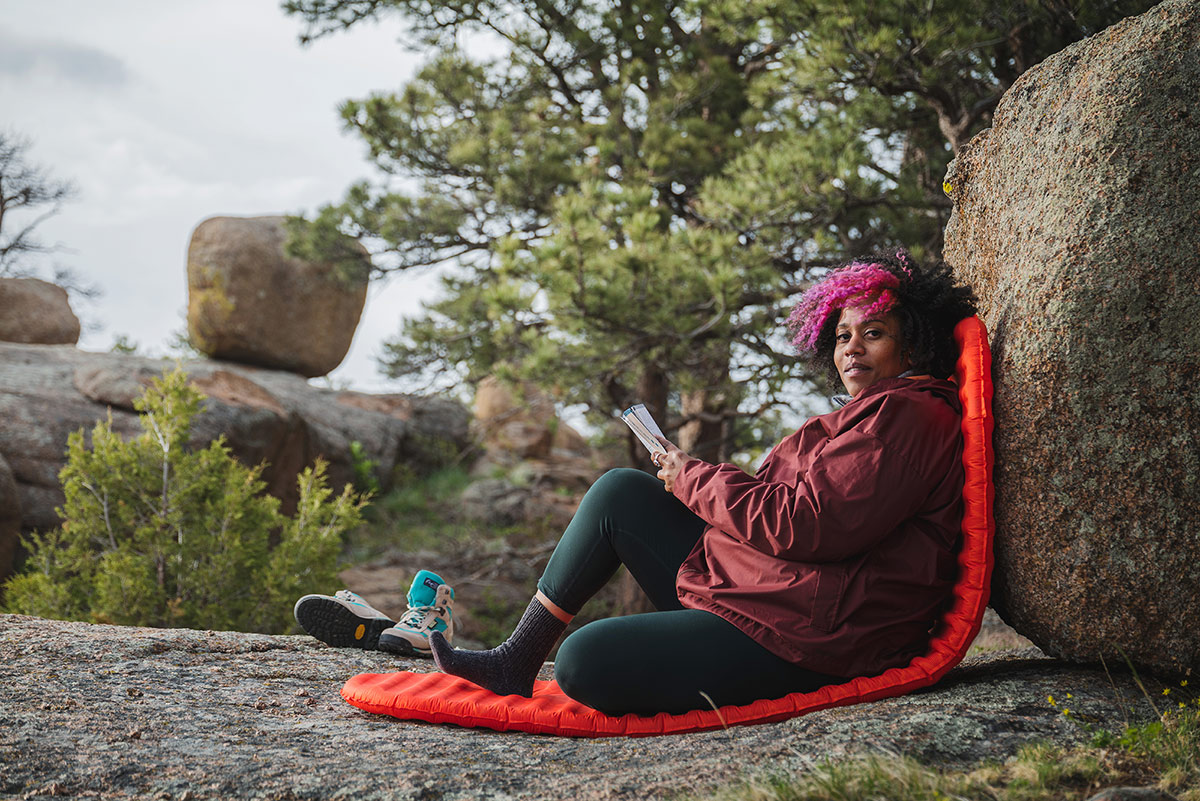 Where to Buy Plus-Size Outdoor Apparel
Currently, the number of plus-size outdoor items in stock at most outdoor shops is fairly small and you're limited to online shopping. The stand-out exception is REI Co-op, which has been working toward carrying up to size 20 in every one of its 180+ brick-and-mortar locations. You'll find the selection features predominantly REI-brand products (the Co-op is less likely to carry plus-size items from other brands), but we hope to see this change in the future. What's more, we do appreciate that you can order any item off of their website (including apparel from brands like Outdoor Research, The North Face, Columbia, Alder Apparel, and more) and return it at your local store without a fee.
Another place to look is Public Lands, the outdoor-focused offshoot of Dick's Sporting Goods, which our consultants point to as having a great plus-size selection. Although they only have seven brick-and-mortar locations at the time of publishing, the brand is rapidly growing and we expect to see more locations soon.
A final retailer to touch on is the online-only Kinsa (formerly Alpine Curves), which carries women's plus-size outdoor apparel from both cottage brands and more mainstream companies. The interface isn't as sleek as REI's, but they do have a helpful feature called the KinsaFit Guide, where three women with different body shapes recommend and model a variety of different items to help you find the best fit. Of note: Kinsa also stocks plus-size items from brands like TNF and Mountain Hardwear that the brands themselves no longer carry, such as Mountain Hardwear's Dynama/2 Ankle Pants. However, they don't cover shipping for returns, so depending on the item, you may be better off ordering it straight from the manufacturer if they have a better shipping and return policy.
Back to Our Plus-Size Outdoor Apparel Picks  Back to Our Ranking Criteria
Read More From Switchback Travel