Whether you're traveling by air, driving up to a cabin for the weekend, or venturing across the world on an expedition, you'll likely be using a duffel bag to get your gear from one place to the next. Duffels are popular among all kinds of travelers for good reason: they're easy to load and carry on the road, and many are built to take a beating. Below we break down the best duffel bags of 2018, including top travel, outdoors, and waterproof duffels of both the standard and rolling varieties. For more background information, see our duffel bag comparison table and buying advice below the picks.
 
Weight: 2 lbs. 6 oz.
Capacities: 30, 45, 60, 90, 120L
Backpack straps: Yes
What we like: Durable, comfortable as a backpack, and looks great.
What we don't: A little pricey.
Patagonia's Black Hole line helped made duffels cool, and we think the 60-liter version is the best all-around bag on the market. Starting with design, Patagonia is known for premium build quality and trendy colorways, and the Black Hole fits the bill perfectly. It's beautifully constructed from end to end, and you get multiple color options from simple black to blaze orange. And the Black Hole is tough: the fabric is 900D ripstop nylon with a DWR finish to fend off moisture. This duffel is not waterproof like the YETI and SealLine models below, but should keep your gear dry in light rain just fine.  
In terms of features and carrying comfort, you get a multitude of ways to grab and carry the Black Hole Duffel. The backpack straps are more comfortable and functional than most, and the bag comes with a large detachable shoulder strap for throwing over one shoulder. Keep in mind that this duffel does not have a particularly rigid structure, so it doesn't offer a ton in the way of protection for your fragile items. In addition, it's one of the more expensive non-roller duffels on this list, but we think worth the quality is worth the extra cost. Patagonia makes the Black Hole in a variety of versions including with wheels, and the 40-liter roller version is carry-on compatible.
See the Patagonia Black Hole 60  See the Patagonia Black Hole Wheeled 70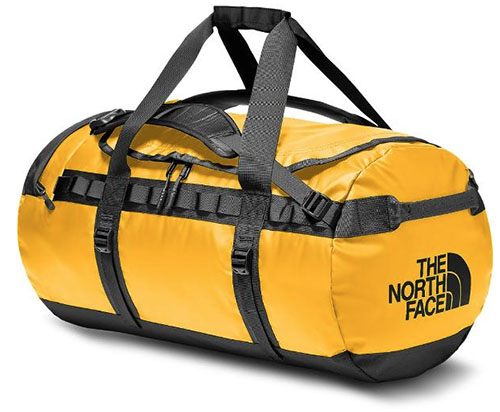 Weight: 3 lbs. 8 oz.
Capacities: 31 (XS), 50 (S), 71 (M), 95 (L), 132 (XL), 150L (XXL)
Backpack straps: Yes
What we like: Durable and water resistant, plethora of color and size options.
What we don't: Falls a little short of the Black Hole in a few areas.
The Base Camp Duffel from The North Face is a fully-featured bag and a direct competitor to the Patagonia Black Hole above. It's similarly tough and water resistant, offers easy access to the inside, and can be carried as a backpack, which we love. Both bags offer comparable organization pockets, but the Base Camp's medium and large models add an exterior compartment on one end that allows you to separate dirty clothes and shoes. The Base Camp comes in more colors and designs than we can count, and is available in capacities ranging from 31 liters (XS) to a whopping 150 liters (XXL). For everything from a carry-on to an expedition workhorse, this is one of the most popular duffels on the market year after year.
Although we do like the Base Camp line and have used them for years, we prefer the Black Hole for a few reasons. First, the outer fabric on The North Face shows scuff marks more easily than its Patagonia counterpart. Second, at 3 pounds 8 ounces, it's more than a pound heavier. Finally, we found the backpack straps on the Base Camp Duffel to be slightly more difficult to detach than those on the Black Hole, making your airport check-in a bit more frantic. On a positive note, The North Face has brought back carry handles for 2018, which provide another easy way to haul around the Base Camp.
See the North Face Base Camp Medium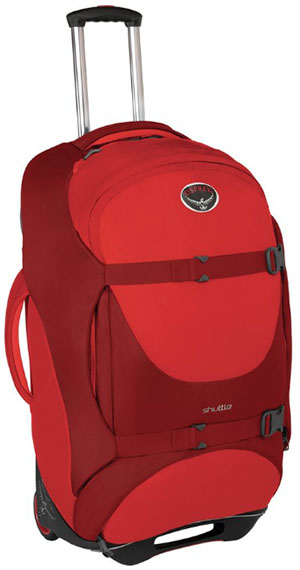 Weight: 8 lbs. 3 oz.
Capacities: 100, 130L
Backpack straps: No
What we like: Premium build quality, sturdy design, and convenient organization.
What we don't: Bulky, heavy, and shows wear quicker than we would like.  
For travelers torn between a standard duffel and traditional wheeled luggage, the Osprey Shuttle may be exactly what you're looking for. This high-end duffel is extremely roomy, durable, and comes with tons of organization. Time and time again, we've loaded an entire vacation worth of clothing and other items into the Shuttle with ease. Unlike cheaper wheeled duffels that have a tendency to fall over when full and upright, it maintains its stability nicely. And all of the other features are there, from external compression straps to tighten down your load to a separate lower compartment for wet gear.
The shortcomings of the Osprey Shuttle mostly relate to the design itself. First, you are not throwing this duffel over your shoulder and strolling through the airport or walking through a major city. It's big and heavy at over 8 pounds empty, and must be transported almost exclusively on wheels. In addition, when packed to the brim, you may find yourself pushing the standard 50-pound checked baggage limit, and particularly if you go with the 130-liter version (we've been okay with the 100-liter but have been close on occasion). Finally, we've been surprised at how much wear and tear shows on the Osprey Shuttle. We got ours in bright red but would recommend the black instead.
See the Osprey Shuttle 100L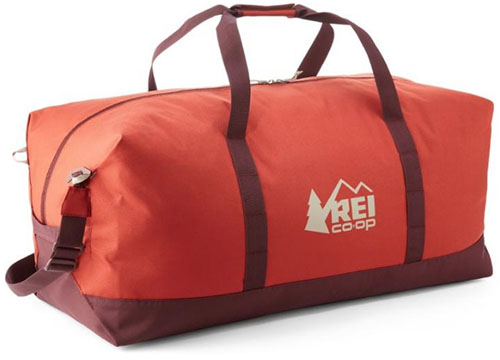 Weight: 1 lb. 8 oz.
Capacities: 40, 60, 100, 140L
Backpack straps: No
What we like: A simple duffel at a great price.
What we don't: No backpack straps or internal storage.
If you're in the market for basic storage and protection for your gear, the REI Co-op Roadtripper is one of the best values on this list. At just $60, this bag is made from 610D water-resistant Cordura, and sports a large detachable shoulder strap and handles (no backpack-style straps here, which is notable for those who plan on carrying the bag long distances). We also love the minimal weight, which at just 1 pound 8 ounces is one of the lightest duffels on this list.
Who should buy the REI Roadtripper Duffel? It makes a great gear hauler for those who need space and protection without the bells and whistles. We've used the 100-liter version on a number of big trips including all the way down to Patagonia (4 flights) and came away impressed. The bag is well built, functional, and has withstood quite bit of use and abuse. At the same time, it's definitely not a fully featured bag for travel. If you want things like internal storage, side compartments, and backpack straps, REI does make the pricier Big Haul below.
See the REI Co-op Roadtripper Duffel 100L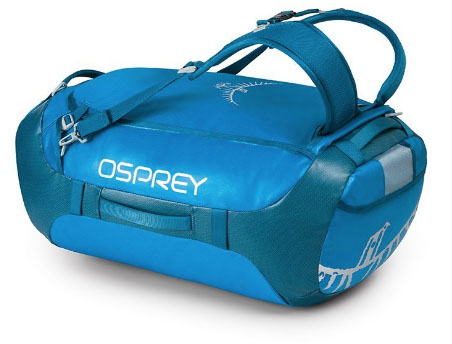 Weight: 3 lbs. 2 oz.
Capacities: 40, 65, 95, 130L
Backpack straps: Yes
What we like: One of the best duffels on this list in terms of carrying comfort.
What we don't: Slightly less durable than the top models.
The Patagonia Black Hole above truly is a duffel by nature, but the Osprey Transporter moves closer into backpack territory (we'll call it a hybrid). With serious backpack straps designed with carrying comfort is mind (Osprey is the industry leader in backpacking packs), the Transporter is a great option for travelers who need to cover distance with their duffel. In terms of features, the outside is tough and water resistant, while the inside is loaded with handy extras like a padded compartment for electronics and rain flaps for piece of mind. Further, the lid zips are lockable and the straps can be easily stowed away when not in use.
Coming in at $140 for the 65-liter version, the Osprey Transporter is a touch more expensive than the Patagonia Black Hole and The North Face Base Camp above. It's also slightly less durable in terms of denier, and the lack of dedicated carry handles are a bit of an inconvenience. That said, we love the carrying comfort over long distances and think the other features are highly practical, making the Transporter our top non-wheeled duffel from Osprey.
See the Osprey Transporter 65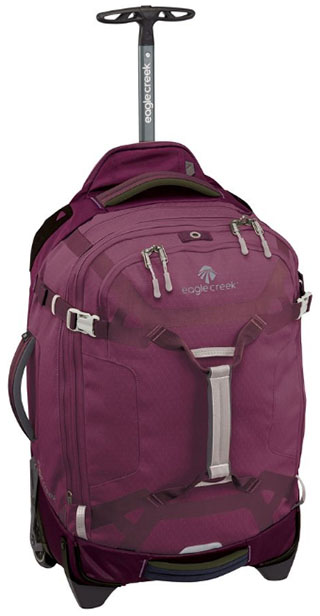 Weight: 4 lbs. 13 oz.
Capacities: 42 (22"), 63L (26")
Backpack straps: No
What we like: Carry-on compatibility.
What we don't: Build quality could be better.
For frequent travelers, there is something to be said for the convenience of a wheeled duffel, and especially one that can be used as a carry-on. At 42 liters, the Eagle Creek Load Warrior is an optimal size for travelers who don't pack the kitchen sink (if you and a travel partner each use one of these bags, that's a very solid 84 liters of carry-on space). The wheels are reasonably sturdy and allow you to move quickly through the airport, and the bag expands nicely to accommodate full loads (although be careful about carry-on rules as it can get rather wide).
What are the shortcomings of the Eagle Creek? The build quality isn't quite up to Osprey or Patagonia standards, although we do like the reasonable price (the 40-liter wheeled Black Hole is $299, for example). And we do appreciate the low weight as well, which at 4 pounds 13 ounces, makes it easy to carry and put in the overhead bin. For those who want more space, Eagle Creek makes another version of this bag: the 63-liter (67 liters expanded) Load Warrior 26". It's worth noting that while it gives you a nice increase in capacity, this version is not carry-on compatible.
See the Eagle Creek Load Warrior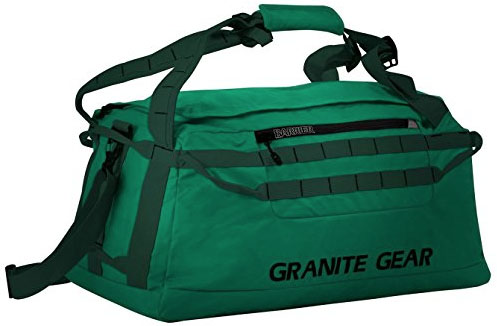 Weight: 1 lb. 8 oz.
Capacity: 40 (20"), 60 (24"), 100 (30"), 145L (36")
Backpack straps: Yes
What We like: Lightweight, packable, and a great value.
What We don't: Not the most rugged duffel on the market.
For outdoor use and travel, there's big demand for lightweight and packable duffels that can be easily stowed away at the bottom of another pack. The Granite Gear Packable Duffel is a prime example, weighing only 1 pound 8 ounces and coming with a separate case for easy storage. Despite the compact size, you still get plenty of features: the bag has a full backpack harness plus the regular assortment of straps and handles, a decently tough 600D shell fabric, and good access to the main compartment with a large U-shaped zipper. At only $60, there is a lot to like about this duffel.
What are the downsides of the Granite Gear? With a 600-denier shell, it's reasonably durable but not quite as thick or water resistant as non-packable options from Patagonia and The North Face above (more weight equals more thickness). In addition, the bag does a fine job at carrying your gear but doesn't offer much in the way of structure. For an even lighter packable option, the Mountain Hardwear Lightweight Expedition weighs 6 ounces less but does not offer the U-shaped opening, backpack straps, or durability.
See the Granite Gear 24" Packable Duffel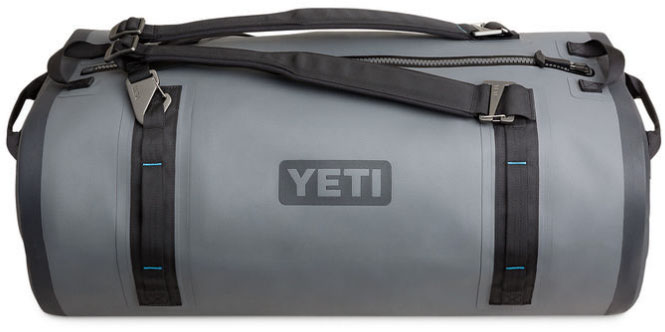 Weight: 6 lbs. 2 oz.
Capacities: 50, 75, 100L
Backpack straps: Yes
What we like: A fully waterproof duffel for rafting and other outdoor uses.
What we don't: Very expensive and thick.
If you know coolers, chances are you know the YETI brand. And it's no surprise that the company entered the duffel market with a splash. Many models on this list are water resistant, meaning they can withstand wet ground and the occasional rain shower, but the Panga is fully waterproof. You'll often spot this thick and submergible duffel on rafts, fishing boats, and pretty much anywhere where people want the ultimate level of protection for their gear. Made with laminated high-density nylon that feels like rubber, a burly EVA bottom, and a waterproof zipper that locks firmly into place, this duffel is as water ready and air tight as you'll find.
Keep in mind that the YETI Panga is overkill for non-outdoor use. The bag is pricey at $350, heavy at over 6 pounds for the 75-liter version, and has a thick, rubbery feel. In addition, YETI branding is strong with logos on each side and a very prominent imprint that runs the length of the bottom of the bag. All in all, this isn't the optimal duffel for travel and light outdoor use, but it's worth the cost for those who put their gear to the test. For a cheaper waterproof duffel option, see the SealLine WideMouth below.
See the YETI Panga Submersible Duffel 75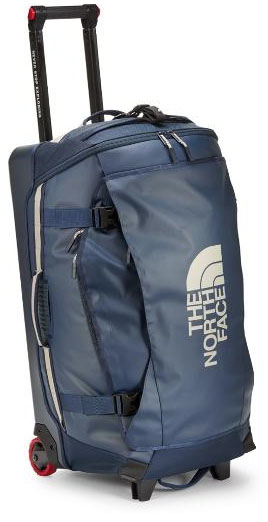 Weight: 9 lbs. 14 oz.
Capacities: 33 (19"), 40 (22"), 80 (30"), 155L (36")
Backpack straps: No
What we like: A super tough duffel with wheels. 
What we don't: Lacks the organization of the Osprey Shuttle.
For those who like The North Face Base Camp above but prefer wheels, try the Rolling Thunder. This bag has many of the same features as its sibling, including tough, water-resistant fabric, simple yet functional organization, a large opening for the main compartment, and compression straps to dial in your load. But the defining feature on this duffel is wheels, which are large yet smooth and functional over a variety of surfaces. If you're in the market for a heavy hauling duffel that you don't want to carry, the Rolling Thunder is a serious competitor to the Osprey Shuttle.
What the Rolling Thunder is not, however, is a fully-featured piece of luggage for business travelers. It lacks the sleek suitcase look and organizational compartments of the Osprey Shuttle, and some people have reported that the internal support bar has worn through to the base of the bag. But if you're looking for a duffel that's equally at home on the dirt roads of a far-flung village as it is at the airport, the Rolling Thunder can take a licking and keep on ticking.
See the North Face Rolling Thunder 30"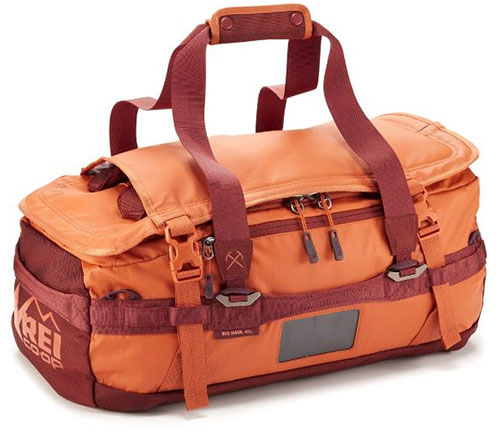 Weight: 2 lbs. 1 oz.
Capacities: 45, 60, 90, 120L
Backpack straps: Yes
What we like: Similar to the Patagonia Black Hole for less money.
What we don't: Shoulder straps aren't quite as comfortable.
There is a lot to like with REI's well-appointed line of Big Haul duffels. This high-end design is on the same playing field as the Patagonia Black Hole above but costs about $30 less (it's not a perfect comparison, but the Black Hole 45 is $119). Features include backpack and compression straps, a large U-shaped opening for easy access, and a stuff sack to pack it down when not in use. At 2 pounds 1 ounces, the Big Haul hits a really nice balance between toughness and carrying comfort.
Why do we have the REI Big Haul ranked here? The Patagonia gets the nod is a few areas that matter, making the extra $29 worth it in our opinion. First, the backpack straps and carrying handle on the REI aren't quite as comfortable or easy to use. Neither is meant for super long journeys with the bag on your back, but Patagonia has done a slightly better job with carrying comfort. Second, the Patagonia has a tougher 900D polyester covering the body of the bag (REI's is thinner 400D). We also prefer the look and colorways of the Black Hole slightly more—it's very hard to compete with Patagonia in this regard. But both are excellent duffels for travel and light outdoor use, and the REI does win out in price.
See the REI Co-op Big Haul Duffel 40  See the REI Co-op Big Haul Rolling 30"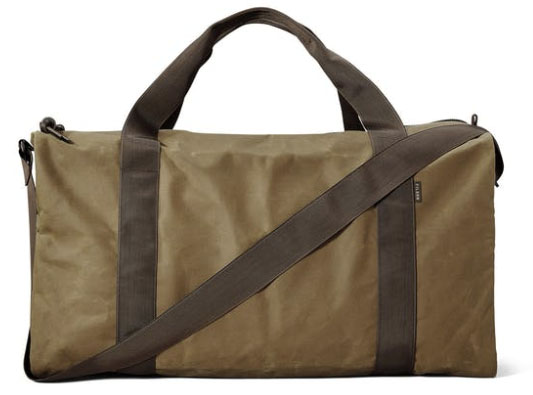 Weight: 2 lbs. 3 oz.
Capacities: 32 (S), 75L (M)
Backpack straps: No
What we like: Premium construction. Filson products are very impressive in this regard.
What we don't: Expensive and casual in nature with no backpack straps or lash points.
We'll start by noting that we initially had our hesitations about the Filson Field Duffel. To start, the Tin Cloth fabric is rather distinct and has an Indiana Jones-type feel (not necessarily in bad way, but that was our first impression). Upon further inspection, this bag is exquisitely made and looks and feels the part. The thick canvas has a water repellant finish (oil-finish wax can be applied for added protection) and we love the silky interior liner. The Field Duffel certainly is more formal than others on this list, but we love the build quality and unique design.
Who should buy the Filson? To be sure, this bag belongs more on a weekend cabin getaway than on an Alaskan glacier. Not only that, but it lacks backpack straps, organizational compartments, haul handles for easy transport, and is pricier than most other options in its size range. This means that it's not our first choice for an outdoor duffel, but it's a super classy option for travel.
See the Filson Field Duffel Medium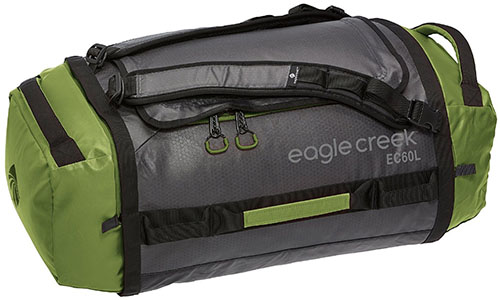 Weight: 1 lb. 12 oz.
Capacities: 45, 60, 90, 120L
Backpack straps: Yes
What we like: Lightweight but still feature-rich and durable.
What we don't: Doesn't carry as comfortably as heavier models.
The Eagle Creek Cargo Hauler is a nice option for travelers looking for a lightweight duffel with an assortment of carry options. It's one of the more affordable duffels on the market at $99 for the 60-liter version, weighs less than 2 pounds, and even packs into its own end pocket. The bag is functional too: similar to the Patagonia Black Hole, the Cargo Hauler has a U-shaped lid, lash points and grab handles, a padded foam bottom, and padded and removable backpack straps.
Within its weight class, the Cargo Hauler is comparable in function and design to Granite Gear's Packable Duffel, but comes in 4 ounces heavier and lacks features like top carry handles and internal organization pocket. Both duffels are made with 600D water-resistant fabric, a less durable (yet lighter weight) material than many of the more rugged models on the list. And it's obvious at first glance that the Cargo Hauler simply is not as burly and water resistant as a bag like The North Face Base Camp, nor is it as comfortable of a backpack (it has a tendency to droop even when loaded). But for a nice all-around travel duffel at a reasonable price, give the Eagle Creek a look.
See the Eagle Creek Cargo Hauler 60  See the Eagle Creek Cargo Hauler Rolling 90L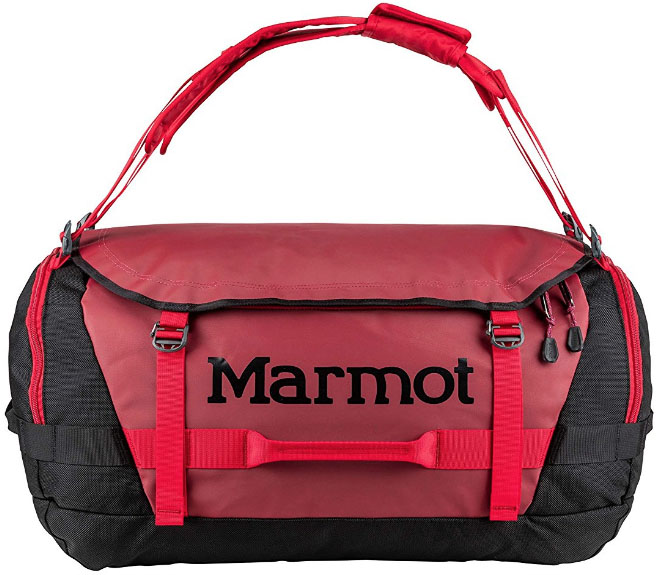 Weight: 2 lbs. 15.3 oz.
Capacities: 35, 50, 75, 105L
Backpack straps: Yes
What we like: Another quality do-everything duffel for travelers.
What we don't: Thinner materials than past versions.
The $130-ish duffel market certainly is competitive, but another nice option for travelers is the Long Hauler from Marmot. This bag is well designed with just all about of the features that you need: detachable backpack straps, a U-shaped access to the main compartment, grab handles on the ends, compression straps, and end pockets for storing smaller items and valuables. Durability is good too: the bag is reinforced with 600D nylon, which should allow for a decent amount of rough use.
It's worth noting that Marmot did decide to use thinner materials on the 2018 Long Hauler. With a burly 1,000-denier fabric, the older version was prized for its toughness and durability. For this year, Marmot downgraded the bag to 600 denier while adding a side pocket. 600D certainly isn't bad, but it's now thinner than competitors like the Patagonia Black Hole and The North Face Base Camp while the price remains similar. We still like the Marmot, but it just doesn't stand out like it used to. 
See the Mamot Long Hauler Large  See the Marmot Rolling Hauler Large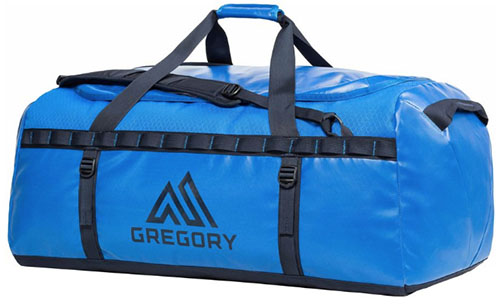 Weight: 3 lbs. 15 oz.
Capacities: 45, 60, 90, 120L
Backpack straps: Yes
What we like: Packed with features.
What we don't: No shoulder strap.
The Gregory Alpaca is a high capacity duffel that checks all the boxes. It has a large U-shaped opening, padded and removable backpack straps, and is made with a durable 900D ripstop nylon fabric with a water-resistant coating. Throw in storm flaps over the top zipper, plenty of daisy chains, and a sleek design, and you have another attractive travel/outdoor duffel to consider.
Why is the Gregoy Alpaca ranked here? First and foremost, it lacks a shoulder strap. This isn't a deal breaker for us as backpack-style is the carrying method of choice for a bag of this type, but a shoulder strap is great for short hauls and moving the bag from place to place. Second, the Alpaca lacks outside pockets for small items, which is a simple feature that adds a good deal of convenience. When you throw in the fact that the Alpaca is roughly the same price as bags from other top brands, it's a solid duffel but not a standout.
See the Gregory Alpaca 90 Duffel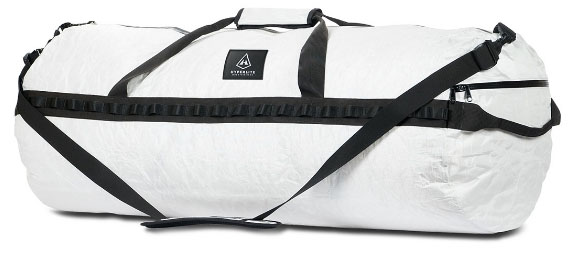 Weight: 2 lbs. 10 oz.
Capacities: 140 liters
Backpack straps: No
What we like: Lightweight and tough.
What we don't: Steep price tag and lack of backpack straps.
Hyperlite Mountain Gear is in a class of its own, but for serious outdoorspeople, their duffel is a very intriguing option. We'll start by noting that this bag is not flashy or made for rolling through the airport on your next trip. The big selling point is the Dyneema fabric, which is used on ultralight tents and backpacks and known for its extremely impressive strength-to-weight ratio. If you're looking for a lightweight, tough, weather resistant, and large capacity duffel that will fit on a pack horse or in a sled on your next backcountry foray, the Dyneema Duffel is a great way to go.
Keep in mind that the Hyperlite Dyneema Duffel truly is a specialty bag. The 140-liter capacity is excellent for hauling bulky outdoor gear in tough conditions, and this is one of the biggest duffels in this market in terms of interior space. But it notably lacks backpack straps, which would be a nice touch for those instances where you do actually have to walk with the bag over a good distance. In addition, the $525 price tag is by far the highest on this list—Dyneema is an ultra-premium and very expensive fabric. Travelers and urban backpackers should look elsewhere, but for the right people and uses, the Hyperlite is a serious, expedition-ready duffel.
See the Hyperlite Mountain Gear Dyneema Duffel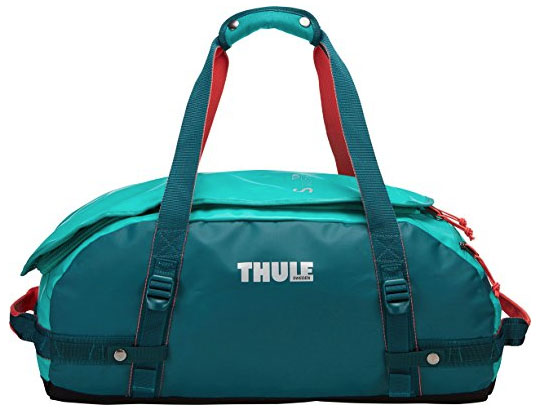 Weight: 3 lbs. 11 oz.
Capacities: 40, 70, 90, 130L
Backpack straps: Yes
What we like: Durable, water resistant, and streamlined design.
What we don't: Shoulder straps could be improved.
Swedish company Thule is a popular brand in the biking and car rack world, but it is relatively new to travel. Nevertheless, the Chasm is one sleek-looking duffel with great access and durability. We love the extra large U-shaped zipper, which is among the most generous on this list in terms of sizing, along with the 1,000-denier water-resistant outer fabric. The shoulder and backpack straps are removable, as are the carry handles (a rarity among duffels). For everything from air travel to the outdoors, Thule has done a nice job with the Chasm.
Why isn't the Thule ranked higher? The shoulder straps are functional but not as comfortable as many of the options above, not to mention they have such a simple attachment system that it has tendency to wiggle off while in use. And another small issue: the U-shaped lid that dips well below the top of the bag can be difficult to zip shut when its fully stuffed. But these are small gripes about an otherwise solid duffel, and we hope Thule continues to make strides with its bags.
See the Thule Chasm 70L Duffel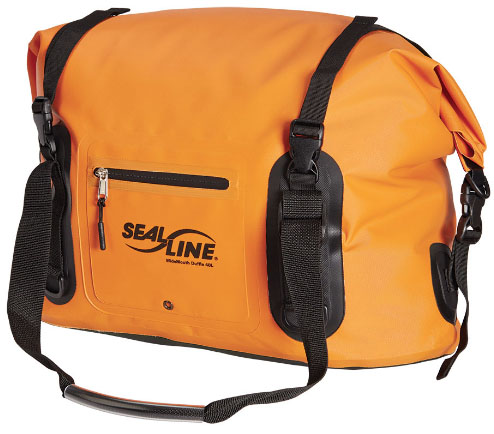 Weight: 2 lbs. 11 oz.
Capacities: 40, 80L
Backpack straps: No
What we like: A waterproof duffel at a much lower price than the YETI Panga.
What we don't: No backpack straps and the roll-top closure is prone to user error.
Along with the YETI Panga, SealLine's WideMouth Duffel is the only other waterproof duffel on this list. These two bags are quite different, however: the SealLine is made with vinyl instead of the YETI's thick nylon, resulting in a significantly lower weight and profile. Further, the roll-top design means that it can't be fully submerged but it does pack down nicely to accommodate any size load. And perhaps most importantly, the WideMouth is less than one-third the price of the Panga.
Why do we have the SealLine ranked here? The YETI has more structure and is much easier to pack, not to mention the fully waterproof zipper system mitigates the common user error of creating a roll-top seal (SealLine also makes the Zip Duffel, which has a waterproof main zipper). Moreover, the YETI has backpack straps and therefore is easier to carry. The cherry on top: the extra thickness of the YETI means that it's much more durable in the long term. But for those looking for a waterproof duffel without breaking the bank, the SealLine WideMouth is a nice option.
See the SealLine WideMouth Waterproof Duffel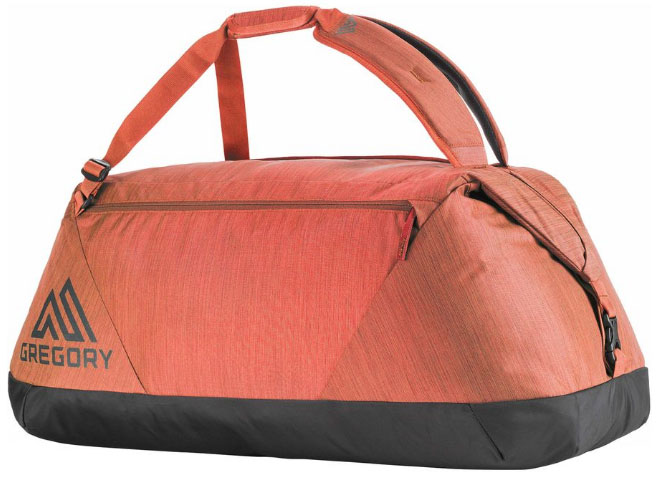 Weight: 1 lb. 13 oz.
Capacity: 45, 65, 95, 115L
Backpack straps: Yes
What we like: Unique expandable opening/compression straps design.
What we don't: Light on features.
Priced at $80, the Gregory Stash is an affordable duffel with an attractive design. We'll start with the Stash's simple zipper opening that extends the length of the duffel, which is not our preferred closure (U-shaped is better). The zipper does reach the end flaps, however, allowing the main compartment to expand up and out when packing and providing better access than others of its kind. You also get generous padding on the straps and a large outside pocket for valuables.
Unlike many of the more ruggedly designed duffels on this list, the Gregory Stash is constructed with a little thinner 600D polyester on the body and 840D on the base. Additionally, Gregory kept things simple and did not include lash points or grab handles. As a result, this duffel is less outdoor-ready than we'd like—even a cheaper design like the REI Roadtripper offers more features (though without the backpack straps). That said, if you like the sleek look and low price, the Stash is a fine choice.  
See the Gregory Stash 65L
Duffel Bag Comparison Table
| Duffel | Price | Weight | Backpack | Denier | Capacities | Roller |
| --- | --- | --- | --- | --- | --- | --- |
| Patagonia Black Hole 60 | $129 | 2 lbs. 6 oz. | Yes | 900D | 30, 45, 60, 90, 120L | No (available) |
| The North Face Base Camp | $139 | 3 lbs. 8 oz. | Yes | 1000D | 31, 50, 71, 95, 132, 150L | No |
| Osprey Shuttle 100L | $290 | 8 lbs. 3 oz. | No | 420D | 100, 130L | Yes |
| REI Co-op Roadtripper 100L | $60 | 1 lb. 8 oz. | No | 610D | 40, 60, 100, 140L | No |
| Osprey Transporter 65 | $140 | 3 lbs. 2 oz. | Yes | 840D | 40, 65, 95, 130L | No |
| Eagle Creek Load Warrior | $239 | 4 lbs. 13 oz. | No | 420D | 42, 63L | Yes |
| Granite Gear 24" Packable | $60 | 1 lb. 8 oz. | Yes | 600D | 40, 60, 100, 140L | No |
| YETI Panga Submersible 75 | $350 | 6 lbs. 2 oz. | Yes | 1680D | 50, 75, 100L | No |
| North Face Rolling Thunder | $299 | 9 lbs. 14 oz. | No | 1000D | 33, 40, 80, 155L | Yes |
| REI Co-op Big Haul Duffel 40 | $90 | 2 lbs. 6 oz. | Yes | 400D | 45, 60, 90, 120L | No (available) |
| Filson Field Duffel Medium | $195 | 2 lbs. 3 oz. | No | 15 oz. | 32, 75L | No |
| Eagle Creek Cargo Hauler 60 | $99 | 1 lb. 12 oz. | Yes | 600D | 45, 60, 90, 120L | No (available) |
| Marmot Long Hauler Large | $139 | 2 lbs. 15 oz. | Yes | 600D | 35, 50, 75, 105L | No (available) |
| Gregory Alpaca 90 Duffel | $130 | 3 lbs. 15 oz. | Yes | 900D | 45, 60, 90, 120L | No |
| Hyperlite Dyneema Duffel | $525 | 2 lbs. 10 oz. | No | Unavail. | 140L | No |
| Thule Chasm 70L Duffel | $135 | 3 lbs. 11 oz. | Yes | 1000D | 40, 70, 90, 130L | No |
| SealLine WideMouth 80 | $110 | 2 lbs. 11 oz. | No | 19 oz. | 40, 80L | No |
| Gregory Stash 65L | $80 | 1 lb. 13 oz. | Yes | 600D | 45, 65, 95, 115L | No |
Duffel Bag Buying Advice
Duffel Bag Capacity (Liters)
Small: 25 to 50 liters
In terms of capacity, the duffels on this list range from 25 liters to a whopping 150 liters, so there's a bag to match every activity and intended use. For solo travelers on overnight and weekend trips where you won't be bringing a bunch of gear, a smaller duffel in the 25 to 40-liter range should do the trick. And a good number of these models are carry-on compatible, saving you the time and the potential cost of checking a bag (although some airlines are now charging fees for carry-ons too). For U.S. airlines, there isn't a universal carry-on size, but 22 x 14 x 9" is quite common (at the time of publication, these are the maximum dimensions for Delta, United, JetBlue, and others). It's worth noting that almost all carry-on compatible bags will advertise themselves as such, but the general cut-off is right around 40 liters.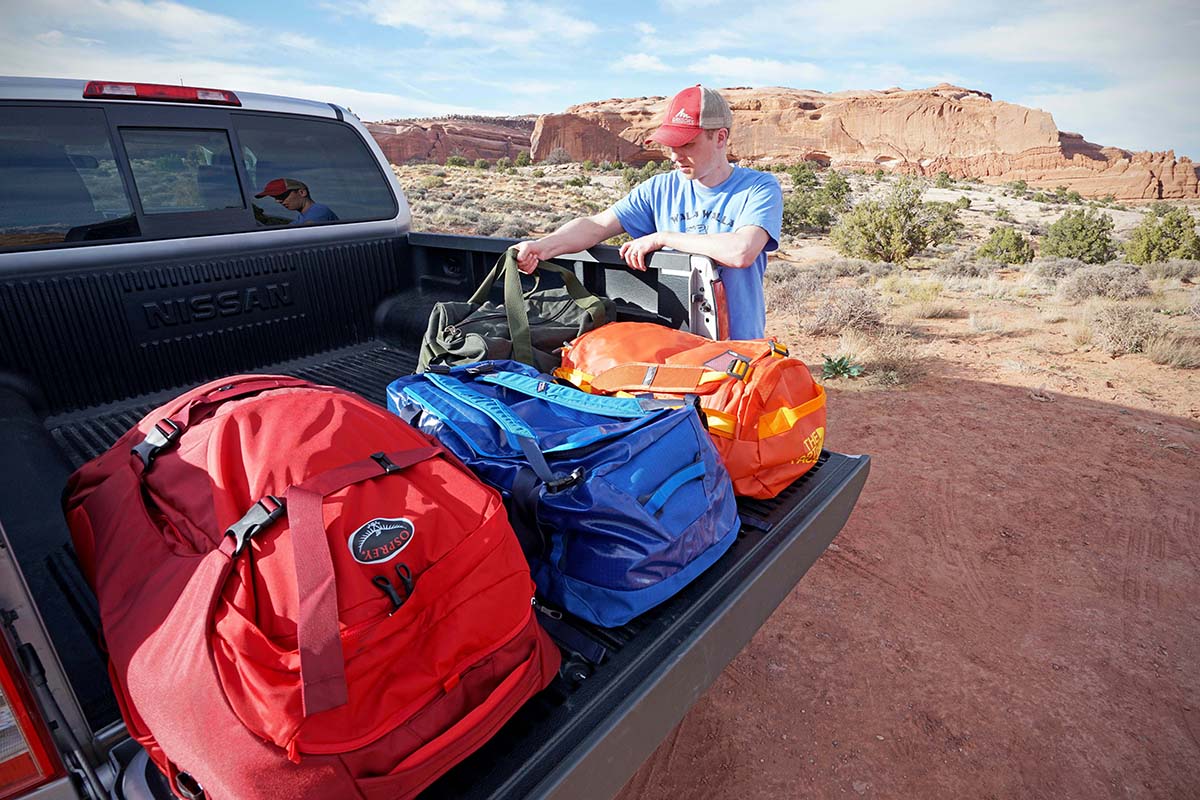 Medium: 50 to 75 liters
For most travel where you will be checking a bag but won't be bringing bulky outdoor gear, a medium duffel in the 50 to 75-liter range is a good match. For this reason, the 60-liter version often is the best seller of all: it's perfect for most trips ranging from short weekend excursions to one week or more. Of course, the right choice also depends on how much stuff you like to bring, but we find ourselves reaching for our 60-liter Patagonia Black Hole more than any other duffel in our closet.

Large: 75 liters+
Duffels that are 75 liters or larger are heavy haulers for longer trips, multiple people, and outdoor equipment (boots, backpacks, tents, etc.). When we fly to go backpacking, we love our 100-liter REI Co-op Roadtripper duffel: it can fit multiple empty backpacks, bulky footwear, and all of our extras. It's worth noting that these bags can get heavy fast depending on what you stow inside of them, so keep an eye out for total weight as you're packing. Clothing and most regular items should keep you below the 50-pound checked bag limit, but if you're packing anything particularly heavy, it can be an issue. And for serious outdoor and expedition use, duffels like The North Face Base Camp are made all the way up to 150 liters.
 
Duffel Categories: Travel/Casual, Outdoor, and Waterproof
Travel/Casual
For most types of travel, from a weekend at the cabin to an international trip, a casual duffel will do the trick. You still get plenty of features with these bags: backpack straps are common (more on that below), many have a water resistant finish for protection from light precipitation and wet ground, and organization can be good depending on the size. If you're strictly using your duffel for air travel, a roller duffel is a good option: it will allow you to move quickly through the airport without having to haul your bag on your back or shoulder.

Outdoor Duffels
Many duffels on this list are made by big outdoor brands like Patagonia, The North Face, Osprey, and Marmot. Outdoor use can vary substantially, from throwing your bag in the back of a truck to hardcore expeditions (often tied to the side of a horse or put in a sled). The good news is that like many types of gear, many outdoor-oriented duffels are tough but versatile and cross over nicely into everyday use. For example, the Patagonia Black Hole, our top pick, can be used from anything from serious outdoor use to standard air travel (and looks the part for both). Because of this versatility, outdoor brands dominate the duffel market.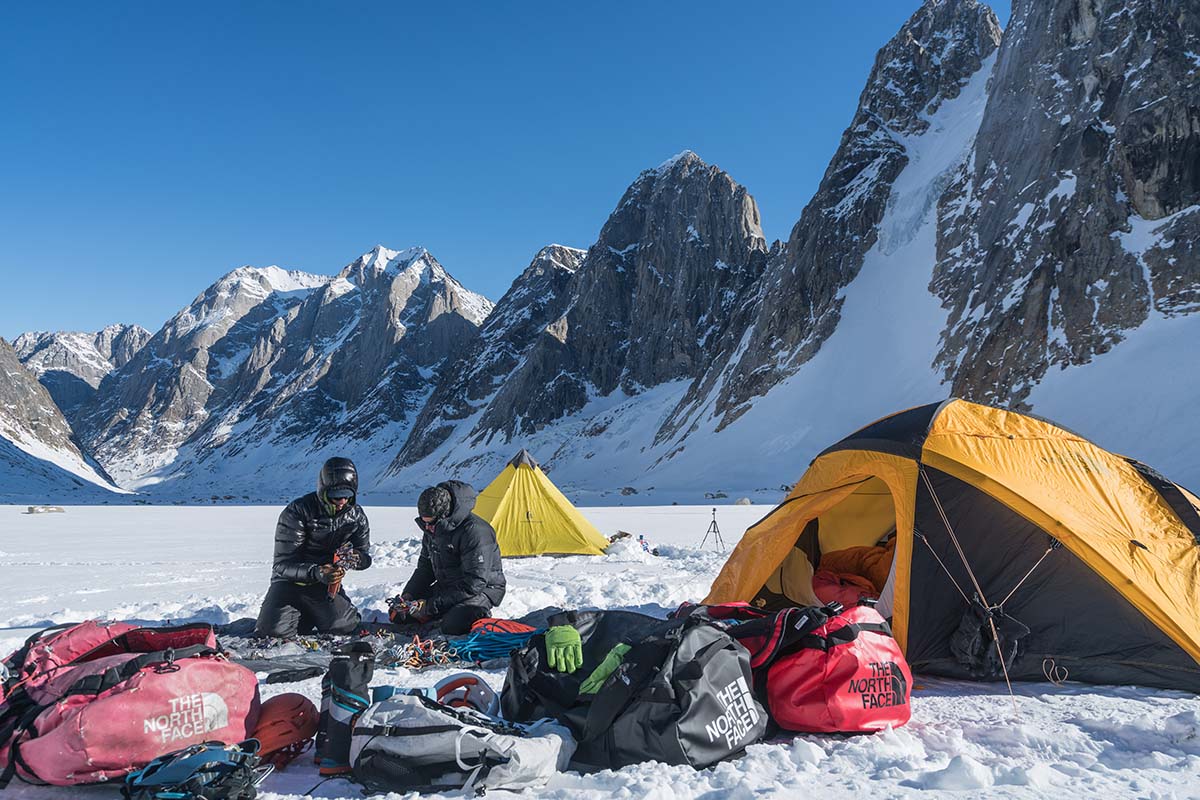 Waterproof Duffels
A small percentage of people want waterproof protection from their duffel (think rafters, fisherman, and backcountry winter adventurers). The market is limited, but two bags on the list are waterproof: the YETI Panga and SealLine WideMouth. The Panga is a beast of a bag, with the shape of a traditional duffel but with extra thick materials and a fully waterproof zipper. The SealLine, on the other hand, is a roll-top bag that more closely resembles a dry bag. And it's worth mentioning the Hyperlite Mountain Gear Dyneema Duffel, which is not waterproof but highly water resistant and surprisingly tough.
 
Roller (Wheeled) vs. Non-Roller Duffels
The roller duffel is one of those "have your cake and eat it too" scenarios for travelers wanting the ease of wheeling their bag with the packing convenience. We'll start by noting that roller duffels are quite popular, and particularly for air travel. You simply take the bag out of your car, wheel to check-in or your gate if it's a carry-on, and you're off. Roller duffels are ideal for those who don't want to carry their bag on their back or shoulder, and some of the smaller versions (in the 40-liter range and under) are carry-on compatible.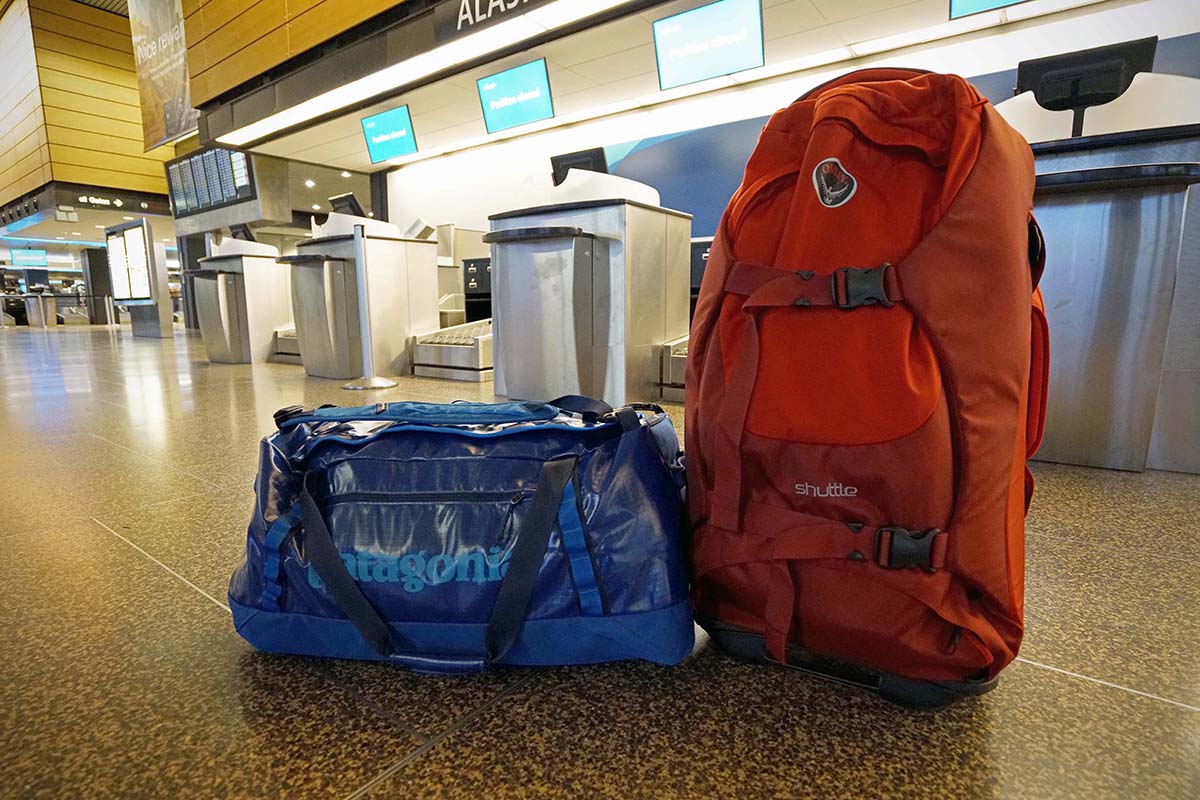 Roller duffels do have their limitations. First, rarely do roller duffels come with anything more than carry handles, making them difficult to transport in areas without a sufficient rolling surface (and no backpack straps, which we love). Second, cheaper or ultralight duffels have a tendency to fall over when full, which is something to be aware of when making a purchase (models like the Osprey Shuttle do not fall over, which makes them worth the extra cost in our opinion). Finally, roller duffels inherently have more breakable parts. Some duffels have replaceable wheels but many don't, which is a quick way to lose all of that easy transport functionality.
For uses like travel where you'll be moving around a lot—think backpacking through Europe—we prefer non-roller duffels. They're easy to grab and throw on your back, and you don't have to worry about the surface (if you've ever tried taking a roller duffel down a cobblestone street, you know what we're talking about). If you're primarily an air traveler and moving your bag long distances by vehicle, a roller duffel is a fine option, and you do get the added benefit of one hard side for protecting your belongings. For the purposes of this article and the picks above, we've included a handful of our favorite roller models, and some of the standard designs have wheeled versions available.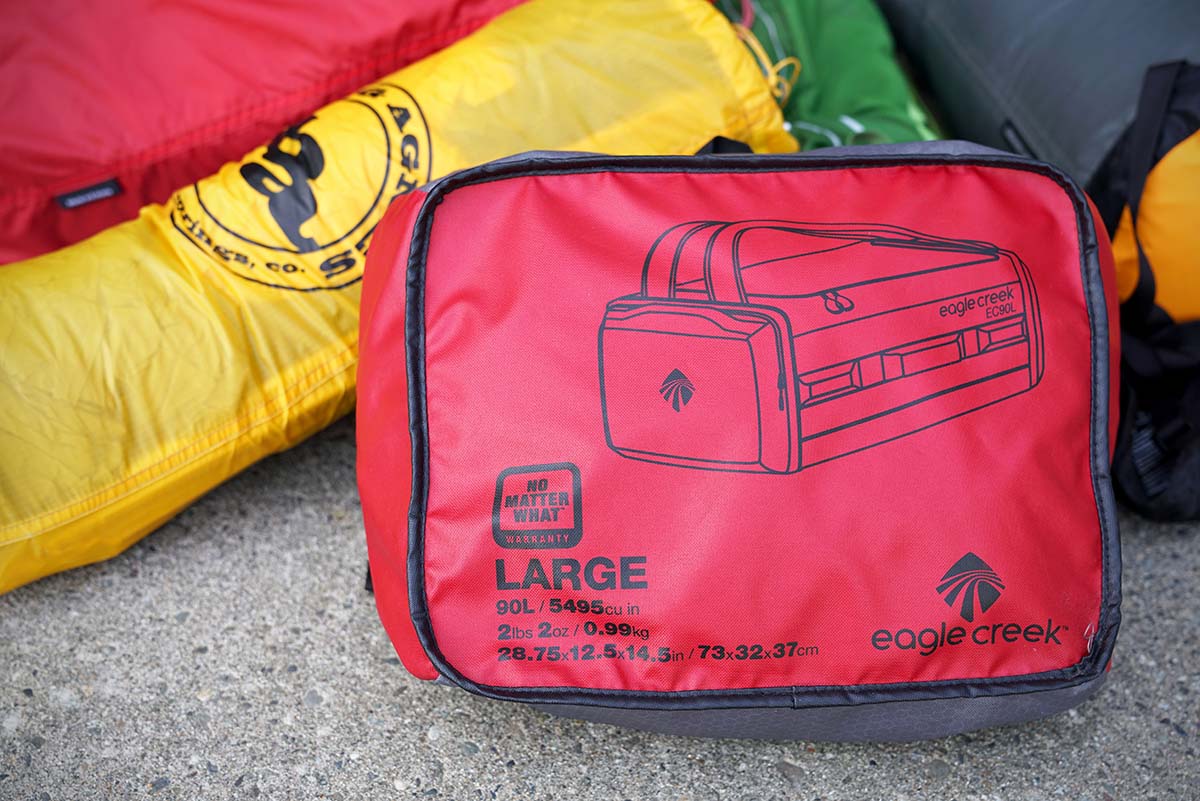 Carrying Options: Backpack Straps, Shoulder Straps, and Handles
We've all been there: clumsily dragging our bag across the airport lobby and cursing ourselves for not purchasing something with wheels. And if you're looking for a bag in the 60-liter range or larger, know that when it gets full, it's going to be heavy. The good news is that duffel manufacturers have gotten creative with designing bags that can be carried in a multitude of ways. Below are the main carrying options, and some fully-featured bags offer all four.

Backpack Straps
For those who are able to throw their bag over their back and walk with it, backpack straps are our preferred carrying method. Many of the high-end bags on this list have backpack straps that are lightly padded and often removable. One duffel in particular, the Osprey Transporter, has many similarities to an actual backpack and is great for those planning to cover longer distances. Keep in mind that carrying comfort does vary, which is one reason why some bags are ranked higher than others. When not in use, many backpack straps simply detach for storage in the main compartment (this keeps them out of airport conveyor belts). Sometimes, simply tightening down the straps flush to the bag can be enough.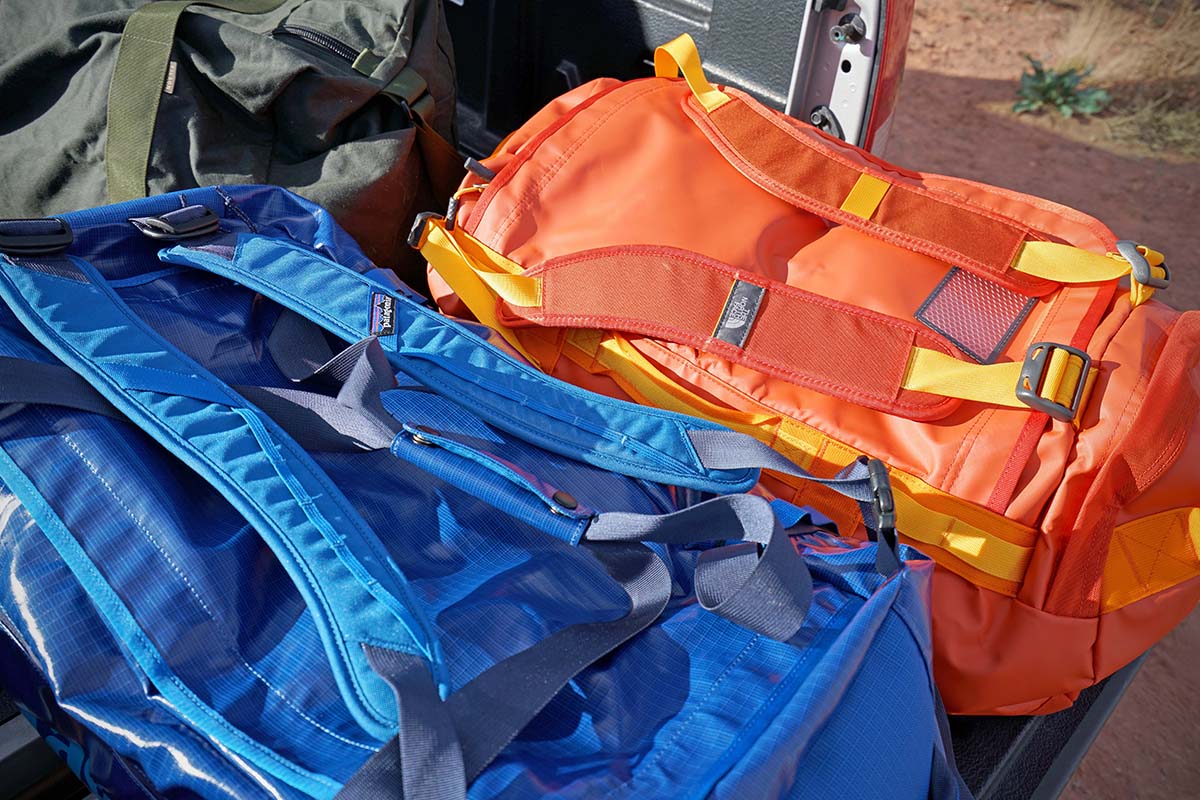 Shoulder Straps
Though less comfortable than backpack straps over extended periods, a single shoulder strap is a quick way to carry your duffel short distances. In particular, we like shoulder straps on smaller duffels that don't weigh a ton (they can start to get uncomfortable around the popular 60-liter range). Not all duffel bags come with shoulder straps, but we see them frequently on smaller capacity, travel-specific bags. Shoulder straps usually are removable, allowing you to streamline your duffel for transport.

Carry Handles
Most duffels have carry handles of some sort, whether they're dedicated straps or a simple padded handle connecting the backpack straps to each other. Carry handles are useful for picking up a bag and moving it a short distance, and they're great for carrying small capacity bags in one hand. Some duffels like Osprey Transporter omit carry handles altogether­ in favor of shoulder and backpack straps. This can make sense for big, heavy bags, but we still prefer having the option.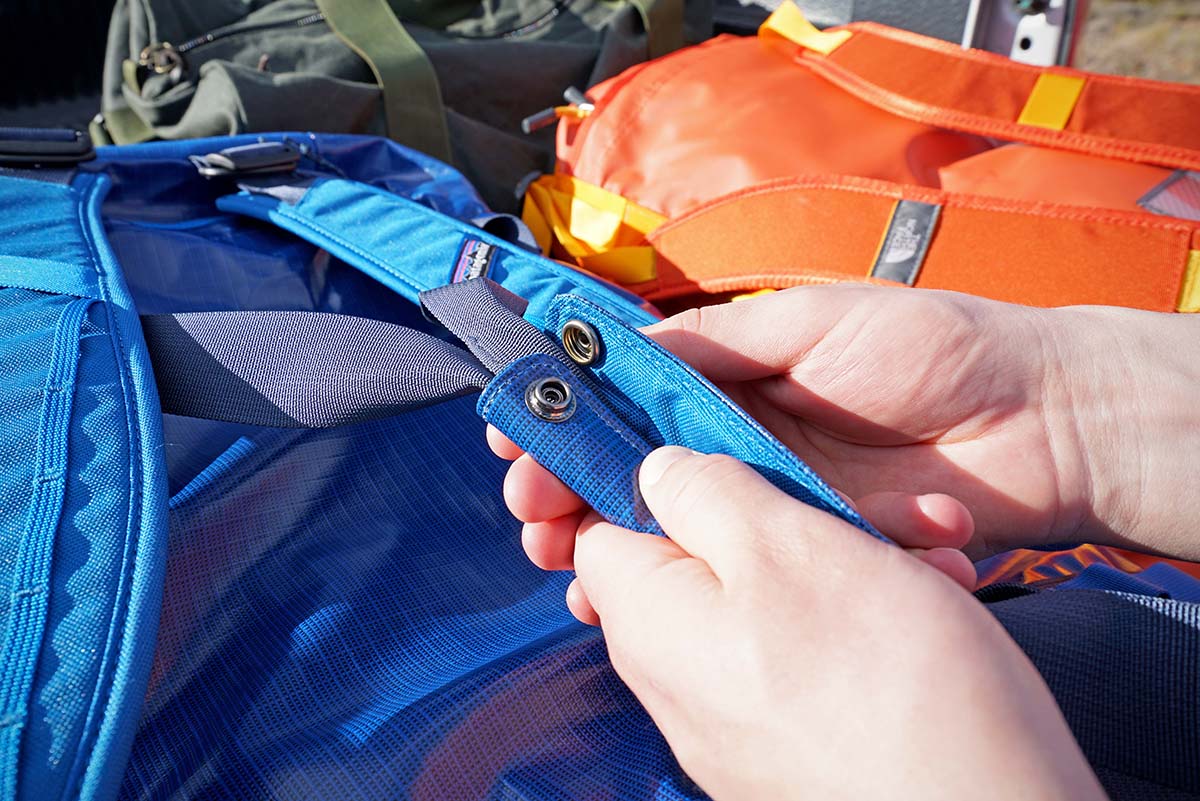 Grab Handles
Grab handles often are located on the ends or sides of a bag and sit close to the surface. Similar to carry handles, they are used to quickly lift or slide a duffel. Having a grab handle on each side is convenient when moving the bag around (think about grabbing it from the overhead bin of an airplane or the storage compartment on the bottom of a bus). We love grab handles: they are one the reasons that duffels are so versatile and easy to move around.
 
Durability (Denier)
We reference durability frequently in this article—everyone wants their investment to last. The most common way of measuring fabric strength is denier (D), and the higher the rating, the tougher the fabric will be. All deniers are not created equal, but this gives you a general idea of how two duffels stack up to each other in terms of toughness. When available, we've included the denier rating of each bag in our handy comparison table above, which range from 1000D for a bag like The North Face Base Camp down to 420D for the Eagle Creek Load Warrior. It's worth noting that the manufacturers sometimes provide two numbers, which refer to the different panels (usually the highest number is the bottom of the bag that is exposed to the ground, whereas the lower number are the sides and top). This number may not be the definitive factor in your buying decision, but it certainly can help tip the scales when choosing between two close competitors.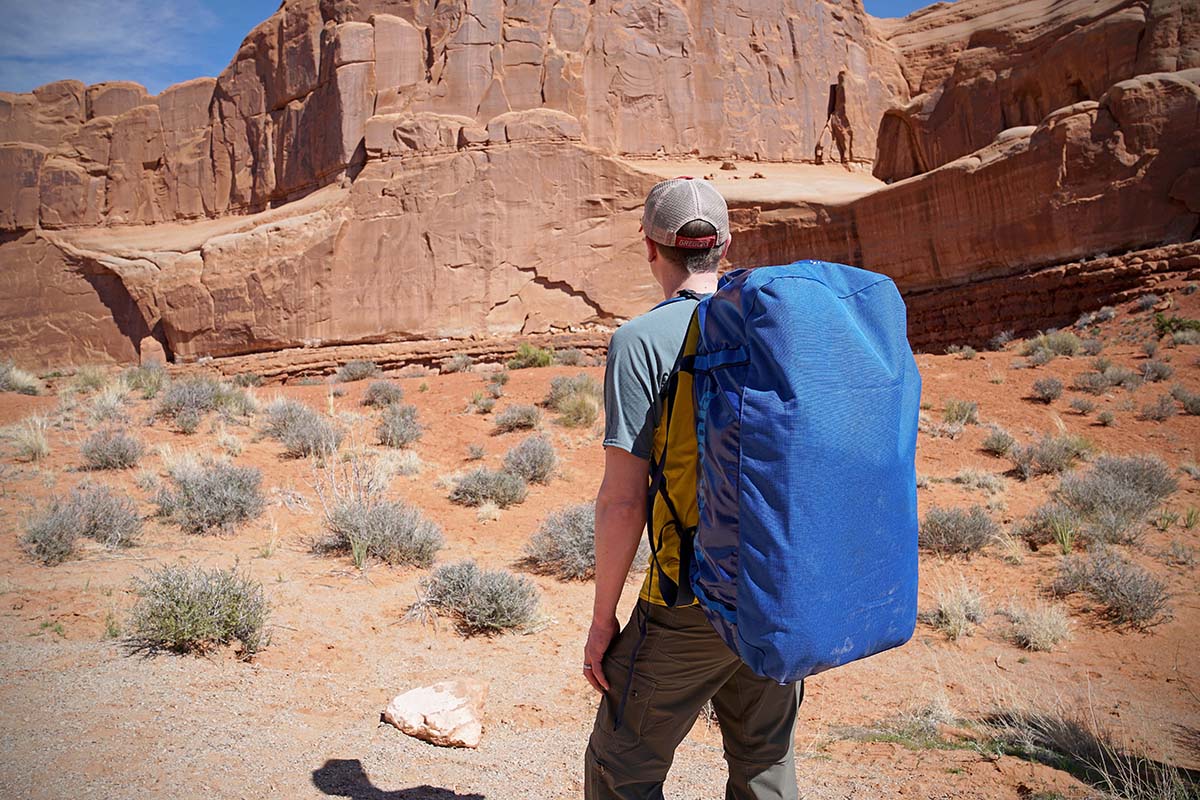 Water Resistance
Duffels advertised as "water resistant" are designed to keep your belongings protected from light rain and soggy ground. These models often cover their durable ripstop fabric with a laminate that keeps moisture from soaking in (often called a DWR treatment or something similar). A DWR treatment certainly is a nice feature for everyone using a duffel: the weather is unpredictable when traveling, you never know when your duffel might be sitting on the tarmac for a few extra minutes, and it's super helpful for outdoor use. In addition, some bags have flaps covering the zippers, which can be a point of weakness. Water resistant gear does have limitations: it should work well in light to moderate precipitation but eventually will soak through. 
As mentioned above, a few duffels on this list take it a step further. The YETI Panga and SealLine WideMouth are waterproof, and the YETI can even be submerged (no guarantees, but your stuff should come out dry). In addition, the Dyneema fabric used on the Hyperlite Mountain Gear Duffel is naturally water resistant and does a really nice job in this regard. All things considered, a waterproof duffel is essential for water sports but overkill for travelers who stick to land.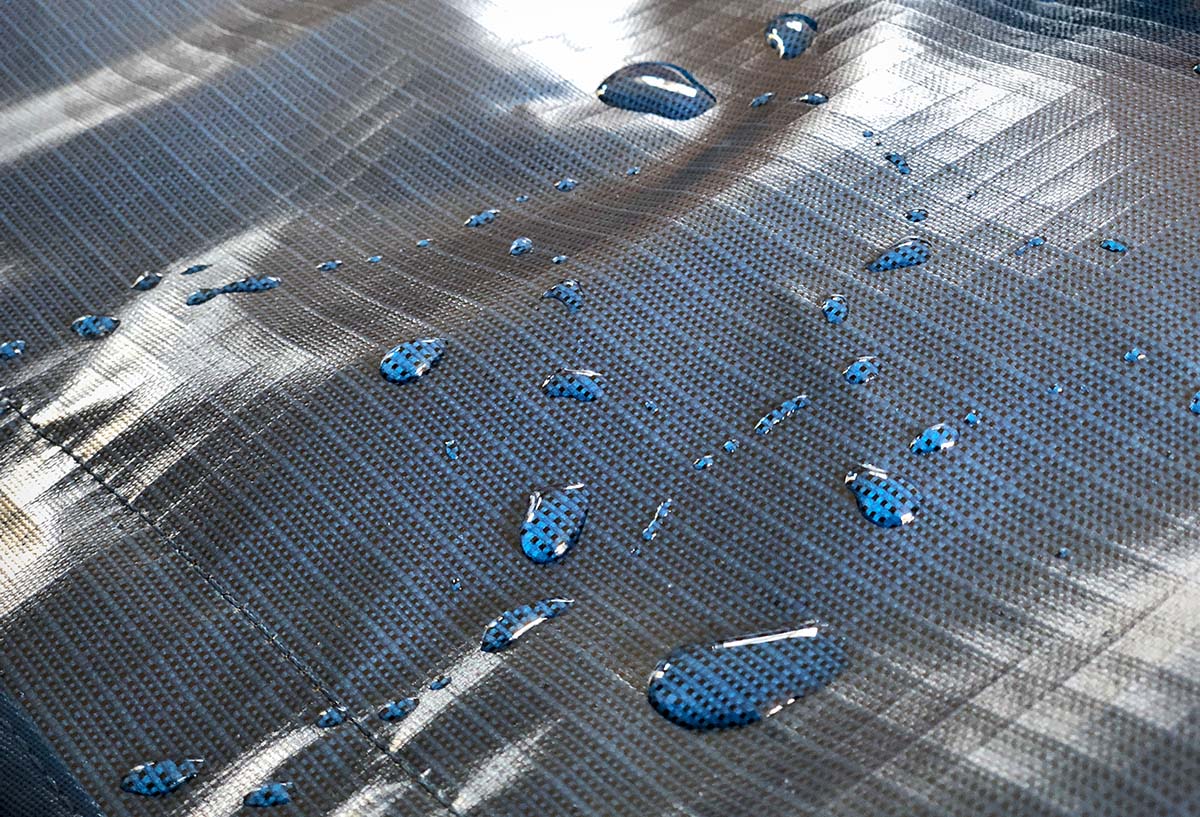 Weight
Some travelers may not care about the weight of their duffel, but for others it's a factor, and particularly with heavier rolling models. Most non-wheeled duffels weigh just a few pounds or less, which makes them easy to carry, throw in your car, and store when not in use. Rolling duffels, on the other hand, tend to get a bit heavy. For example, The North Face Rolling Thunder weighs 9 pounds 14 ounces empty for the 80-liter version, which already accounts for almost 20% of the standard 50-pound limit for checked bags. And the Osprey Shuttle weighs 8 pounds 3 ounces but has a larger capacity at 100 liters (and comes in a massive 130-liter version). We can tell you that a loaded Osprey Shuttle 100L with things like shoes can get awfully close to the 50 pounds: we've been in the high 40s on a number of occasions. It's also worth noting that a 45-pound bag isn't the easiest to get in and out of your car or up a flight of stairs.
 
U-Shaped Zipper Access
Before you purchase a duffel, make sure you know what kind of access you'll need. Will you be living out of your bag while traveling or simply unpacking at your destination? How bulky are the belongings that you'll put inside? How full are you planning to stuff your duffel?
Hands down, the easiest duffels to pack, unpack, and rummage around in are those with a large, U-shaped opening. Duffels such as the Patagonia Black Hole feature this design: a zippered flap extends around three of the four sides of the top of the duffel and opens to reveal most of the contents. These bags provide easy access whether in a hotel, tent, or on the road. Other bags, such as the Filson Field Duffel, open in a more traditional style, with one zipper that extends across the top of the bag. With a smaller opening, access to the contents is more limited, and especially when full (this means more rummaging and disorganization). If you're looking to prioritize convenience above all else, large roller duffels like the Osprey Shuttle offer the most rigid structure and largest opening for packing and unpacking.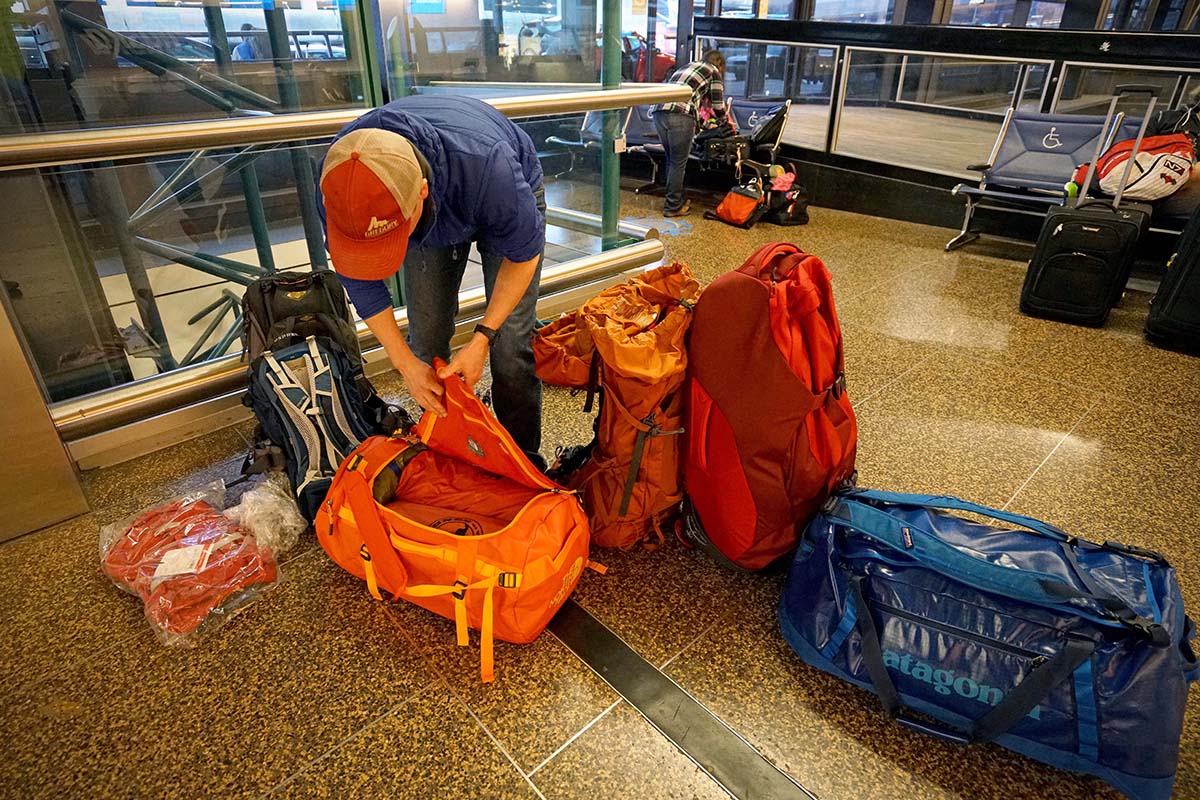 Pockets & Organization
When choosing a duffel, consider how much you'll want access to your belongings as you travel. The most streamlined models feature one large compartment with no internal organization (the REI Roadtripper, for example), while more fully-featured designs include handy external pockets for small items or padded compartments for a tablet or computer. Rolling duffels such as the Osprey Shuttle are downright luxurious, with numerous external pockets and internal dividers to help you organize your clothing inside (it even includes an expandable external pocket so you can separate dirty clothes or hiking shoes from the rest of your belongings). For travelers, we think that at least one external pocket is nice to separate out your smaller essentials.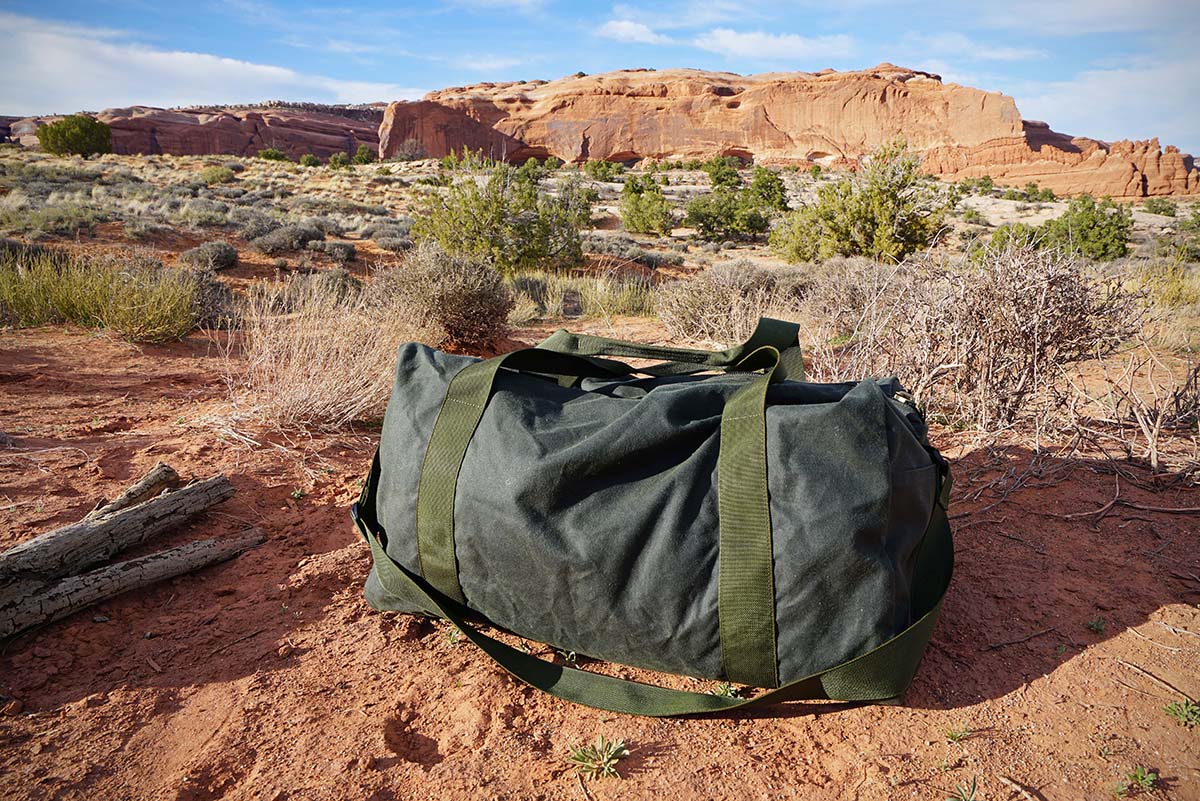 Compression Straps
Compression straps, both internal and external, can help make a duffel's load more compact. Internal straps remove strain from the zipper and compress your gear inside the duffel to keep it from shifting during transit. We see these on models like the Patagonia Black Hole and Hyperlite Mountain Gear Dyneema Duffel. External compression straps can be on the ends (such as with the Gregory Stash) or sides (The North Face Base Camp) and tighten the duffel after the zipper has been shut. External straps are especially useful on large duffels that might not be stuffed to capacity, and they help make your bag less unruly for travel. Additionally, if you plan on frequently carrying your duffel as a backpack, we encourage you to consider a model with compression straps—it makes the whole operation a lot more comfortable.
 
Daisy Chains (Lash Points)
Last by not least, if you're using your duffel primarily to transport your belongings via plane, train, or automobile, you're probably wondering why you might need the daisy chains lining the exterior. However, put your pack in a raft, saddle it to a mule, or on the roof of your van, and you'll wonder how you ever got by without them. Not all duffels come with daisy chains (a.k.a. lash points) and some have more than others. If you know that you'll need to secure your duffel for a wild ride, definitely be on the lookout for a bag that sports plenty of reinforced lash points. The most outdoorsy the bag, the more likely it is to be lined with daisy chains.
Back to Our Top Duffel Bag Picks  Back to Our Duffel Bag Comparison Table
Read More From Switchback Travel