Norway usually isn't listed among the world's premier hiking destinations. It should be. Few countries manage the outdoors as well—the open spaces are big, the trails are meticulously marked and mapped, and the public huts are quite simply the best in the world. For perspective, take the small, privately funded mountain clubs of the United States and Western Europe and transpose that level of quality throughout all of Norway.
 
Norway is Vastly Underappreciated
Despite world-class hiking infrastructure, Norway is still an off the beaten path destination. People don't realize how mountainous Norway is (it's home to the vast majority of Northern Europe's mountains and the highest), how dramatic the coastline is (the fjords are only the beginning), and how few people there are (the total population of Norway is less than 5 million). And unlike most truly wild places, menacing bears and blood-sucking mosquitoes aren't major points of concern.
 
Red "T" and the Master Key
For over 140 years, the Norwegian Trekking Association (DNT) has maintained the country's trails and cabins, with an impressive 240,000 members and counting. Throughout the countryside and wilderness ubiquitous red T's mark the trails. Hikers navigate from one T to the next and major intersections are marked with signs.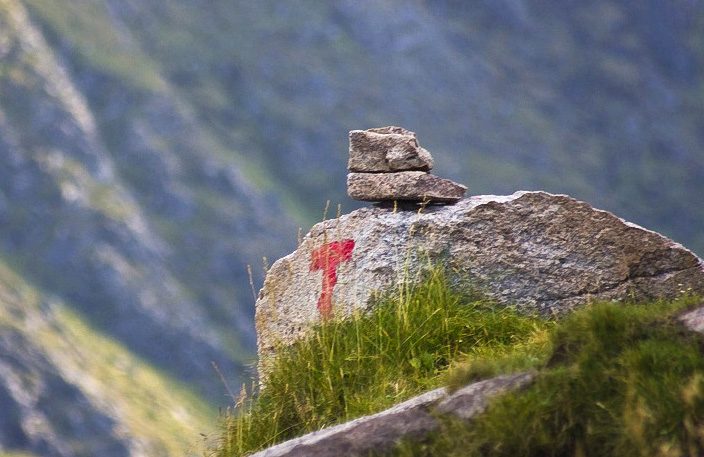 The 460 DNT cabins in Norway fall into three categories: staffed, self-service, and no-service. Staffed cabins offer amenities like hot showers and prepared meals with beer and wine. Self-service huts are stocked with food, beverages such as coffee and hot chocolate, and other supplies. No-service huts require hikers to carry food but provide gas stoves and kitchenware. All huts have beds and duvets—visitors required to bring a silk sleep sack. Being Norway, payment by credit card is available at the huts, and everything is on the honor system.
This system of public huts means that hikers only need to carry a daypack with essentials like a map, water, snacks, and rain gear. The lighter weight is more comfortable and greater distances can be covered.
 
Hiking Maps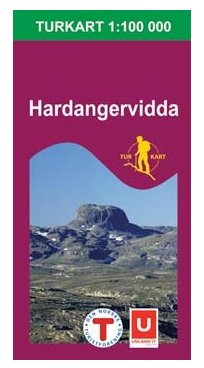 Norway has excellent hiking maps or "Turkart" published by the DNT (Norwegian Trekking Association). These topography maps cover all areas of the country and the majority come in the following scales: 1:25,000, 1:50,000, and 1:100,000. For hiking and other outdoor pursuits, the DNT maps have everything you need including the trails, huts, and estimated times. They are pricey, costing about $20-25 USD each, but are excellent maps and have a light plastic coating that is great for the outdoors.
Surprisingly, Norway has not set up an online store for people outside of the Nordic countries to order DNT maps. The DNT Oslo online allows you to browse the maps, but for shipping outside Norway, Sweden, Denmark, and Finland, you must email your shipping information and the requested maps to [email protected]. Of course, the DNT office will be efficient and helpful over email.
If you don't mind waiting until you arrive in Norway to buy maps, the DNT Oslo (located downtown at Storgata 3) has all country maps and staff on hand to answer questions. When traveling in other parts of the country, many of the accommodations, tourist-related businesses, and even grocery stores will sell maps specific to that area.
 
Norway Weather
One clear downside to hiking in Norway is the weather. The Gulf Stream warms the western portion of the country—the average temperatures in those regions are considerably warmer than similar latitudes like Alaska and Siberia—but rain and clouds are consistently part of the Norwegian landscape. The summer months of May through September bring many clear, superb days along with a number of less than perfect days. The huts allay bad conditions with drying rooms and warm fires; if you come equipped with proper gear the weather shouldn't be a major deterrent.
 
Landscape
When planning a hiking trip to Norway make sure to become familiar with the different regions. In reality, the whole country is fit for walking—it is said that one can hike its entire length from north to south exclusively by way of public huts—but the terrain and difficulty vary from place to place.
Popular tourist destinations such as the cities and major fjords have a number of easily accessible shorter walks. Regions such as the Jotunheimen, Hardangervidda, and Dovrefjell are known for challenging multi-day treks, but they too have plenty of less strenuous options. Even the Lofoten Islands above the Arctic Circle offer the full gamut of hiking opportunities. Soak up the available resources but don't be afraid to grab a map and customize your own hike—in Norway open spaces and trails abound.