The "W" Circuit in Torres del Paine is Patagonia's most famous trek and often gets mentioned among the world's top trails. Over the course of 4 to 6 days—depending on your specific route and hiking speed—the 60-plus kilometer "W" makes its way through the heart of the stunning Cordillera del Paine, including the famed rock formations of the Torres (Towers) del Paine and the Cuernos (Horns) del Paine.
The "W" route mirrors the shape of the letter, stretching from Refugio Grey to Campamento Torres with the Valle de Frances in the middle. The trek can be done in either direction; most start at the Laguna Amarga ranger station or Refugio Lago Pehoe, the drop-off point for the catamaran.
Trekkers on the "W" can choose between camping, staying in refugios (large cabins with accommodations, food, and other infrastructure), or a combination. In recent years, refugios have begun offering tent and sleeping bag rentals and packed lunches. This means that even if you want to camp on the "W," you won't necessarily have to bring all your own gear.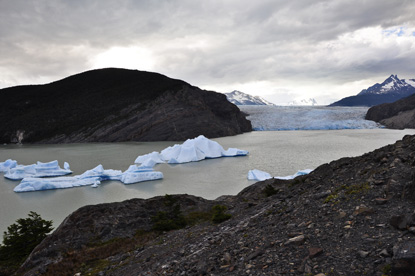 The "W" Circuit is a shorter version of the longer "O" Circuit (6–10 days) that makes its way through the entirety of the Cordillera del Paine. The "O" is the full loop—the "W" plus the more remote backside that gets fewer trekkers. Both are popular and crowded during the peak season, the "W" in particular. Refugios and campgrounds are packed on a nightly basis.
2012 Fire
In 2012, a devastating fire started by an irresponsible camper ripped through the western portion of the park. Approximately 40% of the "W" passes through affected zones—from Refugio Grey to Valle Frances. The fire burned grasses, shrubs, and many larger trees. Burned areas don't affect the big mountain views that make the hike famous and shouldn't be prohibitive in making the trip, but trekkers will be reminded of the fire for many years to come.