Canon continues its popular line of Rebel DSLR cameras with the new T6i and T6s. The most notable improvement on both versions is the 24.2-megapixel image sensor, which represents a 6-megapixel jump from the T5i and T4i. Canon also improved the autofocus and added Wi-Fi capability for uploading and sharing photos. The T6s is very similar to the T6i but with a handful of added features like an eye sensor for the optical viewfinder and a quick control dial. Below we break down the best lenses for the T6i and T6s, from kit and wide-angle to telephoto zoom.
Canon Rebel T6i Kit Lenses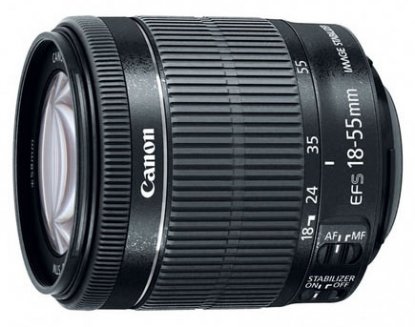 Weight: 7.2 oz.
Max Aperture: f/3.5
Pros: Great for video and lightweight. 
Cons: Some distortion at the wide end.
Canon continues to make video a top priority, evidenced by the two kit lenses offered with the T6i and T6s. Both lenses use STM (Stepping Motor technology), which is smoother and quieter when shooting video than comparable non-STM lenses. In addition, the 18-55mm IS STM is an upgrade optically from the kit lenses of old, with less distortion and sharper photos in general. The lens comes with image stabilization for better hand-held photos when natural light is low and weighs a feathery 7.2 ounces. For video shooters and those getting started with the T6i, the 18-55mm STM kit is a great choice. 
See the Canon 18-55mm Kit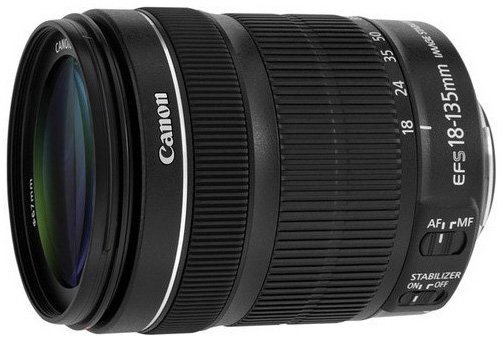 Weight: 17 oz.
Max Aperture: f/3.5
Pros: Great versatility and image quality.
Cons: Nearly 10 ounces heavier than the 18-55mm STM above.

The 18-55mm STM above is a good walk-around lens but doesn't offer nearly the same focal length range as the 18-135mm STM. With this lens you'll have virtually all your photo and video needs covered from wide-angle to medium telephoto, including a very healthy range for portraits and travel. If you tack on the 55-250mm for about $150 more, you will have a good lens choice for almost all situations. Keep in mind that the 18-135mm STM is more than double the weight of the 18-55mm STM and $200 more for the kit. It does have the same STM (Stepping Motor technology) for silent and smooth video.
See the Canon 18-135mm Kit
Wide-Angle Lenses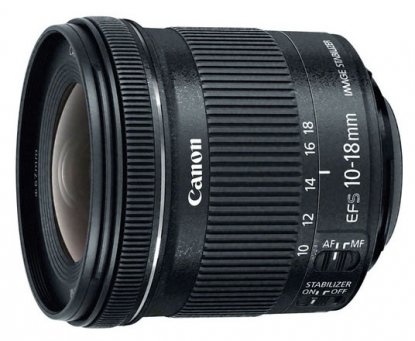 Weight: 8.5 oz.
Max aperture: f/4
Pros: Light, sharp, and cheap for a wide-angle lens.
Cons: Plastic construction and low light performance.

Released in 2014, Canon hit it out of the park with the 10-18mm f/4.5-5.6 IS STM, finally satisfying those who don't want to spend big bucks on a wide-angle lens. The 10-18mm is sharp, light, exceptionally cheap for a wide-angle zoom, and has a quiet STM motor for shooting video. With a useful focal length range of 16-28.8mm on a 35mm camera, this lens is a winner in our book. The maximum aperture of f/4-5.6 isn't optimal in low light, but the lens does have four stops of image stabilization to help. For true wide-angle specialists, the Canon 10-22mm below still is a viable option, albeit a pricey one.
See the Canon 10-18mm STM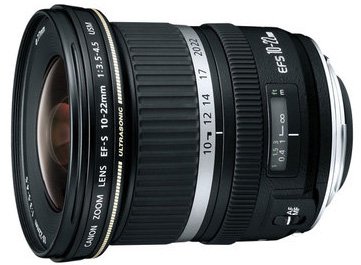 Weight: 13.6 oz.
Max Aperture: f/3.5
Pros: Better low light performance than the Canon 10-18mm above. 
Cons: Expensive.
From an image quality standpoint, the Canon 10-22mm USM is slightly superior to the 10-18mm lens above. The biggest differences are low light performance, where the 10-22mm is faster, and the extra reach at 22mm (equivalent to a 35mm normal field of view). However, it's now a whole lot tougher to pick the 10-22mm given the large disparity in price. If you value the wider maximum aperture or extra zoom, go with the 10-22mm. But for most photographers including amateurs looking for a good wide-angle walk-around lens, the new 10-18mm is a better value and shoots superior video with its STM motor.
See the Canon 10-22mm USM

 
Portrait and Travel Lenses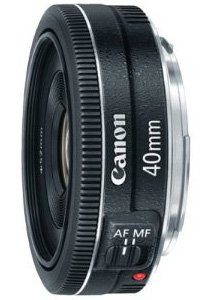 Weight: 4.6 oz.
Max Aperture: f/2.8
Pros: Video quality and compact design.
Cons: 40mm isn't the most commonly used focal length.

You won't find many pancake lenses for DSLRs—they are much more common on mirrorless camera systems—making the Canon 40mm f/2.8 STM an intriguing option. With its ultra-low profile design, the 40mm f/2.8 STM boasts a very low carrying weight of 4.6 ounces yet produces exceptional images with almost no distortion. It also features an STM motor for those who plan on shooting video with the T6i/T6s. One shortcoming of this lens is the autofocus, which can be slow on occasion. And the focal length is equivalent to 64mm on the T6i, which is great for portraits but not ideal for most travel and street photography.
See the Canon 40mm STM

 
Weight: 4.6 oz.
Max Aperture: f/1.8
Pros: Sharp and fast.
Cons: Plastic build and mount.

The 50mm f/1.8 is one the biggest sellers and best values of any Canon lens. Why is it so popular? It truly checks all of the boxes: it's sharp, fast, lightweight and cheap. For virtually any type of people photos, the 50mm f/1.8 makes an excellent addition to your T6i/T6s kit (it will far outperform the kit lens at 50mm). At this low of a price point, it's no surprise that the lens is constructed mostly of plastic, but the optical performance is impressive for the price and it's a fun lens to have in your bag. For even better low light performance and bokeh, try the Canon 50mm f/1.4.
See the Canon 50mm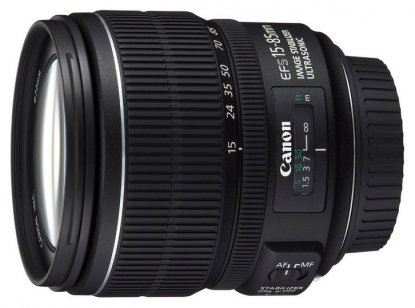 Weight: 20.3 oz.
Max Aperture: f/3.5
What we like: Versatile and sharp.
What we don't: Pricey and a bit on the heavy side.
For those who forego the kit lenses, the Canon 15-85mm f/3.5-5.6 is the leading walk-around zoom. Instead of carrying around and switching out multiple primes, the 15-85mm covers an impressive spectrum of focal lengths from wide-angle to medium telephoto (it's equivalent to 24-136mm on a 35mm camera). Compared to the STM kit lenses above, you also get extra wide-angle capability and a nifty manual focus override function. The 15-85mm is pricey at nearly $800 and does not have a Stepping Motor for video, but we love it for still photographers who want premium image quality with the Canon T6i or T6s.
See the Canon 15-85mm USM

 
Macro Lenses
Weight: 11.8 oz.
Max Aperture: f/2.8
Pros: Very sharp for a macro lens.
Cons: Autofocus can be slow.
For macro photography with the T6i/T6s, you have two main options: the 60mm f/2.8 and 100mm f/2.8 below. Given the similarities in price, the choice should come down to your preferred macro focal length (how close to your subjects you intend to shoot). If you can give a little distance, the 60mm f/2.8 is sharp, reasonably light at less than 12 ounces, and captures great images with an equivalent focal length of 96mm. One shortcoming is that the autofocus can hunt on occasion, but you can easily switch over to manual focus when necessary. For more reach, try the Canon EF 100mm f/2.8 Macro USM below.
See the Canon EF-S 60mm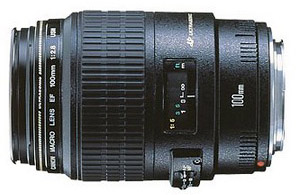 Weight: 20.5 oz.
Max Aperture: f/2.8
Pros: A terrific portrait lens. 
Cons: Heavy at over 20 ounces.
The second macro lens option for the T6i/T6s is the 100mm f/2.8 STM, which is ideal for portraits (and head shots in particular). Like the 60mm f/2.8 Macro above, this lens offers solid sharpness, good low light performance, and a durable build that should last for years. The 100mm f/2.8 is significantly heavier than the 60mm at over 20 ounces and longer at nearly 5 inches, but it's hard to argue with the image quality. All in all, if you balance the optics with the fact that you can also use it on full-frame Canon cameras (it's an EF-mount lens), it's a good value as well. 
See the Canon 100mm USM

 
Telephoto Lenses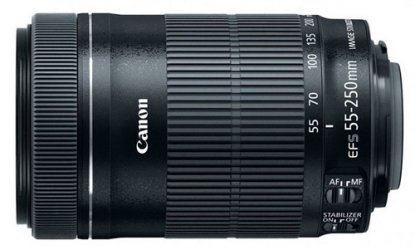 Weight: 13.3 oz.
Max Aperture: f/4
Pros: Good autofocus for a telephoto zoom.
Cons: Low light performance.
Canon has discontinued the old 55-250mm f/4.0-5.6 IS II in favor of this STM version (see the video trend here?). The changes are positive: the new 55-250mm has better optical performance for both stills and video including a Stepping Motor. All in all, we think it's the best telephoto zoom for the Rebel T6i/T6s and a great lens to have in your bag even if you don't do a ton of telephoto photography. For a discount, this lens is available in kits with both the 18-55mm STM and the 18-135mm STM as an add-on (this makes it roughly $150 instead of $300). For the T6i/T6s we would pass on a pricier telephoto like the Canon 70-300mm f/4-5.6 IS unless you own full-frame cameras as well.
See the Canon 55-250mm STM
All-In-One Lenses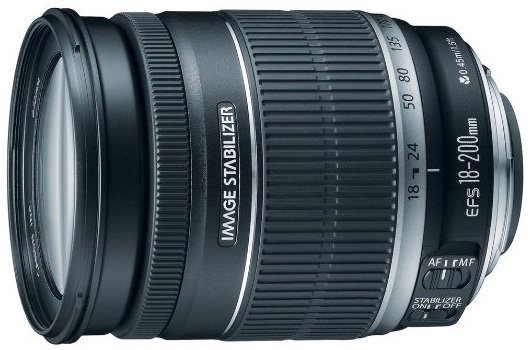 Weight: 21 oz.
Max Aperture: f/3.5
Pros: A do-it-all Canon lens at a reasonable price.
Cons: Distortion and autofocus can be slow.
All-in-one lenses are slowly losing favor with the improvement and proliferation of zoom lenses in general. But if you want one lens that does it all, the Canon 18-200mm f/3.5-5.6 covers the focal length spectrum from wide-angle to telephoto (and everything in between). This lens was designed to go head-to-head with the popular Nikon 18-200mm, and although it's a good lens overall, it does have some quirks. For example, the manual focus ring turns when autofocus is in use, which can make holding the lens a bit awkward. The optics are impressive, however, and we like the price too.
See the Canon 18-200mm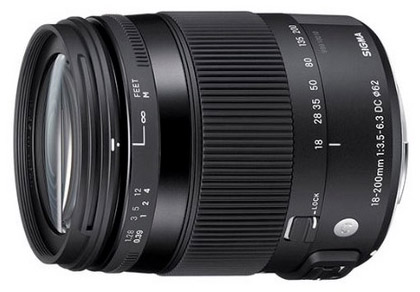 Weight: 15.2 oz.
Max Aperture: f/3.5
Pros: A great value.
Cons: Slower at the telephoto end than the Canon 18-200mm above. 
We tend to favor Canon lenses over third-party options, but not necessarily in this case. For an all-in-one lens on a budget, the Sigma 18-200mm f/3.5-6.3 offers comparable image quality for about $300 less. The lens is a bit slower at the telephoto end with a maximum aperture of f/6.3 instead of f/5.6, and the build quality isn't quite as durable as you expect from Canon lenses. But the lens is sharp and the autofocus is surprisingly fast and accurate for a lens of this type. At only $399, it's an attractive all-in-one option to pair with the Canon T6i/T6s.
See the Sigma 18-200mm


Canon T6i/T6s Lens Comparison Table
Zoom or Prime?
Zoom lenses are more versatile than prime lenses, covering a spread of focal lengths so that don't have to change lenses as frequently (you can even get an all-in-one lens like the Canon 18-200mm and Sigma 18-200mm). Generally, zoom lenses also don't perform as well in low light and have some distortion at the ends of their zoom range. Distortion is relatively easy to fix with most photo software, and new to the T6i/T6s is a built-in distortion correction mode so it can be done automatically in camera. 
For amateur photographers and uses like travel, zoom lenses are a great choice. They have improved in quality in recent years and the 18-55mm and 18-135mm STM kit lenses offered with the T6i and T6s are very respectable. If there is a specific focal length that you plan on using frequently, adding a prime or specialty lens to your bag is a logical choice. For example, portrait shooters should strongly consider adding the Canon 40mm f/2.8 or Canon 50mm f/1.8. Both are relatively inexpensive and will perform far better at their respective focal lengths than the kit lenses. 
Canon also offers some high-end zooms for those who still want the convenience and don't mind the higher price. For example, the 15-85mm f/3.5-5.6 is an excellent zoom lens and a noticeable step up from the kit lenses (aside from the lack of a Stepping Motor). Canon even makes a 17-55mm f/2.8 for those who essentially want a pro version of the 18-55mm kit lens, although it was too expensive for us to recommend it on our list. 
What About Third-Party Lenses?
The majority of the best lens options for the T6i and T6s are manufactured by Canon, but there are some interesting third-party options to consider. Sigma in particular has done a nice job creating lenses that are either cheaper than the Canon options or more unique in their focal length coverage. The only third-party lens to make our list here was the Sigma 18-200mm f/3.5-6.3 OS, which is a great value for an all-in-one lens. Tamron also has some lens options that are shockingly cheap but none made the cut in this instance.
In general, the build quality of third-party lenses isn't quite as good as Canon and they won't last as long. Sigma, for example, often uses a composite material for the lens barrel than isn't as durable as the metal or plastic that Canon uses. And given that Sigma often makes one lens with different mounts for a variety of camera types, the lenses often don't feel as intuitive with the camera. 
An interesting trend is that the big manufacturers like Canon and Nikon may start attacking the third parties with competing lenses. The new Canon 10-18mm f/4.5-5.6 is extremely cheap for a wide-angle zoom at $299. In fact, we used to recommend the Sigma 10-20mm f/4-5.6 as a value wide-angle zoom for cameras like the T6i and T6s, but Canon came in $100 cheaper with its latest version.