Arc'teryx's Thorium AR ("all round") Hoody slots below the performance-oriented Cerium LT as the brand's do-everything down layer. Eager to test this claim, I wore the women's Thorium regularly to and from work, out for coffee and dinner, while walking my dog, and as both an outer- and midlayer while backcountry skiing. In the end, I had few complaints—the Thorium works well for both everyday and performance use, offers solid warmth and weather protection, and features the superior build quality and clean styling we've come to expect from Arc'teryx. Below we break down our experiences with the Thorium AR. To see how it stacks up against the competition, see our articles on the best down jackets and best women's down jackets.
 
---
Table of Contents
---

Performance
Warmth
With a mixture of 750-fill-power goose down for warmth and Coreloft synthetic insulation for wet-weather performance, the Thorium AR has done impressively well in the cold and wet Pacific Northwest. This hybrid construction—known as Down Composite Mapping—is Arc'teryx's way of mixing the best of both worlds: 80- and 140-gram synthetic insulation can be found in the moisture-prone areas of the jacket like the hood, cuffs, and under the arms, while warmer and more insulative down (3.7 ounces total) is used in the sleeves and around the torso. As we've mentioned before, one of the major benefits of synthetic insulation is its ability to retain loft and insulating power when wet. Thus, the jacket's true test was braving the "wet cold" of British Columbia, and last year in particular was rife with damp, rainy, frigid conditions. That said, the Thorium has effectively combatted moisture and simultaneously kept me cozy all season long.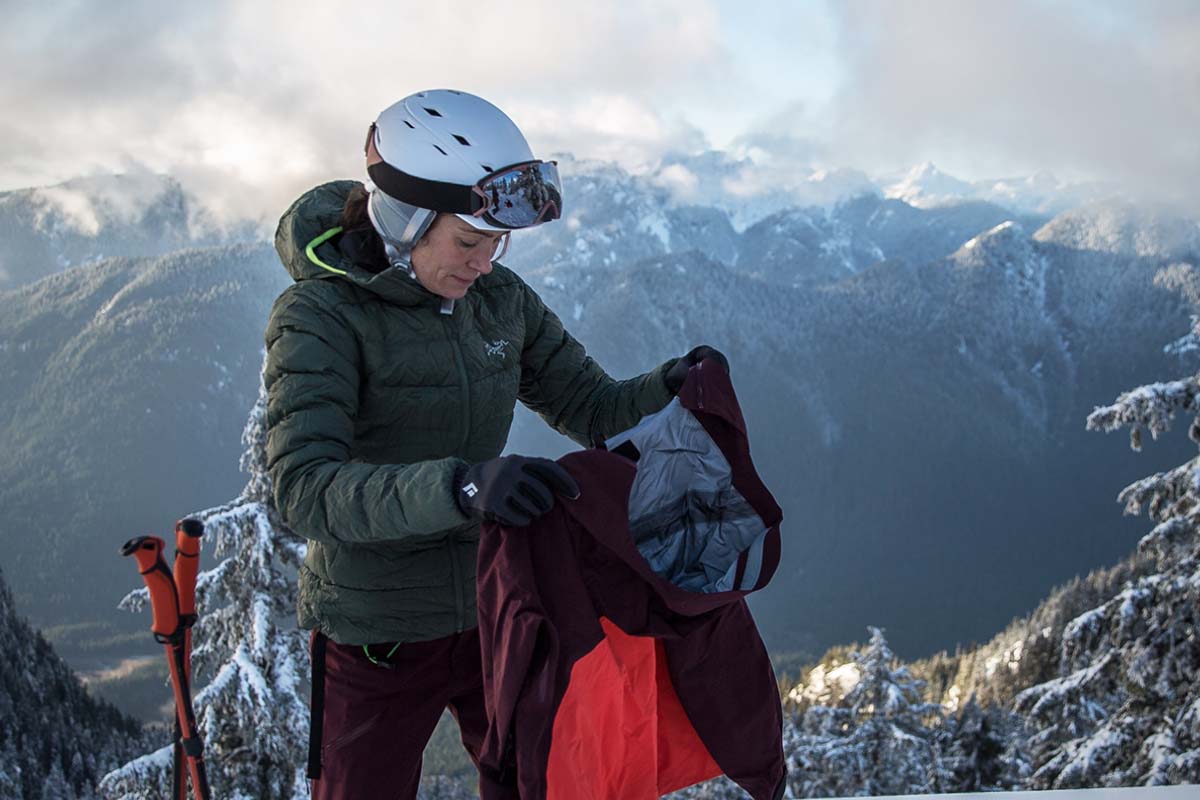 Admittedly, I was initially concerned that the 750-fill down of the Thorium wouldn't come close to matching the premium warmth of my Cerium SV Hoody (850-fill), Firebee AR (850-fill), or Feathered Friends Eos (900-fill). However, I've worn the Thorium in freezing temperatures with only a thin baselayer underneath (I often opt for the Patagonia Capilene Air Hoody) and have remained comfortable with little exertion. It has even become my go-to puffy in the backcountry—I simply throw it on during breaks or when transitioning and immediately feel warm, even in strong gusts or wet, sleety rain. On one occasion, we were van camping between ski days in British Columbia's Manning Park when temperatures dipped into the teens Fahrenheit. I was comfortable wearing the Thorium AR as my only outer layer as we finished our ski day and began enjoying happy hour, preparing and eating dinner, and sitting around the campfire. Since then, I've faced numerous sub-15-degree days in Whistler and have continued to enjoy the Thorium as my sole outer layer.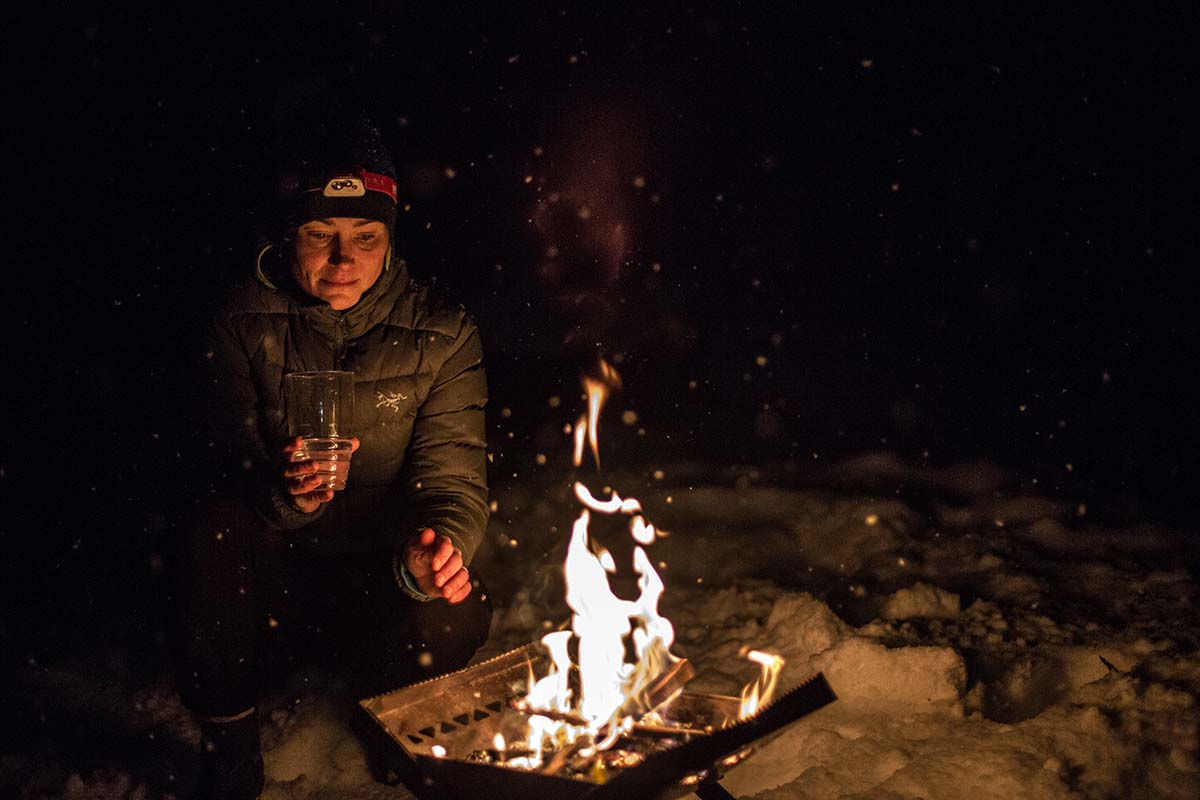 Weather Protection
Although I'm always prepared for inclement weather with a Gore-Tex shell in the backcountry, I can't say the same for my daily walks with my dog, Nelson. I'm embarrassed to admit how often I've gotten caught in a winter rain or sleet storm while wearing the Thorium AR, but this has given me ample opportunity to test the jacket as an outer layer in rough weather. And this is where I think the Thorium shines most: it's not only a great midlayer, but also a very capable standalone piece.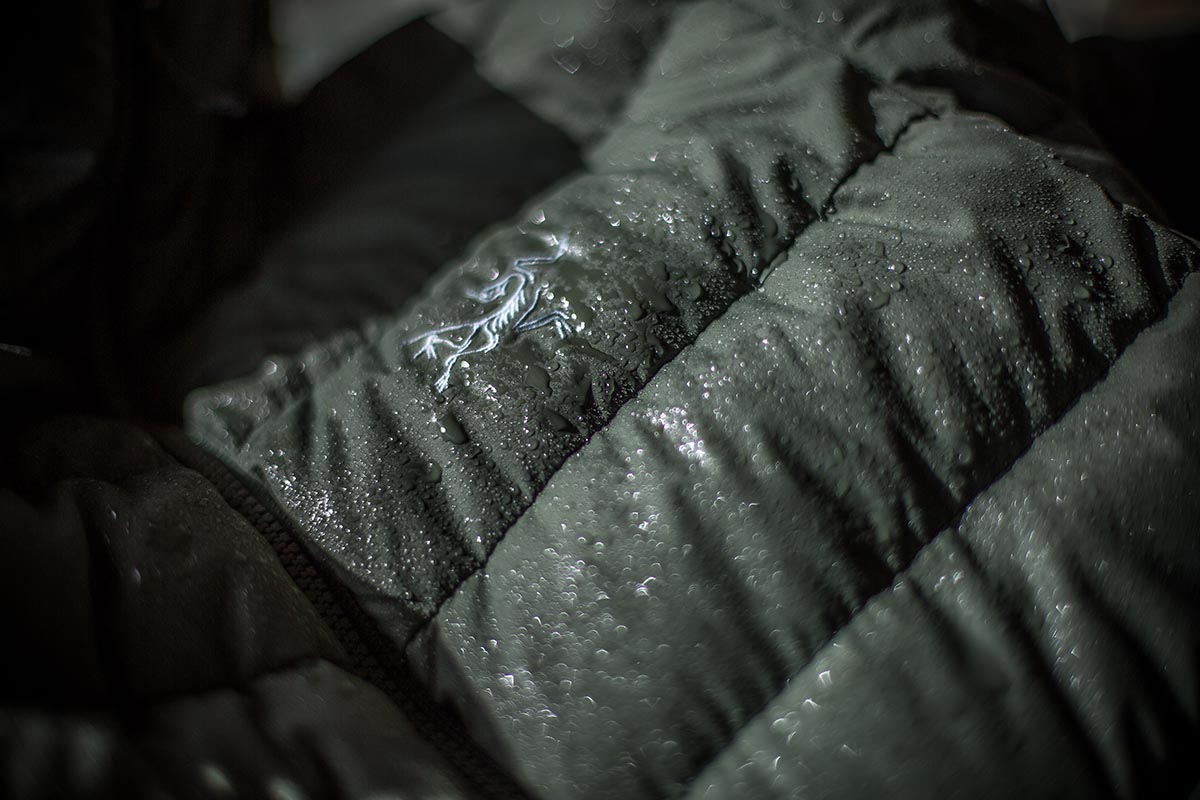 The face fabric is matte-finished nylon with a durable water repellent (DWR) coating, which has held its own even in a downpour, with very little wetting out. The hood did soak through a bit, but given its synthetic insulation, it still remained lofty and warm—I actually didn't realize it was wet until I got home and took the jacket off. I've also worn the Thorium during a sleet and freezing rain storm and watched as ice flakes coated the hood and shoulders, brushing them off as they accumulated with no noticeable absorption into the nylon. And as far as wind protection goes, no gusts have seeped through the jacket's baffles. On an especially bitter and blustery day in Whistler (around -5 degrees Fahrenheit with the wind chill), I donned the Thorium AR, lifted the hood, hid my chin behind the tall collar, and cinched the hem around my waist. The only part of my body that felt the biting cold was my exposed cheeks.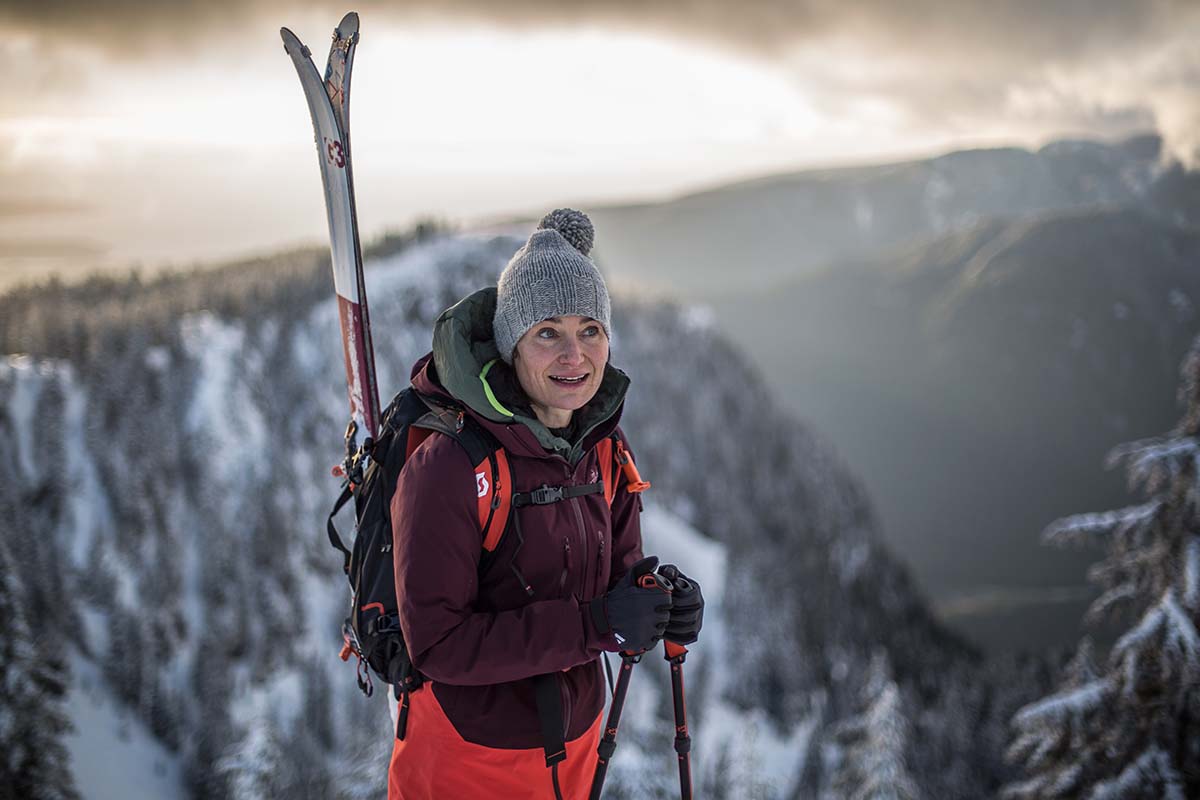 Weight and Packability
My women's size small Thorium weighed in at 15.4 ounces, which is just above Arc'teryx's advertised weight of 14.8 ounces. Though not ultralight by any means—my Feathered Friends Eos Down Jacket easily undercuts it at 9 ounces—the Thorium is reasonably light given that it doubles as an outer layer, and I haven't once hesitated to throw it in my ski pack. In terms of packability, the Thorium AR stuffs down surprisingly well, particularly for a jacket that contains synthetic insulation. I also really appreciated the stuff sack that stows nicely in the interior chest pocket, which allowed me to pack the jacket down to about a liter and a half (slightly smaller than the Cerium SV but noticeably larger than the Cerium LT). In all, the Eos or Cerium LT are better options for the fast-and-light crowd, but I feel the noticeable increases in durability and weather resistance are worth the extra ounces.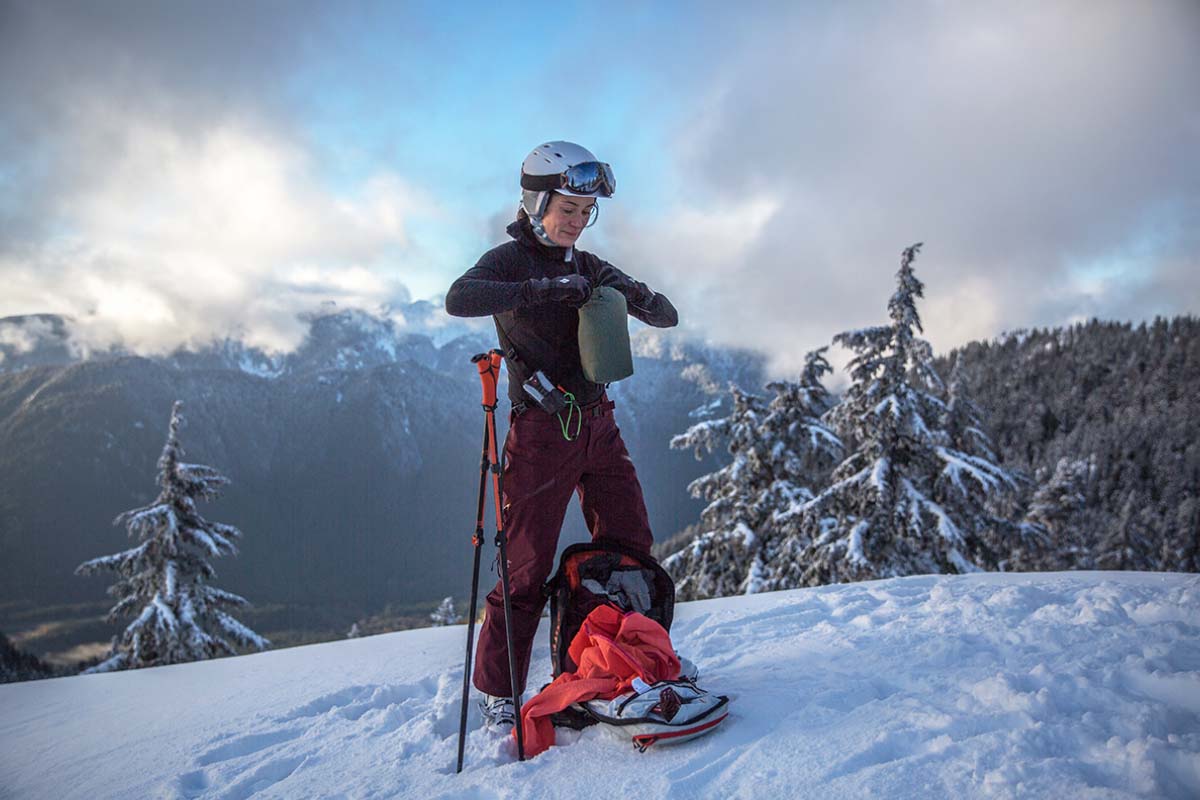 Features
Hood
Arc'teryx's StormHood is one of our favorite designs on the market when it comes to functionality and adjustability. With a single pull at the back of the hood, you adjust evenly around the sides and back of the head. When cinched down, the Thorium's hood has stayed put even in strong Whistler winds and is very easy to tighten and loosen while wearing ski gloves. It's also low-profile enough to fit under a skiing or climbing helmet, and I find that the slightly elasticized piping along the aperture sits comfortably and snugly against my face. Finally, as touched on above, since the hood is insulated with synthetic Coreloft, it retains its loft and insulating abilities even when wet.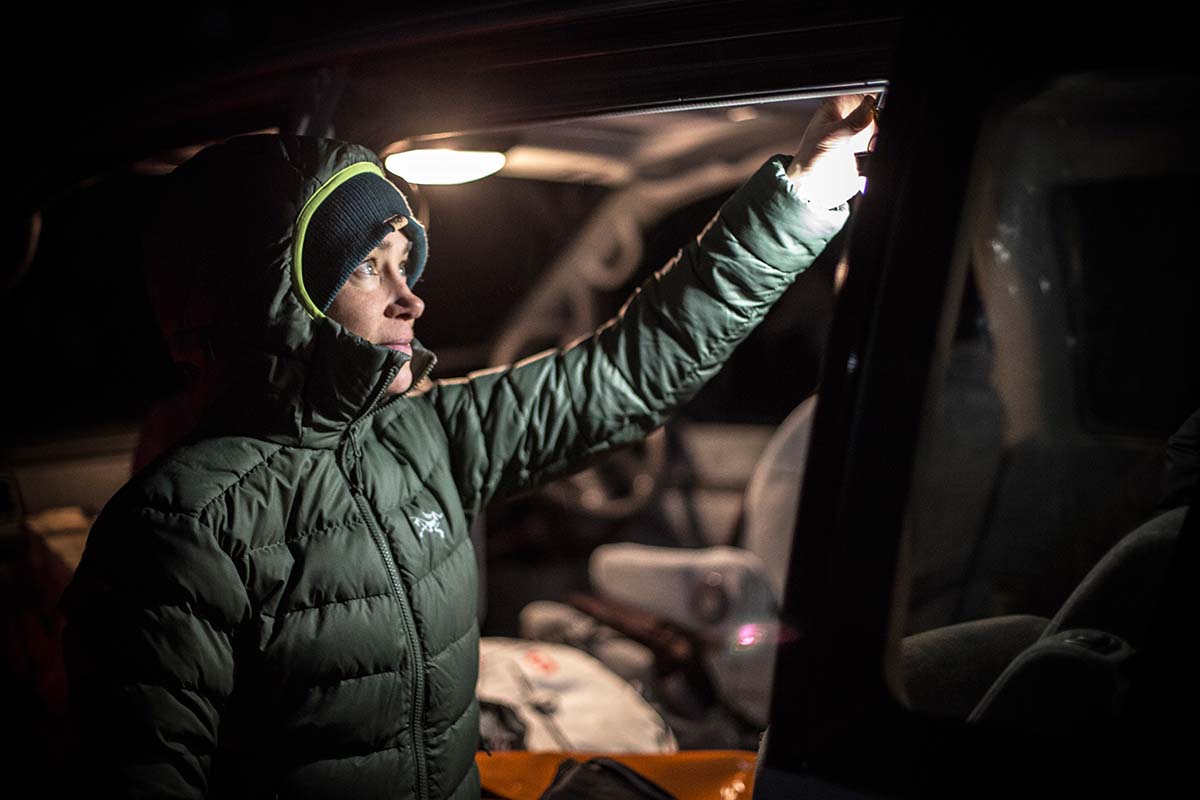 Pockets and Zippers
The Arc'teryx Thorium AR comes equipped with three pockets: two zippered hand pockets and one internal chest pocket (which also contains the stuff sack). Although they have corded zipper pulls, the hand pockets are "concealed"—apart from the pull tabs, the pockets are barely noticeable and blend in with the rest of the jacket. I assume this was an aesthetic choice, but I find that it makes the zippers difficult to close, as they have to be pulled at a precise angle and work best if a second hand holds the bottom taut. Personally, I would prefer a more traditional design, but the hand pockets themselves are nicely sized and offer ample warmth. The internal chest pocket is large enough to hold important items like keys or a wallet, while the jacket's front zipper is robust and durable with an insulated wind flap underneath that has effectively sealed out cold gusts all season.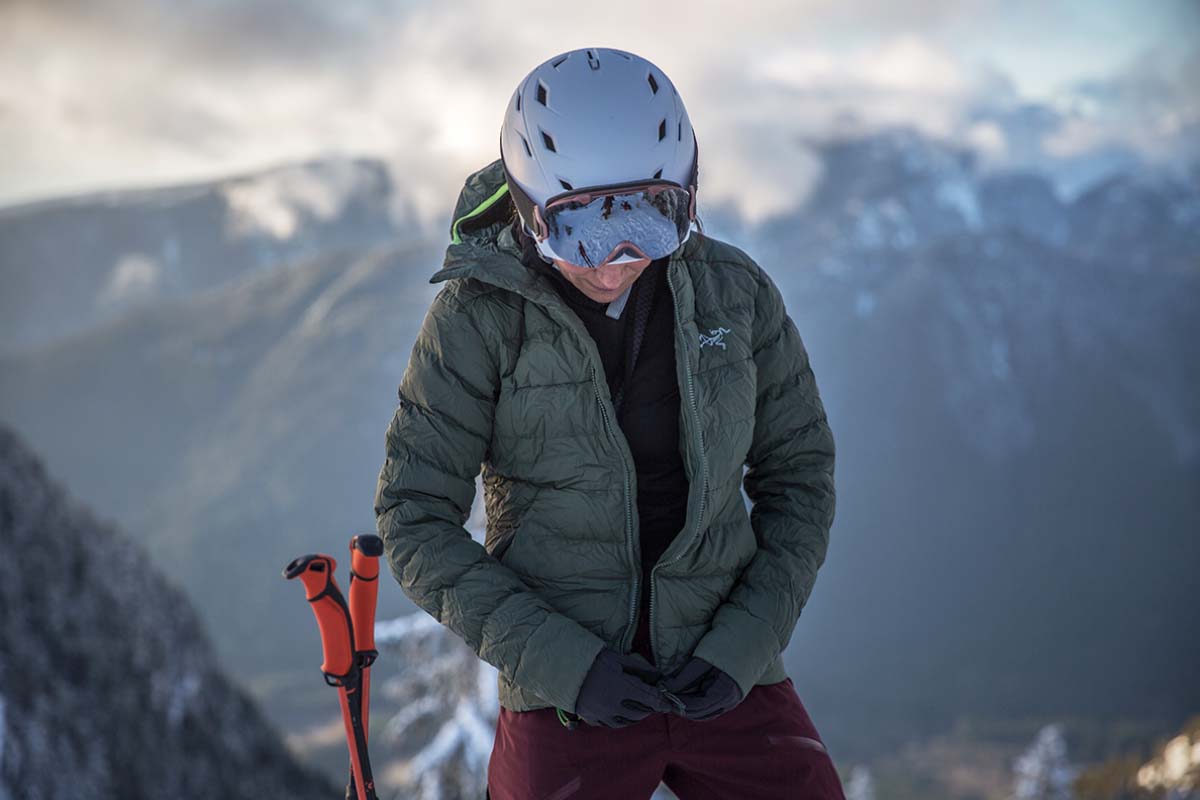 Build Quality and Durability
With its 30-denier nylon face fabric, the Thorium is noticeably more durable than Arc'teryx's Cerium series that uses 10-denier nylon. This makes it much more suitable as an outer layer. I've worn the jacket almost daily for the last several months and there are no abrasions, fraying seams, or down-feather leaks to date. In addition, the main zipper is robust and still moving smoothly. And although some might consider it overkill, the stuff sack is made of the same 30-denier nylon, which keeps the Thorium well-protected when crammed into my ski pack with sharp equipment.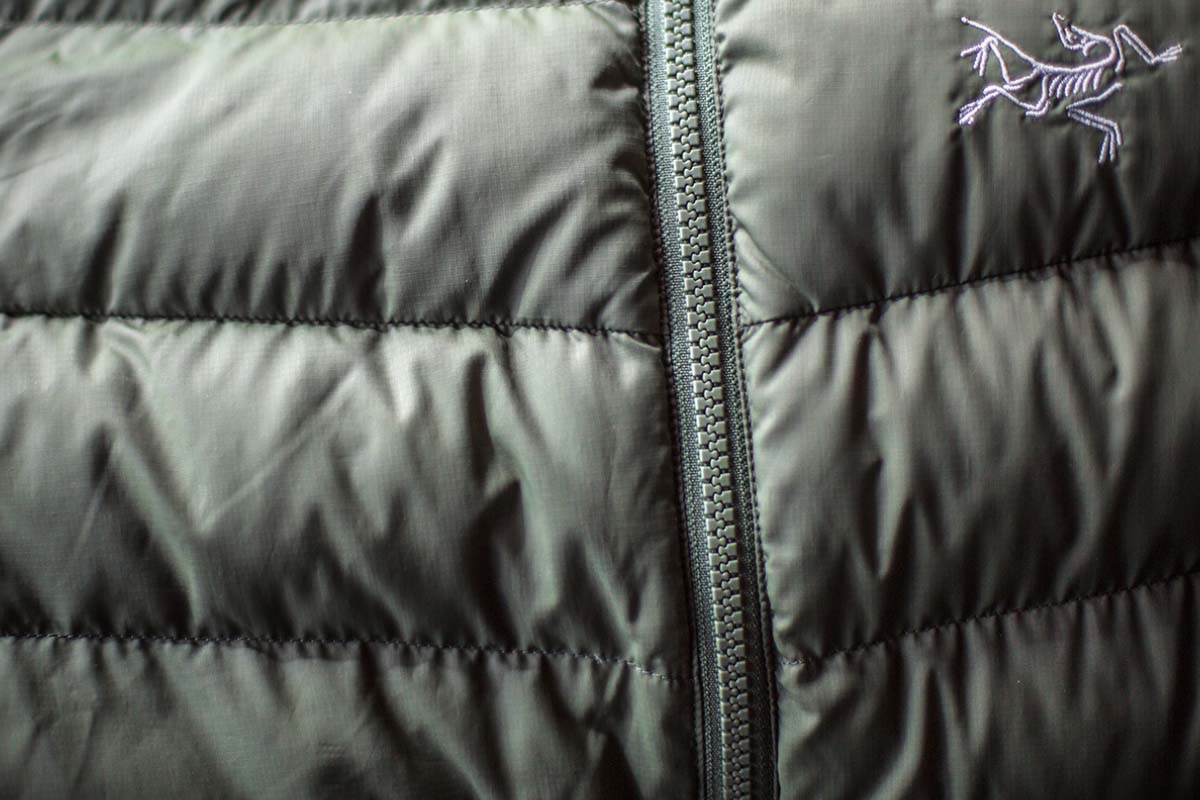 Fit, Sizing, and Comfort
I'm generally a size small in all things Arc'teryx, and the Thorium is no different. Since the jacket is considered "regular fit," I can easily layer underneath or opt for a hardshell overtop—I often pair it with my Sentinel LT ski jacket. Further, the sleeves are an ideal length for me and the elastic cuffs fit well without being too snug or too loose. The Thorium also has a drop back hem that just covers my butt, and the adjustable hem drawcord allows me to cinch it in to seal out drafts. Finally, in terms of comfort, the interior is silky smooth and provides a great next-to-skin feel—I've even worn the Thorium with just a t-shirt underneath. I do wish Arc'teryx would have included this soft material on the inside of the collar as I felt the nylon was slightly abrasive on my chin, but that's a small nitpick for an otherwise impressively comfy jacket.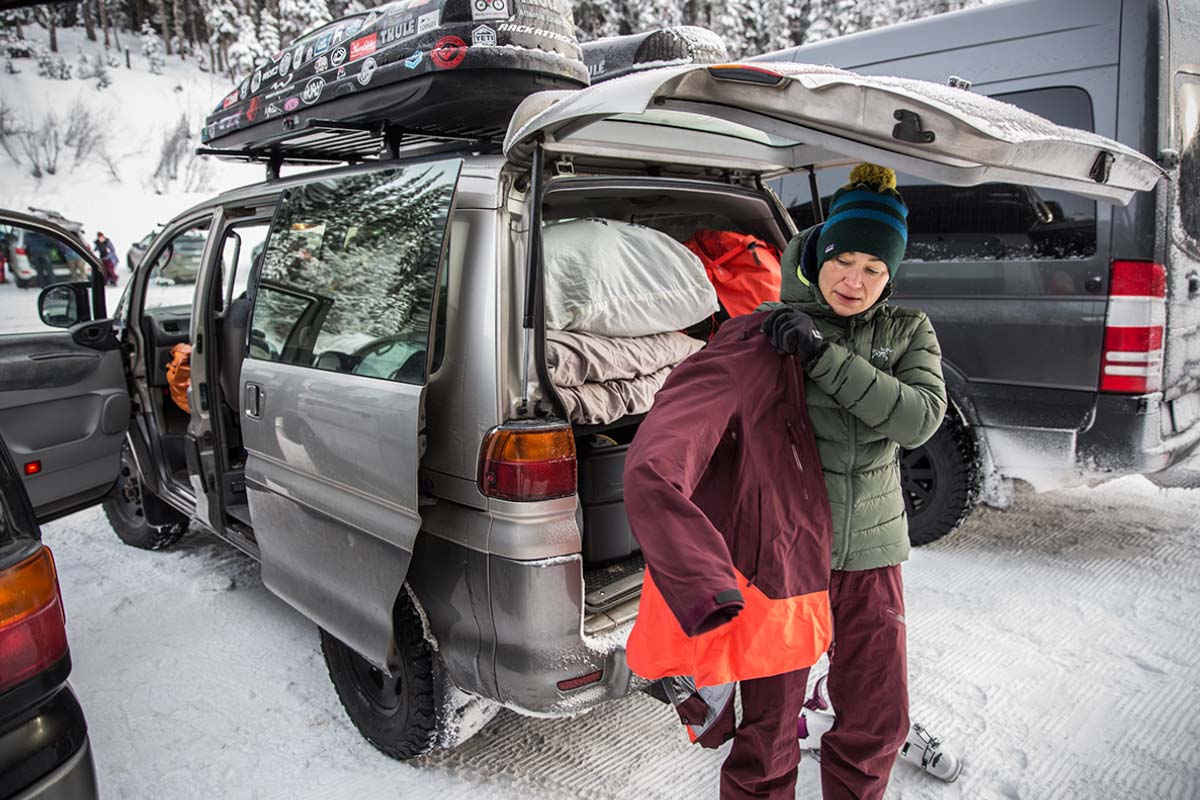 Other Versions of the Arc'teryx Thorium
We tested the women's Thorium AR Hoody for this review, and Arc'teryx also makes the Thorium in both a men's hooded and non-hooded version. The men's Thorium AR Hoody costs the same as the women's model and also utilizes a hybrid down and synthetic construction but comes in slightly heavier at 1 pound 1.3 ounces. The non-hooded Thorium AR Jacket shaves off $26 and 2 ounces, but we love the added protection and coverage of the hood, especially Arc'teryx's functional and streamlined StormHood design.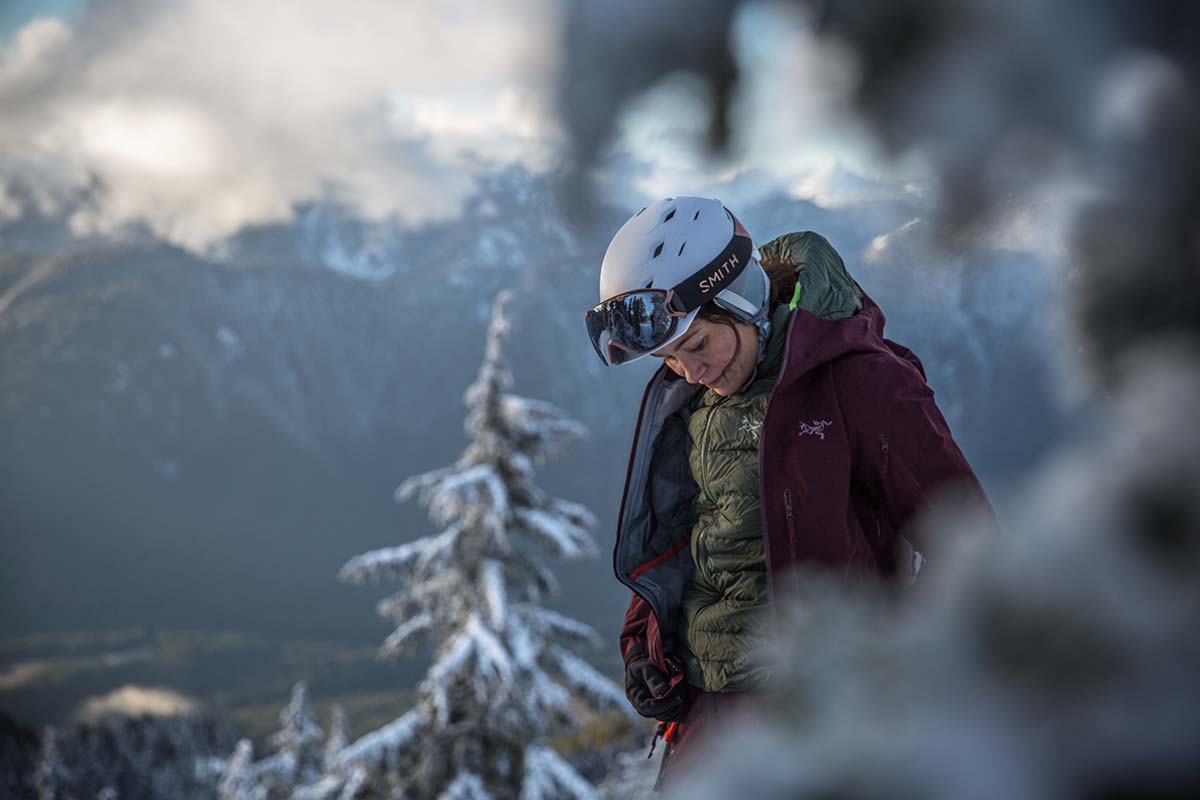 What We Like
As the name suggests, the Thorium AR is a great all-rounder—I take it everywhere from my morning commute and walking my dog to deep in the backcountry. Plus, it functions well as both a midlayer and outer layer.
By mixing synthetic and down insulation, the Thorium AR achieves a nice balance of warmth and weather protection.
At $325, the jacket is (somewhat) reasonably priced for an Arc'teryx product.
Has the build quality, durability, and fit and finish typical of Arc'teryx.

What We Don't
Concealed hand pocket zippers are a bit finicky—it usually takes two hands for me to close them.
I wish the inner collar fabric were a bit softer. Sometimes, it felt slightly abrasive against my chin.
At over 15 ounces (women's size small), the Thorium Hoody is fairly heavy for a down piece.


Comparison Table

The Competition
The Thorium AR Hoody sits just below the Cerium LT (lightweight) Hoody in Arc'teryx's down jacket lineup, and the two share many commonalities. Using similar mixtures of synthetic Coreloft and goose down, both jackets provide solid warmth and reasonable weather protection. However, the Cerium LT Hoody is 5 ounces lighter at 9.9 ounces and more packable than the Thorium AR. But despite its higher-quality 850-fill down (the Thorium has 750-fill), the Cerium offers less warmth overall. Further, the 10-denier nylon face fabric is noticeably less durable and more prone to snags and tears than the 30-denier Thorium. And finally, the Cerium LT has a much trimmer fit compared to the Thorium that allowed me to layer however I wanted. All things considered, the Cerium LT is the backcountry champ while the Thorium AR has the advantage in terms of versatility
Another favorite in my closet is the Feathered Friends Eos Down Jacket. Filled with 2.8 ounces of industry-leading 900-fill down and clocking in at just 9 ounces, the Eos is impressively warm for its weight. However, its lack of synthetic fill in moisture-prone areas and streamlined Pertex Quantum shell don't offer the same wet-weather performance as the loft-retaining fill of the Thorium AR. Further, its 12Dx20D face fabric is less robust than the burlier 30-denier Thorium (this does help it pack down much smaller, however). In the end, for multiday backpacking trips, I'd opt for the $14-pricier Eos for its impressive warmth-to-weight ratio and throw on a shell if any weather moves in. However, for daily wear and backcountry ski trips where added durability and weather protection are worth the weight, I'll grab the Thorium.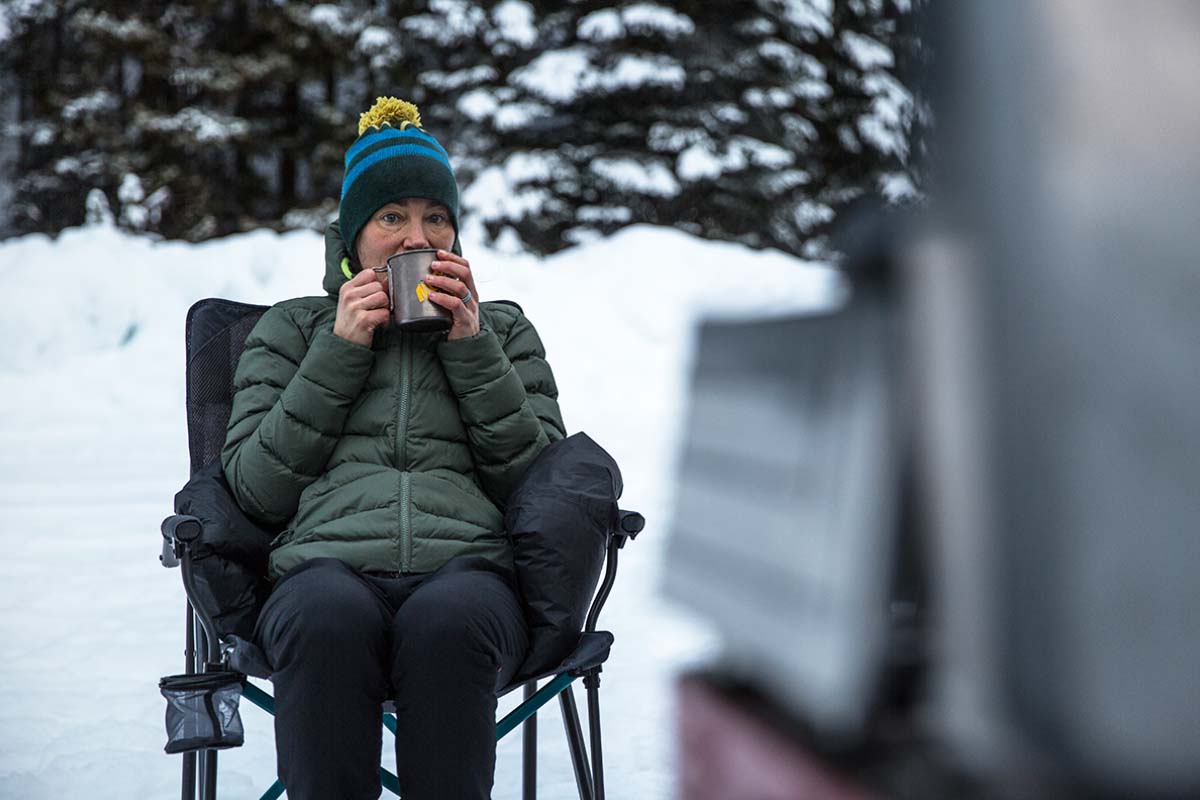 Patagonia's Down Sweater Hoody is another great all-around jacket to consider. Similar to the Thorium, the Down Sweater has proven itself as both a solid everyday and performance-oriented piece that's just as comfortable in the backcountry as it is on busy city streets. The Patagonia is slightly lighter at 13.1 ounces and has a similar "regular" fit that allows layering underneath or overtop. However, the Down Sweater lacks the durability and weather resistance that you get with the Thorium AR (it excels instead as a midlayer). It's a close call between the two, but for my uses, the Thorium's greater versatility justifies the added weight and $46-steeper price tag.
On the other side of the Thorium AR in Arc'teryx's lineup is another Cerium: the SV ("severe weather"). The Cerium SV is the brand's warmest down midlayer with 4.9 ounces of 850-fill down and a mix of 80g and 140g Coreloft. However, compared to the Thorium, the Cerium SV is heavier at 13.9 ounces, $200 pricier at $525, and less durable with a 7Dx10D face fabric, which isn't great news for those who stuff their down jacket into their pack with sharp ski gear or who plan to wear it as their sole outer layer. However, unlike the LT, the SV has a "regular" fit that allows for more liberal layering underneath, and the boost in warmth is nice for those who run particularly cold or who want a jacket specifically for frigid conditions. That said, the Thorium undoubtedly is the better all-rounder, and the price advantage is significant.
The Thorium has proven to perform well in the humid and wet Pacific Northwest, but its down insulation still can't compete with full synthetic in damp conditions or if moisture makes its way through the shell fabric. If you prefer the added assurance of polyester fill, Arc'teryx's Atom AR Hoody is an interesting alternative to the Thorium, offering similar levels of warmth, durability, and all-around comfort. In addition, the two jackets are quite similar in weight (14.8 oz. for the Thorium vs. 14.5 for the Atom). They differ in hood design (the Atom AR's is larger and helmet-compatible) and packability (the Atom AR doesn't include a stuff sack and isn't as compressible), but a final decision between the two will likely come down to preferences in the lofty warmth of down versus the wet-weather performance of synthetic.
If you're thinking about buying gear that we've reviewed on Switchback Travel, you can help support us in the process. Just click on any of the seller links above, and if you make a purchase, we receive a small percentage of the transaction. The cost of the product is the same to you but this helps us continue to test and write about outdoor gear. Thanks and we appreciate your support!
Depending on the seller, most products ship free in the United States on orders of $50 or more. International shipping availability and rates vary by seller. The pricing information on this page is updated hourly but we are not responsible for inaccuracies.
Read More From Switchback Travel