Backcountry skiing can be very demanding on both the participant and their gear. It requires garments to be breathable during high-output approaches yet durable enough to withstand heavy snow, pelting sleet, and changing temperatures. With this in mind, Patagonia has released their hybrid Reconnaissance jacket and pants that combines a breathable softshell fabric with highly weather-resistant hardshell panels. We gave the full kit a test in British Columbia's Coast Mountains, and below we break down the Reconnaissance's design, water and weather protection, breathability, fit, and more. To see how they stack up, see our comparison tables and articles on the best ski jackets and ski pants.
 
Performance
Hybrid Softshell and Hardshell Design
The Patagonia Reconnaissance stands out for its use of two shell materials: a polyester softshell and waterproof 3-layer nylon hardshell. The stretchy softshell allows for breathability and maneuverability, while the hardshell shrugs off snow and provides additional protection from the elements. Both materials have a DWR (durable water repellent) coating to bead up moisture and fully taped seams—something you don't always find in a softshell.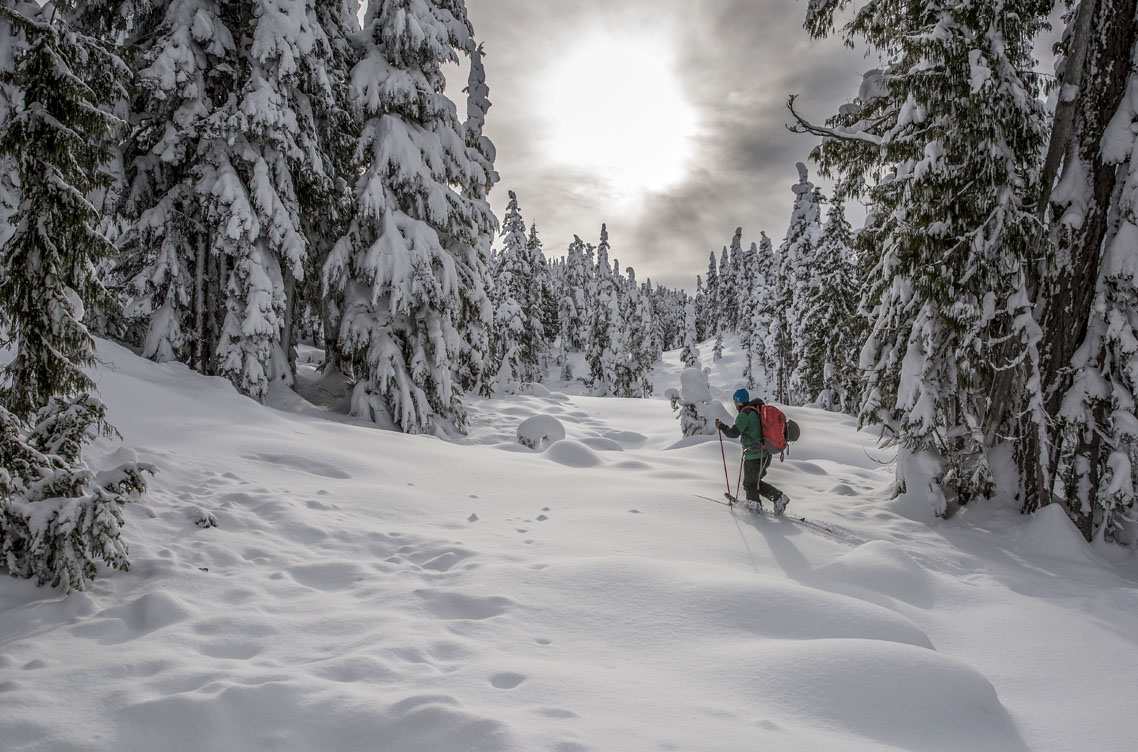 Patagonia's designers clearly put a lot of thought into the strategic placement of the two shell fabrics. The sections of the pant and jacket most likely to come in contact with snow—the lower legs, outsides of the leg and shoulders, and around the arms and hood of the jacket—are constructed of the 3-layer hardshell fabric. And the durable and breathable softshell fabric is located around the upper leg area, inner thigh of the pants, and core/torso and back of the jacket. This smart combination allows the garments to ventilate as much as possible while still protecting you from the elements.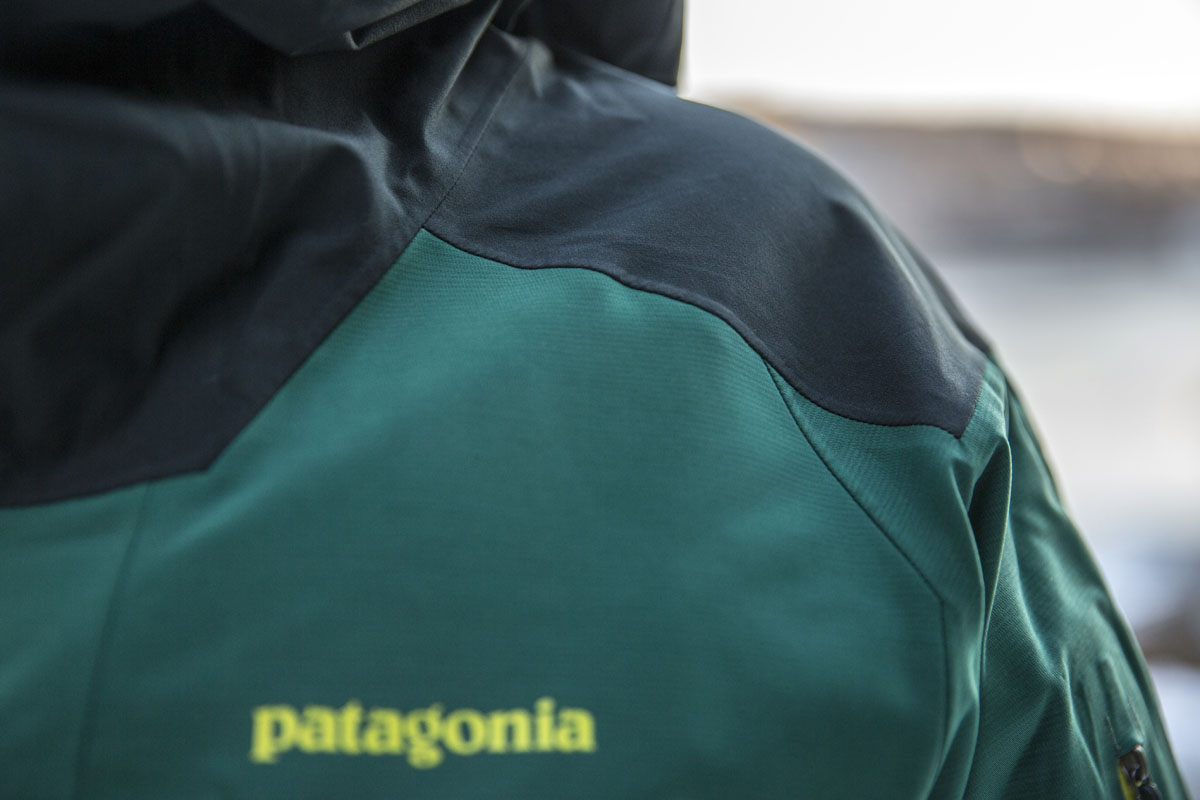 Water and Weather Protection
Initially, I was concerned that the softshell fabric wouldn't be water resistant enough for early-season Coast Mountain skiing and wet snow. Despite my worries, both pieces have kept me dry through all my adventures thus far. After several trips with decent exposure to snow but no really wet precipitation, I wanted to be sure, so I conducted a "shower test." After several minutes, I only had one small damp spot where I'd left my pocket open. The DWR and shell fabrics work as advertised, repelling any precipitation thrown at it.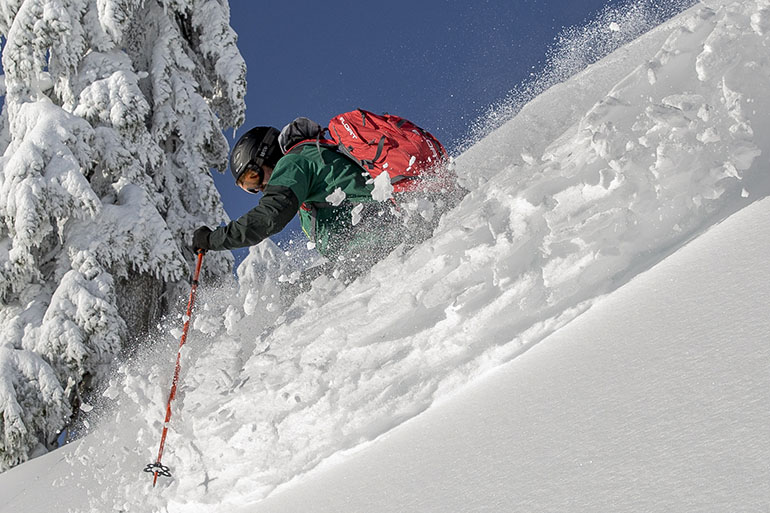 In addition, the hood is fantastic: it easily fits over a ski helmet and stays in place with the Cohaesive cord-lock system that prevents it from falling back over the helmet. It took a bit of practice to familiarize myself with the locking system, which can be a bit finicky with gloves on, but I find that to be typical of almost all hoods. In truth, it's one of the better hoods I've tried—the face aperture is sized to just fit around goggles, the hood itself is not restrictive allowing for easy shoulder checks, and the zipper has a nice little cover that stops it from snagging facial hair.
Based on its strong performance, the Reconnaissance has been my go-to outerwear this season and has been exposed to temperatures ranging from 5°C (41°F) to well below zero at -8°C (18°F). On most outings I wear the Reconnaissance pants without long underwear and find them fully capable of keeping me warm. On my coldest day, I wore a thin pair of merino wool long underwear and found this to be ample additional insulation to keep me toasty warm. Under the jacket, I typically wear a thin baselayer of merino wool, which has been sufficient for warmth yet helps keep the sweating to a minimum on ascents. On that aforementioned cold day, I opted for two layers and threw on an insulated puffy during breaks and long transitions.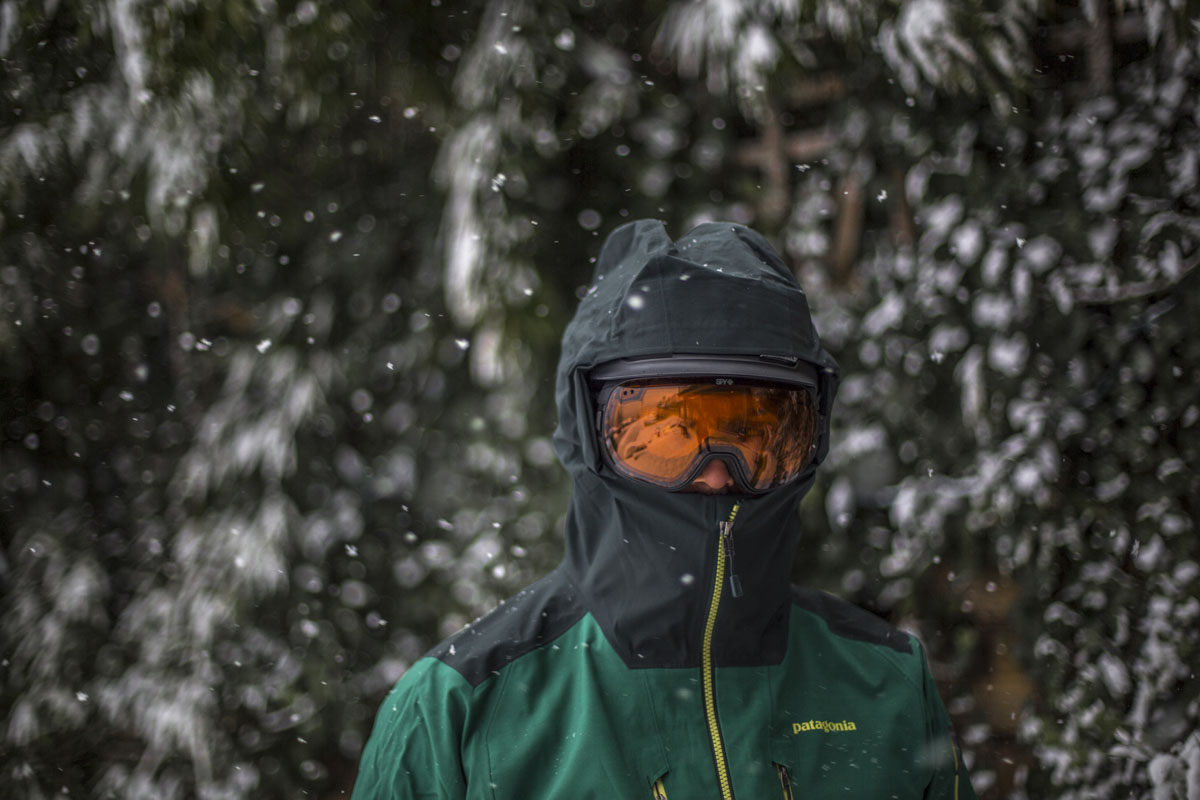 Breathability
I first tested the Reconnaissance during a late October hunt for snow. My ultimately successful search began by hiking 10 kilometers (6.2 miles) with 1,000 meters (3,281 feet) elevation gain, while lugging skis, boots, a helmet, and a pack containing all of my avy gear. It was a typical Coast Mountain slog in that it started in the mild damp rainforest before making its way to the snow covered alpine. It was, in short, a recipe for overheating and sweating copiously on the ascent, followed by a wet, chilly descent.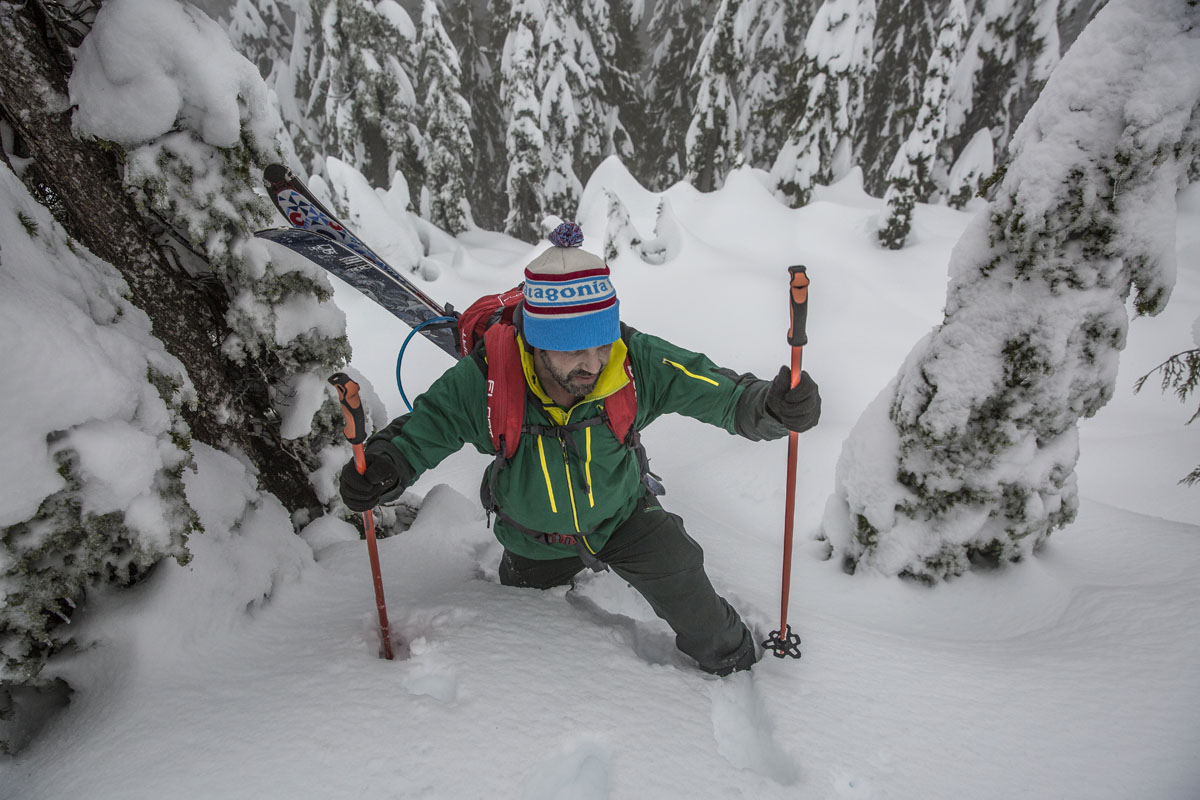 I've always struggled to remain dry during high-output activities like skinning and bootpacking, so I was amazed that after the laborious hike up, I didn't notice any real dampness. The use of softshell materials allows both garments to be exceptionally breathable, and I was particularly impressed with the Reconnaissance pants. I wore the pants without additional insulation and opened the zippered side vents to increase airflow. The vents are a feature I used and loved that day and have every day since. Not only are they a great way to dump heat, but their clever location towards the back of the leg (rather than along the side on a pant like the Arc'teryx Lithic Comp) decreases the chances of snow finding its way in when skinning in deep powder, bootpacking, or skiing with open vents.
Given that the pants have excellent vents, I was surprised that the jacket does not have pit zips. The only option to increase airflow to the torso is to unzip the jacket if it gets too warm—a strategy that unfortunately is not ideal when it's snowing heavily. That being said, the jacket was still capable of getting me to the top without too much moisture build up. However, I must admit that the lack of pit zips or additional venting is a bit of a disappointment since this jacket is constructed for high cardio output, and I have always found pit zips to be essential in moderating my temperature.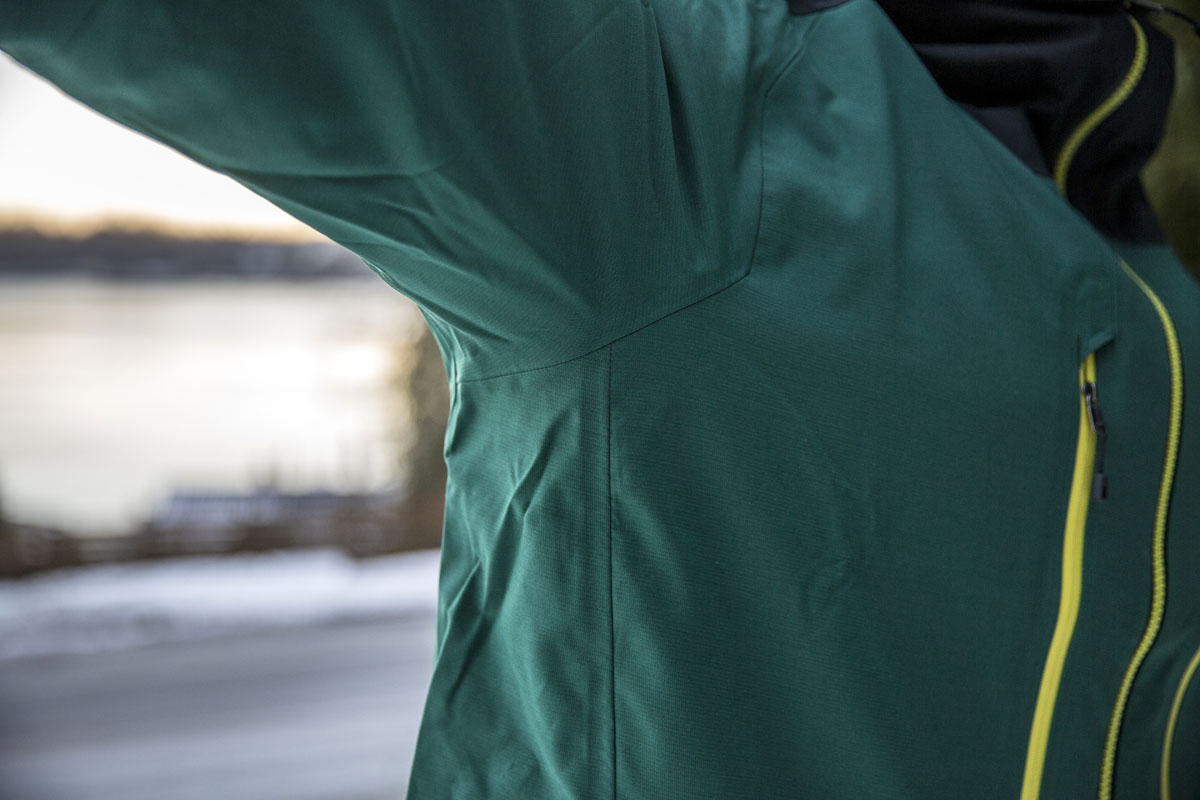 Storage and Other Features
The pants have many helpful design features, but some of my favorites are the streamlined cargo pockets on the pants. These pockets have zippers and a pleat to help expand the pocket when stuffing away gloves, cap, or my InReach satellite communicator. This feature saves me from having to stop to put them away in my pack and is fairly unique in ski pants. There also are multiple well-placed pockets on the jacket, including hand pockets on the waist as well as two chest pockets. I personally love the assortment of pockets—typically backcountry ski jackets have either hand or chest pockets but not both. More, the Reconnaissance's hand pockets are placed so they are still accessible when the pack is on and the sternum strap and hip belt are in use.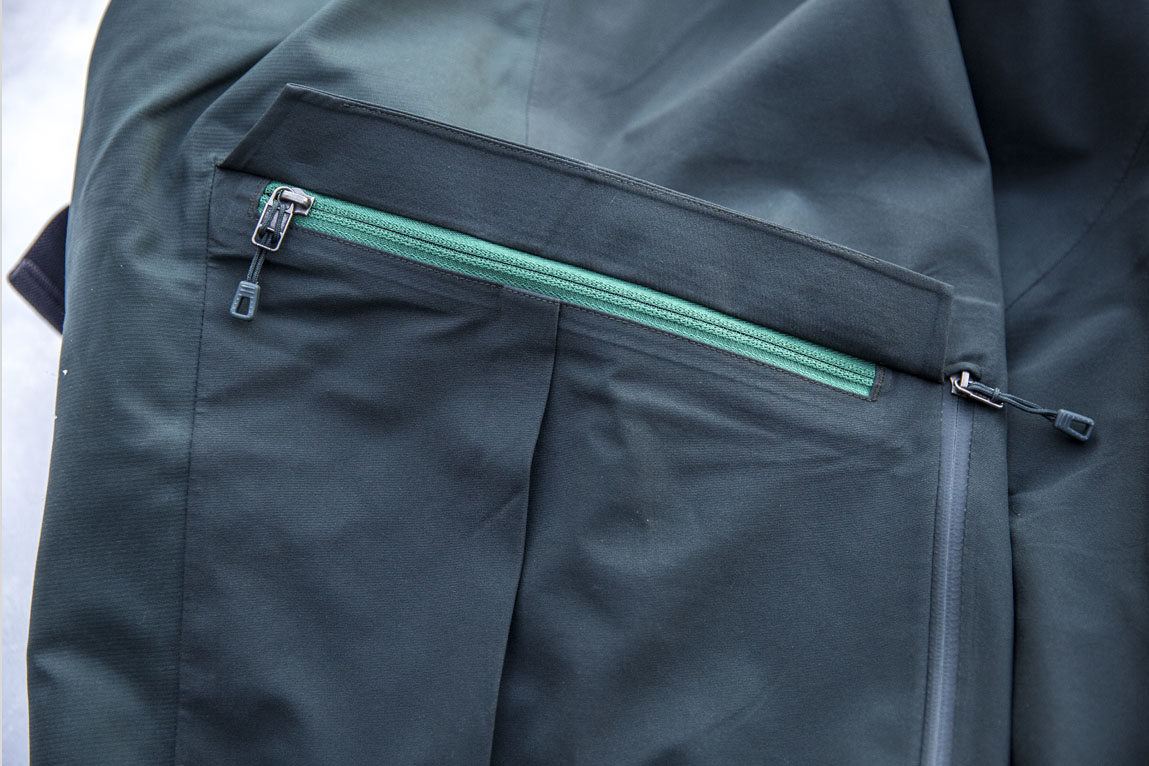 The Reconnaissance kit also boasts numerous small but vital features such as low-profile cuffs on the sleeves to fit easily under or above a ski glove, and the Cohaesive cord lock system on the hood and waist of the jacket to keep snow and moisture out. The cuff of the pants has a boot lace hook to prevent the pant from riding up, and a snow seal gaiter to prevent snow from entering when bootpacking or post holing. A well placed and durable scuff guard helps to avoid serious wear and tear from stray crampons and the inevitable constant rubbing from the other boot or ski. These features round out a thoughtful and very functional design.
 
Fit and Sizing
At 6 feet tall and with a slightly wide build (about 215 pounds), I fit a large in most outerwear and this holds true with the Reconnaissance kit. The pants have a streamlined, athletic fit that allows for easy maneuverability but does not bunch or bind when crouching or lunging forward. Furthermore, the length of the pants is perfect for my height and stretchy softshell panels are well placed to increase comfort. The only negative thing I can say about the pants is that the belt has a very underwhelming amount of tension, which I find slackens over time. This primarily is an issue when the cargo pockets are full with wet gloves, a cap, and a snack. Personally, I prefer suspenders and have been wearing the pants with a set of removable suspenders from an old pair of ski pants.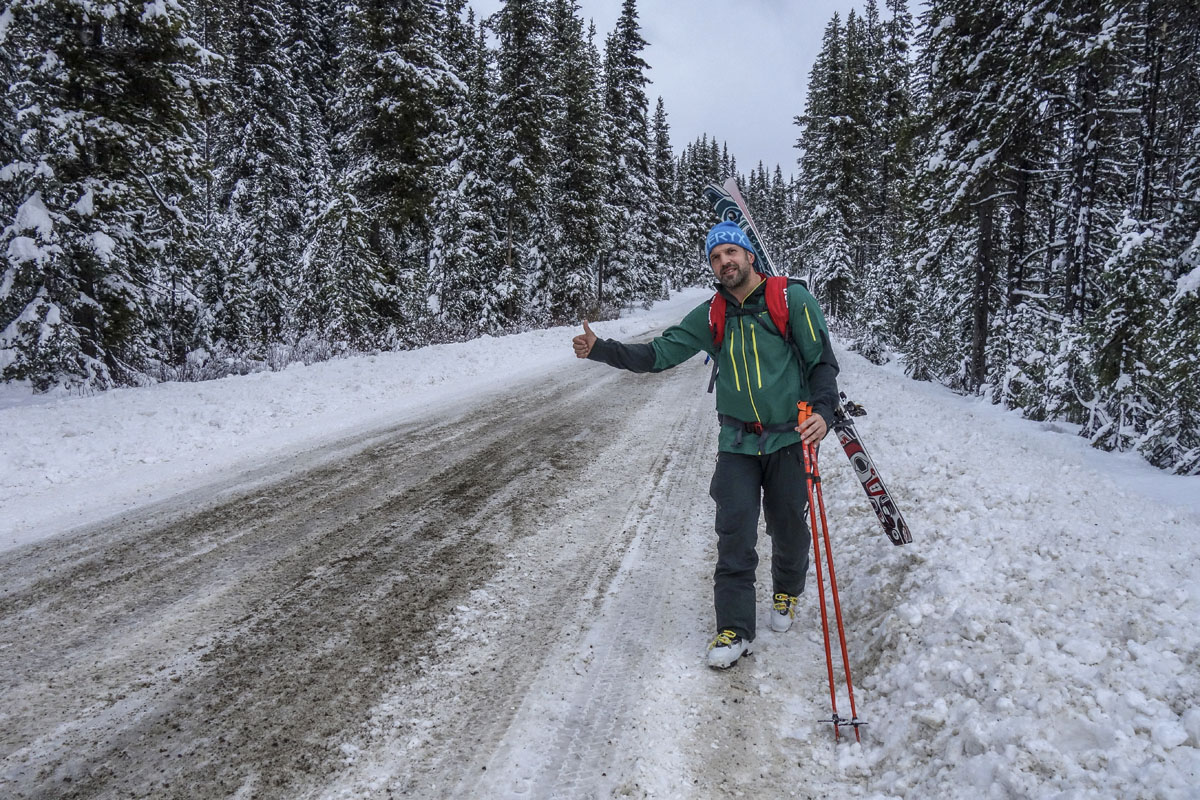 Compared to the slim fit of the pants, the jacket is a little bigger and baggier It's almost boxy—we've found this to be the case with some other Patagonia tops—but I still found it very comfortable. If you prefer a trim fit, you might opt for a size smaller than usual. Keep in mind this small amount of extra room can come in handy when adding an insulating midlayer during transitions or prolonged descents. The jacket also features a long cut, with the hem falling at least 4 inches below the waist. This effectively prevents snow from entering when bent over to fuss with boots or bindings and allows for the hipbelt of a pack to be tightened without the jacket riding up and bunching.
 
What We Like
Breathability is excellent, and particularly with the pants. The softshell fabric ventilates extremely well and the vents allow you to dump heat without letting too much snow or moisture get in.
Despite my initial concerns, the whole kit is impressively water resistant.
The softshell panels increase stretch and allow for comfortable maneuverability while touring.
Great features across the board: the cargo pockets, gaiters, and scuff guard work well on the pants, and the jacket's large hood and various pockets are quite functional.

What We Don't
The lack of pit zips on the jacket limits its breathability and can be a problem in moderate conditions. Even with good breathability through the softshell fabrics, we miss the ability to quickly dump heat.
We wish the pants came with suspenders because the belt can stretch, causing the pants to sink down if you have too much weight in your pockets.


Ski Jacket Comparison Table

Ski Pant Comparison Table


The Competition
The Reconnaissance's hybrid construction and thoughtful design make it one of the premier kits for active backcountry skiers. Among breathable softshell designs, it outperforms the Dynafit Chugach Windstopper in wet conditions, although the Chugach jacket with its pit zips should keep you cooler on the way up. And compared with our favorite hardshell ski jacket, the Arc'teryx Rush, the Reconnaissance has better mobility and breathability but won't stand up as well to harsh, mountainous conditions. For most ski touring adventures, this hybrid design truly gives the best of both worlds. 
Interestingly, the Reconnaissance's strongest competition comes in-house in the form of the backcountry Patagonia KnifeRidge pant and jacket. In contrast to the hybrid Reconnaissance, the KnifeRidge uses a 3-layer softshell fabric that mimics a hardshell in design. This gives the KnifeRidge even better water resistant properties than the softshell sections on the Reconnaissance but at a slight penalty in all-around breathability. And we like that the KnifeRidge pant includes suspenders. But the Reconnaissance is a better value, saving you $80 for the entire kit. Both are excellent options and serve as evidence that backcountry ski apparel is getting closer to that just-right mix of breathability and weather resistance.
If you're thinking about buying gear that we've reviewed on Switchback Travel, you can help support us in the process. Just click on any of the seller links above, and if you make a purchase, we receive a small percentage of the transaction. The cost of the product is the same to you but this helps us continue to test and write about outdoor gear. Thanks and we appreciate your support!
Depending on the seller, most products ship free in the United States on orders of $50 or more. International shipping availability and rates vary by seller. The pricing information on this page is updated hourly but we are not responsible for inaccuracies.
Learn More About Ski Gear