This winter came with a bang and provided some of the best backcountry skiing the Rockies have seen in recent years. Given the heavy storms (we found ourselves breaking trail on many ski tours with snowfall measured in feet), having waterproof and breathable gear was crucial.  For the past few months, we have been testing Outdoor Research's newest members to its backcountry ski line: the Skyward jacket and bib pants. All in all, we've concluded that both are deserving of high praise. The AscentShell fabric manages to deftly balance bomber protection from the elements and breathability, and both are smartly designed. Below we break down the Skyward's waterproofness, breathability, stretchiness, storage, fit and sizing, and more. To see how the Skyward stacks up, see our articles on the best ski jackets and ski pants.
 
Performance
Waterproofness
Like some of Outdoor Research's other high performers, the Skyward jacket and pants are constructed with the relatively new AscentShell fabric. The concept is that the material offers the feel and range of movement of a stretchy softshell but with 3-layer waterproofing and the weather protection of a hardshell. In selecting a jacket, it's usually a choice between weather resistance and breathability/freedom of movement, but AscentShell aims to nail it all (and pretty much does).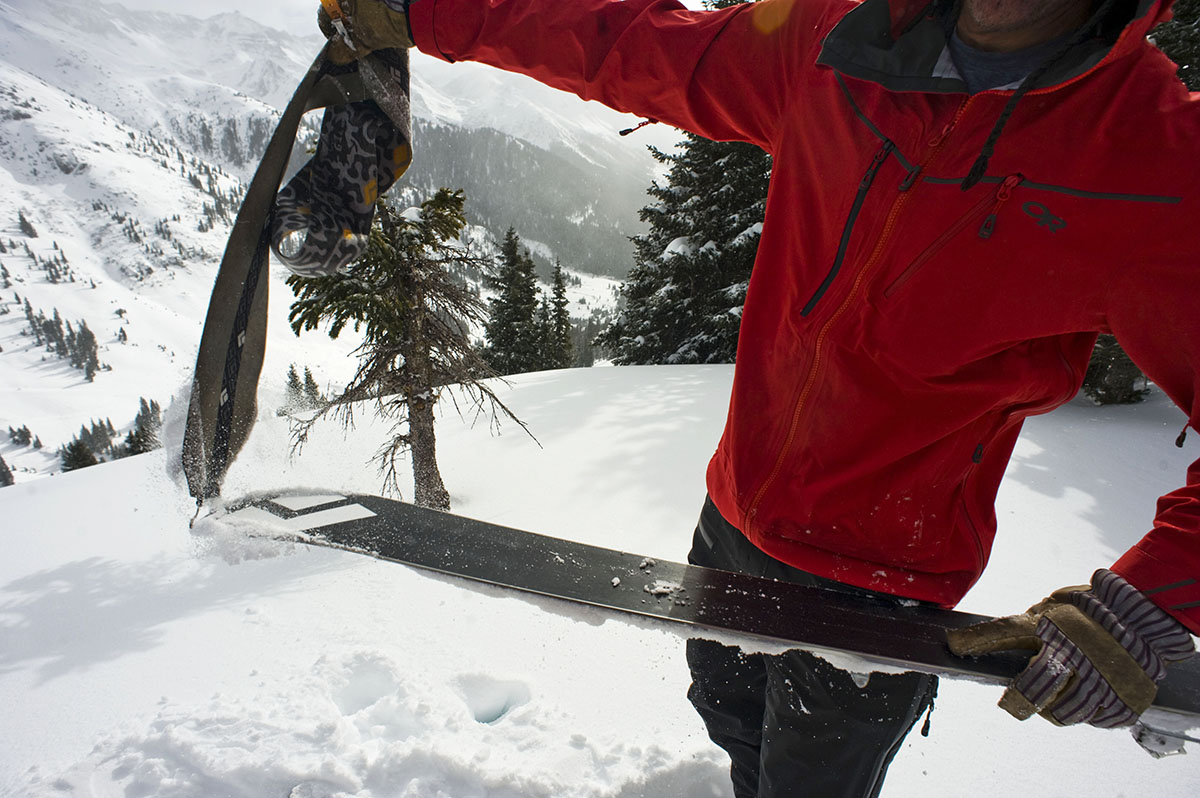 Based on our tests both of the Skyward here and OR's Realm jacket in Alaska, AscentShell has proven to be both waterproof and highly breathable. The material has a fantastic feel that stretches easily, but performs like Gore-Tex in terms of keeping us protected from the elements no matter what Mother Nature drops. All in all, the Skyward jacket and bib pants performed flawlessly in a range of tough conditions and quickly became one of our favorite pieces of backcountry ski apparel for this season.
It's not just the backcountry either. During a recent stormy day of resort skiing, we always exited the chairlift with our baselayers dry despite sitting on wet cushions and getting pummeled by wind and non-stop snow. The jacket and pants are comfortable yet do great at providing protection from tough conditions.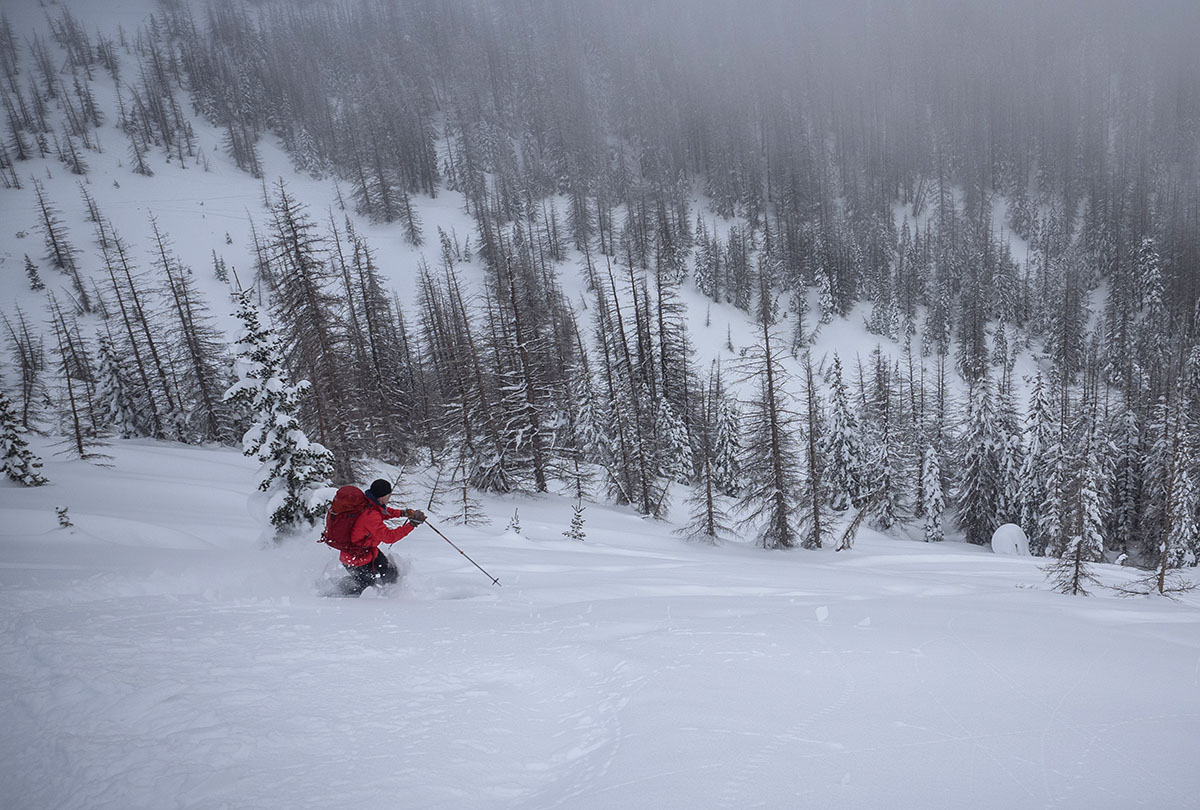 Breathability
As for overheating while climbing up the skin track: it's a non-issue. The AscentShell itself is highly breathable, which is further aided by a number of creative venting options. On the jacket, we love the hem-to-bicep zips that allow for ample temperature regulation on the upper half of the body. This was particularly nice to have as we followed skin tracks up while snow was falling in abundance. The AscentShell kept us dry while the zips kept clamminess at bay.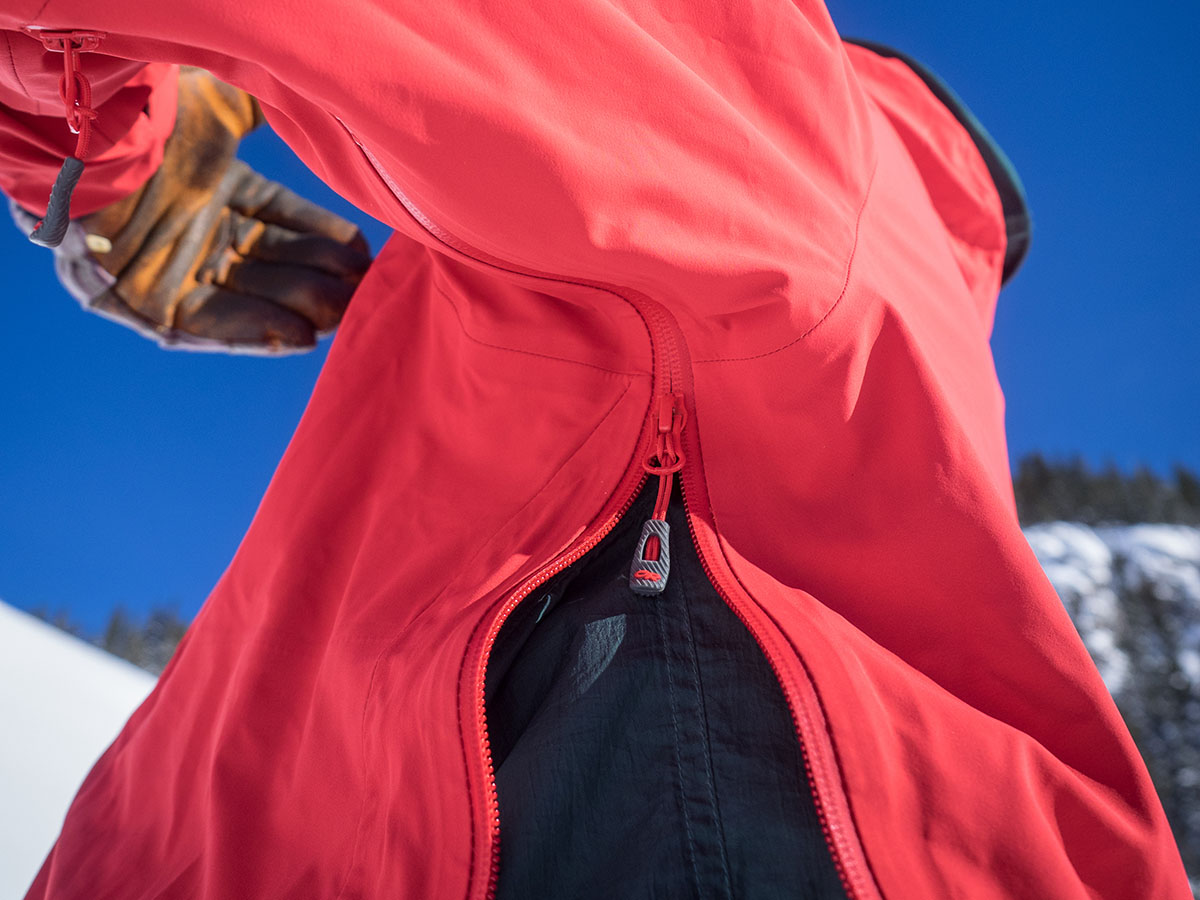 On the Skyward Bib pants, zippered vents on the thighs do a nice job of accelerating the exit of body heat. You could argue for an extension of the thigh vents for even more ventilation—those used to wearing a full zip pant (from waist to leg cuff) may feel the Skyward bib pants are lacking and potentially restricting when trying to adjust boot buckles. But never once did we find ourselves wishing for longer vent zips. This wish may change when ski mountaineering season arrives in the spring where the temperatures tend to be warmer. But in the heart of winter, we were super satisfied with the performance of both the fabric and venting system.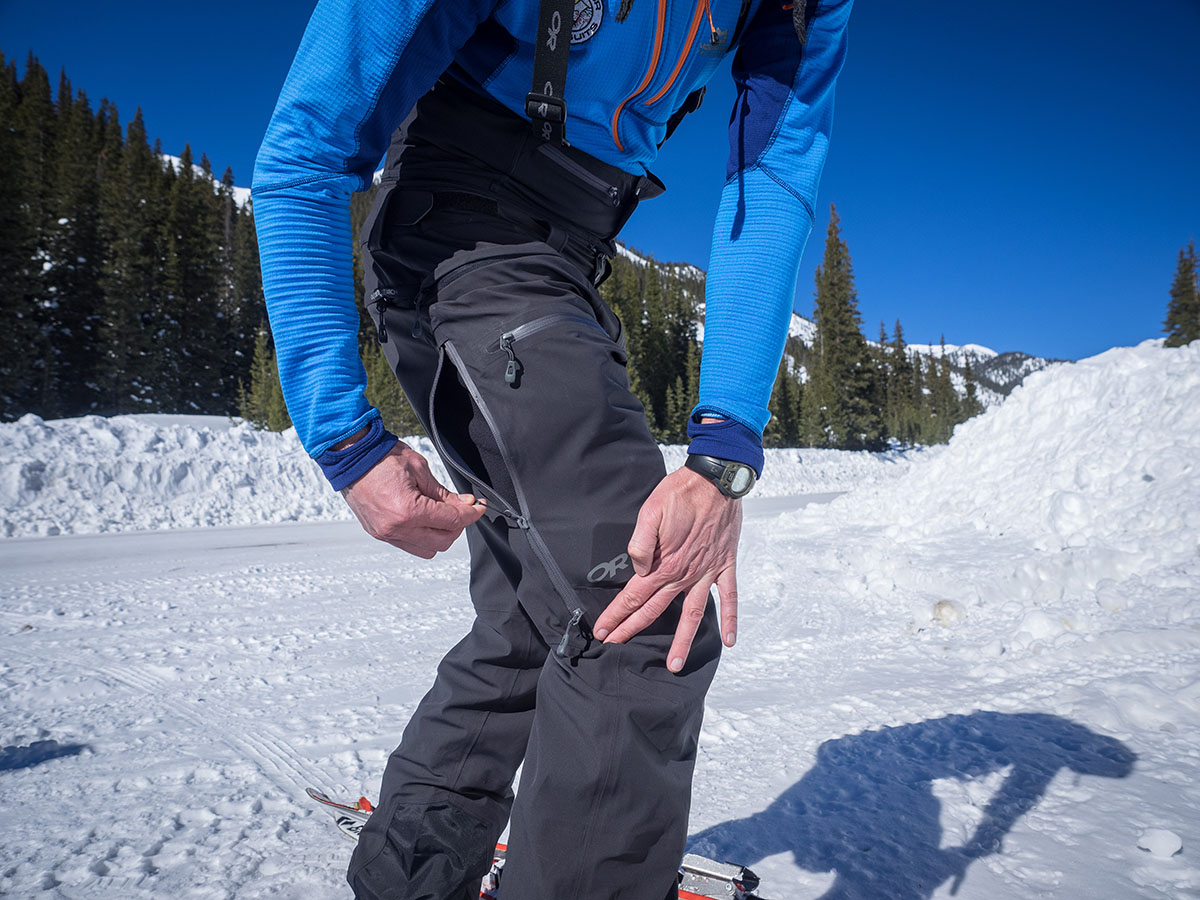 Stretchiness
One of the signature characteristics of OR's AscentShell is its ability to stretch (OR calls it "Movement-Mirroring Stretch"). Unlike some backcountry shells and ski pants that can feel over-engineered and somewhat restricting, the Skyward's stretch allows you to move mostly unencumbered. Reaching for a crucial pole plant without the sleeves creeping up is a non-issue for the jacket. And the bib pants move with you whether going deep into a telemark turn or high stepping to break through fresh snow. Like waterproofing and breathability, OR executes stretchiness extremely well with the Skyward.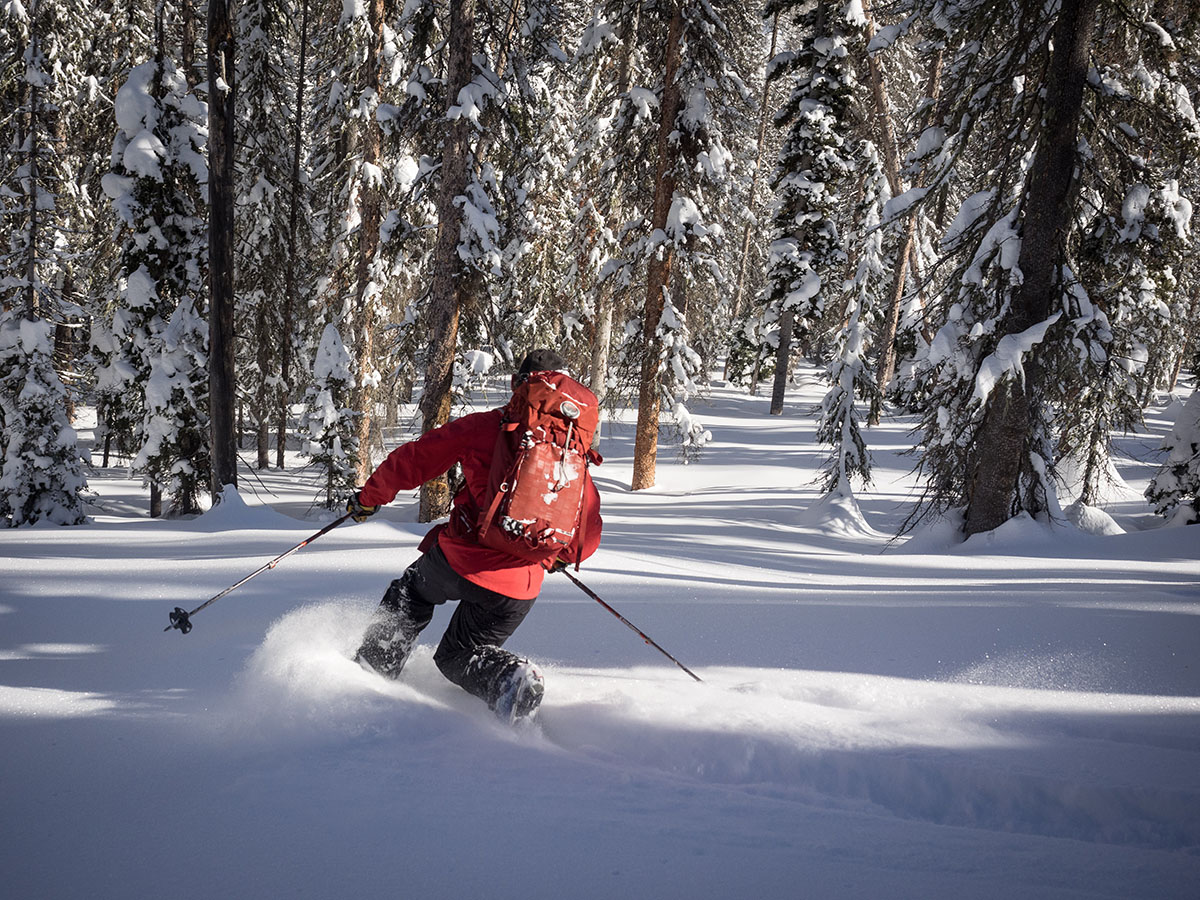 Storage: Pockets and Zippers
The OR Skyward jacket and pants are designed with many small features that matter to backcountry enthusiasts. On the jacket, the placements of the pockets are well thought out with four outside and two internal. The right chest pocket and two lower outside pockets each are roomy enough for a pair of goggles or extra gloves. The smaller pocket on the left chest is great for a phone, inclinometer, compass, or other essential gear. And the internal shove-it pockets are perfect for climbing skins when shredding hot laps. All are easy to access when wearing a pack belt, and the zipper pulls are large and simple to grasp with gloved hands.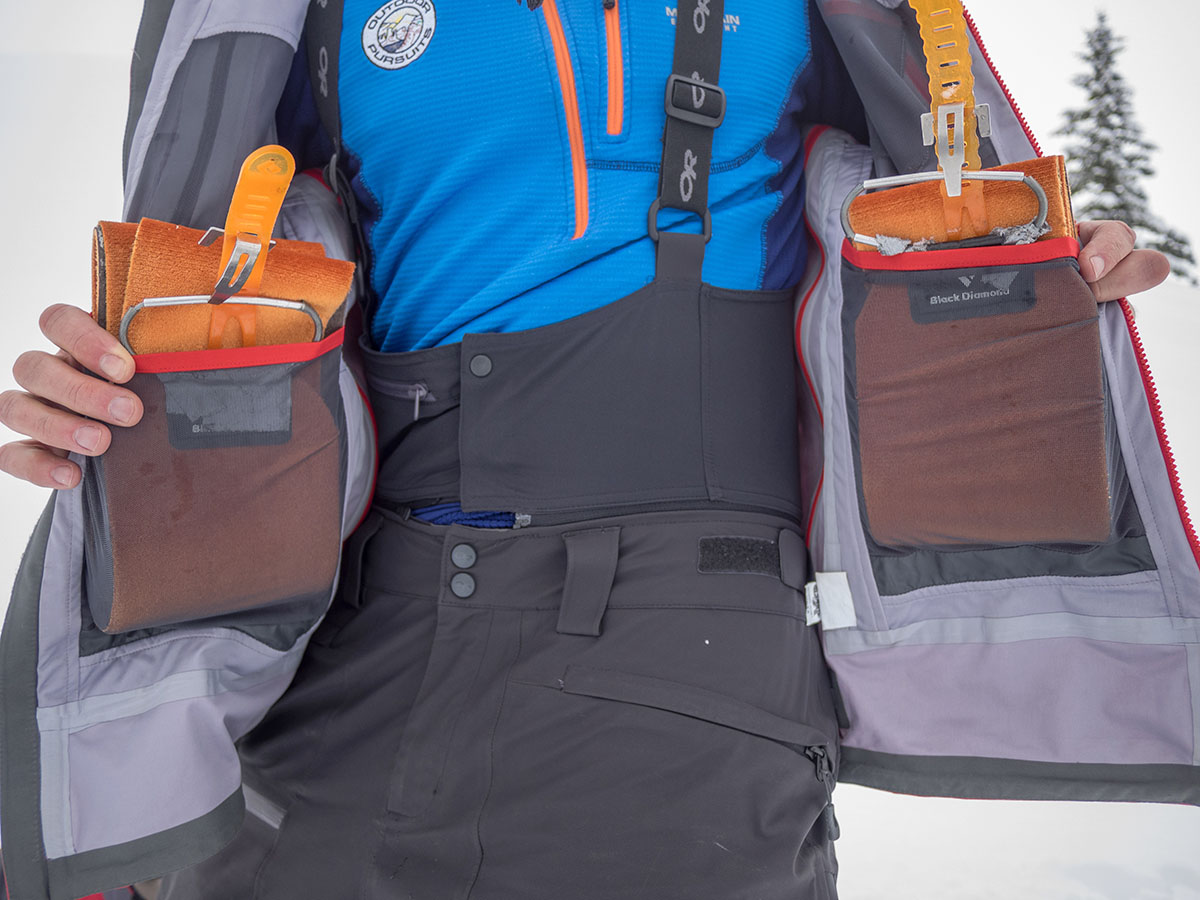 Like the Skyward Jacket, the bib pants have plenty of pockets (five) for storing the extra items backcountry skiers and riders tend to carry. The right thigh pocket is quite large and makes a great spot for stashing a compass, inclinometer, topo map, or other things that need to be accessed quickly when on the move. The roomy brushed-lined pocket located at the left waist is great for snacks, sunscreen, or sunglasses. And we found the pocket on the back of the left thigh to be perfect for extra ski strap storage.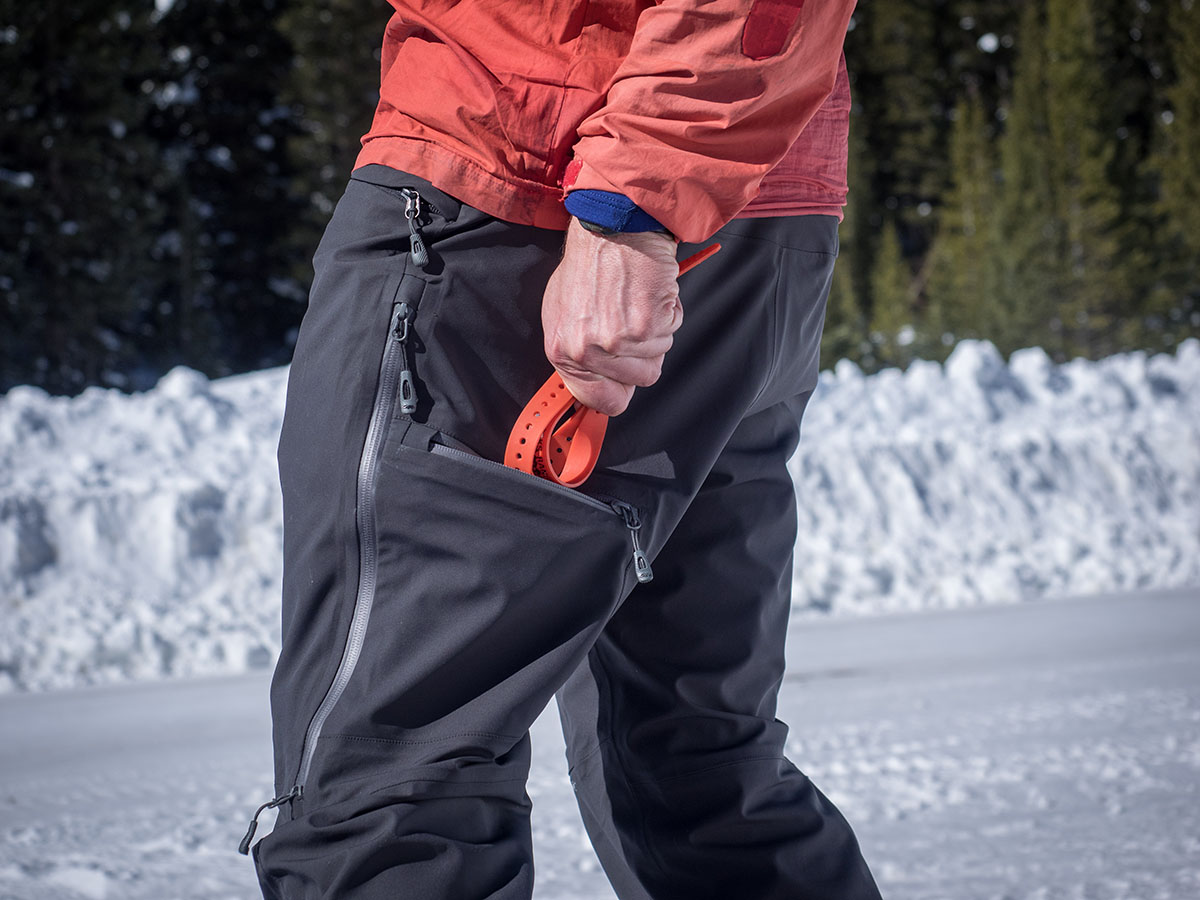 Perhaps the most technical and useful of all pockets is the beacon pocket on the pants (these designated spots are starting to become more prevalent in backcountry ski apparel). This pocket contains an inner pouch designed for the beacon to stay in place while on the go along with a clip for the beacon lanyard. We really like this feature as it eliminates the challenge of quickly finding a beacon under layers when it is worn on the upper body. With a quick zip, the beacon is out and ready to go into search mode.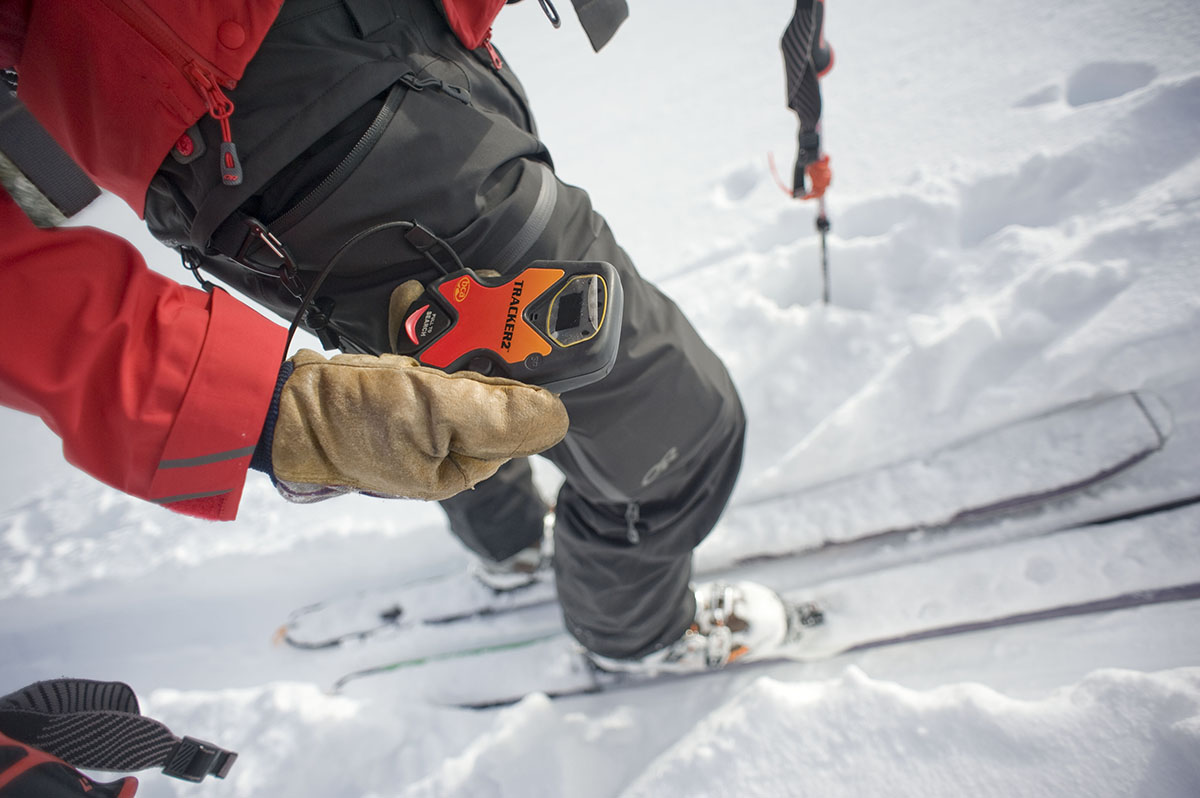 Helmet-Compatible Hood
Yet another well-designed feature is the helmet-compatible hood. It works great with ski helmets, and the simple three-point cord lock system makes the hood easily adjustable to give it a secure feel with or without a lid. Additionally, the moldable wire brim is a nice, simple touch that is useful for helping to keep precipitation from obscuring vision when transitioning to ski mode. Lastly, you get some extras such as a brushed collar, an internal storm flap, and waterproof zippers. There is little doubt that this jacket was designed by those who truly get after it in the winter.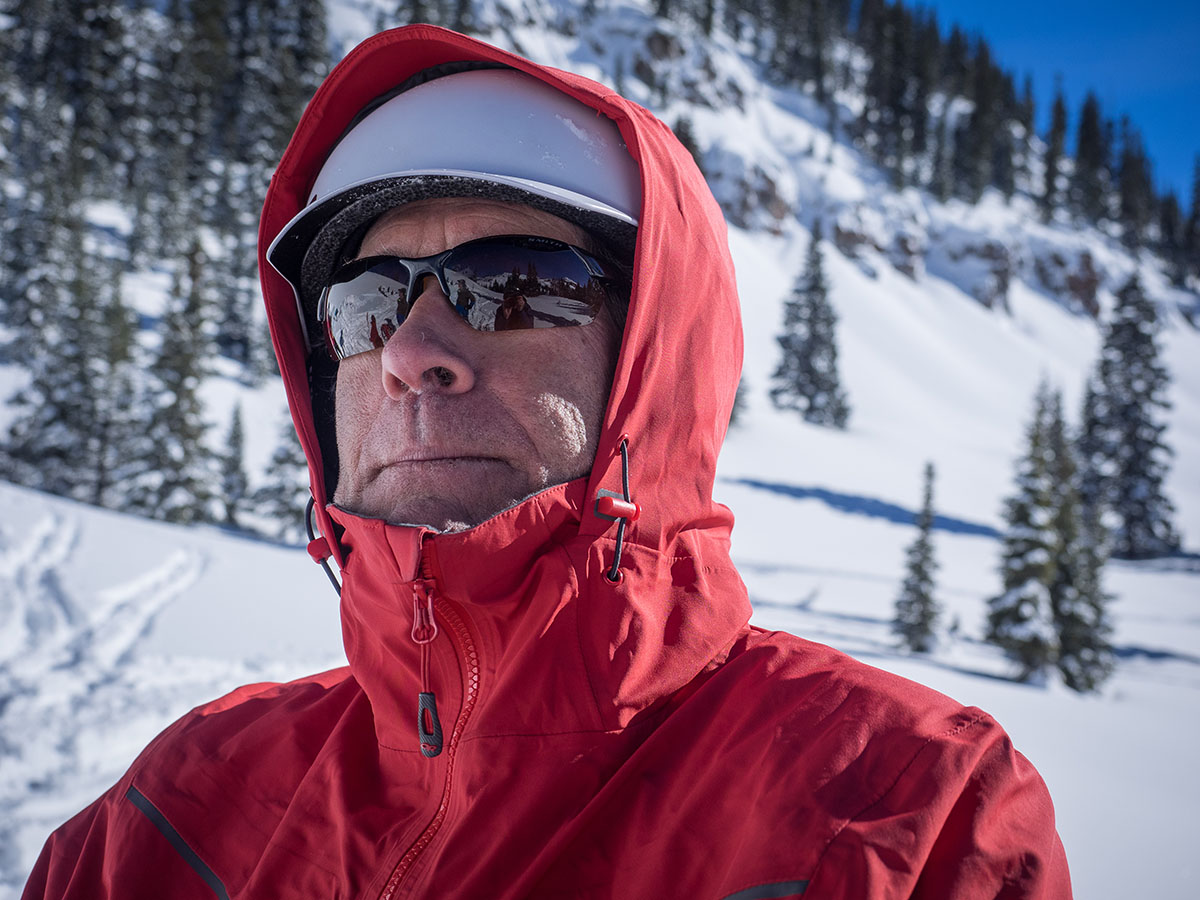 More on Pant Design
Outdoor Research advertises the lower body shell as "bib pants," meaning they can be worn as pants or as a bib. The bib portion contains suspenders that zip into the waist—it's a pretty slick way of meeting all skier preferences. The bib zips in and out easily and even has a small zippered pocket for such things as lip balm or an energy bar. When worn as pants, the waist contains belt loops and adjustable Velcro tabs for sizing. Based upon our preferences, we skied with them in bib mode and have no complaints.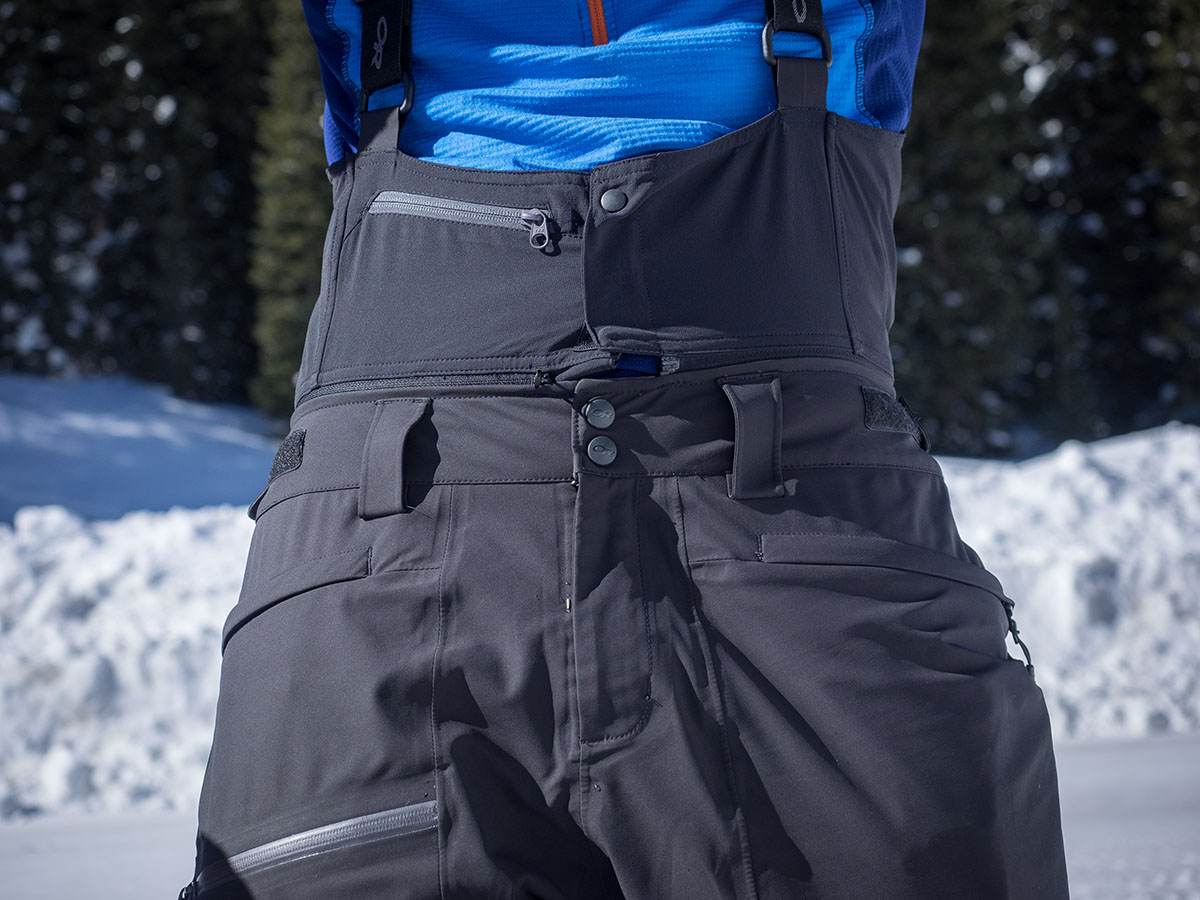 Working down to the cuffs of the OR Skyward Bib pants, you get reinforced scuff guards on the inside of each leg. Additionally, each has an internal stretch-mesh gaiter with a ski boot power strap slot built in. The gaiters are great for keeping the white stuff out of the boot tops on big powder days. Despite being repeatedly pulled up and over buckles, they have shown no signs of wear.  This is impressive since the gaiter typically is an area that takes a great deal of abuse throughout the season. We never fed our power strap through the slot in the gaiter as it seemed a little needless, but it may be a nice feature for some.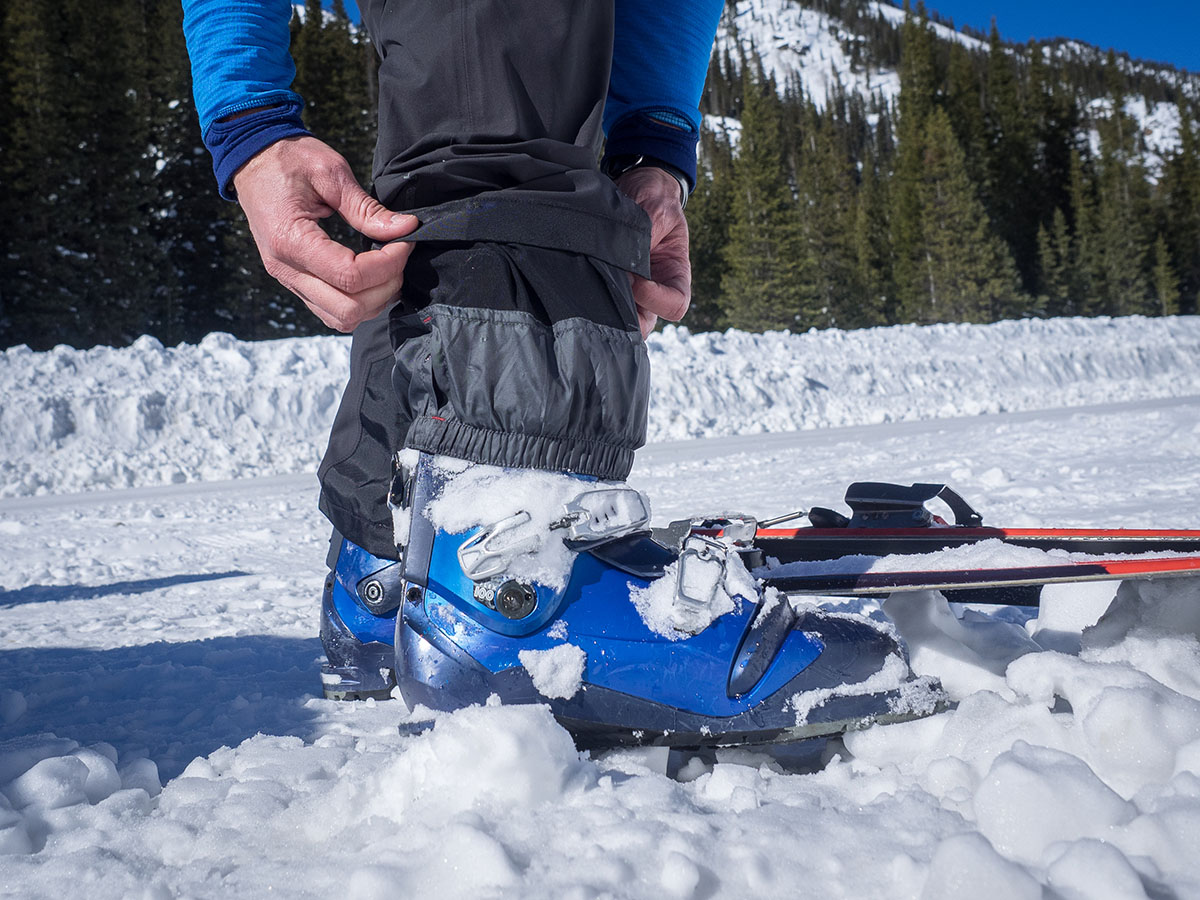 Fit and Sizing
We found the fit of the Skyward to be comfortable yet usable for the technical activities for which it was designed. The jacket and pants both fit true to size, with our size larges fitting as expected. For the top, the stretch fabric allows for layering underneath, which is key when prepping for a quick ski descent during cold and stormy days. And the two-way hem-to-bicep zips were extremely easy to adjust with no excess fabric impeding the venting process. In our eyes, this is a true testament to any ski jacket's accuracy of fit—nothing can be more frustrating than struggling to adjust the often-awkward underarm zips.  
For the pants, which also fit true to size, the suspenders were nice for keeping everything where it should be despite carrying an airbag pack. Though the waist can be adjusted through a couple of Velcro tabs, we would have most likely needed a belt if wearing in pants mode. Additionally, the pants are roomy enough to accommodate any size baselayer from thin tights to mid-weight fleece pants.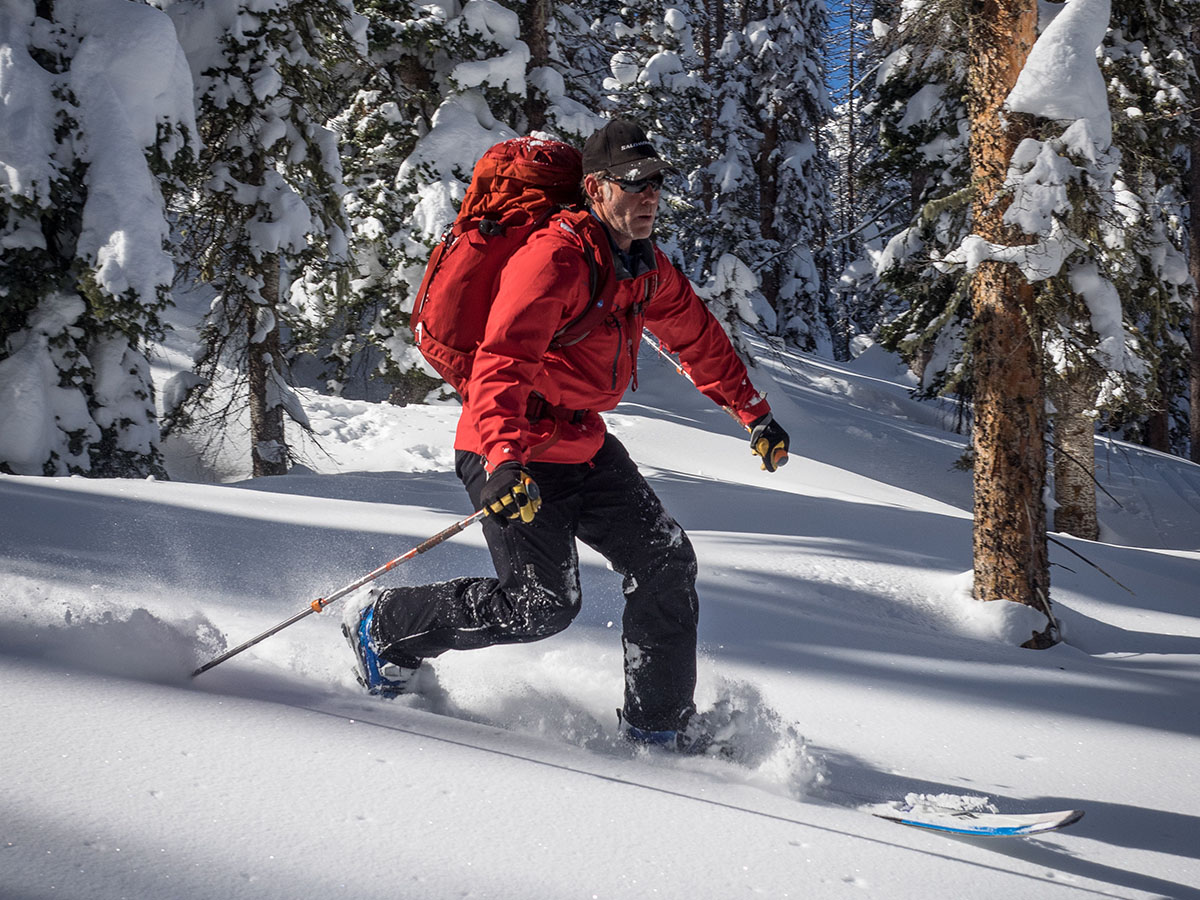 What We Like
Storm tested: When the skies were nuking fat flakes, its ability to keep us dry and comfortable was extremely impressive.
Great breathability when skinning up and ample ways to dump heat.
Solid range of movement.
The AscentShell fabric is surprisingly rugged. Our bib pants withstood the rigors of bushwhacking through tight trees and willow thickets without signs of wear. 
Well-thought-out pockets that are appropriately sized and easily accessible.

What We Don't
Those who are used to wearing a full-zip pant may find that the Skyward's thigh vents don't vent as well and are potentially restricting when trying to adjust boot buckles. This is just a personal preference though, and we did not feel that longer venting zippers were needed.
On the main zipper, the inside fabric on the left hem can get stuck when zipping up to escape the elements. This has been an annoyance on more than one occasion when making the final preparations to drop into a deep powder run. The end result has been working fabric out of the zipper, and we would like to see this fixed on future versions.


Ski Jacket Comparison Table

Ski Pants Comparison Table


The Competition
As we touched on above, it's readily apparent that the Skyward jacket and pants were made by folks that spend a good amount of time on the snow. The set-up nicely mixes the waterproof protection you get in resort outerwear but with the features and ventilation necessary for touring. Mild weather backcountry skiers may still be better off with a non-waterproof and highly breathable softshell kit like the Dynafit Chugach Windstopper, but we love the all-in-one Skyward that's equally adept lapping the resort as it is on serious backcountry powder missions.
Another strong backcountry option that we tested this winter is Patagonia's Reconnaissance kit. The jacket and pants use a mix of non-waterproof softshell and 3-layer hardshell fabrics in areas prone to contact with moisture for a great combination of weather protection, stretchiness, and breathability. For uphill travel, both the Skyward pants and Reconnaissance pants have fantastic freedom of movement and ventilation with side zippered openings. But unlike the pit zips you get with the Skyward jacket, the Reconnaissance goes without, which we found to be a pretty big downside when working hard. In choosing between the pants, it may come down to preferences between a bib (Skyward) and standard pant (Reconnaissance), but the inclusion of pit zips give a clear edge to the Skyward as a complete kit for ski touring.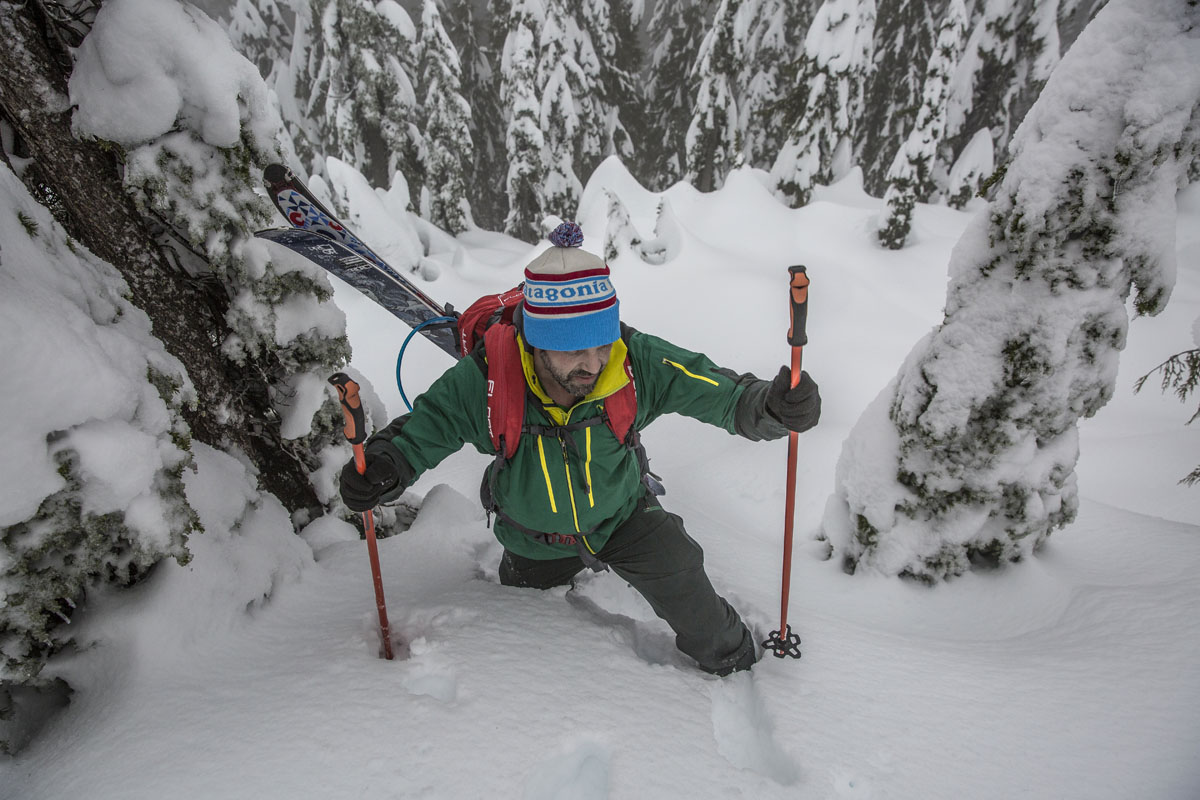 While Arc'teryx does not make a jacket and pants kit per se, from their extensive lineup of ski outerwear, their Procline Comp jacket and Lithic Comp bib pants are a fantastic set-up for serious ski touring. Similar to the Reconnaissance kit, the jacket and pants have 3-layer Gore-Tex in areas that come into contact with moisture most often, and a highly breathable softshell material elsewhere. The lightweight hybrid construction makes the Arc'teryx set-up not as good as the fully waterproof Skyward for mixed resort and backcountry use, but the Procline and Lithic are a step up in build quality and offer a more tailored fit for long days breaking trail. Where the Skyward wins easily is value: the $299 pants and $350 jacket easily undercut the Arc'teryx pairing, which are $425 each.
If you're thinking about buying gear that we've reviewed on Switchback Travel, you can help support us in the process. Just click on any of the seller links above, and if you make a purchase, we receive a small percentage of the transaction. The cost of the product is the same to you but this helps us continue to test and write about outdoor gear. Thanks and we appreciate your support!
Depending on the seller, most products ship free in the United States on orders of $50 or more. International shipping availability and rates vary by seller. The pricing information on this page is updated hourly but we are not responsible for inaccuracies.
Learn More About Ski Gear