After a long hiatus, REI Co-op has returned to the hiking boot game with the Flash. Sharing a name with the brand's in-house line of lightweight hiking and backpacking gear, the boot is highlighted by a unique knit upper, strong emphasis on sustainability with recycled materials used throughout, and a very competitive $130 price tag. In testing the Flash, we did have some complaints—namely, the traction is fairly disappointing, and we experienced pressure points along the inside ankle when laced tightly—but if you can get a good fit, it's a competitive offering for day hikes and short overnight adventures. Below we break down the Flash's performance. To see how it stacks up to the competition, check out our article on the best hiking boots.
 
---
Table of Contents
---

Performance
Comfort
Sliding your feet into the REI Co-op Flash, it's clear this isn't your standard-issue hiking boot. The design has a sock-like feel thanks to the stretchy gussets on the tongue, and the knit upper is reminiscent of a running shoe with a noticeably flexible feel. And underfoot, the insole is a nice surprise: unlike most stock designs that are cheap and thin, the TrailBed insole is decently thick, offers good arch support, and boasts more cushioning and comfort (it's almost rubbery) than I'm used to finding even on high-end hiking models. I also think that REI hit a nice mix of flexibility and stiffness with the Flash: it's easy to hike pretty quickly in the boot—although it's not as smooth as some trail runner-inspired offerings like Hoka One One's new Anacapa Mid—but you still feel the extra support and protection on rocky and rough sections.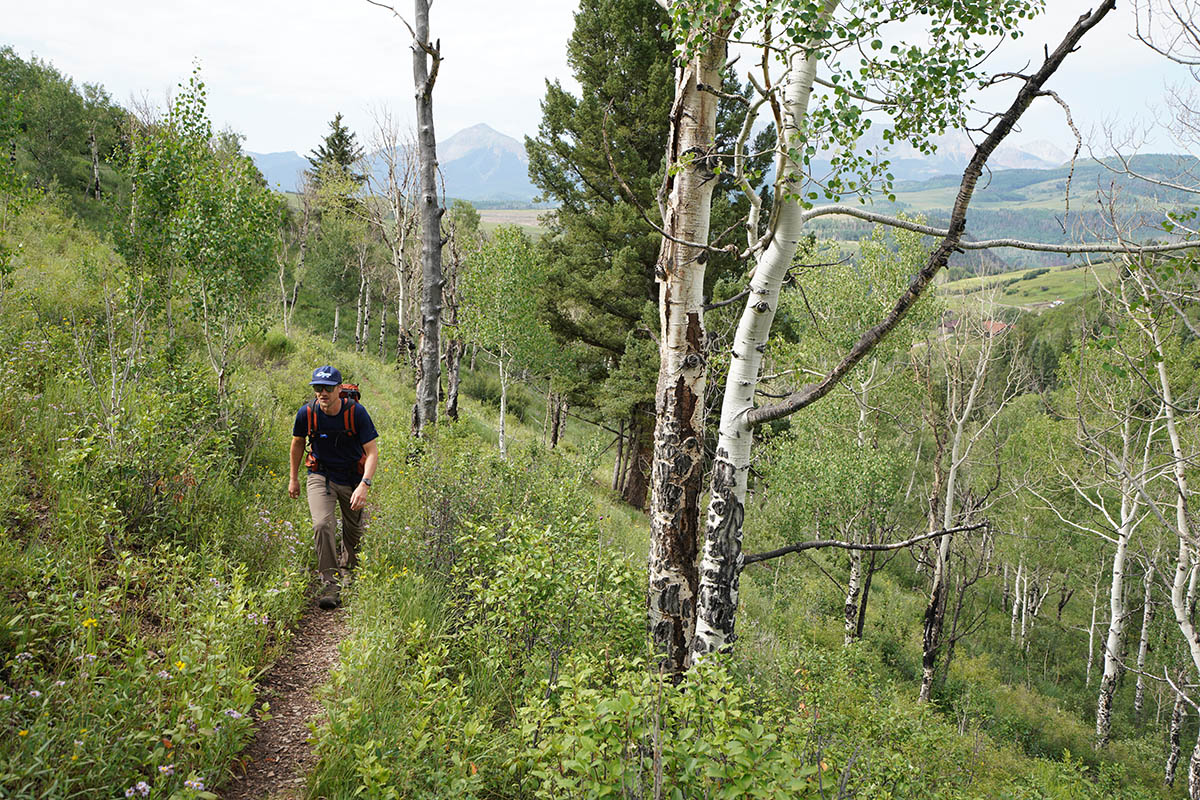 However, that's about where the positives end from my experience with the Flash. As soon as I laced them up, I suffered significant pressure points along the inside of both ankles that never fully went away, even after the rest of the boots were well broken in. The culprit appears to be a combination of thin padding on the tongue and collar, along with a metal eyelet that sits flush and digs in against the collar when you tighten the laces. The only way I was able to alleviate the discomfort was to loosen the laces, which inevitably made the boots feel sloppy and hard to trust. And because of its fairly wide fit overall—including roominess at the heel that caused rubbing on steep climbs—I ended up just dealing with the pressure points to avoid developing hotspots and blisters.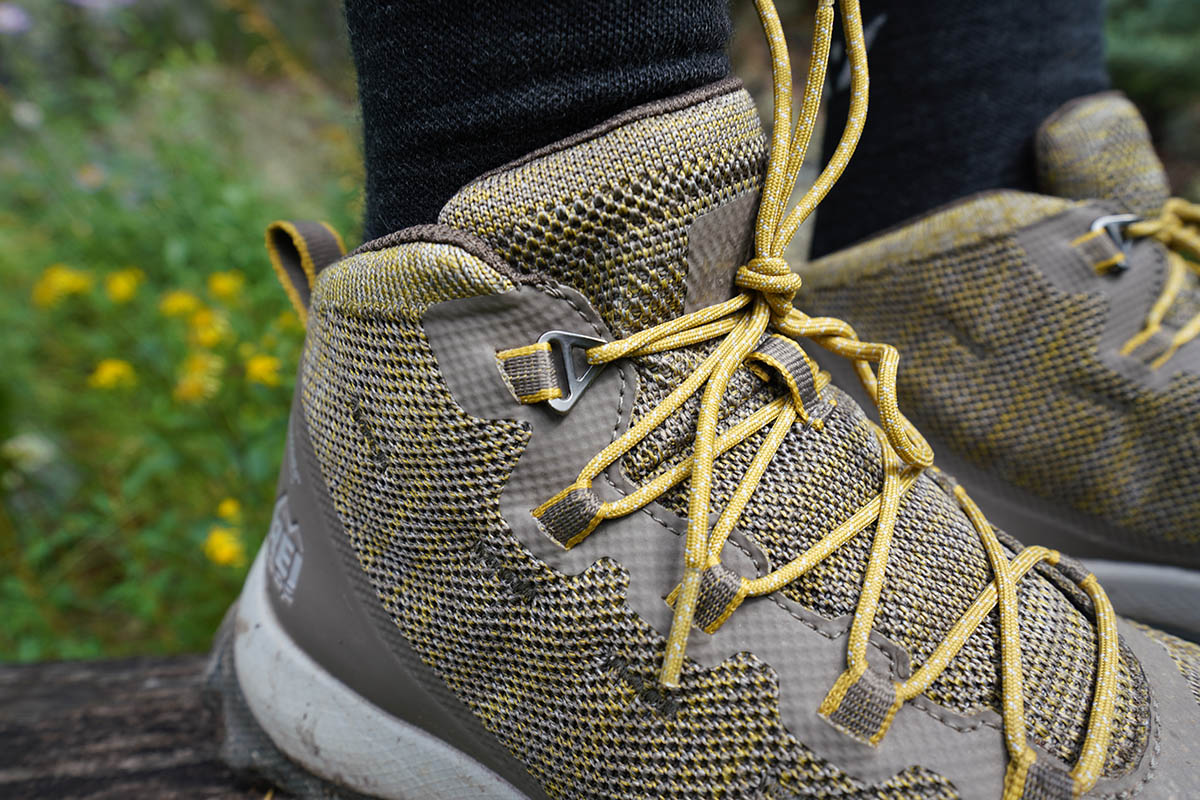 Weight
Billed as a fast-and-light design, my pair of Flash boots in a men's size 9 clocked in at 2 pounds 3.9 ounces on my scale (they're listed at 2 lbs. 2 oz.). Among day hiking models, this is about average: the popular and more heavily cushioned Merrell Moab 2 Mid WP checks in at a similar 2 pounds 4 ounces, while Keen's Targhee III WP Mid is 2 pounds 2.8 ounces. And importantly, you can go much lighter with a nimbler design like Salomon's X Ultra 4 Mid GTX (1 lb. 14 oz.). All told, the Flash isn't a heavyweight by any means, but it's also not the superlight, trail running-inspired model that many lightweight backpackers are on the hunt for.

Traction
For the most part, hiking boots provide pretty reliable traction across a range of surfaces, but I found that the REI Co-op Flash came up noticeably short on rougher and harsher terrain. Most significantly, the lugs are surprisingly shallow, and they lack bite and cake up almost immediately in softer surfaces like mud. This also translated to less grip both on steep climbs and descents. To me, this seems like an easy fix: simply add a couple millimeters to the length of the lugs, particularly under the heel for braking and the toe for aggressive inclines and loose slopes. To be fair, the boot performed decently well on rock, and the firm rubber isn't prone to chipping or tearing off on rugged ground. But until any changes are made, traction strikes me as a clear weak point of the Flash's design.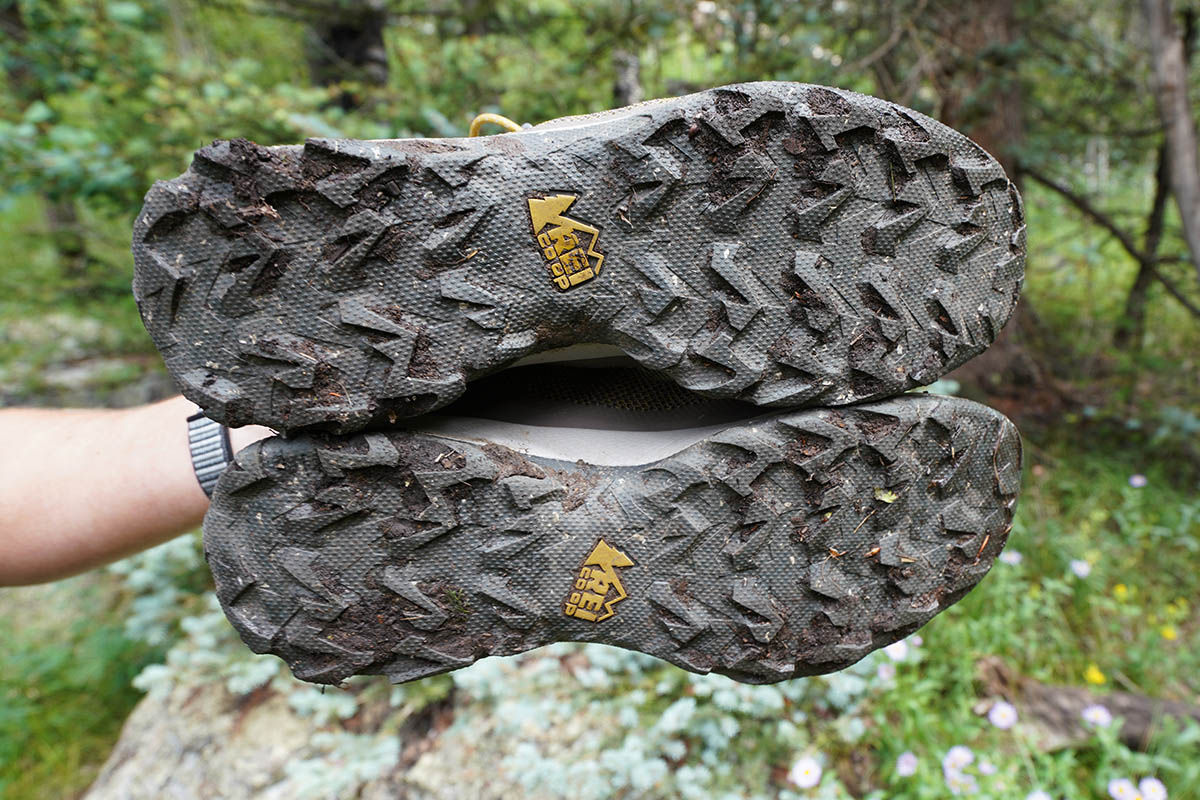 Stability and Support
Sitting just over the ankle, the Flash doesn't provide the same level of security as you get with a full-on backpacking boot like Salomon's Quest 4 or Lowa's Renegade. However, the mid-height design and decent stiffness underfoot should be plenty for most day hikes and moderate backpacking. The boot also has a pretty chunky and wide heel, and the lower stack height gives it a planted feel overall (your feet are fairly close to the ground). Finally, it's worth noting that because of the aforementioned roomy fit in the heel and toe box, it was essential for me to keep the laces tight. For those with narrower feet, this extra space could potentially lead to a sloppier and less secure feel on more technical terrain.

Waterproofing
As with most boots in the sub-$150 category, the REI Co-op Flash does not come with a Gore-Tex liner. Instead, you get a HydroWall-branded design, which uses 75-percent-recycled polyester and has proven to be a solid performer thus far in testing. I haven't given the boot a proper soaking yet, but I experienced no issues or leakage when standing in a creek, and the knit upper material shed moisture surprisingly well (although I'd expect it to start absorbing after extended exposure). Based on the tongue design, you won't want to step into water that rises higher than the bottom of your ankle, so there are undeniably limitations to the protection. But for light outdoor use, it just should be sufficient for most.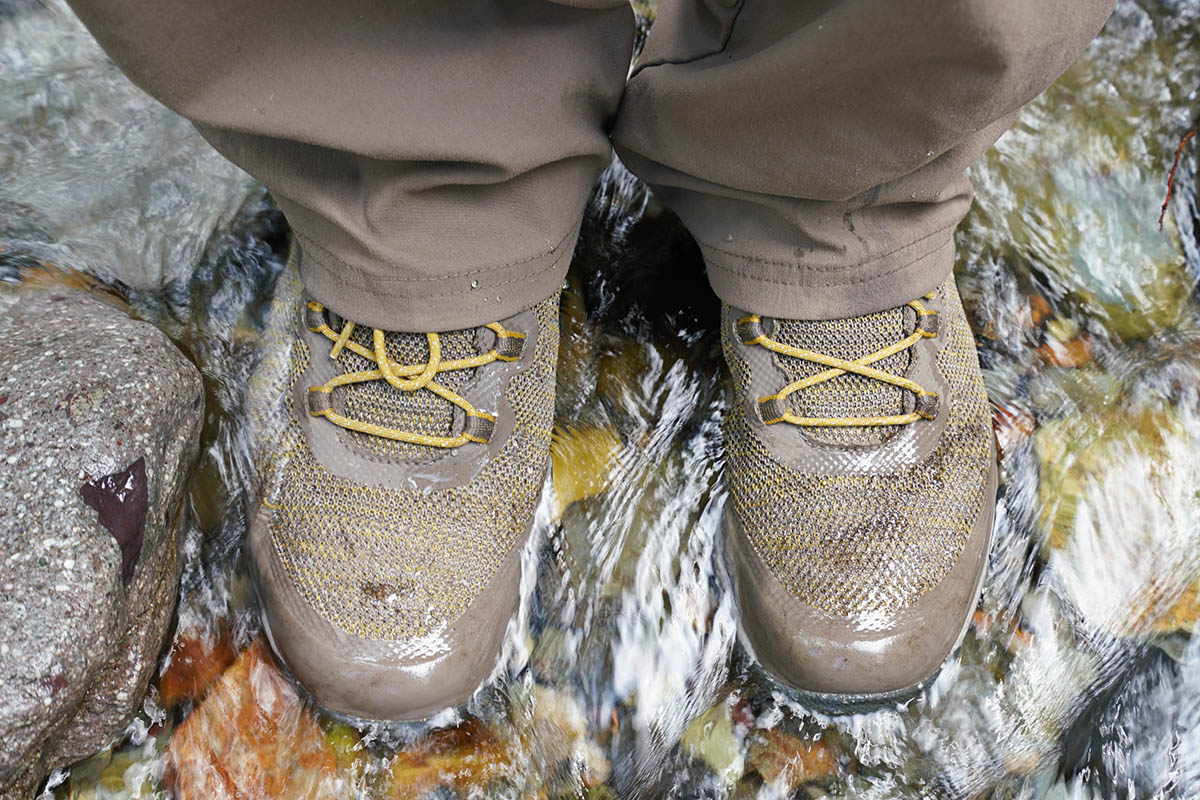 Breathability
Breathability is always a compromise in opting for a waterproof boot, and the Flash is no exception. The knit upper and budget-oriented waterproofing likely don't help, and I found myself with sweaty feet on summer hikes with temperatures in the low to mid 70s Fahrenheit. That said, the reality is that all waterproof hiking footwear makes concessions here, so this is far from a deal-breaker. But as with many designs we've tested, we would love to see a non-waterproof option released in the future (the Flash is currently only available with the HydroWall membrane).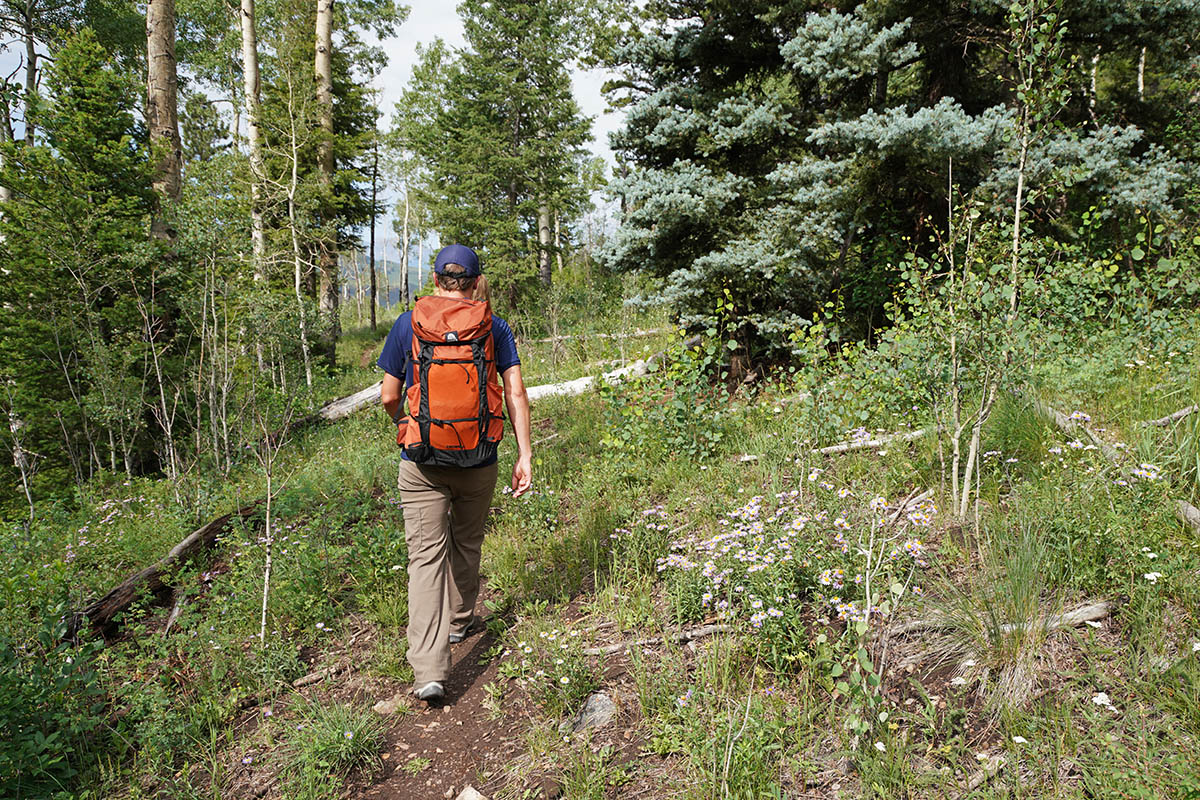 Toe and Ankle Protection
Looking a lot like a pair of trail running shoes, the Flash boasts a TPU overlay that runs the full length of the boot. This translates to a light amount of foot protection, including fairly solid cushioning at the toes (although it's not as sturdy as a full rubber design) that continues all the way through the heel. And despite having only moderate levels of padding around the collar, I found ankle protection to be sufficient to take the sting out of light hits when squeezing in between rocks.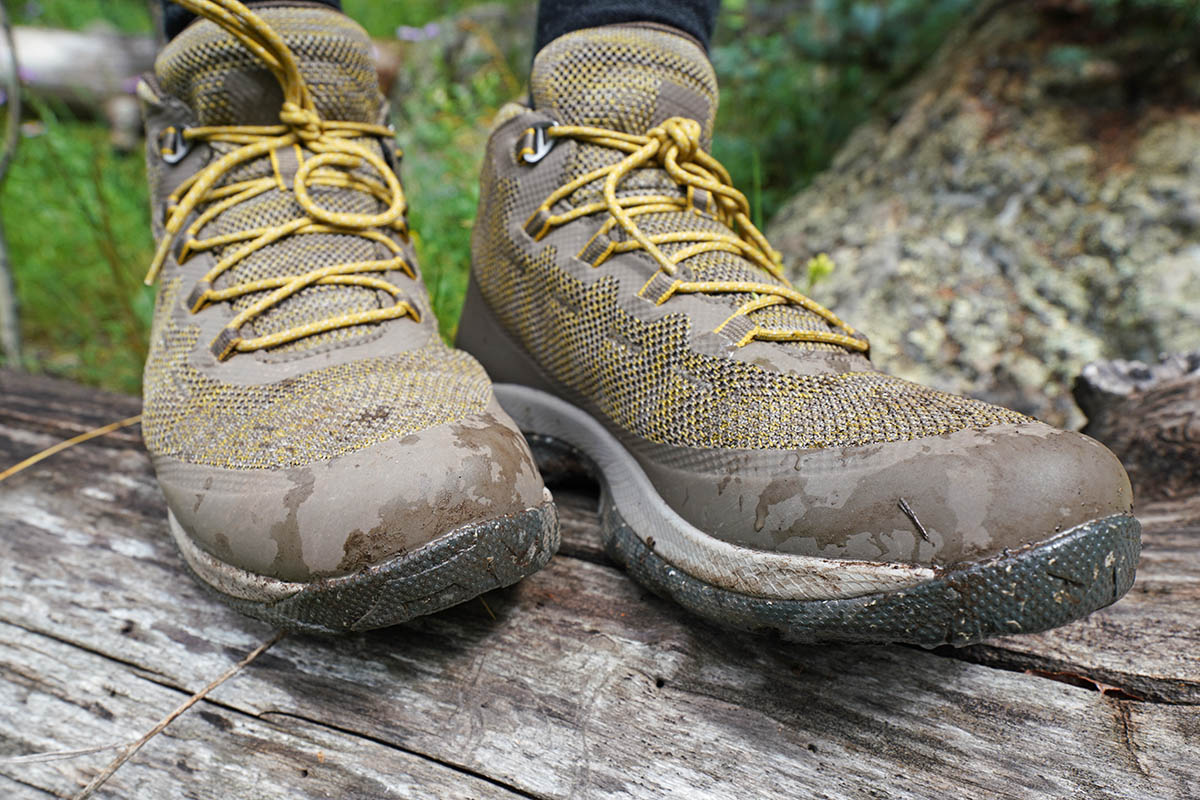 Build Quality and Durability
With the ability to sell in-house, REI has an upper hand in value, so it's not a big surprise the Flash boots are a solid deal. For $130, you get the high-quality knit upper and a build that is impressively stylish. And thus far in testing, it's all holding up very nicely: the firm rubber outsole looks like it'll have a long life (despite my previous complaints about its relatively limited grip), and all remaining pieces are looking good. My only complaints are that the lacing system has a tendency to loosen throughout the day, and from a comfort perspective, REI still has a long way to go to match the all-around performance of top brands like Merrell, Salomon, Asolo, and others.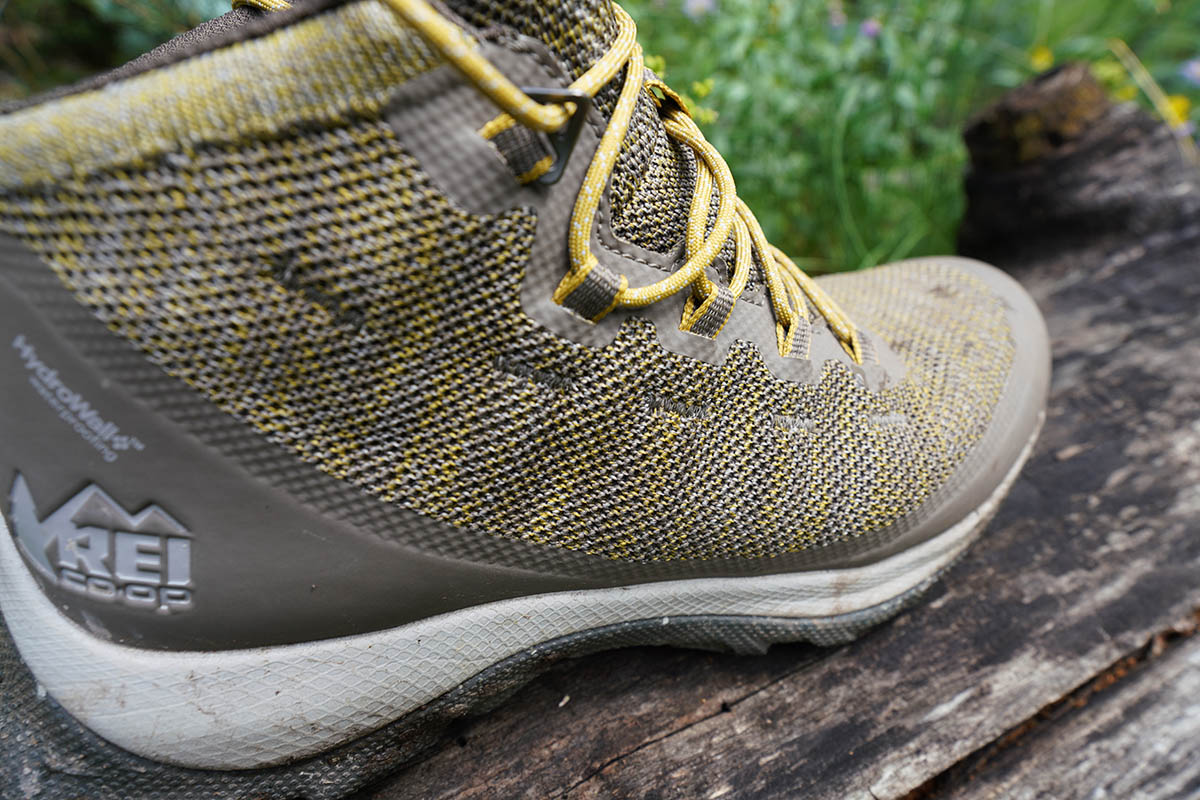 Fit and Sizing
I wound up ordering my standard men's size 9 with the Flash boot, and the overall fit struck me as a little big. Not only was it roomy in the toe box (a positive for most hiking trips), but the heel was also a bit too wide for my preference (I have a slightly narrow heel). This made it necessary for me to snug the laces pretty tightly, which seemed to exacerbate the previously noted problem with pressure points at the ankles. And lengthwise, I found the boot to run a little long as well. It's not enough for me to recommend sizing down a half size, but those that are often on the fence will likely want to try the boot on in person to ensure the best all-around fit.

Sustainability
In short, we think that REI Co-op set a new standard in incorporating eco-friendly measures into the Flash's design. Most of the boot's makeup utilizes recycled materials, from the FirmaKnit upper (99% recycled PET polyester) to the HydroWall waterproof membrane (75% recycled polyester), TerraGrip tread (20% recycled rubber), TPU overlays (30% recycled), and polyester webbing and lacing. In addition, the midsole uses 10 percent algae-based foam, and the insole utilizes a 25 percent bio-based compound. Added up, it's one of the most intentional hiking designs we've seen to date, and we applaud REI for the effort.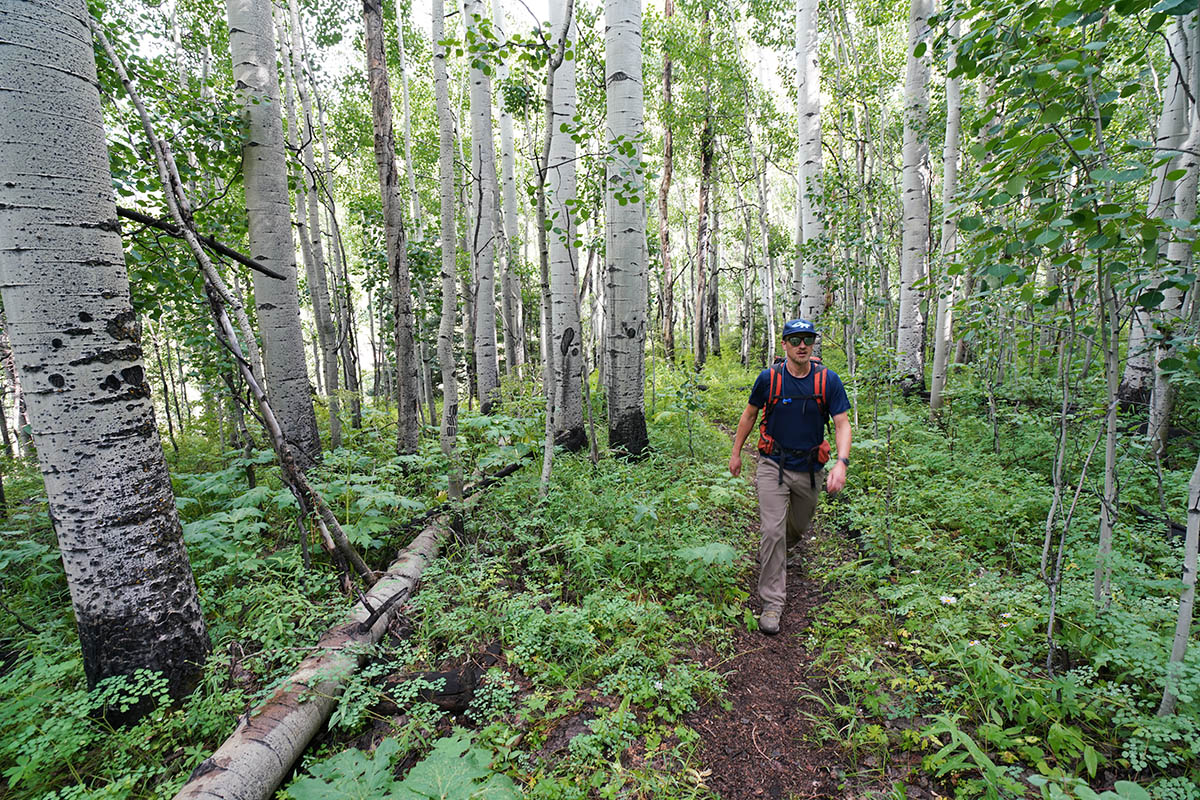 Women's Version of the REI Co-op Flash
We put the men's Flash through its paces for this review, and REI also makes a nearly identical women's model. The women's REI Co-op Flash costs the same at $130 and boasts many of the same features, including HydroWall waterproofing, a knit upper, and lightly protective TPU overlays. In parsing out the differences, the women's variation checks in a little lighter at 1 pound 13 ounces per pair and comes in a unique Smoke/Lilac colorway (in addition to the Granite Black and Bark/Moss options that are shared with the men's boot). And as I touched on above, REI's Flash collection also includes a range of lightweight hiking and backpacking gear, including backpacks, tents, trekking poles, a sleeping pad, and more.

What We Like
The Flash is strong value at $130, including a high-quality knit upper, impressively stylish build, and long-lasting rubber outsole.
TrailBed insole is decently thick, offers good arch support, and is noticeably better-cushioned and more comfortable than most stock designs.
Nice balance of flexibility and stiffness: it's easy to move quickly, but you still get decent support and protection for rough and rocky terrain.
Strong focus on sustainability, including the use of recycled materials, bio-based compounds, and algae-based foam.

What We Don't
I experienced significant pressure points along the inside of both ankles as a result of the thin collar and tongue padding and metal eyelet that digs in against the collar.
Outsole lugs are noticeably shallow and lack bite in softer surfaces like mud.
Fit is on the bigger side with a wide heel and longer-than-average length. 
Knit upper and budget-oriented waterproofing translate to subpar breathability in warmer temperatures (and the boot isn't offered in a non-waterproof model).

Comparison Table

The Competition
REI Co-op's new Flash joins a crowded and competitive field of hiking boots built for day hiking and short overnights. Merrell's Moab 2 Mid WP has similar intentions and is another popular offering in the budget category. Stacked up against the REI, the Moab is the classic choice with a more traditional look, secure fit, and excellent cushioning. On the flipside, the REI is the more modern offering and has a simpler and more streamlined build. Neither are high-performance models—both are best-suited for day hikers and shorter, on-trail backpacking trips—but given the pressure points at the ankles that I experienced with the Flash, the Moab strikes me as the superior design.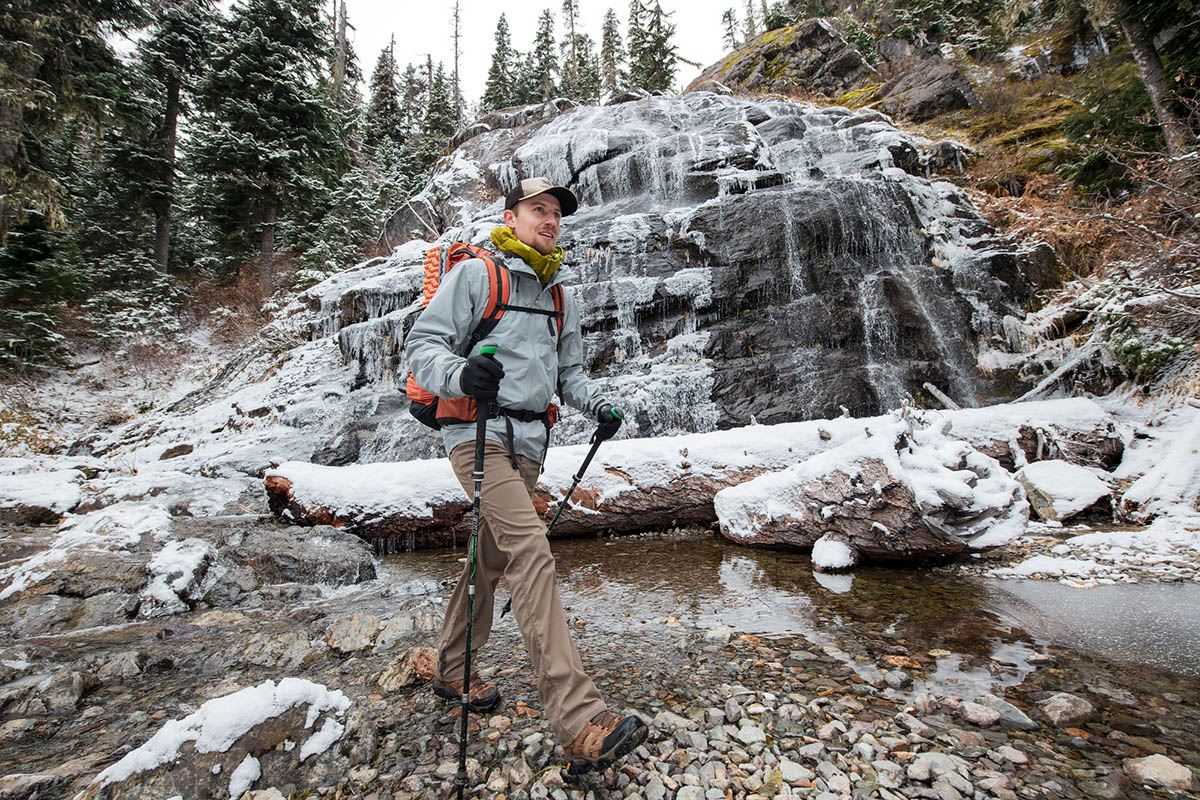 Next up is Keen's Targhee III WP Mid, which—like the Moab—is a long-time favorite for day hiking and easy-to-moderate backpacking outings. Similar to the Merrell, the Keen has a fairly classic look and feel with a leather upper, sturdy toe cap, and roomy toe box. For $20 more than the Flash, the Targhee also sports better cushioning and a tougher construction thanks to the aforementioned leather build. Plus, we didn't experience any major comfort-related issues with the Keen. That said, the Targhee is a bit expensive for a relatively uninspiring design, so we recommend price-focused shoppers stick to cheaper Moab above. On the flipside, those that want a light and nimble boot will be better off with the X Ultra below.
Our comparison wouldn't be complete without including Salomon's X Ultra 4 Mid GTX, which is one of the most capable all-around hiking boots under $200. In short, it beats the Flash in most ways except price. As I mentioned above, it's a nimbler design that undercuts the Flash in weight at 1 pound 14 ounces, and it also offers notably better on-trail comfort, protection, stability and support, and grip across a wide variety of surfaces (including rougher and softer terrain, where the Flash struggled). If you can afford the added $35 investment, we think the Salomon is far and away the more adept and well-rounded pick.
Oboz is known for their comfort-first footwear, and their Sawtooth II Mid WP remains a popular pick for many backpackers. The Sawtooth is pricier and heavier than the Flash at $155 and 2 pounds 6 ounces respectively, but you get a more hardwearing nubuck leather upper, and the O Fit insoles are exceptionally comfortable with great arch support and nice squish. Fit is another highlight: in testing, we found that the Sawtooth fit like a glove with no areas of looseness, a snug heel, and a secure feel overall. However, despite its relatively average weight, the Sawtooth felt noticeably heavy and clunky on the trail, and the heavily cushioned midsole led to a less confidence-inspiring and connected ride than you get with the Flash. In the end, a final decision will likely come down to preferences on comfort and fit (the Oboz wins out) versus price, stability, and looks (the REI gets the edge).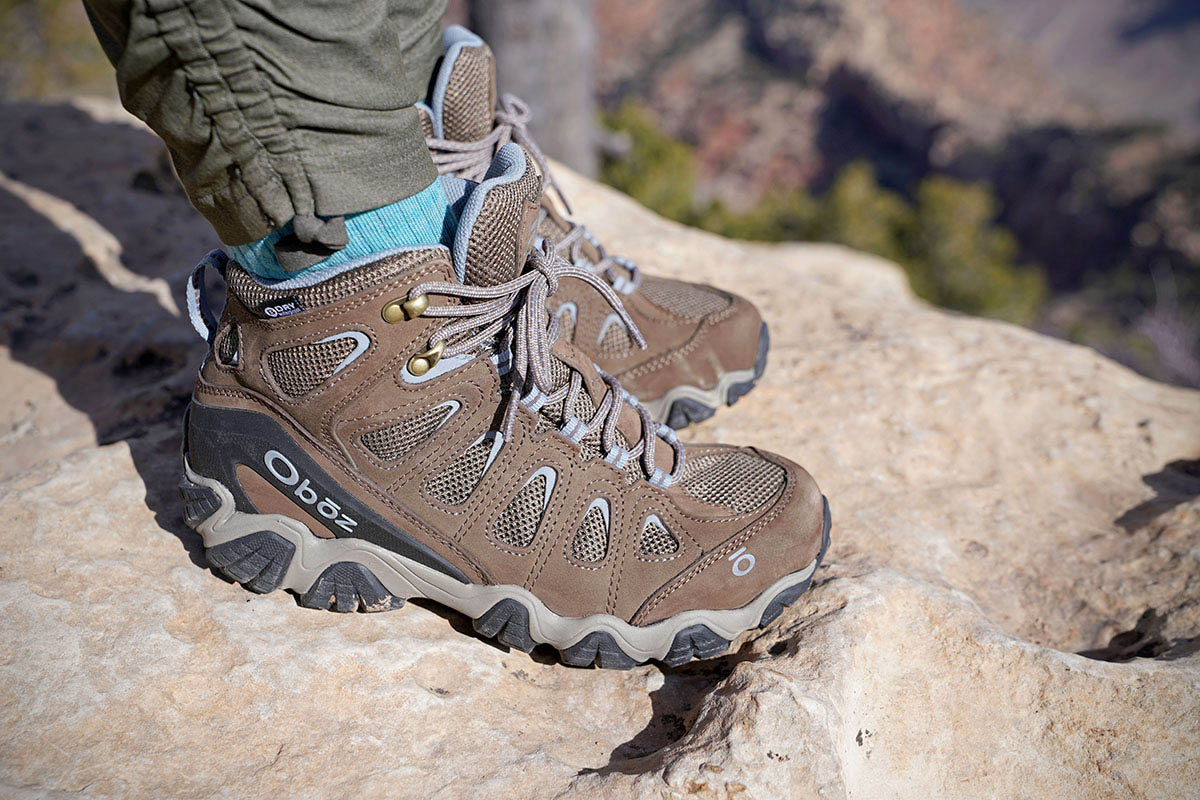 A final alternative to consider is Altra's over-the-ankle version of their popular trail runner: the Lone Peak ALL-WTHR Mid. Right off the bat, we'll note that the Lone Peak is a strikingly different design than the Flash, both in intentions and personality. While the Flash is a viable option for day hiking and light backpacking, the Altra is essentially a reinforced trail running shoe purpose-built for the fast-and-light crowd: it's lighter at 1 pound 14 ounces, much nimbler and more responsive than the REI, and makes some compromises in protection and support. If your main objective is covering ground quickly, those tradeoffs—plus the $40 jump in price—may be worth it. Otherwise, the Flash has wider appeal.
Editor's note: We usually provide a live price comparison table below our outdoor gear reviews, but the Flash is sold exclusively by REI Co-op. You can see the Flash hiking boot page here and support us in the process. Thanks!
Read More From Switchback Travel