REI Co-op Passage 2
Price: $159
Weight: 5 lbs. 10 oz.
Dimensions (LxWxH): 88 x 52 x 40 in.
Capacities: 1P, 2P, 3P
What we like: Fantastic price for a well-rounded, durable, and easy-to-use design.
What we don't: Heavy, large packed size, and only moderate interior space.
See the REI Co-op Passage 2
REI Co-op's Passage 2 is proof that you don't need to spend hundreds of dollars to get a high-quality backpacking tent. For just $159, you get a durable build, two doors and vestibules, a full-coverage rainfly, and even an included footprint. At this price point, you do sacrifice some livability with a simple X-shaped pole structure, and the tent is fairly hefty and bulky compared to much of the modern (and more expensive) competition. But in terms of value, you'd be hard-pressed to find a more well-rounded design for less. To see how the Passage stacks up to the competition, see our articles on the best backpacking tents and best budget backpacking tents.
 
---
Table of Contents
---

Performance
Livability and Interior Space
With 31 square feet of floor area (listed at 88 x 52 in.) and a 40-inch peak height, the REI Co-op Passage 2 offers decent overall livability for two backpackers. At floor level, the tent is moderately spacious, but the walls are far more slanted than higher-end designs that feature a center ridge pole to stretch the sides up and away from you (like REI's own Half Dome SL and Trail Hut collections). As a result, the Passage felt a little cramped with both of us sitting inside, although lying down wasn't an issue. In fact, we were able to fit two regular-width sleeping pads side-by-side with a couple inches to spare on either end, and the floor was long enough to accommodate a long sleeping bag. And with two vestibules (more on these below), there was no issue finding a spot for all of our gear without overcrowding the interior.
All things considered, couples who regularly camp with a dog or who prefer a roomy interior will be better off with a design like REI's Half Dome SL 2+ (35.8 sq. ft.), but the Passage is perfectly serviceable for two (provided you don't mind being in decently close quarters). And a final note on space: REI updated the door shape last year, which we consider a positive change. Our tester using a past-generation version of the tent found the door a bit small, but the larger D-shaped opening on the latest model makes entry and exit a bit easier.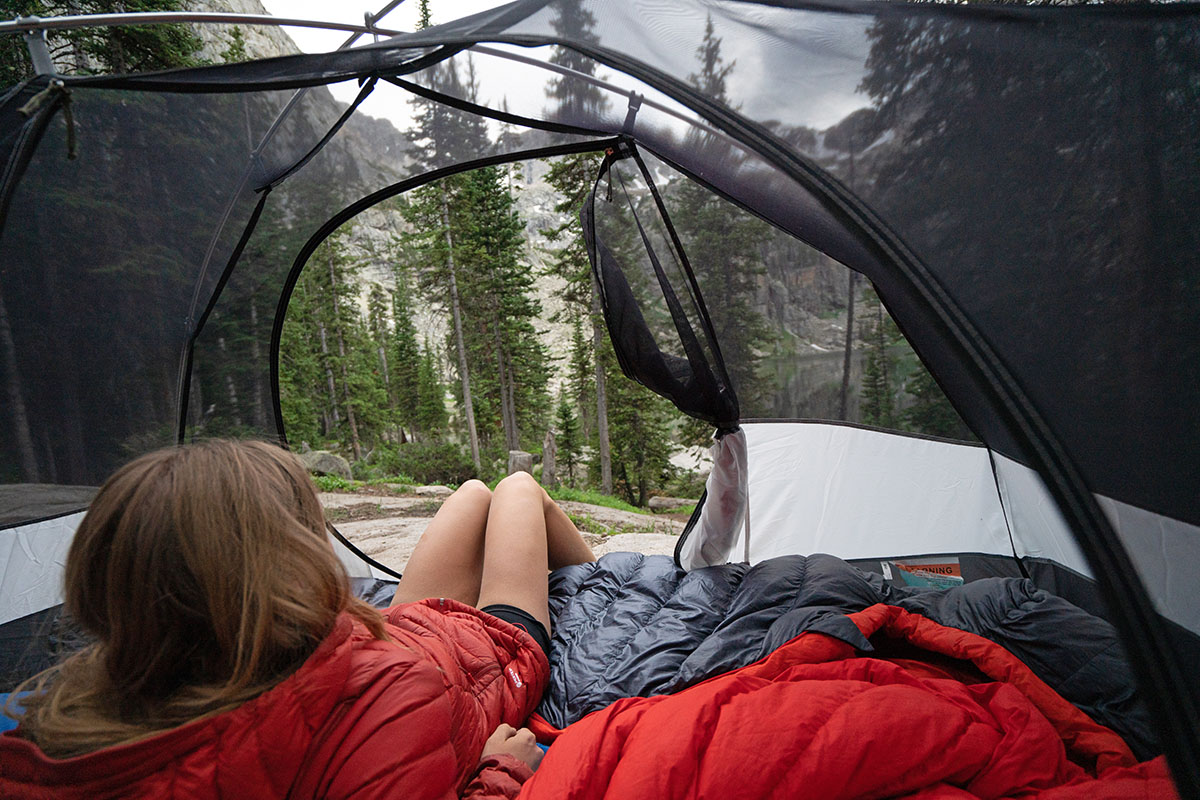 Weight and Packed Size
At 5 pounds 10 ounces, the REI Co-op Passage 2 is far from an ultralight design. For comparison, many premium backpacking options clock in closer to 4 pounds, including Nemo's popular Dagger 2P and MSR's Hubba Hubba NX (both 3 lbs. 14 oz.). That said, these alternatives cost significantly more, use substantially thinner materials to shave weight, and don't include a footprint (which is factored into the weight). Closer comparisons include REI's own Trail Hut 2 (5 lbs. 15 oz.) and Half Dome 2 SL 2+ (4 lbs. 13.5 oz.) as well as Marmot's Tungsten 2P (5 lbs. 4 oz.). All in all, the Passage is manageable for shorter trips and those who only get out a couple times a year, but stepping up to a lighter model is a good idea if you plan to cover long distances or hit the trail regularly.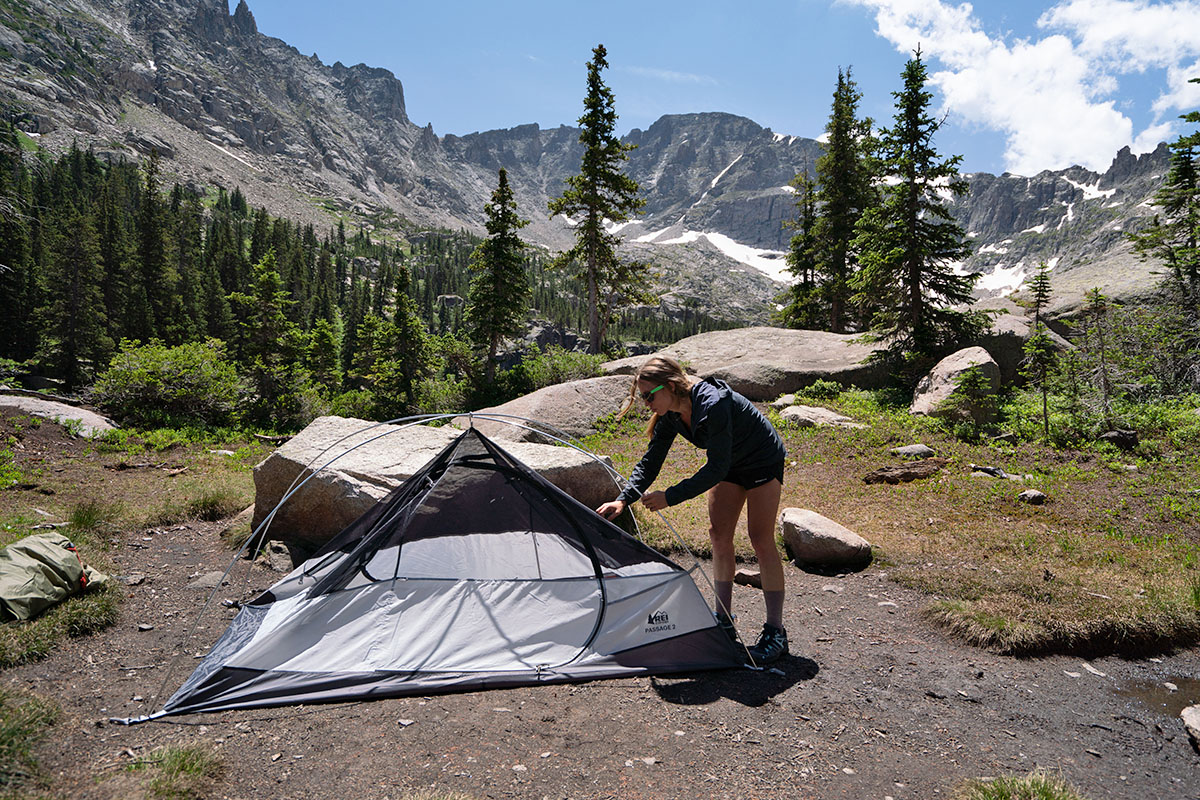 Given the higher weight, it comes as little surprise that the REI Passage 2 takes up a lot of space in a pack. At 8 x 18 inches when stuffed, the Passage is noticeably bulkier than much of its competition. For comparison, Nemo's Dagger 2P packs down to 6.5 x 19.5 inches, and even REI's roomier Half Dome SL 2+ has a narrower diameter at 7 x 20.5 inches. On the bright side, the Passage does come with a generous stuff sack to accommodate haphazard packing, and you can always split up the tent body and rainfly between you and a partner if you find yourself limited on space.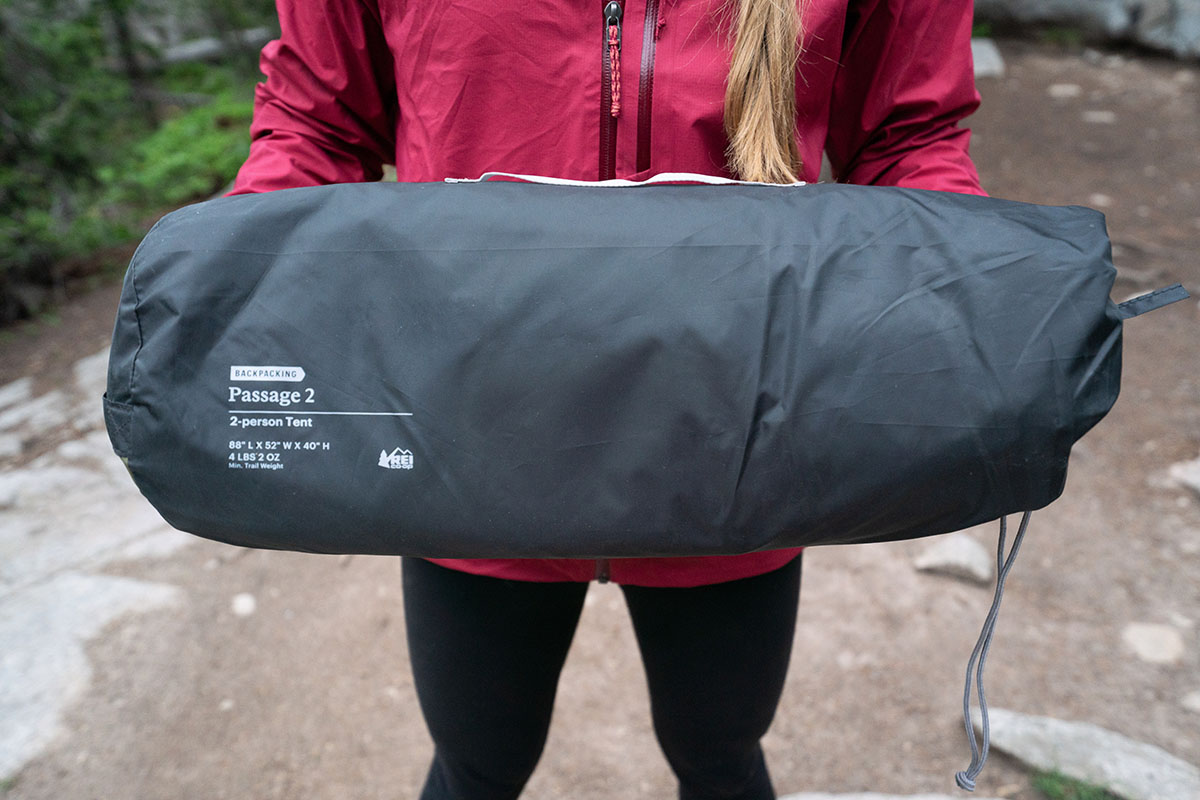 Durability
Despite its budget-friendly price, the REI Co-op Passage 2 impressed us from a build quality perspective. For the floor material, REI used a robust 66-denier polyester that feels noticeably thick and was confidence-inspiring while camping in a somewhat rocky area in Colorado's Indian Peaks Wilderness (many will opt to leave the footprint at home because of this). The rest of the build is equally well-executed: all zippers work smoothly, the aluminum tent poles and clips feel noticeably hardwearing, and you get a generous amount of mesh along the top half of the tent for stargazing and allowing airflow.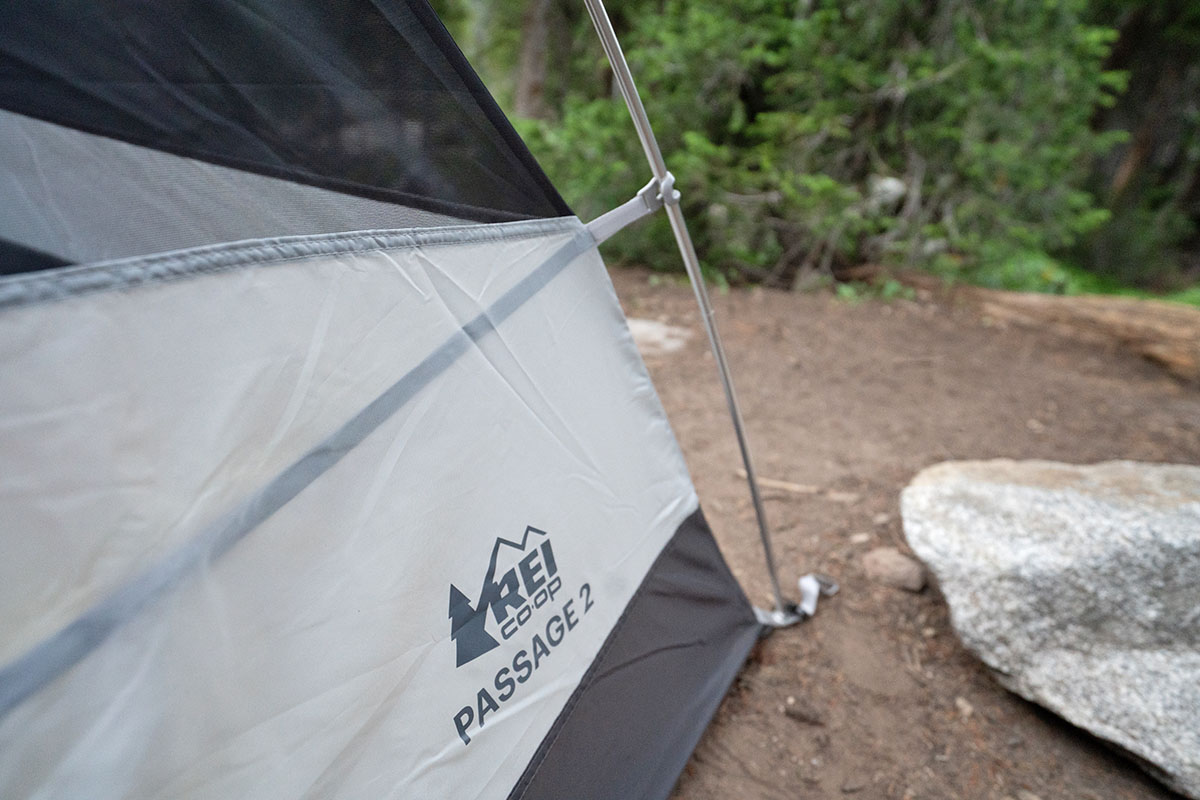 Weather Protection
The Passage 2 is a 3-season backpacking tent, meaning it's made to handle most moderate conditions with a full-coverage rainfly, robust materials, and bathtub floor to seal out water at ground level. Our trip into the Indian Peaks Wilderness involved only drizzle overnight, but we didn't experience any leakage. And we had a similar experience while testing the past-generation model on Washington's Olympic Coast. We didn't face any heavy winds during our time with the Passage—a bit surprising given the quasi-alpine environment—but we imagine the tent will be able to withstand most moderate gusts without bowing too aggressively. That said, it's worth noting that the Passage only comes with six metal stakes, and we'd recommend purchasing a few more to boost protection and guy out the fly properly in especially blustery conditions.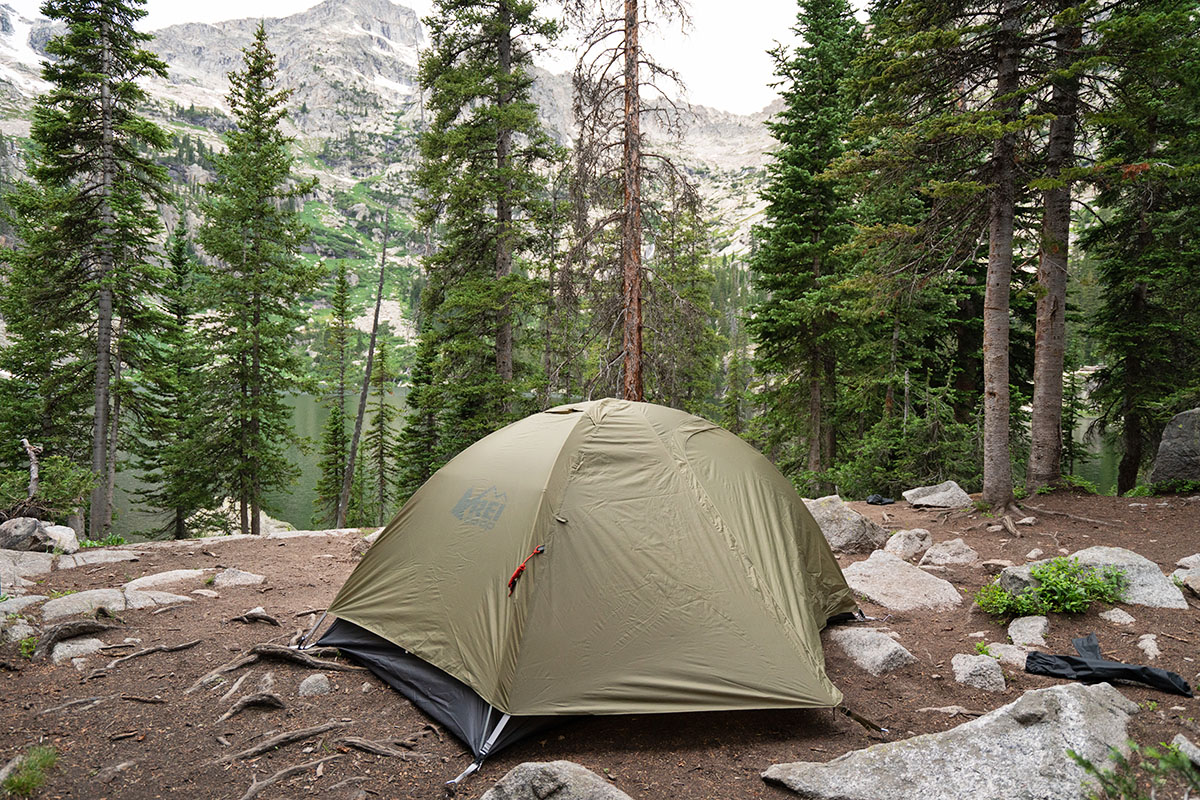 Ventilation
Another pleasant surprise with the budget-oriented Passage 2 is its good overall breathability for most 3-season conditions. We didn't experience temperatures higher than around 70 degrees Fahrenheit in the Indian Peaks, but there was no moisture build-up, and breathability was superb without the fly on thanks to the mesh-heavy design. In addition, the Passage sports a vent at each side of the roof that can be deployed with a Velcro tab to boost airflow (make sure to close them to keep windblown rain from entering, although we found them perfectly fine to leave open during light storms). Finally, the fly doors can be rolled up over the roof for an open view of the night sky and to reduce condensation. We'll report back as we take the Passage into more demanding conditions, but all signs are positive that the tent will perform well, even on warm summer nights.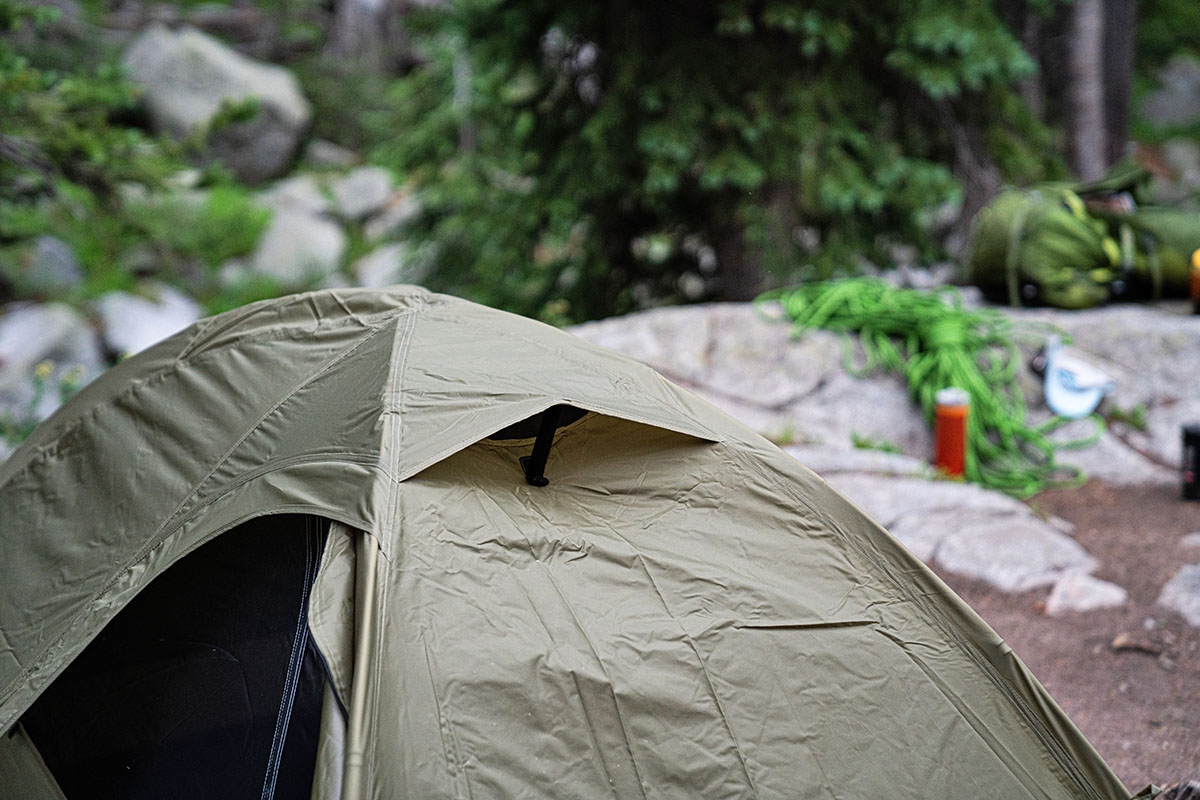 Storage
Storage is a bit of a mixed bag with the REI Co-op Passage 2. On one hand, you get a two-door-and-vestibule design that makes it easy to stow gear outside the tent. The vestibules are average-sized at 9.5 square feet each, and we were able to stash our equipment and still get in and out of the tent separately without issue. The rainfly can also be rolled back and out of the way, which still leaves one area protected to stow gear and the other side open for easier entry and exit. While waiting out a light afternoon storm, we had no trouble fitting our full backpacking packs, hiking shoes, and even our cook kit and food bag with room to spare.
Internal storage undeniably is lacking with the Passage. Only two mesh pockets are included—one at the head end and one at the opposite side of the foot end. These are easily accessible while in your sleeping bag (provided you are sleeping on the same side as the pocket) and a nice size for stashing essentials like a phone, headlamp, and map. But I did find myself wishing for a couple more spots to stow miscellaneous items like a notebook and deck of cards. The roof also features gear loops to hang a light or a separate gear loft. For reference, REI's Half Dome SL 2+ also sports gear loops at the ceiling but includes a whopping six pockets along the roof, stuff pockets at each door, and two large pockets in the corners. All in all, we appreciate the low price point but wish the Passage were a bit more generous on organization.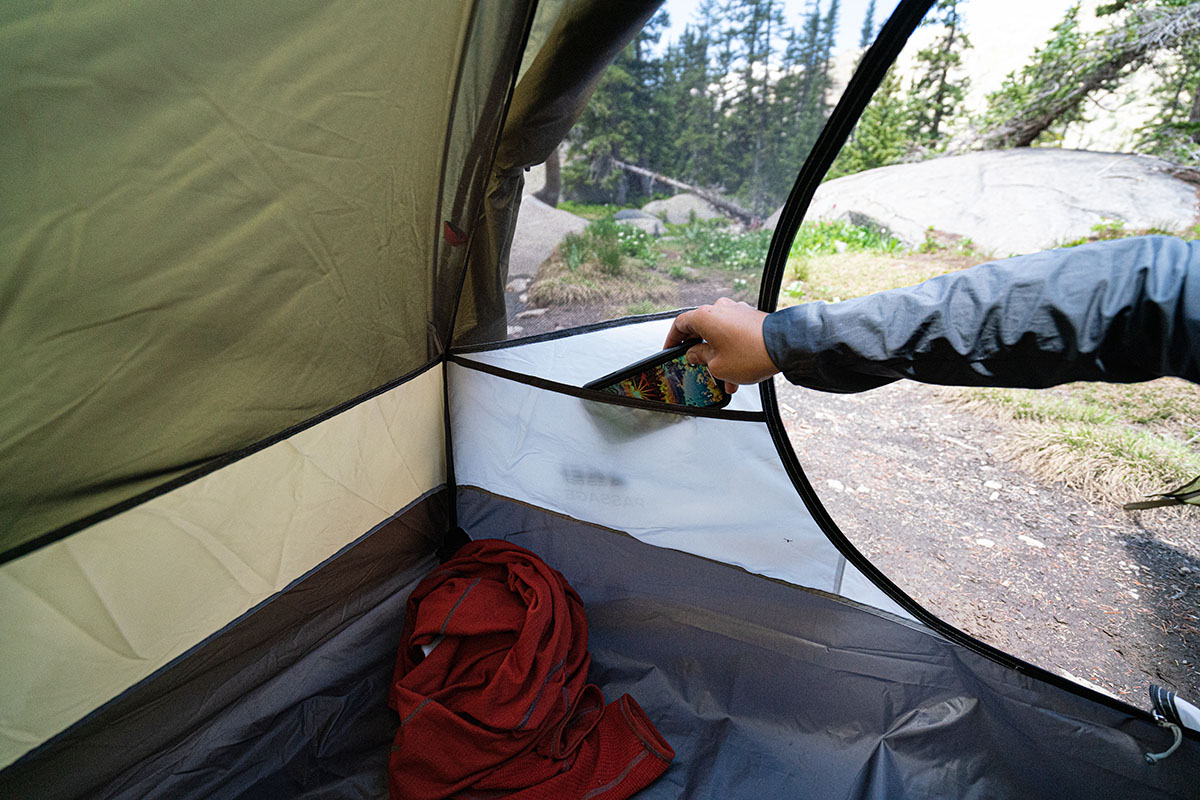 Set up and Take Down
Unsurprisingly, the freestanding and symmetrical REI Co-op Passage 2 was a cinch to set up, even for one person. Out of the box, the footprint was already attached to the tent body, so the process was as simple as laying the tent on the ground, connecting the poles at each corner (the tent has a simple, X-shaped design with two poles), and clipping it all together. The rainfly then buckles along the bottom at each corner and can be staked out easily with pre-attached guylines. REI also includes instructions on the tent's stuff bag, but the process was quite intuitive, and I had no trouble getting it set up within a couple of minutes, even on the first try.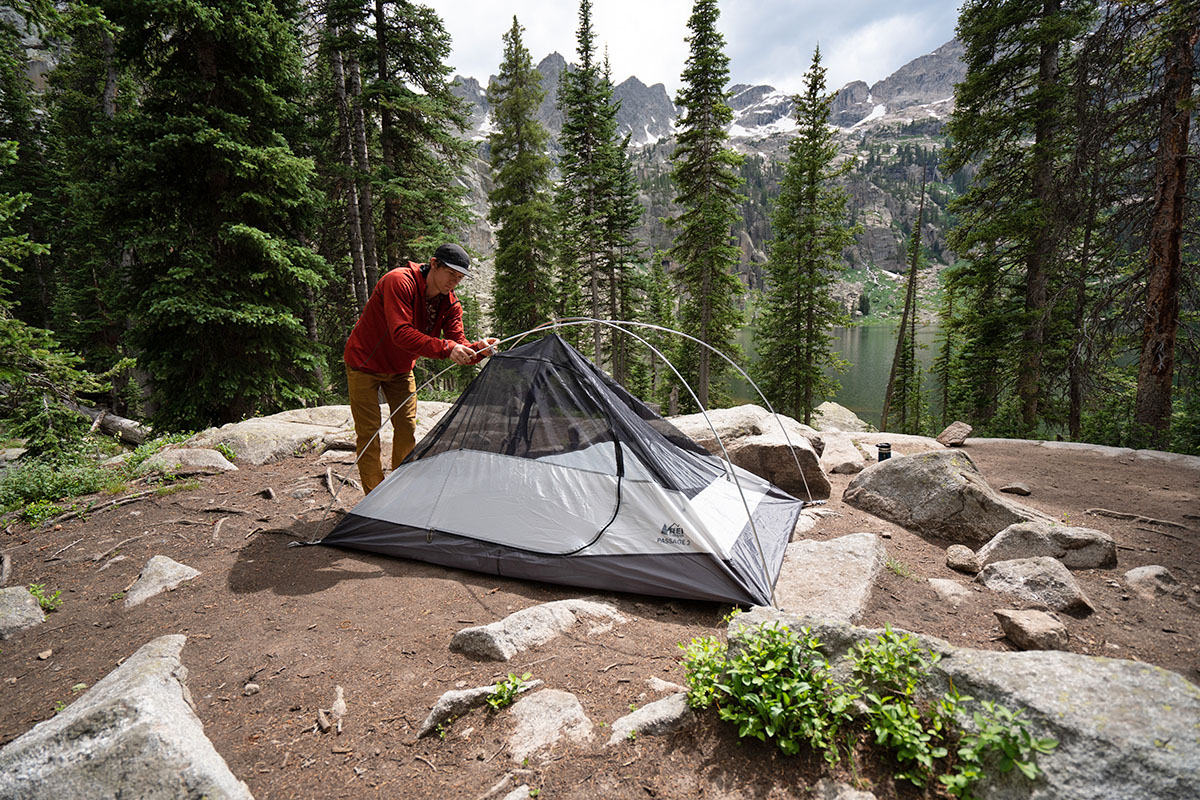 Other Capacities of the REI Co-op Passage
We brought the two-person Passage into the Indian Peaks Wilderness for testing, and REI also makes the tent in one- and three-person variations. Although neither is available at the time of publishing, REI does expect them both to come back in the near future. For reference, the Passage 3 was previously $40 pricier at $199 and weighed 6 pounds 15 ounces all in with an 88 x 72 x 48-inch interior. At the other end of the spectrum, the Passage 1 ($139) was a viable option for solo backpackers, although it only saved you $20.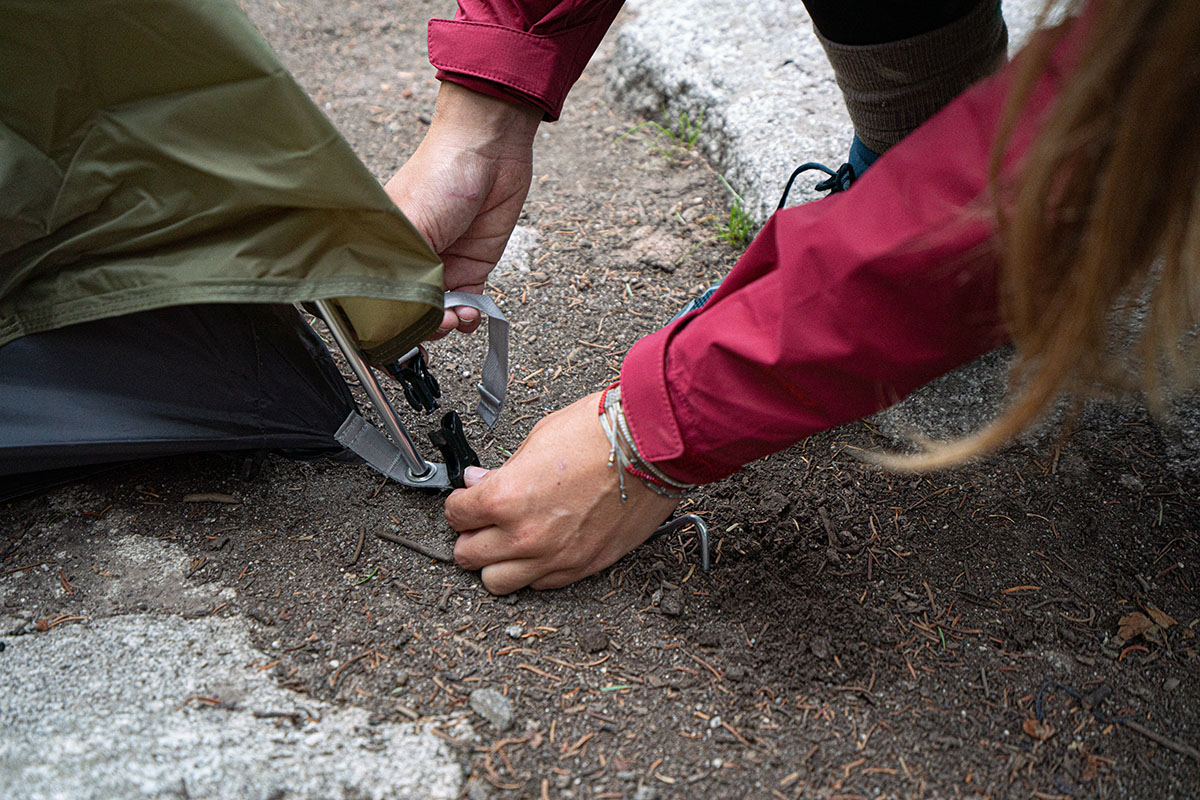 What We Like
At just $159, the Passage 2 is one of the best values on the market: this tent is well-made, reasonably spacious, and protective enough for 3-season use.
Freestanding, symmetrical design is very easy to set up, even by one person.
Generous amount of mesh along the top of the tent body makes this a great option for stargazing and encourages a lot of airflow.

What We Don't
No center ridge pole to stretch the side walls up and away from you, which detracts from overall livability.
Fairly heavy and bulky. For backpackers who get out regularly, we recommend stepping up to a lighter and more packable design (although you'll pay more).
Not much interior storage with only two pockets and a handful of gear loops along the ceiling.
Only comes with six stakes. For especially blustery conditions, we recommend purchasing more separately to properly stake out the rainfly.


Comparison Table
| Tent | Price | Weight | Dimensions | Denier | Capacities | Footprint |
| --- | --- | --- | --- | --- | --- | --- |
| REI Co-op Passage 2 | $159 | 5 lbs. 10 oz. | 88 x 52 x 40 in. | 66D | 1P, 2P, 3P | Yes |
| REI Co-op Half Dome SL 2+ | $279 | 4 lbs. 13.5 oz. | 92 x 56 x 42 in. | 40D | 2P, 3P | Yes |
| REI Co-op Trail Hut 2 | $199 | 5 lbs. 15 oz. | 88 x 52 x 40 in. | 70D | 2P | Yes |
| Marmot Tungsten 2P | $214 | 5 lbs. 4 oz. | 88 x 54/46 x 42 in. | 68D | 1P, 2P, 3P, 4P | Yes |
| Kelty Late Start 2 | $160 | 4 lbs. 8 oz. | 85 x 54 x 40 in. | 68D | 1P, 2P, 4P | No |
| Nemo Dagger 2P | $430 | 3 lbs. 14 oz. | 90 x 50 x 42 in. | 30D | 2P, 3P | No |
| MSR Hubba Hubba NX | $450 | 3 lbs. 14 oz. | 84 x 50 x 39 in. | 30D | 1P, 2P, 3P, 4P | No |

The Competition
REI Co-op's Passage 2 offers good livability and a nice feature set for considerably less than much of the competition. Another popular in-house design to consider is REI Co-op's Half Dome series, which was recently updated. Now with an SL designation (short for "superlight), the Half Dome SL 2+ offers a big boost in floor area, more livable space with the center ridge pole and taller peak height, and better storage with six pockets. Where the Passage gets the edge is value: at $159, it undercuts the Half Dome ($279) considerably in price, and both models now come with a footprint included. For those on a budget, it's tough to beat the low price of the Passage, but we think the Half Dome is the better overall pick for most backpackers. 
Last year, REI released the Trail Hut 2, which falls in between the Passage and Half Dome in price at $199. The Trail Hut is the heaviest of the three options at 5 pounds 15 ounces, but it gets you a center ridge pole for a more vertical (read: comfortable) interior. Additionally, the Trail Hut's fly doors can be staked out with two trekking poles to create a large awning. Given the similar builds, it'll be important to weigh your preferences on price versus livability. And the clincher for some might be availability: the Trail Hut 2 is sold out at the time of publishing, but REI expects it to come back into stock soon.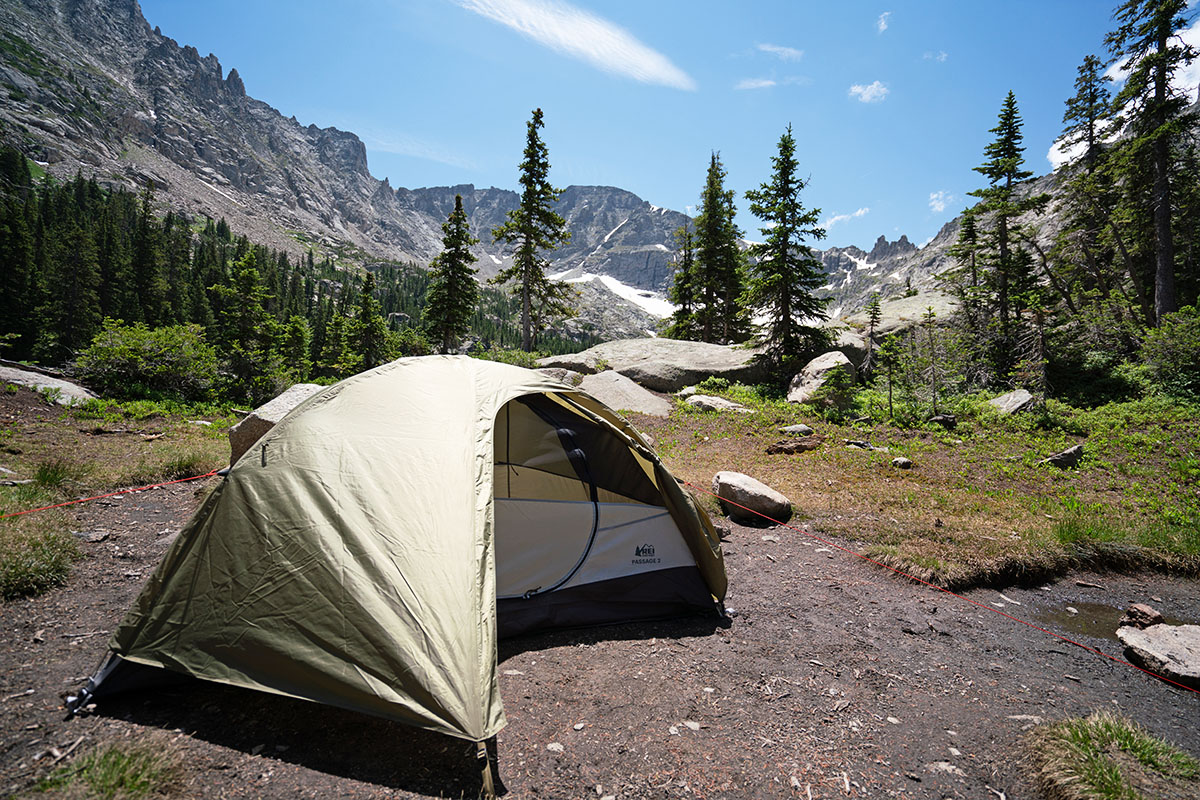 Outside of REI's lineup, the Marmot Tungsten 2P is another well-rounded, budget-friendly design to consider. For $214, the Tungsten features a similarly durable and weather-worthy two-door-and-vestibule build, weighs 6 ounces less, and has more vertical side walls thanks to its center ridge pole. But again, the Passage wins out in value: for $55 less than the Tungsten, the REI also includes a footprint, doesn't taper at one end (width decreases from 54 to 46 in. at the foot end with the Tungsten), and has a smaller packed size. All things considered, despite the tighter interior, we give the edge to the more well-rounded Passage.
At the same price point as the Passage 2, we also like Kelty's Late Start 2. In parsing out the differences between the two designs, the Kelty weighs around a pound less at 4 pounds 8 ounces, has a smaller floor area, and doesn't come with a footprint. But the biggest drawback, in our opinion, is the single side door and vestibule, which is severely limiting for two backpackers in terms of convenience. Given these complaints, we think the Passage is the better all-around design.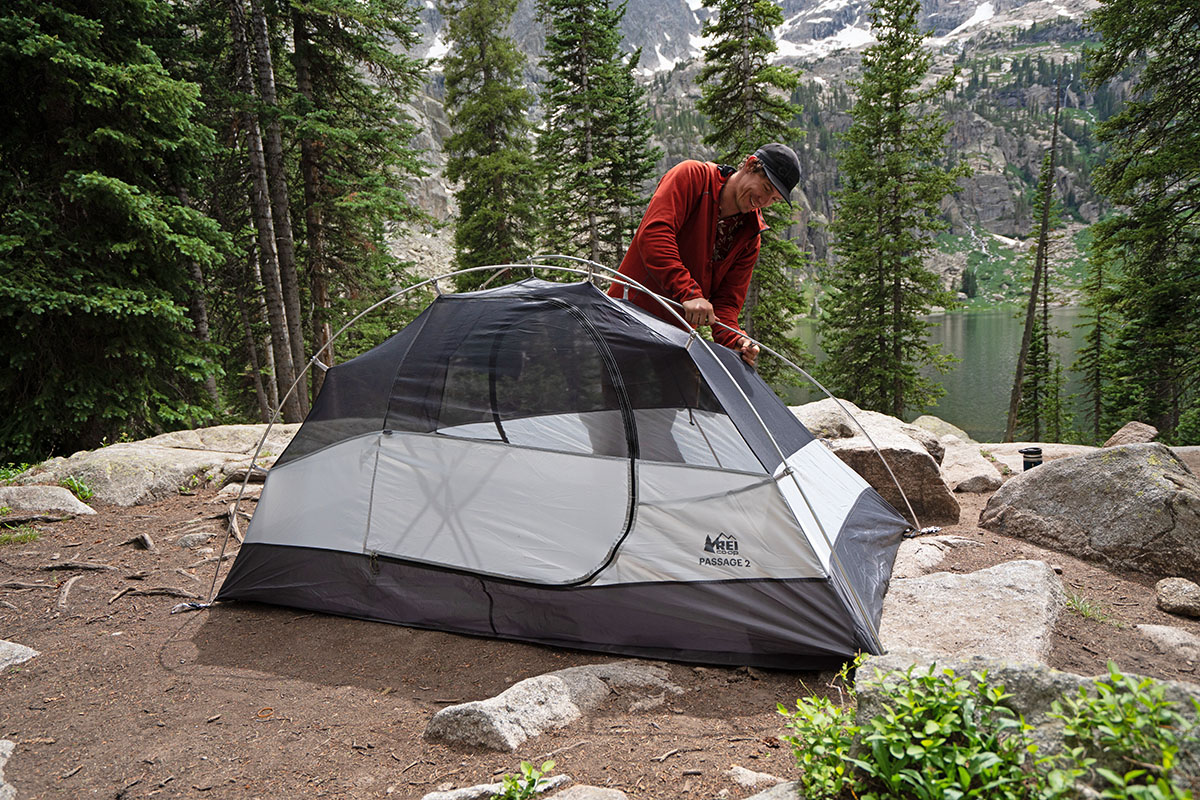 For a step up in both price and performance, two of our favorite backpacking designs are Nemo's Dagger 2P and MSR's Hubba Hubba NX. Compared to a budget option like the Passage, the Nemo and MSR weigh considerably less and pack down smaller—both tents clock in at 3 pounds 14 ounces all in and are much less bulky when stuffed in a pack. One tradeoff is durability: both the Dagger and Hubba Hubba use thinner materials, including 30-denier floors, which pale in comparison to the robust 66D floor on the Passage 2. And the clincher for many is price: at $430 for the Dagger and $450 for the Hubba Hubba without a footprint, the tents are a significantly bigger investment. For the casual weekend crowd, we think it's worth saving with the Passage. But for those who get out regularly and put a premium on weight and packed size without sacrificing livability, it's hard to beat the Nemo and MSR.
Editor's note: We usually provide a live price comparison table below our outdoor gear reviews, but the Passage 2 is sold exclusively by REI Co-op. You can see the Passage 2 page here and support us in the process. Thanks!
Read More From Switchback Travel