The North Face Apex Flex GTX is a versatile jacket that doesn't fit perfectly into any one category. The 3-layer Gore-Tex build provides excellent waterproofing, although it certainly is heavy for a rain jacket and bulky for stuffing into a pack. At the same time, the softshell exterior does an impressive job at blocking wind and even creating a little extra warmth. Our take is that despite the clear lack of backcountry prowess, the Apex Flex is great for light adventuring and everyday use all the way into the winter months. Below we break down the jacket's water and wind protection, breathability, warmth, weight and packability, durability, fit and sizing, and more. To see how the Apex Flex GTX stacks up, see our articles on the best rain jackets and best softshells.
 
Performance
Water and Wind Protection
The North Face Apex Flex GTX is built like a tank. The design features a softshell-like woven exterior with 3-layer Gore-Tex and a fantastic DWR coating, meaning that you get premium protection from the elements along with some thickness and stretch. We've taken the Apex Flex GTX out in driving rain for extended periods and came away dry and happy. More, given the waterproof nature of the jacket plus how substantial it is, it makes a really nice option for cold days and even light snow. Whereas many rain jackets do little expect keep you dry, the Apex Flex acts much more like a true shell/layering piece.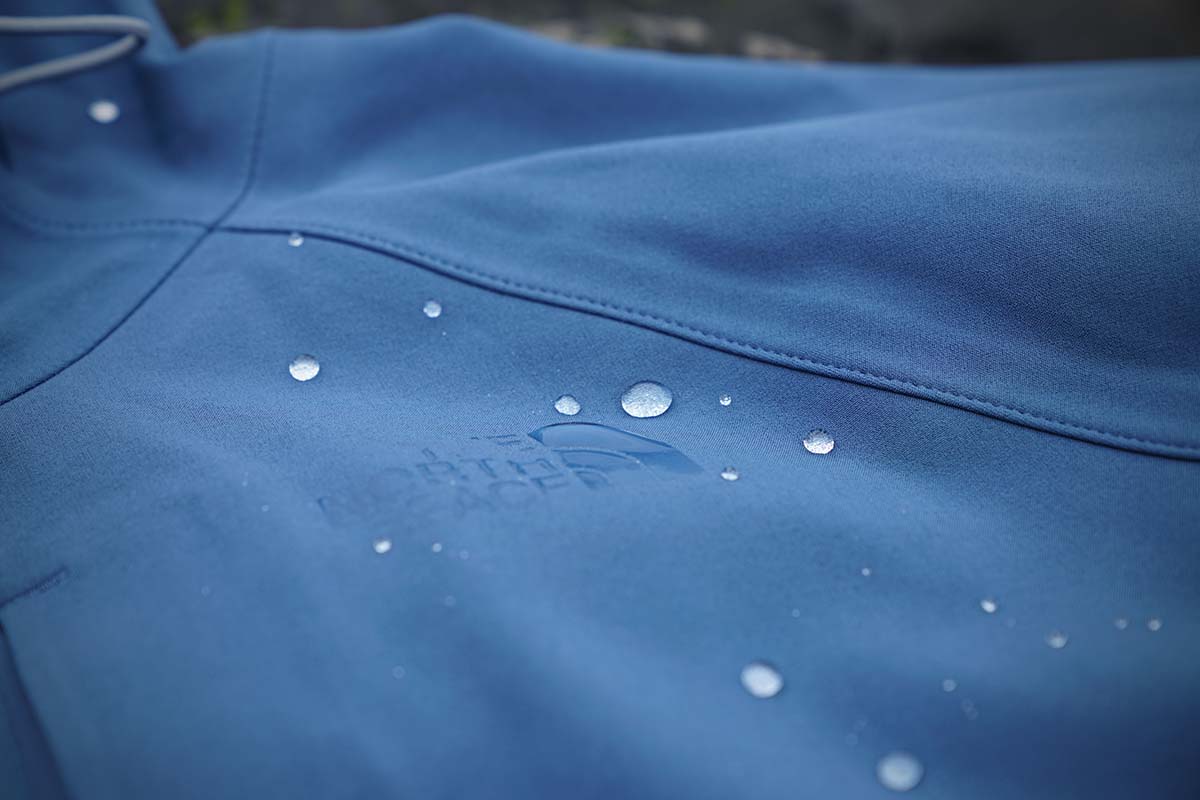 In terms of wind protection, the Apex Flex GTX is an absolute standout. The over 28 ounces of material certainly helps in providing a barrier, which is one really nice characteristic of softshells. When it's windy and rainy but not too cold, you can throw this jacket over as little as a t-shirt and feel totally comfortable in the process. And when the temperature drops, we'll add a light insulation piece underneath and let the jacket keep the rain and wind out. We'll go as far as to say that when wearing the Apex Flex GTX, we've felt little to no impact from wind at all.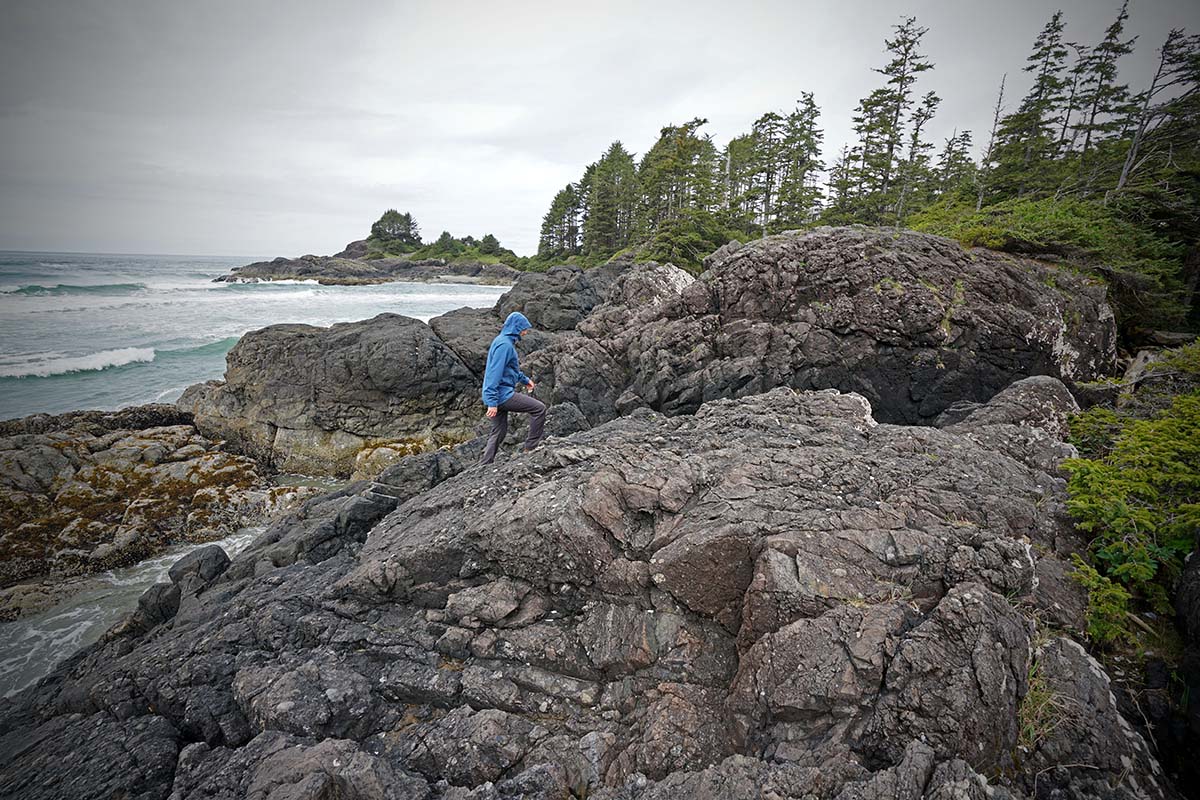 Breathability
With a premium 3-layer Gore-Tex build, the Apex Flex GTX is a solid breather overall. However, there are a couple of important factors worth considering. The first is the thickness of the jacket, including both the knit interior and softshell exterior. Despite the inherent temperature regulating abilities of Gore-Tex, more fabric and weight does impact how much sweat you will work up and how hot the jacket will run. On the other hand, the jacket has substantial pit zips, which are a great way to dump heat quickly. We've worn the Apex Flex on easygoing rainy hikes into the 50s Fahrenheit without feeling hot, but we imagine that things will get more swampy as the mercury rises. And as we cover below in the warmth section, the thick nature of the jacket does give it a nice boost in warmth for use in winter-like conditions.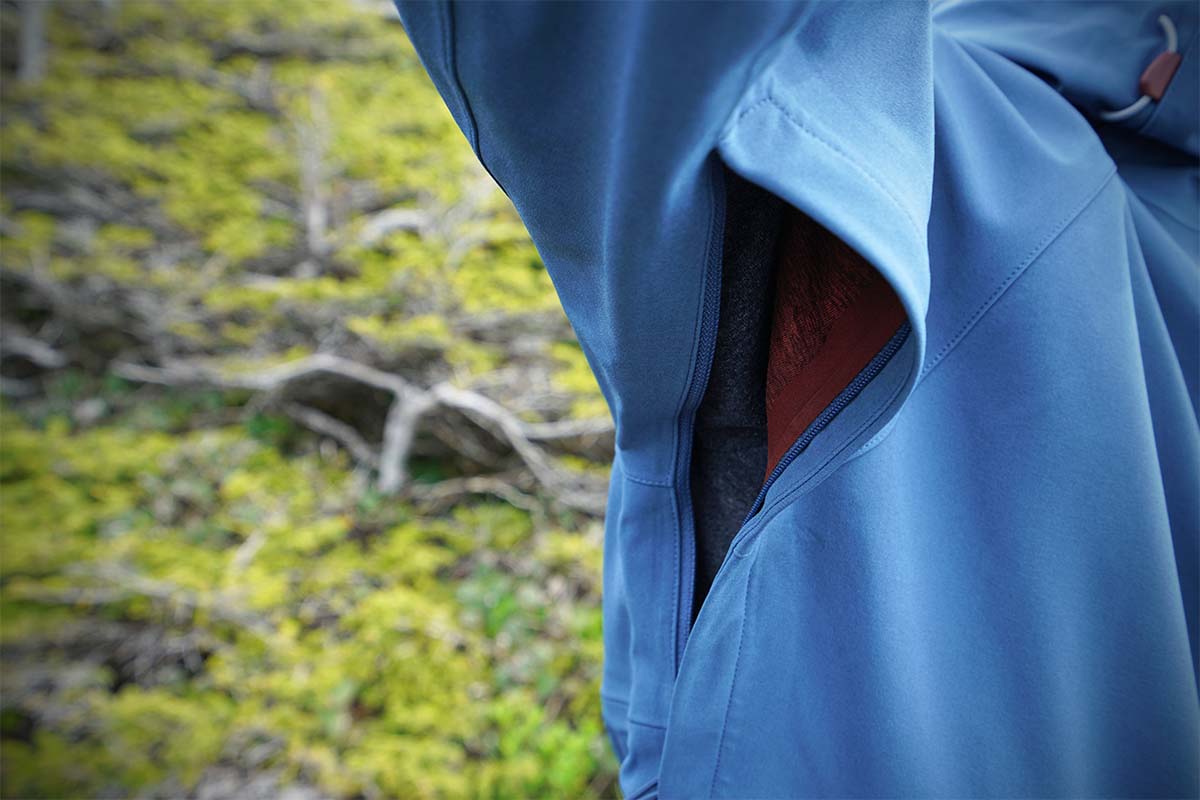 Warmth
We rarely include a separate "warmth" section in our rain jacket reviews, but given the versatility of the Apex Flex GTX, it felt worthwhile here. The jacket isn't insulated in terms of added down or synthetic fill (or even a fleece backer), but its substantial lining, exterior softshell fabric, and wind blocking ability manage to add a noticeable amount of warmth. Accordingly, it's the jacket we grab on particular blustery days when a standard rain shell or water resistant synthetic jacket won't do the trick. You'll also notice that a lot of people use the Apex Flex as a cold weather piece—certainly not down to the depths of winter, but in chilly to moderate winter conditions. The fit allows for layering, and given the waterproofing and wind protection, it's easy to add a lightweight down or synthetic jacket underneath.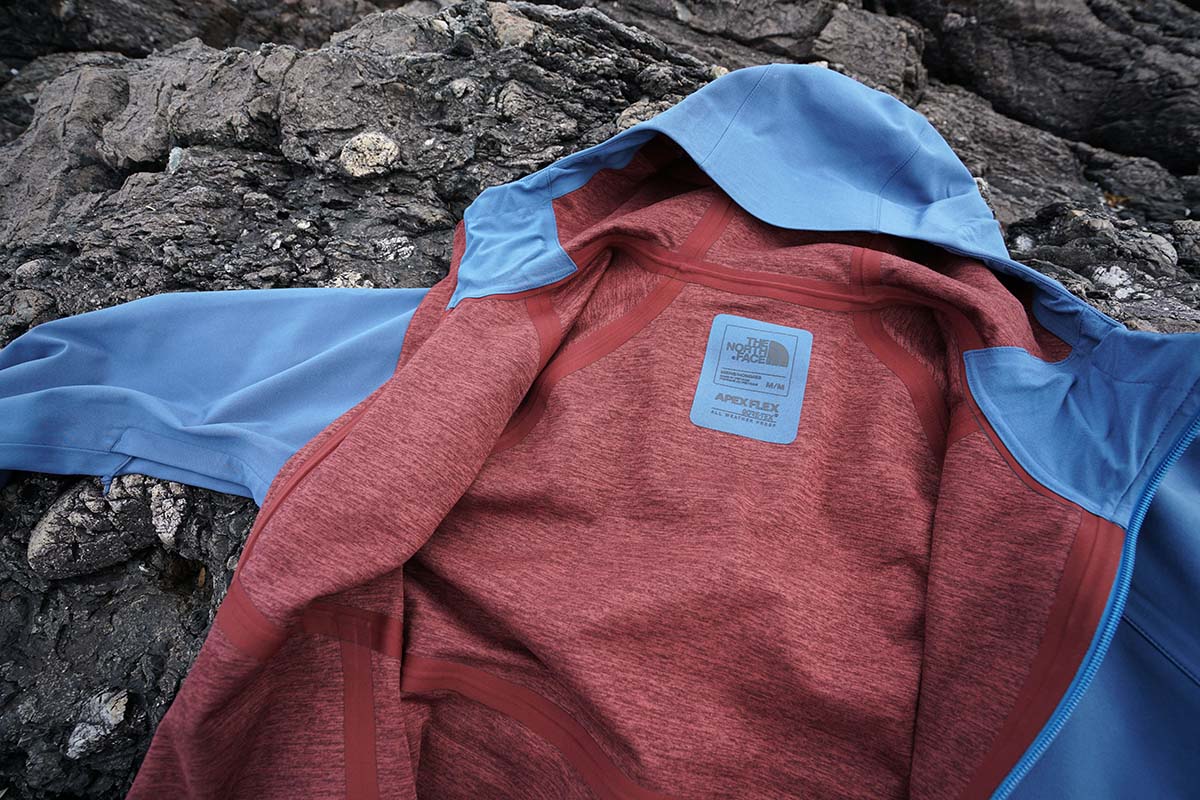 Weight and Packability
Let's be clear: The North Face Apex Flex GTX is not a lightweight jacket that can be stuffed down neatly into the bottom of a pack. At 28.32 ounces in a men's medium, it's the heaviest model in our rain jacket round-up by far. Even by softshell standards, it weighs a lot—you can get a burly jacket like the Arc'teryx Gamma LT at just 19.2 ounces. One of the closest competitors is the Patagonia Adze Hooded Jacket at 26 ounces, although it has a 2-layer build instead of the 3-layer Apex Flex. Moreover, the Apex Flex is bulky and does not pack down particularly well. We like to fold the jacket into its hood, which ends up being roughly the size of an American football (albeit a heavy one) and can be gripped in one hand. But for forays into the backcountry where packed size matters, we recommend looking elsewhere.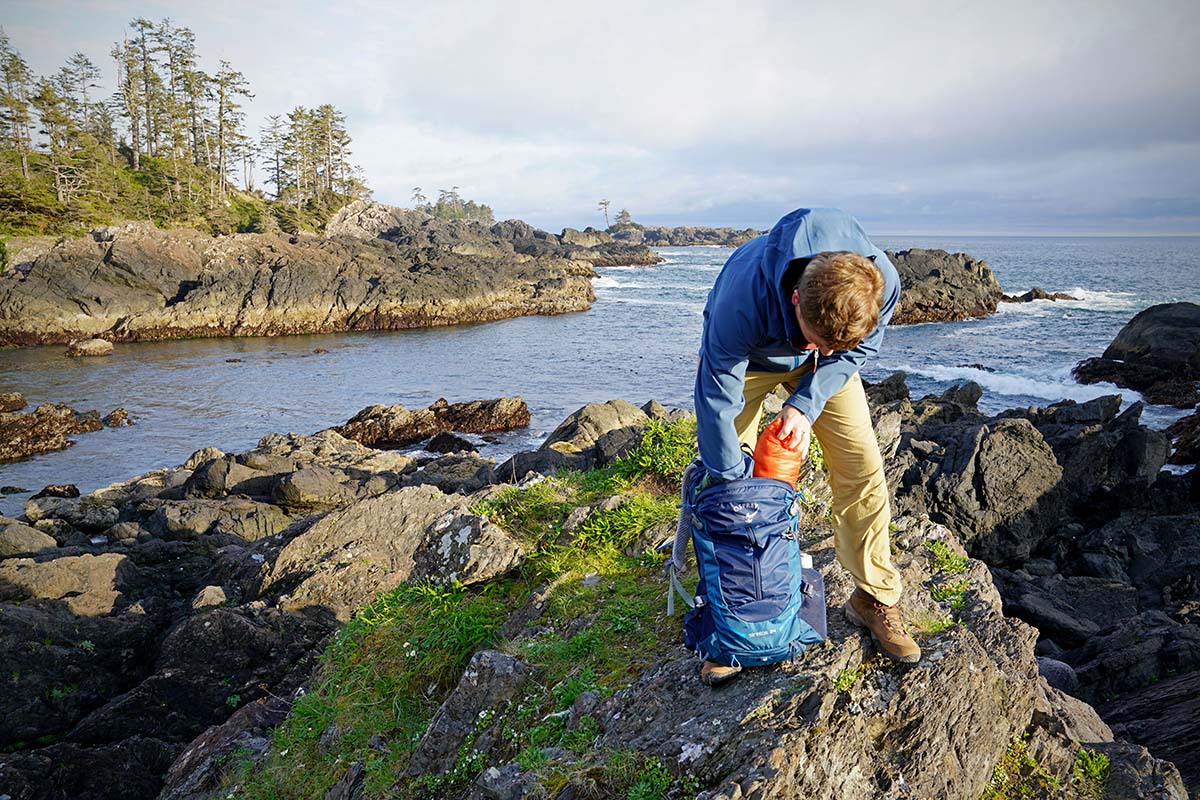 As we will mention a few times in this article, we think of the Apex Flex GTX as a really nice option for light adventuring and everyday use. To be sure, weight and packability are the jacket's Achilles Heel, and we wouldn't even consider heading out for a long hike and overnight trip with this as our shell of choice. Instead, it's great for those who live in cities and want to take walks in rainy and even cold weather, as well as for travel and hikes from the car where space and weight are not at a premium.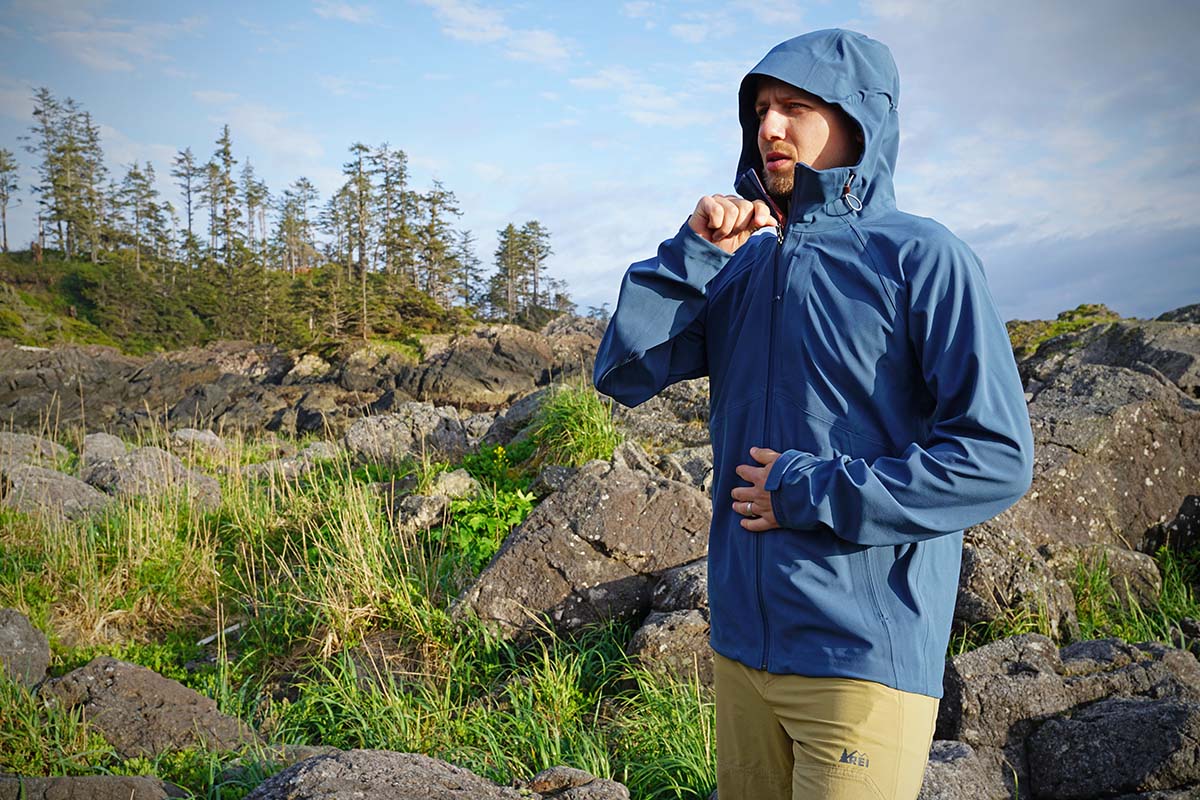 Build Quality and Durability
The Apex Flex GTX is built extremely well from top to bottom. Because weight was not spared (ultralight jackets inherently use thin materials), we've noticed virtually no wear and tear on this jacket after many months of use. The 70-denier softshell exterior is burly and can take a beating, and the interior lining is soft and comfortable yet has shown no vulnerability to tears. Unlike lighter weight rain jackets, the zippers are heavy, waterproof (except the chest pocket), and have smooth action. At $229 and without insulation, we would expect a premium build, and the Apex Flex does not disappoint.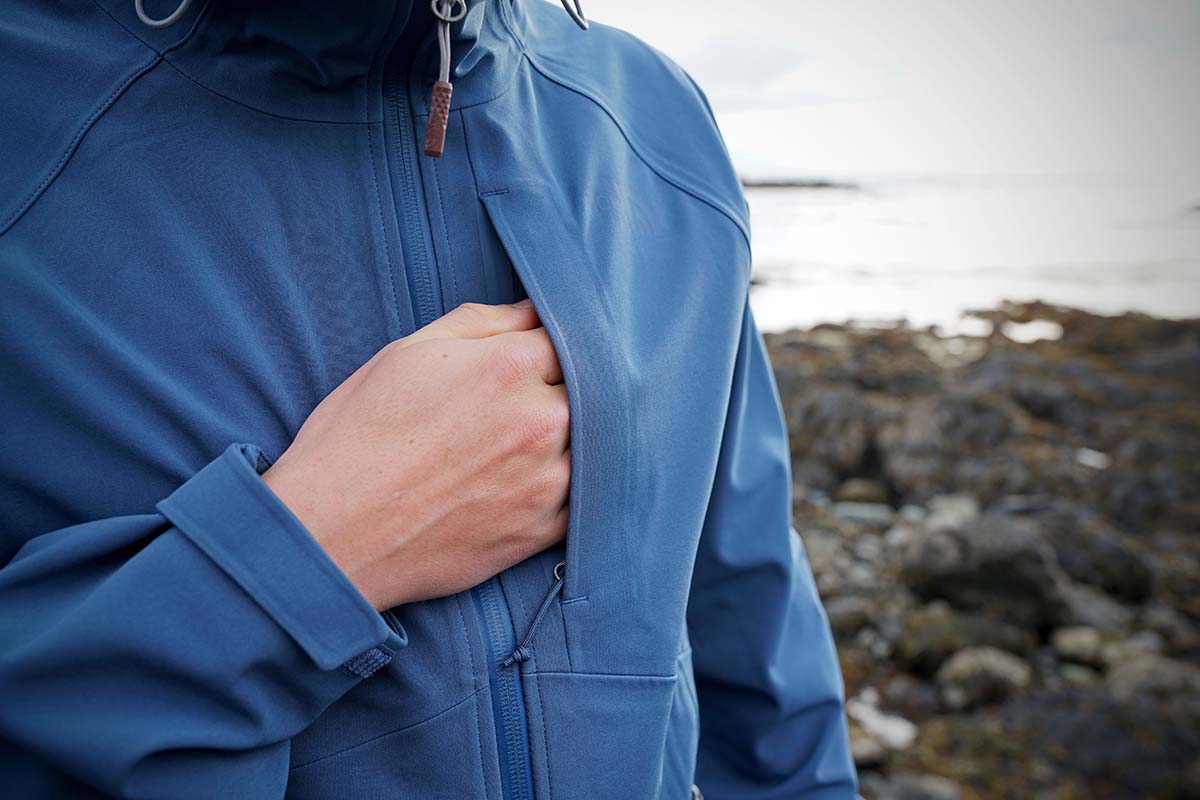 Features: Hood, Storage, and Pit Zips
The Apex Flex GTX is a feature-packed rain jacket. Starting with the hood, you get a large fit with cinches both in front and around back. The rear cinch in particular does a good job securing the hood around the sides of the head. It's not big enough to be considered helmet compatible, but given the jacket's casual slant, that's likely not a big downside for most people. The good news is the hood has a substantial bill, provides solid coverage overall, and is easy to button down in the wind.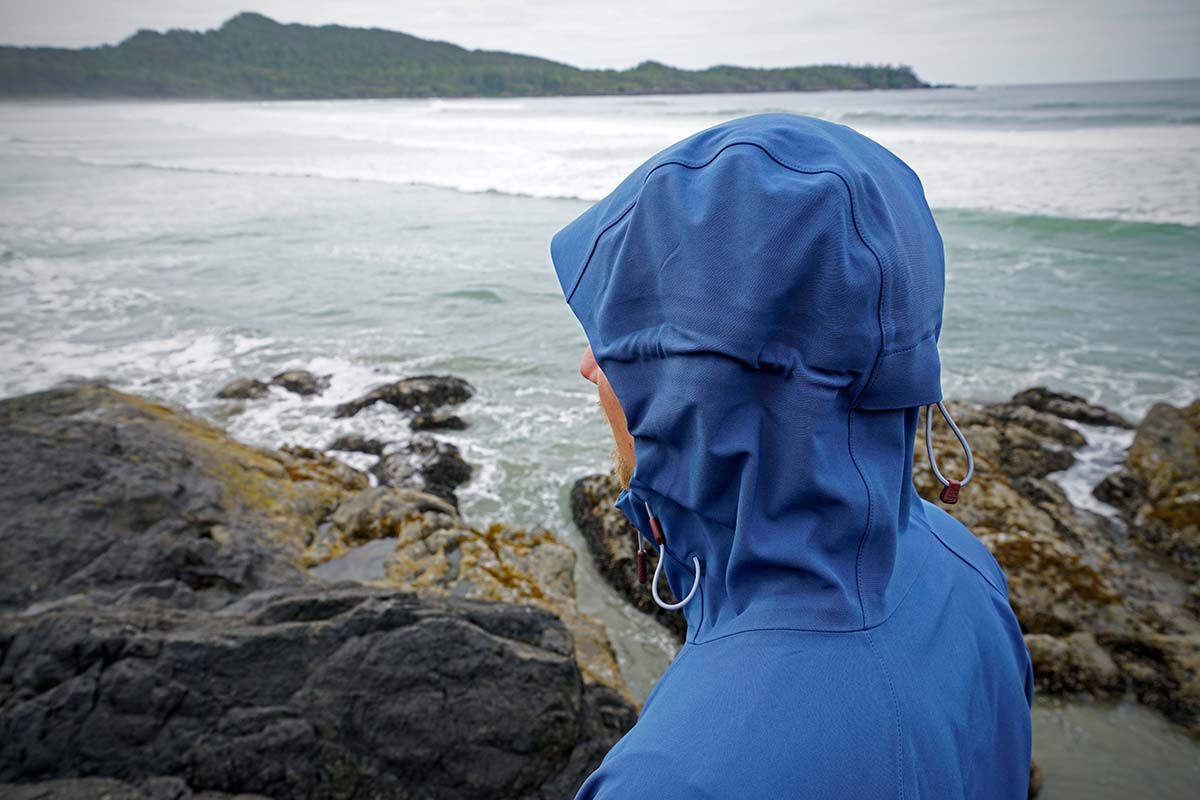 In terms of storage, the jacket has 3 pockets: the 2 generously-sized hand pockets have interior waist cinches on both sides, along with a useful chest pocket that easily holds our iPhone X with a low-profile case. As mentioned above, the Apex Flex GTX has large pit zips that are perfect for dumping heat quickly (if you've ever tried hiking in warm conditions, you know how important they can be). In addition, the Velcro cuffs on the wrist allow you to customize fit and tightness there, which is particularly important given the long length (more on fit below). All in all, the Apex Flex has just about all of the features that we like in a rain jacket in terms of adjustability and storage.


Fit and Sizing
Over the last year or so, The North Face has honed in its sizing and we're noticing fewer pieces that are as overly baggy as they once were. The Apex Flex GTX is listed as having an "active" fit, which we agree with aside from a couple of caveats. First, the jacket definitely is capable of layering underneath, which can make it run slightly large when wearing only a t-shirt or baselayer. In the end, we appreciate the versatility as it allows for cold-weather use. Second, the arms are a little long, extending to the base of our knuckles with our arms down. We simply tightened them up with the Velcro straps and were fine with a little bit of bunching at the wrists, but it was noticeable and may be a bigger issue for those with shorter arms. Other than those two things, we ordered our usual men's medium and the jacket fits true to size.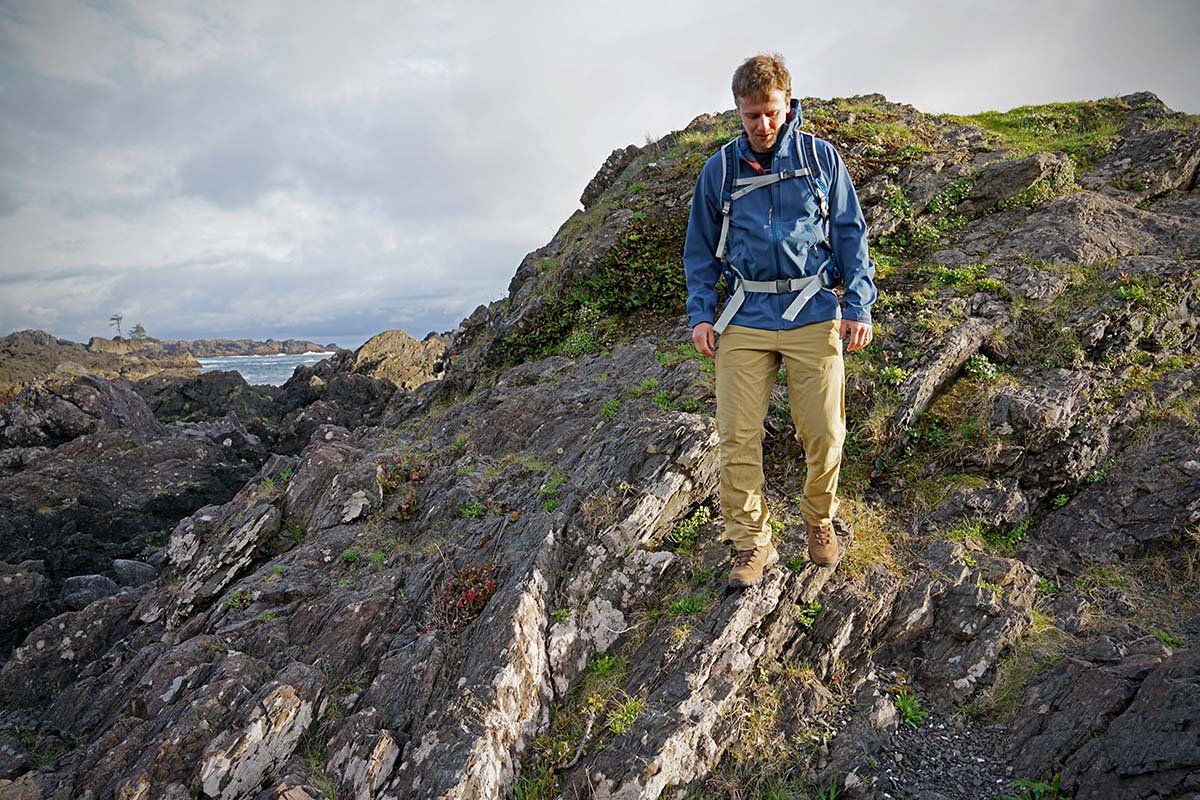 What We Like
Premium waterproofing and wind protection.
Impressive build quality, including the soft and comfortable interior knit lining.
Smart looks and subtle branding that make it a nice crossover outdoor/urban piece.

What We Don't
Heavy and bulky for a rain jacket. This is not a backcountry piece.
Arms are a bit long, which can lead to bunching at the wrists.
Expensive with its recent price increase to $229, especially for an everyday/casual jacket.


Comparison Table

The Competition
As discussed throughout this review, The North Face Apex Flex GTX doesn't fit perfectly into any one category. The 3-layer Gore-Tex design makes it a rain jacket with full waterproofing capabilities, albeit a very heavy one at over 28 ounces. At the same time, it has a thick, stretch-woven exterior, and therefore we include it on our softshell round-up as well.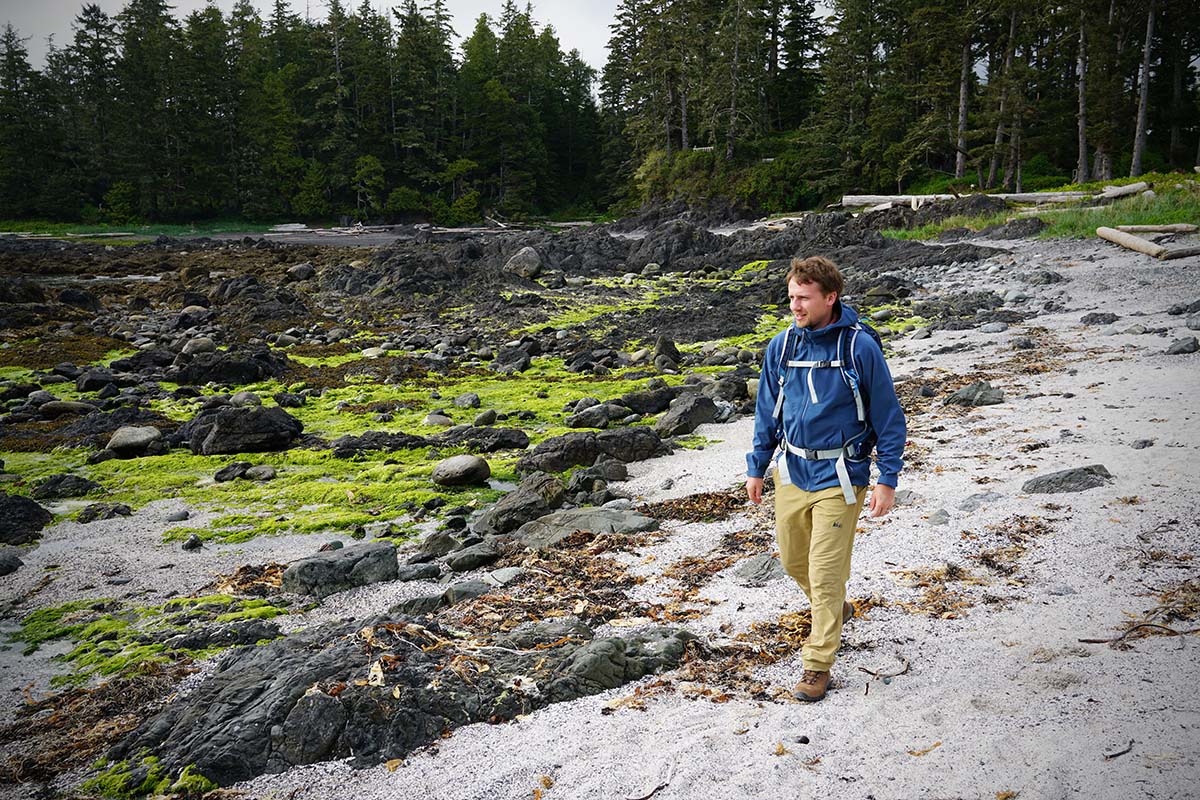 In terms of rain jackets, our top overall pick for 2018 is the Marmot Minimalist, which has a 2.5-layer design, weighs considerably less at 15.13 ounces, and is cheaper at $189. To be sure, many rain jackets are lighter and more minimalist in nature than either of these models—the new REI Co-op Drypoint GTX has a 3-layer build but weighs only 10.5 ounces, for example—but the crossover appeal is what makes them so popular. Similar to the Apex Flex, the Minimalist works well for light hiking but also looks the part for everyday use. In terms of performance, the Marmot is less breathable, but also more compressible and just a tad over half the weight. Both jackets have pit zips, ample adjustability, and all of the features you'll need.
For a more streamlined backcountry piece, the aforementioned REI Co-op Drypoint GTX is one of our favorite new shells. At $249, its $20 more expensive than the Apex Flex GTX but offers a 3-layer Gore-Tex design at just over one-third the weight. Where the Drypoint falls short is durability and features: the shell is only 20-denier in terms of thickness (vs. 70 denier on the Apex Flex), which means that you'll have to be more careful to avoid tears. Further, you don't get pit zips, although the jacket is quite breathable with its Gore-Tex Active design (you can also dump heat by opening the mesh-lined hand pockets). But if you're shopping for a premium shell in the sub-$250 price range with more of a performance slant, you'll be hard pressed to find a better value.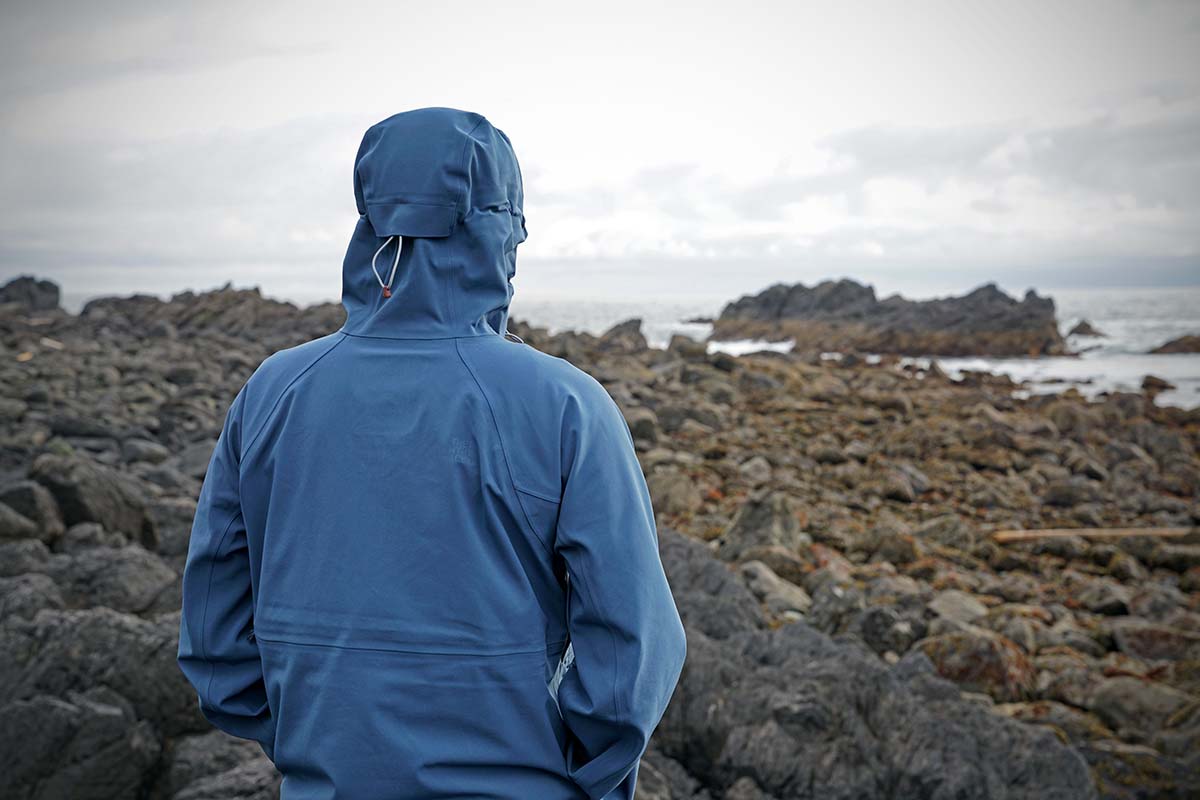 Staying within The North Face's own line, for 2018 the brand has released a couple of adaptions. The new Apex Flex GTX 2.0 is billed as being the lighter weight and more streamlined version, but at 27.37 ounces (less than 1 ounce lighter than our Apex Flex) and costing $20 more, we don't see the value in the upgrade. In addition, The North Face now offers an Apex Flex GTX Parka, which is a nice option for urban commuters who like the sleek and functional design but want more length. 
If you're thinking about buying gear that we've reviewed on Switchback Travel, you can help support us in the process. Just click on any of the seller links above, and if you make a purchase, we receive a small percentage of the transaction. The cost of the product is the same to you but this helps us continue to test and write about outdoor gear. Thanks and we appreciate your support!
Depending on the seller, most products ship free in the United States on orders of $50 or more. International shipping availability and rates vary by seller. The pricing information on this page is updated hourly but we are not responsible for inaccuracies.
Learn More About Outdoor Gear