Colorado is one of the most iconic ski destinations in the United States. Every year, millions of skiers flock to the slopes to bask in the epic mountain terrain, abundant snowfall, and claimed 300+ days of sunshine (we haven't counted, but that seems like a fair estimate). But with 28 resorts to choose from that range in size, difficulty, location, and price, where should you go? From the legendary Back Bowls of Vail, to the rocky chutes of Arapahoe Basin, to the gentle learning areas at Breckenridge, we've put together a detailed list of the top ski resorts in Colorado below. For each, we break down important information about the resort, the town, how to get there, and helpful specs like lift ticket prices and average snowfall. For more background information, see our ski resort comparison table and trip-planning considerations below the picks. And to get properly kitted out for your trip, check out our detailed ski gear reviews and ski trip packing list. 

Best Overall Resort
Skiable terrain: 5,289 acres (see trail map)
Vertical: 3,450 feet
Average annual snowfall: 354 inches
1-day lift ticket: $199
Pass: Epic (unlimited access)
What we like: Largest resort in Colorado and impressive terrain variety.
What we don't: Right off the highway and incredibly pricey.
The Resort: Vail has become synonymous with Colorado skiing and for good reason. At over 5,000 acres, it's the largest resort in Colorado—and third-largest in the country behind only Park City and Big Sky—with a whopping 195 trails, 31 lifts, three terrain parks, and seven lift-served bowls. The skiing is world-class and varied, from wide, sweeping groomers to steep glades. However, this massive resort still is easily navigable with three distinct areas. On the Front Side, you'll find scores of tamer green and blue runs for beginner and intermediate skiers. Blue Sky Basin ups the ante with steeper bowls and tree-ridden trails. And if you're up for the challenge, it's hard to beat Vail's legendary Back Bowls on a powder day. Throw in a sub-2-hour drive from Denver up I-70 (theoretically as traffic can be brutal), and Vail is the Colorado mega-resort with something for everyone.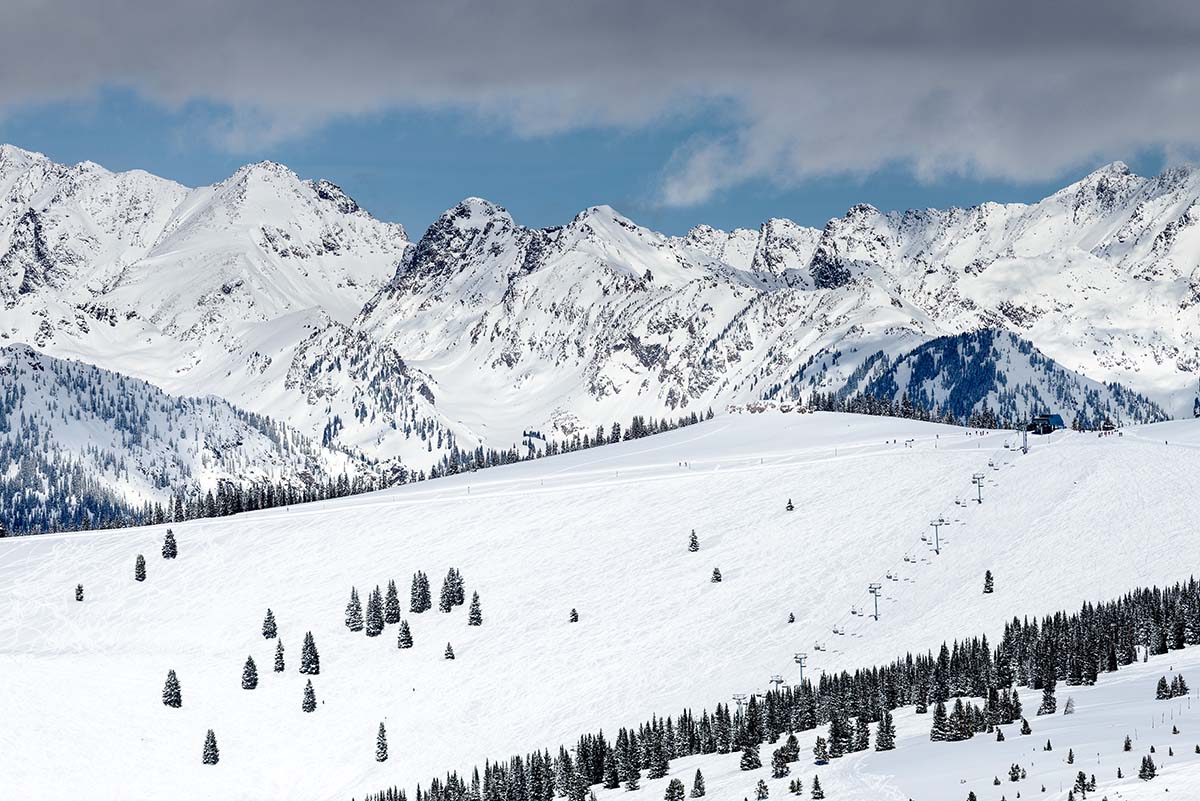 The Town: It's no secret that staying in Vail will cost you a pretty penny, and that's after the $200-per-day lift tickets. But the real downside, in our opinion, is the uncomfortably close proximity to one of the busiest highways in the state (it's less than one mile from the I-70 off-ramp to Vail Village). In other words, take a step outside the village and the European-ski-town charm quickly fades. Location aside, Vail Village itself is quite stunning. Although newer and not steeped in history like some of the older ski towns below, it has heavy Bavarian influence with cobblestone pedestrian streets, a central clock tower, and a number of upscale rental properties and luxury hotels. As far as nightlife goes, après ski in Vail is more of a tradition than an activity—there's no shortage of bars, taverns, breweries, distilleries, and restaurants to choose from. However, if you want a quintessential Colorado ski town without the nearby traffic, check out Telluride below, which is one of the most remote and idyllic destinations on our list.
Getting There: Located 100 miles and roughly 2 hours from Denver, Vail is one of the last resorts along Interstate 70 and a bit of a haul compared to others like Keystone and Arapahoe Basin. Additionally, Vail Pass leading into town commonly closes in adverse conditions, leading to lengthy delays for those headed in and out of the resort. However, nearby Eagle County Regional Airport (30 miles west of Vail) is a viable alternative, where flights arrive daily from 14 major cities including Denver, New York, Los Angeles, Chicago, and Washington, D.C. All things considered, Vail is much more accessible than Telluride or Aspen, and you don't sacrifice much in terms of experience or panoramic views.
 
Most Scenic Resort and Ski Town
Skiable terrain: 2,000+ acres (see trail map)
Vertical: 4,425 feet
Average annual snowfall: 280 inches
1-day lift ticket: $139
Pass: Epic (7 days)
What we like: The most dramatic mountain scenery in Colorado and one of the coolest mountain towns. 
What we don't: Remote and expensive.
The Resort: For those who want epic scenery and big vertical, Telluride is the real deal. This world-class ski resort is best known for all-encompassing views of the surrounding San Juan Mountains and challenging terrain, with nearly half of the runs being of the expert variety. You can go high (the lift at Revelation Bowl gets up to 12,515 feet), you can hike (Telluride has four zones of hike-to alpine terrain including the dramatic Palmyra Peak), and the beginner terrain ain't bad, either (the Prospect Bowl Express accesses runs like Galloping Goose, which is a 4.6-mile-long green run). For everyone from experts to families, Telluride likely has what you are looking for.
The Town: If one were to conjure up the idyllic Colorado ski town, this would be it. Tiny Telluride (population 2,500) is tucked into a dramatic box canyon and surrounded by 14ers, aspen groves, and some of the most stunning terrain in the state. The former mining town itself consists of old brick buildings, remodeled Victorians, and has a true Western feel that you just won't find in Vail or Breckenridge. Throw in a host of hip restaurants and bars and a world-class arts scene including Telluride Bluegrass and Mountainfilm in the summer, and Telluride is the place to be.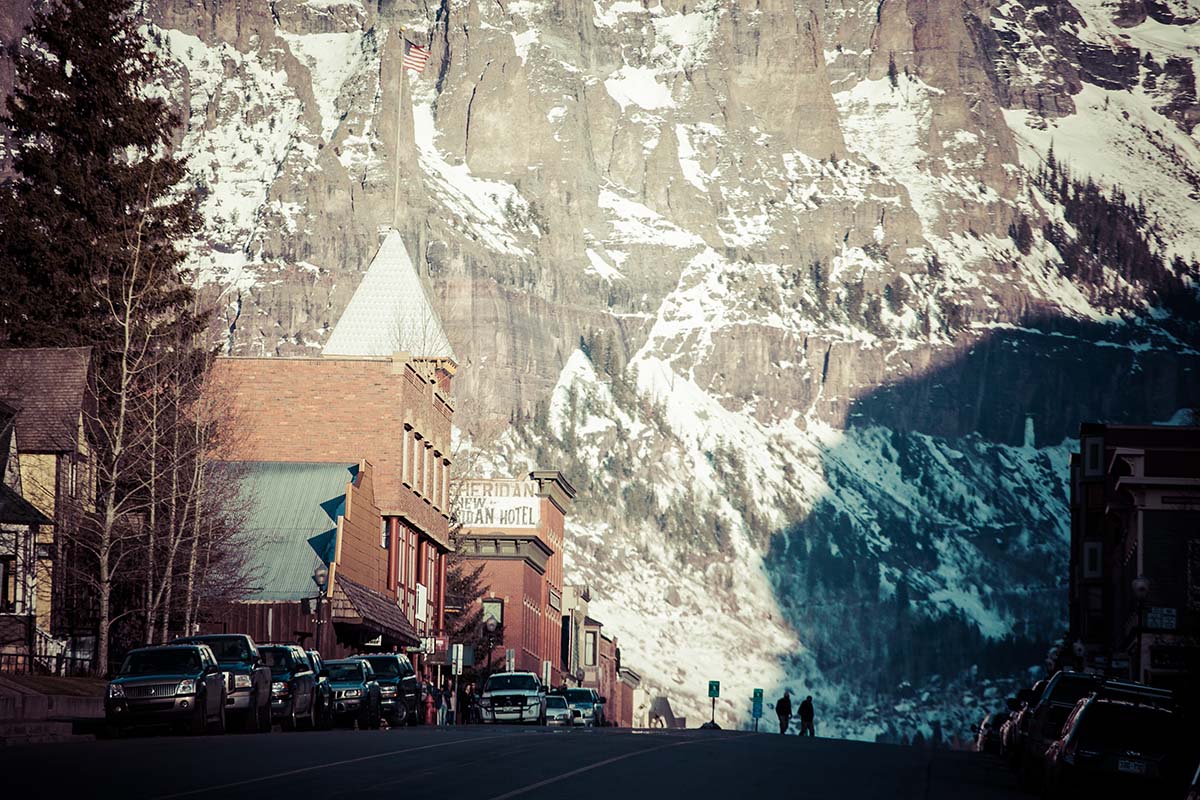 One notable downside to all of this beauty is the big money that comes with it. If the condos in Vail are for millionaires, the homes in Telluride are for billionaires and you'll see plenty of fanciness and glitz around town. Rental accommodations are scarce, hotels are expensive, and dive-y restaurants and bars are an endangered species. Some people yearn for the simpler days before the resort opened in the early 70s, but even today it's hard to argue against the beauty or charm of this National Historic Landmark town.
Getting There: Here's the kicker: Telluride is located in a remote southwestern corner of Colorado that is tough to reach. It's a whopping 6.5 hours driving and 350+ miles from Denver, which of course can be even longer and more harrowing in the winter. Or you can fly to Montrose, a more reasonable 1.5 hours and 67 miles from Telluride (in the winter, there are direct flights from Denver and cities like San Francisco, Los Angeles, Houston, and Newark). The remoteness is one of the reasons Telluride is Telluride, but it's also one of the hardest-to-reach ski resorts in Colorado.
 
Best Colorado Ski Resort for Families
Skiable terrain: 2,908 acres (see trail map)
Vertical: 3,398 feet
Average annual snowfall: 353 inches
1-day lift ticket: $189
Pass: Epic (unlimited access)
What we like: Abundance of family-friendly activities both at the resort and in town. 
What we don't: Can get very crowded and it's hard to get from peak to peak.
The Resort: No matter your idea of family-friendly fun, Breckenridge likely fits the bill. Two of the five peaks (8 and 9) are riddled with learning areas and lifts, magic carpets, gentle green runs, and "Kid Adventure Zones" complete with castles, tunnels, bridges, and giant critters. Once the basics are mastered, there are plenty of wide and mellow trails to choose from—our favorite is Bonanza on Peak 9, a blue run designated for slower skiers that offers stunning views of the town below and plenty of spots to stop and rest. And when the day is done, there's no shortage of non-skiing activities for kids, including the slope-side Gold Runner Coaster that whips and winds 2,500 feet through the forest.
That said, Breckenridge is well-suited to advanced skiers, too. Taking the lifts as high as possible on any peak will drop you smack dab into challenging bowls, steep glades, or hike-to alpine terrain. The resort also is home to the world's highest quad chairlift, the Imperial Express Super Chair, which grants access to double-black bowls or serves as the trailhead to narrow chutes (hiking required). However, this amount of terrain variety comes at a cost, and in this case, it's convenience. While families or beginners might enjoy spending the day on one or two peaks, those looking to explore the entire mountain will likely find it difficult and time-consuming. Expect lots of catwalks, long lift lines, and traversing easy and crowded trails to get from peak to peak.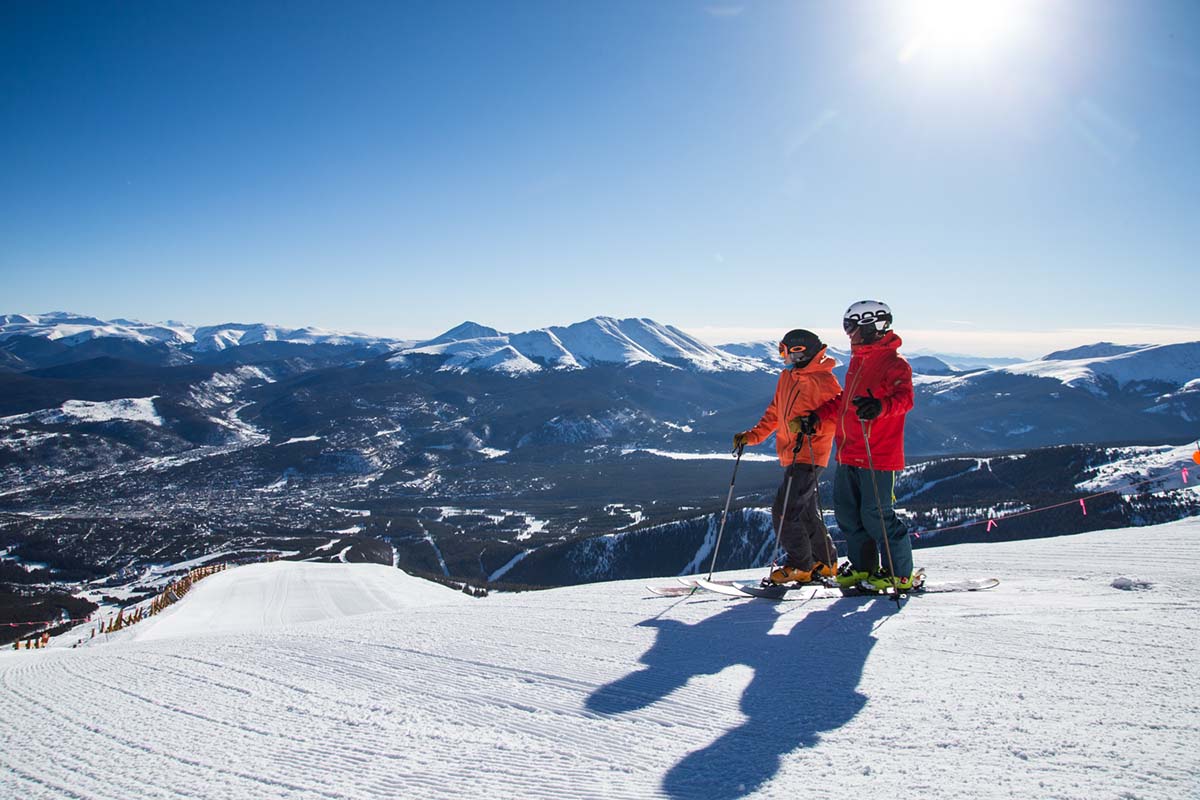 The Town: Like Telluride above, Breckenridge has mining and gold roots apparent to this day as you stroll down Main Street. Surrounded by towering peaks (many of them 14,000 feet or higher) at the base of the Tenmile Range, you also don't sacrifice much in the way of views with a truly postcard-ready backdrop. Add in a bustling downtown area with a dedicated arts district, colorful Victorian architecture, and plenty of activities from ice skating to sleigh rides, a children's museum, walking tours, and an array of dining, shopping, and drinking options, and it's clear why Breckenridge is one of the most visited towns in Summit County. Not to mention, staying here is more affordable than Telluride or Vail, with ample reasonably priced rental condos, cabins, and hotels to choose from, many of which are within walking distance of the gondola.
Getting There: Like many of the Summit County resorts, Breckenridge is a relatively straightforward commute from the Front Range along I-70 (about 1 hour 40 minutes and 82 miles outside of Denver). But keep in mind that you'll have to pass through the Eisenhower Tunnel along the way, which is notorious for temporary closures in inclement weather. Barring snow, however, the drive is simple and incredibly scenic—you'll trace the western boundary of Dillon Reservoir shortly before arriving at the resort, which is a great photo op.
 
Best Local Resort
Skiable terrain: 680 acres (see trail map)
Vertical: 1,400 feet
Average annual snowfall: 300 inches
1-day lift ticket: $99
Pass: Ikon (unlimited access)
What we like: Close to Boulder and the terrain may pleasantly surprise you.
What we don't: Small and little in the way of infrastructure.
The Resort: We'll start with the hard truths: Eldora has a fraction of the skiable terrain of the heavy hitters on this list, and the 1,400 feet of vertical isn't super impressive either. Moreover, there's basically no town or tourism infrastructure (we love Nederland, but it doesn't really count for ski purposes), the lifts are dated, and basically nothing about Eldora carries a whole lot of cachet to outsiders. However, this local resort offers a surprisingly diverse microcosm of Colorado skiing. The expert terrain from the Corona Lift is excellent, there are number of kid- and beginner-friendly runs steps from the parking lot, and Eldora even has some of the state's best Nordic skiing on site. Perhaps most importantly, the resort is highly accessible from the Front Range. With ski traffic up I-70 increasing by the year and becoming intolerable on weekends, Eldora is an easy 21 miles west of Boulder and 50 miles from downtown Denver.
The Town: Eldora is for day skiers. The town of Eldora itself is basically nonexistent from a tourism standpoint. Nearby Nederland—located 10 minutes from the ski hill—is a small and unique place with a lot of Colorado history, but it does not cater to skiers and out-of-towners (and doesn't really try to, although you can attend the annual Frozen Dead Guy Days for some true local flair). Most Eldora skiers are Boulder-area locals, people staying at Boulder hotels, and those from Denver who want to try something a little different (or just avoid ski traffic).
Getting There: As touched on above, Eldora is a mere 21 miles from Boulder and around 50 from downtown Denver, making it the most accessible resort from the Front Range. Most skiers will be coming from Boulder, which is a relatively easy 40-minute drive through Boulder Canyon and the tiny town of Nederland. Alternatively, public transportation is surprisingly simple—just hop on the RTD bus from Boulder (a one-way pass costs $5.25) or Denver (day passes are $10.50).
 
Best Resort for Colorado Diehards
Skiable terrain: 3,081 acres (see trail map)
Vertical: 3,060 feet
Average annual snowfall: 317.5 inches
1-day lift ticket: $169
Pass: Ikon (unlimited access)
What we like: The best mogul skiing in the state, with fewer crowds. 
What we don't: The town leaves something to be desired. 
The Resort: Winter Park is a skier's ski resort. It's quintessential Colorado: dramatic peaks with a towering summit over 12,000 feet, bowls, chutes, trees, deep snow, and of course, the car-sized moguls that the resort is famous for. Mary Jane is the star of the show, offering some of the premier advanced and intermediate terrain in the state. And make sure to stop by Parsenn Bowl for 360-degree views of the surrounding mountains. Keep in mind that more than half of the resort is black diamond terrain rated as "most difficult," although the groomers here are the real deal and there is a nice selection of family-friendly trails. The elevation is another challenge: the base is at 9,000 feet, which can be quite a wake-up call for people coming from the coasts (resorts like Vail and Beaver Creek are a bit friendlier at around 8,100 feet, and Steamboat is at just 6,900).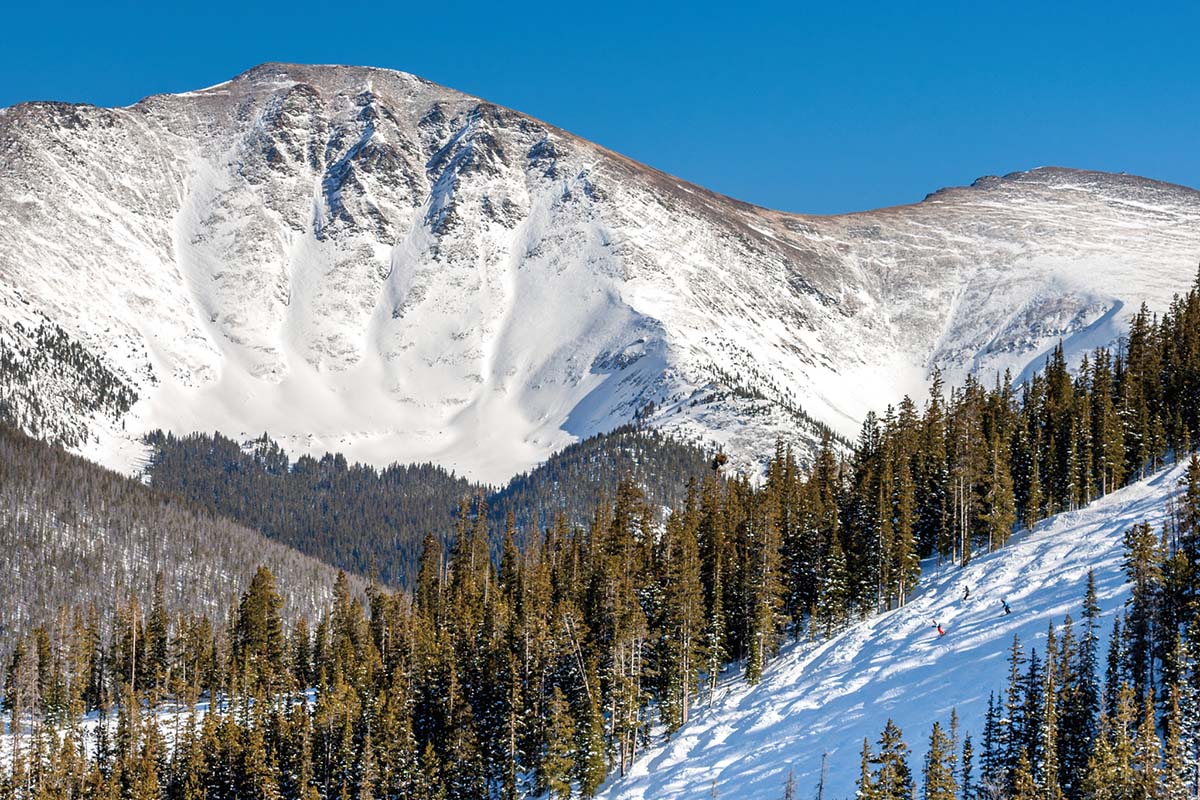 The Town: Winter Park is one the sleepier ski towns in Colorado and lacks the touristy feel that dominate other parts of the state. More than anything, it's a smattering of condos, ski homes, and somewhat-random restaurants spread decently far apart. Winter Park is tiny and so is neighboring Fraser, but the locals like it this way: the area has avoided some—but not all—of the development seen along the I-70 corridor. For those seeking more of a resort experience, Devil's Thumb Ranch is the place to be. Located about 20 minutes from the ski hill, the ranch has beautiful rooms, good food, and ample activities, including cross-country skiing right out of the door.
Getting There: Winter Park is around an hour and a half west (70 miles) of downtown Denver, but the good news is that you avoid much of the ski traffic along I-70 by exiting early. From the highway, it's a scenic and winding trip north to the resort through the Arapaho and Roosevelt National Forests along Berthoud Pass (keep in mind it can be treacherous during storms). Another popular—and more memorable—way to reach Winter Park is by train: the double-decker Winter Park Express runs on Fridays and weekends during ski season from Denver's Union Station to the ski hill and is a great alternative to the grueling commute (although it's costly at $59 each way).
 
Best of the Rest
Skiable terrain: 675 (Aspen Mountain), 3,339 (Snowmass), 1,040 (Aspen Highlands), 470 acres (Buttermilk)
Vertical: 3,267 (Aspen Mountain), 4,406 (Snowmass), 3,635 (Aspen Highlands), 2,030 feet (Buttermilk)
Average annual snowfall: Around 300 inches
1-day lift ticket: $174
Pass: Ikon (7 days)
What we like: Four resorts in one.
What we don't: Out of the way and more expensive than most other resort towns.
The Resort: Since opening day in 1946, Aspen Snowmass has blossomed from one single mountain into four resorts—all accessible with the same lift ticket. And despite being within spitting distance of each other, each offers a distinctly different ski experience. Aspen Mountain (or Ajax, as locals call it) is the oldest of the four areas and a dream for advanced and mogul skiers, lacking novice runs altogether. Directly to the west lies Aspen Highlands, where you can expect fewer crowds, a tangible local charm, sweeping views of the iconic Maroon Bells and Pyramid Peak, and arguably the most extreme terrain of the bunch (including the notorious Highland Bowl). Heading west, you'll hit Buttermilk, the antithesis of both Aspen and Aspen Highlands in many ways including a noticeable laid-back and lighthearted feel with much gentler beginner-to-intermediate terrain. And last but not least, 3,000-acre Snowmass—the largest of the four areas—sits just up the road from Aspen in nearby Snowmass Village, offering a variety of wide groomers, a family-friendly layout, and uncharacteristically long runs including 5.3-mile Long Shot.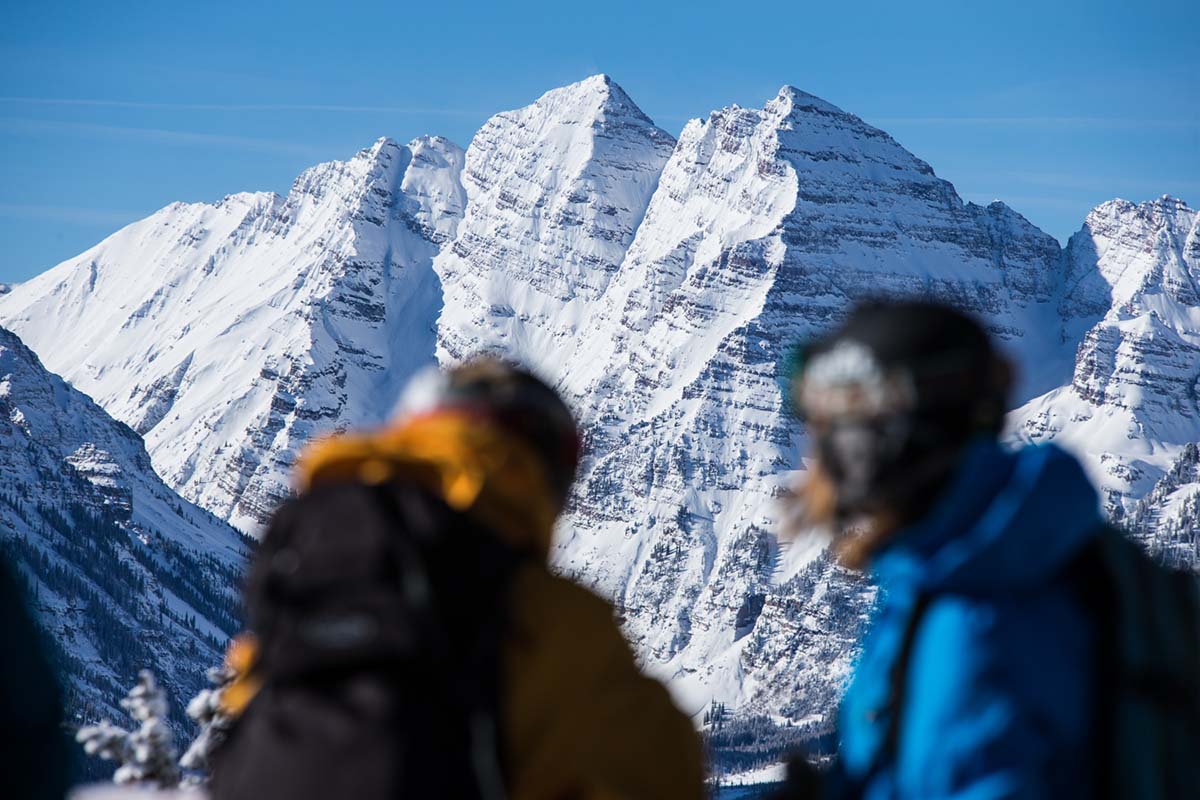 The Town: Like Telluride, Aspen is a mecca for the ultra-rich including celebrities and corporate executives, so nothing comes cheap. But if you're prepared to splurge, Aspen won't disappoint: the former silver-mining town is bustling with an eclectic array of world-class restaurants, cafes, art galleries, and popular events including Wintersköl—Aspen's annual four-day "toast to winter"—and the Winter X Games, an action sports competition where pro skiers, snowboarders, and snowmobilers battle for the gold. The good news is that from luxury condos to charming, rustic cabins, there's no shortage of vacation rentals and other lodging to choose from in both Aspen and newer Snowmass Village (8 miles west).
Getting There: Aspen is about 4 hours outside of Denver (around 220 miles), passing many of the resorts on this list along the way including Breckenridge, Keystone, and Vail before heading south on Highway 82. Or you can fly into Aspen/Pitkin County Airport just 3 miles northwest of town that offers seasonal service from cities like Denver, Los Angeles, Atlanta, San Francisco, and Chicago. That said, flights into Aspen predictably are pricey and many planes divert to other airports due to strong winds. Alternatively, you can fly into Vail or Grand Junction for a quicker commute than the Front Range. The seclusion is part of Aspen's appeal, but you'll have to decide if the lack of convenience is worth it.
 
Skiable terrain: 1,428 acres (see trail map)
Vertical: 2,530 feet
Average annual snowfall: 350 inches
1-day lift ticket: $105
Pass: Ikon (7 days)
What we like: Opens earlier and closes later than most other resorts; some of the gnarliest inbounds terrain in the state.
What we don't: Not ideal for beginners; no mountain-side lodging or services.
The Resort: Known locally as just A-Basin, this resort boasts one of the longest ski seasons in the country, often running from mid-October to mid-June (snowpack permitting). That's right, you can ski nine out of 12 months of the year. Not only that, but A-Basin contains some of the most extreme and challenging resort terrain in all of Colorado. Its crown jewel is the famed East Wall: topping out at just over 13,000 feet, it traces the ridgeline of Lenawee Mountain, offering expert skiers a wide selection of narrow, jagged-rock-ridden and cornice-hung chutes. Add in reasonably priced 1-day tickets, epic views of the Continental Divide from most lifts, a laid-back local vibe, and fewer crowds than most other resorts on this list, and A-Basin can be a great place to challenge yourself or experience early- or late-season skiing.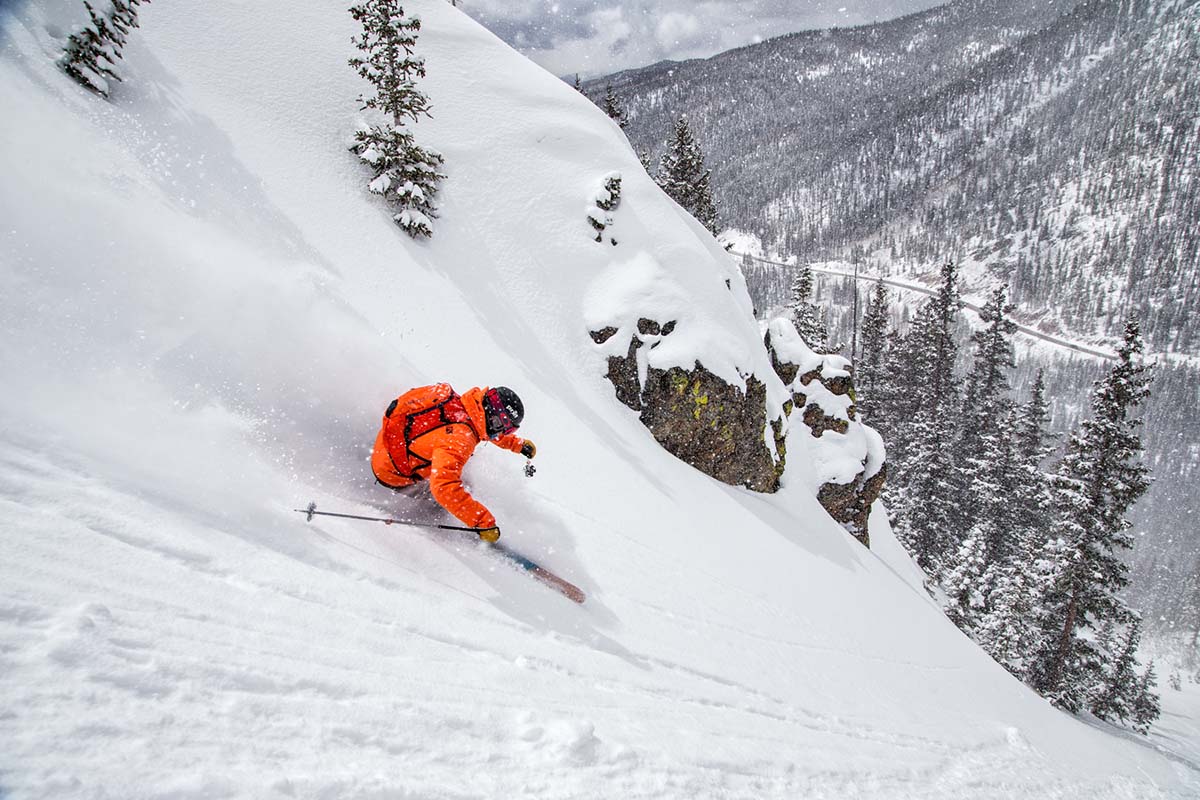 The Town: Unfortunately, the fun at A-Basin is limited to the resort itself. Although technically located in Keystone, there's no resort-side town, no ski-in, ski-out lodging, and outside of three on-slope lodges, no place to enjoy a brew or meal after a long day of skiing. The closest services are about 10 minutes down the road at Keystone Resort, but that's not exactly a booming metropolis, either. We recommend out-of-towners head to Breckenridge (20 miles south) or stop for a bite in Idaho Springs (a historic mining town about 30 miles east) on the way back to Denver. If you plan to stay overnight, Keystone's River Run Village lodging will offer the quickest commute back in the morning. And if you don't have a car, Summit County provides a free, once-an-hour shuttle between the two resorts.
Getting There: Located between Loveland and Keystone resorts off of I-70, Arapahoe Basin is a comparatively easy and short drive from the Front Range (about 90 miles from the Denver airport). That said, the last 8 miles off of the highway weave up and over Loveland Pass: a sharply winding and often snow-blown road that can be treacherous in inclement weather. But on clear days, it's almost always worth stopping for a photo at the top where the pass crests the Continental Divide, offering gorgeous vistas of the surrounding peaks.
 
Skiable terrain: 2,965 acres (see trail map)
Vertical: 3,668 feet
Average annual snowfall: 336 inches
1-day lift ticket: $199
Pass: Ikon (unlimited access)
What we like: World-class tree skiing and snow. 
What we don't: Conditions can get cold; lacking in true alpine terrain.
The Resort: Few resorts dominate the surrounding landscape like Steamboat. This is not the land of 14ers like Breckenridge or Aspen, nor is it home to the jagged, Switzerland-like peaks around Telluride. Here, the stars of the show are the ski hill and Mount Werner, which loom large over the town. The summit elevation of just over 10,500 feet is respectable and the nearly 3,700 feet of vertical is downright impressive, but the true defining characteristic of Steamboat is the snow. More specifically, the "Champagne Powder," which is much drier than what you'll find elsewhere in Colorado, and Steamboat offers a superb selection of world-class tree skiing to match. Forty-four percent of the terrain is advanced and another 42 percent is intermediate, making the resort a prime destination for out-of-staters and locals alike.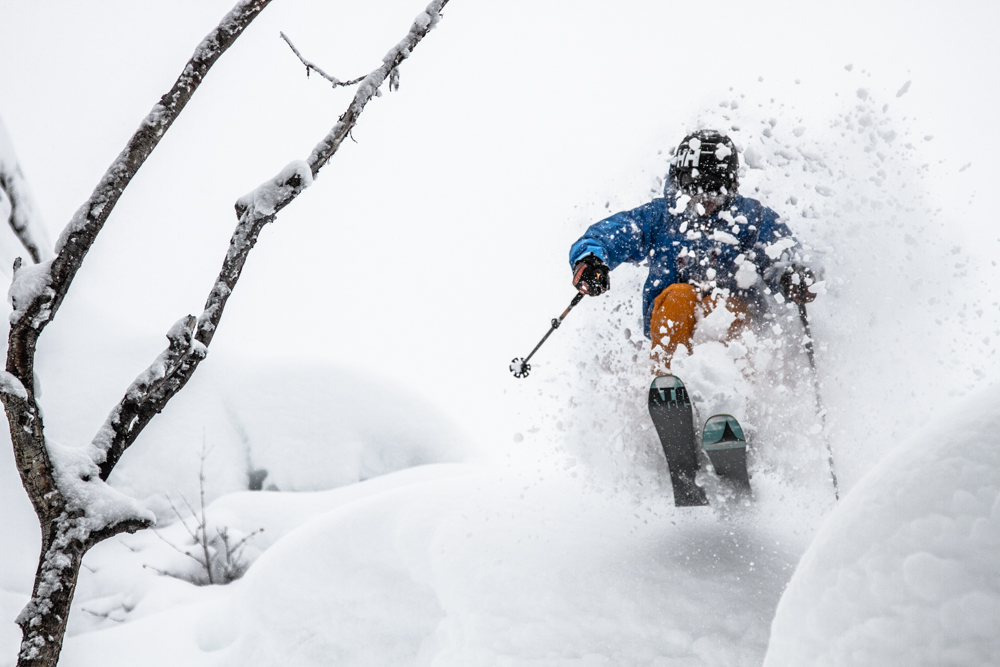 One thing to keep in mind with the skiing in Steamboat is the uniqueness of the terrain. This is northern Colorado, and it feels more like Wyoming or Big Sky Country than other resorts in the state. Temperatures can get cold and the entire resort is below treeline. This means that Steamboat isn't the place to ski wide-open alpine bowls or steep chutes, but again, the tree skiing is superb and so is the snow.
The Town: There's an old saying around Colorado that the Porches go to Aspen, the Volkswagens go to Crested Butte, and the pickup trucks go to Steamboat. To be sure, the Yampa Valley is ranch country, and that's not a bad thing. Steamboat Springs truly has a Western feel with Lincoln Avenue running through the historic part of downtown all the way to the ski hill. The Yampa River on the other side is big for water sports and fishing in the summer, and after spending some time here, it's clear that Steamboat is a real town. The resort and veritable mountain biking scene may supercharge the economy, but there's plenty going on in terms of food, entertainment, and the arts. Keep in mind that there are two distinct areas to stay: the base of the resort (which is like many others) and the more interesting old town (ski shuttles run frequently). 
Getting There: Compared to the I-70-accessible resorts like Keystone and even Vail, Steamboat is a haul. It's much closer to the Wyoming border than it is to the Front Range, and the commute from Denver is around 3 hours and 150+ miles. Most Colorado skiers choose to spend at least a night in town to justify all the travel. There are public transportation options from Denver, but they're lengthy and it's cheaper and faster to drive.
 
Skiable terrain: 1,832 acres (see trail map)
Vertical: 3,340 feet
Average annual snowfall: 325 inches
1-day lift ticket: $209
Pass: Epic (unlimited access)
What we like: As luxurious as nearby Vail with fewer crowds; some of the best corduroy in the state.
What we don't: Just as expensive as Vail but lacking in terrain and après activities.
The Resort: For those yearning for the luxury and pampering of a ski trip to the Alps, Beaver Creek comes pretty darn close. Here, escalators shuttle guests from the bus stop to the slopes, staff prepare free freshly baked cookies each afternoon, and dedicated attendants help tired guests carry their gear. Throw in meticulous grooming, fresh corduroy runs, few crowds, and a friendly atmosphere, and Beaver Creek is one of the best resorts in the state for families looking to decompress and indulge in a true vacation. However, although you get the same glitz-and-glam feeling on the slopes as nearby Vail 13 miles to the east, Beaver Creek is much smaller and lacks the overall terrain variety—you won't find any bowl skiing or trails above treeline. But the resort's 150 runs are nothing to scoff at, especially those like Golden Eagle: a steep double black that serves as proving ground for competitors in the annual men's Alpine Ski World Cup.
The Town: Off the lifts, Beaver Creek's extravagance is even more pronounced. Tucked further back from the highway than Vail, you get more seclusion and privacy in the quaint, pedestrian-only ski village dotted with gear outfitters, clothing boutiques, art galleries, and restaurants from fine dining to pizza parlors. Upscale accommodations also are plentiful with ample ski-in, ski-out lodging at the base of the mountain and even more options in nearby Avon (a 10-minute commute from the resort via free shuttle), where vacation rentals and hotels are generally more affordable—by Beaver Creek standards, that is.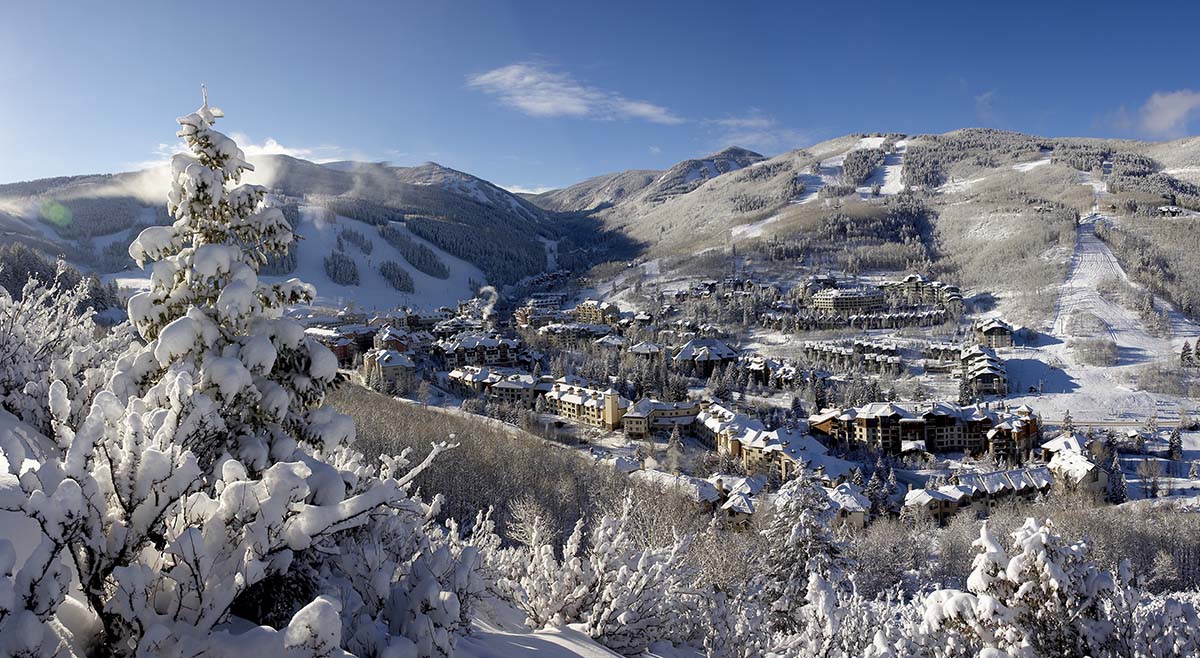 Getting There: Like Vail, Beaver Creek is around 2.5 hours from Denver and a straight shot west along I-70. Alternatively, you can catch a flight into Eagle County Regional Airport 30 minutes from the resort and ride the Epic Mountain Express (a shared private shuttle service) or rent a car—they even come with snow tires and optional roof racks in winter months. Or, in true Beaver Creek fashion, there's the option to splurge for a privately chauffeured luxury SUV and arrive at the resort in style.
 
Skiable terrain: 3,148 acres (see trail map)
Vertical: 3,128 feet
Average annual snowfall: 235 inches
1-day lift ticket: $165
Pass: Epic (unlimited access)
What we like: Solid variety of terrain from easy groomed runs to powder-filled bowls.
What we don't: Less challenging than many other resorts for advanced skiers; not much of a ski town.
The Resort: With over 3,000 skiable acres spread across three massive peaks, Keystone has something for just about everyone. Beginners can get plenty of practice along gentle greens like 3.5-mile-long Schoolmarm (accessible from the gondola or Summit Express lift). Intermediate skiers can choose from over 25 groomed or obstacle-scattered blue runs. And advanced skiers can tackle tight glades, big moguls, and hike up to one of five above-tree-line bowls for a backcountry-like powder day. Our favorite is the South Bowl: it's only a five-minute walk from the Outback Express lift and a great intro for those looking to get their feet wet without hoofing it up thousands of vertical feet. All that said, those in search of truly extreme terrain will be better served elsewhere (for heart-pumping steeps or narrow chutes, check out Arapahoe Basin's Steep Gullies or Aspen Snowmass' Cirque Headwall). But Keystone's sheer variety is impressive nevertheless and makes it a great place for families and groups.
The Town: Simply put, Keystone is no boomtown. Within the resort's River Run Village, there are a number of rental properties, restaurants, and hotels, but off-site lodging and food options are few and far between. Nearby Silverthorne (10 miles from Keystone) and Frisco (13 miles) offer more variety, but we recommend driving the additional few miles to Breckenridge's historic downtown to enjoy a bite to eat (Breckenridge Brewery is a great place to warm up after a long, cold day of skiing). In the end, it's a tradeoff: Keystone might not be as idyllic, lively, or picturesque as Telluride or Aspen, but it's a whole lot closer to Denver.
Getting There: Like many other Summit County resorts on this list, Keystone is conveniently located right off of I-70. Barring ski traffic, the drive is approximately 70 miles or an hour and a half from Denver. When conditions allow, taking Loveland Pass is the most scenic way into the resort and will likely shave a few minutes off your commute time, but can be very difficult to navigate in adverse conditions.
 
Skiable terrain: 2,490 acres (see trail map)
Vertical: 2,738 feet
Average annual snowfall: 305 inches
1-day lift ticket: $178
Pass: Ikon (unlimited access)
What we like: One of the easiest resorts to navigate.
What we don't: Not much else that stands out.
The Resort: Copper Mountain is the most easily navigable resort on our list, bar none, with naturally divided terrain that splits the mountain into distinct advanced (east), intermediate (center), and beginner (west) areas. The lifts and base areas are laid out correspondingly, making the overall ski experience smooth and easy. And seasoned skiers will be pleased with the resort's most recent addition to its lift system: the Tucker Mountain lift. New for 2019-2020, it will whisk expert-level skiers up to 273 acres of high-alpine terrain (previously only accessible by snowcat or hiking), featuring steep chutes, pristine bowl skiing, and a backcountry-like experience without all the work. Unfortunately, there isn't much else to write home about. We applaud Copper for its straightforward layout (beginners and families will be well-served here), but after spending a few consecutive days at the resort last winter, we had ourselves longing for more variable terrain.
The Town: Copper Mountain spills into three nicely divided base areas below: East, Center, and West villages. Center Village offers the most après choices including cafes, shops, and a host of restaurants, in addition to a handful of hotel and condo accommodations. However, there are far fewer rental properties available here than in nearby Breckenridge, and while not as extravagant (or scenic) as Vail or Telluride, Copper Mountain's ski village undoubtedly is pricey. For better budget options, check out downtown Frisco (10 minutes north), which has a lively and modern mountain town atmosphere that's quite charming in winter months. And in summer, mountain biking, hiking, and water activities abound thanks to the town's surrounding public lands and reservoir.
Getting There: The commute to Copper Mountain is almost identical to that of Breckenridge: from Denver, hop on I-70 and head west for about 100 miles (2 hours). Alternatively, if you'd rather take in the views from the passenger seat, Bustang—a bus system operated by the Colorado Department of Transportation—connects the Front Range with Summit County for reasonably low fares, including a stop in Frisco ($12 one-way from Denver's Union Station). However, these buses are limited and only depart in early morning, so it's best to plan ahead if you'll be flying in and out of Denver.
 
Skiable terrain: 1,600 acres (see trail map)
Vertical: 1,604 feet
Average annual snowfall: 430 inches
1-day lift ticket: $72
Pass: None
What we like: The most snowfall of any resort in the state.
What we don't: Very remote and no ski town. 
The Resort: Wolf Creek proudly advertises getting the most snow in Colorado, and they're not bluffing: the resort averages a whopping 430 inches per year, almost doubling that of some resorts above. Coupled with short lift lines, minimal crowds, and a remote location in southwestern Colorado, it's no wonder powder tends to stick around for a while at Wolf Creek. It should come as no surprise that the resort's crowning glory is its hike-to terrain, including the Knife Ridge: a steep section of bowls, chutes, glades, and gullies that offers some of the most challenging inbounds skiing in the state. You don't get the same variety or vertical drop as many of the resorts above, but Wolf Creek makes up for it in the sheer awesomeness of its alpine trails (and did we mention the powder?).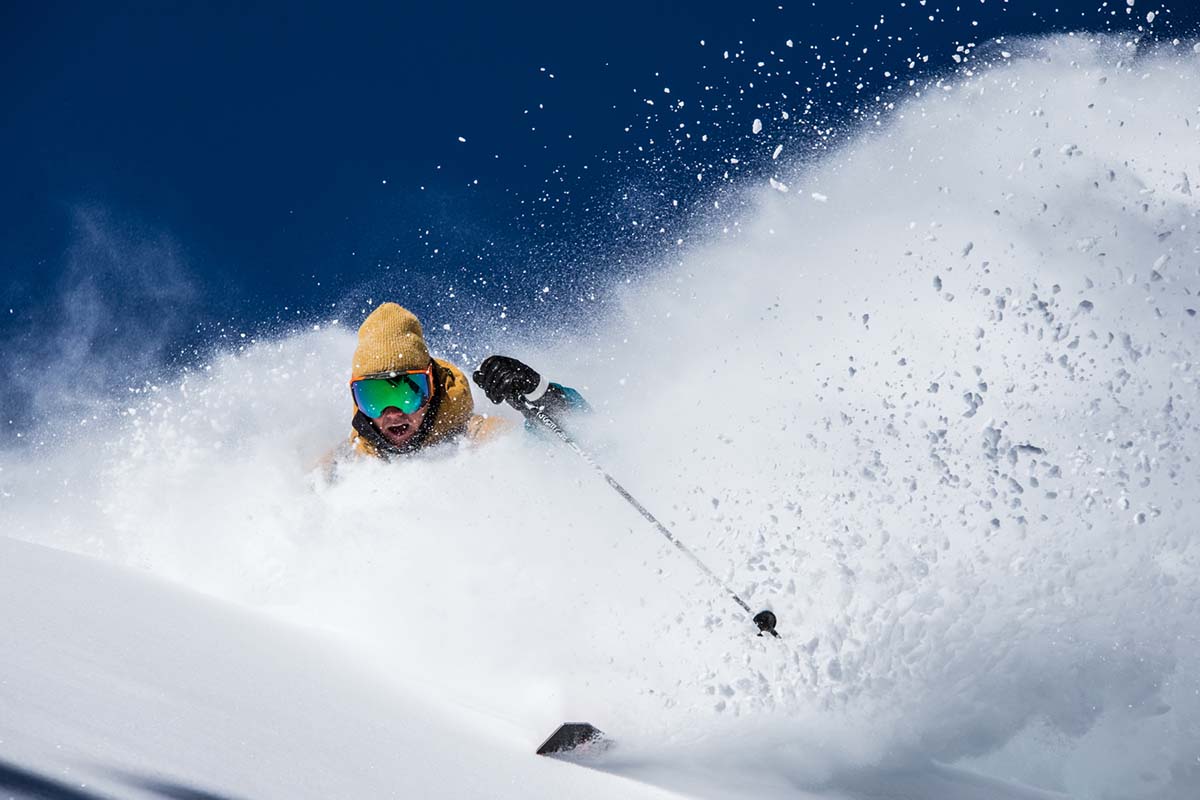 The Town: Set atop a high mountain pass between South Fork and Pagosa Springs in southwestern Colorado, Wolf Creek is extremely secluded and lacks overnight facilities altogether. For that, you'll need to head 35 minutes west to Pagosa Springs or 25 minutes east to South Fork. Both offer a number of affordable hotels, motels, rental homes and cabins, and restaurants, but we prefer the former for its three well-known natural hot springs with expansive views of the San Juan Mountains. However, Wolf Creek's future may be changing. After three decades of litigation, the Forest Service recently approved construction for a road leading into the resort that would allow the development of a base area including shops, restaurants, and lodging. If and when that happens, we might have to consider bumping the resort further up our list.
Getting There: The haul to Wolf Creek from Denver is similar to Telluride: very long and harrowing in winter. It's a bit closer at around 275 miles compared to Telluride's 350+, but will still take upward of 5 hours or more depending on conditions and road closures. Alternatively, you can fly into Colorado Springs (230 miles away) or connect from Denver via Alamosa (68.5 miles away) or Durango (80 miles away). But if you are going to put in all that effort, we think Telluride may be the better choice for its greater variety of terrain and proximity to town. 
 
Skiable terrain: 1,600 acres (see trail map)
Vertical: 1,650 feet
Average annual snowfall: 250 inches
1-day lift ticket: $71
Pass: None
What we like: Unlike any other resort on the list in both terrain and climate.
What we don't: Not much vertical and only has three lifts. 
The Resort: Located just outside Grand Junction, Powderhorn is Colorado's westernmost ski area and visibly different than all of the resorts above. How so? Powderhorn hugs the Grand Mesa, a distinctive volcanic-basalt-topped formation known as the biggest flattop mountain in the world. Because of this location, the resort's terrain and climate also are unique: views extend for miles across the vast desert (yes, the desert) below and the snow is notably drier. However, apart from the cool geology and great tree skiing, Powderhorn doesn't have a ton else to offer. There are no standout trails, only three chairlifts and one magic carpet, and much less vertical drop compared to the larger options above.
The Town: Although technically located in Mesa, it's near impossible to find nearby accommodations (the mountain has one slope-side hotel and Mesa offers a few lodges), and we recommend staying in Grand Junction for the scenery and liveliness. Grand Junction sits about 40 miles west of the resort, a well-populated city of about 60,000 tucked beneath vibrant canyons and mesas. It's also home to the Colorado National Monument: a towering, rugged group of red-rock monoliths and spires that overlook the valley below. Throw in a discernible Western vibe, a host of well-rated restaurants, bars, and wineries, and some of the best mountain biking in the state, and we think Grand Junction is a great place to spend time off the slopes.
Getting There: Powderhorn Mountain Resort is situated 250+ miles from Denver, making it one of the farthest resorts from the Front Range behind only Telluride, Wolf Creek, and Silverton. Because of the distance and potentially treacherous drive along I-70, we recommend booking a connecting flight into Grand Junction: it's a reasonable 45-minute drive to the resort and flights into Grand Junction arrive daily from Denver, Phoenix, Salt Lake City, and a few other cities. Or you could fly into Montrose, a 1.5-hour drive from Powderhorn. Many might not find the comparably small resort worth the haul, but the remoteness and unique geology are intriguing.
 
Skiable terrain: 1,547 acres (see trail map)
Vertical: 3,062 feet
Average annual snowfall: 234 inches
1-day lift ticket: $125
Pass: Epic (unlimited access)
What we like: Stunning, laid-back mountain town.
What we don't: Quite a distance from the Front Range. 
The Resort: While Crested Butte has ample beginner and intermediate trails down low, the resort is renowned for its higher-elevation technical skiing. The steepest of the steeps is Rambo, whose 55-degree slope lasts the entirety of the short, 300-yard run—tipping your skis over the edge feels akin to plunging into a freefall. Not to mention, Crested Butte is home to numerous competitions including the U.S. Extreme Freeskiing Championships, which is a testament to its truly world-class terrain. But regardless of your experience level, Crested Butte has universally strong appeal with fewer crowds and shorter lift lines than many resorts above, plus none of the hotdogging or hobnobbing typical of Aspen Mountain or Vail.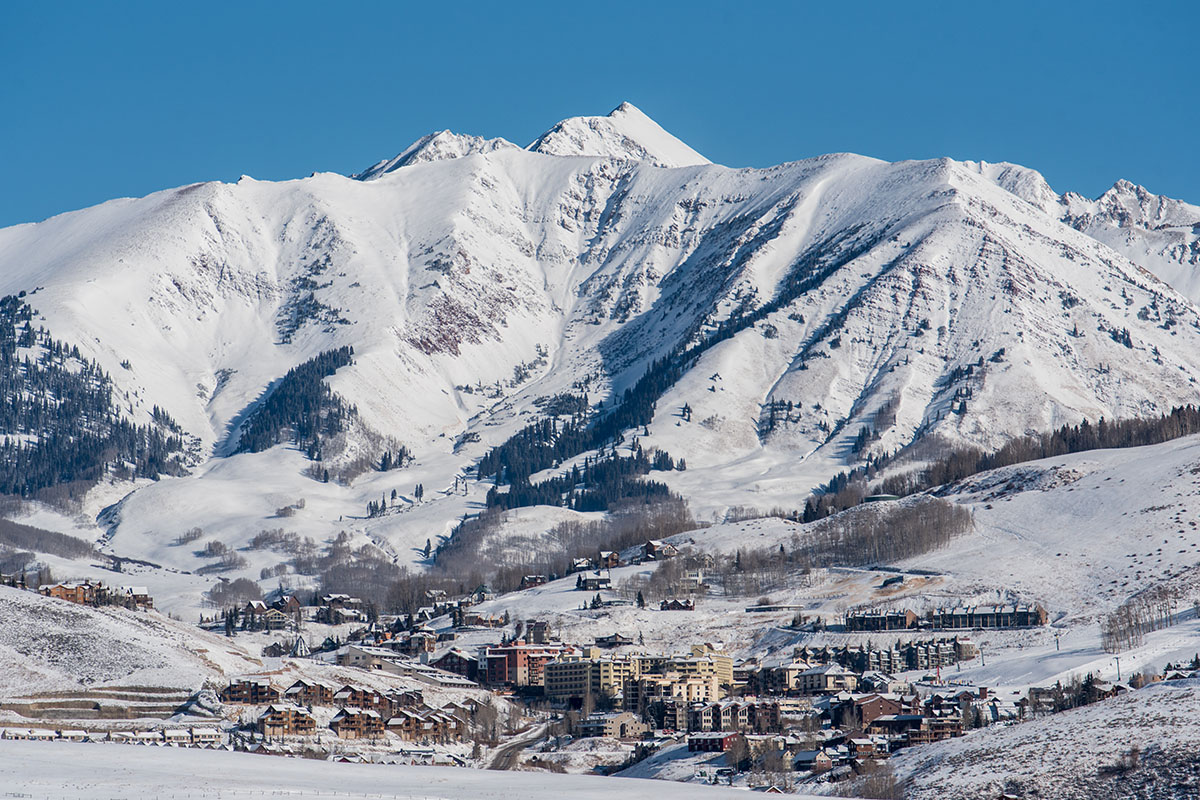 The Town: Crested Butte humbly refers to itself as "the last great ski town." And while we think there are other top-notch destinations on this list, visiting Crested Butte will make you feel like you've taken a step back in time. What were once saloons and mining-era shops have been preserved quite well, now colorful Victorian-style cafes, galleries, breweries, restaurants, and other local boutiques along the town's historic Elk Avenue that looks like it's straight out of a Western movie. And while only a short distance from Aspen as the crow flies, Crested Butte lacks the luxury and flashiness—instead, it's notably laid back, serving as a reminder of what some other ski towns were like in their heyday. It's worth mentioning that the ski area was purchased by Vail Resorts in summer 2018, meaning the once-family-owned hill is now a part of the Epic conglomerate. And while we're eager to see what changes Vail makes, we're fairly confident that the small-mountain-town atmosphere isn't going anywhere yet.
Getting There: Crested Butte's remote location in southwestern Colorado and considerable distance from Denver (250+ miles) make it quite difficult and inconvenient to reach by car. However, Gunnison-Crested Butte Regional Airport, just 30 miles south of town, offers seasonal service on American and United airlines with flights from Denver, Dallas, and Houston. And once you're there, a rental car is almost entirely unnecessary: there are a host of shuttle services at the airport and the town's free Mountain Express is a great way to get to and from the resort each day. In our opinion, the epic scenery, impressive terrain, and idyllic and down-to-earth town make Crested Butte one of the coolest places to visit—if you're willing to put in the major effort to get there.
 
Skiable terrain: 1,819 acres (see trail map)
Vertical: 1,900 (3,877 for hike-to and heli-served terrain)
Average annual snowfall: 400+ inches
1-day lift ticket: $79 (unguided)
Pass: None
What we like: Steepest lift-served terrain in the state. Oh, and heli-skiing.
What we don't: Depends on your definition of "resort."
The Resort: We'll cut straight to the chase: Silverton Mountain—the steepest and highest-elevation ski area in North America—is a beast of a "resort," where anyone other than expert-level skiers need not apply. For starters, there are no groomers, no well-defined trails, and no slope under 35 degrees. And the reason we put "resort" in quotation marks is because it depends how you define it. Silverton has only one chairlift, caps crowds at 475 unguided skiers per day, and requires you to present your avalanche gear (beacon, probe, and shovel) before hitting the slopes. Guided skiing and helicopter shuttling also are available and very popular for thrill-seekers willing to brave the mountain in the first place. We know Silverton has very limited appeal for most typical resort-goers (ourselves included), but we couldn't help but include it for the sheer "epic" factor. 
The Town: As its name suggests, Silverton began as a silver-mining town, and most of its former glory has been preserved to this day in the downtown historic district. Surrounded by imposing peaks on all sides, the quaint mountain town has everything you'll need including a handful of cafes, grocery stores, restaurants, and hotels, in addition to private and public campgrounds as many travelers are just passing through. Silverton is a far cry from Telluride, Aspen, or even Frisco above, but most people are there to experience the skiing rather than the enjoy the amenities.
Getting There: Silverton is extremely far off the beaten path and a whopping 380+ miles or 7 hours from Denver. Most skiers headed to the resort fly into Durango (69 miles south), Montrose (68 miles north), or Grand Junction (130 miles northwest). But there's no sugar-coating the fact that Silverton is by far the hardest-to-reach resort on this list. Many of us might never experience Silverton or test the resort's legendary reputation, but for those who do: hats off to you.
 
Colorado Ski Resort Comparison Table
| Resort | Terrain* | Vertical | Snowfall | Ticket $ | Pass | Base | Summit |
| --- | --- | --- | --- | --- | --- | --- | --- |
| Vail Ski Resort | 5,289 ac. | 3,450 ft. | 354 in. | $199 | Epic | 8,120 ft. | 11,570 ft. |
| Telluride Ski Resort | 2,000+ ac. | 4,425 ft. | 280 in. | $139 | Epic | 8,725 ft. | 13,150 ft. |
| Breckenridge Ski Resort | 2,908 ac. | 3,398 ft. | 353 in. | $189 | Epic | 9,600 ft. | 12,998 ft. |
| Eldora Mountain | 680 ac. | 1,400 ft. | 300 in. | $99 | Ikon | 9,200 ft. | 10,600 ft. |
| Winter Park Resort | 3,081 ac. | 3,060 ft. | 317.5 in. | $169 | Ikon | 9,000 ft. | 12,060 ft. |
| Aspen Mountain | 675 ac. | 3,267 ft. | 300 in. | $174 | Ikon | 7,945 ft. | 11,212 ft. |
| Snowmass | 3,339 ac. | 4,406 ft. | 300 in. | $174 | Ikon | 8,104 ft. | 12,510 ft. |
| Aspen Highlands | 1,040 ac. | 3,635 ft. | 300 in. | $174 | Ikon | 8,040 ft. | 11,675 ft. |
| Buttermilk | 470 ac. | 2,030 ft. | 300 in. | $174 | Ikon | 7,870 ft. | 9,900 ft. |
| Arapahoe Basin Ski Area | 1,428 ac. | 2,530 ft. | 350 in. | $105 | Ikon | 10,780 ft.  | 13,050 ft. |
| Steamboat Resort | 2,965 ac. | 3,668 ft. | 336 in. | $199 | Ikon | 6,900 ft. | 10,568 ft. |
| Beaver Creek Resort | 1,832 ac. | 3,340 ft. | 325 in. | $209 | Epic | 8,100 ft. | 11,440 ft. |
| Keystone Resort | 3,148 ac. | 3,128 ft. | 235 in. | $165 | Epic | 9,280 ft. | 12,408 ft. |
| Copper Mountain | 2,490 ac. | 2,738 ft. | 305 in. | $178 | Ikon | 9,712 ft. | 12,313 ft. |
| Wolf Creek Ski Area | 1,600 ac. | 1,604 ft. | 430 in. | $72 | None | 10,300 ft. | 11,904 ft. |
| Powderhorn Mountain Resort | 1,600 ac. | 1,650 ft. | 250 in. | $71 | None | 8,200 ft. | 9,850 ft. |
| Crested Butte Resort | 1,547 ac. | 3,062 ft. | 234 in. | $125 | Epic | 9,375 ft. | 12,162 ft. |
| Silverton Mountain | 1,819 ac. | 3,887 ft. | 400+ in. | $79 | None | 10,400 ft. | 13,487 ft. |
*Editor's Note: "Terrain" refers to the acres of skiable terrain at any given resort.

Things to Consider When Planning Your Ski Trip

Getting There and Locations in the State
A healthy number of Colorado ski resorts, including Vail, Breckenridge, Keystone, Beaver Creek, and Arapahoe Basin, are located west of Denver off Interstate 70. The closest I-70 resort from Denver is A-Basin, which is just 64 miles and 1 hour 15 minutes driving (in theory, with no traffic). But even in good conditions, the road can be challenging for those who aren't used to driving over big mountain passes. And when weather moves in, road closures are not uncommon, and all cars are required to have snow tires, carry chains, or be 4WD/AWD. Coupled with the lack of affordable public transportation options from cities like Denver and Boulder, it's no wonder that locals joke about and dread the weekly ski commute.
That said, some resorts are much easier to reach than others. For example, Eldora is our favorite local hill because it's less than an hour from Boulder and can be easily accessed by bus (more in "Other Transportation Options" below). On the other hand, resorts like Telluride (350+ miles from Denver), Aspen (230+ miles from Denver), and Vail (95+ miles from Denver) can be difficult to get to, especially in adverse conditions (all three have nearby airports, but they're small and often costly to fly into). In the end, our best advice is to plan ahead by checking weather reports, anticipate ski traffic, make sure your vehicle is properly equipped to handle variable road conditions, and don't be in a rush.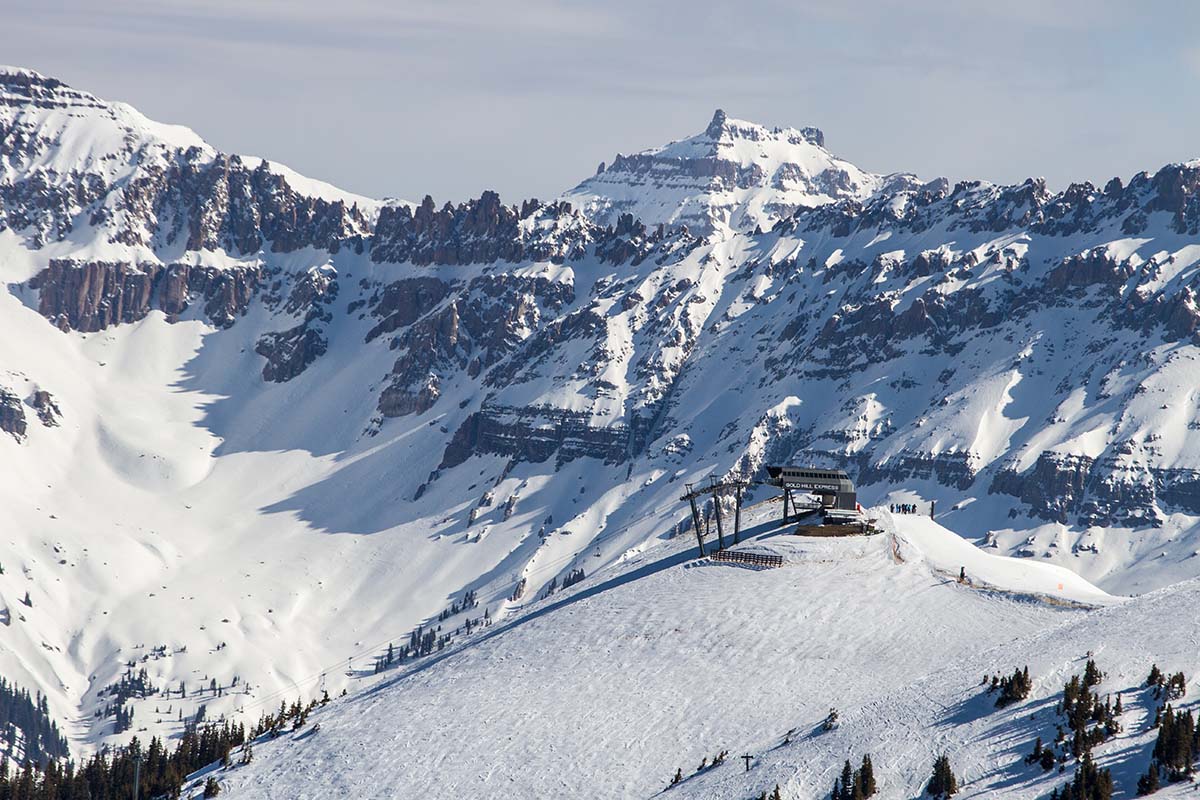 Other Transportation Options (Public and Private)
We'll get straight to the point: good, affordable public transit is seriously lacking in Colorado. Eldora is one exception to the rule, however: the RTD bus runs from Boulder quite frequently and a one-way pass will only cost you $5.25. If you're coming from Denver or the surrounding areas, you'll need to get a day pass for $10.50, but it's still a great deal considering you won't have to drive.
There also are a number of other, more expensive transportation options if you don't plan on driving to the slopes. For example, the Winter Park Express Ski Train runs from Union Station in downtown Denver to Winter Park. But this is more of a novelty than a convenient lift to the resort—the train only runs on weekends and the first two Fridays of each month, has only one arrival and departure time each day, and costs around $60 for a one-way ticket. If you're not headed to Winter Park, Bustang could be a viable option. These westbound buses run daily from Denver to eight stops along I-70, including Frisco and Vail ($17 one-way from Denver to Vail). Finally, private shared-ride vans and shuttles—like the Epic Mountain Express—depart from various airports to most I-70 resorts and make a lot of sense for travelers from out of state (prices vary depending on location, but you can expect tickets to run at least $75 round-trip per person for shared rides).
 
Weather and Snow Conditions
Colorado is notorious for its variable weather. In winter, conditions can change from sunny and mild one day to a massive snowstorm the next. To put it in perspective, many of the resorts on our list average over 250 inches of snow each year, which is almost 21 feet. And along with snow often come biting winds, cold temperatures, and dangerous roads. Sites like The Weather Channel and AccuWeather always are good resources for checking forecasts, and a great way to stay up-to-date on road conditions is through the Colorado Department of Transportation website. It provides route information, interactive maps, travel alerts and chain requirements, in addition to photos of various highways and interstates. For ski conditions, phone apps like OnTheSnow (free for iOS and Android devices) also can be helpful for checking recent snowfall and current snowpack and letting your fellow skiers know how runs are looking.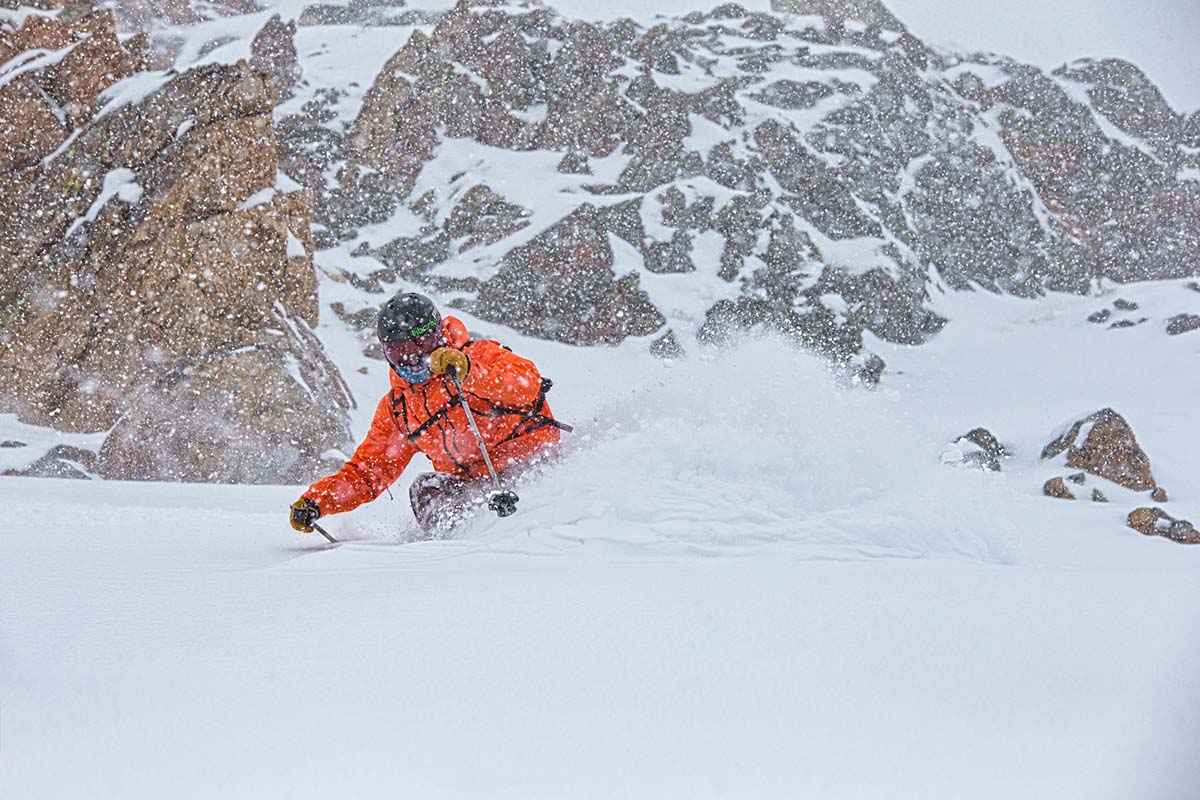 Altitude
Most Colorado ski resorts start at well above 8,000 feet and lifts climb as high as almost 13,500 feet (the highest-elevation title belongs to Silverton Mountain at 13,487 feet). What does this mean for you? Many out-of-staters feel the effects of altitude fairly quickly, and a few of the most common symptoms include lightheadedness, headaches, and shortness of breath. This is especially true for high-output activities like skiing, so it's important to be aware of how you're feeling and do your best to stay hydrated and get enough rest throughout your stay. Some over-the-counter medications can also help, and symptoms generally improve after a day or two at altitude.
 
Opening and Closing Dates
A typical Colorado ski season lasts from mid-November through mid-April for most resorts, but the schedule is heavily dictated by the year's snowpack. For the 2018-2019 season, for example, an October snowstorm allowed many resorts along the I-70 corridor to open sooner than expected in early November. And some resorts are known to be early bloomers—Arapahoe Basin is a prime example, where early-season skiing consists of lapping a single run (known affectionately as the "white ribbon of death") down the front side of the mountain. For the most part, the majority of resorts will close sometime around mid-April, but some stay open as late as June if the conditions allow. Prime ski season generally lasts from late December through early March.
 
Passes: Epic vs. Ikon
Most of the resorts on this list can be accessed with a ski pass: Epic or Ikon. The resorts on the Epic Pass are different than the resorts on the Ikon, but both include limited and unlimited days at resorts in Colorado, California, Utah, and elsewhere throughout the U.S. and abroad. They also allow passholders to buy a number of discounted "buddy" passes for friends. Prices vary depending on how many restrictions you're willing to deal with—the premium pass with fewest restrictions and most resort options hovers around $900-$1,000. What are the downsides? Both passes can only be purchased early in the season (they go on sale in early spring and increase in price through mid-November) and are quite pricey up front. But for skiers who want to experience the most resorts and are willing to plan ahead, a season pass definitely is the way to go. Depending on the resort, you may have to ski just five or six times to make it worth it. 
Epic
From the resorts listed above, the Epic Pass offers unlimited access to Vail, Beaver Creek, Breckenridge, Keystone, Crested Butte, and seven days at Telluride. Epic also offers cheaper seven-day and four-day passes, in addition to options with added restrictions and black-out dates. You should consider which resort(s) you'd like to visit most before buying a pass, and also make sure that the pass you buy can be used on the dates you'd like to ski (holiday weekends are restricted on some passes at certain resorts). But since single-day lift tickets at most of these areas cost well over $100, the pass can pay for itself after only a handful of days on the slopes.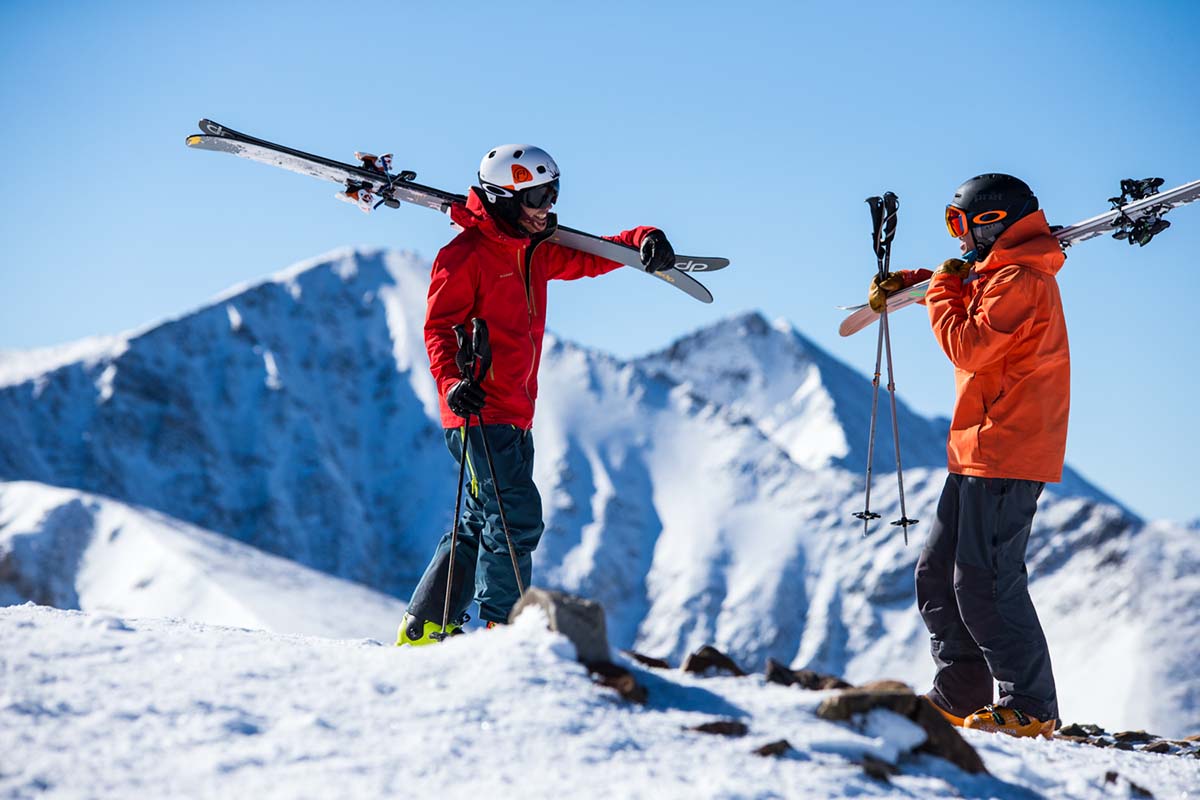 Ikon
The Ikon Pass covers most of the remaining resorts on our list, including Winter Park, Steamboat, Copper Mountain, Eldora, and seven days at Aspen Snowmass and Arapahoe Basin. Both the Ikon and Ikon Base passes offer unlimited days at most resorts on the pass, but the pricier Ikon has the fewest restrictions and black-out dates. Unfortunately, Ikon doesn't offer shorter-term options like Epic does, so $649 is the least you'll pay ($949 for the premium pass). But in the end, that's still a great value for the cost-conscious Coloradoan or those who plan to spend some time in the state.
 
1-Day Lift Ticket Prices
While some resorts have 1-day ticket prices that are set in stone, others fluctuate throughout the season depending on the day and whether you buy online or in person. We've noted the average prices you can expect above, but in general, buying online and in advance (one or more weeks out) on a site like Liftopia.com is the cheapest option if you don't plan to purchase an Epic or Ikon pass. Prices also often change seasonally, are pricier on holiday weekends, and are cheaper for kids and seniors.
 
The Towns
Out-of-state skiers flock to Colorado each winter, and the nearest town to any given resort can have a big impact on overall experience. If you're looking for an idyllic, picturesque ski town, check out Aspen or Telluride. Although farther from the Front Range than many of the other resorts on the list, they offer some of the best après activities including lively restaurants and bars, downtown shopping areas, and spectacular panoramic views. Alternatives closer to Denver, like Vail and Beaver Creek, have charming European-ski-town vibes but are expensive, close to the highway, and essentially purpose-built as part of the ski resort. In the end, it's important to consider how much time you plan to spend off the slopes and what you'd like to do in your free time. If you plan to call it a night after the last lift or are on a budget, a resort like Arapahoe Basin (which has no ski town at the base) could make sense. For 5-star restaurants and days at the spa, Vail or Aspen might be more of your spot. Below each description of the resorts above, we've also included a write-up on the character and offerings of the town itself.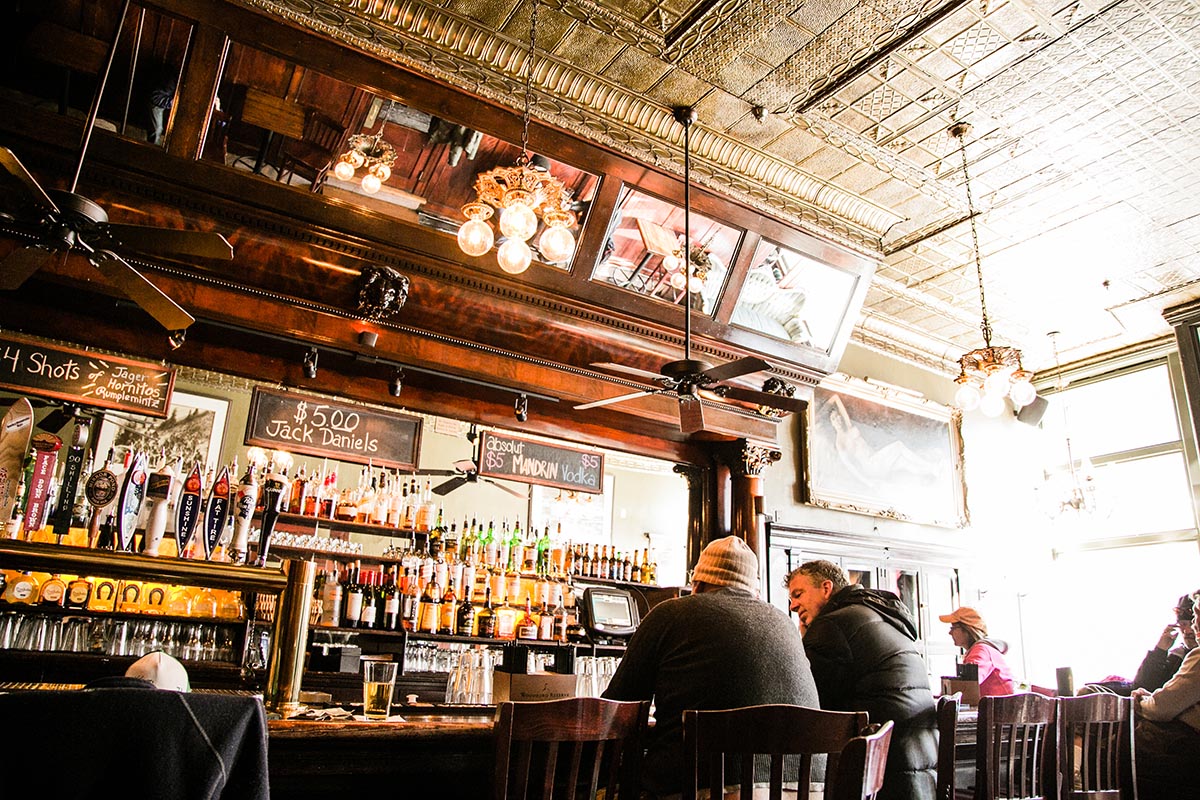 Terrain and Ability Level
Most of the resorts above have terrain ranging from beginner to advanced, expert, and even extreme terrain. The good news is that all resorts publish trail maps online that depict the runs, lifts, lodges, and other services. For example, Vail's trail map illustrates each run's difficulty—from green circles to double black diamonds—and which lift can get you there. Below, we outline the different experience levels and what to look for, including which resorts are best depending on your skill level and preferred terrain. And of course, it goes without saying that you should exercise caution and good judgement when skiing in unfamiliar terrain, even at resorts. Some ungroomed areas are more dangerous than others and situations can escalate quickly if you're not prepared for what's below.
Advanced/Expert (Black Diamond and Double Black Diamond)
Advanced skiers can range from resort-goers who are comfortable on groomed blacks to powder-hungry pros hucking Arapahoe Basin's Steep Gullies—it's all pretty subjective. In general, groomed black runs are similar to blue squares but noticeably steeper, ungroomed blacks often feature unmarked obstacles like moguls or trees, and "extreme" or double black terrain can encompass anything from wide back bowls to narrow, rocky chutes. Resorts like Arapahoe Basin, Aspen Mountain, Aspen Highlands, and Telluride are known for their areas of incredibly challenging, expert-level and extreme terrain.
Intermediate (Blue Square)
Intermediate terrain is most often indicated with a blue square, with most runs being groomed and moderately sloped. Some include obstacles like moguls, but these are often optional—they can be on the side of a groomed run or otherwise offset so that you don't have to navigate them if you don't want to. This is also generally the most common difficulty level at any resort, as most skiers fall in this range. For example, Eldora contains 50 percent blue runs, with 20 percent greens and 30 percent blacks. Even those that prefer the tougher stuff enjoy blues—they can be great for warming up or resetting after an exceptionally challenging run.
Beginner (Green Circle)
For those just starting out, green circles indicate the mildest incline and least difficult terrain. Green runs are well-groomed and can be a great place for beginners to get in good practice before jumping onto steeper blue squares. Some resorts in particular, like Breckenridge, have excellent beginner areas and plenty of greens to choose from (Breck even has "family zones" that are essentially safer, isolated learning areas). Others, like Arapahoe Basin, will likely be a bit too challenging for those who haven't spent much time on skis (green runs make up only 7 percent of the entire resort).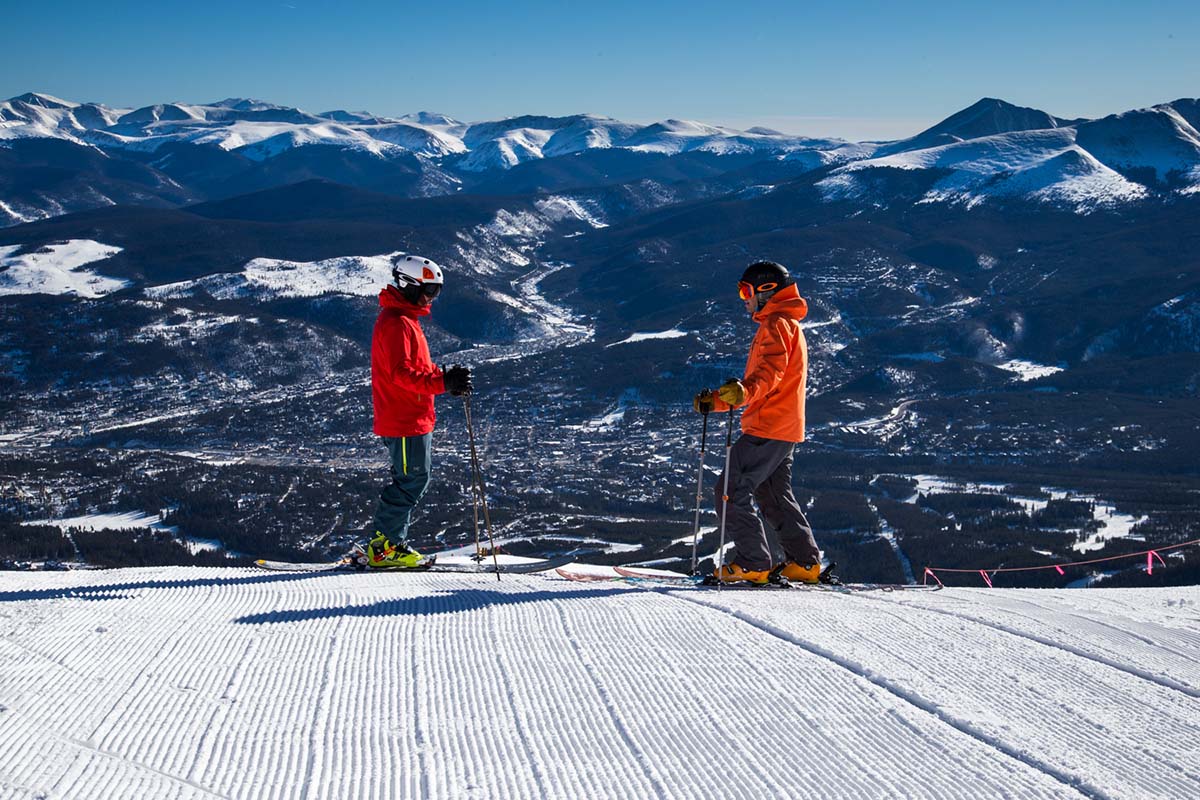 Ski Gear
Being properly equipped for a big ski day is crucial for staying comfortable and confident on the slopes, and it can get darn cold out here. To help, we've created a resort skiing checklist that outlines and describes all the necessities, in addition to nice-to-have items that you might want to throw in your bag or pockets. And if you plan to explore the sidecountry while visiting any of the resorts, it's important to remember that you'll probably need to take even more with you (see our backcountry skiing checklist).
For resort skiing, you'll need a pair of quality skis (all-mountain skis that fall on the wide end of the spectrum are a great option for powder days in Colorado), downhill ski boots with alpine bindings, ski poles, and a helmet. In terms of clothing, our go-to layering system is a merino wool baselayer underneath a well-insulating midlayer, and either a hardshell or warmer ski jacket on top. On the bottom, we pair a similar light- or midweight baselayer with a bib or set of hardshell pants. And last but not least, make sure not to forget smaller items like goggles, gloves or mittens, and ski socks. To help you wade through all the gear decisions, our ski gear reviews cover just above every category named above.
What About Snowboarding?
Decades ago, snowboarding was banned at many Colorado resorts—and still is in some places across the U.S., including Alta Ski Area in Utah. But today, the sport is allowed at all 28 resorts in Colorado. So whether you prefer to hurtle down the mountain on one plank or two, you should have no problem bringing or renting the gear to do so. All of our staff members at Switchback Travel are skiers, so the article above reflects our experiences while skiing these resorts, but we see plenty of snowboarders on the slopes who look like they're having just as much fun (and sometimes even more in powder).
 
Rental Shops and Gear
Most resorts have rental shops both on- and off-site for all the gear you'll need to hit the slopes. Rental rates vary from resort to resort and shop to shop, but you can expect to pay around $70 all-in for a pair of demo skis, poles, and boots for the day (snowboard rentals are generally a bit cheaper). Helmets can typically be added on, as well. Other gear like ski jackets and pants, goggles, and gloves often have to be purchased separately at full retail price, so it's best to pack and bring your own if you're traveling from out of state. For our recommendations in each category, see our ski gear reviews.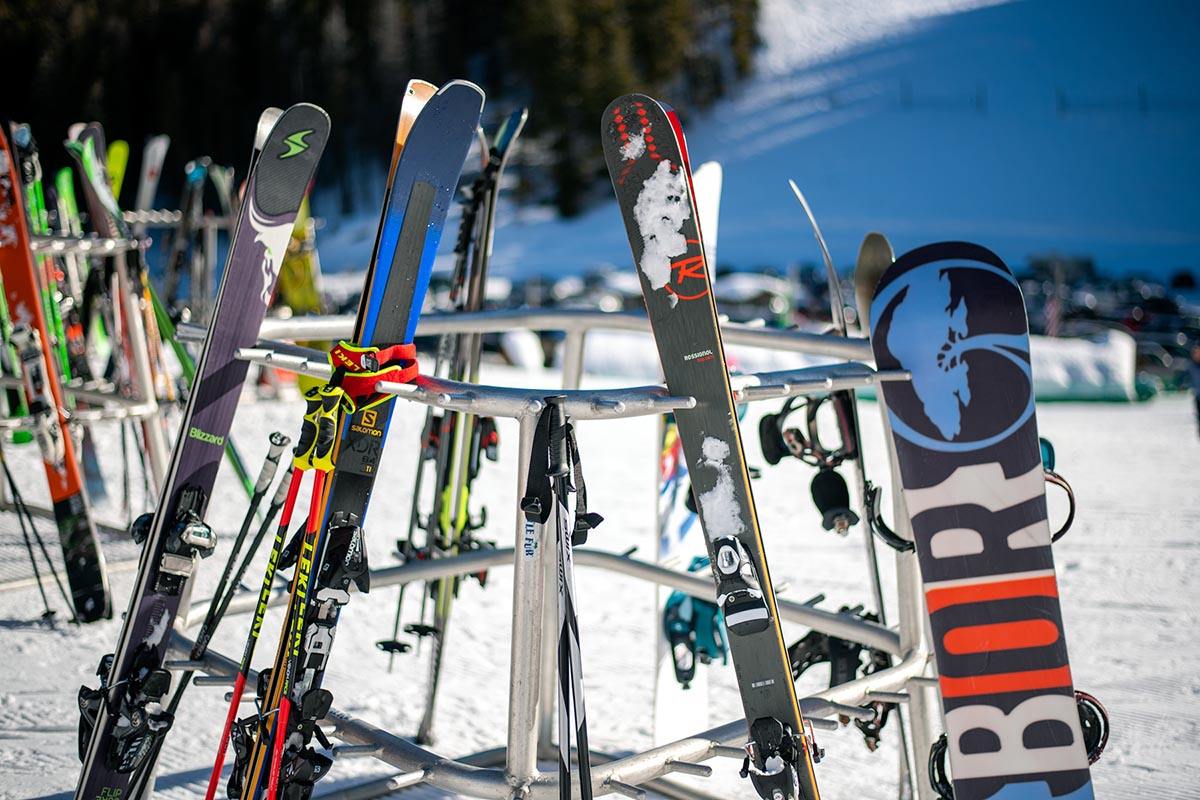 Uphill Access and Policies
For those who like to earn their turns, skinning up the slopes instead of taking a lift is an option at many Colorado resorts. Policies vary by resort and can get very specific, so it's best to do your research ahead of time by checking the resort's website. For example, Winter Park allows uphill access at any time on any trail that is open that day, minus a few specific runs and areas. Breckenridge, on the other hand, only allows skinning up certain peaks outside of operating hours and requires registering for a parking permit in advance. In most cases, skinning up can be a fun, challenging, and free way to ski your favorite runs if you're willing to do the prep work.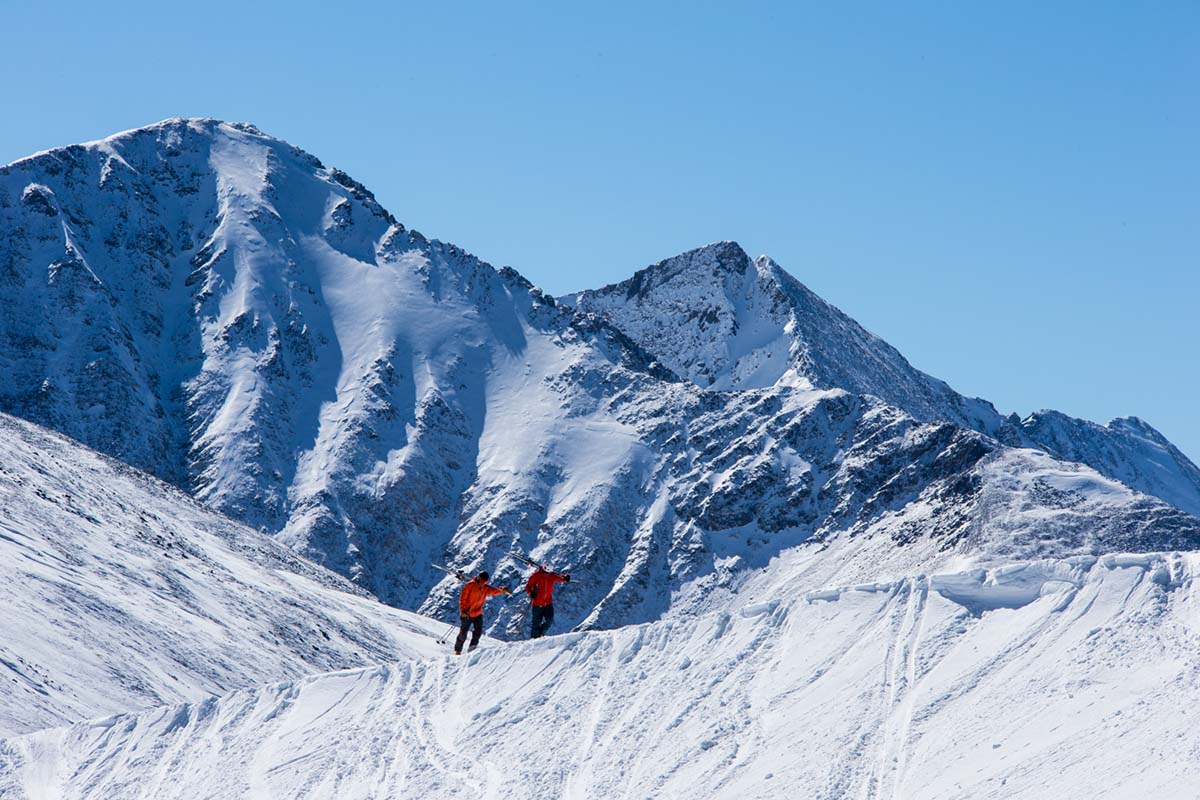 Other Activities
Outside of uphill access, there are a number of other activities offered at many of the resorts on our list. Terrain parks can be found at most ski areas for those who like the challenge of jumps, rails, and other features. If you don't mind icy runs, night skiing is popular at both Keystone and Steamboat after hours on certain trails and on certain dates. Beaver Creek and Eldora have dedicated Nordic skiing and snowshoe areas, separate from their downhill runs. Other activities across the state include ski biking, snowshoeing and hiking, tubing, gondola rides, and even roller coasters at Breckenridge and Copper Mountain for the kids. In addition, some resorts—such as Keystone, Breckenridge, Powderhorn, and Snowmass—turn into downhill mountain biking areas in the summer using the same lifts and trails.
Back to our Top Colorado Ski Resort Picks  Back to our Ski Resort Comparison Table
Read More From Switchback Travel