Danner doesn't have the same cachet as brands like Salomon or Merrell in the world of hiking footwear, but their Trail 2650 lineup offers some intriguing options. We took the impressively light Mid GTX model on a tough multi-day backpacking trip through Chile's Parque Patagonia, and although we didn't have any major issues, the boot didn't provide the support or stability we were expecting from its mid-height build. Below we outline our full experiences with the Trail 2650 Mid GTX. To see how it stacks up to the competition, see our article on the best hiking boots.
 
---
Table of Contents
---

Performance
Comfort
Despite facing some significant fit issues (detailed below), the Danner Trail 2650 Mid GTX proved to be an all-around comfortable hiking boot out of the box and on the trail. The leather is soft, the boot feels light and nimble underfoot, and it's far less intrusive than more traditional and bulkier models we've tested over the years. However, while I didn't experience any major discomfort, I did find myself wishing for a bit more cushioning after racking up serious mileage on a strenuous multi-day trek in Chile's new Parque Patagonia. During an extended trek up a long river valley, I could feel the river rocks under my feet more than I would have liked. For this particular mission, a more heavily padded boot would have been preferable, although that would likely add a bump in weight. But for on-trail use covering shorter distances, the Danner Trail 2650 Mid GTX is up to the task. 

Weight
At 1 pound 12 ounces per pair, the Danner Trail 2650 Mid GTX is impressively lightweight. For comparison, the uber-popular Salomon X Ultra Mid 3 GTX is heavier at 1 pound 15.7 ounces, and the waterproof Merrell Moab Mid clocks in at 2 pounds 4 ounces. To beat out the Danners in the mid-height category, you'll have to go with an ultralight trail shoe like the Altra Lone Peak 4.0 Mid RSM (1 lb. 9.8 oz.) or Hoka One One Speedgoat 2 Mid GTX (1 lb. 10.4 oz.), but that comes at the sacrifice of overall durability and stability.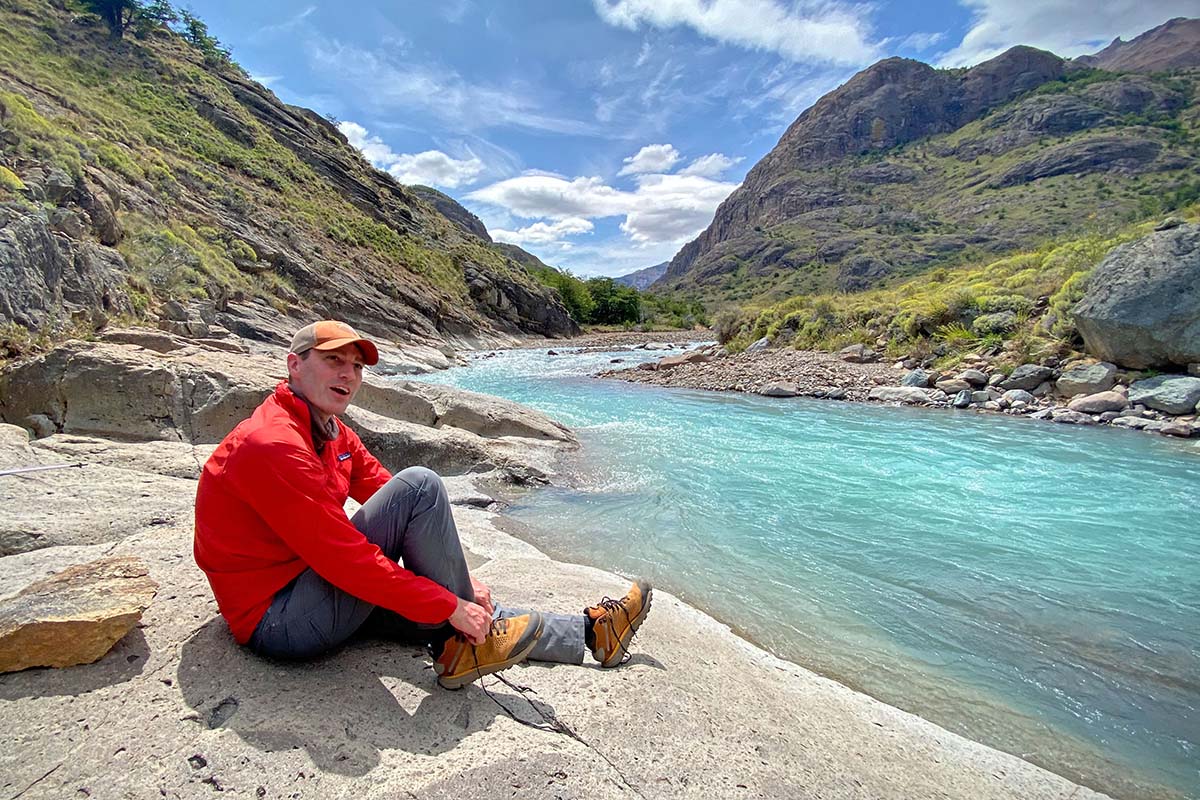 All that said, despite the low weight, we weren't overwhelmed with the Danner Trail 2650 Mid's on-trail performance. As mentioned above, you just aren't getting a ton of support or added stability from the higher cut (we described them to a fellow hiker as being floppy). The aforementioned Lone Peak and Speedgoat both offer more bounce and cushion and are more comfortable, and the Salomon X Ultra Mid 3 GTX beats out the Danner is almost all other important categories, including stability, cushioning, protection, and even comfort. All in all, the Danner is undoubtedly light, but that's only one part of the equation. In this case, we'd trade more weight for added support.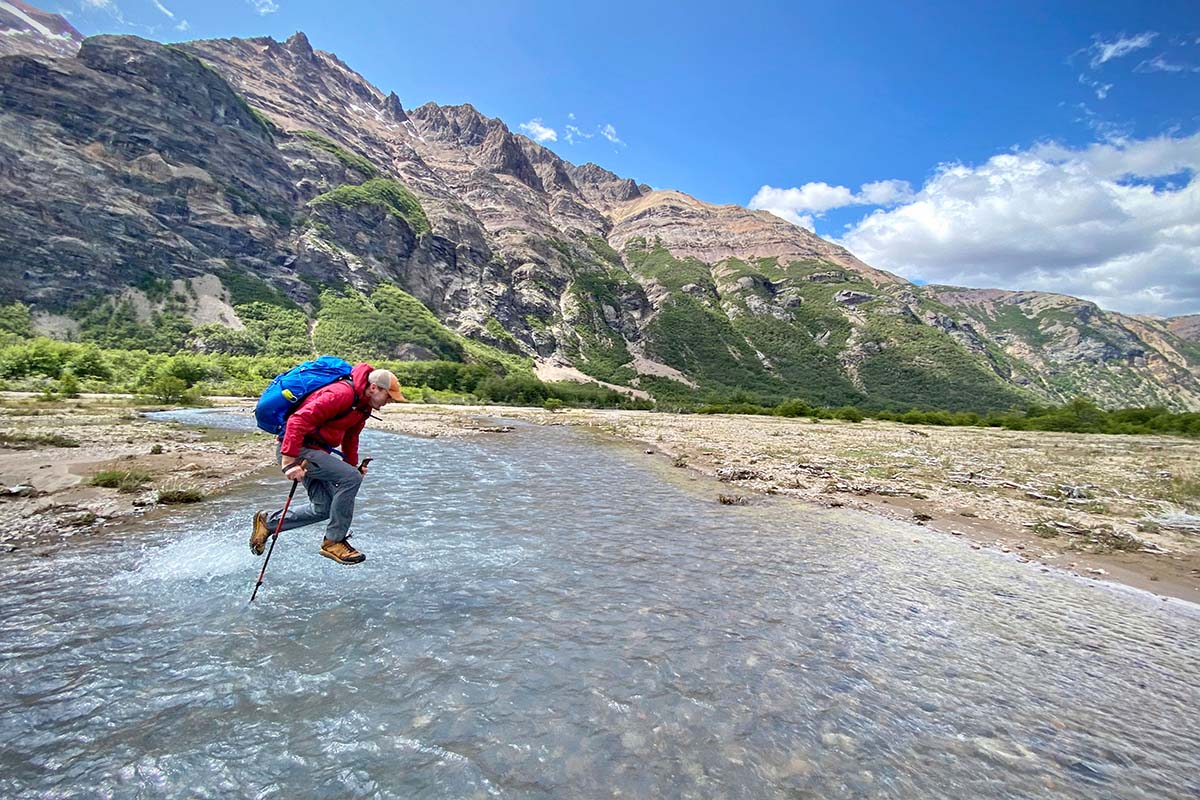 Traction
Traction is a clear strong suit of the Danner Trail 2650 Mid GTX. I put these boots through the wringer over multiple days of backpacking, including so many river crossings that I ended up keeping the boots on and walking directly through the water to save time (some of my hiking comrades wisely chose non-GTX footwear that day, which dries out faster). In the end, I had no issues with slippage or instability. The boot's Vibram Megagrip outsole and fairly aggressive lug pattern excelled on terrain ranging from established trails to bushwhacking, rocky riverbeds, and everything in between. Lightweight boots often struggle with grip, but I was pleasantly surprised with just how well the Danner performed.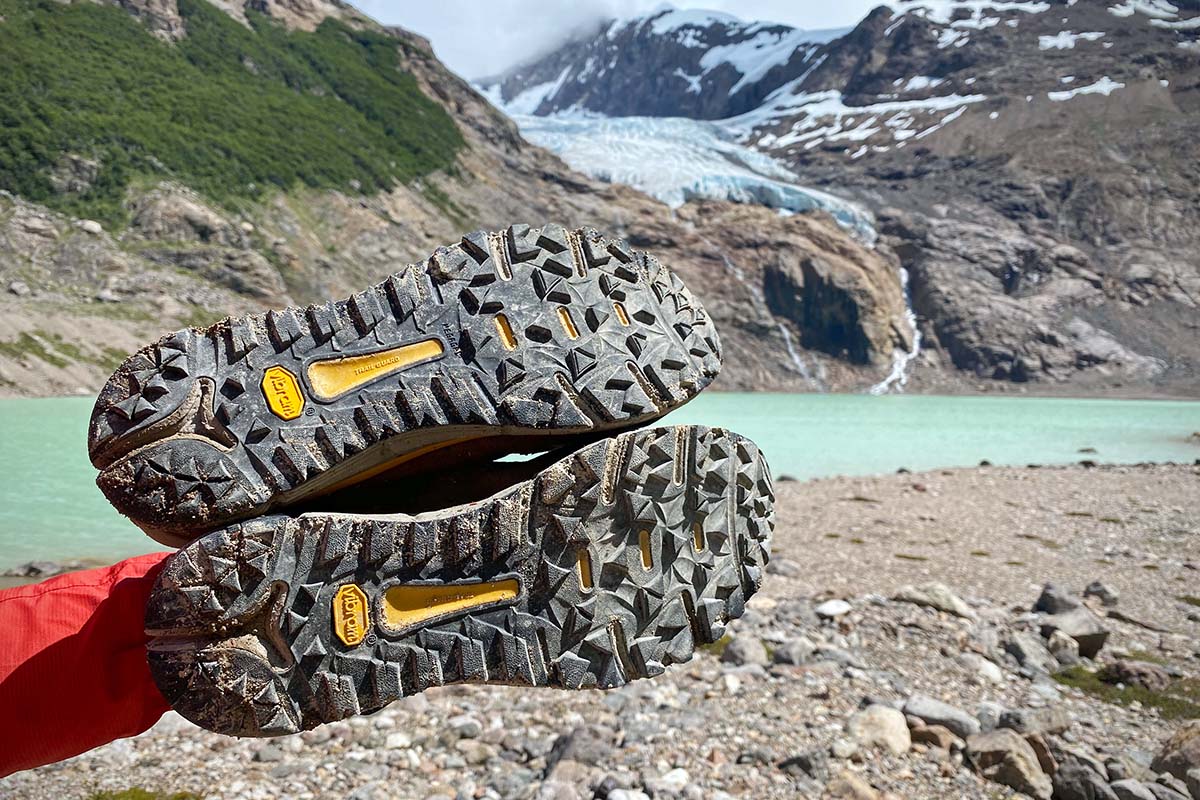 Stability and Support
For a mid-height boot, the Danner Trail 2650 Mid GTX fell surprisingly short in terms of stability. Compared to the low-top version of the shoe that we also tested on the trip, the mid-height Danner doesn't add significant ankle support to merit the extra weight and cost. The mesh material wasn't particularly tight around the ankle even when laced as snugly as possible, and the boot felt noticeably floppy on the trail. For this reason, we recommend the low version for those looking to go fast and light, but we aren't big fans of the mid. We prefer boots like the Salomon X Ultra 3 Mid or Merrell Moab 2, which are much more well-rounded and performance-oriented overall, not to mention more capable for off-trail use.

Protection
Among lightweight and ultralight hiking boots, the Danner Trail 2650 Mid is more protective than trail running-inspired hikers like the Altra Lone Peak Mid RSM but less burly than competing Salomon models. For starters, the Danner offers excellent toe protection with a generous patch of burly and stiff rubber at the front of the foot. I hiked up valleys, over wet river rocks, and off trail through dense forests for hours on end, stubbing my toe on rocks and roots multiple times without issue. The boot also features a noticeably large piece of hard rubber on the heel. It's fairly uncommon that we pound our heel while hiking (certainly not nearly as much as our toes), and the patch does add some questionable weight to the equation, but heel protection nevertheless is excellent. My only area of concern is at the sides of the foot, which utilize only leather—there is no swatch of harder rubber like some boots use—but the back of the foot does have nylon mesh that adds a bit of extra assurance.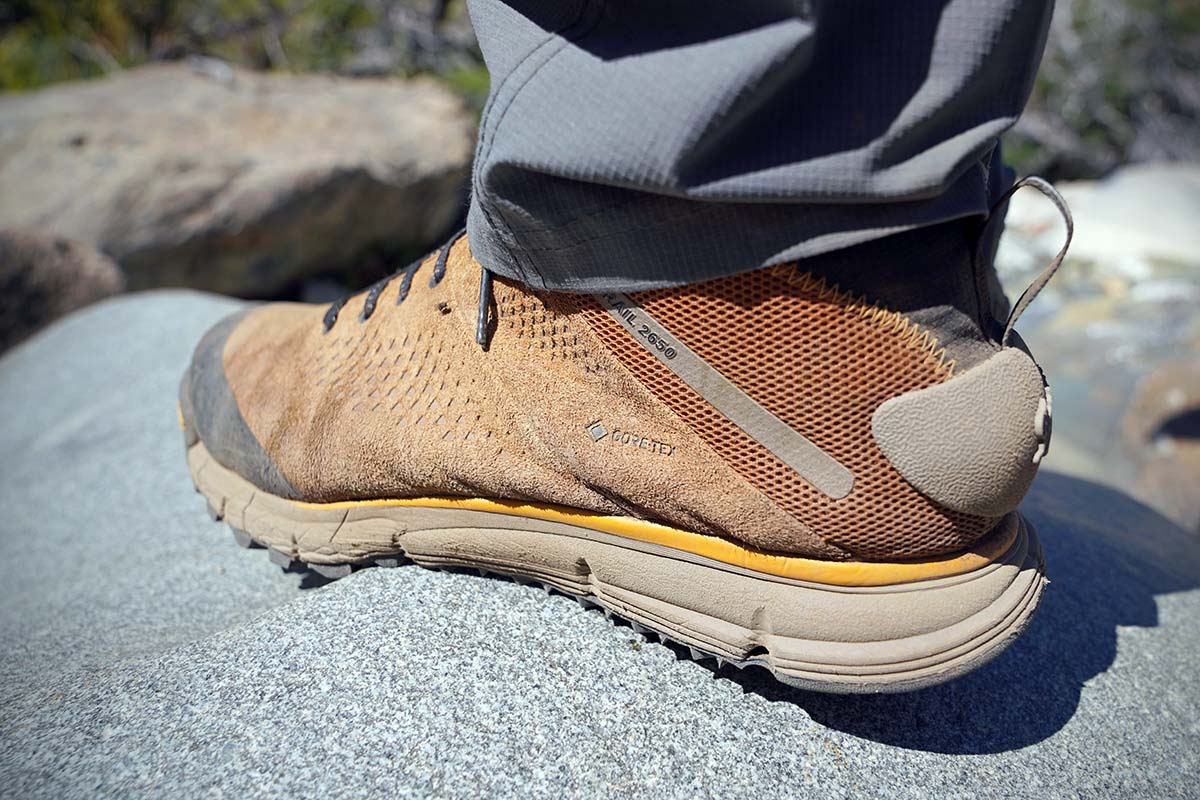 Waterproofing and Breathability
As expected, the Danner Trail 2650 Mid's Gore-Tex liner performed admirably in wet conditions. From our experience, Gore-Tex is almost always superior to in-house technologies in both waterproofing and breathability, and the Danner delivered: our feet stayed dry and comfortable as long as water didn't enter over the top of the boot. As we mentioned above, we got so tired of removing our boots during the 20+ river crossings in Parque Patagonia that we ended up just walking straight through the river. Of course, this exposed the weakness of Gore-Tex boots: they can be hard to dry out after water gets inside, and it doesn't flow out naturally like with more mesh-heavy, non-GTX designs. Our feet were fine, but we did have to remove the boots and dry them out repeatedly. It's also worth noting that leather tends to soak up water more readily than synthetics like nylon and mesh. For most conditions, this shouldn't be an issue, but extended exposure can result in the Danners growing laden with moisture. For more on the waterproof vs. non-waterproof footwear debate, see our article Do You Need Waterproof Hiking Shoes?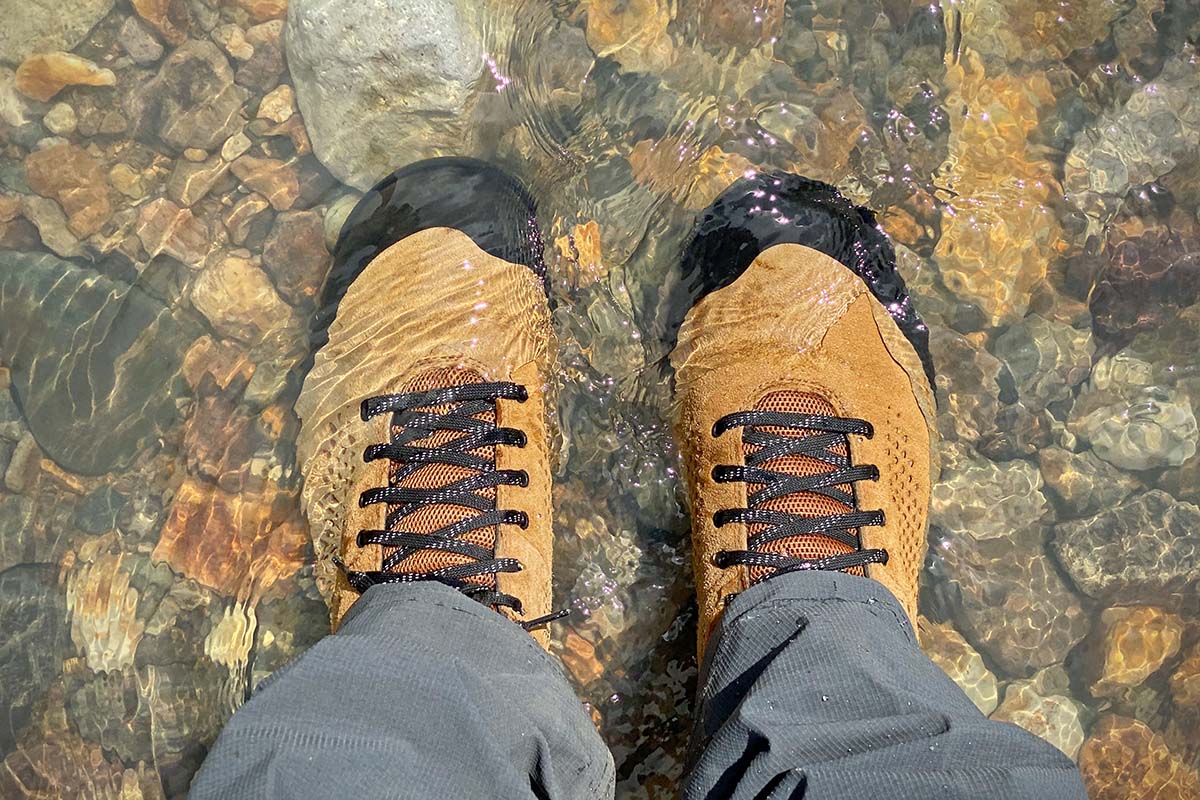 Build Quality and Durability
Out of the box, we had some concerns about long-term durability given the lightweight nature of the Trail 2650 Mid GTX. However, after long and rough mileage including multiple days of backpacking both on and off trail, we've experienced no major issues yet. The rubber coating on top of the toe is starting to show small signs of wear, but the leather upper has stood up surprisingly well to all the use and abuse. Despite the seemingly thin materials, it hasn't scuffed nearly as easily as expected. Overall, the Trail 2650 line (including the Mid tested here and the low-top version of the shoe) seems to be very well built. We've had many pairs of hiking footwear from other brands start to come apart more readily, but we give Danner two thumbs up in the quality department.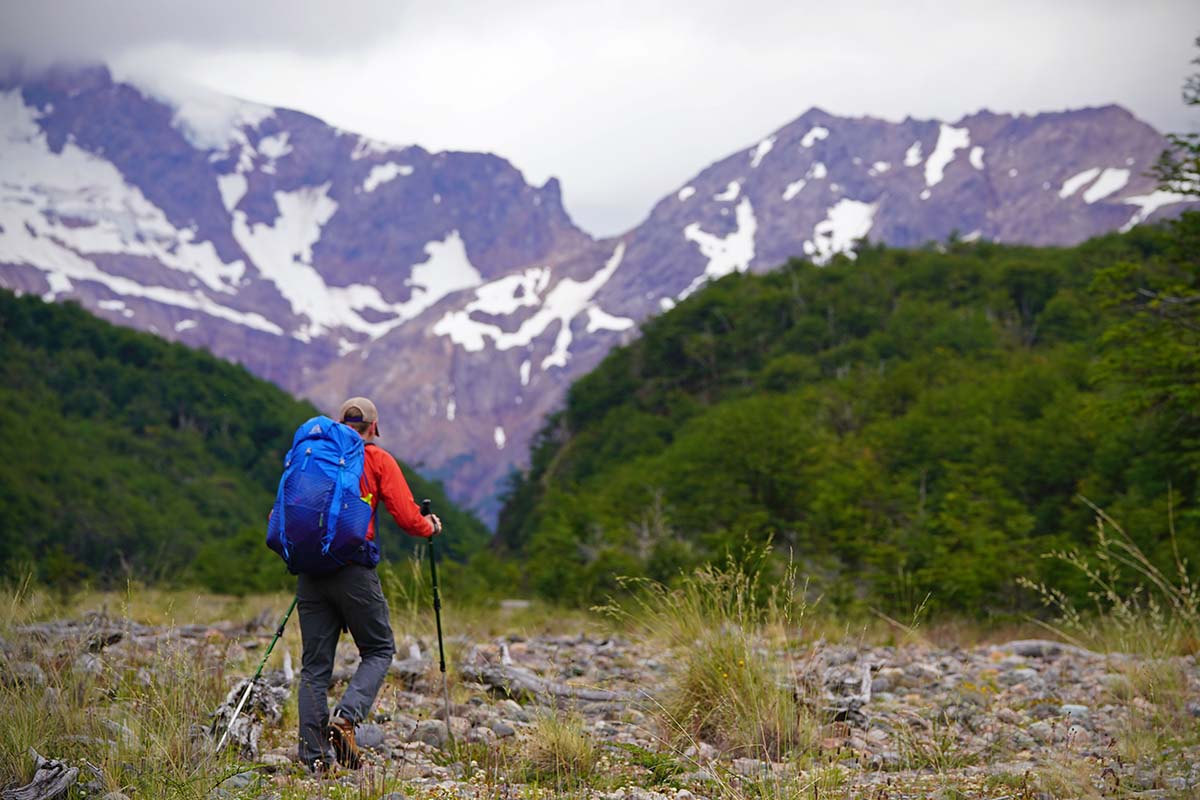 Fit and Sizing
The Danner Trail 2650 Mid GTX runs long and narrow, so it's important to try the shoe on before buying. In fact, the Mid version is even longer the low-top shoe, and I wish I had sized down a half size from my normal men's 12. In terms of width, my feet are fairly average if not slightly wide, but the "regular" version of the boot was too snug and uncomfortable. Thankfully, Danner does make the Mid in wide models from size 9-13, although the "wide" ended up being too roomy for me. All in all, if you have narrow feet, the regular probably will work just fine. However, there isn't a great solution for those with more average feet. And it's important to point out that leather stretches a bit over time, which only exacerbated the fit issues for me.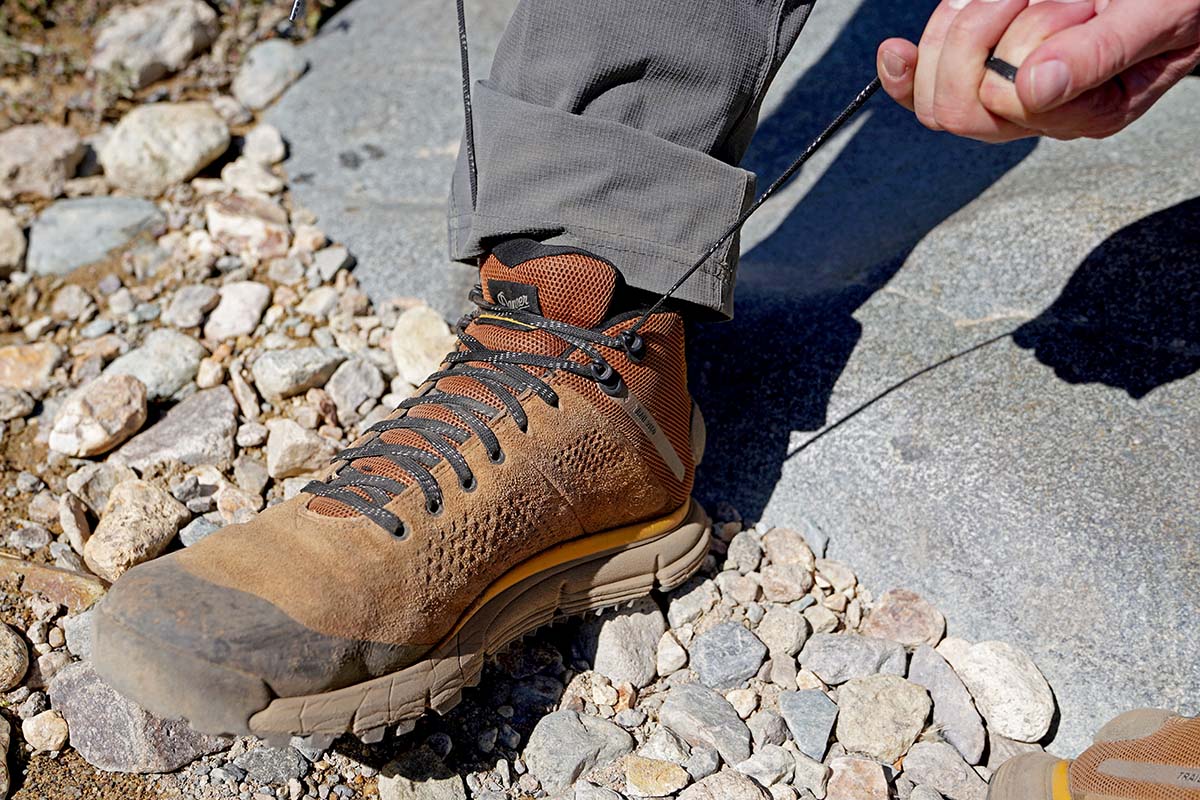 Other Versions of the Danner Trail 2650
We put the men's Trail 2650 Mid GTX through its paces for this review, and Danner also makes the boot in a women's version for the same price. Compared to the men's model, the women's is lighter at 1 pound 6 ounces per pair, doesn't come in wide versions, and is offered in a dark grey colorway with orange accents. If you prefer a lower cut, Danner also makes a Gore-Tex, low-top version (for both men and women) that costs $170 and shaves just one ounce from the weight. There's also a non-waterproof variation of the low model, which we tested and came away impressed by the light and nimble feel (see our in-depth review here). Finally, Danner recently released a full-grain leather version of the shoe, which retails for $160 and weighs 1 pound 8 ounces for the men's version.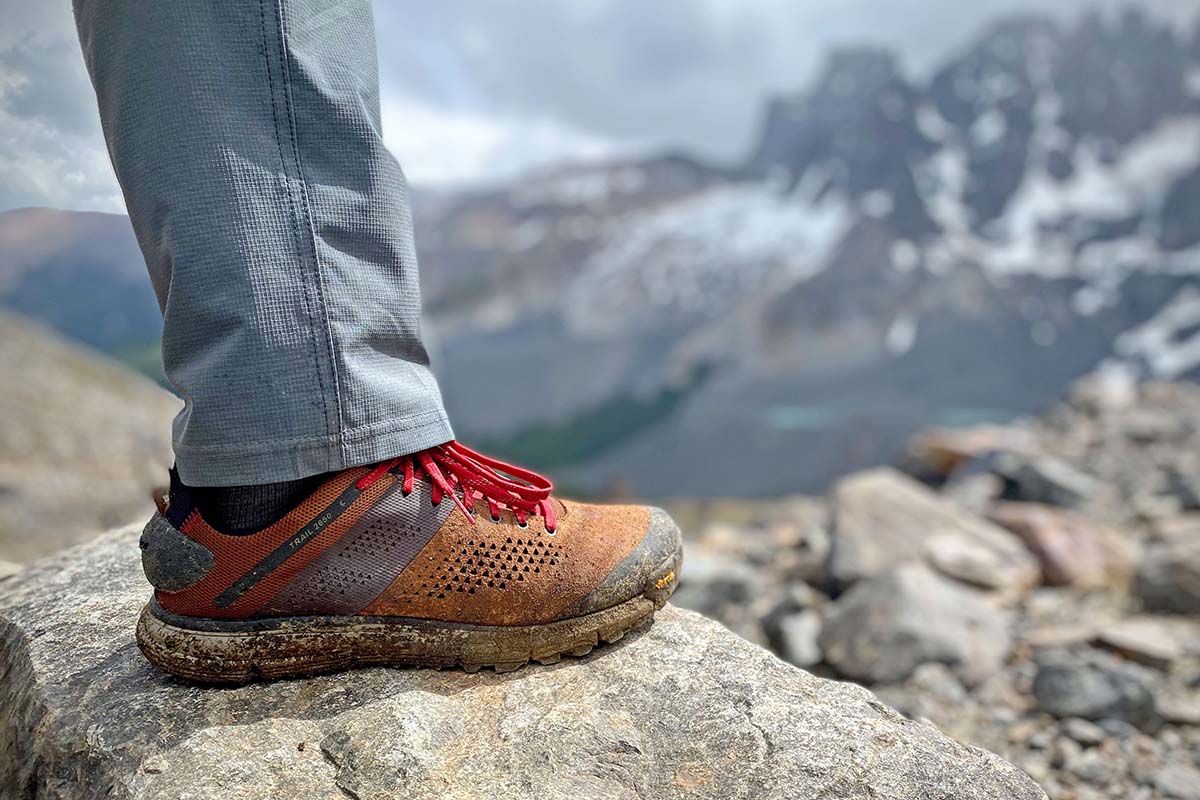 What We Like
Impressively lightweight at 1 pound 12 ounces for the pair.
Sleek, modern design for a hiking boot.
Great traction. Many lightweight boots struggle with grip, but the Danner's Vibram Megagrip outsole and aggressive lug pattern performed admirably.
Solid protection at both the toe and heel. 
Well-built overall, with very little wear showing so far.
 
What We Don't
Support and stability were disappointing for a "mid" hiking boot. The boot felt floppy, and the extra height compared the low-top version didn't add much support. 
For long days on the trail, comfort falls short of competing models from brands like Salomon and Merrell.
The fit didn't work for us. The regular was too narrow and the wide was too roomy for our feet.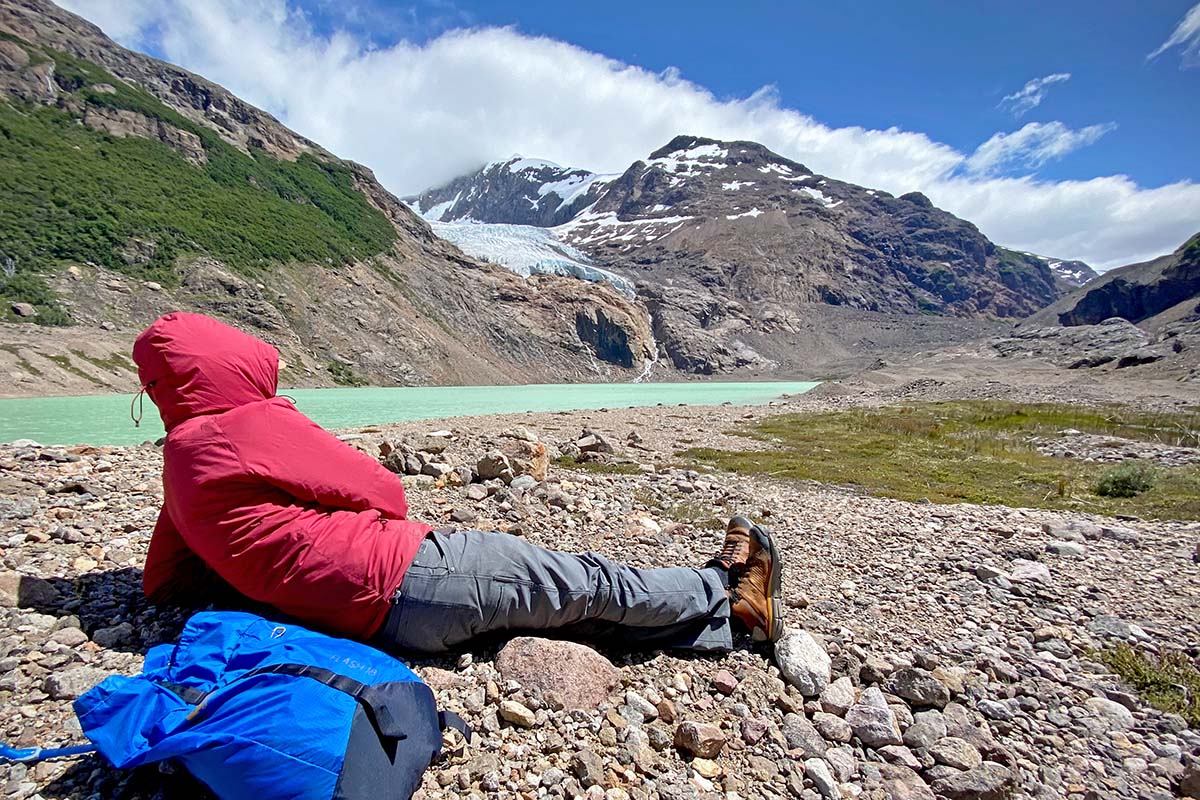 Comparison Table

The Competition
Danner's Trail 2650 Mid GTX offers great traction and protection in a sub-2-pound package, making it an attractive choice for the fast-and-light crowd. Another model that stands out in this category is Salomon's X Ultra 3 Mid, which tops our hiking boot round-up as one of the most well-balanced designs on the market. Compared to the Danner, the X Ultra 3 Mid is heavier at 1 pound 15.7 ounces per pair but wins out in most other categories, including stability, on-trail comfort, and protection. The Salomon also offers a more accommodating fit for a wider variety of foot shapes, and you don't give up anything in the way of traction with a tacky Contagrip rubber outsole and deep, arrow-like lugs. Added up, the Salomon is our favorite mid-height boot on the market in 2020, and we think the added ounces are well worth the tradeoffs in performance, even for ounce-counters.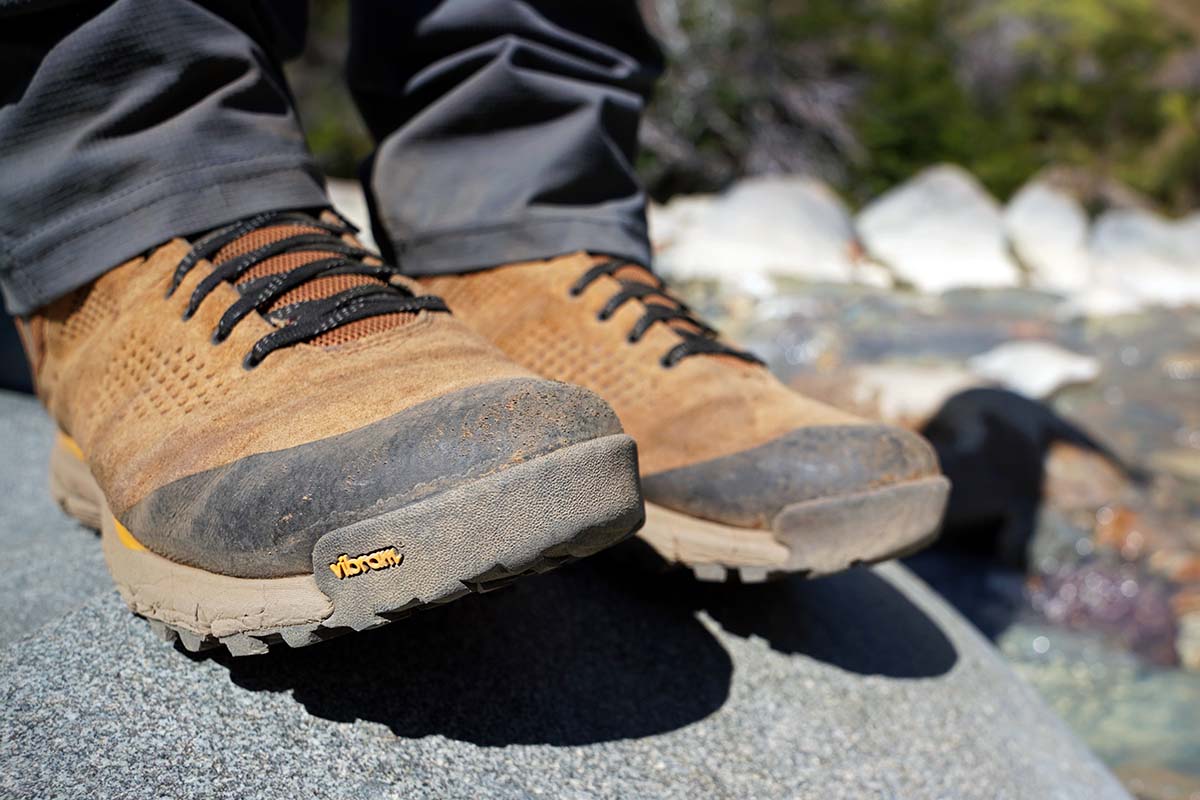 Another popular lightweight option to consider is Merrell's Moab 2 Mid WP. The Moab is noticeably heavier than the Trail 2650 at 2 pounds 4 ounces, but the leather build is extremely comfortable and it undercuts the Danner in price by a significant $45. You don't get a Gore-Tex membrane at this price point (Merrell does offer an upgraded GTX version for $150), but we found that the in-house M-Select waterproofing performs quite well. The Moab is lacking in support for shuttling heavy loads or covering technical terrain, but we still think it beats out the Danner in these conditions. All in all, for its combination of cost and comfort, we give the edge to the Merrell.
Hoka One One's Speedgoat has been a mainstay in our trail running round-up for years, and the popular shoe is offered in a mid-height boot for minimalist backpackers and thru-hikers. Stacked up against the Trail 2650 Mid, the Speedgoat Mid 2 GTX weighs even less at 1 pound 10.5 ounces per pair, is $10 cheaper at $170, and comes with premium features like a quality Gore-Tex membrane, grippy Vibram Megagrip outsole, and deep, 5-millimeter lugs for bite on muddy or less-than-stable surfaces. Not everyone will like the polarizing colorways or basketball shoe-like looks (the Danner gets the nod when it comes to style both on and off the trail), but the Hoka One One is another intriguing option for those traveling fast and light.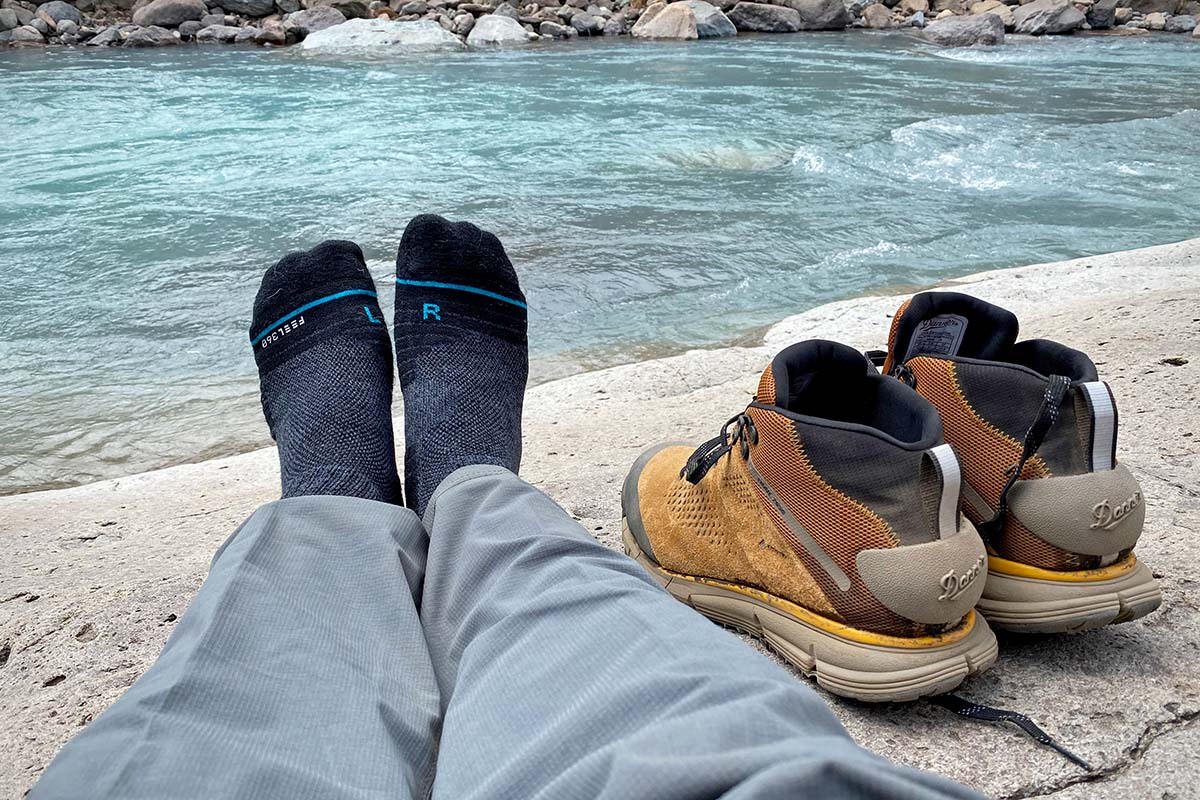 Two final options to consider come from within Danner's own lineup: the Mountain 600 Mid WP and low-top version of the Trail 2650 tested here. Starting with the Mountain 600 Mid WP, you get a reasonably light build (2 lbs. 5 oz.), full suede upper that's modern and stylish, and an in-house waterproof liner to protect against moisture. However, the Mountain 600 is fairly flexible and not great for high-mileage use (it's best suited for shorter and lower-impact day hikes). Further, the materials likely won't hold up well to long-term abuse, and you don't save any money compared to the Trail 2650. Given these concerns along with the Mountain 600's weight penalty, we think the boot tested here is the more well-rounded pick.
As we touched above, we also tested the low version of the Danner Trail 2650 GTX in Patagonia, and we think it's the much better option for most hikers and backpackers. For starters, the low-top shoe feels lighter and nimbler on the trail (the non-GTX version we tested weighs 4 ounces less than the mid-height boot), and the Mid doesn't provide much extra support or stability despite the added weight and materials. Additionally, the low model is offered in both GTX and non-GTX versions for men and women, which is a nice bonus. In the end, we recommend saving with the low Trail 2650, and if you want added protection or support, we'd go with one of the mid-height models mentioned above.
If you're thinking about buying gear that we've reviewed on Switchback Travel, you can help support us in the process. Just click on any of the seller links above, and if you make a purchase, we receive a small percentage of the transaction. The cost of the product is the same to you but this helps us continue to test and write about outdoor gear. Thanks and we appreciate your support!
Depending on the seller, most products ship free in the United States on orders of $50 or more. International shipping availability and rates vary by seller. The pricing information on this page is updated hourly but we are not responsible for inaccuracies.
Read More From Switchback Travel