Nemo Dagger 2P
Price: $430
Packaged weight: 3 lbs. 14 oz.
Floor area: 31.3 sq. ft.
Capacities: 2P, 3P
What we like: Impressive livability at a low weight.
What we don't: Weather protection and ventilation fall slightly short of the competition.
See the Nemo Dagger 2P
Nemo is a very strong player in the tent market with a number of quality offerings for backpackers. We took the two-person version of their high-end Dagger for an early-season trip into the Grand Canyon and were very pleased with the well-balanced design. The Dagger's combination of roominess, ease of use, and weight puts it squarely among our favorite tent models. Below we break down the Dagger's overall performance. To see how it stacks up to the competition, see our article on the best backpacking tents.
 
---
Table of Contents
---

Performance
Weight
Despite an ever-growing number of ultralight tents hitting the market, the Nemo Dagger 2P remains the gold standard for weight and livability. With a listed packaged weight of 3 pounds 14 ounces, the tent remains very competitive and isn't a burden to carry. Among top backpacking models, MSR's Hubba Hubba NX (also 3 lbs. 14 oz.) is an exact match, while the more expensive and less durable Copper Spur HV undercuts the Dagger at 3 pounds 2 ounces. You can save quite a bit more weight with the REI Co-op Quarter Dome SL 2 (2 lbs. 14 oz.), Big Agnes Fly Creek HV UL2 (2 lbs. 4 oz.), and Nemo's Hornet (2 lbs. 6 oz.) and Dragonfly (3 lbs. 1 oz.), but the Dagger is much roomier for two backpackers and we think those models are best for solo trips.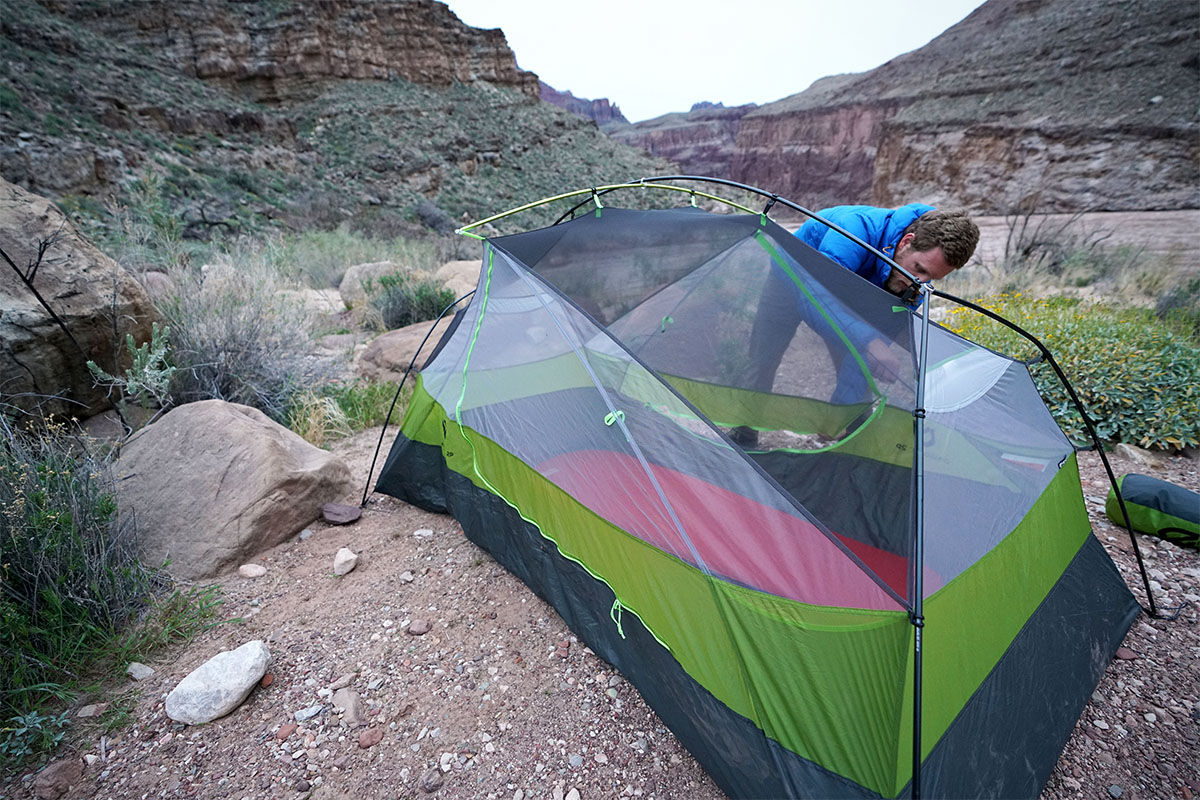 Livability and Interior Space
Where the Dagger truly shines is its generous interior space. All too often, one or both of our sleeping pads make their way up the sidewalls of a so-called two-person model, but not here. Two regular-width mats fit side-by-side with room to spare, the symmetrical floor is expansive enough to accommodate a long sleeping bag, and the sidewalls are stretched to be nearly vertical. And while the tent peaks at 42 inches tall right in the center, the dual hubs and bent poles at each end of the tent create an openness that makes it easy to sit upright almost anywhere without hitting the ceiling. The net result is a truly comfortable place for two backpackers to sleep at night.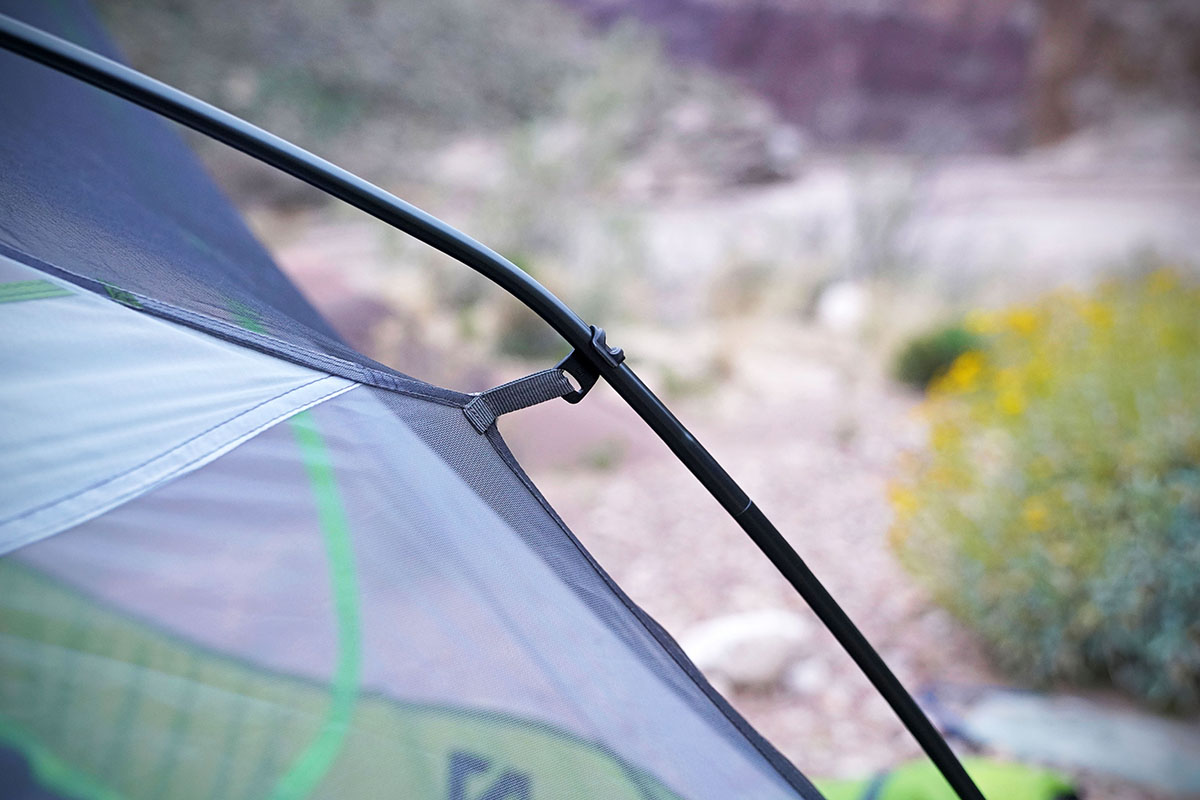 For comparison, we've also tested Nemo's ultralight Hornet and Dragonfly, which weigh considerably less but have heavily tapered designs. The walls of those tents have more of an inward slope, and both the Hornet and Dragonfly can just barely fit two regular-width pads side-by-side. This type of design is fine for solo use or for two people in a pinch who really want some of the lightest set-ups available—and don't mind being in close quarters—but they're almost bivy sack-like in nature. In most circumstances, we prefer the Dagger.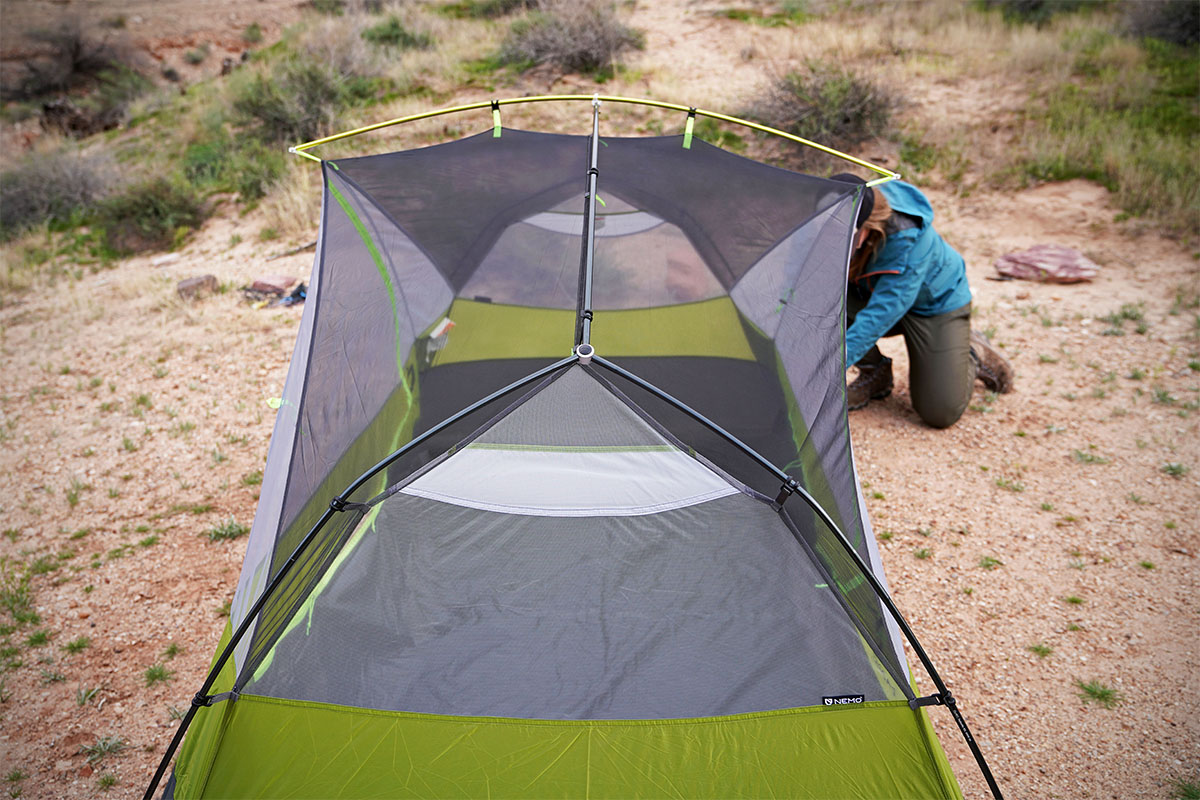 Durability
In addition to interior space, durability often is compromised as tent manufacturers look to trim ounces. Thankfully, Nemo didn't go overboard with the Dagger, hitting a nice mix of moderately thin-denier fabrics that are resistant to tears and abrasion. The floor is high-quality 30-denier nylon with a polyurethane coating, which is equal to the popular MSR Hubba Hubba NX and noticeably more substantial than the 15 x 20-denier floor on the Big Agnes Copper Spur HV. Nemo opted for lighter-weight 15-denier fabric on the mesh portions of the tent body and rainfly, which doesn't raise any red flags as those areas are less prone to damage.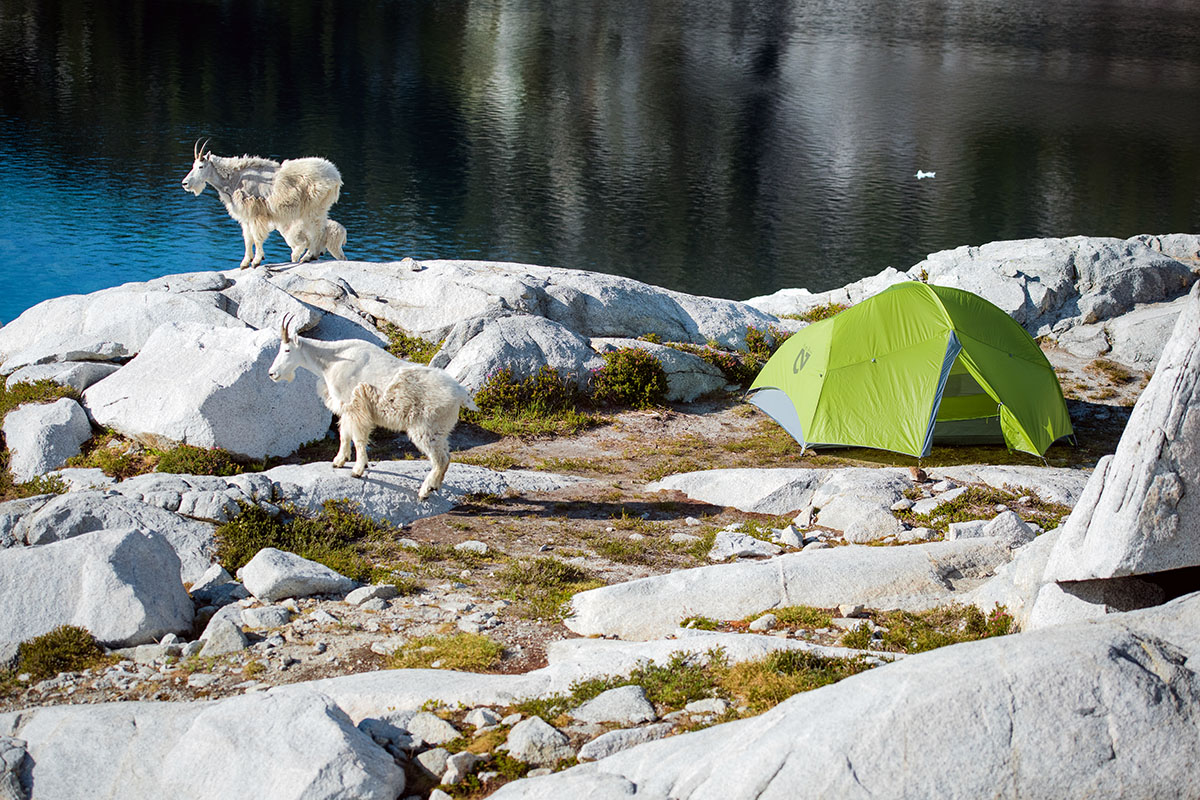 The Grand Canyon's Escalante Route is known for its rough terrain, and some inclement weather meant that we often set up camp without having time to check for rogue sticks and rocks. Even without using a footprint, the Nemo Dagger came away without any scuffs or rips. Having tested two generations of the tent, the only durability issue we've encountered was a mouse managing to eat its way through the tent wall looking for leftovers along the West Coast Trail. But that's hardly a knock against the fabric's durability.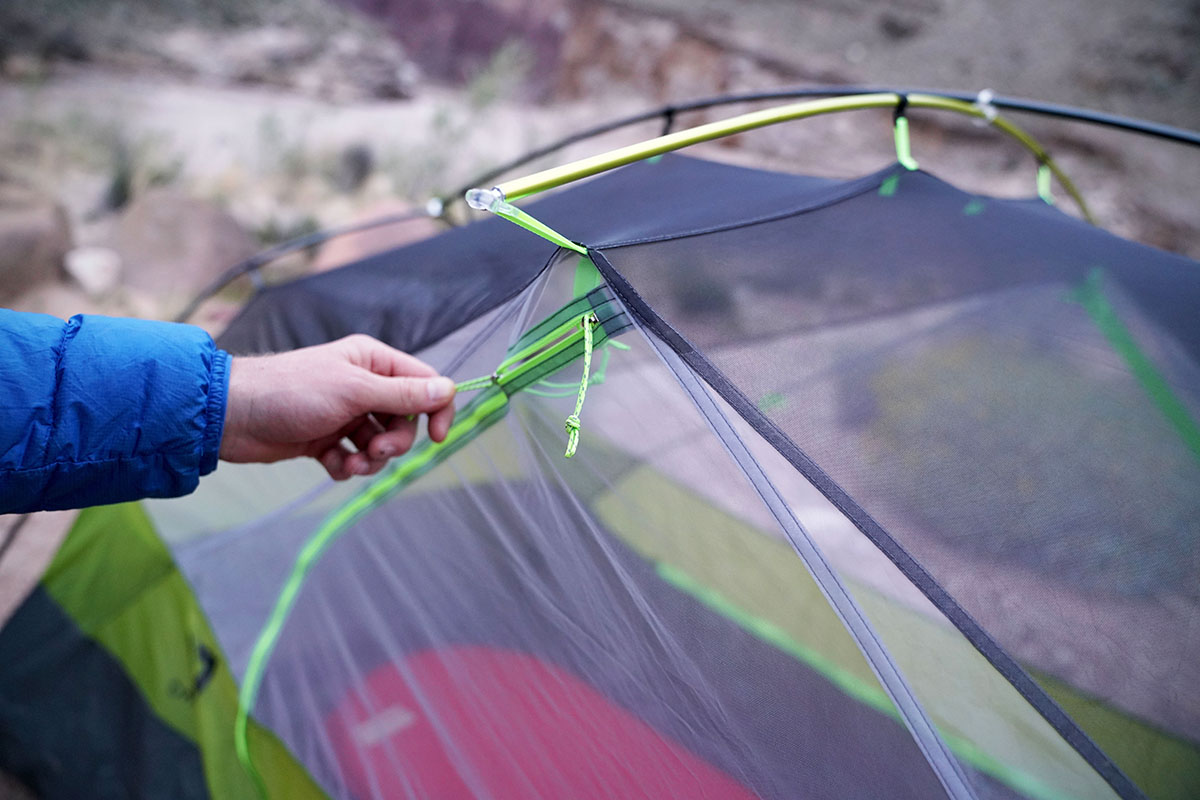 Weather Protection
The Nemo Dagger's sturdy structure, quality waterproof coating and seam sealing, and tall bathtub floor add up to a formidable 3-season tent. Two areas we were worried about were the raised ends of the rainfly, which arc upwards between the corners and leave a section of single-wall fabric to fend off driving rain. But these concerns were mostly unfounded: the single-wall panels truly are waterproof, and we are yet to experience any leaking. That said, in heavy, driving rain, we did notice that the interior is prone to getting a bit wet to the touch. The good news is that the tent is so roomy that you're unlikely to come into contact with the ends of the tent with your sleeping bag, but this issue is a small downside compared with a slightly more weather-worthy design like the MSR Hubba Hubba NX.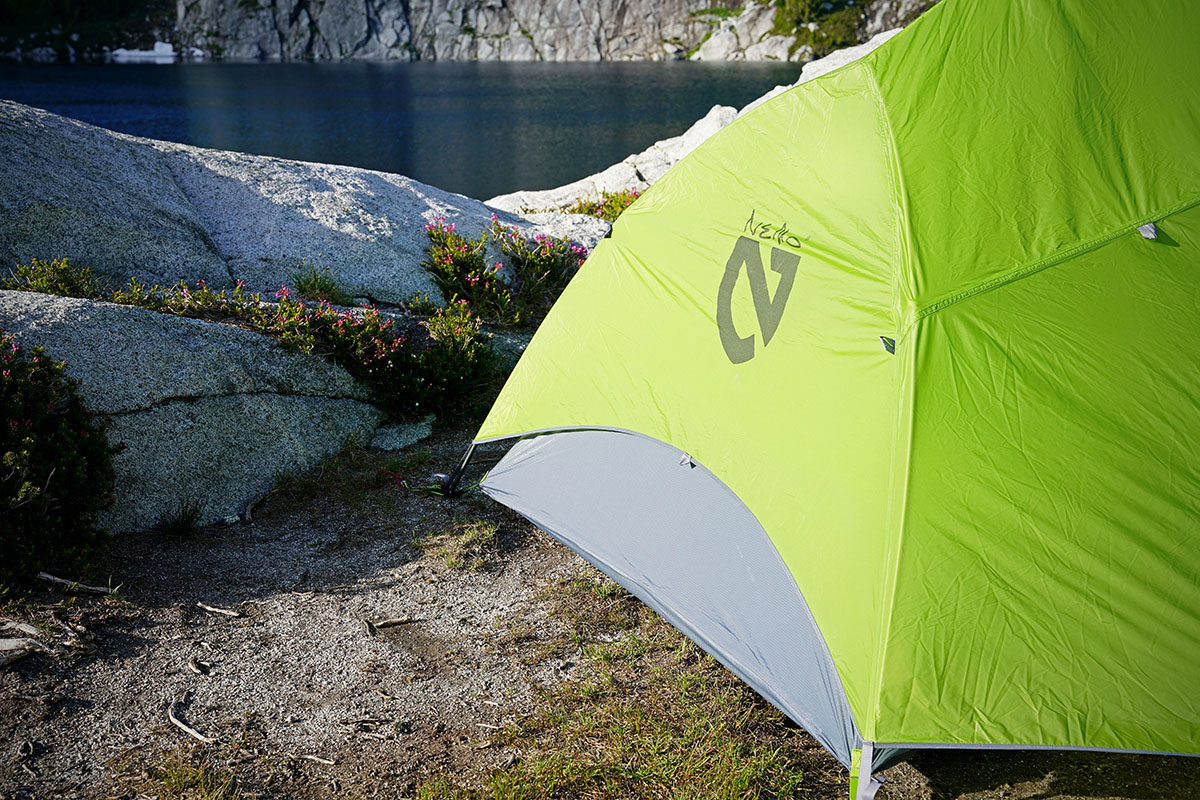 Ventilation
The Dagger's double-wall build and generous amount of mesh make it reasonably comfortable even on warm summer nights. That being said, the rainfly ventilation system isn't our favorite. Unlike typical designs that have a deployable vent at the roof or sides, the Dagger has vents at the very top of the zippered portion of each vestibule door. The upside is that you can manage the system without leaving the tent, but by deploying the vent, you trim away the upper few inches of the door, making it a little more difficult to get in and out. All things considered, it's a small nitpick—and the system is completely functional—but the design does fall a little short in this regard.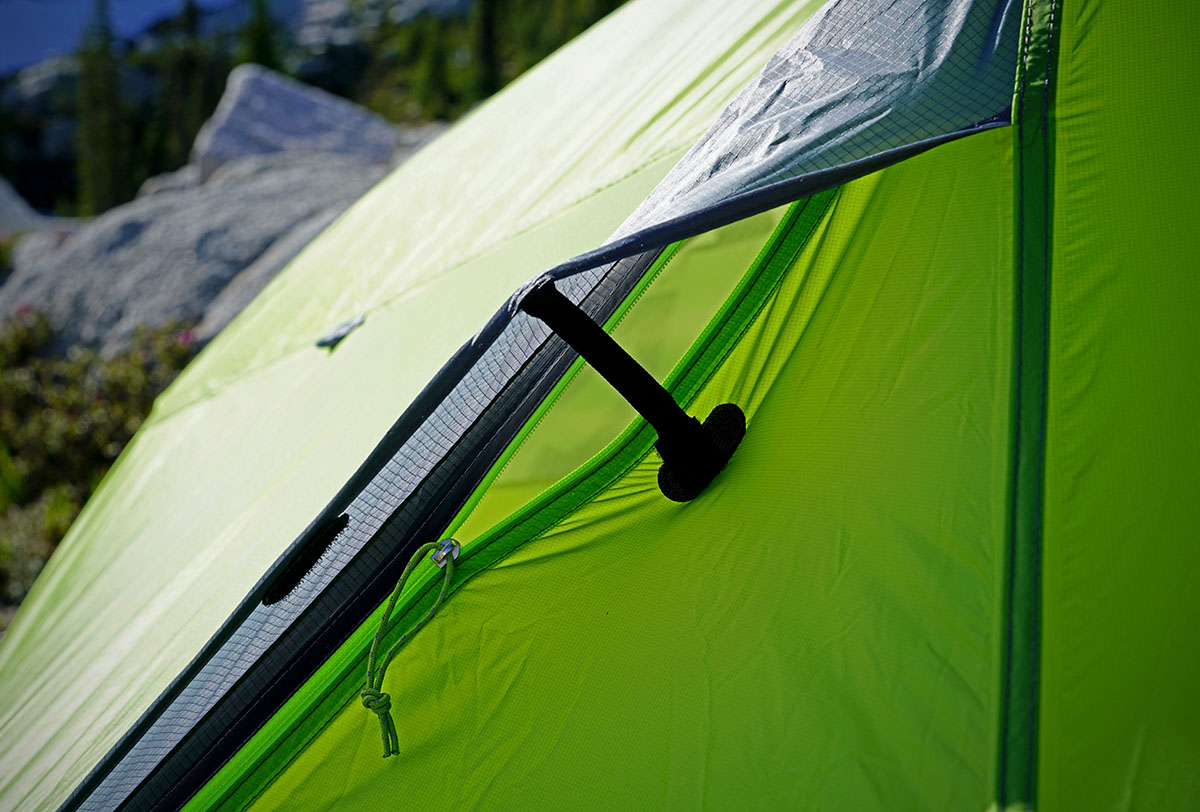 Storage
As with Nemo's Hornet and Dragonfly tents, the Dagger has two doors and two vestibules. For a couple of backpackers, this is far more convenient than a single door and vestibule—no crawling over your tent mate in the middle of the night to go the bathroom. But unlike the ultralight Hornet, the Dagger's vestibules are massive. You can easily lay a backpacking pack inside the fully protected space without it leaning up against either the rainfly or the tent body. The 22.8-square-foot space handily beats the Hubba Hubba NX (17.5 sq. ft.), Copper Spur HV (18 sq. ft.), and even the spacious vestibules on the REI Quarter Dome SL 2 (21.5 sq. ft.). On the inside, pockets are a little sparse, but there are enough options along the roof and sides for storing small items like headlamps, phones, and maps.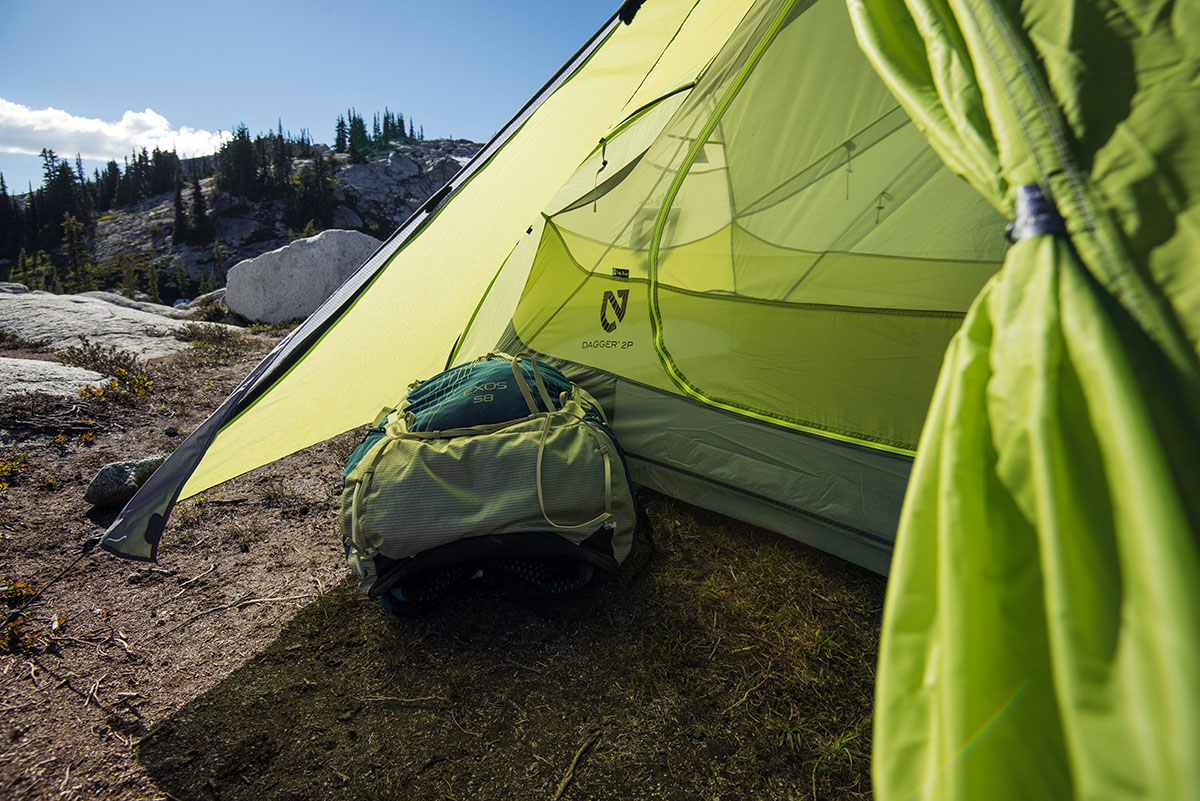 Packed Size
At 6.5 x 19.5 inches, the Dagger's packed size is a bit larger than the prior version (due in part to the pre-bent poles) and lands a little above average for the price and features. On our trip into the Grand Canyon, the Dagger was bulkier than our Nemo Dragonfly (4.5 x 19.5 inches), but we had no issues fitting it in a backpacking pack even without separating the poles from the main storage sack. Thick fabrics and bulky hub systems can increase packed size, but Nemo has done a pretty good job keeping things light and compact. If you do remove the tent poles, Nemo's creative stuff sack can be compressed to two-thirds its normal length and secured via a drawcord closure.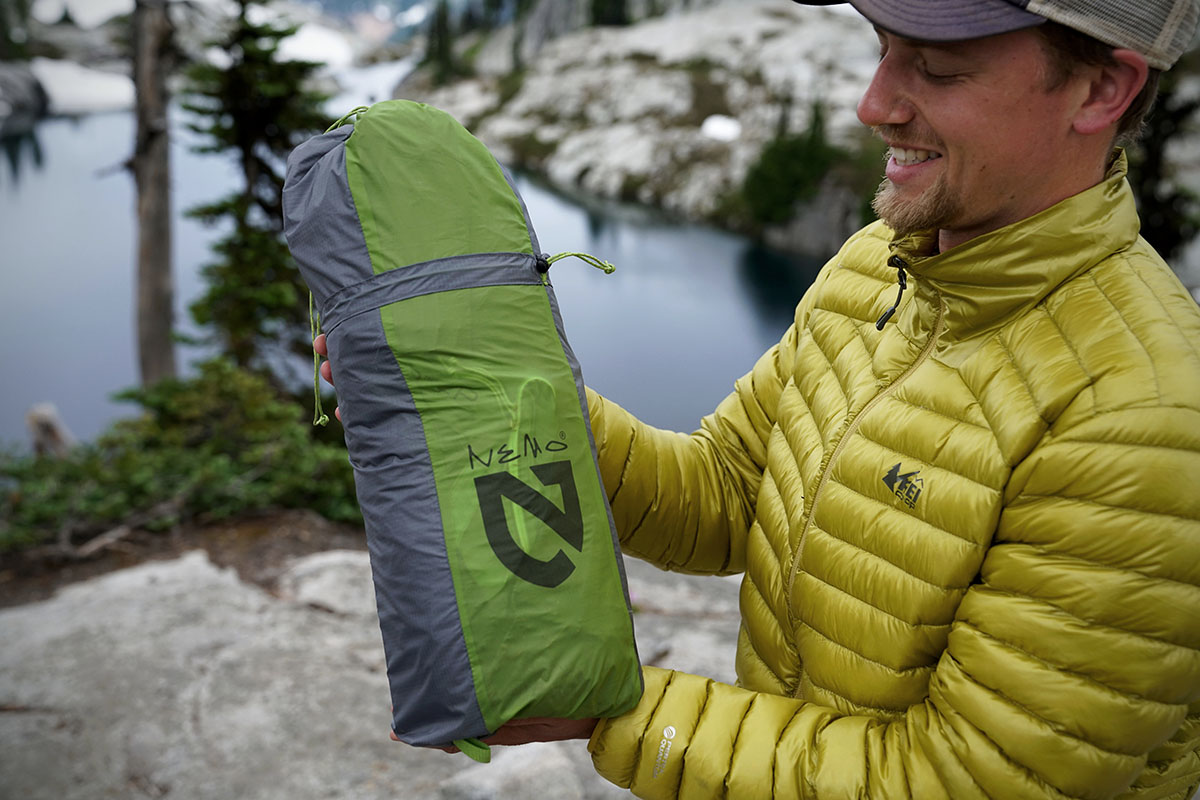 Set up and Take Down
The Dagger's fully freestanding build and symmetrical shape is a cinch to set up. It's just a matter of staking out the corners, attaching the hubbed poles to create the structure (and matching the color-coded poles to the webbing of the same color), and connecting the rainfly. From start to finish, it's a few short minutes for one person to accomplish, which is comparable to most mainstream backpacking tent models. The freestanding design also makes it really easy to get a taut pitch even on a granite slab—significantly easier than a tent like the semi-freestanding Big Agnes Tiger Wall. Taking down the Dagger is a matter of reversing the process and is just as simple.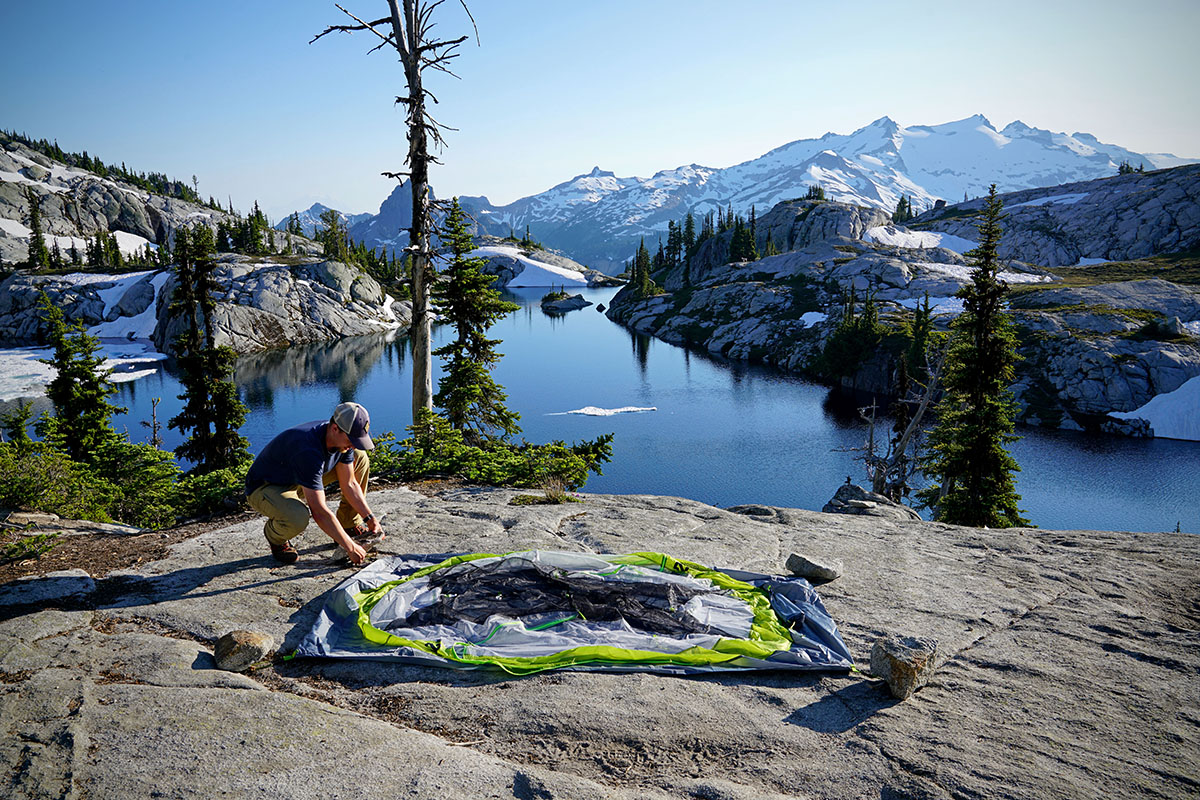 Other Versions of the Nemo Dagger
For this review, we tested the two-person version Dagger, but Nemo also offers a three-person model. The design remains largely the same, although the floor expands 20 inches to fit another pad, and weight and price go up by 7 ounces and $100, respectively. In some cases, we recommend sizing up to make the interior more livable—such as purchasing the Nemo Hornet 2P for one backpacker—but the Dagger's accommodating shape means that we'd only select the 3P if we were planning to add a third person. As we've found, the 2P is completely fine for two adults and a medium-sized dog. And Nemo more recently added the Dagger Porch to the collection (in both 2P and 3P capacities), which is a more luxurious camping option that adds a massive, pole-supported vestibule that can easily fit two larger camping chairs. 

What We Like
The kind of backpacking tent we love: light, spacious, and easy to set up and take down.
Interior comfort is fantastic—there's sufficient room side-to-side and length-wise for two people to comfortably sleep.
Large and functional vestibules.

What We Don't
We would prefer that the rainfly completely covers the tent body at the ends, but it only slightly impacts weather protection.
Not our favorite ventilation design (but it still does the job).
Backpackers focused solely on weight may be happier with Nemo's Hornet or Dragonfly instead.


Comparison Table
| Tent | Price | Weight | Floor | Area | Height | Door(s) | Capacities |
| --- | --- | --- | --- | --- | --- | --- | --- |
| Nemo Dagger 2P | $430 | 3 lbs. 14 oz. | 30D | 31.3 sq. ft. | 42 in. | 2 | 2P, 3P |
| MSR Hubba Hubba NX | $450 | 3 lbs. 14 oz. | 30D | 29 sq. ft. | 39 in. | 2 | 1P, 2P, 3P, 4P |
| Nemo Dragonfly 2P | $400 | 3 lbs. 1 oz. | 20D | 29 sq. ft. | 41 in. | 2 | 1P, 2P |
| REI Co-op Quarter Dome SL 2 | $349 | 2 lbs. 14 oz. | Unavail. | 28.7 sq. ft. | 38 in. | 2 | 1P, 2P |
| Big Agnes Fly Creek HV UL2 | $370 | 2 lb. 4 oz. | 20D | 28 sq. ft. | 42 in. | 1 | 1P, 2P |
| Nemo Hornet 2P | $370 | 2 lb. 6 oz. | 15D | 27.5 sq. ft. | 39 in. | 2 | 1P, 2P |
| Big Agnes Copper Spur HV UL2 | $450 | 3 lbs. 2 oz. | 15x20D | 29 sq. ft. | 40 in. | 2 | 1P, 2P, 3P, 4P |

The Competition
The Dagger's premium construction and $430 price pits it against some of the best sellers in the backpacking tent market. Another one of our current favorites is the MSR Hubba Hubba NX. The MSR shares a similar blueprint as the Dagger: lightweight but reasonably tough fabrics, a high level of comfort, and a user-friendly, freestanding design. The Dagger gets the edge in interior space with a longer footprint that's better for tall backpackers—although we consider both pretty comfortable for their weight—and it has larger vestibules. But the Hubba Hubba's Easton poles are a little sturdier, its rainfly has better coverage at the head and foot ends of the tent, and its rainfly vents are less obtrusive (for more information, see our in-depth Hubba Hubba review). In the end, they're both great all-around tents that we highly recommend.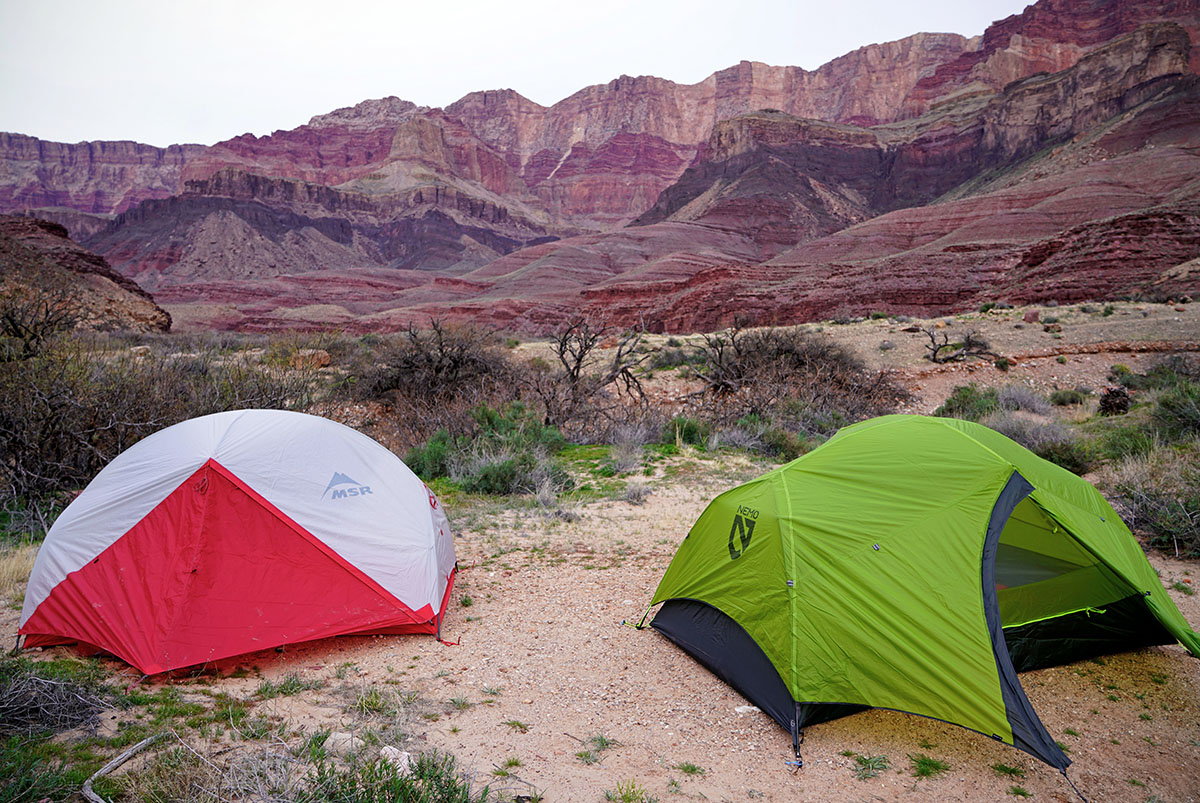 Another Nemo design to consider is their Dragonfly 2P. We tested both the Dagger and Dragonfly on our Grand Canyon trip and the differences were immediately apparent. To start, we like the smaller packed size, 13-ounce-lighter weight, and $30-cheaper price tag on the Dragonfly. But its interior was noticeably more cramped, the pole structure was more prone to flexing and bowing in strong winds, and it's not as durable overall with a 20-denier floor. We were hoping the Dragonfly would amount to a budget-friendlier alternative to the Big Agnes Copper Spur—thus making it potentially one of our favorite models on the market—but came away underwhelmed.
REI consistently offers some of the best values on the market, and their Quarter Dome SL 2 is no exception. For $349, the Quarter Dome boasts a fairly generous interior (28.7 sq. ft. of floor space with a 38-in. peak height) in a 2-pound-14-ounce package. You also get two doors and vestibules, and vertical sidewalls help maximize space and headroom. That said, the Quarter Dome's semi-freestanding build isn't as easy or convenient to pitch as the fully freestanding Dagger, and the tapered foot end makes it more cramped for two full-sized adults. All in all, the Quarter Dome has a lot going for it, but the Dagger wins out as the more livable and featured option. 
The Big Agnes Fly Creek HV UL2 and Nemo's own Hornet tent are a couple of popular two-person designs that undercut the Dagger by over a pound and save you $60. But these tents compromise significantly in durability as well as interior and vestibule space, and, in the case of the Fly Creek, only offer a single door. Thru-hikers, solo backpackers, or those that love a brag-worthy tent weight will be very happy with the Fly Creek and Hornet—or even a superlight option like the Zpacks Duplex Flex—but the Dagger offers far fewer compromises for only a little extra weight.
A final challenger to the Dagger is the Big Agnes Copper Spur HV UL2, which was updated last year. Throughout testing, we found that the high-volume pole design delivers on its promises of excellent livability with an open interior and nearly vertical walls. The two door and two vestibule build is similar to the Dagger, although again, the Nemo offers better overall interior space and vestibule square footage. The Dagger also has a slightly tougher floor fabric (30D vs. 15 x 20D) but weighs 12 more ounces. A decision between the two likely will come back to the tradeoff between weight and space, but both are excellent two-person options.
If you're thinking about buying gear that we've reviewed on Switchback Travel, you can help support us in the process. Just click on any of the seller links above, and if you make a purchase, we receive a small percentage of the transaction. The cost of the product is the same to you but this helps us continue to test and write about outdoor gear. Thanks and we appreciate your support!
Depending on the seller, most products ship free in the United States on orders of $50 or more. International shipping availability and rates vary by seller. The pricing information on this page is updated hourly but we are not responsible for inaccuracies.
Learn More About Backpacking Gear