NEMO Hornet OSMO 3P
Price: $550
Packaged weight: 3 lbs. 5 oz.
Floor area: 39.7 sq. ft.
Capacities: 1P, 2P, 3P
What we like: Impressively light for such a spacious and well-rounded design.
What we don't: Semi-freestanding build limits where you can pitch the tent.
See the NEMO Hornet OSMO 3P
NEMO is a leader in the lightweight backpacking tent market, and their Hornet stands out for its two-door-and-vestibule layout in an ultralight package. My wife and I recently took the three-person version to Patagonia for testing, where it was subjected to a challenging mix of wind and substantial rainfall in the alpine. Overall, we came away impressed by the tent's spacious interior, solid weather protection, and intuitive setup, although the semi-freestanding build was tough to pitch on rocky terrain. Below we outline our experiences with the Hornet OSMO 3P. To see how it stacks up to the competition, see our articles on the best backpacking tents and best ultralight tents.
 
---
Table of Contents
---

Performance
Weight and Packed Size
At 3 pounds 5 ounces for the three-person version, the NEMO Hornet OSMO is an excellent pick for those looking to maximize space while keeping weight to a minimum. For reference, that's just 5 ounces heavier than Big Agnes' Tiger Wall UL3 mtnGLO Solution Dye that we tested in Peru last summer, which has a smaller floor area (by 1.7 sq. ft.) and 2-inch-shorter peak height (the standard Tiger Wall UL3 without the mtnGLO lights is an ounce lighter). Those who want a boost in convenience and livability can step up to a fully freestanding design like Big Agnes' Copper Spur HV UL3 or NEMO's Dragonfly OSMO 3P, but those tents are substantially heavier at 3 pounds 14 ounces and 3 pounds 15 ounces, respectively. It's worth noting that we will likely purchase a tent footprint down the road to maximize the tent's lifespan, which will add another 9.2 ounces. But this is entirely a matter of personal preference, and the Hornet strikes a very effective balance of weight and spaciousness, in my opinion.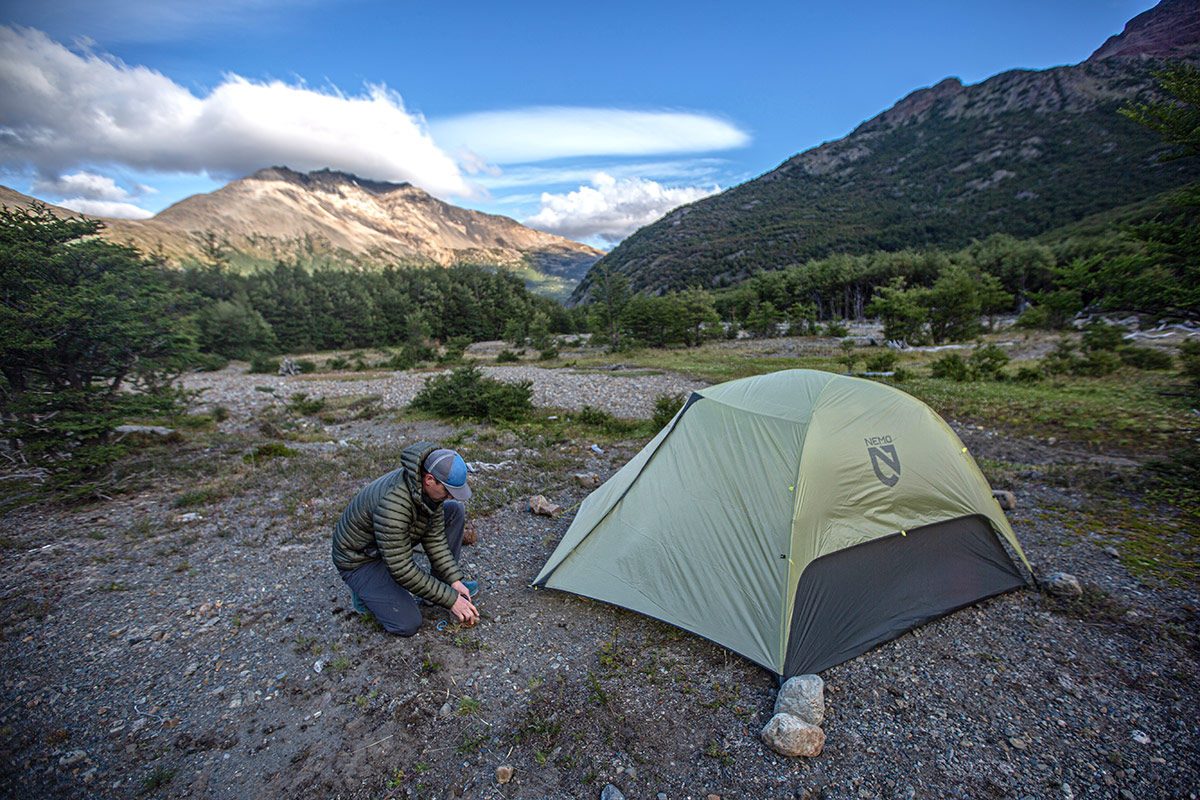 As expected given its competitive weight, the Hornet OSMO 3P packs down impressively small and takes up minimal space in a pack. For reference, NEMO lists the packed dimensions as 17.5 x 8.0 x 3.5 inches, but I found the stuffed size to be a little smaller (around 16 x 6 in.) in use. This makes it one of the most compressible three-person designs on the market, beating out leading UL competitors including Big Agnes' Tiger Wall UL3 Solution Dye (19 x 5.5 in.) and REI Co-op's Flash 3 (21.25 x 7 in.). In fact, it's one of the only tents that fits in my pack horizontally, and the short poles make it especially appealing for bikepacking since it'll fit nicely in a frame or bar bag. And for those who like to split things up, NEMO's Divvy Cube design makes it easy to separate the tent body and hardware—I prefer to stuff the inner tent and rainfly at the bottom of my pack and load the rest of my gear (including the pole bag) on top to maximize space.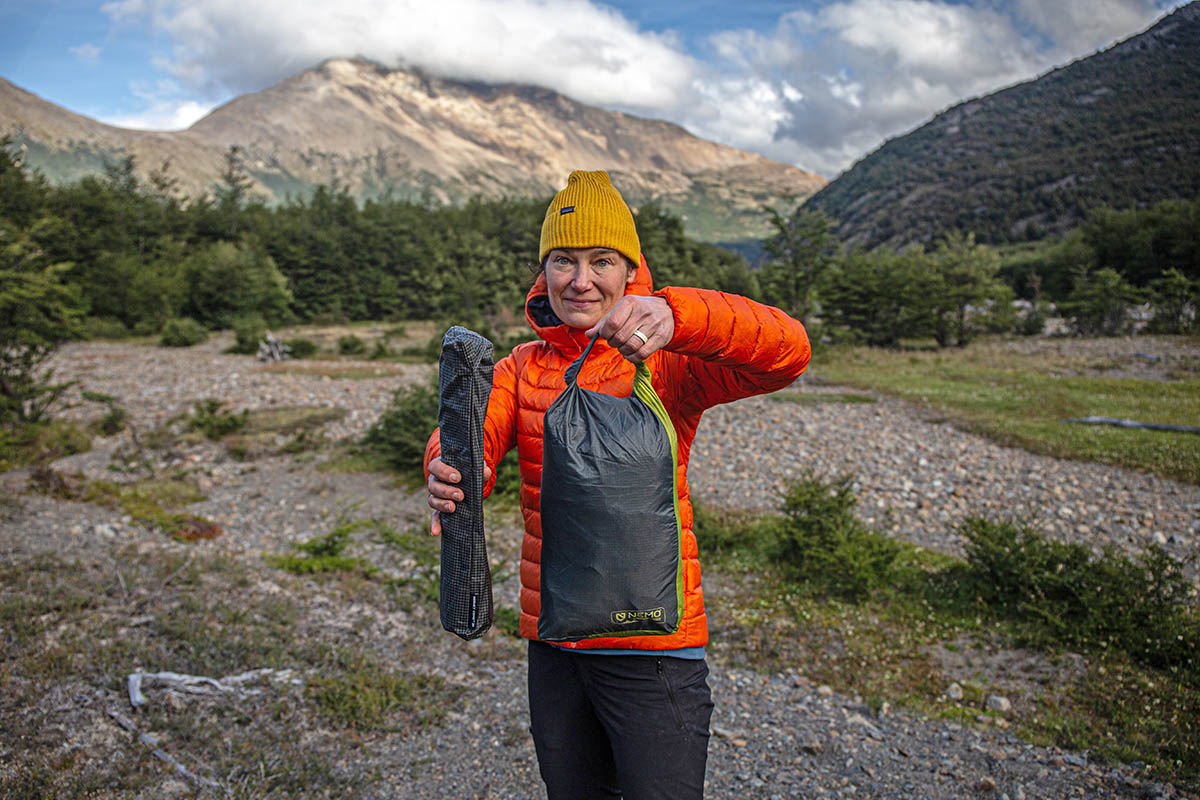 Livability and Interior Space
My wife and I almost always opt for three-person tents for the added space they provide to stash and protect camera gear, sort through equipment, and wait out weather (we also often have our dog with us, although we didn't on this trip). In practice, the Hornet 3P's 39.7-square-foot interior—a sizable 12.2-square-foot increase over the two-person version—was ample for hunkering down during storms in Patagonia. In addition to the substantial footprint, the two-door-and-vestibule layout made it easy to get in and out without having to step over each other, and the generous 44-inch peak height allowed us both to sit upright while eating and organizing gear (the center ridge pole is a big help). While smaller than Big Agnes' Copper Spur 3 Platinum (44 sq. ft.) that we tested in Mongolia a few years back, the Hornet was plenty spacious for two and stacks up very competitively to other leading UL designs, including the Tiger Wall UL3 (38 sq. ft.), MSR FreeLite 3 (38.5 sq. ft.), and REI Co-op Flash 3 (40.94 sq. ft.).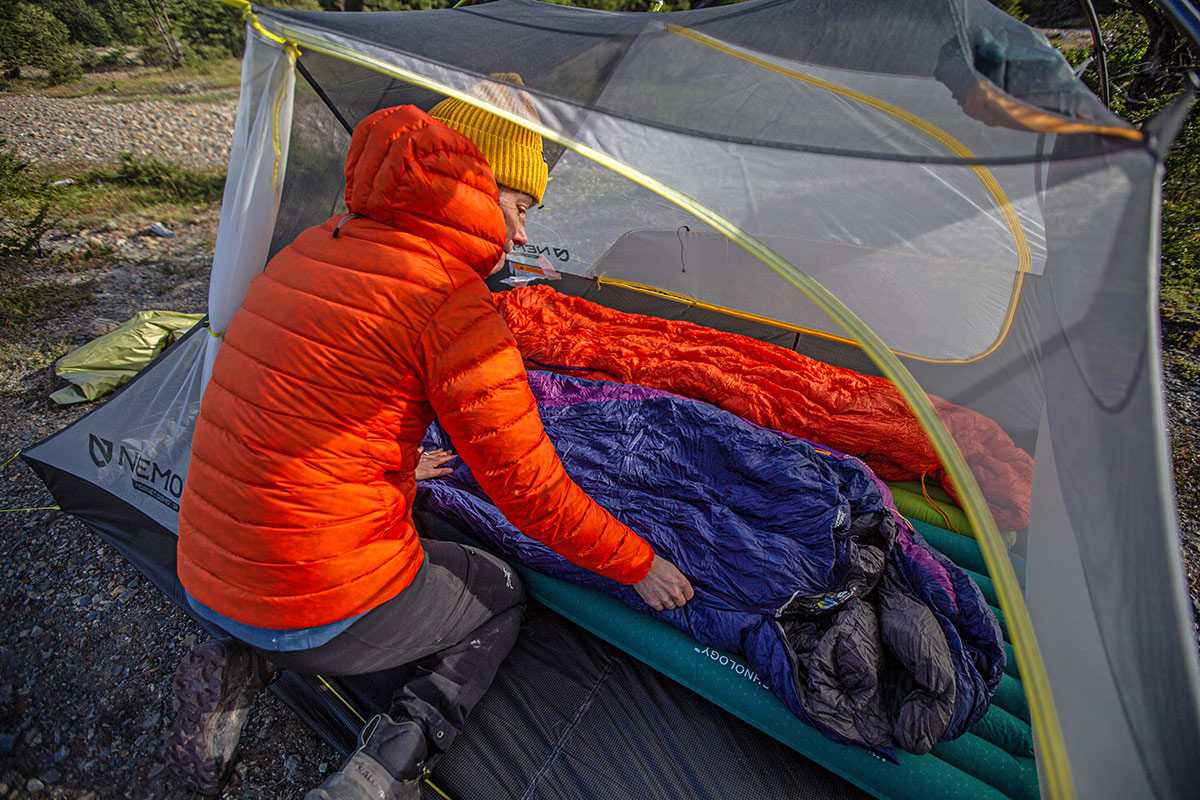 It's worth noting that the Hornet 3P tapers from 68 inches at the head to 62 inches at the feet, but the good news is that this had very little impact on overall livability. There are a couple factors at play here. First, NEMO's volumizing door clips—small guylines positioned at the edge of each door—do a great job of pulling the body outward and preventing the fly from sagging into the doors. You'll want to be careful when throwing gear into the vestibules, as it could snag the clips, but I haven't had any issues to date. Second, the triangulated guy-outs and corner struts boost space at the foot end and minimize the risk of your sleeping bag touching the wall. In use, the tent easily accommodated my "Long Wide" Exped Dura 5R (77.6 x 25.6 in.) and my wife's "Medium" Ultra 5R (72 x 20.5 in.) sleeping pads with ample space at either side. We also pulled our backpacks and other equipment inside to protect them from weather and still had plenty of room to move around.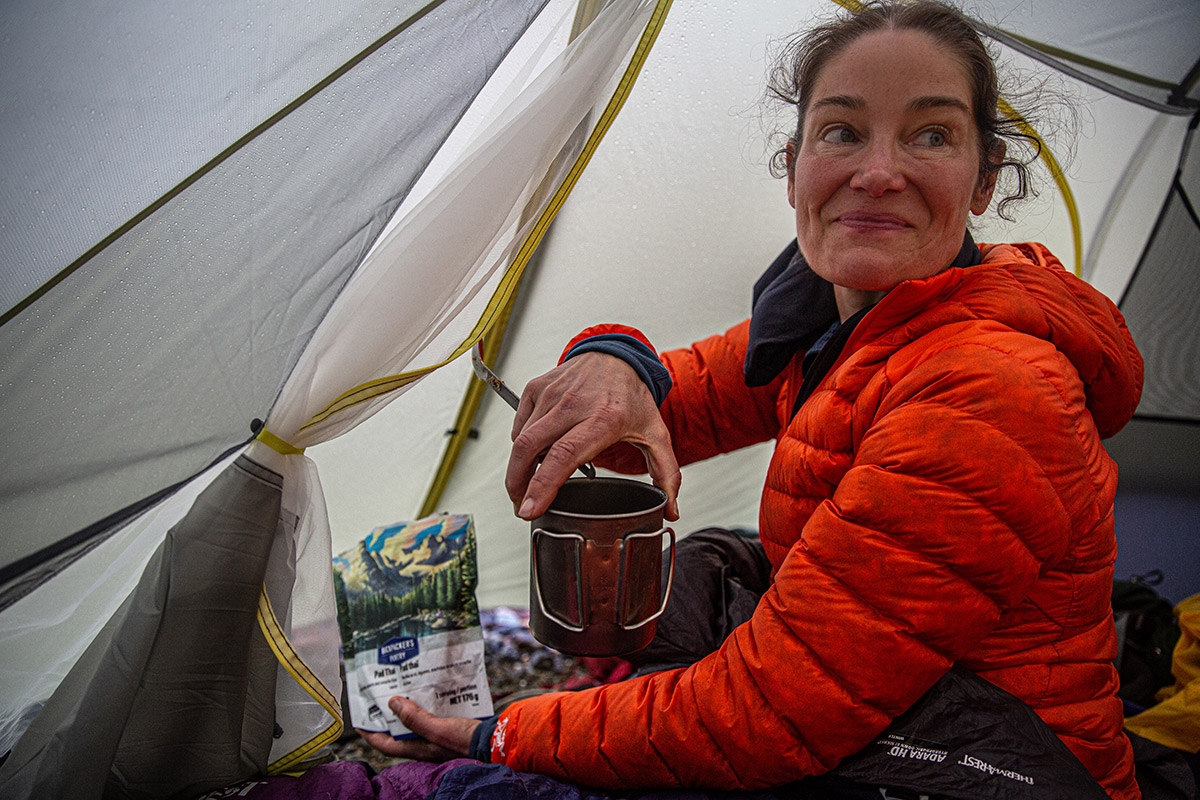 Durability
Ultralight tents often come with sacrifices in ruggedness and durability, and the NEMO Hornet is no exception. In terms of construction, both the floor and rainfly use NEMO's new 0-denier (D) OMSO fabric, which combines two types of yarns—one polyester and one nylon—to boost tear resistance while keeping weight to an absolute minimum. The inner tent is comprised primarily of a lightweight "No-See-Um" mesh (the lower portion is thin, 15D nylon ripstop) that allows for significant airflow and visibility through the upper tent, but you'll want to take good care to avoid snags. I also recommend adding a tent footprint—NEMO sells one for $80, or you can DIY with Tyvek or Polycryo—for added assurance on rough surfaces and to maximize the tent's lifespan.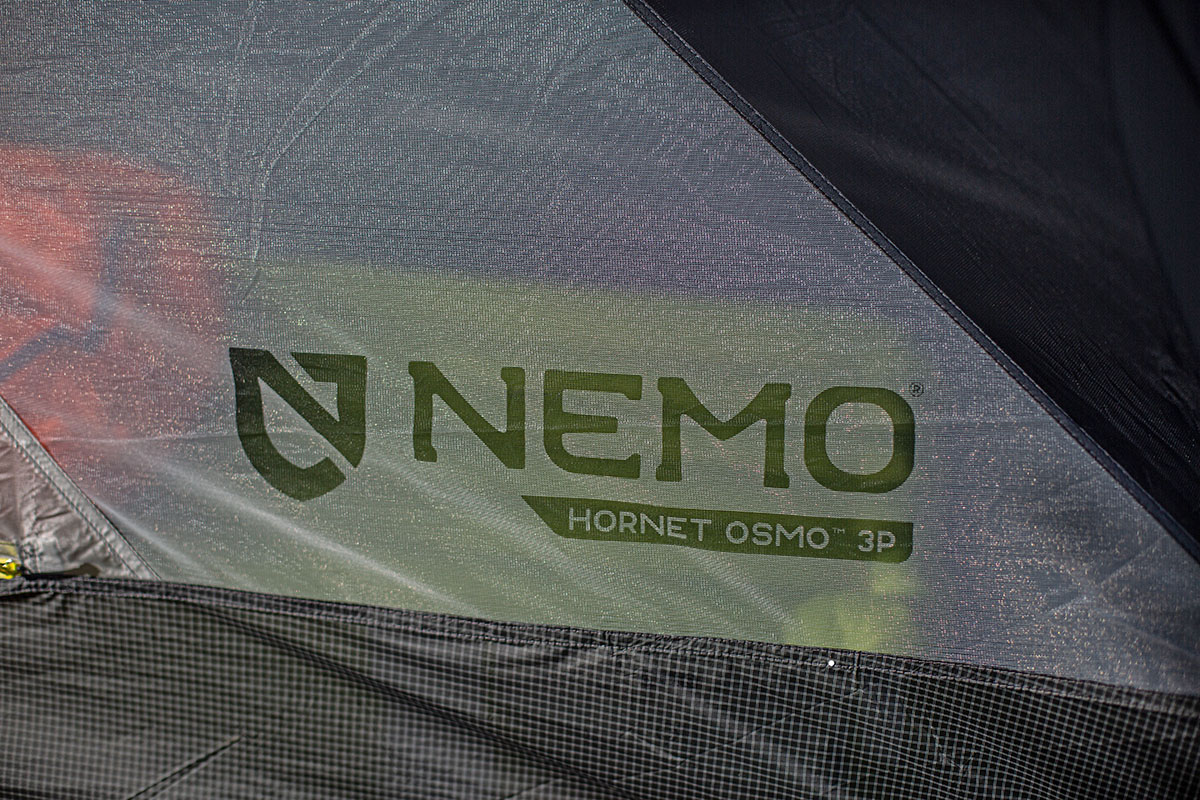 It's worth noting that our Hornet tent did suffer some damage on our final overnight in Patagonia, but it was entirely a result of user error and unexpectedly gnarly conditions. Because our campsite was situated on a rock bed, I had no choice but to secure the corners and guylines to large boulders. During the raging winds that night, the guylines rubbed against the boulders until the friction ripped two of them. We were able to quickly address the problem by replacing the guylines—thankfully, NEMO included extra—but would have certainly been better off with a more robust four-season tent in such extreme weather. The struts used to create the triangulated corners also wore through the bathtub floor, which was likely accelerated by the high winds, although I do think that NEMO could have better protected this junction (the struts are fairly rigid, which made it easy for them to poke through the thin fabric).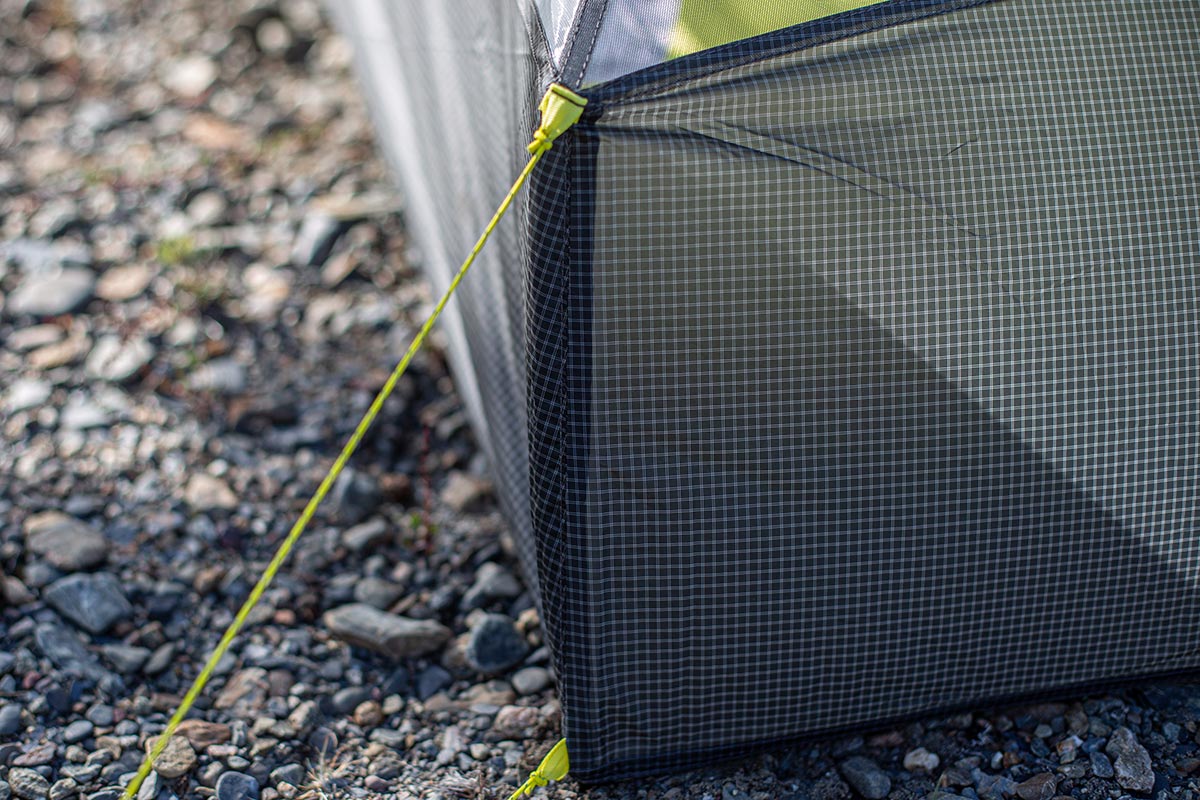 Weather Protection
The NEMO Hornet OSMO 3P punched well above its weight class in Patagonia, where it was subjected to raging winds and driving rain on our final overnight to the base of the Torre Glacier. The DAC Featherlite poles did an admirable job of flexing and bowing to combat the strong gusts without snapping under pressure, and the OSMO fabric seemed to accomplish its goals of being more water-resistant and less stretchy when wet compared to standard nylon. It's important to note that the rainfly only provides partial coverage at the head end of the tent, but the raised bathtub floor and good seam sealing along the body sufficiently kept moisture at bay. You can also roll the rainfly back for stargazing on clear nights via the Gatekeeper tiebacks along the side of each door.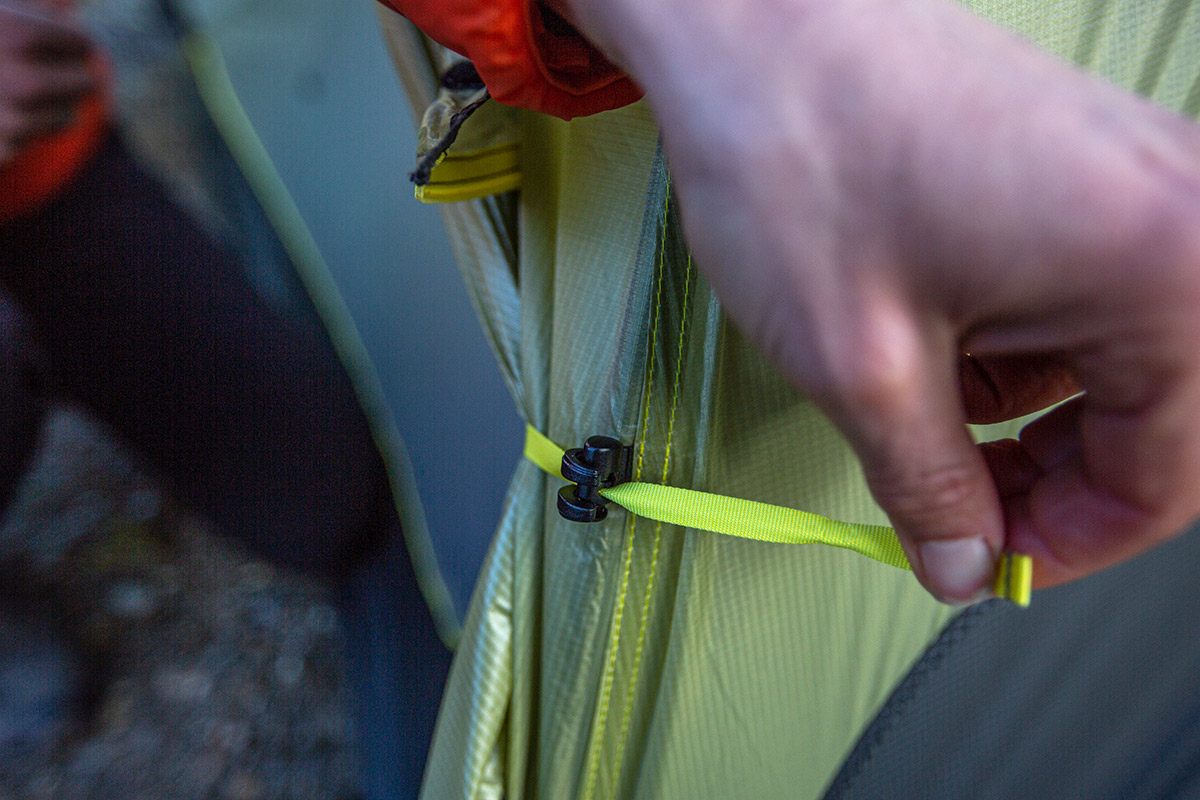 Ventilation
In short, the NEMO Hornet leaves little to be desired from a ventilation standpoint. Apart from the bathtub floor and raised section of nylon at the head end, the inner tent is comprised entirely of mesh—white at the sides for privacy and black at the top for getting a clearer view of the night sky. You also get deployable vents at the top of each door, and the scalloped rainfly helps keep air moving without allowing moisture in (although you might get some precipitation or debris inside in blowing rain or dust storms). We haven't had a chance to test the Hornet in true summertime conditions yet, but we didn't experience any condensation buildup on warm and calm nights in Patagonia and expect the tent to fare equally well in hotter weather.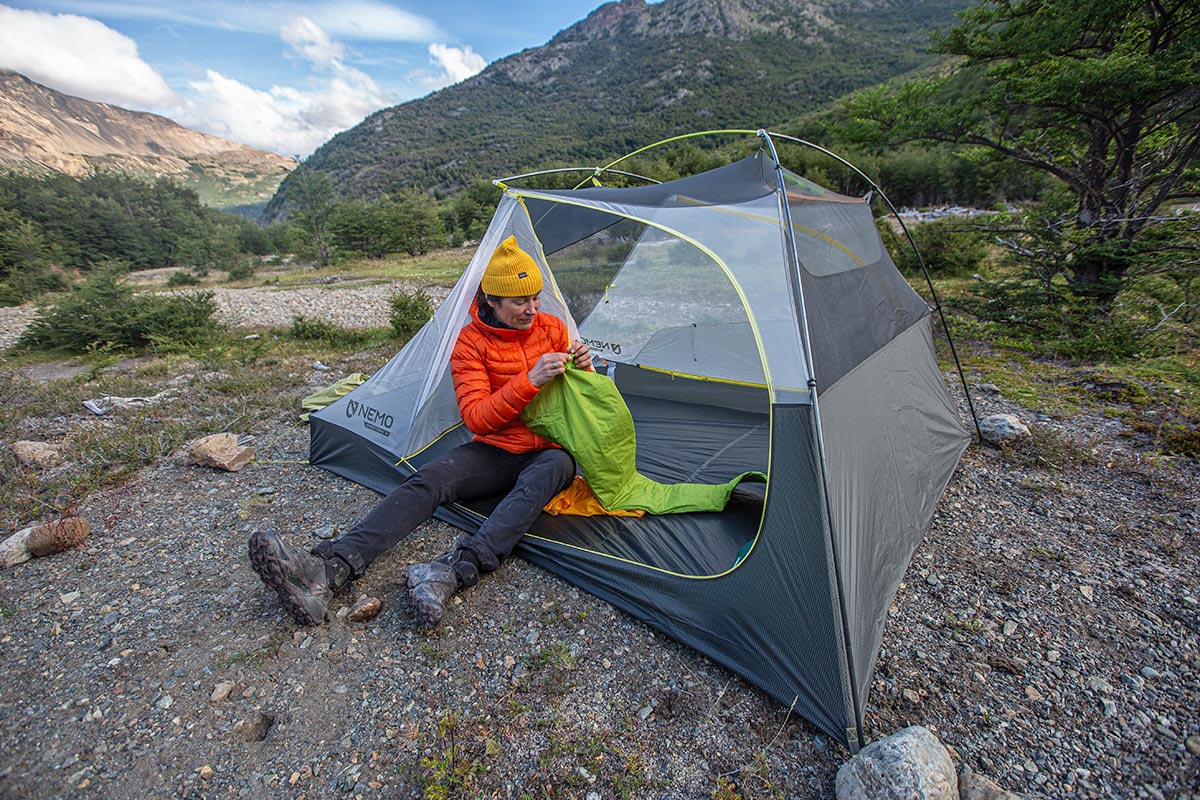 Storage
As with NEMO's heavier Dagger and Dragonfly tents, the Hornet OSMO boasts two doors and two vestibules, which is our preferred layout for two backpackers—no need to crawl over your tentmate when you need to get in and out. It's worth noting that one person will still need to do some gymnastics if you max out the three-person capacity, but it's an ideal configuration for two. We were easily able to fit our packs and hiking boots in the two 8.6-square-foot vestibules with room to spare, although we opted to pull them inside when the rain and wind picked up.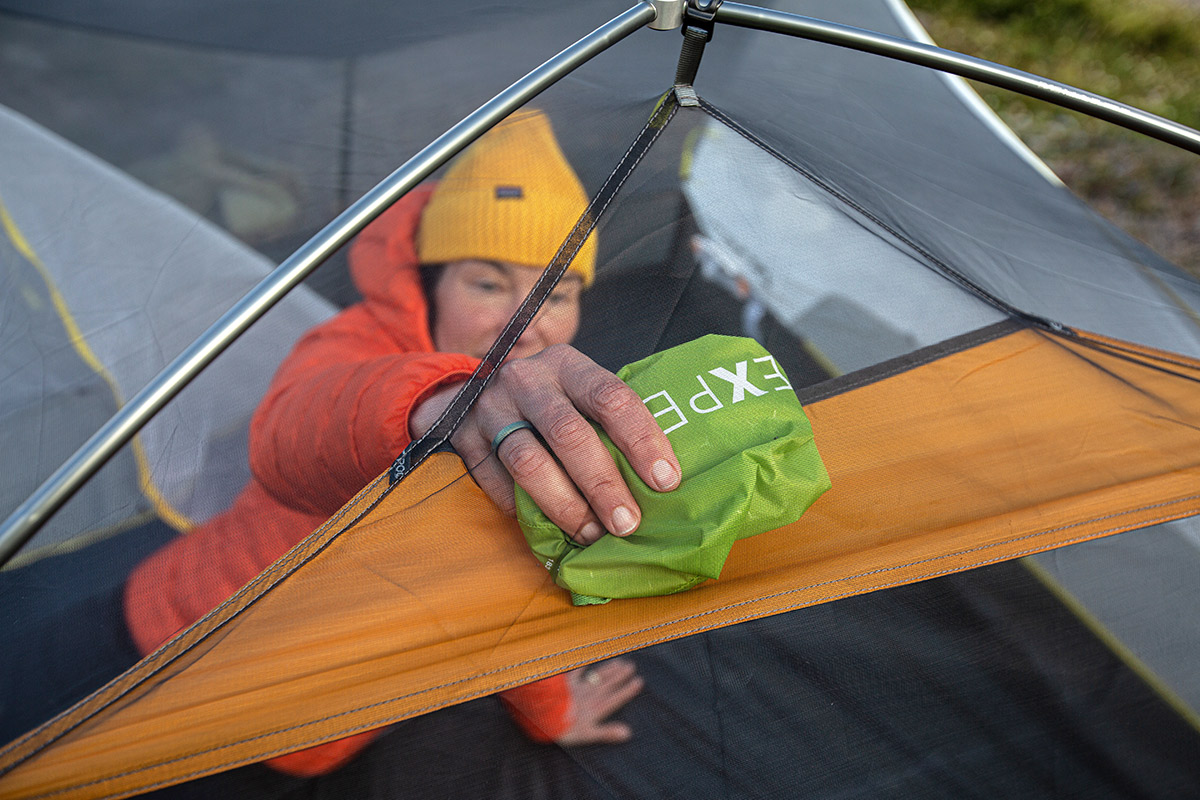 The Hornet's interior is adequately appointed with three nicely sized pockets: one lower pocket at the head end, a generous triangular pocket along the ceiling, and a Nightlight Pocket overhead that's designed to disperse your headlamp's beam for diffused lighting. The latter two pockets are big enough to stash gloves, baselayers, and electronics without too much sagging, although we did have to empty them out during violent winds to prevent items from hitting us in the face as the tent bowed with each gust. That said, Patagonia is notorious for its gale-force winds, and this shouldn't be an issue in most three-season conditions. I do wish that NEMO had included one more pocket at the head end for divvying up small essentials (like what you get with the NEMO Dragonfly), but it's not a deal breaker by any means.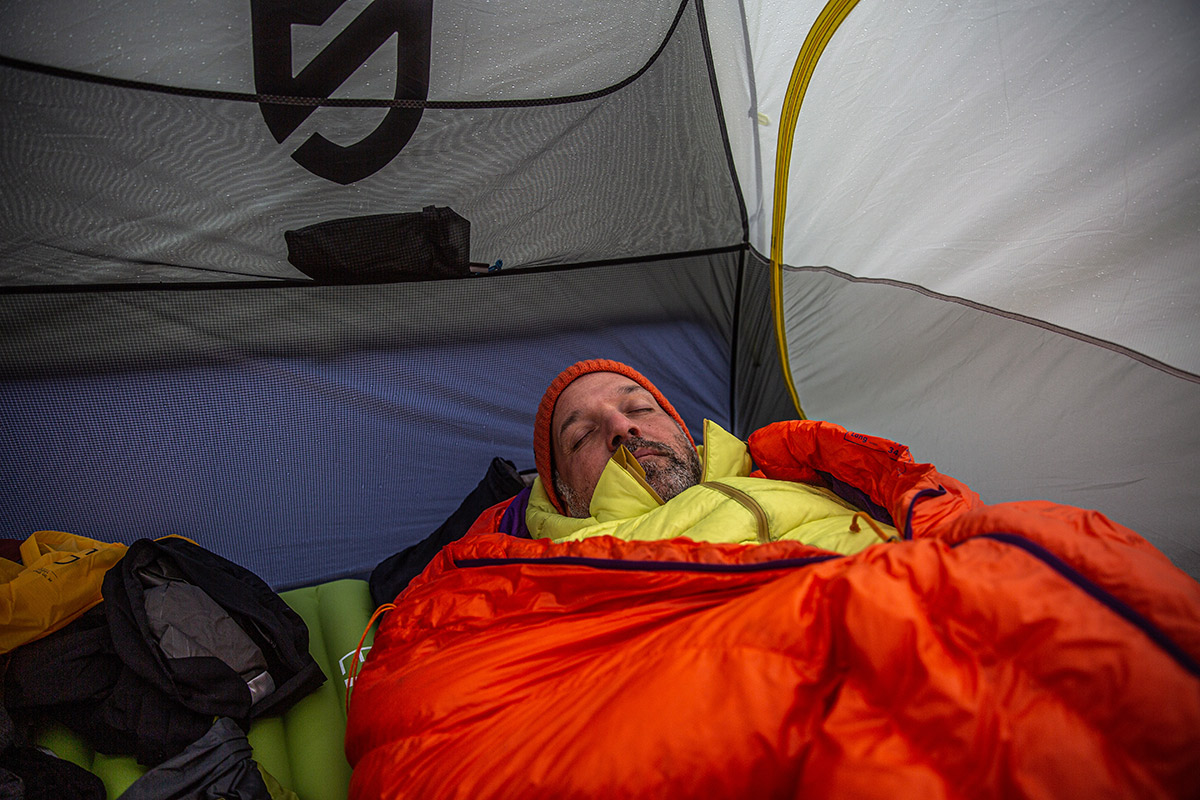 Set Up and Take Down
My wife and I like to forgo instructions when setting up a new tent for the first time to see how intuitive the process is, and we had the Hornet OSMO 3P pitched in minutes. The tent's single hubbed pole is shaped like a "Y," with the mouth of the Y connecting to the tent via ball-and-socket-like Jake's Foot fittings. The single end of the Y simply slides into a grommet at the foot end of the tent, and the inner tent is then hung from the pole system via small plastic clips. In order to reach its full size and maintain a rigid frame, the Hornet must be staked out at the foot end as well, as is the case with all semi-freestanding backpacking tents. This shouldn't be a problem most of the time, but it can be difficult on particularly rocky or root-covered terrain—we had to get a little creative in Patagonia by stacking rocks to anchor the tent at our slabby campsite. Finally, to attach the rainfly, simply clip it into the corners at the head end and stake out the rest of the guylines.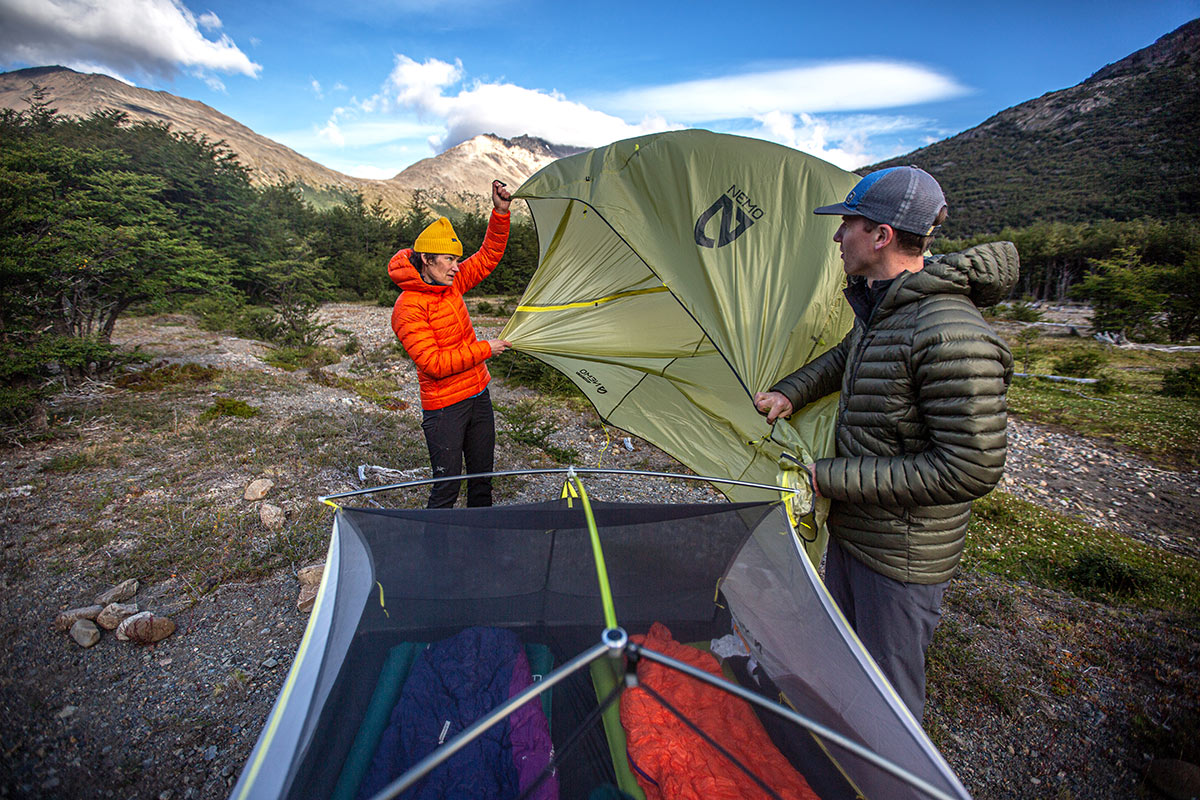 Sustainability
NEMO updated their core backpacking tents recently, and the latest OSMO iteration of the Hornet is a nice upgrade from the past-generation model on the sustainability front. Specifically, the namesake OSMO fabric is woven from 100% recycled yarns and is PFAS-free, which means it forgoes the use of perfluorocarbons and other harmful waterproofing chemicals. The floor material is also bluesign-approved, indicating that it meets strict ecological and chemical standards and has been deemed safe for workers, consumers, and the environment. Finally, the Hornet OSMO is covered by NEMO's lifetime warranty against defects in workmanship and materials, which is a nice dose of added assurance should you encounter an issue (we're big proponents of repairing old gear over buying new whenever possible).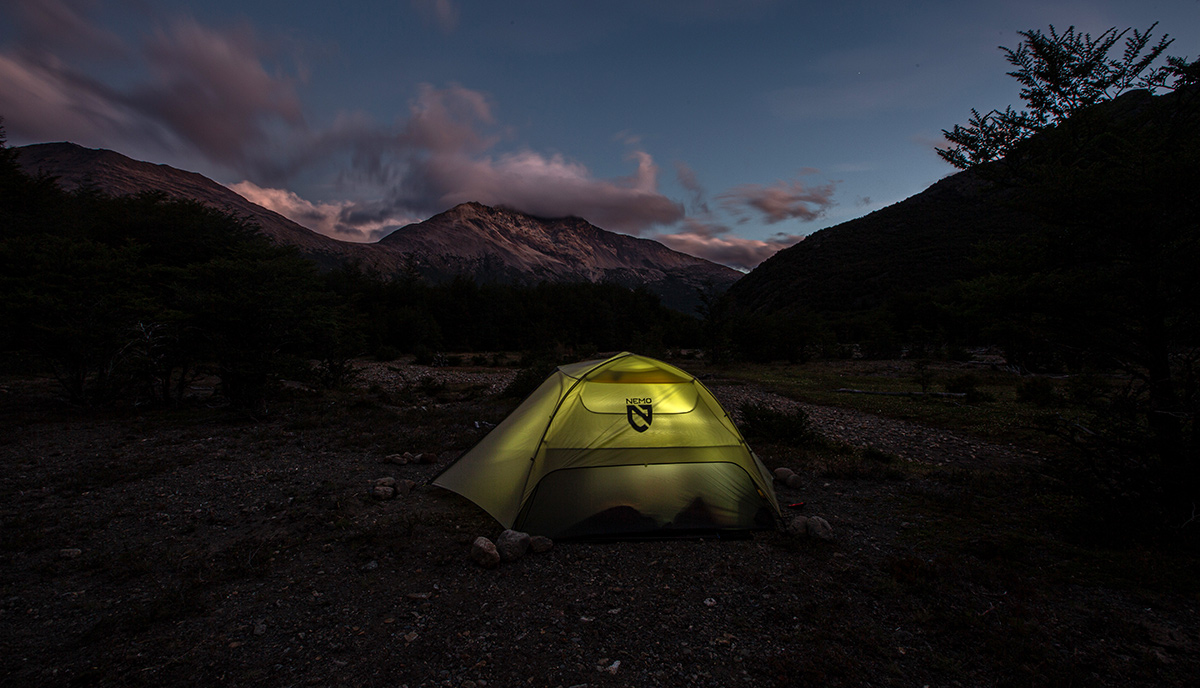 Other Versions of the NEMO Hornet OSMO
We brought the three-person version of the Hornet OSMO to Patagonia for testing, and it's also offered in one- and two-person models for solo backpackers and groups or couples used to sharing closer quarters. The Hornet OSMO 1P costs $400 and checks in at 2 pounds 4 ounces all in with a 22.3-square-foot floor area and 39-inch peak height, while the 2P costs $430, weighs 2 pounds 8 ounces, and boasts a 27.5-square foot interior with an identical peak height to its smaller sibling. Both variations also include NEMO's innovative Flybar—the Hornet 3P we tested has a standard center ridge pole instead—to maximize headroom. Rounding out the collection, NEMO offers an even lighter-weight and more compromised Hornet Elite OSMO model in both one- and two-person capacities, with the Hornet Elite OSMO 2P checking in at a scant 2 pounds 1 ounce (for a whopping $650).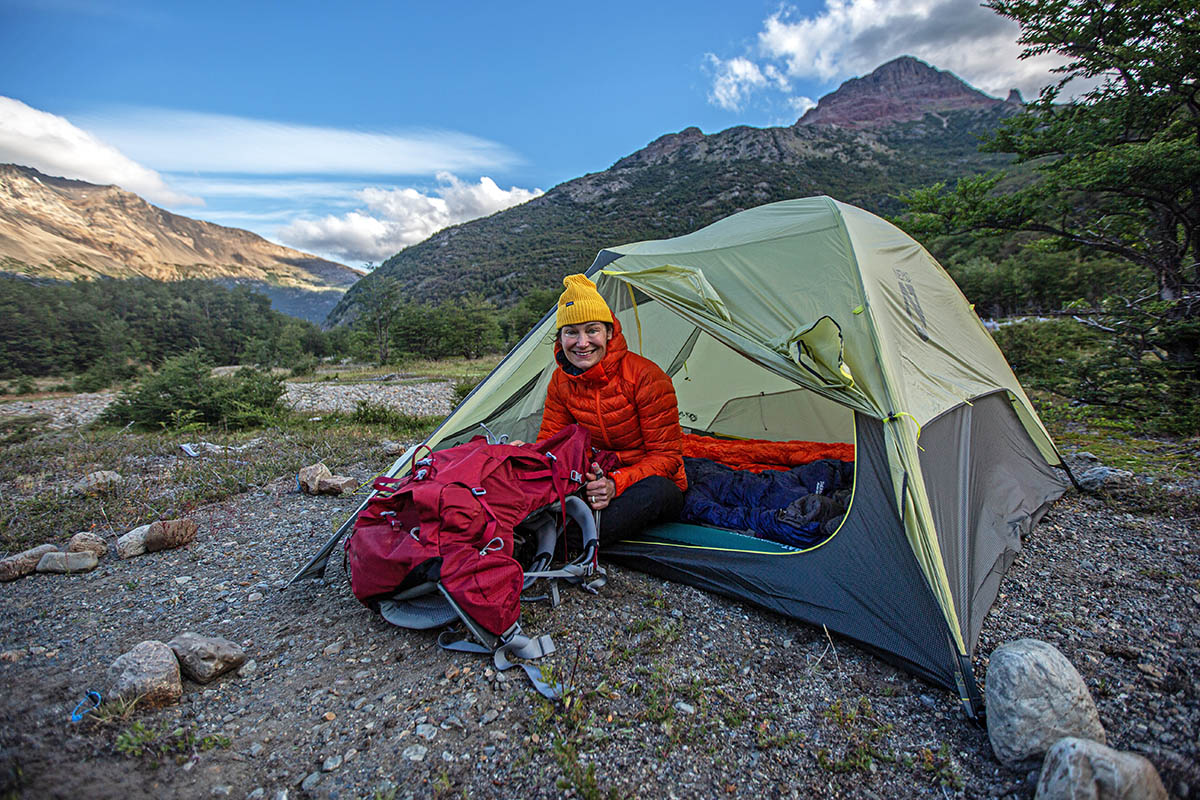 What We Like
Great balance of weight and spaciousness—the Hornet is very competitive in the UL market but doesn't feel overly compromised.
NEMO's volumizing door clips and triangulated corners do a great job at maximizing overall livability.
Despite the scalloped rainfly, the tent proved to be a very reliable barrier against strong winds and driving rain.
Ventilation is excellent thanks to the mesh-heavy canopy, scalloped fly, and vents at each door.
Single hubbed pole makes setup quick and easy, especially for a semi-freestanding tent.

What We Don't
Semi-freestanding design limits where you can pitch the tent—you'll want to avoid particularly rocky and root-covered terrain.
Struts at the corners are rigid and led to tears along the base of our tent, although this was partially a result of extremely strong winds.
Thin and delicate materials will require added care to avoid snags and tears (and we recommend purchasing a footprint separately).
I wish NEMO had included one more pocket at the head end for divvying up small essentials.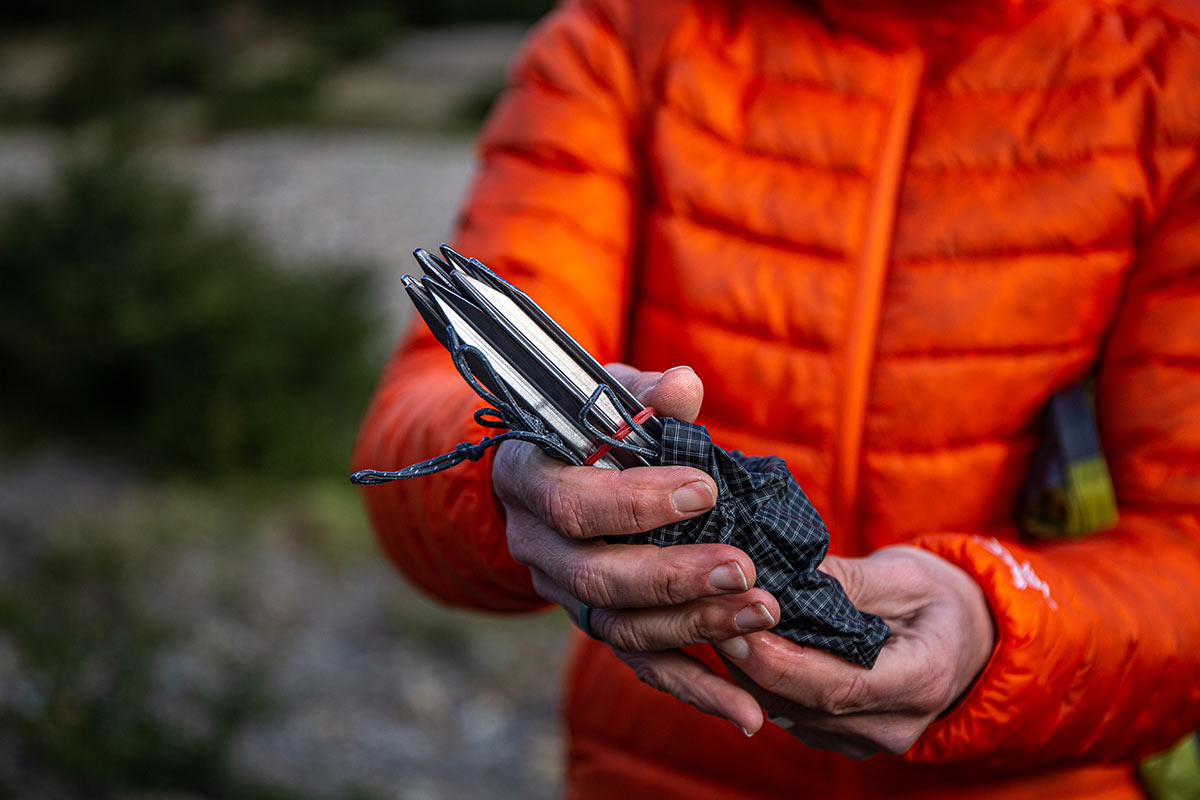 Comparison Table

The Competition
NEMO's Hornet OSMO 3P is highly competitive among ultralight three-person backpacking tents, but there are a number of viable alternatives in 2023. Big Agnes' Tiger Wall UL3 Solution Dye is another one of our favorite designs, with a similar two-door-and-vestibule layout and semi-freestanding build. The Tiger Wall wins out in weight by around 6 ounces and costs $50 less, although the interior is a little smaller at 38 square feet, and it's the same story with vestibule space (8 sq. ft. each) and peak height (42 in.). That said, we appreciate the Tiger Wall's more generous interior storage layout and its ability to pitch the rainfly on its own without the inner tent, which brings weight down to a scant 2 pounds 1 ounce. Both tents use ultra-thin materials to shave weight and will require added care, but the Tiger Wall strikes us as the more well-rounded design and will save you a bit of cash. It's also offered in a string lights-equipped mtnGLO version for $30 more (see our in-depth review of the 3P model here).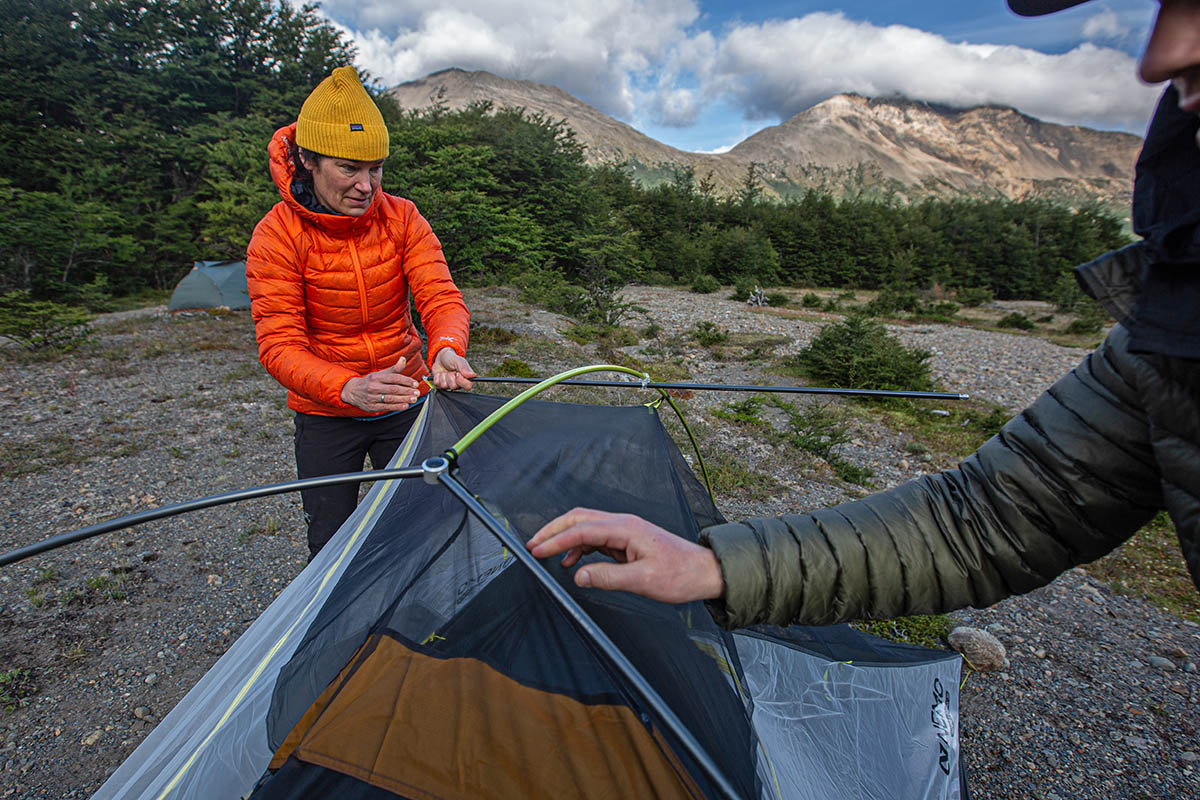 MSR is another leader in the backpacking tent market, and their competitor to the Hornet is the FreeLite 3. For $10 and 10 ounces less than the NEMO, the FreeLite offers similar livability with a 38.5-square-foot interior, two doors and vestibules (the latter of which are 7.5 sq. ft. each), and a generous 43-inch peak height. The FreeLite is shorter at 84 inches lengthwise (compared to 88 for the Hornet), although many will appreciate the symmetrical floor plan that doesn't taper in at the feet. That said, the FreeLite's short center ridge pole and tapered ceiling make it hard for multiple people to sit upright, and the lack of pole support at the foot end can cause bowing in strong winds. Finally, the generous use of mesh and cutout in the rainfly allow blowing dirt and dust to enter, although neither tent is an ideal option in truly rowdy conditions. In the end, all ultralight tents are going to come with some compromises, but we think the Hornet has slightly fewer than the FreeLite.
From within NEMO's own lineup, their Dragonfly OSMO 3P is a roomier alternative for comfort-focused backpackers willing to shoulder a little more weight. Stacked up against the Hornet, the three-person Dragonfly boasts an additional 1.5 square feet of floor area with two 10-square-foot vestibules (the Hornet's are 8.6 sq. ft. each). The fully freestanding build is also quicker and easier to pitch, especially on tricky terrain, and interior storage is a little better thanks to an oversized gear loft overhead and small pockets at each side of the head end. On the flip side, the Hornet is lighter by a significant 10 ounces, has a slightly thicker canopy (15D vs. 10D for the Dragonfly), and boasts NEMO's volumizing door clips and triangulated corner struts to maximize the interior. In the end, both tents have their strengths: Ounce-counters will almost certainly prefer the Hornet, while casual backpackers who care more about space and convenience will be better off with the Dragonfly for $30 more.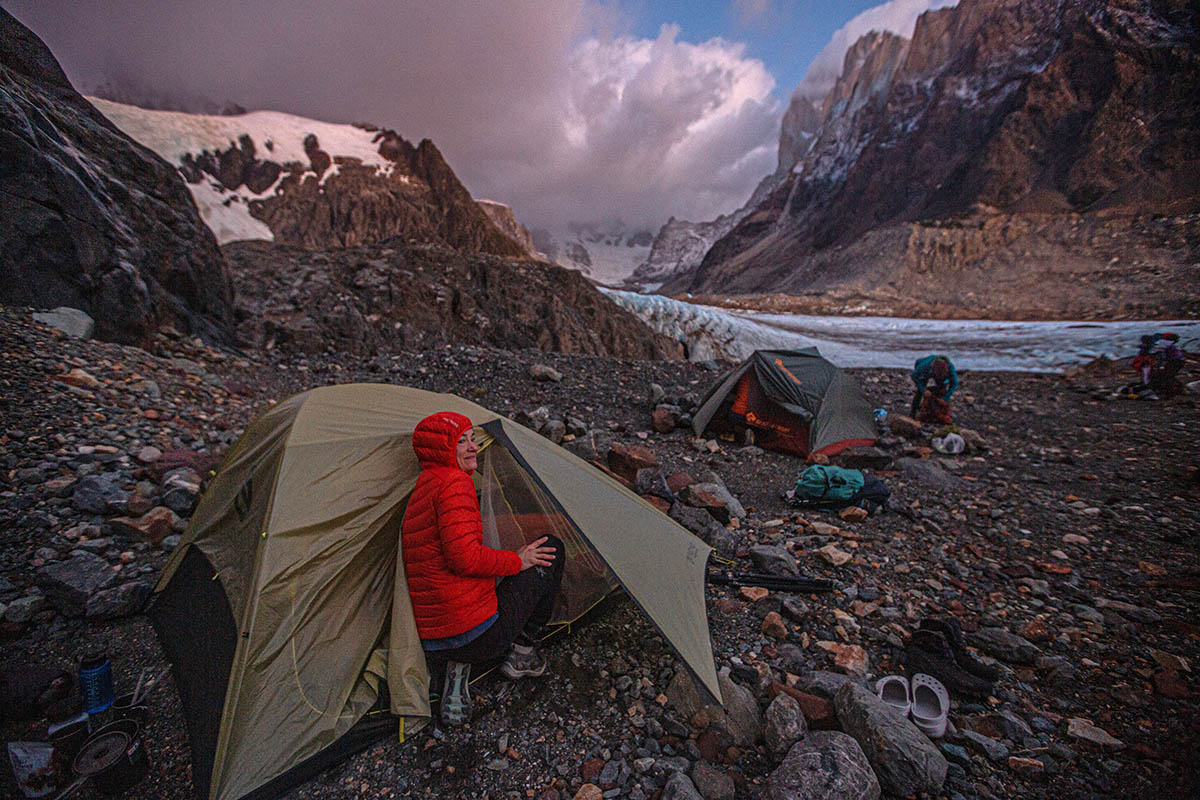 Last but not least is REI Co-op's Flash 3, which is new for this year but stacks up pretty competitively to the Hornet and other lightweight three-person designs. Highlights include a slightly larger 40.94-square-foot floor plan that's wider at both ends (it tapers from 70 to 64 in.), better interior storage with pockets lining the ceiling at the head end, and a fully freestanding build that makes the setup process quicker and easier. On the other hand, the Hornet has a 4-inch-taller peak height, weighs around 10 ounces less, and packs down noticeably smaller for stuffing in a pack. In the end, the Flash's $50 cost savings might be enough to sway some, but we consider the Hornet the more proven and balanced UL design.
If you're thinking about buying gear that we've reviewed on Switchback Travel, you can help support us in the process. Just click on any of the seller links above, and if you make a purchase, we receive a small percentage of the transaction. The cost of the product is the same to you but this helps us continue to test and write about outdoor gear. Thanks and we appreciate your support!
Depending on the seller, most products ship free in the United States on orders of $50 or more. International shipping availability and rates vary by seller. The pricing information on this page is updated hourly but we are not responsible for inaccuracies.
Learn More About Backpacking Gear