NEMO Dragonfly OSMO 2P
Price: $500
Packaged weight: 3 lbs. 2 oz.
Floor area: 29 sq. ft.
Capacities: 1P, 2P, 3P
What we like: Competitive dimensions for the weight, thoughtful storage, and quick to set up.
What we don't: Tapered floor and sloping roof detract from overall livability.
See the NEMO Dragonfly OSMO 2P
NEMO's Dragonfly fills a nice niche in their backpacking tent lineup, offering better livability than the ultralight Hornet at a lower weight than their popular Dagger. I recently brought the latest two-person version to southern Patagonia for testing, where it was tasked with fending off brutally strong winds and substantial rain. My takeaways: The Dragonfly 2P is taller than many competitors and includes some thoughtful touches, but the tapered floor plan and sloping roof limit the amount of livable space—it's great for one person but a tight squeeze for two. Below we outline our experiences with the Dragonfly OSMO 2P. To see how it stacks up to the competition, see our article on the best backpacking tents.
 
---
Table of Contents
---
 
Performance
Weight and Packed Size
At 3 pounds 2 ounces all in, the NEMO Dragonfly OSMO 2P isn't an ultralight standout but is highly competitive among leading backpacking designs. For comparison, it stacks up similarly to popular alternatives including Big Agnes' Copper Spur HV UL2 (also 3 lbs. 2 oz.) and MSR's Hubba Hubba 2 (3 lbs. 4 oz.) while significantly undercutting NEMO's roomier Dagger 2P (4 lbs. 2 oz.). You can certainly go lighter with a specialized UL design like Zpacks' Duplex (1 lb. 2.5 oz.) or NEMO's own Hornet Elite OSMO 2P (2 lbs. 1 oz.), but both of those tents are pricier and less livable than the Dragonfly. In use, the Dragonfly never felt like a burden to carry and strikes me as a pretty balanced design for the weight.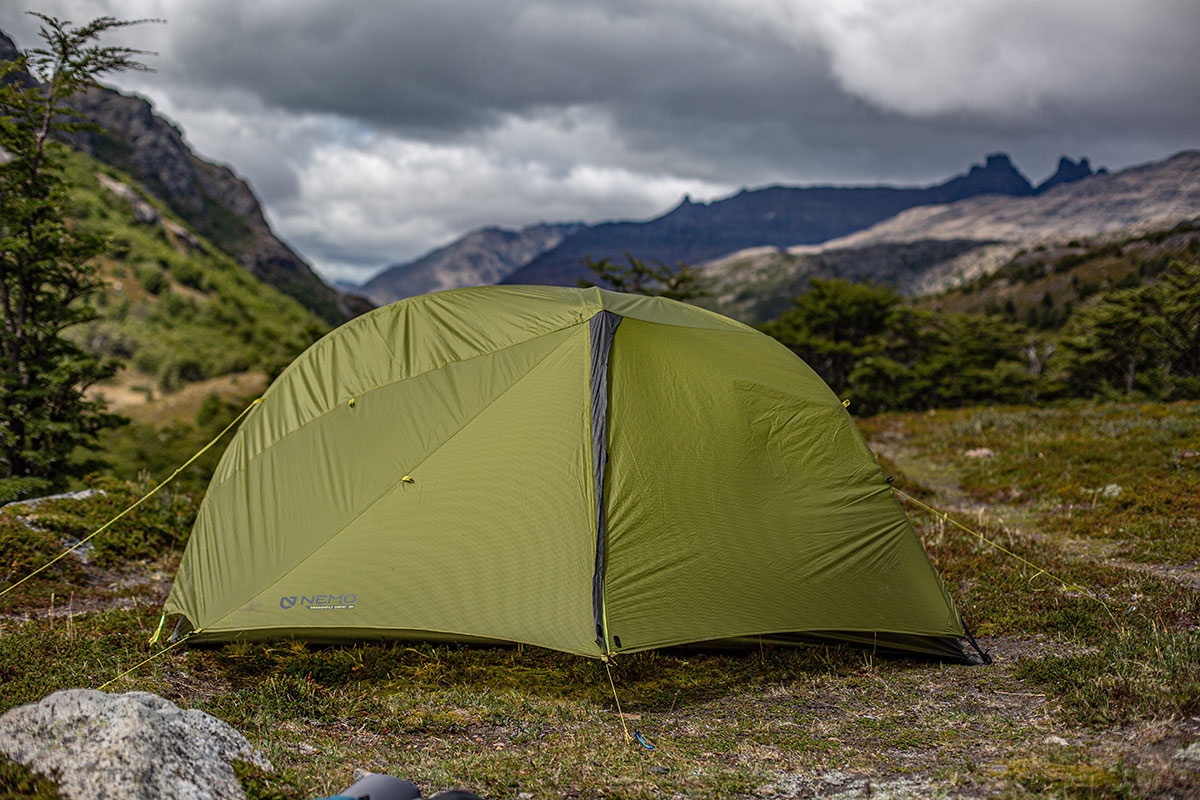 Weight and packability almost always go hand in hand, and the Dragonfly OSMO 2P measures a fairly compact 19.5 x 5.5 x 3.5 inches when compressed into its storage sack. Again, it's far from a class leader—NEMO's Hornet Elite OSMO 2P measures 19 x 4 x 2 inches when packed, and you can save even more space with a minimalist UL design like the aforementioned Zpacks' Duplex (6 x 12 in. in its stuff sack). What's more, the Dragonfly is only marginally smaller than NEMO's much more livable Dagger OSMO 2P (19.5 x 6.5 x 3.5 in.) that I tested last year. But it's perfectly serviceable for most backpackers, and I had no issues fitting the Dragonfly and all of its components into my pack (and I'm not a particularly light packer). And for those who like to split things up, NEMO's Divvy Cube design allows you to easily separate the tent body and hardware to share the load, and the roll-top stuff sack can be compressed to two-thirds its normal length and secured via a buckle closure.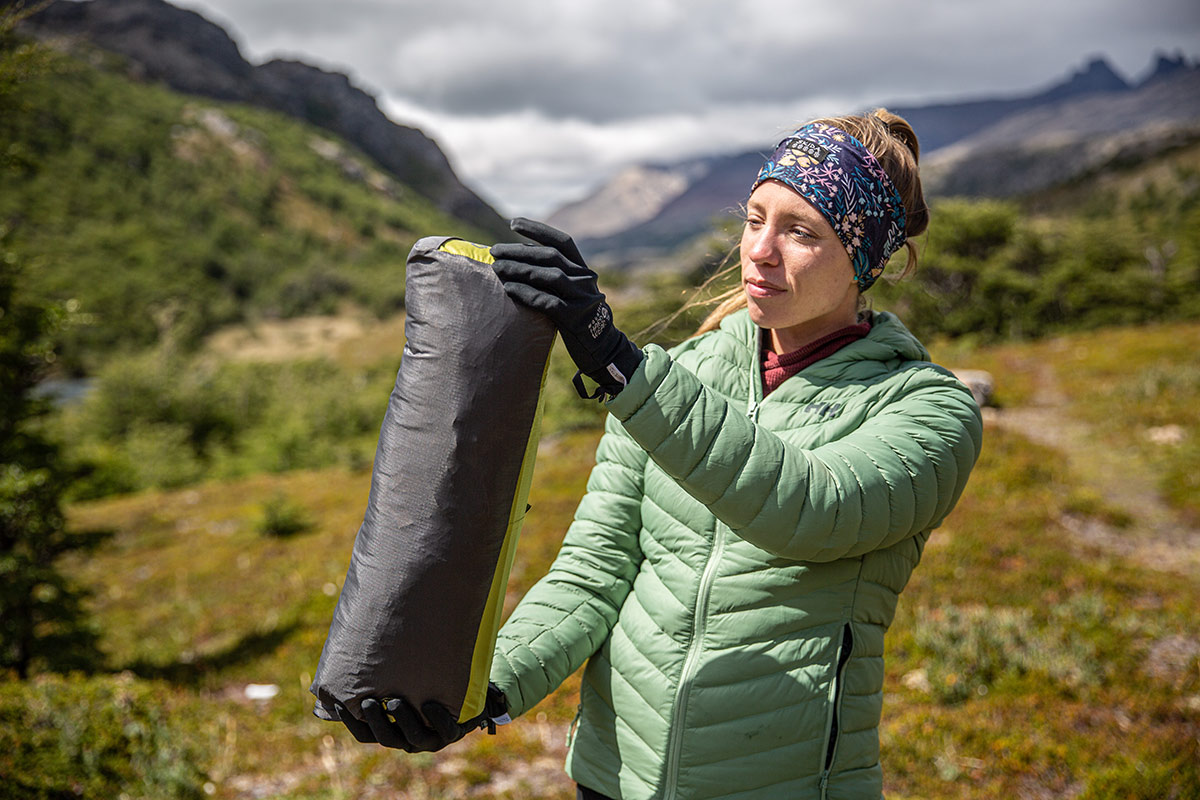 Livability and Interior Space
On paper, the Dragonfly OSMO 2P is decently spacious for its weight. The 29-square-foot interior is identical to Big Agnes' Copper Spur HV UL2—which is a good thing—and the 41-inch peak height offers a little more headroom than the Copper Spur (40 in.) and many other competitors. The pre-bent poles also do a nice job of pulling the walls up and away to maximize interior space, and the center ridge pole does the same with the ceiling. Finally, the two doors are generously sized and make it easy to get in and out, although the Gatekeeper tiebacks weren't all that helpful for securing them out of the way. I wish NEMO had positioned these a little higher up to prevent the weight of the doors from causing them to come undone.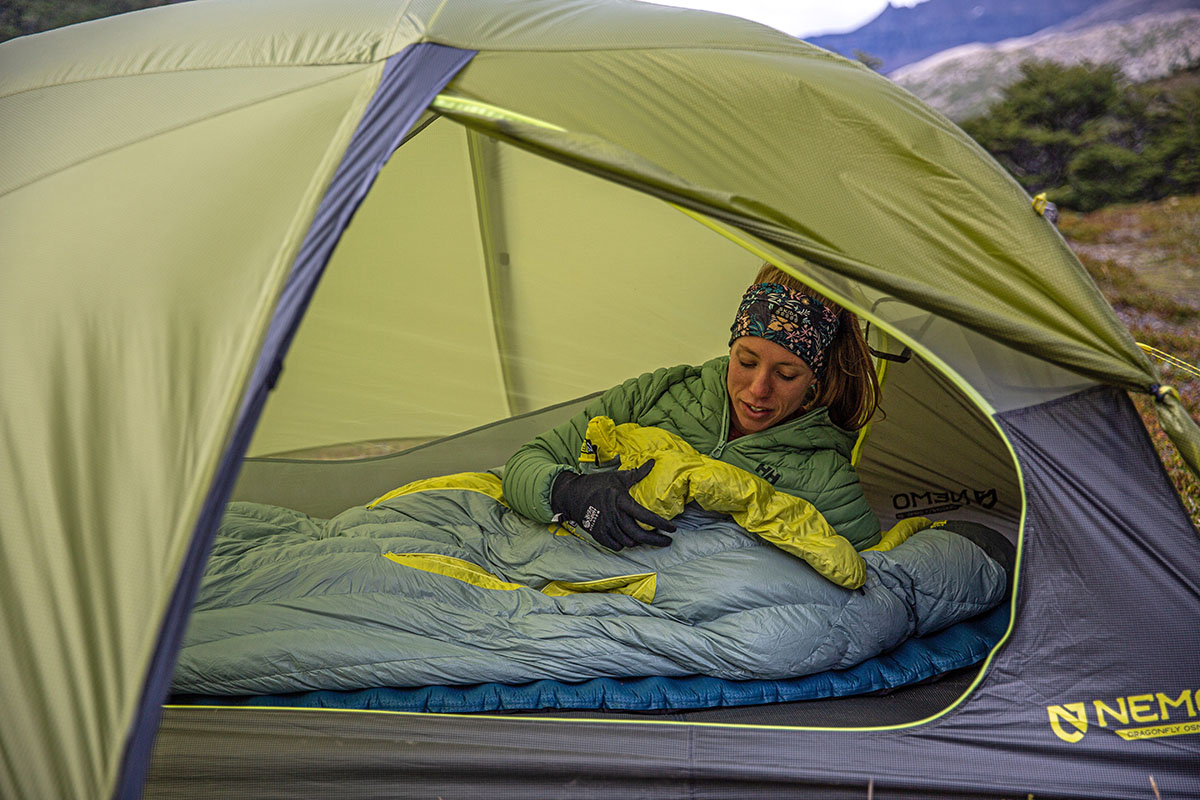 However, like many lightweight backpacking tents, the Dragonfly OSMO 2P will be a relatively tight squeeze for two. We each carried our own tent for testing in Patagonia, and I had plenty of space to sprawl out in the Dragonfly, which was especially helpful during a deluge when I took all my gear inside with me. That said, it would have been a lot more uncomfortable with a partner, even with packs and boots stored in the vestibules. The biggest impediment is the tapered floor plan: The head end is pretty average at 50 inches wide but tapers to 45 inches at the feet (note: These are the listed dimensions, and actual usable space is a little less). For reference, standard sleeping pads are 20 inches wide, meaning you'll be left with very little room at your feet when sleeping side-by-side. The roof also slopes aggressively toward the foot end and gives the Dragonfly a notably more cramped feel than the Copper Spur, Hubba Hubba, and others. Again, it was great for one, but even couples used to sharing close quarters will likely want to upgrade to the three-person Dragonfly ($580; 3 lbs. 15 oz.).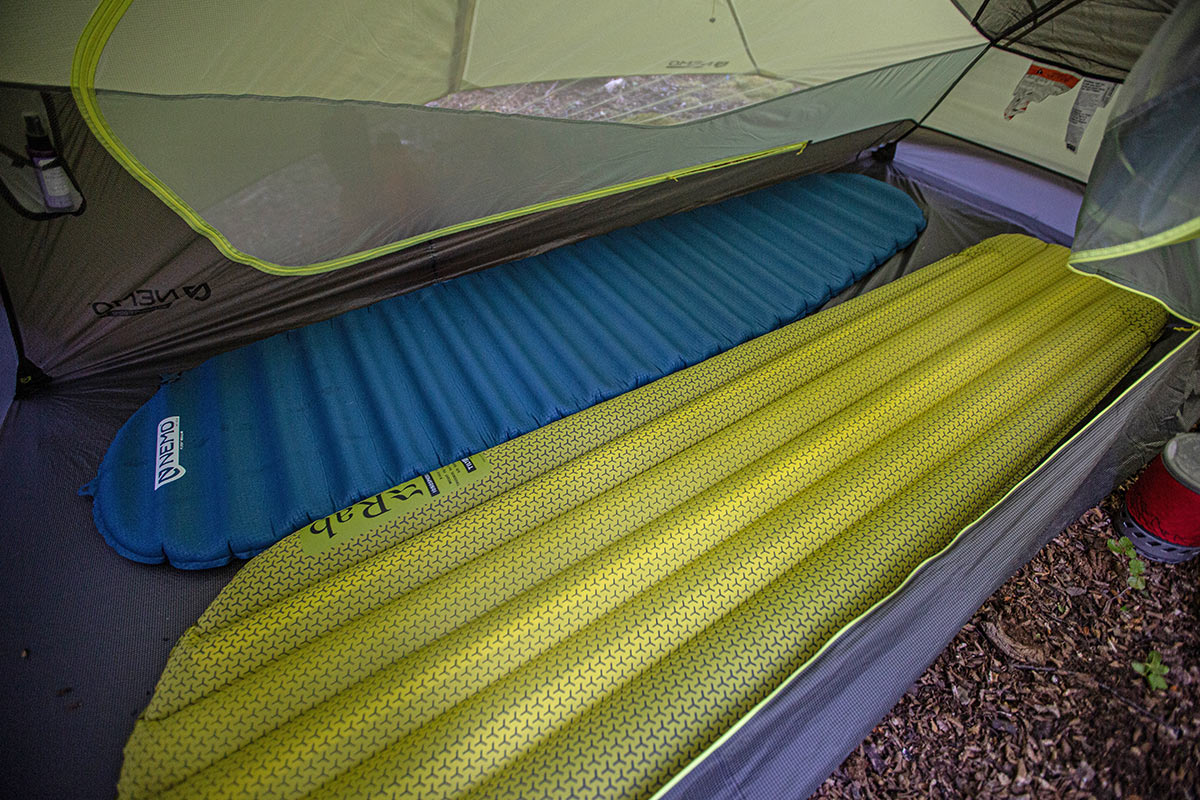 Durability
Overall durability is about what you'd expect for a 3-pound tent. For reference, "denier" (D) is used to denote fabric thickness, with a higher number indicating beefier materials. In this case, NEMO opted for a 10D body and 0D floor and fly. This was our first time seeing the latter designation, so we reached out to customer service to confirm. Thankfully, their response helped ease our skepticism: Because the new OSMO fabric combines two types of yarns—one polyester and the other nylon—it's difficult to assign an accurate rating. NEMO estimates that the floor is comparable in thickness to 20D, while the rainfly is closer to 15D. In other words, the Dragonfly is much more tear-resistant than the specs indicate and stacks up similarly to the Copper Spur (15 and 20D fabrics) and Hubba Hubba (mostly 20D). That said, as with all UL gear, you'll still want to be careful around sharp gear and avoid pitching the tent on rough surfaces without a footprint—NEMO sells one for $70, or you could go the DIY route.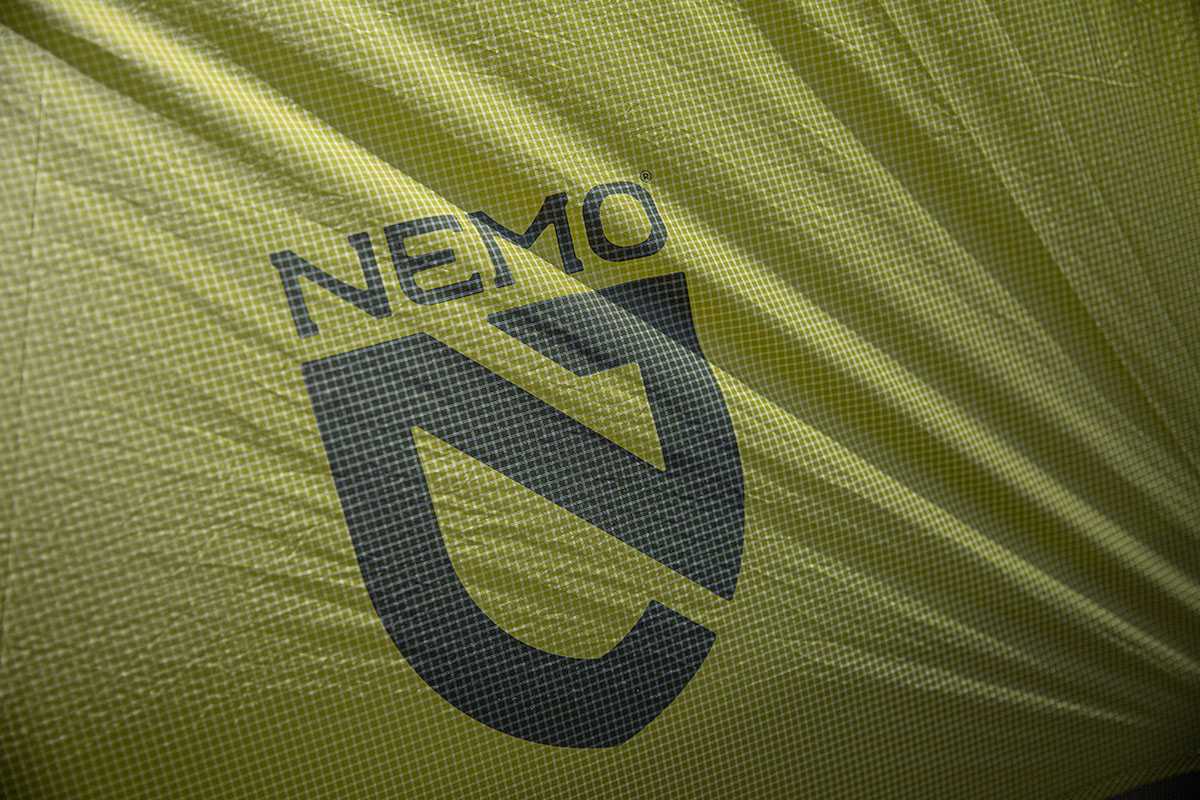 Weather Protection
The NEMO Dragonfly OSMO 2P was tasked with fending off remarkably strong winds and substantial rain in Patagonia and handled the tall order pretty well. The new OSMO fabric is designed to be naturally moisture-resistant and stretch less than traditional nylon when wet, and it seemed to accomplish both of those goals. It was a similar story with wind resistance—the poles worked as intended, flexing and bowing to combat strong gusts without snapping under pressure (although the tent did appear as if it were caving in when the wind caught it just right). The scalloped rainfly does leave some of the tent body exposed, which can lead to debris and moisture getting inside in blustery conditions, but I haven't had any issues to date. You can also roll the rainfly back for stargazing on clear nights, although the Gatekeeper tiebacks allow the fabric to unroll if you're not precise with your rolling technique (small folds seem to work best).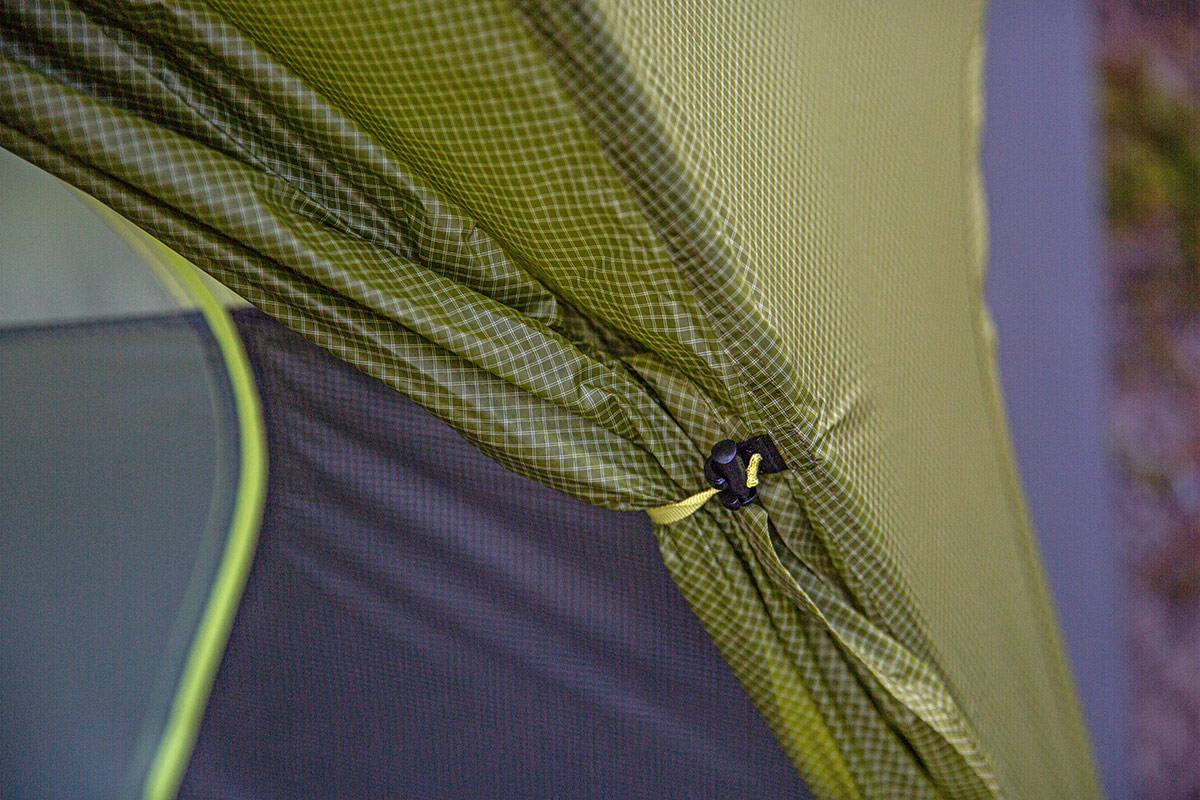 It's worth noting that my Dragonfly tent did suffer damage on our final overnight to the base of the Torre Glacier—including two snapped poles and a tear in the fly—but conditions were much fiercer than expected and far too extreme for any three-season tent. If you frequently camp above treeline or anticipate getting out in gale-force gusts or driving rain, we recommend upgrading to a more robust four-season tent. But the Dragonfly will certainly meet the needs of most three-season backpackers, and the issues I had were purely the result of user error (I should have chosen a more protected campsite) and a little bad luck with weather.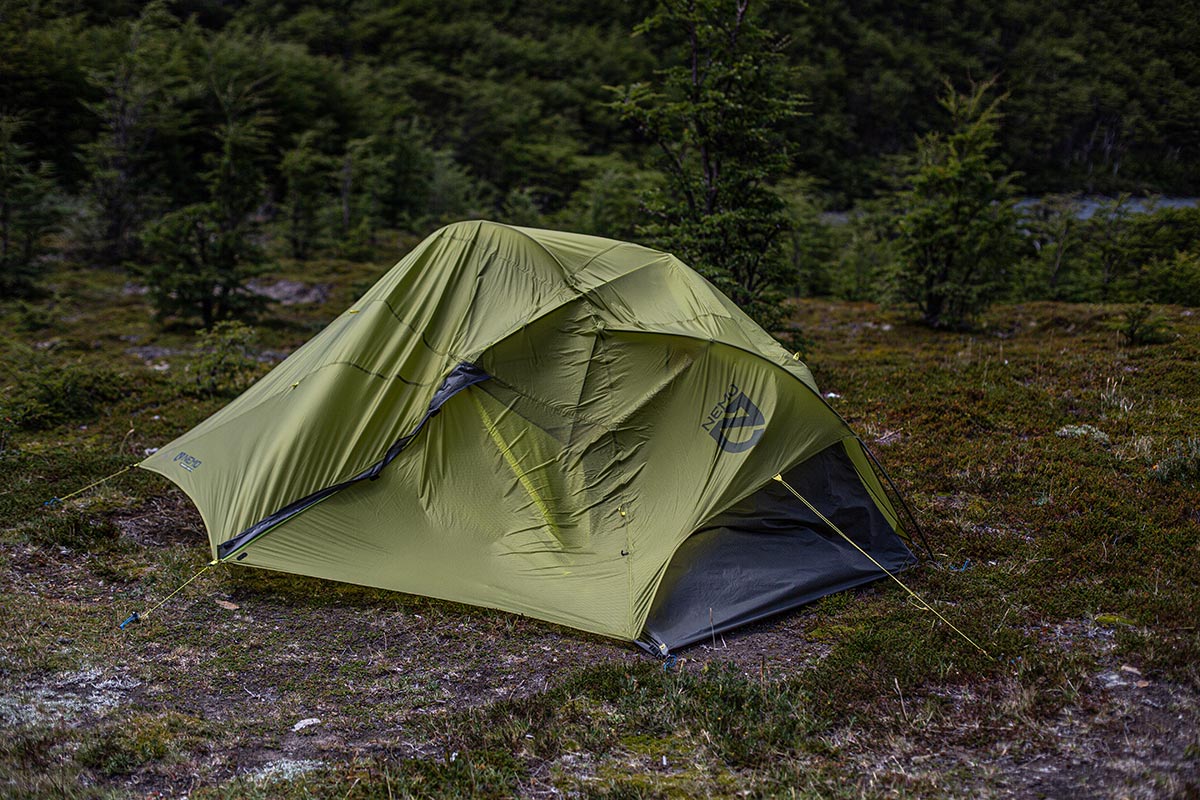 Ventilation
Like NEMO's roomier Dagger, the Dragonfly's double-wall build and mesh-heavy body translate to good all-around ventilation, even on warm summer nights. The scalloped rainfly seems to help here, allowing air to flow underneath and through the tent (although this is a downside for protection in blowing wind or rain). That said, also like the Dagger, the Dragonfly's rainfly ventilation system isn't our favorite. Rather than positioning the vents at the roof or sides like most backpacking tents, the Dragonfly's are situated at the very top of the zippered portion of each vestibule door. This makes it easy to open or close them from inside the tent but prevents you from being able to use the upper few inches of the door. The system does provide a modest boost in airflow and remains protected during inclement weather, but I wish NEMO had opted for larger vents at the sides or top (like what you get with MSR's Hubba Hubba 2).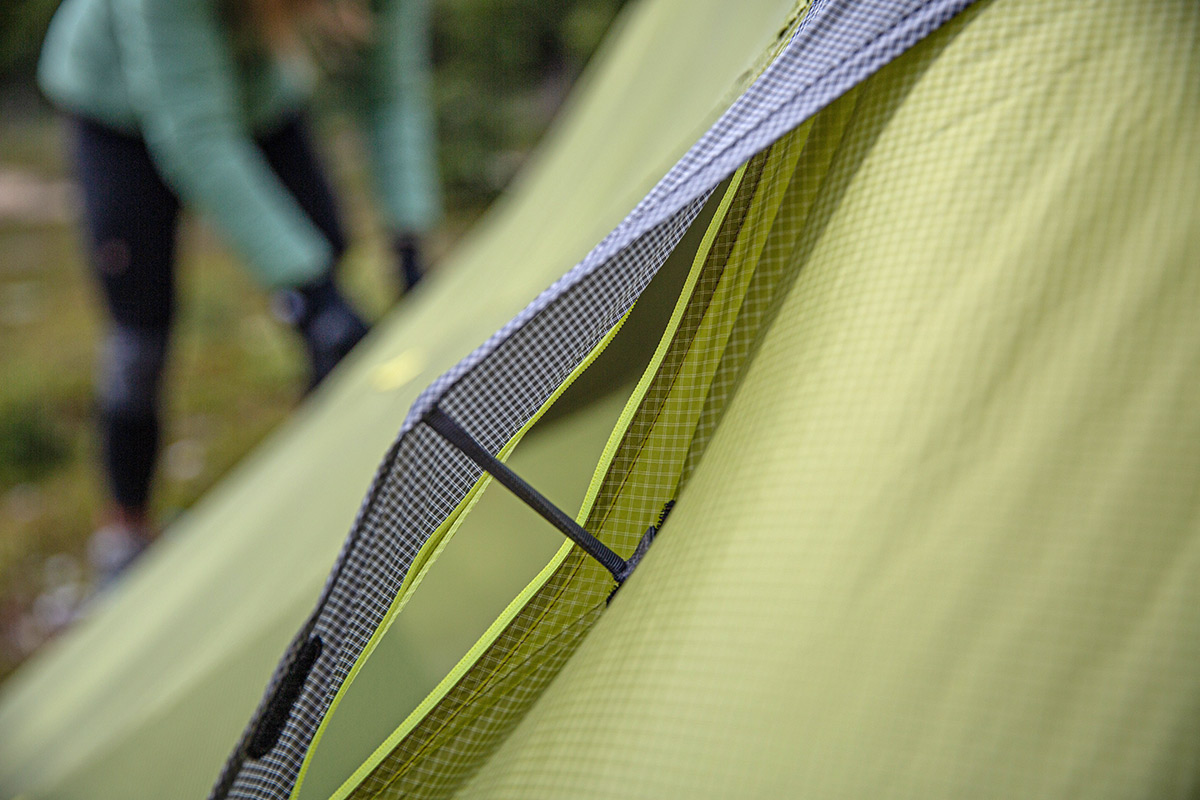 Storage
As with NEMO's Dagger and Hornet tents, the Dragonfly OSMO boasts two doors and two vestibules. This is far more convenient than a single door and vestibule for two backpackers—no need to crawl over your tentmate in the middle of the night to go to the bathroom. However, the Dragonfly's vestibules have an asymmetrical design that means that the foot end is notably wider than the space next to your head. In use, I was able to lay my backpacking pack on one side without it leaning up against the rainfly or tent body and use the other vestibule for my hiking boots and kitchen supplies (a necessity as we experienced some stormy nights), but it would have been a tight squeeze with a partner and all of their gear.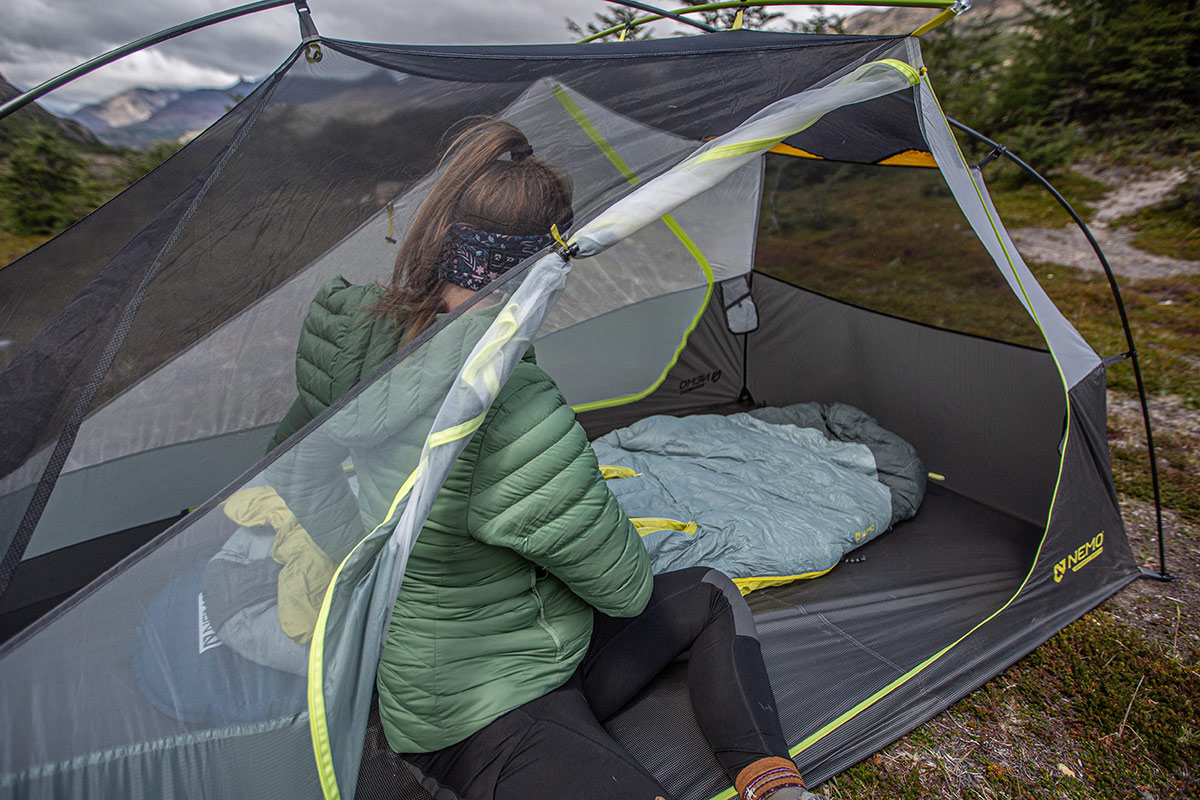 The good news is that interior storage is pretty generous for such a lightweight tent, and I had no trouble finding room to stash all of the essentials. Starting at the head end, you get a small rectangular pocket at each side for storing items like a map, phone, and wallet. Above, there's a narrow "Nightlight" pocket at each corner—these are designed to disperse your headlamp's beam and provide diffused lighting throughout the tent, and I also found them useful for stowing smaller items like lip balm and my Garmin inReach Mini. Finally, NEMO included a massive mesh gear loft at the tent's apex, which was the perfect place to stuff soft items like my beanie, gloves, and even a lightweight down jacket, although you'll want to avoid overloading this area to prevent items falling on top of you in the middle of the night.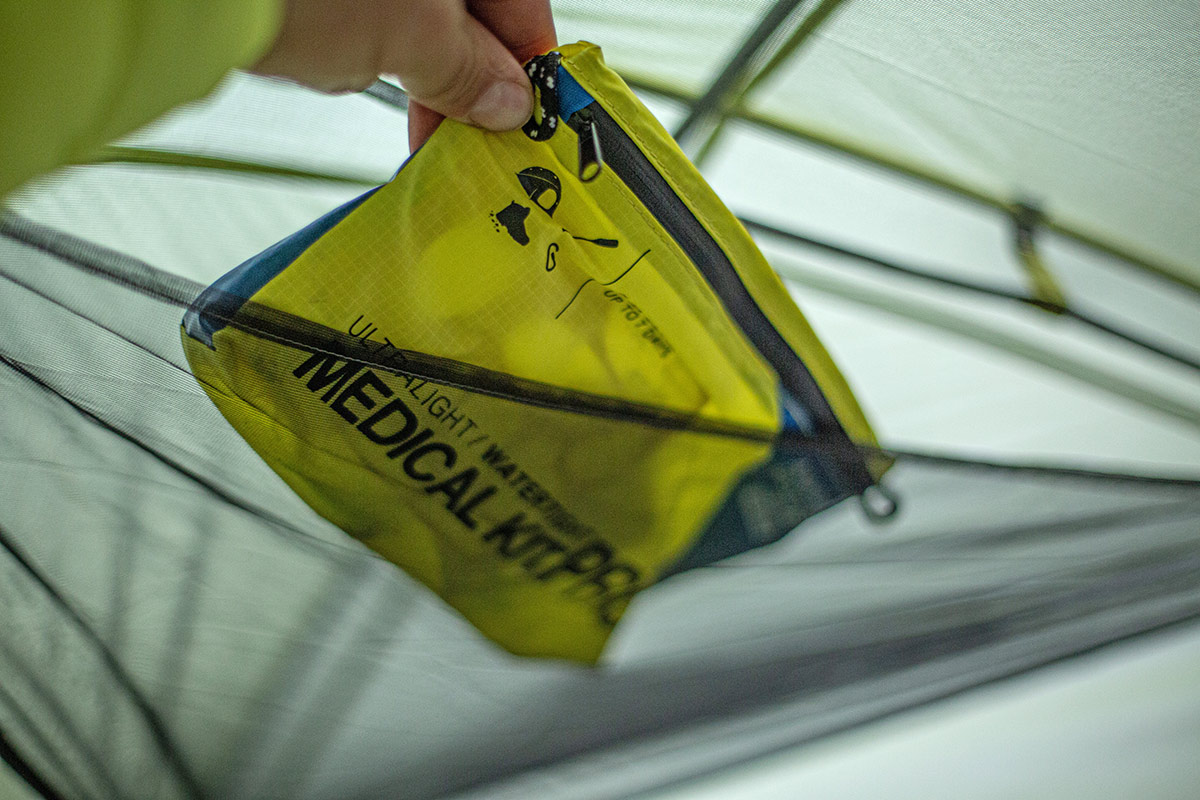 Set up and Take Down
The NEMO Dragonfly OSMO 2P's freestanding design and color-coded components make it a breeze to set up. Coming from the Dagger, there was essentially no learning curve: Simply stake out the corners, attach the hubbed poles to create the structure (they're color-coded and should match the webbing of the same color), and connect the rainfly. NEMO includes plenty of guylines to get a taut and even pitch, along with eight high-quality stakes (bonus: Their blue webbing helps with visibility at night and when packing up camp). All in all, it's a quick and easy process for one person, and take-down is similarly simple—it's just a matter of reversing the process.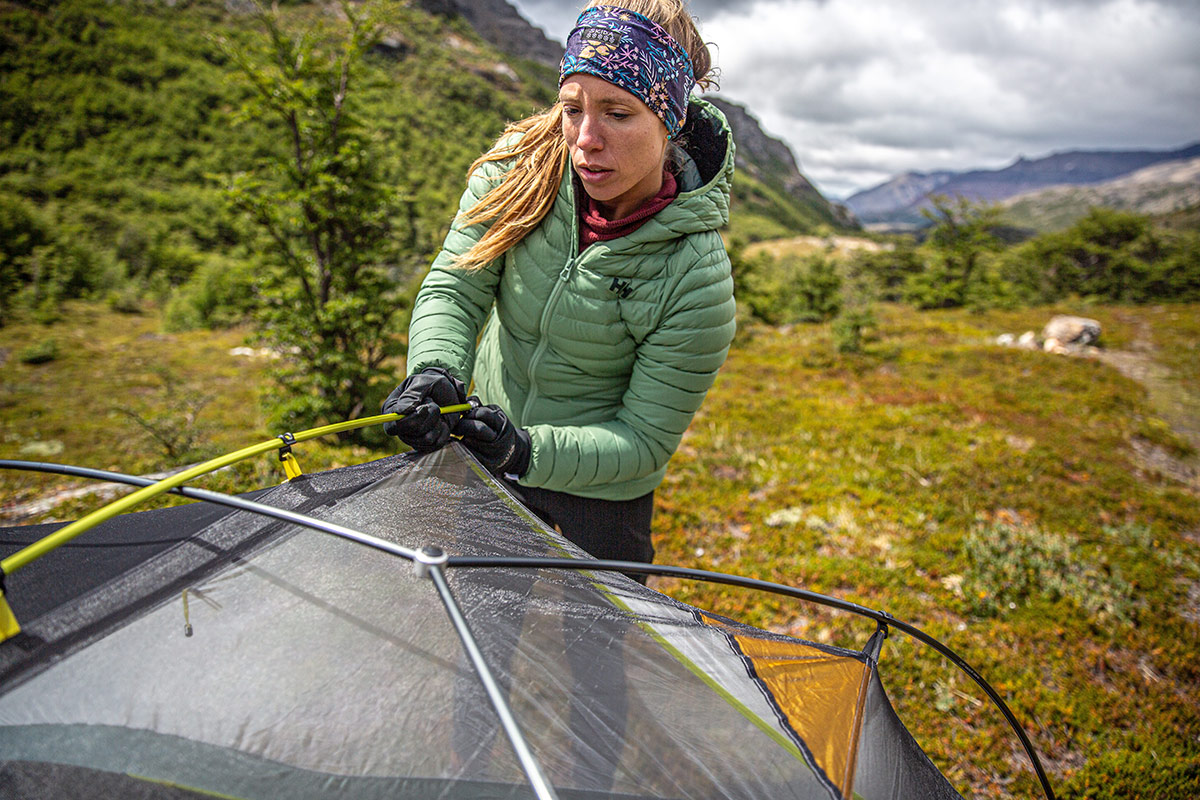 Sustainability
NEMO's latest OSMO iteration of the Dragonfly is a nice upgrade from the past-generation model on the sustainability front. Specifically, the namesake OSMO fabric is woven from 100% recycled yarns and is PFAS-free, which means it forgoes the use of perfluorocarbons and other harmful waterproofing chemicals. The floor and fly materials are also bluesign-approved, indicating they've been deemed safe for workers, consumers, and the environment and meet strict ecological and chemical standards. Finally, the Dragonfly OSMO is covered by NEMO's lifetime warranty against defects in workmanship and materials, which is a nice dose of added assurance should you encounter an issue (we try to repair gear whenever possible before buying new).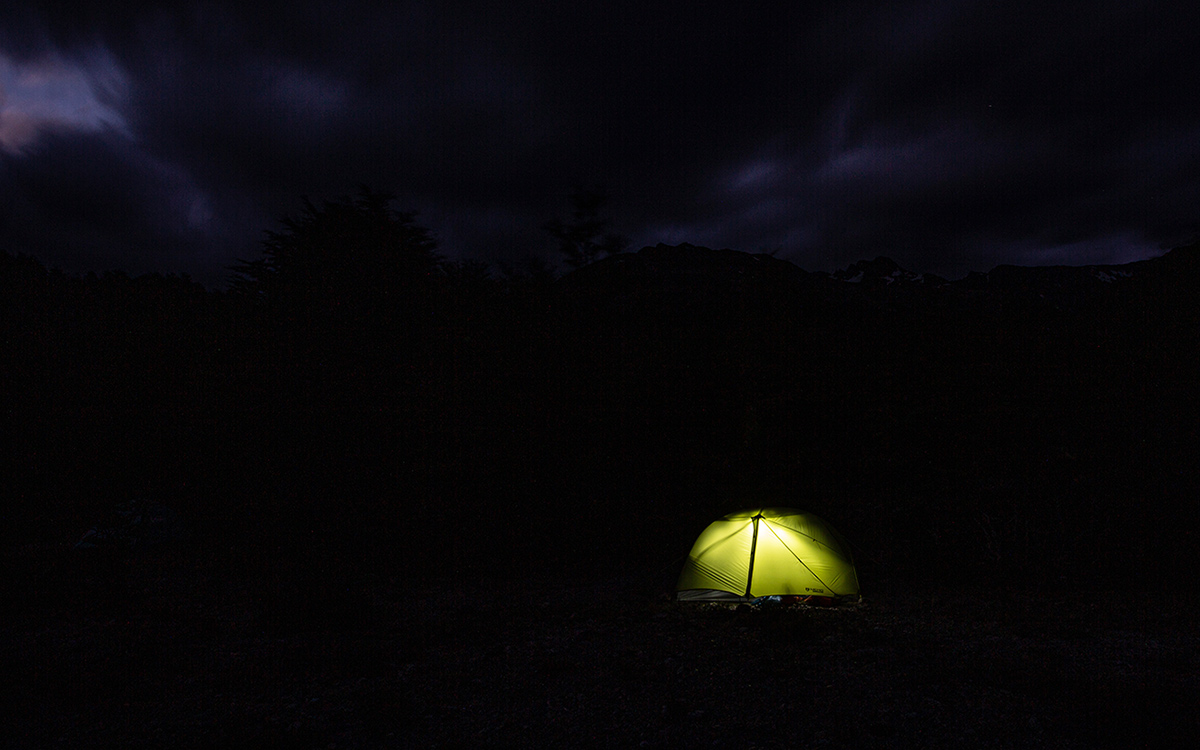 Other Versions of the NEMO Dragonfly OSMO
I brought the two-person version of the Dragonfly OSMO tent to Patagonia for testing, and it's also sold in one- and three-person variations. As I mentioned above, the Dragonfly OSMO 3P strikes me as the better (read: far more comfortable) option for groups of two, while the 2P is best suited for one. The Dragonfly OSMO 1P has limited appeal compared to the other two capacities but will save you $70 and 8 ounces in weight over the two-person version. Minimalist solo backpackers may be able to make 20.3-square-foot floor area and single entryway work, but we personally prefer more space for accommodating gear and other belongings. Finally, NEMO offers a bikepacking-specific variation of the Dragonfly OSMO (available in 1P and 2P capacities) that's largely similar to the standard tent but with specialized features like tiedown straps on the stuff sack, subdued colors and non-reflective materials for stealth camping, and NEMO's Landing Zone fabric "tub" for keeping gear dry in the vestibule.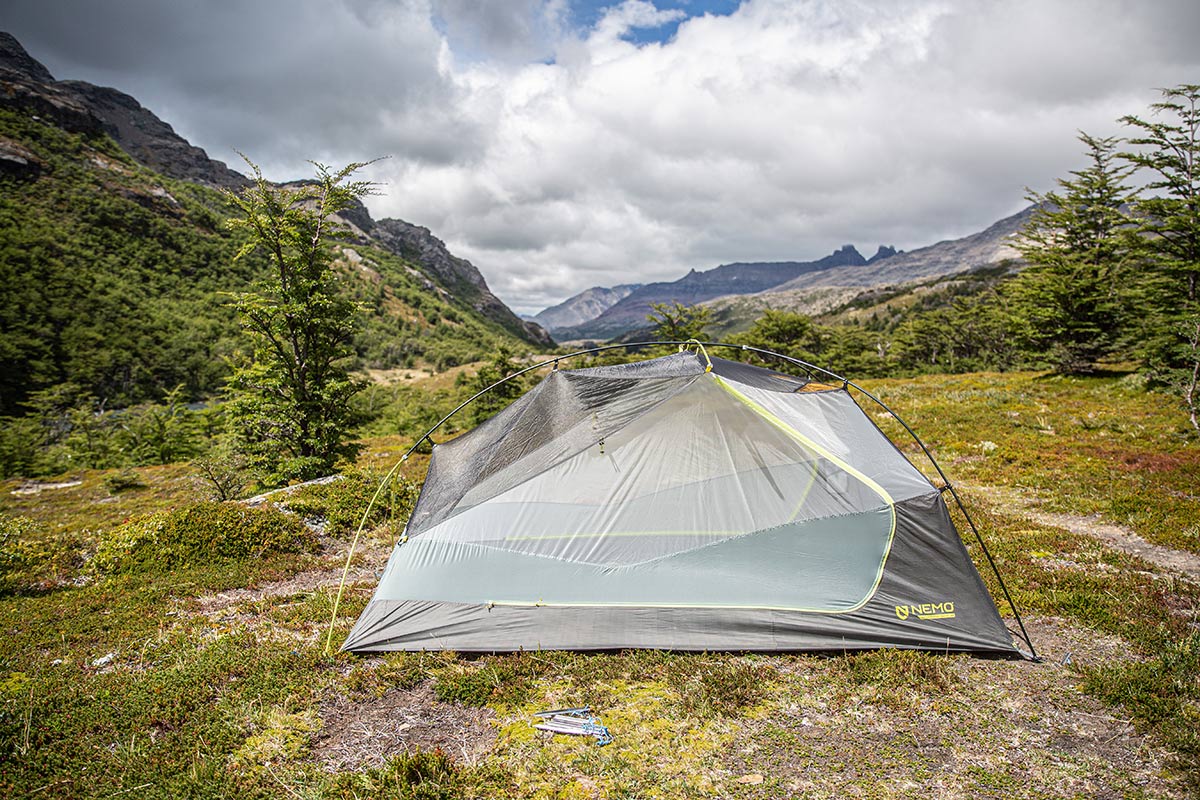 What We Like
Competitive dimensions for the weight, including a taller peak height than many UL competitors.
Thoughtful interior storage layout—including a massive overhead gear loft—makes it easy to divvy up the essentials.
Quick and easy to set up thanks to the freestanding build and NEMO's color-coded components.
Strong sustainability focus with recycled, bluesign-approved, and PFAS-free materials (plus NEMO's generous lifetime warranty against defects).

What We Don't
Tapered floor plan and sloping roof limit the amount of livable space—we consider the 2P model best suited for one camper but a tight squeeze for two.
Vents are smaller than we prefer and awkwardly positioned on the vestibule doors, which makes it harder to get in and out of the tent.
Scalloped rainfly can allow debris and moisture to enter the tent in blustery conditions.
Asymmetrical vestibule design isn't ideal for stashing gear for two.
Gatekeeper tiebacks aren't all that effective at keeping the doors and fly out of the way.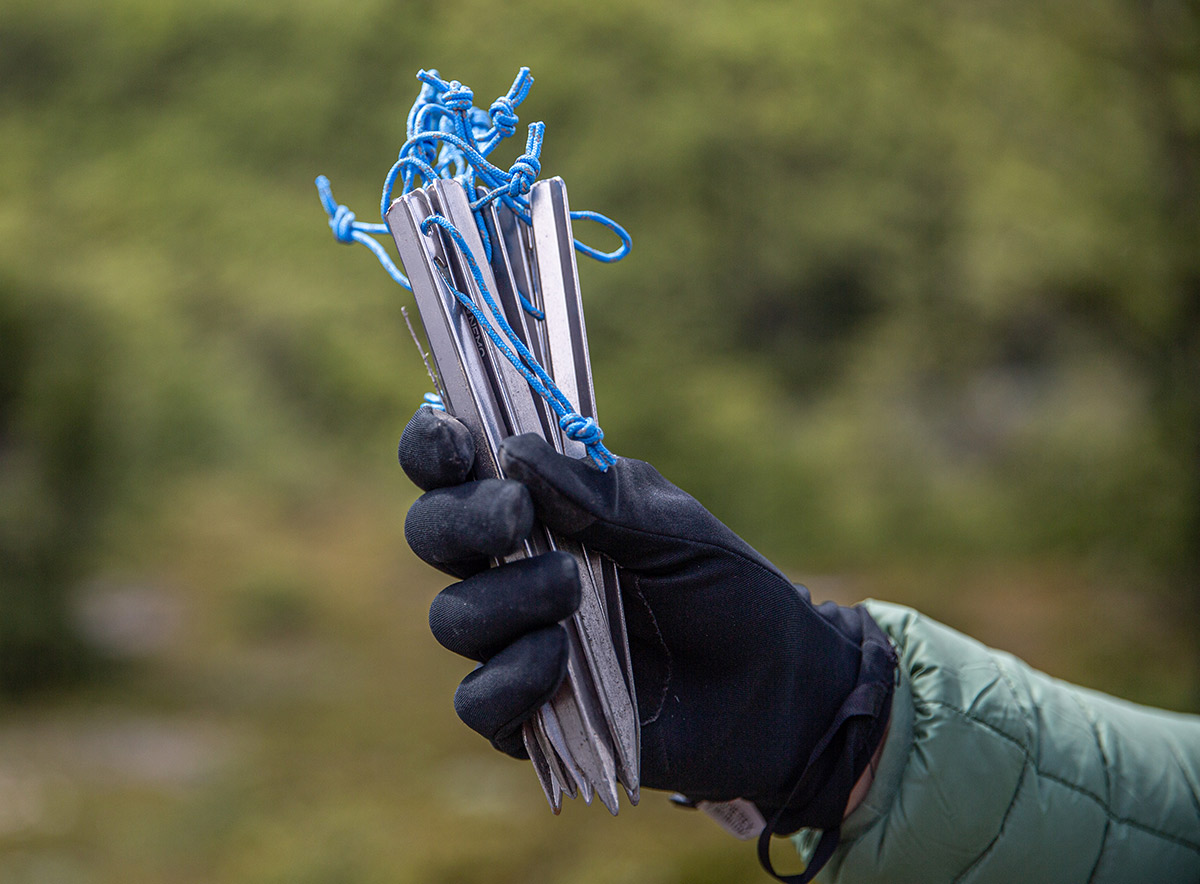 Comparison Table
| Tent | Price | Weight | Floor | Area | Height | Door(s) | Capacities |
| --- | --- | --- | --- | --- | --- | --- | --- |
| NEMO Dragonfly OSMO 2P | $500 | 3 lb. 2 oz. | 0D OSMO | 29 sq. ft. | 41 in. | 2 | 1P, 2P, 3P |
| NEMO Hornet Elite OSMO 2P | $650 | 2 lb. 1 oz. | 0D OSMO | 27.3 sq. ft. | 37 in. | 2 | 1P, 2P |
| NEMO Dagger OSMO 2P | $530 | 4 lb. 2 oz. | 0D OSMO | 31.3 sq. ft. | 42 in. | 2 | 2P, 3P |
| Big Agnes Copper Spur HV UL2 | $550 | 3 lb. 2 oz. | 15x20D | 29 sq. ft. | 40 in. | 2 | 1P, 2P, 3P, 4P, 5P |
| MSR Hubba Hubba 2 | $550 | 3 lb. 4 oz. | 20D | 29 sq. ft. | 40 in. | 2 | 1P, 2P, 3P |

The Competition
The Dragonfly OSMO 2P splits the difference between NEMO's Hornet and Dagger in their backpacking tent lineup, striking a nice balance between weight and livability. That said, it's not a standout in either area, and ounce-counting backpackers will likely prefer the Hornet Elite OSMO 2P. At 2 pounds 1 ounce all in, the Hornet Elite saves you just over a pound compared to the Dragonfly and packs down much smaller for cramming in a full pack. That said, it's a notable downgrade in overall livability, including a 4-inch-shorter peak height, 85-inch length (compared to 88 in. for the Dragonfly), and 42 inches of space at the feet (versus 45 for the Dragonfly). You still get two doors and vestibules, but the Hornet's semi-freestanding build is tougher to pitch, and you pay a pretty steep premium at $650 for the two-person version. In the end, it's a viable alternative for thru-hikers and ULers, but the Dragonfly is the more livable option for recreational backpackers and those who care more about comfort than weight.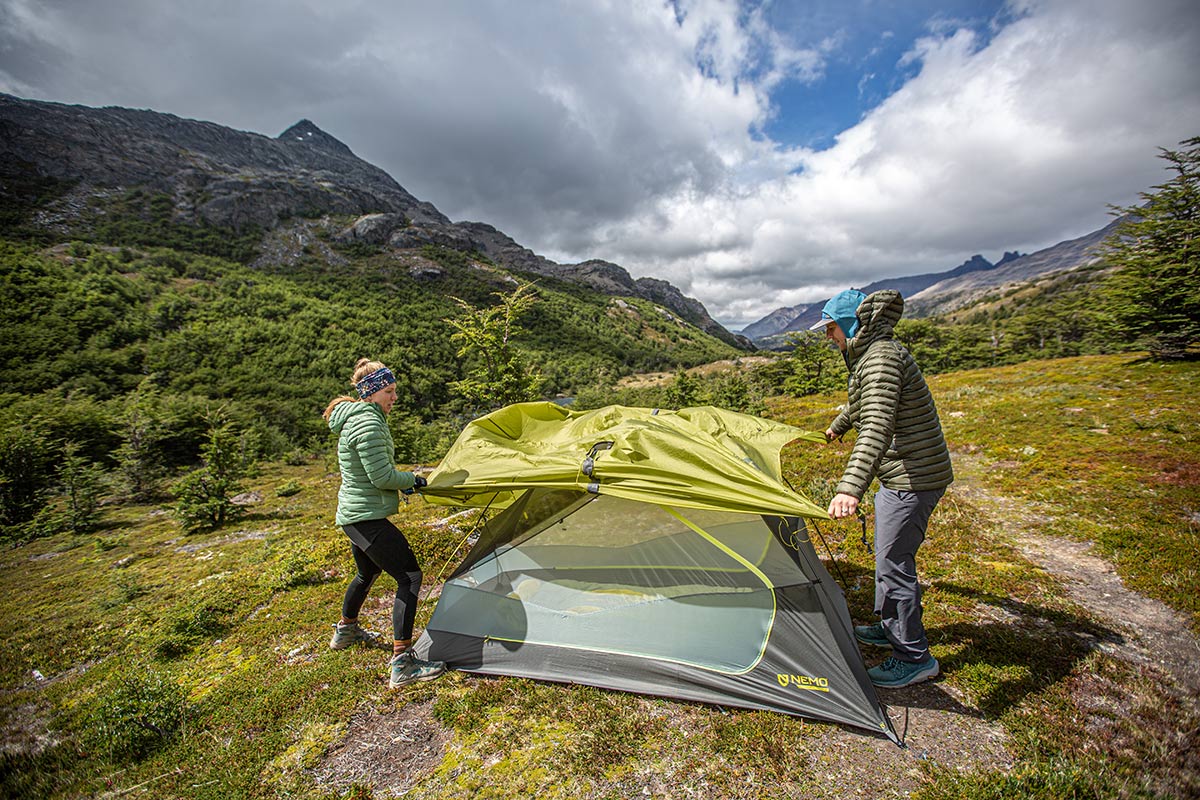 Next up is NEMO's Dagger OSMO 2P, which I tested last year in the same region of southern Patagonia. At 4 pounds 2 ounces for the two-person version, the Dagger is a full pound heavier than the Dragonfly 2P but comes with several advantages for comfort seekers. These include a more generous 90 x 50-inch footprint that doesn't taper at the foot end, two large vestibules (11.4 sq. ft. each), and an inch of additional headroom. The Dagger's symmetrical pole layout also gives it the slight edge in wind resistance, although neither tent is a standout in wet-weather protection or ventilation. But in the end, the Dagger's roomier interior and more reliable pole structure will be worth the $30 price jump for most.
Moving away from NEMO's lineup, Big Agnes' Copper Spur HV UL2 has been our top-rated backpacking tent for multiple years running. Despite checking in at an identical weight to the Dragonfly, the Copper Spur is the more livable design: In contrast to the NEMO's sloping roof, the Big Agnes' pole structure creates steep walls throughout that make it a viable choice for two backpackers. The Dragonfly is 3 inches wider at the foot end and includes an additional inch of headroom, but the Copper Spur is 2 inches wider at the head and includes a full-coverage rainfly for better wet-weather assurance. For $50 more than the Dragonfly, the Copper Spur balances its priorities much better (for more, see our in-depth Copper Spur review here).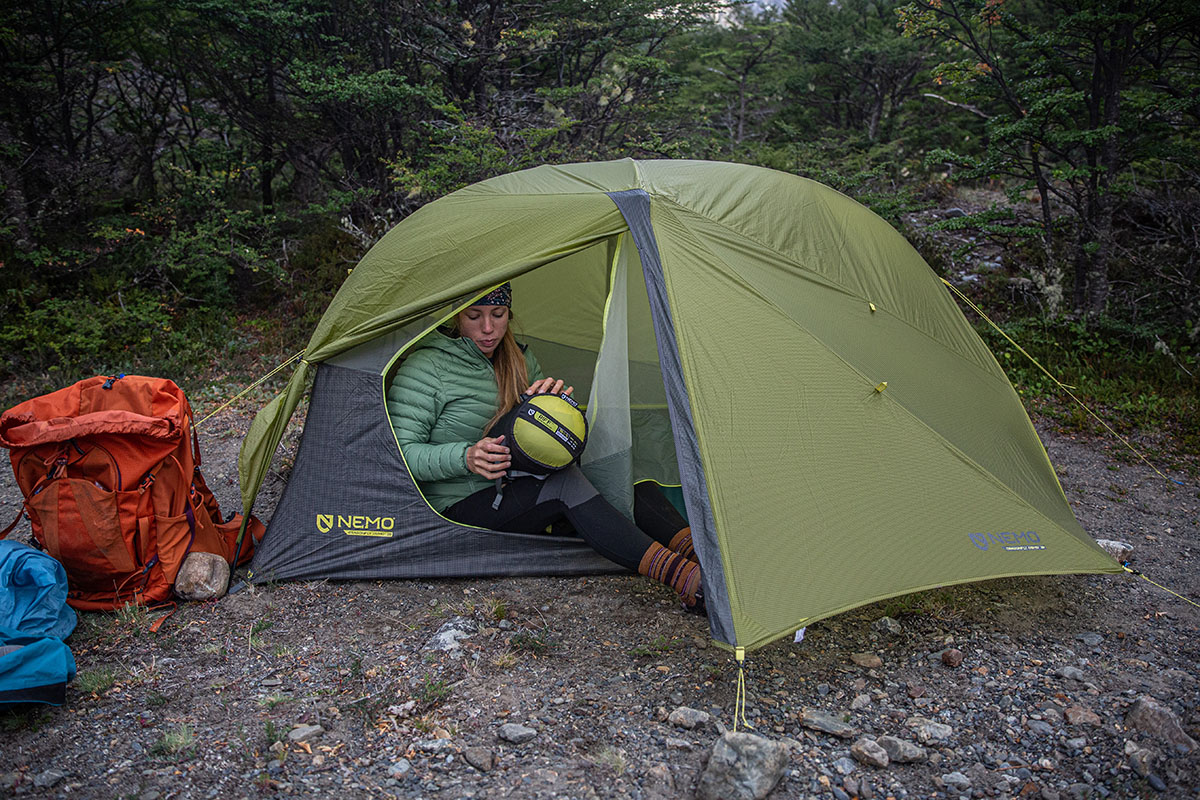 A final competitor to have on your radar is MSR's Hubba Hubba 2, which we tested alongside the Dagger last year. Stacked up against the Dragonfly, the Hubba Hubba boasts an identical 29 square feet of floor space but in a symmetrical layout (the footprint is 84 x 50 in.), which translates to a much roomier-feeling interior for two backpackers. Additionally, the Hubba Hubba's composite pole structure, full-coverage rainfly, and quality waterproof coating make it one of the most weather-ready tents in this weight class—all for just 2 ounces more than the Dragonfly. The MSR does sacrifice an inch of headroom and will run you an additional $50, but we consider it less compromised than the Dragonfly.
If you're thinking about buying gear that we've reviewed on Switchback Travel, you can help support us in the process. Just click on any of the seller links above, and if you make a purchase, we receive a small percentage of the transaction. The cost of the product is the same to you but this helps us continue to test and write about outdoor gear. Thanks and we appreciate your support!
Depending on the seller, most products ship free in the United States on orders of $50 or more. International shipping availability and rates vary by seller. The pricing information on this page is updated hourly but we are not responsible for inaccuracies.
Learn More About Backpacking Gear