Oakley Fall Line M
Price: $186-$226
Frame size: Medium
Number of lenses: 1
What we like: Premium optics and comfort with a bold look.
What we don't: Not a class leader in field of view; many competitors include two lenses.
See the Oakley Fall Line M
The original Fall Line failed to resonate with a bulky shape and relatively high price tag, but the latest version saw a significant revamp. Offered in medium and large frame sizes, we brought the former to Crested Butte, Colo., for some late-season testing and found it to be a notable improvement in field of view and all-around comfort with its trimmed-down build. It's still expensive for only including a single lens, but it's nevertheless a stylish and high-quality option. Below we break down our full experience with the Fall Line M. To see how it stacks up to the competition, see our article on the best ski goggles.
Editor's note: The Fall Line M was previously called the Fall Line XM, and the large-framed Fall Line L was the XL. The designs are one and the same, but we've updated this review to reflect Oakley's updated terminology.
 
---
Table of Contents
---

Performance
Field of Vision
Given Oakley's strong track record of producing quality goggles, the original Fall Line was a surprising disappointment in terms of field of vision. With the latest Fall Line M model, however, they made substantial improvements by trimming down the thickness of the frame and padding. Peripheral vision in particular jumped considerably, eliminating the tunnel-like effect that plagued the original.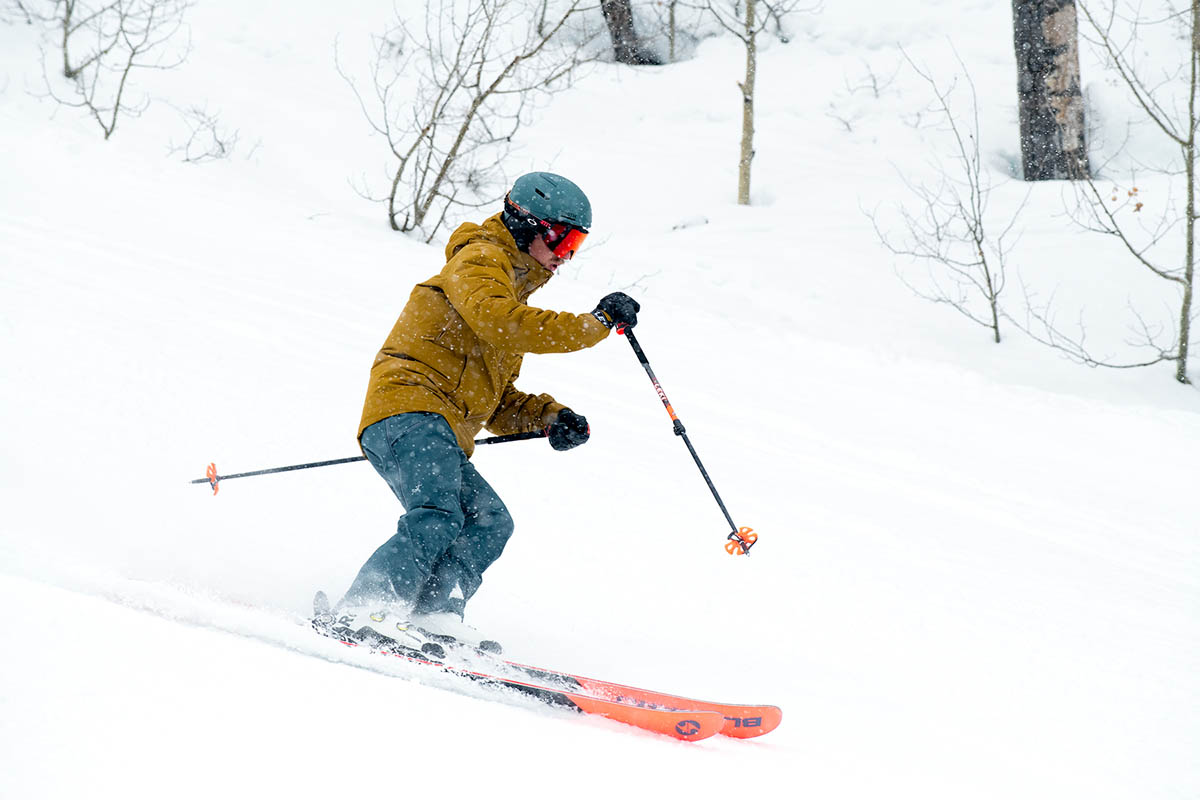 That said, the Fall Line still doesn't sit as close to your face as competitors like Smith's I/O Mag and Skyline, and it can't match either of those in overall visibility. Unlike the Smith designs—and especially the I/O Mag—the sides of the frame are visible, and more of your vision is blocked in the bottom corners. In swapping between the various models, the difference is noticeable, and those who put a premium on field of view will be happier with the Smith options (or Oakley's own Flight Deck M). But the moderately thick build and cylindrical lens shape certainly play a role in the Fall Line's bold styling, and we think many riders will find it to be a fair compromise.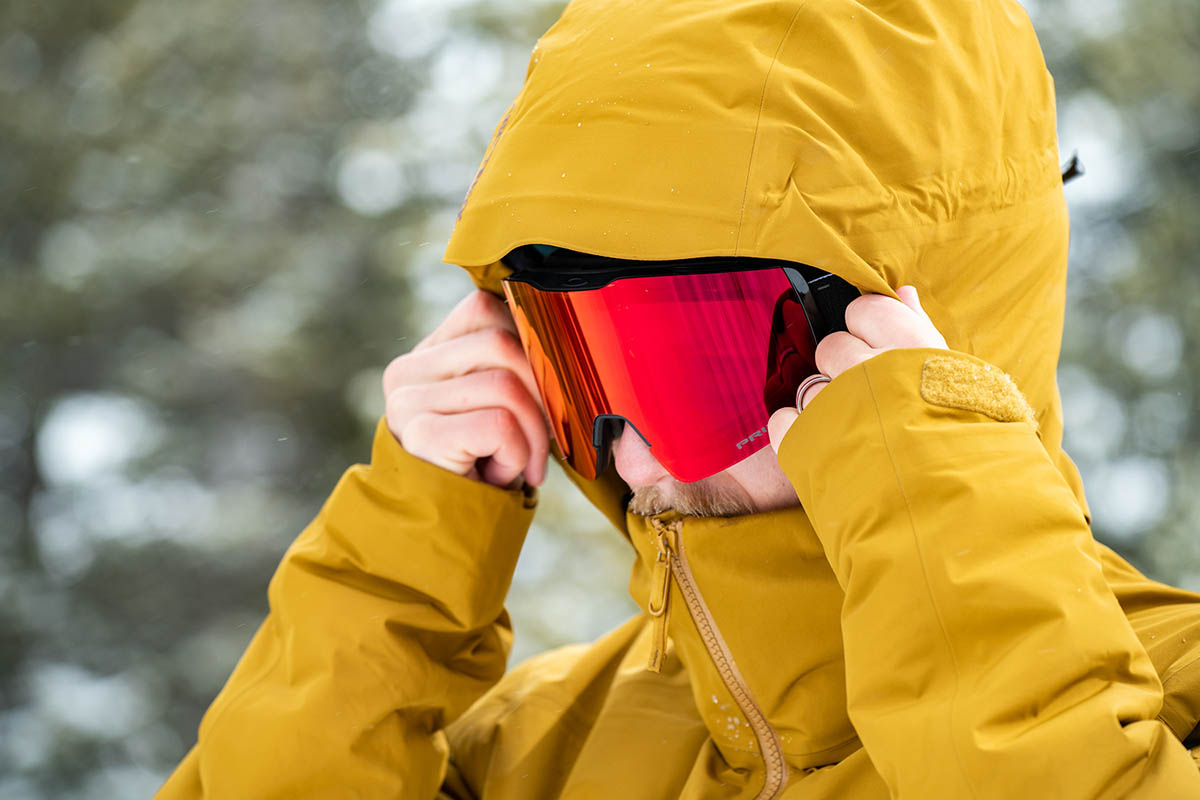 Clarity and Optical Quality
Slipping in at $186-$226 depending on lens choice, the Oakley Fall Line M includes one of the brand's premium Prizm lenses. This is a trade-off in opting for a mid-range model, as stepping up to a pricier option like the Smith I/O Mag ($270-$300) gets you a second lens for more versatility in a range of weather. We wound up with their Prizm Snow Torch Iridium lens, which proved to be a nice match for the moderately bright conditions in Crested Butte. The lens blocks a fair amount of glare and sun with 17% VLT (visible light transmission), and as such, does run pretty dark on heavily clouded days or when dipping into the trees. For my local hill in Washington state and areas that have a good number of socked-in or darker days, I'd opt for a lens with a higher VLT like the Snow Rose (26% VLT).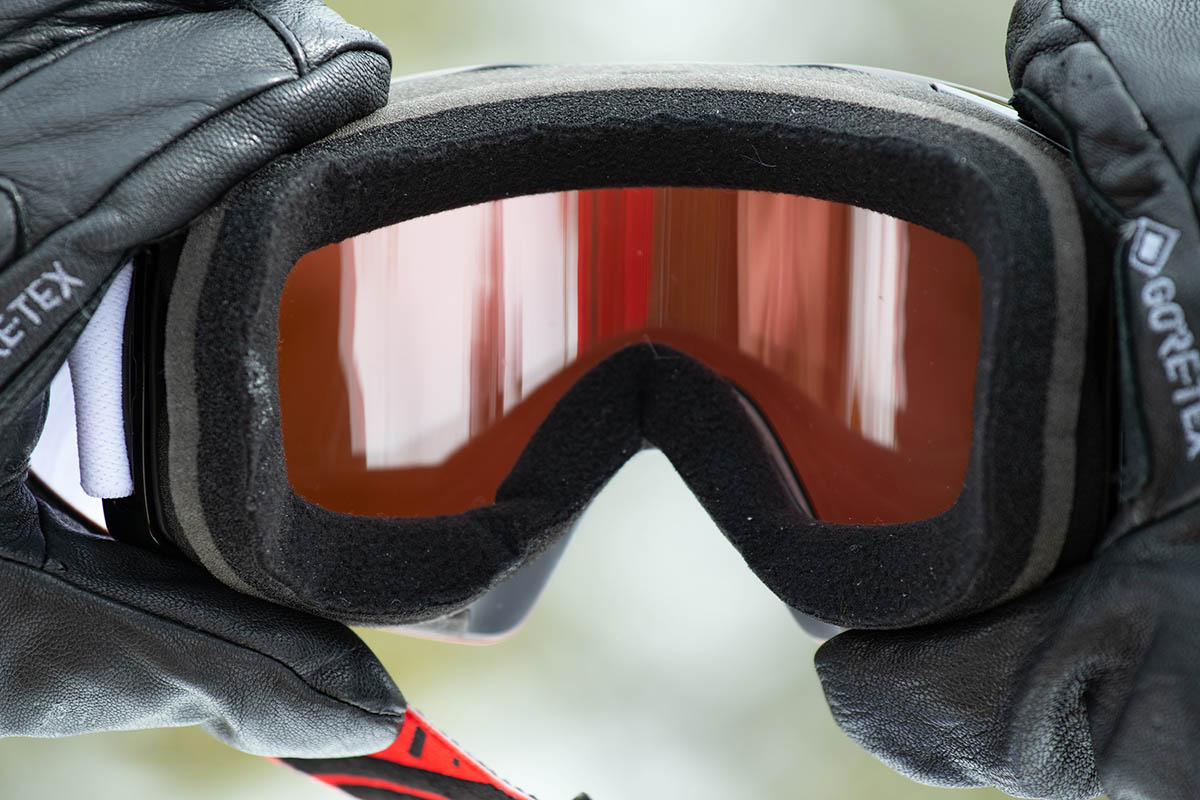 Purely from an optical perspective, the Snow Torch Iridium lens impressed. The coloring isn't as natural as some of Smith's ChromaPop designs—it's a bit too artificially pink for our tastes—but the optics are clean and very crisp with no noticeable distortion. And on the bright side, the pink color seemed to do a nice job enhancing contrast and pulling out small bumps in the snow.

Lens-Change System
Since the Fall Line only includes a single lens, it seems Oakley prioritized lens security over a quick change. For those who purchase a second lens (Oakley does sell them individually for an additional $55-$105), using the Ridgelock system is slow and pretty tedious: You need to pull the lens away from the frame at the top, which requires a fair amount of effort and is difficult to manage without leaving smudges (a compromise of the frameless look). And lining everything up for reinstallation is not something you want to be doing on the mountain or chairlift.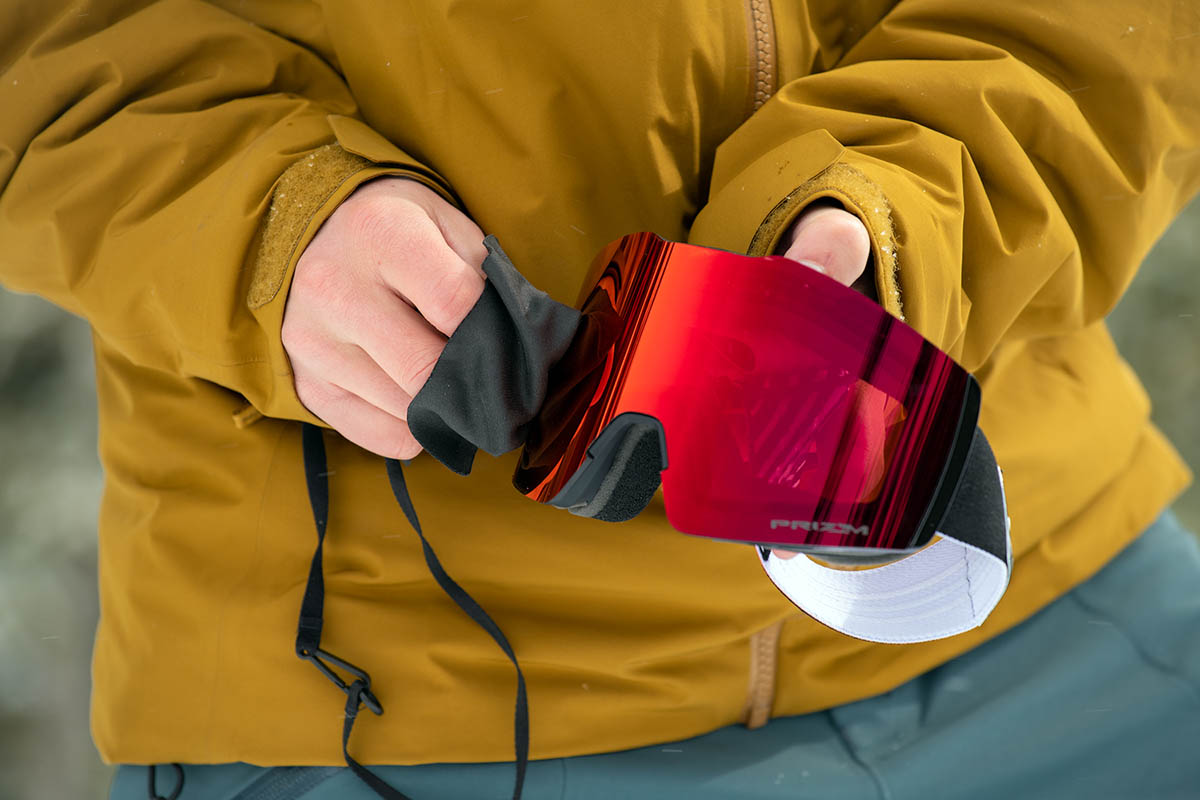 The upside to the Fall Line's design is that the lens is truly locked into place with zero gaps between the lens and frame (something we've experienced with some quick-change systems like Dragon's Swiftlock). But for those who like to swap between tints frequently as conditions shift, you'll likely be happier with a quick-change design from Smith (their Mag) or Anon. Again, the Fall Line's system is perfectly workable and offers a good dose of security, but it's far from a class leader in speed or efficiency.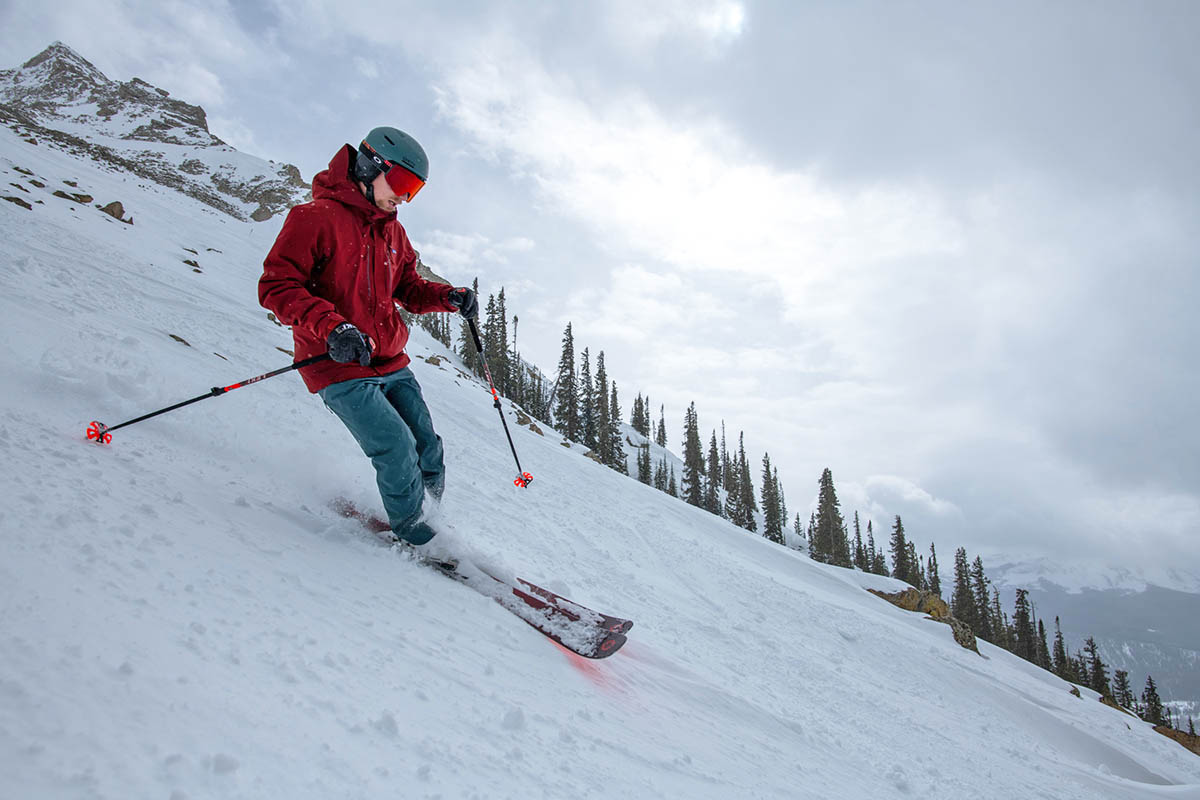 Ventilation and Fog Resistance
The temperatures in Colorado were consistently warm during testing (in the 20s and 30s Fahrenheit), but I didn't deal with any fogging issues while wearing the Fall Line. All in all, the venting that surrounds the top, sides, and even a good portion of the bottom of the lens does a good job moving air, and you get the expected high-end touches on the Prizm lens with a long-lasting anti-fog coating. I haven't had a chance to take the Fall Line on an extended sidecountry hike yet, but all signs are positive that it will get the job done without any issues.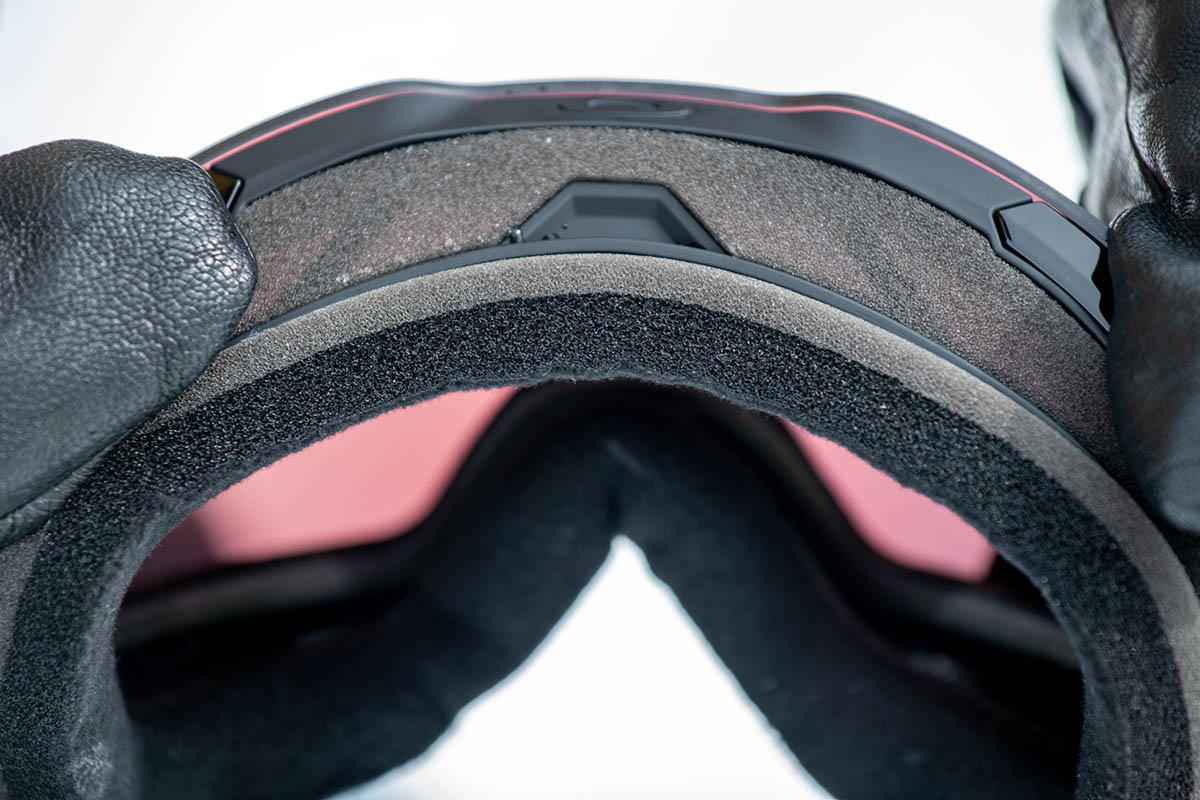 Fit and Comfort
Put simply, comfort is one of the Fall Line's best features. The three-layer foam build is nice and soft, and the strap is easily adjustable and stays securely in place with siliconized strips on the inside. And for those who like to run their strap underneath their ski helmet, the Fall Line is nicely set up with a low-profile and fairly thin design—there's no buckle around back and only small sections of plastic. The goggle does feel a little heavy and bulky compared to a trimmed-down and lighter model like Smith's Skyline (wearing them back to back, the difference was noticeable), but this doesn't have a negative impact on comfort.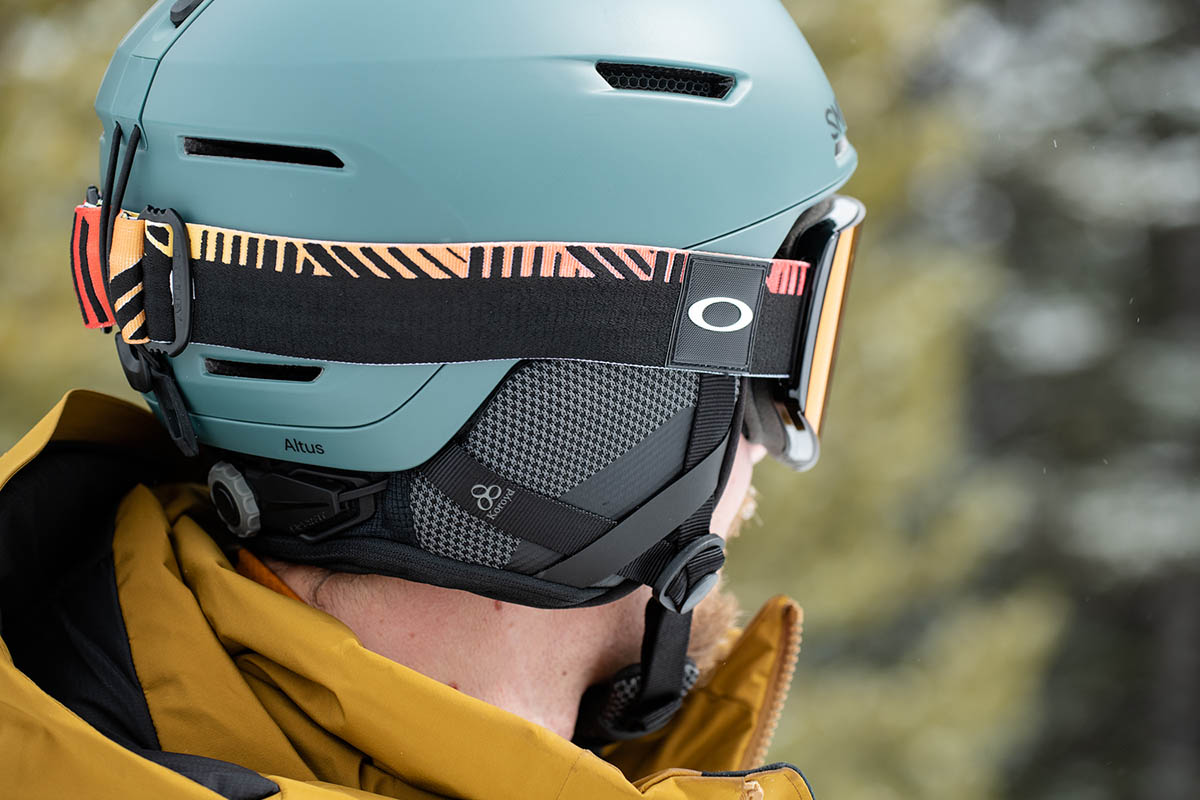 As far as fit goes, the Fall Line M is a little on the large side for a medium-sized goggle. I find a standard medium fit like the Smith I/O Mag and Skyline or Giro's Axis works best for me, but I didn't have any issues with the Oakley being pressed down into my nose. All in all, it seems to be a pretty well-rounded shape and paired fairly well with my Smith Altus helmet. And for those with larger facial features, you can step up the Fall Line L (more on this model below).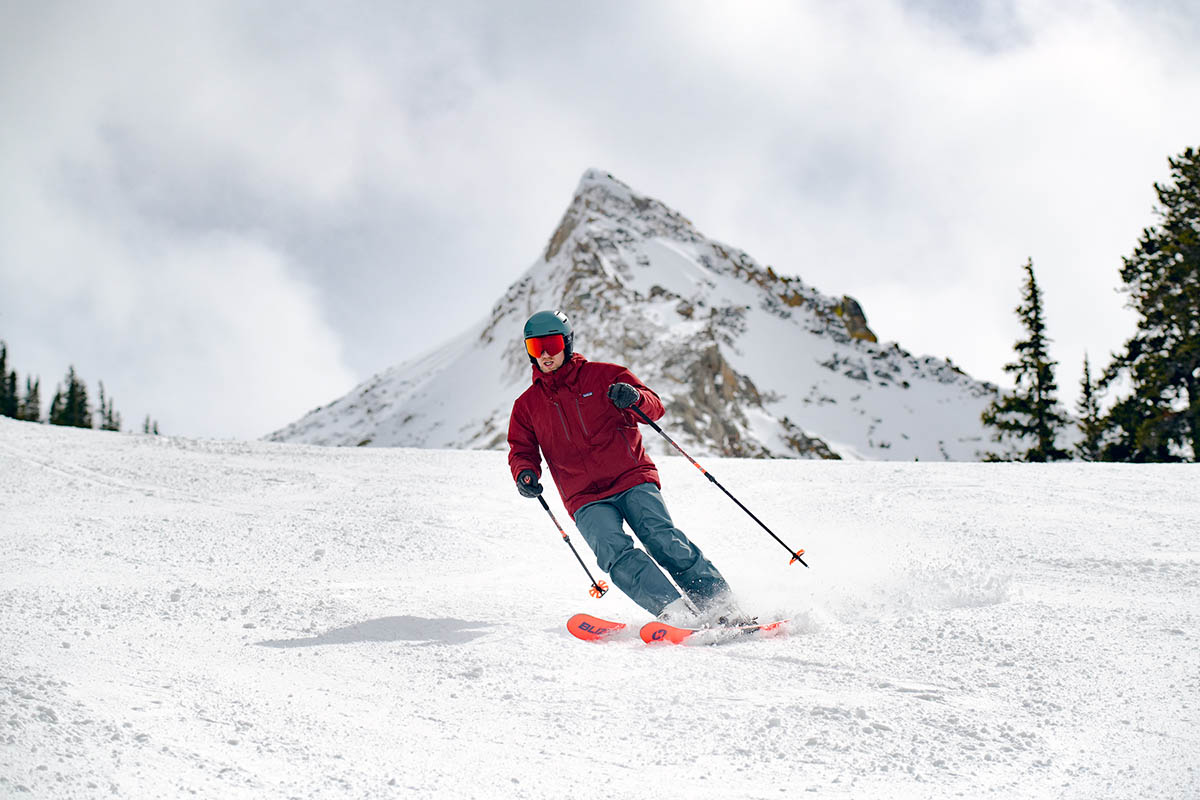 Build Quality and Durability
We've been consistently impressed with the build quality of Oakley gear, and the Fall Line M is no exception with a noticeably solid and confidence-inspiring feel. The rimless cylindrical lens look certainly will require some extra care to avoid scratches and dings over time (it's best to store it in its soft-sided case after drying), but that's common among frameless builds, and the lens appears to be reasonably hardwearing. In addition, the strap isn't as tall as the previous model, but it seems to be well made and is holding up perfectly thus far. Overall, other than the clunky lens-change system that I touched on above, I have no concerns from a material and construction perspective.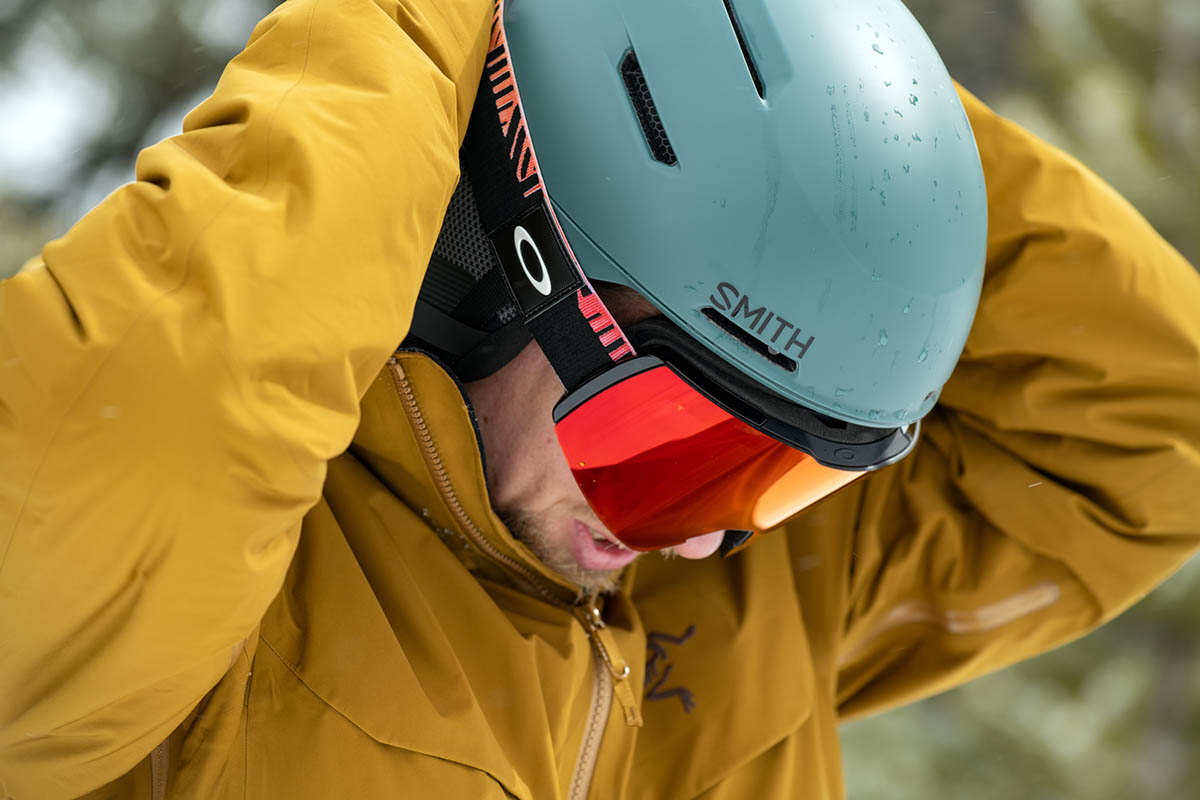 Oakley Fall Line L
We brought Oakley's Fall Line M to Crested Butte for testing, and the collection also includes the larger Fall Line L. The L costs the same at $186-$226 depending on lens choice and sports an identical feature set and construction including triple-layer foam, cylindrical shape, Ridgelock lens-change system, and single Prizm lens (again, you can purchase a secondary lens separately). The only major difference is fit: While the M we tested is a medium size, the L sports a large frame that boosts field of view and is a good match for those with larger features.

What We Like
The Fall Line's frameless Prizm lens has clean and crisp optics with no noticeable distortion.
Top-notch comfort from a three-layer foam build, easily adjustable strap, and well-rounded shape.
Typical Oakley build quality: The Fall Line M is well made and has a confidence-inspiring feel.
Wide array of lens options to choose from.

What We Don't
Doesn't sit as close to your face as some Smith competitors, which results in less peripheral vision (particularly in the bottom corners).
Only comes with one lens, while most of the competition includes two.
Lens-change system prioritizes security over speed, and swapping between lenses is fairly tedious and slow.


Comparison Table

The Competition
Oakley's Fall Line M packs in quality optics and comfort into a well-rounded and stylish design that stacks up well in the extensive snow goggle market. Another Oakley model to consider is their Flight Deck M (and larger Flight Deck L), which puts a premium on field of vision with a minimalist build and expansive, curved lens that easily beats the Fall Line in peripheral visibility. Both have a sleek, frameless look, although the more angular Fall Line with its cylindrical lens certainly makes more of a statement. In the end, a final decision between the two Oakley offerings will come down to preferences on styling and field of view.
Another in-house option to consider is Oakley's Line Miner M, which shares a lot in common with the Fall Line: Both feature cylindrical shapes, come with one Prizm lens, and are made in Oakley's versatile M size (and larger models are available for each). Other similarities include anti-fog coatings, good all-around ventilation, triple-layer foam, and decent but not spectacular field of vision. The primary difference between the two is looks: The Line Miner has a more subdued and classic frame, while the Fall Line's larger lens is angular and frameless. Swapping lenses is even slower with the Line Miner, but it does come in around $50 cheaper (depending on the lens).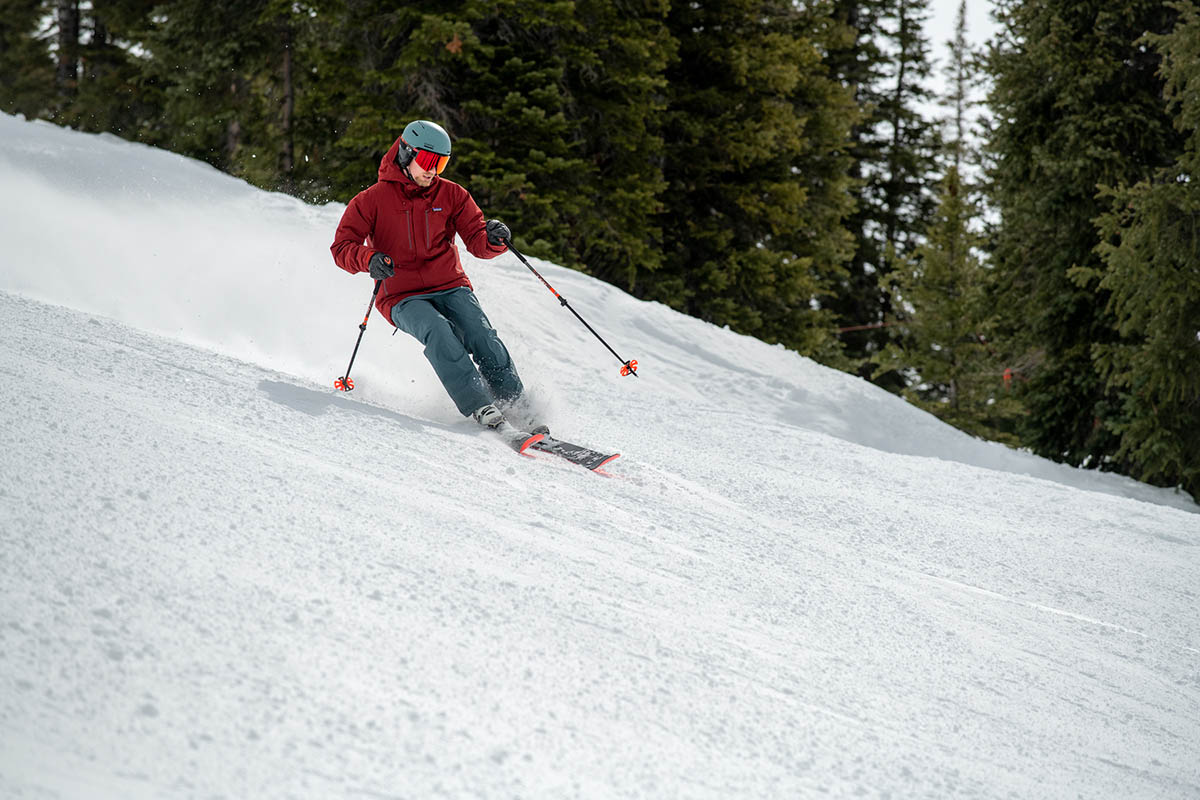 Smith is another major player in the snow goggle market, and their closest competitor in price and features is the Skyline goggle. Both include a single quality lens, but they differ in a couple significant ways: The Skyline has a lower-profile shape that sits closer to your face, plus it features a spherical lens rather than the flatter cylindrical lens on the Fall Line. All in all, the Skyline gets the clear edge in field of view, and this is especially apparent along the sides and bottom corners of the lens (for more, see our Smith Skyline review). But the Oakley doesn't have a plastic buckle at the back of the strap, so it sits more comfortably underneath a helmet (outside the helmet, they're both fine). 
Anon is a leader in the quick-change lens world, and the Sync model utilizes their M-Fusion design. Rather than relying solely on magnets like their M Series, the Sync uses both magnets as well as hinges along the sides of the frame, which close over the lens and secure it in place. As a result, it's significantly easier to swap lenses with the Sync compared to the Fall Line, and you get two included lenses for the same price as the Oakley. That said, Oakley's Prizm glass is higher-quality with crisper optics, and we've found Oakley goggles in general do a little better in terms of fog prevention. In the end, a choice between the two will come down to how you prioritize clarity versus having a second lens.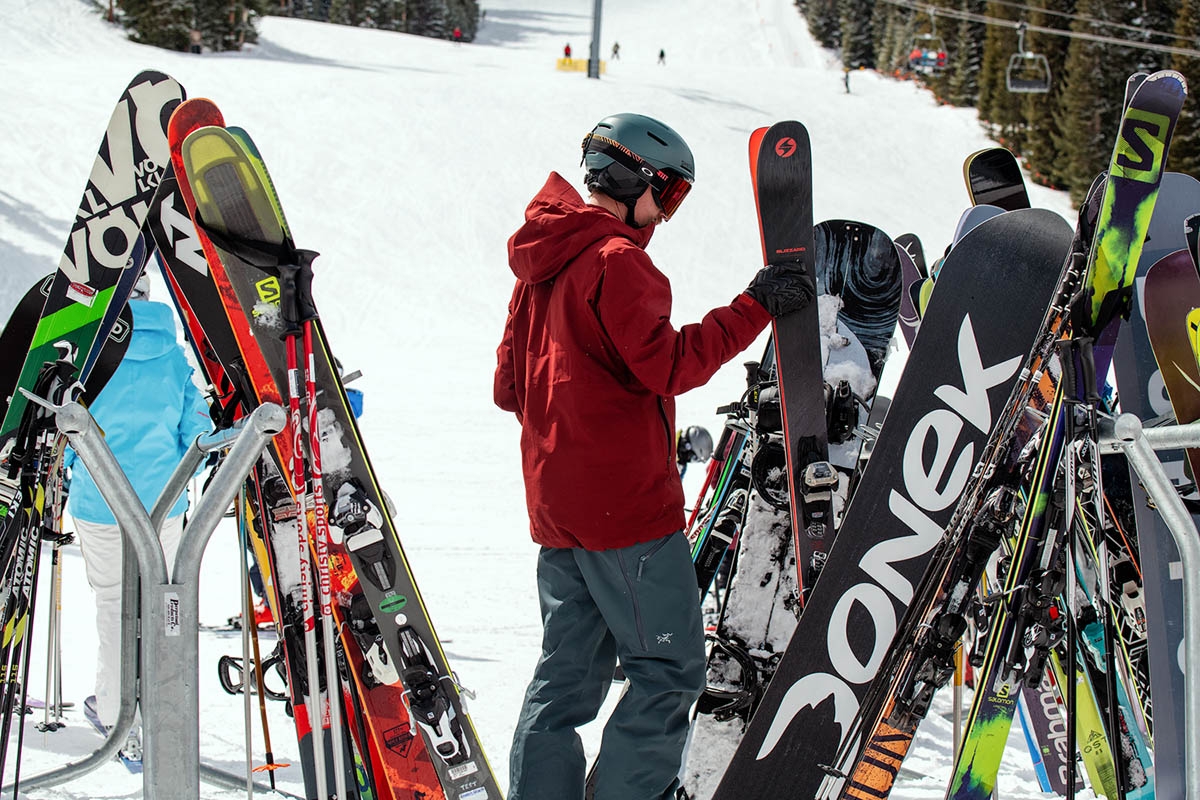 Another two-lens option at the $190 price point is Giro's popular Axis. Stacked up against the Fall Line M, the Axis has a slightly faster lens-change system but falls short in optical quality and fog prevention. More specifically, it seems the vents along the top and bottom don't allow air to flow as freely as you get with an open design. Otherwise, features are similar between the two models, including triple-layer foam, cylindrical shapes, medium fits, and a wide array of lens options to choose from. Again, the second lens is enticing, but we prefer the Fall Line for its superior ventilation and higher-quality optics.
If you're thinking about buying gear that we've reviewed on Switchback Travel, you can help support us in the process. Just click on any of the seller links above, and if you make a purchase, we receive a small percentage of the transaction. The cost of the product is the same to you but this helps us continue to test and write about outdoor gear. Thanks and we appreciate your support!
Depending on the seller, most products ship free in the United States on orders of $50 or more. International shipping availability and rates vary by seller. The pricing information on this page is updated hourly but we are not responsible for inaccuracies.
Read More From Switchback Travel