Denali is the crown jewel of the Alaska Range, which forms a boundary between Alaska's harsh interior and the south-central coastal region. It's the highest mountain in North America at 20,328 feet, rising abruptly out of the plains with little in the way of foothills. On clear days, Denali can be seen from Anchorage more than 130 miles to the south. Denali National Park was established in 1917 to protect Dall sheep that roamed the foothills from bounty hunters. Today, the park is a mecca for wildlife viewing, hiking, and backcountry skiing. Whether you tour the park on the green and white school buses or venture into the backcountry among the grizzlies, Denali's is one of the last truly wild frontiers and its rugged grandeur is unmatched.

Denali Quick Facts
Location: Interior Alaska, approximately 235 miles and five hours driving north of Anchorage.
Size of Denali National Park: Over 6 million acres, roughly the size of Vermont.
Access: There is one road into Denali National Park (92-mile Park Road); private vehicles are not allowed more than 15 miles into the park.
Tours: Park buses and fly-over tours,
Lodges: Five private lodges are located near the end of Park Road in the Kantishna area.
Camping: Six public campgrounds administered by the Park Service are spaced out along Park Road.
 
Things to Do in Denali
Only one road leads into Denali National Park: the 92-mile "Park Road" ending at the former mining camp of Kantishna. Private vehicles are not allowed more than 15 miles into the park. Visitors to Denali have the option of taking a bus (tour bus or shuttle bus) or a fly-over tour.
 
Bus Tours 
Denali's famous green and white tour buses cover the length of Park Road and stop for wildlife viewing and restrooms along the way. Tour buses have a park ranger onboard to provide narration and passengers are limited to the bus on which they originally started. Shuttle buses are designed to move visitors throughout the park; they don't provide narration and passengers can get off and on as they please.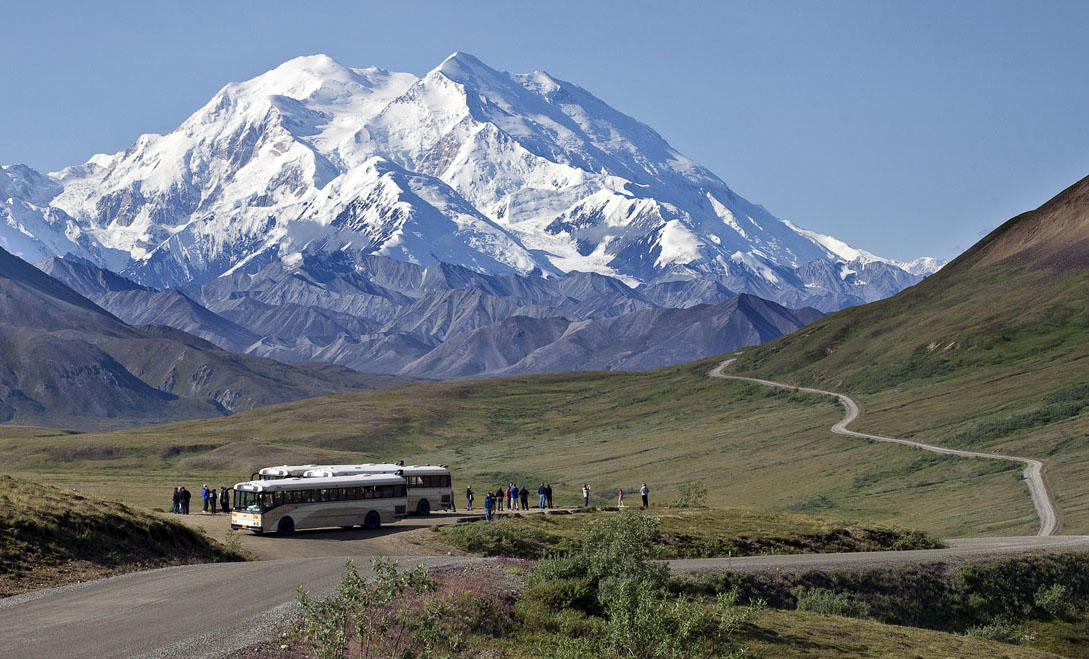 Tour Buses (White)
Denali National Park tour buses have a trained naturalist onboard to provide narration and stop for wildlife viewing and restrooms. Passengers must stay with their original bus. Below are the three different bus tours with their turnaround points on Park Road and duration. Fares are round-trip:
Denali History Tour: Mile 17; 4.5 hours; $66.50
Tundra Wilderness Tour: Mile 53; 8 hours; $113.25
Kantishna Experience Tour: Mile 92; 11 hours; $159
Shuttle Buses (Green)
Denali shuttles are designed to move people around inside the park. Like tour buses, shuttle buses stop for wildlife viewing and restrooms but there isn't a narrator onboard and passengers can get off and on anywhere along the road. Shuttles are best for those who want to experience the park on their own terms, including day hikers and backpackers. The schedule for Denali shuttles undergoes slight changes throughout the summer, but the shuttles pass major pick-up points multiple times per day. Fares for shuttle buses are destination-specific and cheaper than tour buses—it's $50 one-way to Kantishna and the end of Park Road.
 
Fly-Over Tours or "Flightseeing"
Local aviation companies offer Denali National Park fly-over tours or "flightseeing." The planes are small (3–6 seats), single-engine aircrafts that can navigate the tight passes, turbulent weather, and glacier landings required in Denali. Scenic fly-over tours range from 1-hour "South Face" flights ($199) to 2-hour "Grand Denali" flights ($385) with glacier landings. Fly-over tours run year-round depending on the conditions. Below are local aviation companies that service Denali:
Hiking and Backpacking
Designated trails in Denali National Park are limited and concentrated near the park entrance. Hiking trails further toward the park interior include the Savage River drainage (Park Road miles 13-15), Eielson Visitor Center (mile 66), and Wonder Lake region (mile 85). Backcountry hiking and backpacking are popular ways to experience the park; for more information visit the Wilderness Access Center or Backcountry Information Center.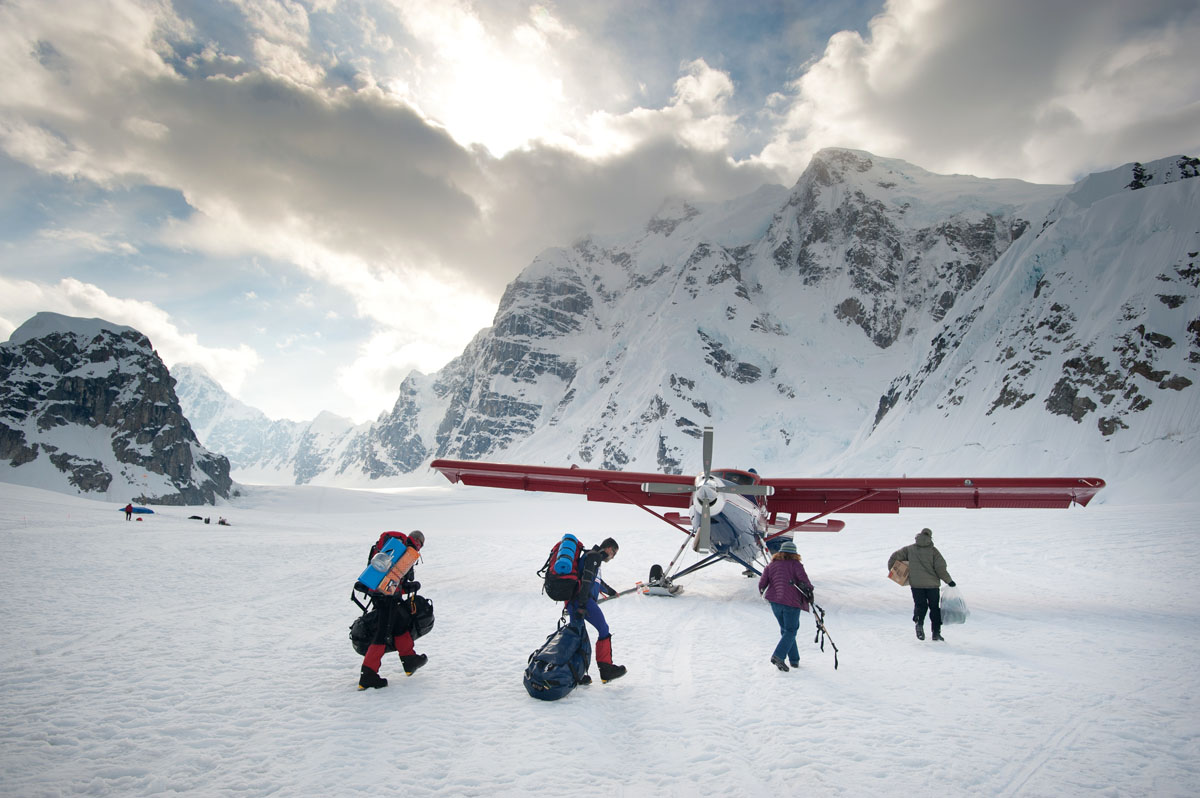 Where to Stay
There are two ways to stay overnight in Denali National Park: private lodges and public campgrounds. Five private (and very expensive) lodges are located near the end of Park Road in the Kantishna area. Six public campgrounds are spaced out along the road and administered by the Park Service.
 
Private Lodges
A handful of private inholdings inside Denali National Park are home to the park's only formal accommodations. The Kantishna Roadhouse is a renovated historic lodge at the end of the Park Road with views of Denali and Wonder Lake. Meals are served family-style and the roadhouse has the only full service saloon in the park.
Camp Denali and the North Face Lodge, both run by the same owners as the Kantishna Roadhouse, are at opposite ends of Wonder Lake. Camp Denali has rustic cabins near tree line for views of Denali and the Alaska Range. The North Face Lodge is an inn-style building with guest rooms connected to a sitting room, fireplace, and dining area.
The Denali Backcountry Lodge has 42 modest cabins near Moose Creek. Skyline Lodge is the best budget accommodation for those wanting to stay inside the park.
 
Campgrounds
There are six established campgrounds in Denali National Park along Park Road. Private cars and RVs are allowed to drive to three of the campgrounds: Riley, Savage, and Teklanika (Teklanika has special rules for drive-in campers). Otherwise, cars are not allowed more than 15 miles into the park.
Riley Creek: Park entrance; 147 sites with private vehicles allowed
Savage River: Mile 13 on Park Road; 33 sites with private vehicles allowed
Sanctuary River: Mile 23 on Park Road; 7 tent sites
Teklanika River: Mile 29 on Park Road; 53 sites with private vehicles allowed
Igloo Creek: Mile 35 on Park Road; 7 tent sites
Wonder Lake: Mile 85 on Park Road; 28 tent sites
Denali campgrounds can be reserved ahead at www.reservedenali.com. The sites fill up quickly so book as far in advance as possible. Due to the small size of the Igloo Creek and Sanctuary River campgrounds, they must be reserved in person at the Wilderness Access Center (park entrance) no more than two days in advance.
Backcountry camping is allowed in Denali National Park and permits can be obtained at the Backcountry Information Center located adjacent to the Wilderness Access Center. Advanced reservations are not available and permits are issued only in person. The center is open from 9am–6pm daily during the summer and the permitting process includes an informational video and safety talk with a ranger.
 
Outside the Park
Many visitors to Denali stay just outside of the park entrance. The nearest towns are Healy (11 miles north of the park entrance) and Cantwell (30 miles south of the park entrance). Motels, hotels, and other accommodations are found in these towns and along the connecting highway.

When to Visit Denali
The most popular time to visit Denali National Park is summer when average high temperatures reach a comfortable 50–70°F. The optimal time for land tours is mid to late June when skies are clearest and there is a high likelihood of seeing Mt. McKinley. July and August tend to be buggier and rainier, with the weather stabilizing again in September. The fall is a great time to visit when the colors turn the land into a kaleidoscope of yellows, oranges, and reds.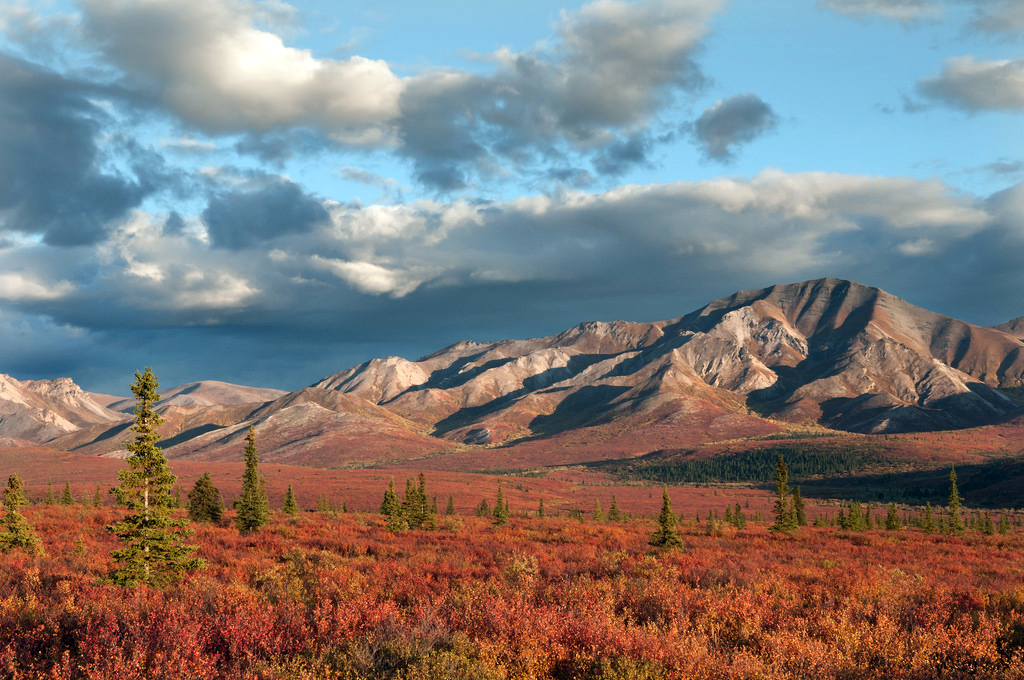 Denali National Park is mostly in the interior of Alaska and gets very cold. The winters are long and dark, starting in October with first snowfall and ending in May or June when constant daylight melts the last snowdrifts. The Northern Lights are best in the dead of winter (January and February), making it a popular time to visit the park despite the harsh weather. Climbing season begins in late April and ends in early July when warmer weather brings low-pressure systems and precipitation.
The weather in Denali is notoriously unstable year-round—if possible, give yourself a few days to explore the park and increase your chances of good views.
Read More From Switchback Travel