Camera technology keeps advancing at an impressive clip, and the features and image quality of cameras priced under $300 far surpasses what was available even a few years ago. In this price range you can find feature-packed point-and-shoots and superzooms with tons of reach. Digital SLRs and mirrorless interchangeable-lens cameras unfortunately still are a bit too pricey—you will need to spend closer to $400 for those—but there are still great options for people on a budget. Below are our picks for the best digital cameras under $300 in 2017. For more information, see our comparison table and buying advice below the picks. 
 
Megapixels: 20.1
Sensor Size: 28 sq. mm
Zoom: 25-750mm
Weight: 9.5 oz.
What we like: Tons of zoom and features at a relatively low weight. 
What we don't: We prefer a larger image sensor, but that costs more. 
In the sub-$300 price range, you would be hard pressed to find a better all-around camera than the Canon SX710 HS. Its biggest selling point is zoom range, which is equivalent to 25-750mm on a 35mm camera and will blow your phone out of the water. You also get a number of handy features like Full HD 1080p video, built-in Wi-Fi, image stabilization, and a pop-up flash. And at only 9.5 ounces, the SX710 HS easily fits in your pocket. 
What are the shortcomings of the Canon SX710 HS? Despite all of the fun features and functionality, the image sensor still is relatively small (not for this list, but for the market in general). It will cost you at least $100 to step up to a 1" sensor that like that on the Canon G9 X ($399), not to mention you'll have to sacrifice much of the zoom. But that doesn't stop the SX710 HS from being a great compact superzoom at a reasonable price point. Keep in mind that this is an older model—Canon has moved on to the SX730 HS, which has even more zoom at 24-960mm but costs $399. 
See the Canon PowerShot SX710 HS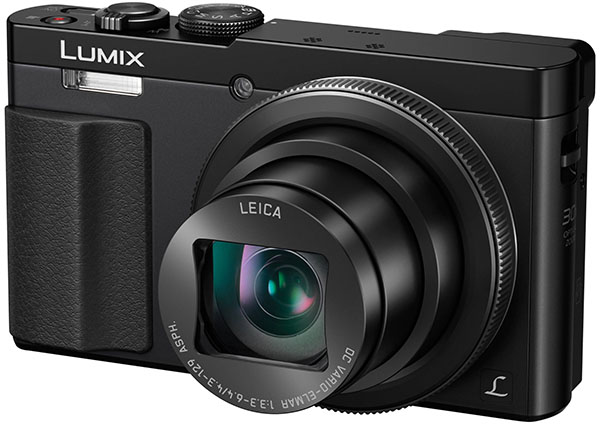 Megapixels: 12.1
Sensor size: 28 sq. mm  
Zoom: 24-720mm
Weight: 8.6 oz.  
What we like:  Great zoom range and a quality Leica lens.
What we don't: Lower megapixel count than the SX710 HS above.
Panasonic makes some of our favorite point-and-shoots, including the pricier ZS70. But for those staying under $300, the ZS50 is a nice option. First, you get a ton of zoom at a 24-720mm equivalent, making it a great travel camera. Second, the camera only weighs 8.6 ounces, which is even lighter than the Canon SX710 HS above. Finally, we really like the sleek look and feel of Panasonic cameras, not to mention the quality components including a Leica lens.
What are the downsides of the Panasonic ZS50? The most glaring deficiency is its megapixel count, which at 12.1 is considerably less than the similarly priced SX710 HS at 20.1. Given that both cameras have the same size sensors and zoom, the latter should offer a noticeable step up in resolution. In addition, Panasonic is known for video, but due to cost cutting the ZS50 missed the boat on 4K and other video-centric features. For our money we give the nod to the Canon, but the ZS50 is a fun option nevertheless. 
See the Panasonic Lumix ZS50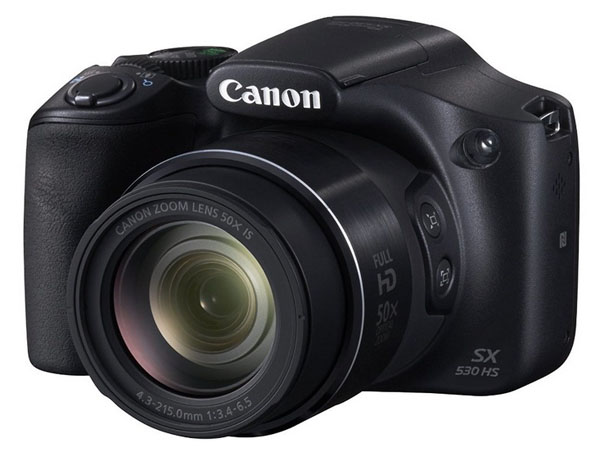 Megapixels: 16  
Sensor size: 28 sq. mm  
Zoom: 24-1200mm 
Weight: 15.6 oz.  
What we like: Huge zoom and considerably lighter than the Panasonic FZ70.  
What we don't: Marginal low light performance.  
If you're in the market for a superzoom from a top brand like Canon, give the SX530 HS a serious look. With this camera you get an impressive 50x optical zoom equivalent to 24-1200mm along with a 16-megapixel image sensor. What are the downsides of choosing the SX530? The camera weighs nearly a pound, or around double a typical compact point-and-shoot, but it is more than 5 ounces lighter than a camera like the Panasonic FZ70. The second is the image sensor, which is at the small end of spectrum even for a compact. We do appreciate that the SX530 runs off of a rechargeable lithium ion pack as many past generation superzooms use traditional AAA batteries. 
See the Canon PowerShot SX530 HS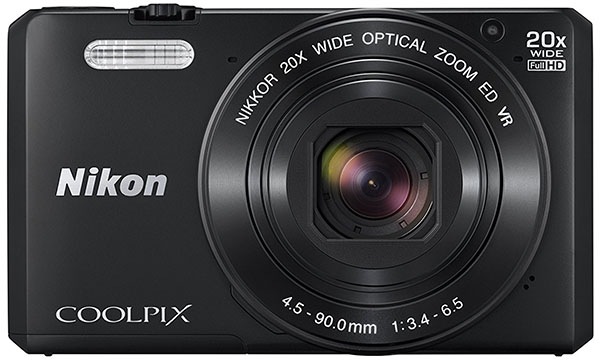 Megapixels: 16
Sensor size: 28 sq. mm 
Zoom: 25-500mm
Weight: 5.9 oz.  
What we like: Super light and a good value.
What we don't: Struggles in low light.
Taking a step down in zoom from the models above is the Nikon S7000. This camera was released a couple of years ago and currently is well priced at just over $200. The zoom range of 25-500mm should be enough for travel and most everyday use, and we love the low weight at just 5.9 ounces. For hiking and other outdoor activities, you will be hard pressed to find a lighter camera with this much zoom.
It's important to keep in mind the limitations of a camera like the Nikon S7000. It's not particularly good in low light with limited ISO sensitivity, and autofocus can struggle in less than optimal conditions. But it does make an interesting alternative to your phone, which can't offer nearly the same zoom range or diversity of shooting modes. Keep in mind that the S7000 has been discontinued, so grab one while supplies last.
See the Nikon Coolpix S7000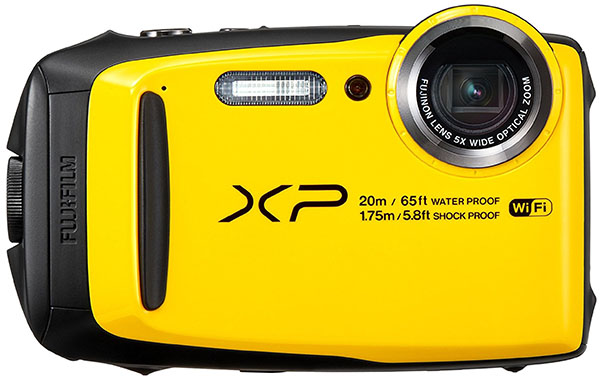 Megapixels: 16.4
Sensor size: 28 sq. mm  
Zoom: 28-140mm
Weight: 7.2 oz.  
What we like: A fun camera that is great for the beach and the outdoors.
What we don't: Image quality is decent at best.  
Here's a fun one: for around $200 you can get Fujifilm's latest rugged camera. The XP120 is waterproof down to 50 feet, shockproof, and dustproof, which means that you can take it anywhere from a beach vacation to a rafting trip without batting an eye. With 16.1 megapixels of resolution and a 28-140mm zoom range, the XP120 is versatile enough to merit consideration.
Our issue with rugged cameras is as follows: you pay a lot for the waterproof housing at the sacrifice of the internal components that make photos look great. For example, the lens on the Fujifilm XP120 is marginal and particularly in low light (keep in mind that many underwater photos are in low light). And the zoom is decent but not nearly as impressive as a camera like the Nikon S7000 above at 25-500mm. These issues aside, the XP120 wins out in fun factor, and works well for vacations or even a young one learning the photography ropes (it can withstand drops, within reason of course).
See the Fujifilm XP120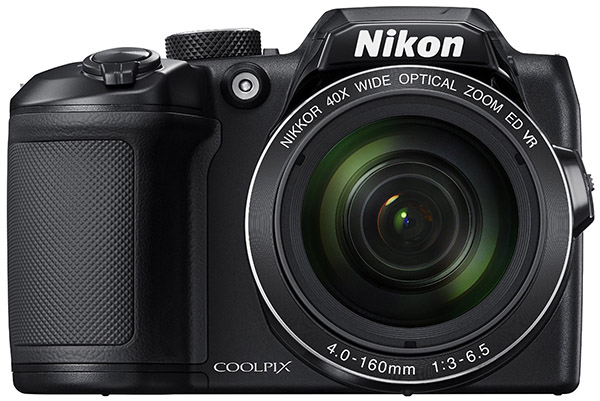 Megapixels: 16
Sensor size: 28 sq. mm
Zoom: 22.5-900mm
Weight: 19.1 oz.
What we like: Goes even wider than the SX530 HS above.
What we don't: Autofocus and Wi-Fi connectivity issues.
Nikon has been surprisingly weak in the point-and-shoot market over the last few years, with brands like Panasonic and Canon taking the reins. But we do like the Coolpix B500, a superzoom competitor to the popular Canon SX530 HS above. Both models are similarly priced and offer a ton of versatility with big zoom ranges, and you can't really go wrong with either. The B500 does come with a small savings of around $20 depending on the current price.  
Why do we have the Nikon B500 ranked below the SX530 HS? We like the extra 300mm of zoom offered by the Canon, plus it weighs a few ounces less. More, some users have reported that the B500 has trouble connecting to Wi-Fi, and like most budget superzooms, autofocus has a tendency to hunt. One small upside of the Nikon B500 is that it goes slightly wider at 22.5mm vs. 24mm on the SX530 HS. 
See the Nikon Coolpix B500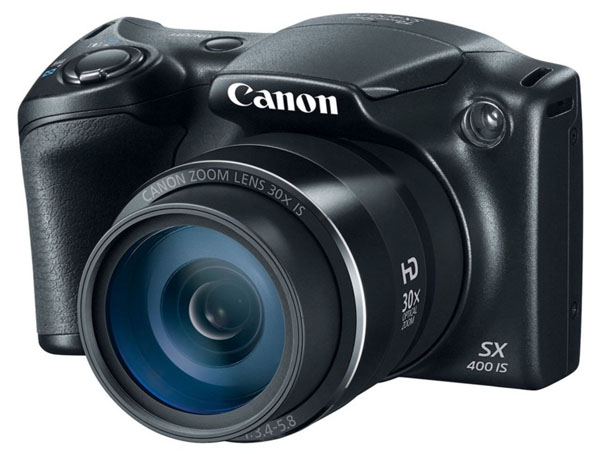 Megapixels: 16
Sensor Size: 28 sq. mm
Zoom: 24-720mm
Weight: 11 oz.
What we like: Light and inexpensive for a superzoom.
What we don't: Small image sensor.
First and foremost, the Canon SX400 IS is a budget camera and your expectations should be along those lines. It is, however, a good value at $175 for those who want much more zoom than a smartphone. With this camera you get an impressive 30x optical zoom equivalent to 24-720mm, along with a 16-megapixel sensor. For uses like travel, sports, and wildlife photography, it's a fun entry-level model.
What are the downsides of the SX400 IS? Unlike the pricier Canon SX530 HS above, it does not shoot 1080p video (you'll have to settle for 720p). In addition, the camera is not designed for shooting in tough low light conditions and the autofocus and resolution are more limited than pricier superzoom models. Some people may end up being disappointed with the image quality, but at less than $150, the SX400 IS is a nice option for those on a tight budget. For a newer model with even more zoom, see the Canon SX420 IS. 
See the Canon PowerShot SX400 IS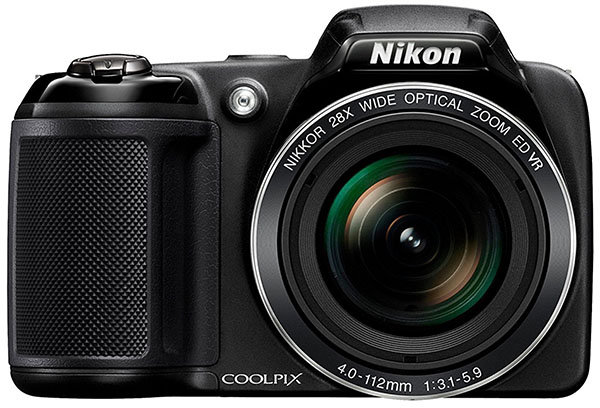 Megapixels: 20.2
Sensor size: 28 sq. mm  
Zoom: 22.5-630mm
Weight: 15.2 oz.  
What we like: Enough zoom for most people for less money than the cameras above.
What we don't: No 1080p video or Wi-Fi.
We have a soft spot for entry-level superzooms, which is exactly what the L340 is. For less than $200, this camera is great for beginners and those on a budget. At 630mm, the zoom is ample for most people and uses, not to mention the L340 and B500 above go wider at 22.5mm than any other camera on this list (this can be quite helpful for landscape photography). In terms of image quality and versatility, it stacks up quite well.
What are the shortcomings of the Nikon L340? Video functionality is limited as the camera only shoots 720p. In addition, you don't get bells and whistles like built-in Wi-Fi or Bluetooth. And the L340 uses 4 AA batteries, which can be both annoying and expensive if you don't get the rechargeable variety (even that adds extra cost). But we do like the lens and Nikon's easy-to-use functionality, which make the L340 a popular superzoom option.
See the Nikon Coolpix L340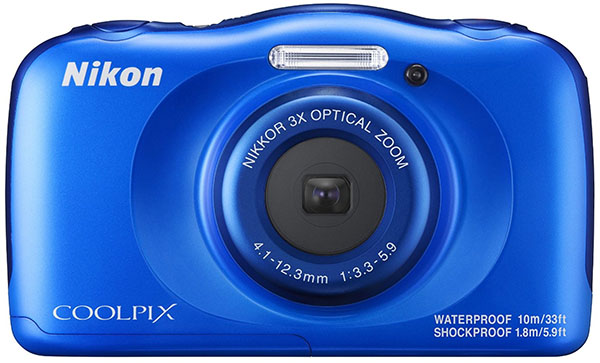 Megapixels: 13.2
Sensor size: 17 sq. mm 
Zoom: 30-90mm
Weight: 6.3 oz.  
What we like: A basic waterproof camera that gets the job done.
What we don't: Teeny image sensor and limited zoom range.
If you're in the market for a simple camera that can take a beating, give the Nikon W100 a look. Nikon claims it's waterproof down to 33 feet (it's never a good idea to really push the limits on that), and like the Fujifilm XP120 above, the camera is dustproof and shockproof. The rest of the internal components are barebones, but the W100 has its purpose and fulfills it for the most part.
The limitations of the W100 are clear: the 1/3" CMOS image sensor is the smallest on this list, which certainly says something (cameras in this price range have small sensors to begin with across the board). More, you get much less zoom range than the Fujifilm XP120, both at the wide and telephoto ends. We recommend spending the $40 for the extra lens power and features, but the W100 does hit an even better price point. 
See the Nikon Coolpix W100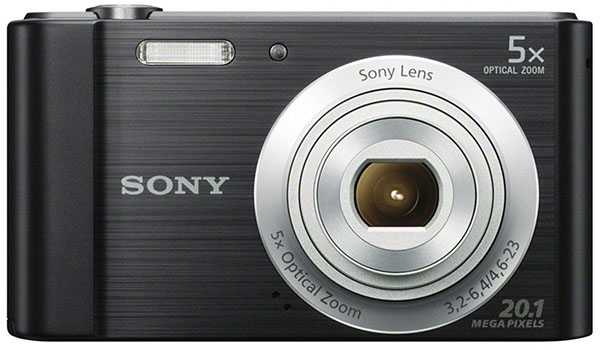 Megapixels: 20.1
Sensor size: 28 sq. mm
Zoom: 26-130mm
Weight: 4.7 oz.
What we like: Super lightweight and cheap. 
What we don't: Focusing issues. 
Sony dominates the high-end of the point-and-camera market, but even the original RX100 is way out of this price rage at $448. However, for less than $100 you can get a decent entry-level camera from Sony. The W800 is a big seller because it hits a very attractive price point and creates respectable photos in good light. And at 4.7 ounces, you'll barely even notice it's in your pocket.
The downsides of a camera this expensive are real. Despite Son'ys built-in image stabilization, a number of users have reported more blurry and out-of-focus images than they would expect. And the W800 does not shoot Full HD 1080p video—it shoots 720p instead—but that isn't much of a deterrent as most videographers are looking for a higher-end camera in the first place. Serious photographers likely will want to spend up for better image quality, but the W800 is a viable budget option.
See the Sony DSC-W800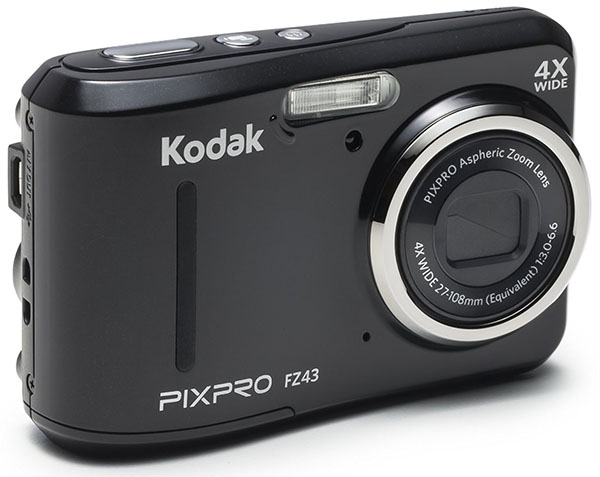 Megapixels: 16.15
Sensor size: 28 sq. mm  
Zoom: 27-108mm
Weight: 4.2 oz.  
What we like: Cheap and light.
What we don't: Bad battery life (very bad).
We'll start off by saying that realistically, there are limited uses for a camera like the Kodak FZ43. The image quality is not markedly better than today's smartphones (the "Plus" versions of the latest iPhones are pretty darn impressive). But not everyone has or wants to carry a phone at all times, and therefore the FZ43 provides some utility. Most notable is the bargain basement price of $65, making it by far the cheapest camera on this list.
In addition to relatively uninspiring image quality, the battery life of the FZ43 is a major downside. Not only do you have to use 2 AAs, but the camera sucks the life out of them at a surprisingly fast clip. Even a camera like the $90 Sony W800 above uses a rechargeable Lithium-Ion battery pack, and buying AAs can bridge that price gap all too quickly. If you must have a camera at the lowest possible price point, the Kodak FZ43 is on the table. But we recommend considering the options above. 
See the Kodak Pixpro FZ43
 
Cameras Under $300 Comparison Table
Buying Advice
 Categories of Cameras Under $300 
On occasion, we are thrilled to include a digital SLR or mirrorless camera on this list. Depending on the available models and time of year, some interchangeable-lens cameras can drop below the $300 threshold with a kit lens included (it's usually right at $299). As of now, it's only point-and-shoots: compact cameras with fixed zoom lenses. These cameras do have the advantage of being lightweight and easy-to-use, but you definitively sacrifice some in terms of image quality.
It you plan on taking your photography seriously, we recommend at least considering upping your budget to the $400 mark, which represents a significant jump in quality. At that price you can get an entry-level DSLR like the Canon Rebel T5 or a mirrorless camera like the Sony Alpha a5000. Both of those set-ups are available with a kit lens included, and both have much larger image sensors than anything on this list and will produce far better results. You don't get big zoom or weather proofing, however, which are two great reasons to stick in the sub-$300 price range (more on those considerations below).
Used or refurbished cameras are another way to get better image quality while moving the needle below $300. You actually save surprisingly little in the process considering you are buying used electronics, and we far prefer used lenses to used camera bodies as they age much better. But buying used or refurbished is an option for those on a budget.
 
Zoom
A good zoom range is one the biggest reasons to buy a camera under $300. The truth is that the image quality of some of the models at the bottom of the list will not be head and shoulders above your smartphone (better, but perhaps not enough to merit the separate purchase). But the zoom can be, and that's an important thing. Our top pick, the Sony SX710 HS, is a compact superzoom with 25-750mm of reach. That's super impressive and far superior to an iPhone in terms of zoom and resolution.  Our third pick, the Canon SX530 HS, has an even better zoom at 24-1200mm. The full list of zoom capabilities for all the cameras on this list are available in the table above.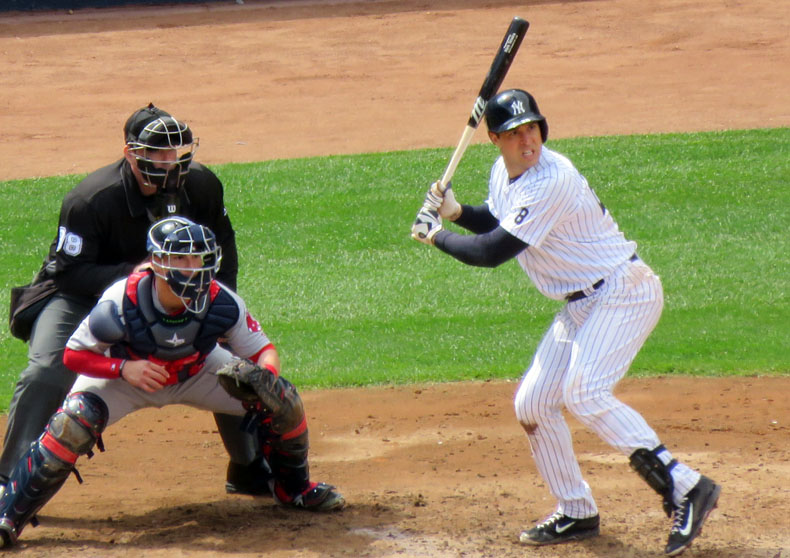 Keep in mind that more zoom usually means a larger and heavier camera. With most superzooms you lose out on pocketability—these specialty cameras more closely resemble digital SLRs than compact point-and-shoots. Inexpensive cameras with huge zoom also tend to have small sensors and inferior low light performance. We don't recommend shying away from superzooms—just make sure to understand their pros and cons to make an informed buying decision.

Sensor Size
The size of the image sensor should be a central factor in your camera buying decision. From an image quality standpoint, a larger sensor means more light and information can enter the camera and therefore the images will be more detailed and accurate.
As we touch on above, no digital SLRs or mirrorless cameras currently make this list—they're just too expensive. It's all point-and-shoots with relatively small 1/2.3" (28 sq. mm) images sensors. If you plan on sharing photos mostly electronically and via social media, a smaller sensor should do just fine. If you plan on making large prints or shooting in tough conditions, you may want to consider upping your budget for a better sensor. On the upside, buying a camera with a small sensor does open up your options in terms of more zoom and features.
 
Megapixels
Megapixels are perhaps the most discussed measure of image quality, representing the millions of tiny dots that make up a digital photograph. To make things easy to understand, we use the term megapixels (mega = million). So if a camera has 20 megapixels, the photographs are comprised of 20 million tiny dots.
We at Switchback Travel favor a larger image sensor over more megapixels in rating cameras. A tiny sensor jam packed with megapixels actually will produce inferior images than a large sensor with fewer megapixels. The surface area of the sensor matters most, followed by the number of dots on that surface. Accordingly, we recommend looking at the two numbers together to determine how cameras compare to each other and what type of image quality you can expect.  
 
Size and Weight 
Because the sub-$300 category is full of compact point-and-shoots and superzooms, the size and weight of your camera choice can vary significantly. A compact point-and-shoot literally can slide into the pocket of your pants or jacket; a camera like the Canon PowerShot SX710 HS falls into this category. Conversely, superzooms like the Canon SX530 HS and Nikon L830 are double or even triple the weight and will require substantially more space around your neck or in your pack. Both types of cameras are fine options and have their pros and cons, and the choice comes down to how much you care about size and mobility.  
 
Weather Protection and Rugged Cameras
A great reason to buy a camera in this price range is weather protection. If you're headed out hiking, rafting, skiing, or any activity where serious exposure to the elements is a possibility, it may not be worth risking your more expensive camera or smartphone. Two cameras on this list—the Fujifilm XP120 and Nikon W100—fall into the "rugged" or "tough" category. This means that they are waterproof, dustproof, and freezeproof, all to an extent of course (the W100 is listed as being waterproof down to 50 feet, for example, so there are limitations). And we have heard a number of situations where people have managed to damage weatherproof cameras, particularly when water enters around the flaps that provide access to the ports and memory cards—these seem to be the weak links.
 
What Do You Get by Spending More?
For many people, $300 is a healthy amount to spend for a camera. It's also true that the options open up significantly if you're willing to push into the $400 to $500 zone, including a number of advanced point-and-shoots and entry-level DSLRs and mirrorless cameras. For a complete list of options, see our article on the best cameras under $500. We've also put together articles on the best point-and-shoots, entry-level DSLRs, and mirrorless cameras that will give you a better idea as to the market and options at different price points.
Back to Our Top Camera Picks  Back to Our Camera Comparison Table
Read More About Photography