If you're in the market for a new fly rod, there's never been a better time. Rod manufacturers continue to innovate, incorporate new materials, and dramatically improve rods across the price spectrum. Below we break down the best fly rods, from high-end specialty models to all-rounders and leading budget options. And our picks cover a wide variety of fishing from small streams that require delicate presentations to big water where power and distance are key. For more background on topics like action and weight, see our fly rod comparison table and buying advice below the picks.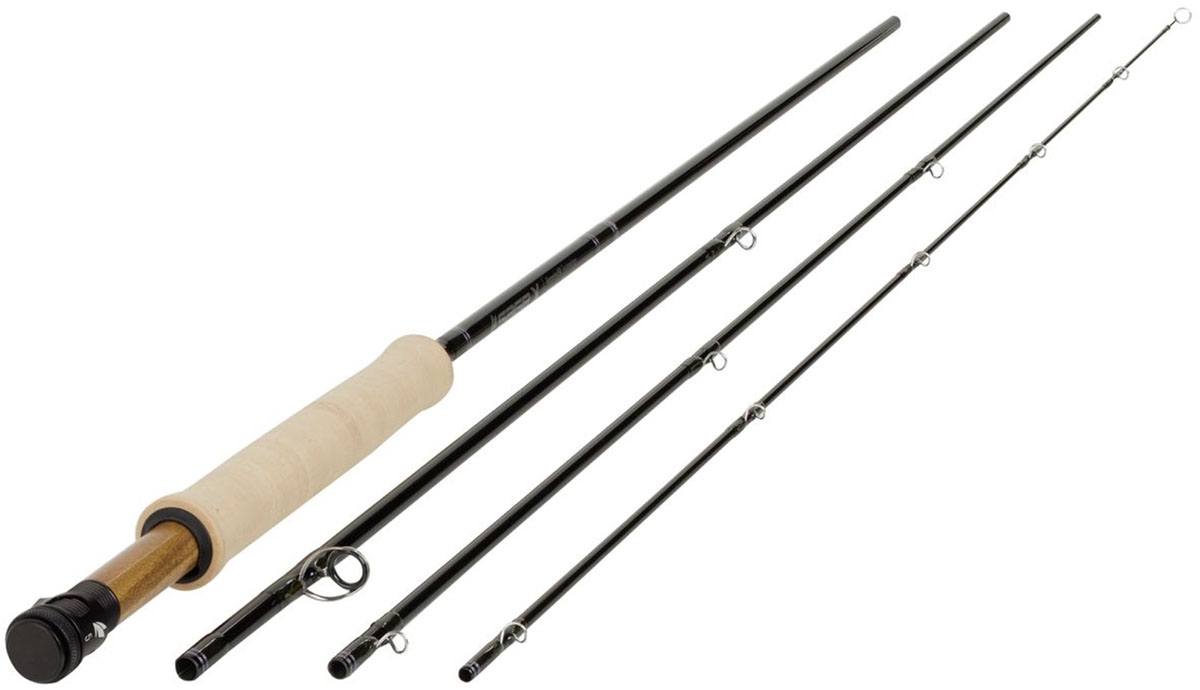 Action: Fast
Weights: 3 to 8
What we like: Incredibly powerful and accurate; premium build quality.
What we don't: Can overpower smaller, slower water.
Legendary rod maker Sage recently replaced the One with the X at the top of its esteemed lineup. This all-black design is sleek and extremely well-built with high-end finishes throughout. Most importantly, the rod delivers incredible power and casting distance with virtually no wobble or side-to-side movement. Despite this extreme accuracy, the rod manages to be forgiving—it wants to throw nice tight loops no matter how you cast, making it a great rod for all skill levels (although it's difficult to imagine letting our kids loose with one of these given the price tag).
What are the downsides of the Sage X? It's just not a soft-touch rod. On medium to small water like the Upper Deschutes outside of Bend, it felt like too much rod for the job. It has so much power that it can be difficult to keep casts short, as can laying flies down gently on the top of the water. But on bigger water where power and sending it matters, nothing beats the Sage X. In fact, this is by far our favorite long-distance and big-water caster.
See the Sage X Fly Rod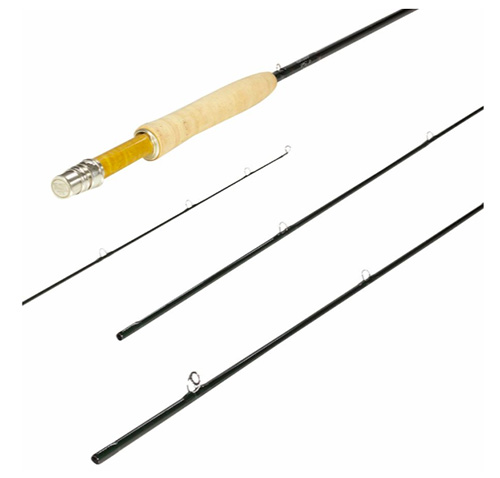 Action: Medium
Weights: 3 to 5
What we like: Gorgeous, extremely light touch and feel, incredibly soft presentations.
What we don't: Feels a bit underpowered when fishing heavier flies.
R.L. Winston's PURE is drop-dead gorgeous. It's a beautiful color and every detail is top-notch, from the nickel silver and maple reel seat to the chrome nanolite stripping guides. But the PURE is not just about appearance: it casts just as good as it looks. Simply put, the PURE is a soft-touch specialist that gently lays down dry flies better than just about anything else out there. In addition, Winston's latest generation of boron/graphite composite gives it significantly more casting power than most slower-action rods. You may not win any casting distance contests, but you don't need to—the rod has enough power to reach just about any fish you have a reasonable shot at hooking.
There are a couple of minor negatives to the R.L. Winston's PURE. First, because of the rod's responsiveness, it can take time for newer anglers to get the timing down and capture its full power (technique matters more than with a rod like the Sage X above). More, it's so light and delicate that it can feel a little underpowered when fishing hefty dries and nymphs. But we'd happily trade the power for the impossibly soft presentations, making the PURE our go-to on smaller water and our favorite dry fly rod overall.
See the R.L. Winston PURE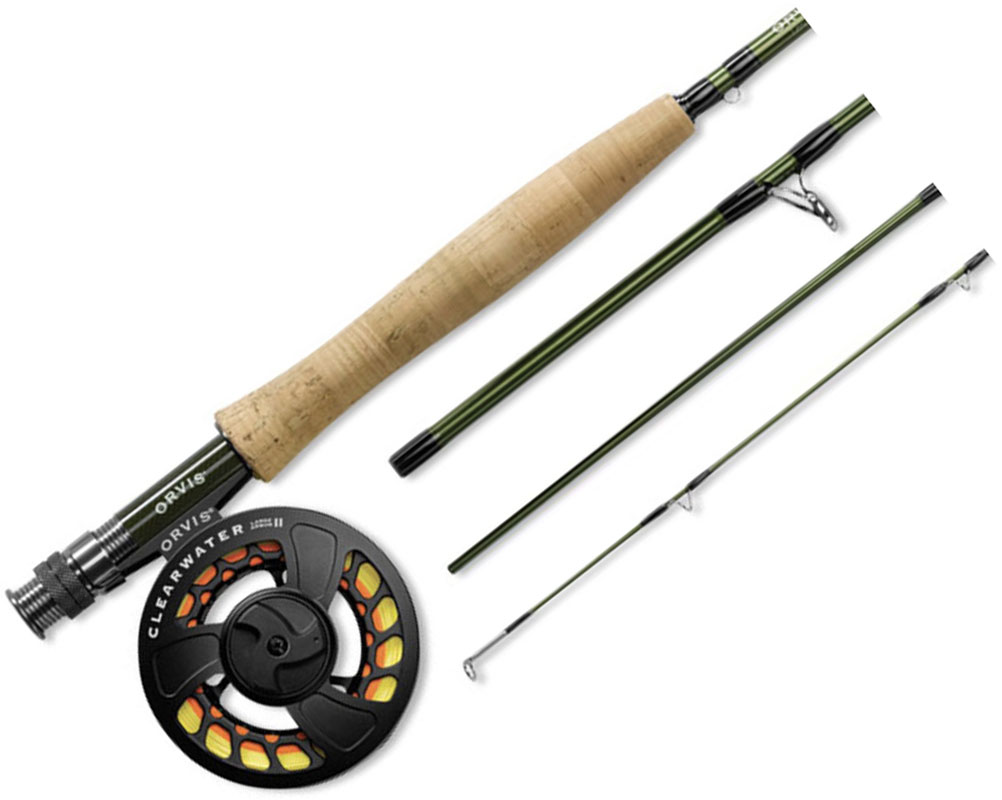 Action: Medium-Fast
Weights: 3 to 6
What we like: A quality kit for a reasonable price.
What we don't: A very good rod, but not a great rod.
The two rods above are the cream of crop, but there's still value to be had in the fly fishing world. If you're looking for a quality all-around rod that won't break the bank, the recently updated Orvis Clearwater is a versatile option that outperforms its price. All in all, it has a really nice feel: the medium-fast action is soft and supple enough to carefully lay dries on the top of the water, yet the rod still has enough backbone to cast heavy flies and weighted nymphs surprisingly well. For around $300 with an Orvis reel and line, that's one heckuva deal.
It's worth noting that a lot of competing value rods give themselves away by using cheap, plasticky components, or worse, weirdly heavy components that give the rod a clunky feel. The Clearwater avoids those pitfalls and is surprisingly crisp. And for those who want to avoid shopping for a reel and line, we've listed the Clearwater Combo here, which includes both and comes pre-spooled, including backing. The Clearwater rod costs just under $200 on its own.
See the Orvis Clearwater Outfit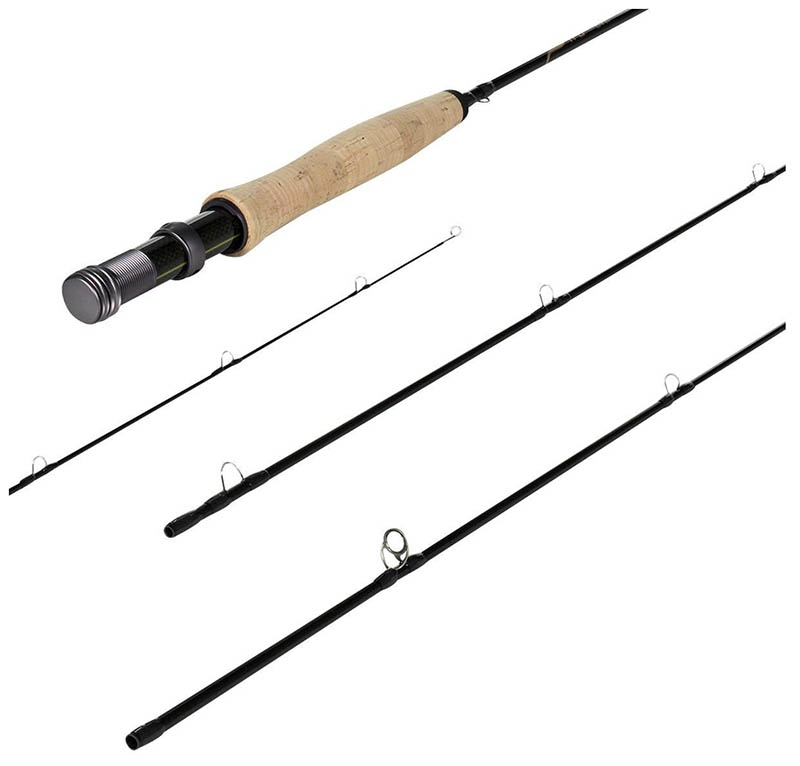 Action: Fast 
Weights: 3 to 8
What we like: A great value for a capable all-around rod. 
What we don't: A little too stiff for our taste.
Rod makers like Sage, Scott, and R.L. Winston get the prize for premium builds and designs, but the $500+ price tags can be tough to swallow. This is where companies like Temple Fork Outfitters (TFO) come in. TFO is known for making quality fishing gear at reasonable price points, and with the BVK they succeed at both. This rod is designed to cut weight while retaining power—it has enough backbone to send weighted flies a healthy distance while still maintaining a relatively soft touch. 
Many anglers can get away with using the BVK in most fishing situations, but it is a relatively stiff rod, and particularly relative to the weight rating. Accordingly, those who like to work the close range or fish lighter tippets may want to size accordingly or look elsewhere. And keep in mind that TFO rods aren't known for their long-term durability, but the company does have a reliable return policy and great customer service. All that said, for a budget, all-around rod that excels at distance, the BVK is a great option. 
See the TRO BVK
Action: Fast
Weights: 3 to 8
What we like: A premium all-rounder. 
What we don't: Can't quite compete with Sage or R.L. Winston at what they do best.
Historically, anglers have faced a choice between fast, powerful rods that can send big flies long distances, and slower, more delicate rods that can gently lay them down on the water. Scott's Radian, however, manages to do it all at a relatively high level. With ReAct graphite that minimizes vibrations and improves recovery speed, this is a fast-action rod with high line speed that also feels light and responsive. If you're looking for a single rod that performs well in most situations, the Radian is a unique premium option.
Why isn't the Scott Radian ranked higher on our list? It's not the most powerful rod on the market, not does it deliver the most delicate presentations. But it performs surprising well at both, making it a good choice for anglers that want a single go-to rod without compromising much in the way of quality. Although the price is high, it's easier to stomach knowing that you won't be purchasing multiple specialty models. The Radian, like all Scott rods, is made in the USA. 
See the Scott Radian Fly Rod
Action: Medium-Fast
Weights: 3 to 8
What we like: Forgiving and well-built for the price.
What we don't: Feels a bit heavy.
Echo rods are designed by fly fishing legend Tim Rajeff (as a side note, his casting videos are worth watching and available for free on the Echo website). The company is known for making good rods at value prices, and the Echo3, their flagship model, fits right in line. It sports the nicest components and finish of any rod in its price range. Importantly, the Echo3 doesn't look like a cheap rod and doesn't cast like one either.
We recently tested a 4-weight, 9-foot Echo3 on a variety of water around Central Oregon. It's a very forgiving rod, accommodating a number of different casting styles and ability levels. It also has good power: plenty to throw a dry and dropper long distances as we did on the Crooked River, and ample backbone to land the occasional larger fish we found there. Our one minor complaint is that the 4-weight felt a bit heavy—it seemed to fish more like a 5-weight from other rod makers—so keep that in mind when making a purchase.
See the Echo Echo3

Action: Medium-Slow
Weights: 3 to 5
What we like: Light and responsive.
What we don't: It has the misfortune of competing with the PURE above.
If you like to fish small to medium dry flies on light leaders, the G. Loomis NRX LP could be your huckleberry. This rod is purpose-built, and as the name implies, as a presentation rod for small streams and rivers where you need to lay it down lightly to avoid spooking the fish. Loomis' NRX technology makes the graphite thinner and lighter without sacrificing much in the way of strength, giving this rod a premium, lightweight feel. 
Surprisingly, the G. Loomis NRX LP excels not only at shorter casts, but can hit the medium range just fine. It doesn't offer a ton of muscle for long distance, however, but that's not why people buy this rod in the first place. In terms of competition, the elephant in the room is the R.L. Winston PURE above. Admittedly, there is a lot of subjectivity involved in choosing a fly rod, not to mention the G. Loomis is $95 cheaper. We think it's worth spending up for the PURE, but you can't go wrong with either.
See the G. Loomis NRX Lite Presentation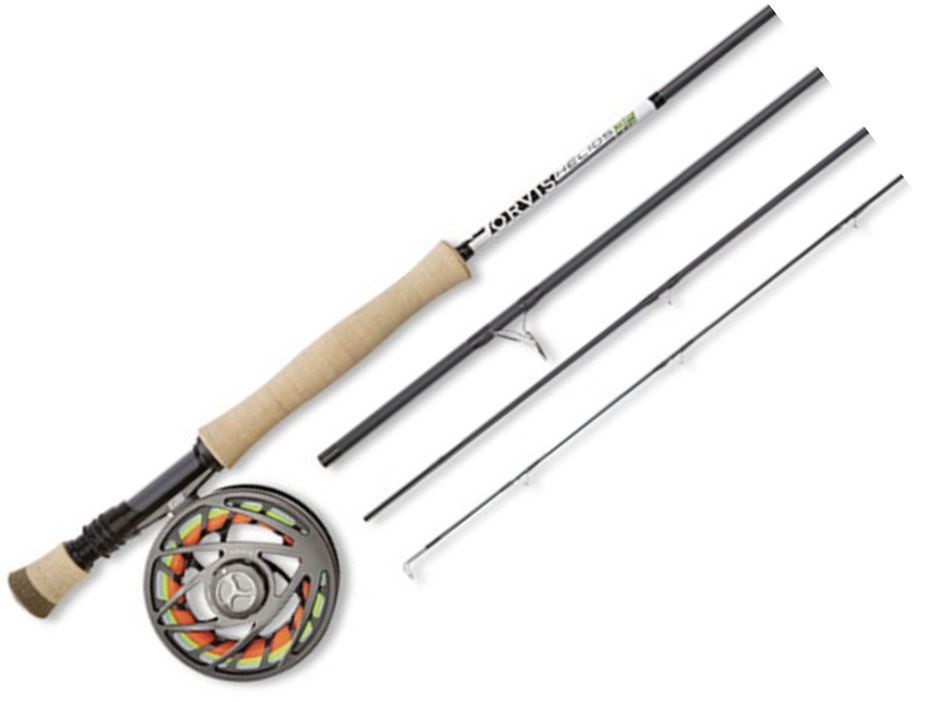 Action: Medium-Fast
Weights: 3 to 8
What we like: Specialized and accurate.
What we don't: Pricey. And this is nitpicky, but the look and finish don't quite match other high-end rods.
Orvis' Helios 3F and 3D sit at the top of their lineup. The F stands for finesse, and this rod is designed with dry flies and delicate presentations in mind. The D stands for distance, and that version is built for power and launching larger flies of all types. Both are quality rods that are worthy of consideration, even at this high price point. And we love to see one of the major manufacturers designing rods for specific purposes and doing it so well.
One of the first things you'll notice on the Helios 3F is the large white logo above the handle, which is somewhat un-Orvis-like in presentation. But the things that matter are there, including a modern build designed to reduce wobble and side-to-side movement when casting. The result is more power at increased accuracy, and Orvis even claims you can put an Adams in a tea cup at a distance of 40 feet. That would be a challenge, but the Helios 3F does offer premium accuracy and distance to rival the heaviest of hitters. 
See the Orvis Helios 3F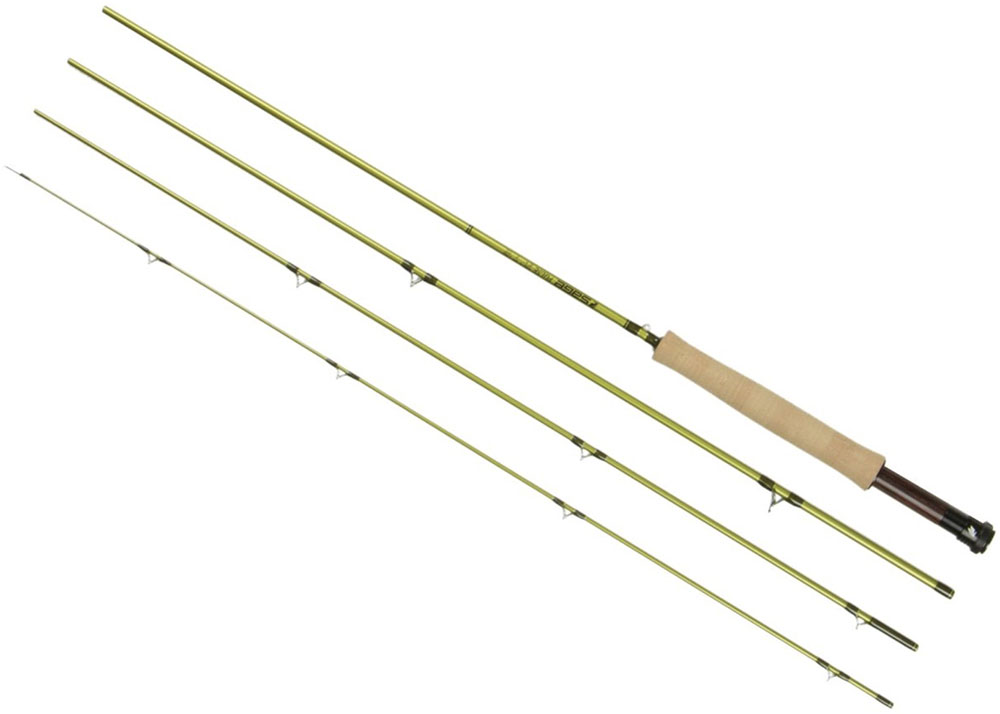 Action: Fast
Weights: 3 to 8
What we like: A nice all-rounder from Sage at a more reasonable price point than the X.
What we don't: Not a trimmed-down version of the X.
Fly rods can be polarizing: many are priced super high or at the budget end of the spectrum, but not a ton of people are shopping in the middle. This doesn't mean the mid-range category should be overlooked, however, as exemplified by the Sage Pulse. This versatile all-rounder can work well for a variety of anglers and water types. With fast action, the rod is powerful but not in the same league as the X above. But this isn't necessarily a bad thing, and especially for those still learning the ins and outs of fly fishing.
Despite the Sage name, we prefer the mid-range Echo3 above for a couple of reasons. First, you save $100, which is a significant amount for beginners and those who don't get out fishing as much as they'd like. Second, the Pulse is not, in fact, a trimmed-down version of the X (or the One, Sage's leading rod when the Pulse was released). It's a reasonably powerful and accurate rod, but performance is not just at that level. Still, it's hard to argue with Sage quality, and the Pulse is a nice all-around option for new anglers who can afford it.
See the Sage Pulse Fly Rod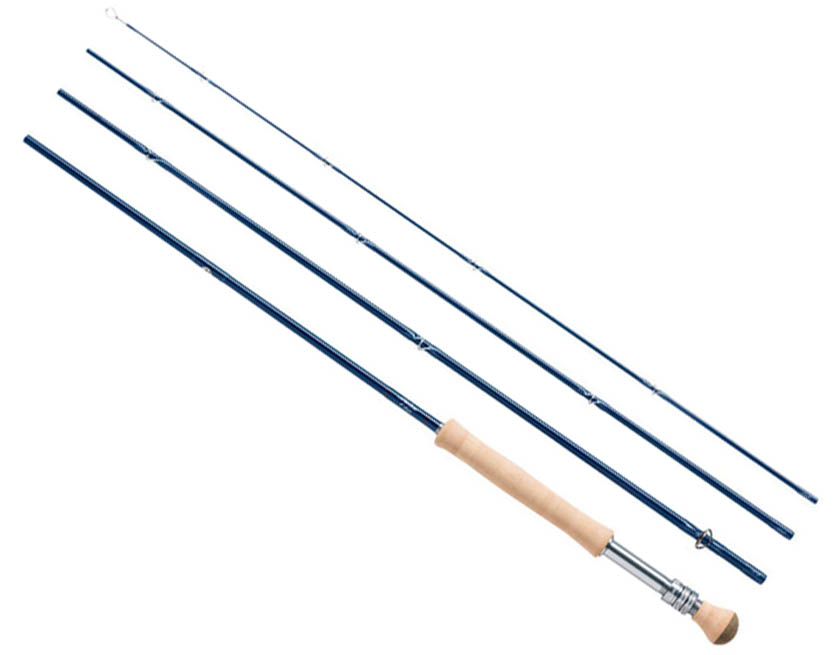 Action: Medium 
Weights: 3 to 10
What we like: Cheaper and faster than the R.L. Winston PURE above.
What we don't: Requires a skilled hand.
No other major manufacturer makes their rods with quite as much attention to detail or high-quality components as R.L. Winston. And the Nimbus is no exception—this Boron design is as much art as it is fly rod. Breaking with Winston's long tradition of muted earth tones, this rod has a striking sky blue with chrome nanolite stripper guides, a beautiful burled wood reel seat, and light natural cork handle. The multi-modulus graphite composite gives the Nimbus more power than most Winston rods, but it still maintains that delicate feel and soft presentation we've come to expect.
Winston rods can be a bit finicky—especially for newer anglers—and you really need to have your timing down to get power and distance. And even though the Nimbus is billed as a fast action rod, we put it squarely in the medium category—it feels especially underpowered when fishing heavier flies. But for the experienced caster, it is a brilliant blend of power and finesse. We still give the edge to the PURE, but the Nimbus is a very similar and faster rod for a couple hundred bucks less.
See the R.L. Winston Nimbus

Action: Very Fast
Weights: 3 and 4
What we like: The best pure nymphing rod on the market.
What we don't: A true single tasker.
The vast majority of fish feeding occurs below the surface. It takes just the right conditions for a fish to expend the energy to swim up to the top of the water column and expose itself to predators in order to snatch an insect. And although not as visually exciting, the reality is that anglers catch more and bigger fish while nymphing. 
This is why we love the G. Loomis NRX Nymph, which is designed specifically with sub-surface fishing in mind. The extra-long 10-foot rod improves reach when Czech nymphing and aids in line control when using a strike indicator. Overall, the rod is extra stiff to move weighted nymphs with ease, but Loomis left the tip soft and sensitive enough to feel deep strikes. All things considered, this is a beautiful, purpose-built rod that does one thing and does it extremely well.
See the G. Loomis NRX Nymph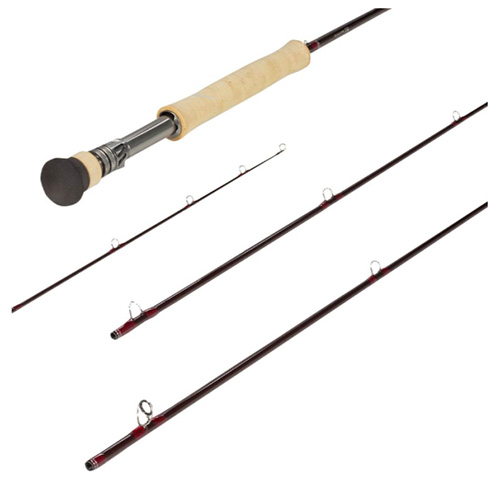 Action: Very Fast
Weights: 4 to 10
What we like: Incredibly powerful and can reach super-long distances.
What we don't: Can be difficult to cast.
Replacing Sage's popular Method is the new Igniter model, which is ever-so-slightly more approachable thanks to its updated KonneticHD construction. It's a bit softer in the tip and less prone to having that dreaded broomstick feel. Having said that, the Igniter still is one of the fastest-action rods on the market and an ideal choice for long-distance casting, punching through big wind and sending large, heavy flies. But a lot of line and high speeds mean you really need to feel the rod and get the timing right. Experienced casters will love the power and distance in the right circumstances, but we certainly wouldn't recommend this rod for beginners or even most intermediates.
We think of the Sage Igniter as a specialty rod for those with a serious quiver: it's built for when the weather and wind aren't cooperating, but you still want to get out on the water. And it's a great choice when you really need serious distance. On Pyramid Lake in Nevada, we've gone out to the top of our waders while hauling a step ladder, which you then climb on to get a little more casting distance to reach those huge Lahontan cutthroats. The Igniter would be perfect for that situation, or anytime when distance matters above all else.
See the Sage Igniter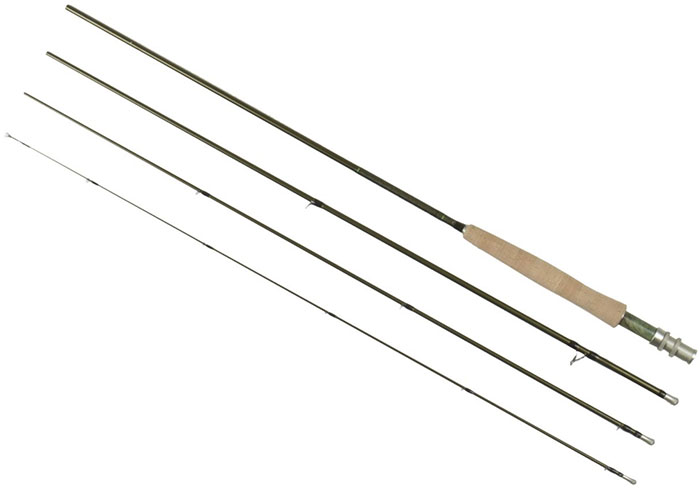 Action: Fast
Weights: 3 to 6
What we like: A premium all-around rod for around $700.
What we don't: We still prefer the Scott Radian above.
U.K.-based Hardy has been on the scene seemingly forever, including a relatively recent acquisition that left some loyalists wondering about its future. But the Zephrus FWS is a really nice and unique rod that undercuts other high-end models in price. For around $700, this fast-action rod is powerful, accurate, and forgiving for all types of anglers. It doesn't necessarily beat out any premium rod at what they do best, but it's another attractive all-around option for those who want to avoid buying multiple rods without compromising in terms of quality.
The reason we have the Hardy Zephrus FWS ranked here is the Scott Radian above. Both are high-end rods designed to do everything, but the Radian has slightly better accuracy at almost all distances. Yes, the Radian is about $95 more, but we think that jump in price is worth it for those who are planning on getting a lot of use out of their rod. The Zephrus FWS arguably is a bit softer for delicate presentations, which should be a consideration if you frequently fish smaller and slower water.
See the Hardy Zephrus FWS
Action: Medium-fast
Weights: 2 to 4
What we like: Two-handed spey rods cast far and excel in tight quarters. 
What we don't: Long and not good for dry fly fishing.
A relatively new development in the world of trout fishing has been the inclusion of two-handed spey and switch rods. The benefits are extensive and include the ability to cast long distances, even in tight quarters, ease of use for high-stick nymph fishing due to their longer lengths, and the fact that we feel less fatigued after long days on the water, especially when swinging streamers. In the spey category, we like the Reddington Hydrogen Trout model, which features a nice medium-fast action that works well for newcomers and experienced fisherman alike. The rod is available in the most popular line weights, offers a fun and new way to cover water, and has an approachable $350 price tag.
Keep in mind that two-handed casting is an incredibly enjoyable way to fish larger rivers and streams, but it's not the easiest to master. We've broken off heaps of flies, hit ourselves in the back of the head, and missed more fish than we'd care to admit trying to learn the proper technique. If there was one downside to this style, it would certainly be this. In addition, these two-handed rods are long and will never match the dry fly presentation of most single-handed models on our list—they just don't excel at that. But these problems are not particular to the Hydrogen Trout Spey, which we think is an excellent starting point for your two-handed adventures.
See the Redington Hydrogen Trout Spey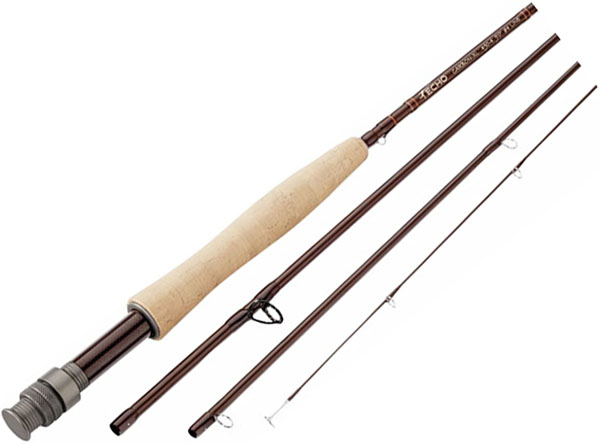 Action: Medium-Fast
Weights: 2 to 6
What we like: Inexpensive, forgiving, and versatile.
What we don't: The components and finishes leave something to be desired.
A number of rods on this list top out at $700 or even $800, but there's a time and a place for a good entry-level model. For beginners and those on a tight budget, the Echo Carbon XL is designed as a versatile rod to suit just about everyone. The medium-fast action is solidly middle-of-the-road: the rod is powerful enough to cast reasonable distances but soft enough to land dry flies on smaller water. The Echo may not wow you or your fishing partners with its distance or accuracy, but it gets the job done for under $150.
It's a tough call between the inexpensive Echo Carbon XL and the Echo3 above, or you can get the Orvis kit for about $300 including a reel and line. All in all, the components and finishes are not as nice as those mid-range models, but are significantly better than most similarly priced rods. If you're new to the sport or just want to get out and play on occasion, Echo does inexpensive rods as well as anyone.
See the Echo Carbon XL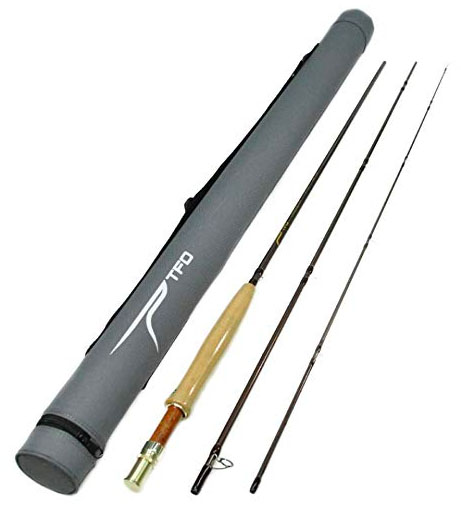 Action: Slow-medium (note than TFO refers to this as medium action)
Weights: 3/4, 4/5
What we like: The performance of graphite with a classic fiberglass feel.
What we don't: Available in limited line weights and lengths.
We've taken a bit of heat here at Switchback Travel for our less-than-favorable stance on fiberglass rods. They may be unbeatable in terms of nostalgia, but glass rods are across the board thicker, heavier, and slower. They're also parabolic—the material bends equally throughout the rod—allowing for less power when casting and fighting fish, and less sensitivity, especially when nymphing. Graphite has largely stolen the show: it's lighter, dampens better, and has a higher tensile strength.
But we get it: fly fishing isn't all about performance, and many anglers still crave that traditional fiberglass feel. Temple Fork Outfitter's Finesse Glass provides the best of both worlds here, merging the action of a fiberglass rod with the perks of graphite construction. The Finesse is made for smaller waters, but its lighter weight makes it more manageable than glass, and faster tip recovery dramatically improves both power and sensitivity. We won't fault anyone for being a fiberglass devotee, but we do think the Finesse is a much-improved middle ground. TFO also now makes the graphite Finesse Trout for those who aren't yet sold.
See the TFO Finesse Glass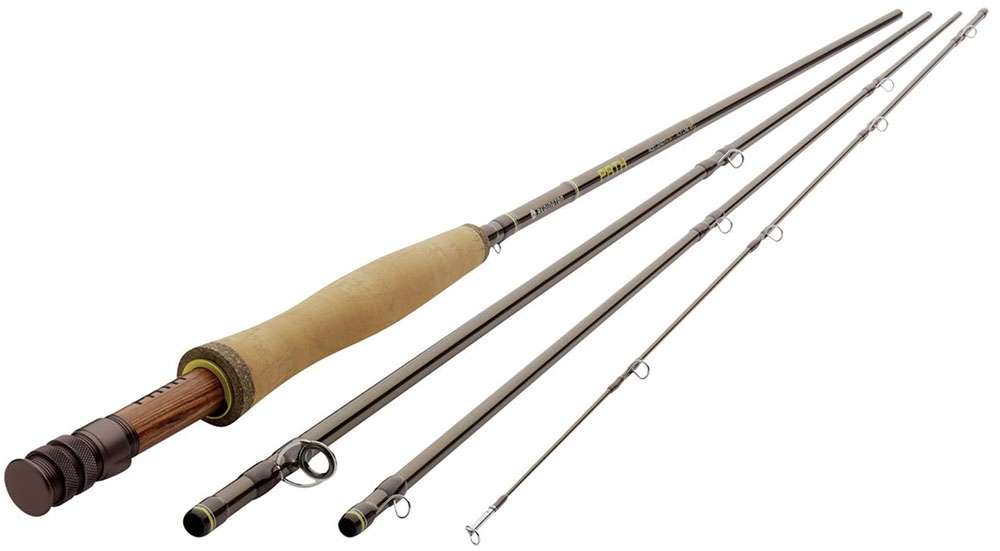 Action: Medium-Fast
Weights: 3 to 9
What we like: Inexpensive and easy to cast. 
What we don't: Looks and feels cheap.
The Redington Path II sits squarely at the budget end of the market, but is a viable option nevertheless. Most importantly, it's a fun rod. It has a nice, easy casting motion that's perfect to learn and grow with. The medium-fast action is just about dead center on the spectrum of modern fly rods, making it a good all-around option compared to faster or slower action models. Lastly, you can beat it up without much of a worry as it's among the cheapest rods on this list.
As an example, one of our writers recently bought the Redington Path II for his eight-year-old son to learn to fly fish on. He wanted a good all-around rod for a beginner at a great price, and after quite a bit of research settled on the Path. The rods above are more powerful or more sensitive, but few can match the value or fun factor of the Redington.
See the Redington Path II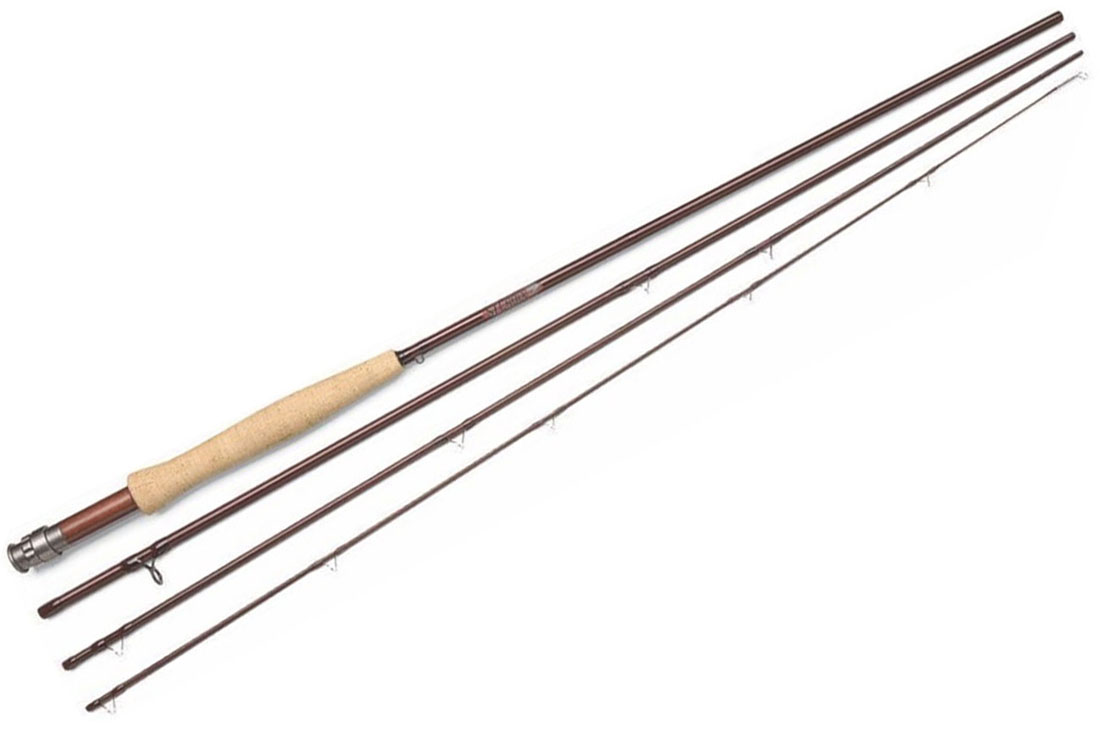 Action: Fast
Weights: 2 to 10
What we like: Mostly the price, and St. Croix is a serious brand.
What we don't: Cheap components and finishes; feels a bit clunky.
Storied St. Croix out of Wisconsin makes a wide range of rods for just about every type of fishing you can imagine (all in the USA, we might add). This particular fly rod, the Imperial, offers a lightweight feel combined with fast action for fishing in a variety of environments. All things considered, the rod fishes just fine—it's versatile enough to get the job done for most anglers and rivers. And at $280, the Imperial is an attractive option for those familiar with the brand.
Why is the Imperial ranked here? Frankly, it's one of St. Croix's lower-end rods and it shows. The components and finishes look cheap compared to other, similarly priced rods. And it didn't help when the rod arrived at our doorstep with the cork handle beat up and missing a small chunk. In addition to build quality, the rod just feels clunky and seems a generation behind its competitors. Even at this reasonable price point, we would like to see St. Croix improve and become more competitive.
See the St. Croix Imperial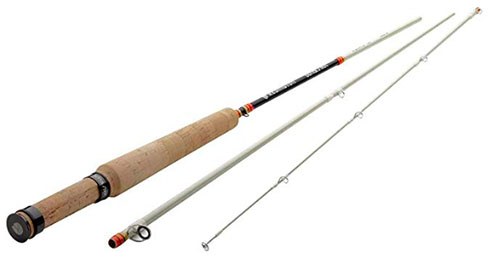 Action: Slow
Weights: 2 to 5
What we like: Cool retro styling.
What we don't: Everything else.
The Butter Stick one of only two fiberglass rods to make this list (the other being the TFO Finesse Glass), mainly because there are only a handful on the market. And we'll start by saying that we really wanted to like it. Most of us grew up fishing fiberglass rods, although we hadn't picked one up in years. It turns out there is a good reason why. Rather than bash the rod, let's just say that fiberglass simply cannot compete with modern graphite. We know a couple of old-school fly fishers that say nothing beats fiberglass for soft dry fly presentations. We suggest they try a Winston. 
Nevertheless, hats off to Redington for the guts to try. We wish all rod makers were this adventurous, and particularly when it comes to styling. Thanks for the nostalgia. And if you really have your heart set on fiberglass (we tried to convince you otherwise) and want to shop around, see the Echo Glass or pricier Orvis Superfine.
See the Redington Butter Stick

 
Fly Rod Comparison Table
Fly Rod Buying Advice
Fly Rod Weight
Weight rating is one of the single most important factors in choosing a fly rod. This isn't its actual weight in ounces, but a rating used to match a fly rod with an appropriate line. For example, a 4-weight rod is designed to cast a 4-weight line, and if you use line that is too light for a given rod, it won't fully load or cast properly. Generally, freshwater weight ratings range from 2 to 10, and the classic do-everything fly rod is the 5 weight. Yes, it will be a little clunky on small creeks and feel a little underpowered when deep nymphing, but it's totally capable of both.
Keep in mind that rod and line weights are more about the size of the flies than the size of the fish. An angler that fishes mostly smaller dry flies will be well served by a light 3 or 4-weight rod. If you want to fish larger dries like two-inch salmon flies or big, meaty stones, then a 4 or 5-weight rod will be more appropriate and give you more power to move those heftier flies. Deep nymphing with weighted flies or even split shots require a rod more in the 5 to 7-weight range. And if you want to fire large streamers to the opposite bank of serious rivers, then you are talking a 6 to 8-weight rod.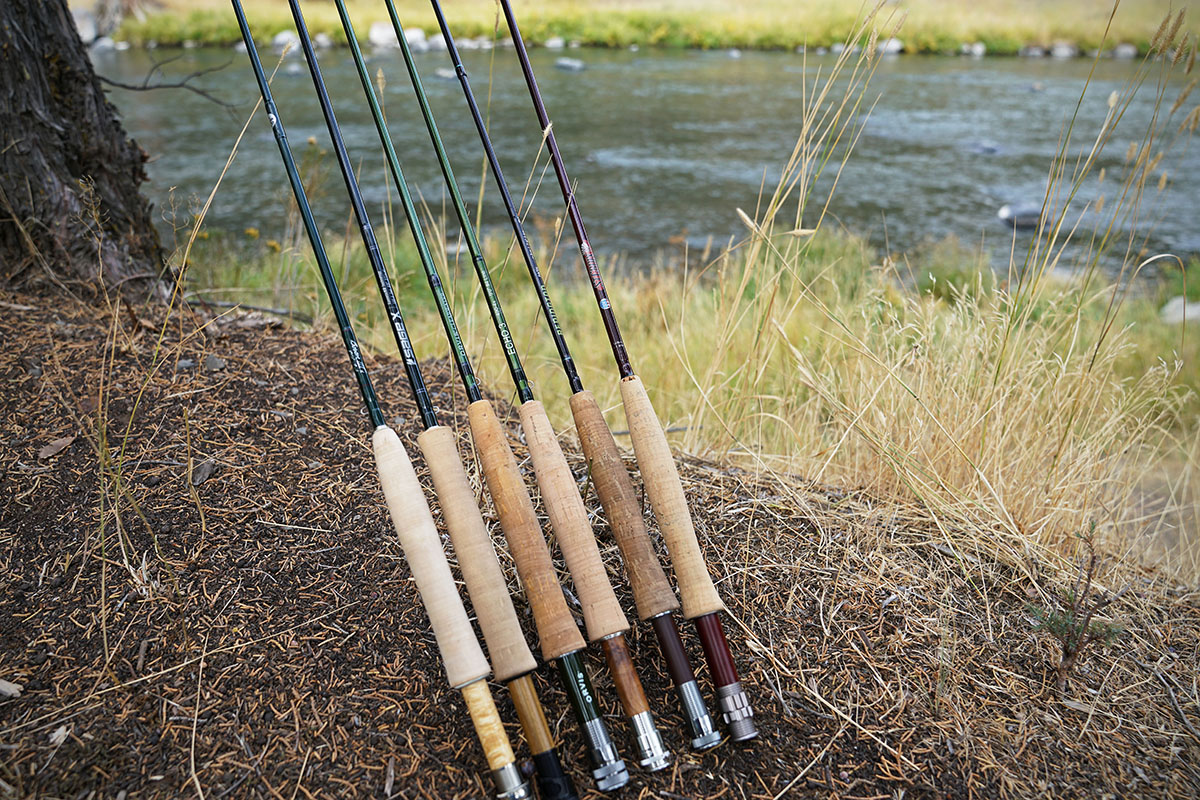 There is one wrinkle that prevents us from being more precise here. A 5-weight rod from a specific rod maker can fish differently than a 5-weight rod from another. More, a faster action rod tends to fish "heavier" than a slower action rod of the same weight. You really need to go rod-by-rod in terms of what type of fishing it does best. 
A final note on rod weight: we said above that weight is more about the size of the flies you intend to cast than the size of fish you hope to catch. This is true with one caveat: don't bring a knife to a gun fight. It's important to use a rod capable of landing a fish in a reasonable amount of time so it can survive after being released.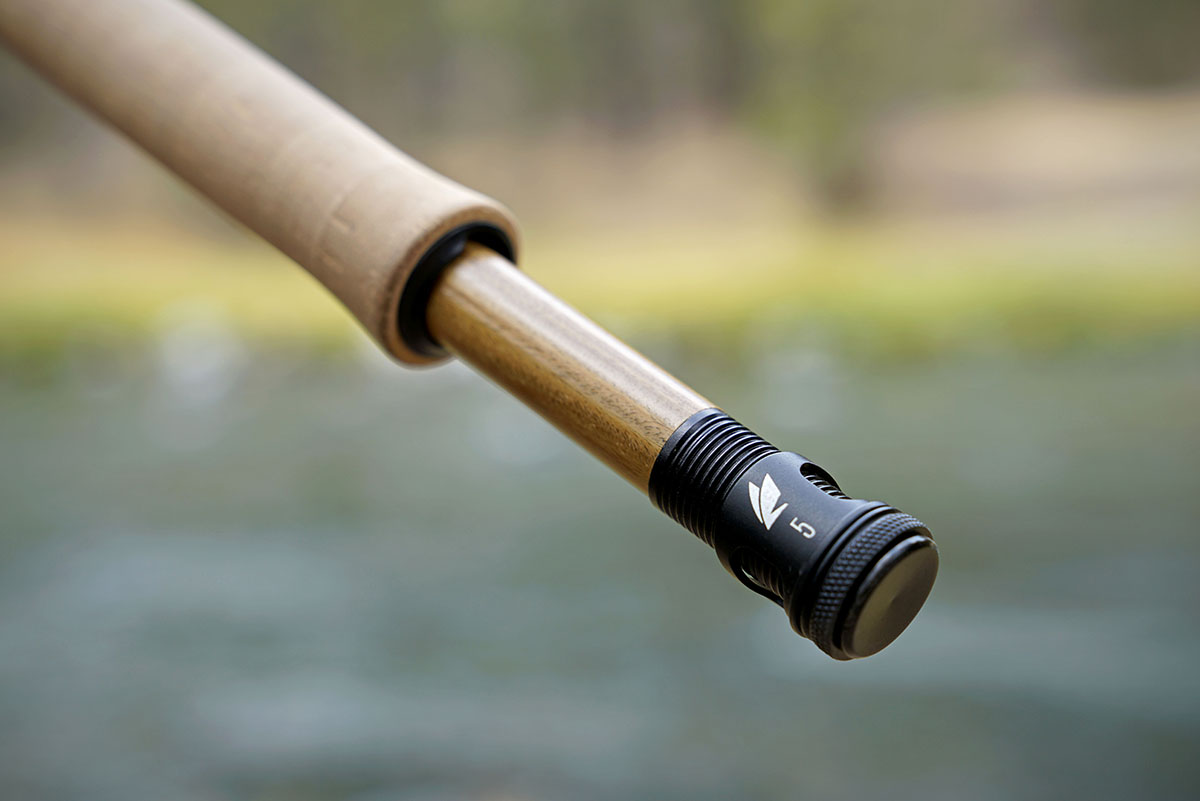 Action
Action is a multi-faceted concept, but generally refers to how deep the rod flexes during the casting process. The three common categories are fast, medium, and slow action. A fast-action rod is stiff and flexes the least, generally toward the tip, generating faster line speeds and longer casts. For a great example of a powerful fast-action rod, see the Sage X. A medium or slow-action rod, on the other hand, has more flex and will bend more deeply all the way down to the handle, resulting in slower line speeds and allowing for soft presentations to avoid spooking fish ("presentation" is a commonly used term describing how gently a fly is laid down on the water).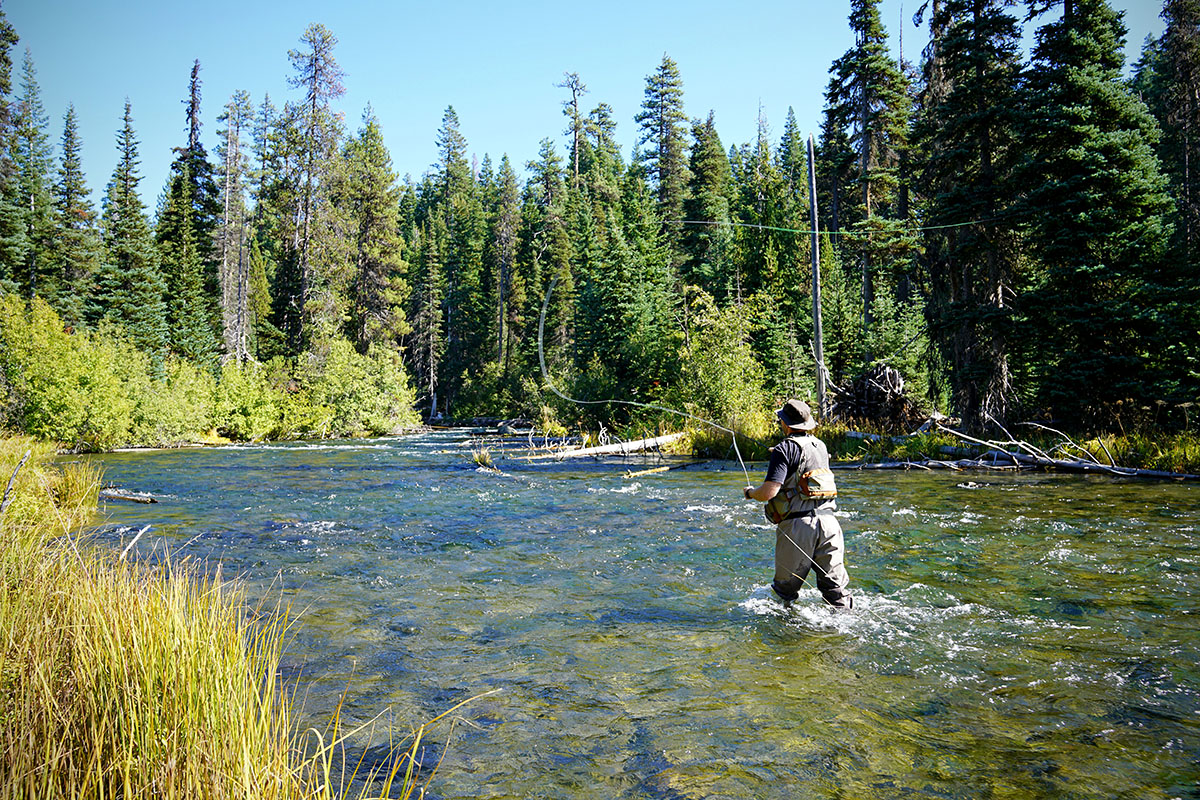 The performance gap between fast-action casting rods and slow action presentation rods used to be massive, but improvements in technology and dedicated rod makers have narrowed the gap significantly. We are amazed at how modern rods can fire off long distance casts yet still achieve nice presentations. Still, most rods fall somewhere on the spectrum with casting distance on one end and presentation on the other. To be better at one you have to give up some of the other. 
There is a lot of personal preference here and you want to go with a rod that matches your individual casting style and where you intend to fish most. For small spring creeks and tributaries with wary fish, get a slower action rod that can gently lay flies down on the water (our favorite is the R.L. Winston PURE). For bigger rivers, get a faster rod that can send flies further and punch through wind. If you plan on doing a little of everything, an all-around rod in the medium-stiff zone is your best bet. 
 
Rod Length
Just like the weight of a fly rod, you'll have a choice when it comes to length. In general, rods vary from around 7 feet at the short end to 10 feet at the long end, with the most common length being 9 feet. And the longer the rod, the more power you will get from casting, which can helpful when trying to hit a far-off hole or high stick nymphing. Bigger is not always better, however: a longer rod can get in the way on small, brushy creeks and cause all kinds of headaches. So if you are the type of angler that loves hiking up remote tributaries with little need for long casts, you'll likely enjoy a nimble 7 or 8 footer. For bigger water with less vegetation, a 9 or even 10-foot rod will do the trick.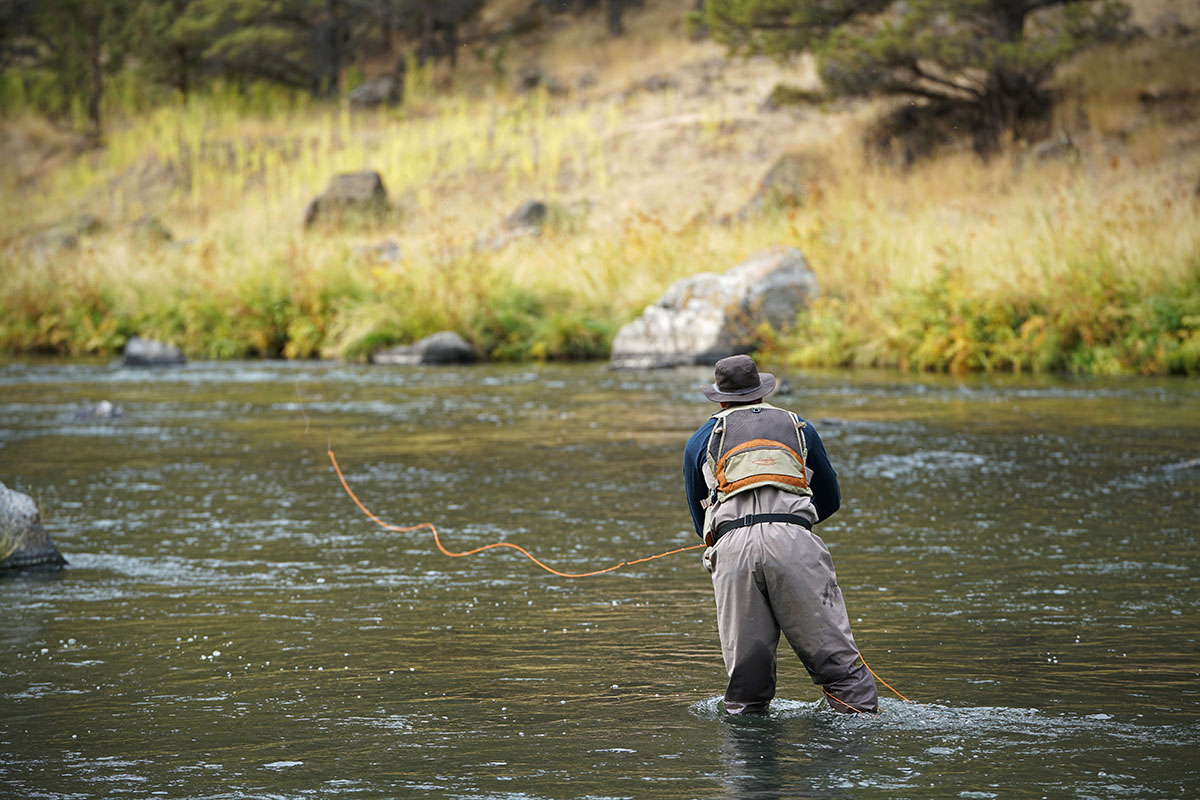 All-Around Rods vs. Specialty Rods
Like just about any type of outdoor gear, many serious anglers have multiple rods to match the size of the river and conditions (a "quiver" of rods, if you will). But if you want one rod to do it all, it likely would be a 5-weight rod that is around 9 feet in length. This rod could effectively fish small streams, although it would be on the powerful end of the spectrum for that. And it could fish larger flies and rivers, although not quite as well as its heavier counterparts.
As an example, we love fishing the Middle Deschutes in Oregon. That part of the river is big with lots of large riffles and runs. The fish tend to sit right on the bottom, so the optimal solution is double nymph rigs and lots of weight. Ideally, you'd want a heavier and longer, fast-action rod to cast this heavier set-up, probably something in the 5 to 7-weight range and at least 9 feet in length.
However, there are lots of eddies on the Middle Deschutes, with slow moving slack water where bugs and fish collect. Here you can often find lots of risers, and fish near the surface of slow-moving water tend to be very wary and spook easily. In this case, we prefer a small, slower action rod that can gently lay dry flies on the water, probably a 3 or 4 weight. And these are short casts so an 8-foot rod works just fine.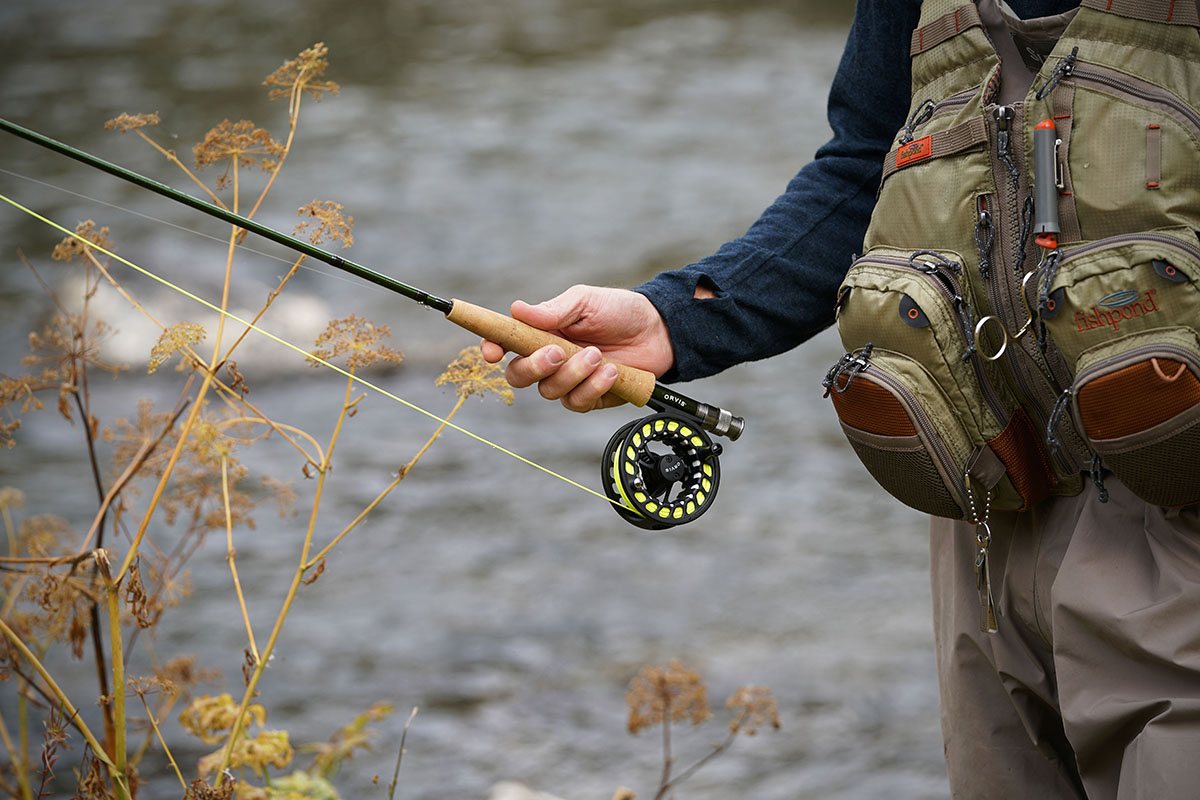 The point is, as an angler you can bring multiple rods, each for a specific situation (of course, this costs substantially more). Or you can use a single all-around rod like the Scott Radian or Orvis Helios 3F, often that 5-weight, 9-foot model. When fishing heavy nymph rigs, you probably will wish you had a little more power, and you may wish you had more finesse laying small dries on the top of the water. But you should be able to get by just fine. And keep in mind that most anglers start with one all-around rod and slowly add more options to their arsenal as they progress.

Freshwater vs. Saltwater Rods
Many fly rods come in both freshwater and saltwater varieties. For the purposes on this article, we've focused on freshwater models and river/lake fishing in particular. Keep in mind that the fish don't know the difference—you can try to fish a saltwater rod on freshwater and vice versa. But in general, saltwater rods are stronger and built to handle larger fish, longer fights, and heavier winds. You also tend to see faster line speeds and longer lengths and people just don't need those shorter and slower rods. Finally, some of the components may be resistant to corrosion caused by salt. If you're fishing rivers and lakes, we recommend sticking with a freshwater rod. If you're on the fence, some of the bigger and faster rods can go either way.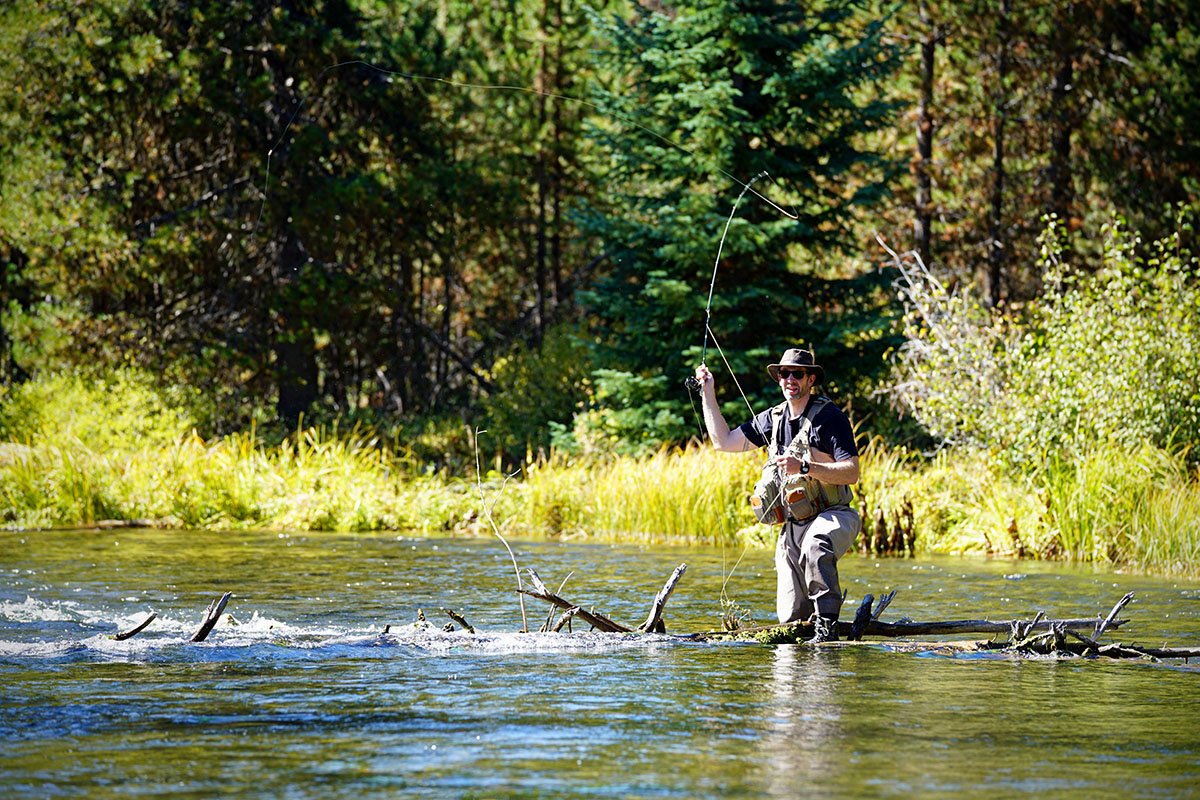 Spey Rods
Spey rods are long models designed to be cast with two hands. Typically, they are meant to swing streamers for steelhead or salmon and have two big advantages over traditional one-handed rods for this purpose. First, given the extra rod length, they can achieve serious distance and cover significantly more water with each cast. Second, they use an entirely different casting method with no backcast, allowing anglers to slowly work up or downstream along the shore with no worries about bank-side brush or trees. Keep in mind that these are specialty rods used mostly on large rivers, so you probably already know if you need one.

Shaft Materials
The vast majority of modern fly rods are made from graphite. This wonder material was introduced to fishing in the late 1960s, steadily improved over the following decades, and has dramatically changed the industry. Graphite's combination of strength and low weight has allowed for longer, lighter, and better casting rods. Without a doubt, today's graphite rods are extremely powerful and durable. There still are few rods being made from fiberglass, which is considerably different than the fiberglass of old. But it's very hard to compete with the performance of graphite.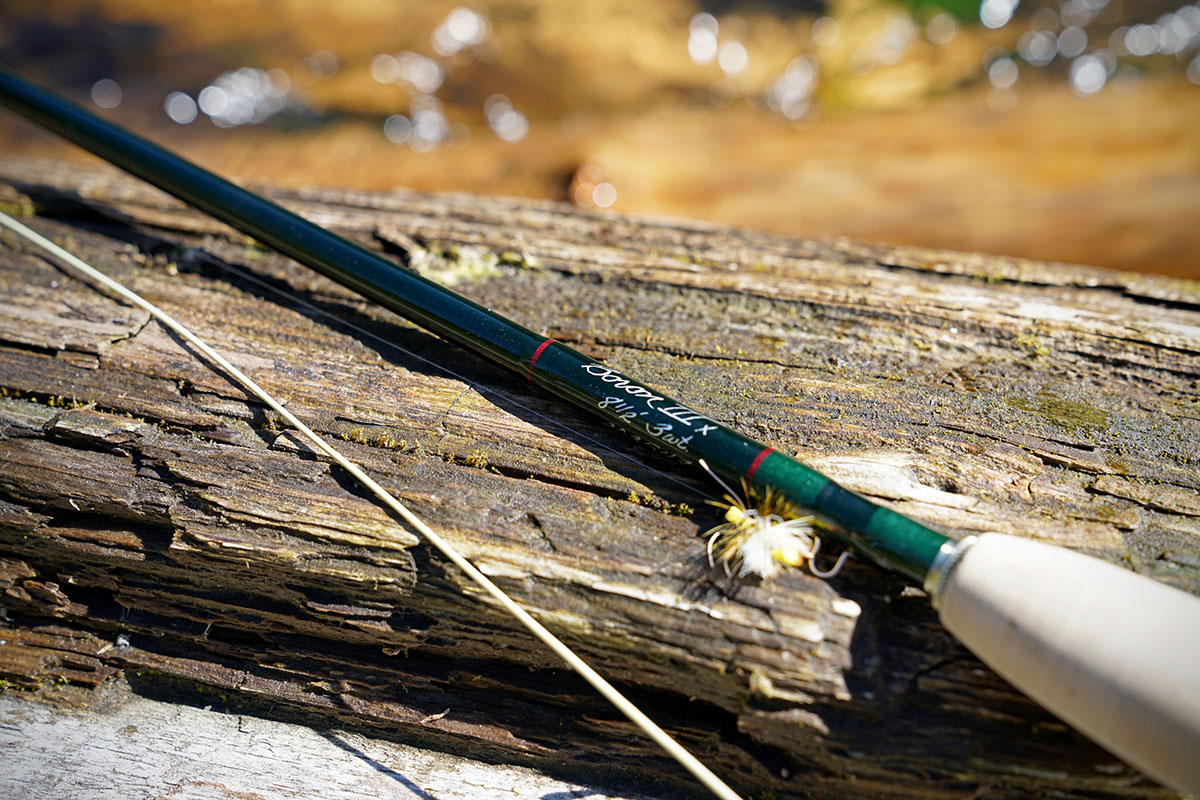 Bamboo is a third type of rod material and in a class by itself. For good reason: bamboo rods are true works of art. We are going to attempt to say this as delicately as possible to avoid getting heckled at the next fly fishing industry event: we greatly appreciate the beauty, tradition, and craftsmanship of bamboo rods, but they can be a bit finicky to cast. And a nice handmade bamboo rod can cost more than a decent used car. 
Perhaps the most relevant question in rod construction is: Is all graphite the same? As long as graphite has been used in fly rods, manufacturers have tried to improve it. Some rod makers use longer fibers to maintain smooth energy transfer throughout the rod, some add materials like silica or boron to improve certain properties, and some are using less resin to reduce weight. Do these things matter? The short answer is yes. Different graphite materials developed by different rod makers have properties that make specific rods particularly well suited for certain applications.

How Many Pieces?
Many modern fly rods come in 4 pieces, which makes transport and storage easy. Back in the dark ages of fly fishing, the connections between rod sections (known as ferrules) had a greater impact on performance. You could feel a rod start to bend and load, hit a ferrule, and lose power. Back then the fewer ferrules the better, so most serious anglers were forced to go with two-piece rods. If you had a 9-foot rod, that meant two very long sections of 4.5 feet each.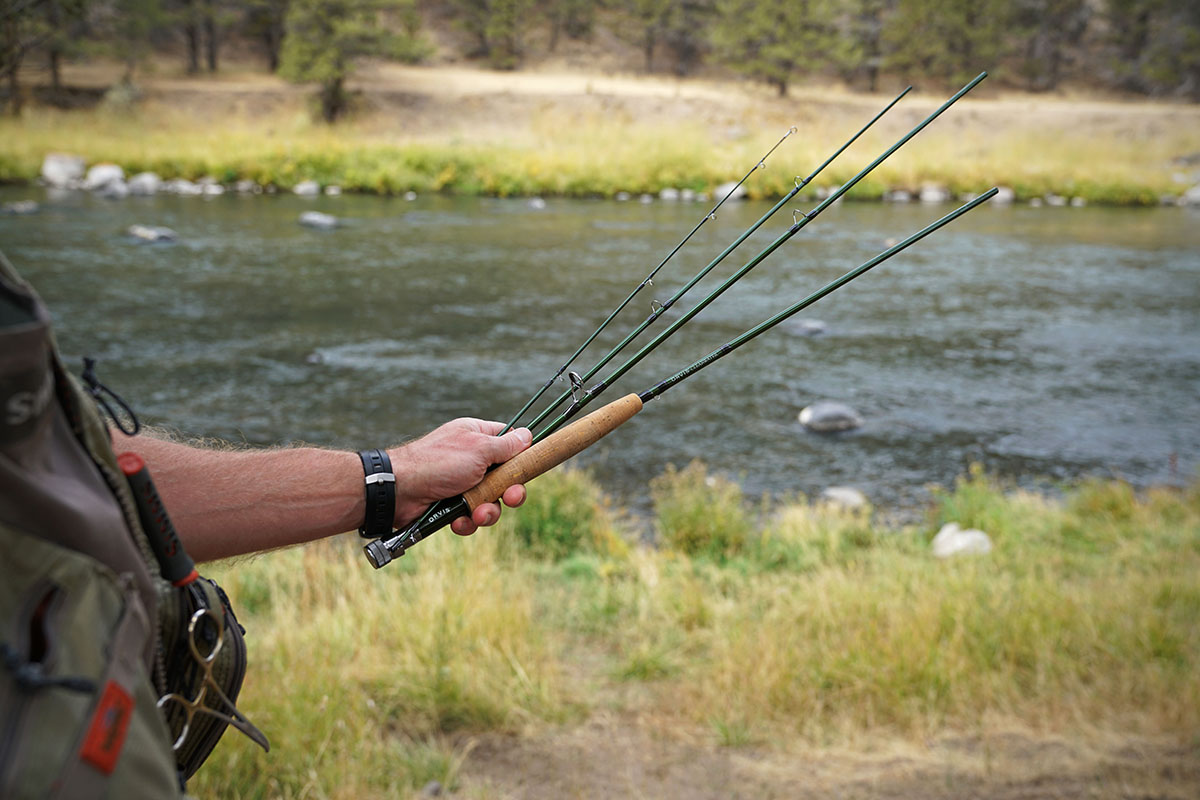 Fortunately, there have been massive improvements in recent decades, including the introduction of graphite ferrules in the 1980s. Yes, there still is a slight performance loss at each connection, but it's extremely minimal now. If you are bothered by a couple of additional ferrules, we congratulate you on your fantastic casting abilities, but we don't envy you trying to cram that rod tube into the overhead bin of an airplane. In 2019, a 4-piece rod is a fine choice. As we mentioned above, ferrules mean less now than ever before in terms of performance. 

The Handle
Most fly rods have cork handles. Lower-weight rods tend to use "cigar" shaped handles that taper down toward the thumb, which seems to help deliver a light touch, while heavier rods often have a reverse taper, increasing in diameter towards the thumb. This gives a nice leverage point for your thumb when you want to add power to your cast.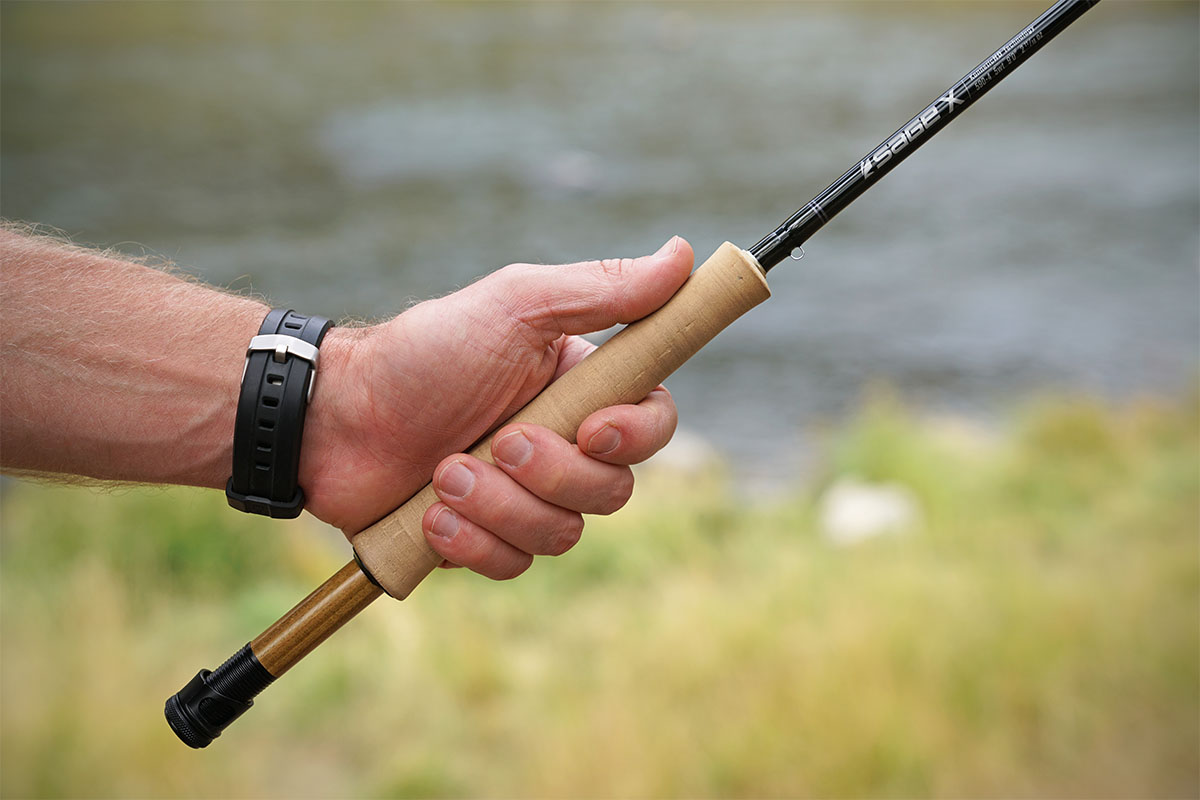 The most important thing is that the handle feels comfortable in your hand: after all, you are going to be gripping it for hours at a time. Next, you want to make sure the handle fits the type of fishing you plan to do. You don't want a small, delicate handle on a 10-foot, 8-weight rod that you plan to use for streamer fishing. Finally, the quality of the cork often correlates with the cost of the rod. High-end rods use premium cork and construction while entry-level rods often skimp in this area (and others). 

Reel Seats
The seat is where the reel attaches to the rod. Some people prefer an unlocking reel seat where the fastening mechanism screws up the rod to hold the reel in place, creating a larger fighting butt. When fighting a fish, it's pulling the line upward towards the more secure, fixed attachment point rather than the screw mechanism. Others prefer a downlocking reel seat where the fastening mechanism screws down the rod towards the fighting butt. To us, it does seem slightly easier to attach the reel to a downlocking seat—gravity is on your side when you set the reel down into the lower fixed attachment point.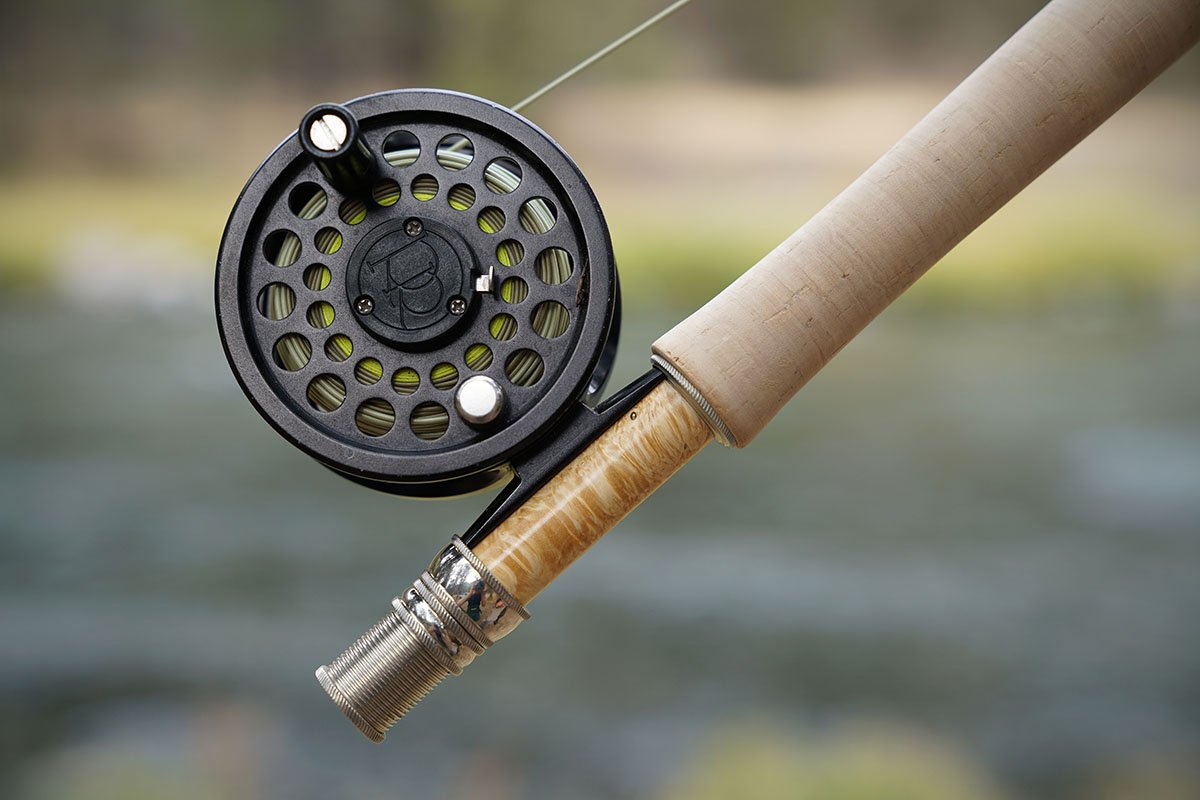 If you plan to fish in saltwater regularly, be sure to go with a rod specifically designed for that use. The components will be corrosion resistant, and wooden reel seats and saltwater tend not to get along very well.

Reels
Most importantly, you should use a reel that matches your chosen fly rod and line. What do we mean by that? Remember that a fly rod is designed to cast a line of the same weight. Well, reels also come in "weights" that help match it to the rod and line. If you are using a 5-weight rod and corresponding 5-weight line, you will want a 5-weight reel as well. That will ensure that all the line will easily fit on the reel along with a reasonable amount of backing (extra line for when you hook into a monster fish, which you will!). 
You also want to pair the rod with a reel that matches its style and type of fishing you plan to do with it. For example, if you have a light presentation rod that you plan to use mainly for dry fly fishing, you likely will want to go with a smaller, lighter-weight reel. Putting a big heavy reel on a light presentation rod can make it feel out of balance and more difficult to cast. And if you plan on casting streamers with a big heavy rod, then a heavier reel is the right choice.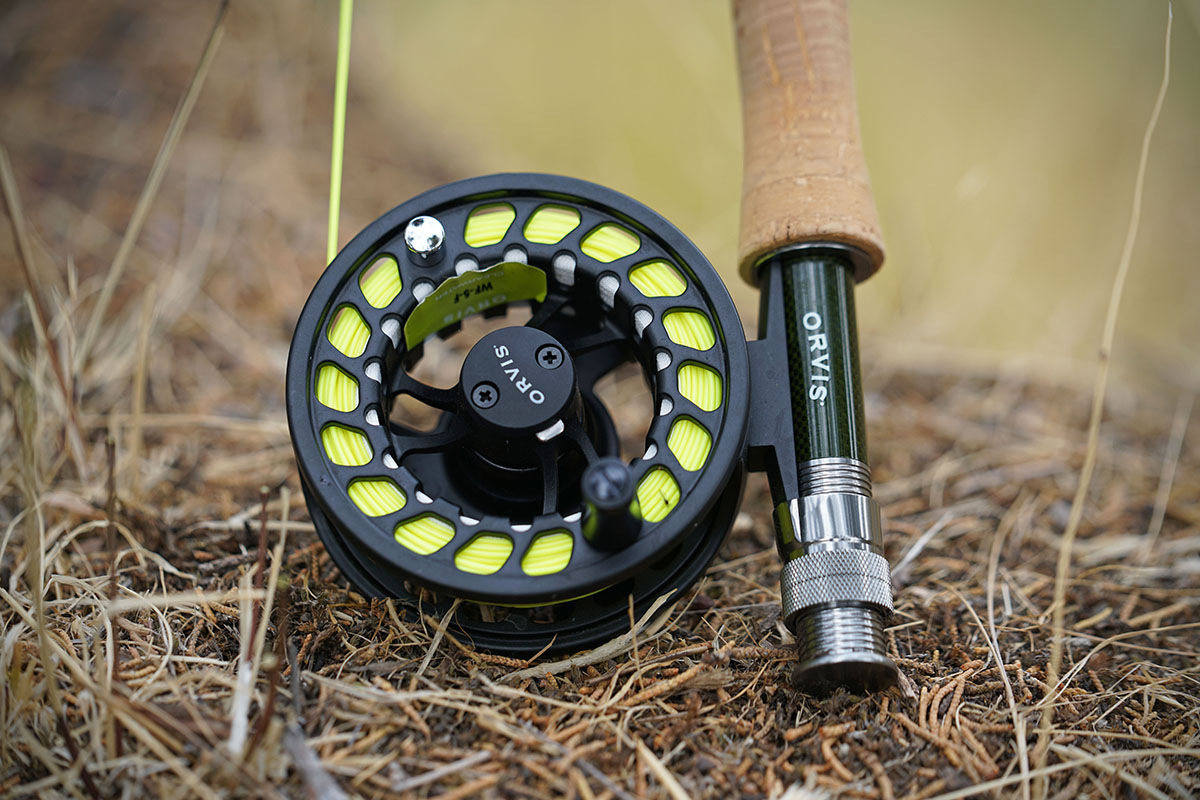 There is one last wrinkle to be aware of. Many reels come with a rating like "3/4 weights" or "5/6 weights," meaning they can work with either size line and rod. That allows the reel maker to produce a narrower line of products and retailers to carry less inventory. However, the wrong choice can throw the feel of a rod off. We are fine using a 3/4 weight reel on a 4-weight rod, but a 3/4 weight reel usually feels too beefy for a typical 3-weight rod. In this case, we would recommend looking for a reel that comes in a true 3 weight.

Guides
Still reading? We officially are impressed. You have made it to the finer details of your fly rod purchase. Guides are the little loops attached to the rod that the fly line slides through. Some have two "feet," or attachment points to the rod, to save a bit of weight. Others have four for more durability. Budget rods tend to use stainless steel guides while higher-end rods tend to use lighter weight alloys to cut overall rod weight. Guides probably won't have much of an impact in your purchasing decision, but they do generally increase in quality as the cost of your rod goes up.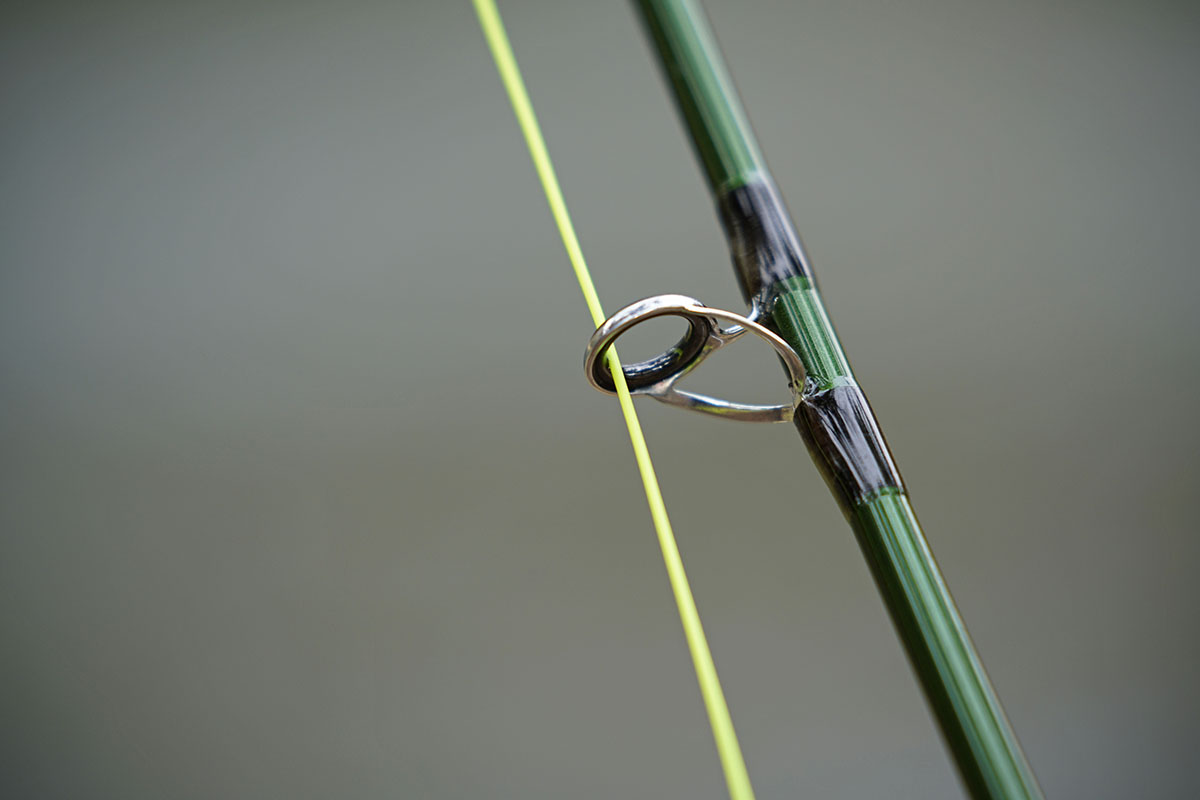 Rod Cases
Back in the day, we made homemade rod cases out of PVC pipe from the local hardware store. Now, most fly rods come with their own custom fabric or hard-sided case, often including a silky interior sleeve on the inside for an additional layer of protection. You can even buy aftermarket cases with attached compartments for reels, which ensures your reel is protected and is always with your rod—no more digging through the gear bin to find it.
Regardless of the specifics, it's important to protect your rod during travel and storage. We have noticed that some of the longer fabric tubes have a tendency to permanently curve over time. We hate to think about our nice fishing rods sitting bent in a tube all winter long. And be sure not to put your rod into a case while it's still damp—you might be in for a nasty surprise the next time you open your case. Not only will the smell be unpleasant, the moisture can damage your rod coating.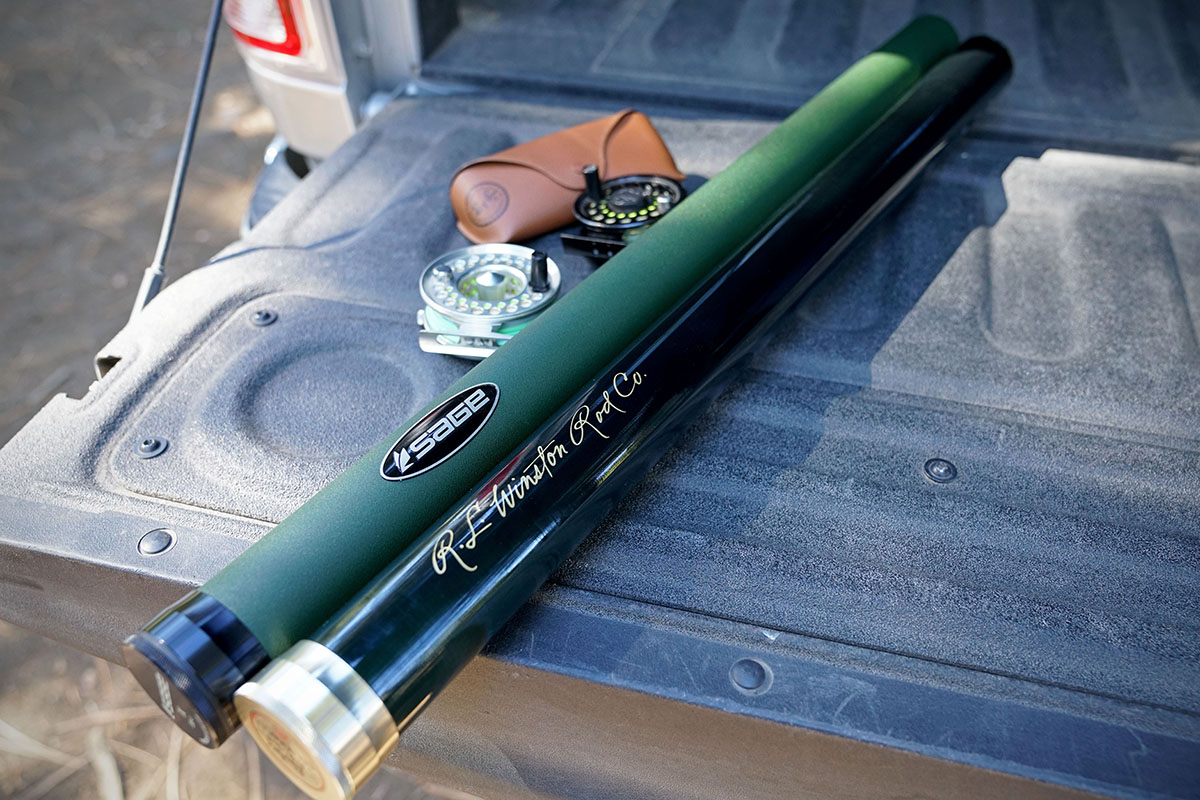 Warranties
We sincerely hope you never have to use your fly rod warranty. But car doors and tailgates have a way of eating fly rods, so it's good to know that most come with a serious warranty (it seems to be built into the cost). This is great piece of mind, and especially when purchasing some of the more expensive high-end models. Each rod maker has their own policy, but in general they are extremely generous and forgiving. Most cover any broken rod for any reason to the original owner. You simply pay a reasonable shipping and processing fee, and be sure to register your rod with the manufacturer upon purchase.
 
What is Tenkara?
Tenkara is a traditional Japanese style of fishing that recently has grown in popularity worldwide. It involves using an extremely long rod, typically telescoping, to reach out over the river and drop the fly into position. Most importantly, the line is fixed to the end of the rod with no reel. This can make for some interesting fish fighting, and is typically done in smaller streams.
We think of a Tenkara as a fad, and an interesting one at that. It's an art form that is minimalist in nature and focuses more on the act of fishing than the equipment. But it requires the right circumstances: a special Tenkara rod, a small stream with small fish, and an experienced angler who knows how to pull it all off. Therefore, we don't recommend that most people start with Tenkara—it's totally different than Western fly fishing and arguably more challenging. But if you want to give it a go, be our guest. Tenkara USA started the trend and sells a number of rods, as does Tenkara Rod Co. and others.

A Final Note for Beginners
Fly fishing can be expensive—just look at the handful of $800 rods on this list. But that doesn't mean it has to be, and anyone can get out and learn without breaking the bank. Most importantly, newcomers to the sport won't necessarily realize the benefits of high-end specialty rods. Instead of spending such a large chunk of change, grab a relatively inexpensive rod, reel, and line combo and see how you like it. A budget option like the Echo Base Kit will get you out the door for about $180 total, and the Orvis Clearwater is a really nice mid-range set-up for only around $300. If you get hooked, you can always upgrade and buy more rods down the road. 
Back to Our Top Fly Rod Picks  Back To Our Fly Rod Comparison Table
Read More from Switchback Travel