There's a lot to love about resort skiing: You can cram in a ton of runs per day, always have the convenience of a lodge nearby, and don't have to hoof it up thousands of vertical feet to earn your turns. That said, the biggest challenge with skiing inbounds is trying to stay warm while standing in long lift lines, sitting on wet chairlifts, and putting in less effort on groomers. To help, we've created a list below of our favorite ways to stay cozy and comfortable all day long—from how to layer properly to tips on drying out your gear overnight. For all of our favorite picks in one place, see our detailed ski gear reviews.

1. Layer Up With The Right Insulation
Your first line of defense against the cold is your ski jacket, which ranges from heavily insulated options to non-insulated hardshells. For those who run cold or frequently ski in frigid climates, an insulated ski jacket is a great choice. In addition to a waterproof outer layer, these models pack either down or synthetic insulation under the shell (or sometimes both). The downsides are less breathability and versatility when the weather turns mild, but it's a great way to stay warm on cold days. Our favorite insulated resort jacket this season is the Helly Hansen Alpha 3.0, which uses a mix of 80-gram (g) and 60g synthetic fill for warmth. Paired with a quality midlayer (more on that below), you should be in good shape on most resort days. For maximum coziness, the Arc'teryx Macai (which is insulated with 750-fill down and 100g and 60g synthetic in moisture-prone areas) may be the warmest ski jacket on the market.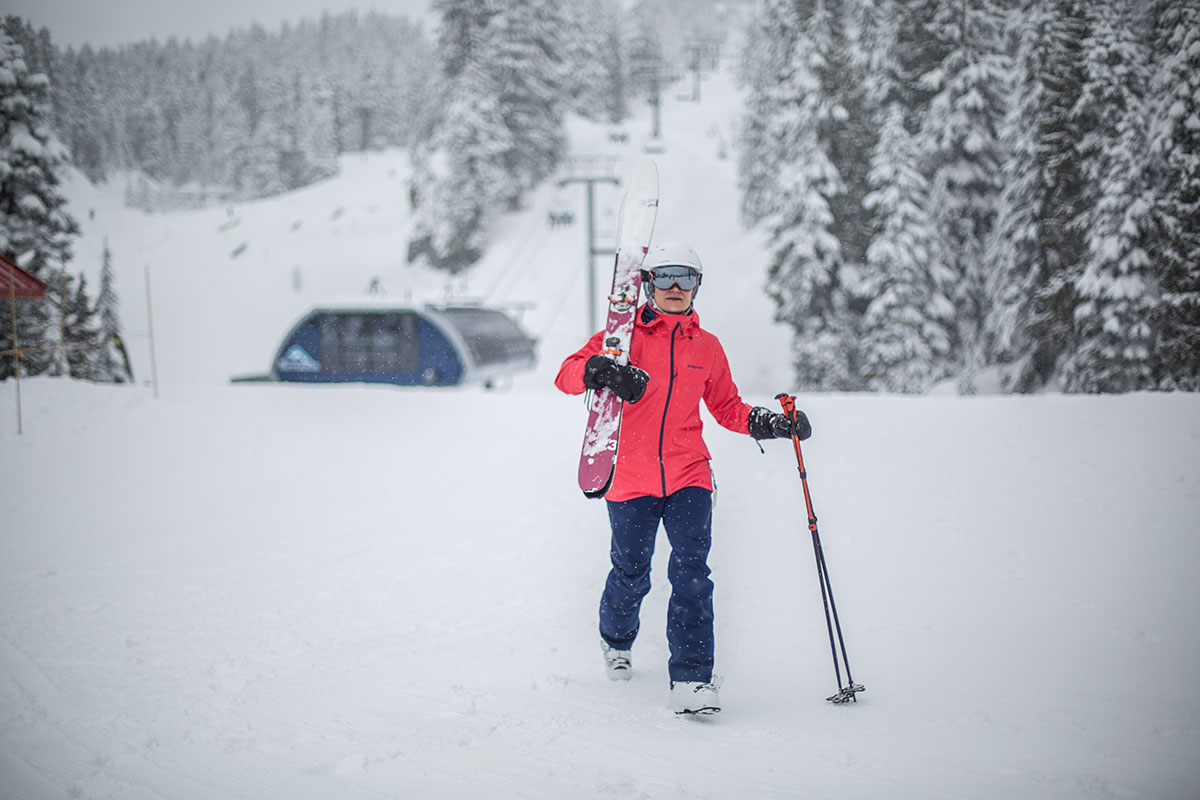 Many expert-level resort skiers and those who hit the backcountry prefer a non-insulated hardshell or softshell ski jacket. In this case, much of your warmth comes from your midlayer rather than your outer layer. We love uninsulated shells for their versatility: You can layer liberally underneath during the depths of winter and strip down to just the jacket and light baselayer when spring skiing rolls around. Hardshells offer the ultimate in weather protection, while softshells generally aren't as impervious to the elements but provide better mobility and overall comfort. Some performance ski jackets now come with a mix of both.
In addition to insulation, wind and moisture seeping through your jacket can be a quick ticket to getting cold. When shopping for a ski shell, Gore-Tex models generally offer the best long-term wind and water protection and outperform most in-house alternatives (although there are a number of quality options, including Patagonia's H2No Performance Standard). Even regular Gore-Tex provides a healthy barrier against the elements, and for the toughest of conditions without having to resort to a bulky and thick construction, premium Gore-Tex Pro leads the charge and is found on high-end ski jackets like the Patagonia PowSlayer and Arc'teryx Alpha SV. You will pay for the privilege, but the longevity and proven wind and wet-weather protection of Gore-Tex are second to none.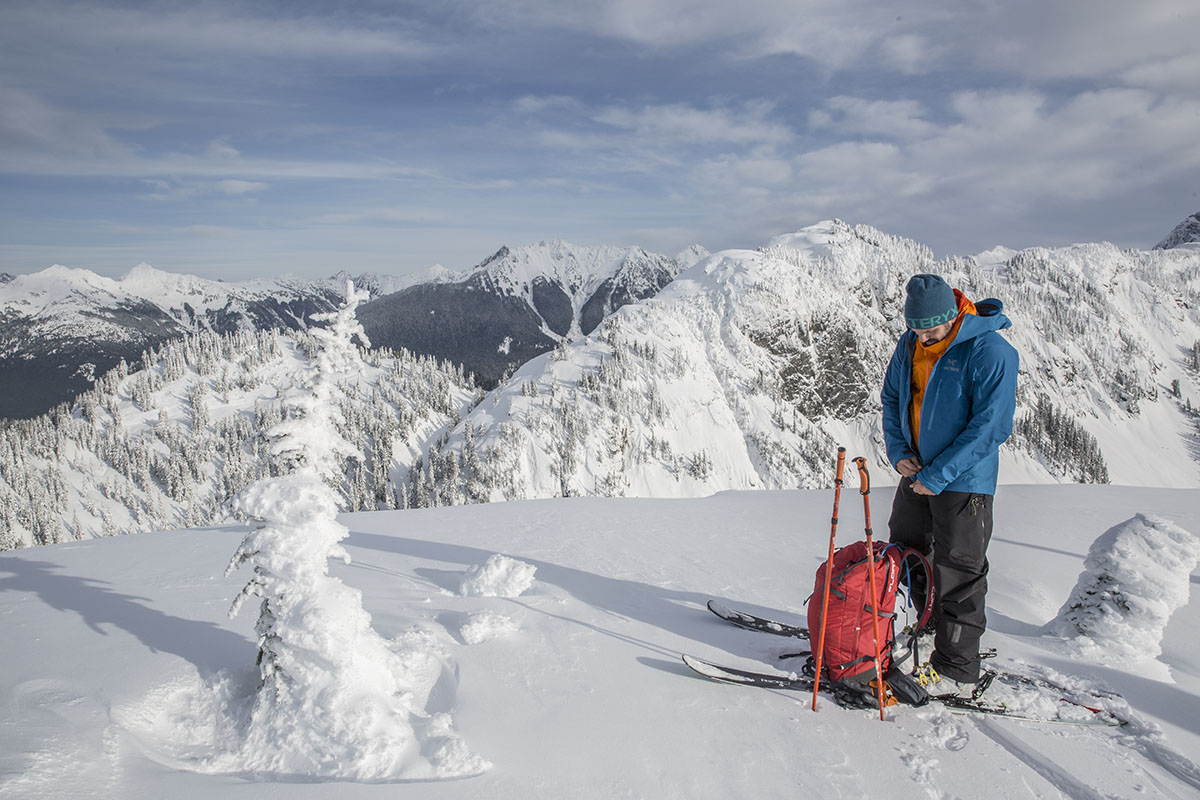 Last but not least, your ski pant selection can have an impact on warmth as well. Most people focus on the upper body more than the lower, and the insulated ski pant options are more limited than the jacket counterparts, but that shouldn't stop you from staying cozy. If you've already settled on a jacket, check to see if that brand makes an insulated pant to match (or a similar option). For example, Patagonia offers both shell and insulated versions of their Powder Town Pants, and Arc'teryx's chart-topping Macai Pant offers comparable warmth to the jacket mentioned above. And for a good budget option, The North Face Freedom comes in an insulated version for just $169. However, like jackets, many skiers wear uninsulated ski pants, which are quite thick, and focus on a warm baselayer instead. With a nice pair of thick merino wool thermals and ski socks on the lower portion of your legs, most people won't need the extra warmth—plus it gives you a boost in mobility. 
In addition to your ski jacket, your midlayer takes on a good chunk of the important insulating duties. In terms of staying warm, the more midlayer the better, and you have three insulating options to choose from: down, synthetic, and fleece. For frigid temperatures, you can't beat the lofty warmth of a down jacket. Lightweight options like the Arc'teryx Cerium LT and Patagonia Down Sweater are two of our favorite midlayers because they easily fit under a ski shell and keep us cozy in most conditions (not to mention they work well for summer backpacking and around-town use, too). For even more warmth, midweight down jackets like the Arc'teryx Cerium (no "LT") and Rab Microlight Alpine pack in more down. A heavyweight down piece like the Rab Neutrino Pro is a winter-ready down jacket that might be tempting for skiing, but it's too bulky to layer under a shell.
Using a synthetic jacket as a midlayer offers better breathability and performance when wet. You won't get the same warmth-to-weight ratio as down, and synthetics don't pack down as small, but they are much better equipped at dumping heat when exploring the sidecountry or any hike-to alpine terrain. Plus, unlike down, which loses its ability to insulate when wet, synthetics won't clump up and will continue to keep you reasonably warm. In this category, our top pick is the Patagonia Nano-Air for its impressive comfort and overall versatility. Finally, fleece generally is the most affordable type of midlayer, is able to resist moisture, and dries quickly. But the insulating capabilities of fleece largely depend on its thickness, and warmth is fairly limited unless you get a very bulky design, which is why we don't recommend it for those who run cold.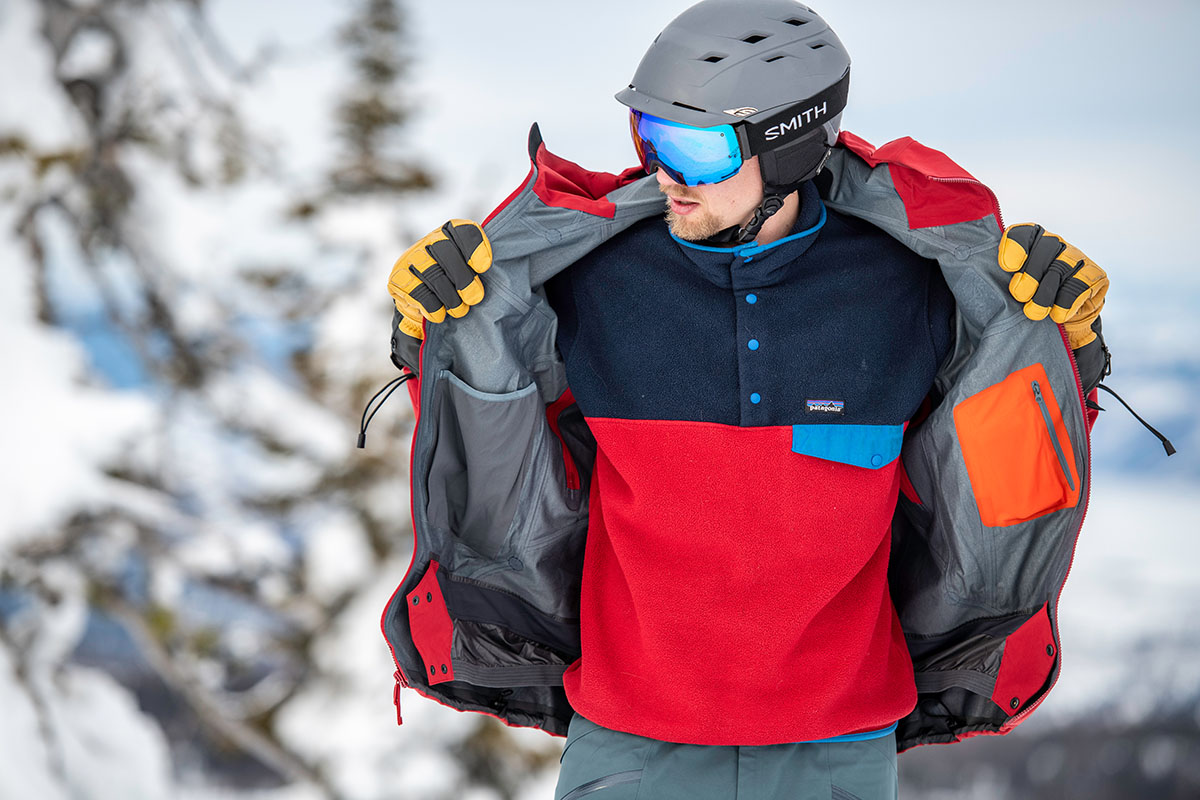 Last but not least, your baselayer is the next-to-skin garment that pulls moisture away from your body and regulates your core temperature. Merino wool and polyester are the two most common baselayer materials, with merino being more expensive but better at wicking moisture and incredibly soft against the skin. Polyester, on the other hand, is cheaper and more durable than wool but not as comfortable or odor-resistant. Our favorite baselayer is the Smartwool Classic Thermal 1/4-Zip, which is made of 100% merino wool. For those who run cold, we've been very impressed by Woolx's merino offerings—they're generally thicker than the competition but incredibly cozy and warm. The Woolx Glacier Long Sleeve has kept us cozy in some exceptionally cold conditions.

2. No Cold Feet: Ski Socks and a Proper Boot Fit
The good news is that ski boots, and boot liner technology in particular, have improved dramatically in recent years. The result is that modern boots are better insulators and far more comfortable than in years past, and you no longer need thick, heavy-duty ski socks (or layer multiple pairs). In fact, it's best to opt for a high-quality lightweight sock and nail the ski boot fit part of the equation (more on this below). Our favorite ski sock for 2022-2023 is the Smartwool Ski Targeted Cushion OTC, which is made mostly with merino wool and offers a nice combination of performance and comfort.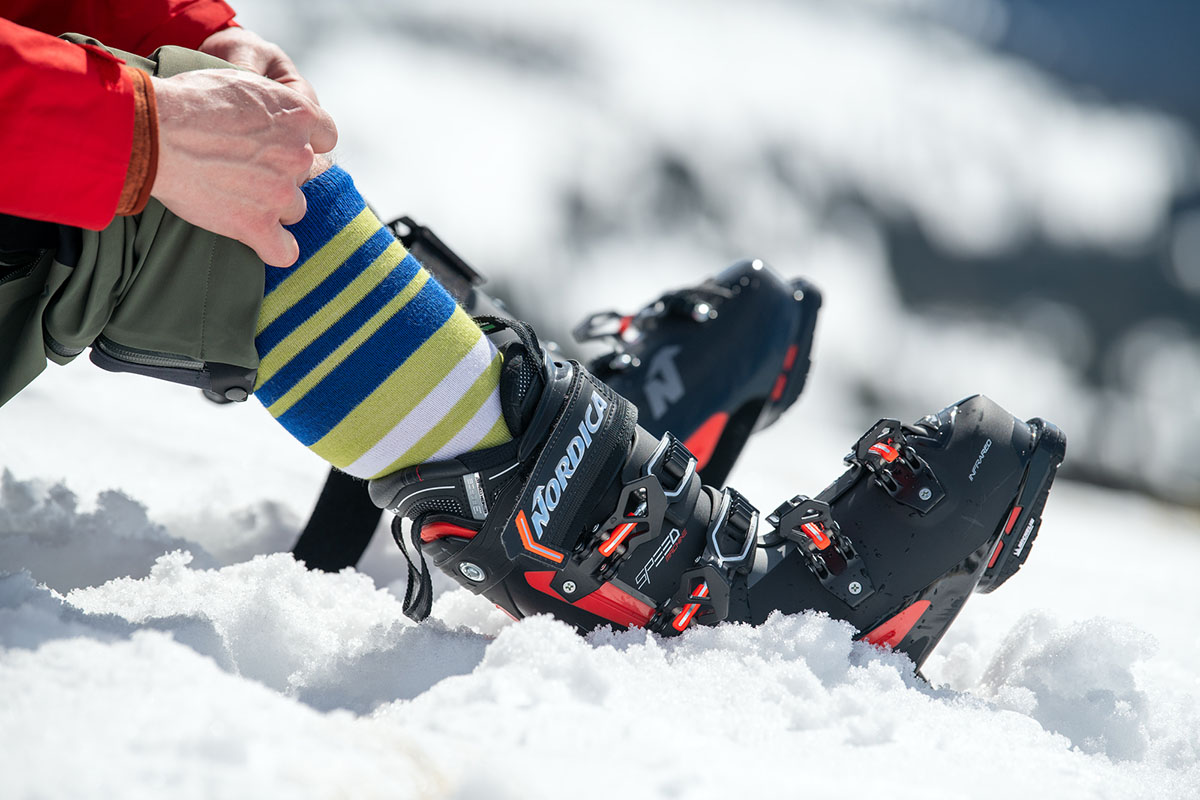 In addition to socks, one of the most important and overlooked aspects of your ski kit is your boots, and this does relate to warmth. If your ski boots are too tight, they can cut off circulation and make your toes grow cold and numb quickly (you'll see folks loosening the buckles on their ski boots in the lift line to try and regain circulation and warmth). If they're too loose, there's extra room for cold air and they can become uncomfortable after a few runs. In the end, you want your boots to feel snug but comfortable (and keep in mind that your boot liners will mold to your feet over time, or you can get them heat-molded when you buy them).
If possible, we recommend trying on multiple models before buying as each will have a different shape and overall feel. The best way to ensure a good fit is to visit your local outdoor store to get fitted in person, and if you're lucky, some ski-centric towns have expert bootfitters who are the best of the best. For example, our staff members and ski friends in Boulder, Colorado, rave about Larry the Bootfitter, who has been in business for over 35 years and specializes in making sure your feet are as comfortable as possible inside your boots.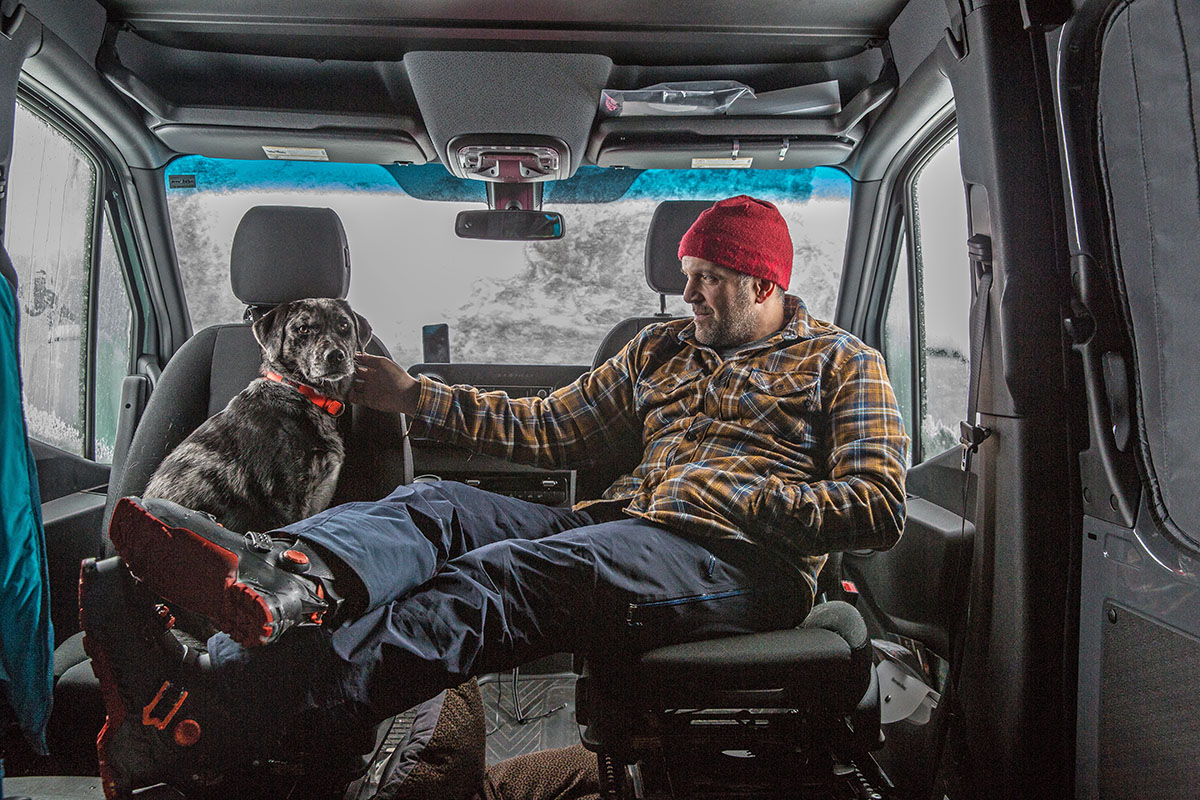 3. Keep Fingers and Toes Warm
Hand and Foot Warmers
Keeping fingers and toes warm is crucial for fending off the cold, and simple hand, foot, and toe warmers can be a great and affordable way to stay comfortable. These can be disposable and cheap (like Hot Hands), and some brands are now making biodegradable hand warmers, which we appreciate. To use, simply stuff them in your gloves or underneath your feet (using a flat, foot-specific model) for some added warmth—they typically last for around six to 10 hours, which is plenty for a day at the resort. And for those who want to take it to the next level, some companies also make heated socks and insoles (Hotronic is a leader in this category), heated boots (like the K2 BFC 100 Heat), and heated gloves/mittens (like the Outdoor Research Prevail), although these often are quite pricey. In the end, we recommend trying warmers before making such a big investment. A final tip: If you have an extra warmer handy, stick it in the same pocket as your smartphone to keep the battery running longer.

Gloves vs. Mittens
On the topic of keeping your hands warm, you should also consider whether you prefer ski gloves or mittens. Gloves are the more popular choice for resort skiers due to their dexterity and ability to grip a ski pole, adjust boots and bindings, etc. That said, mittens are better insulators overall as your fingers warm each other. The downside is a major sacrifice in freedom of movement, but if you've already tried the glove-and-hand-warmer combination to no avail, mittens could be a good solution. And a possible best-of-both-worlds compromise for skiing is a three-finger glove (one of our favorite models in this unique category is the Hestra Army Leather Heli 3-Finger), which has separate slots for your pointer finger and thumb but keep the others together. The difference in dexterity isn't massive and you do leave your pointer finger vulnerable, but this is a viable option for cold-fingered skiers.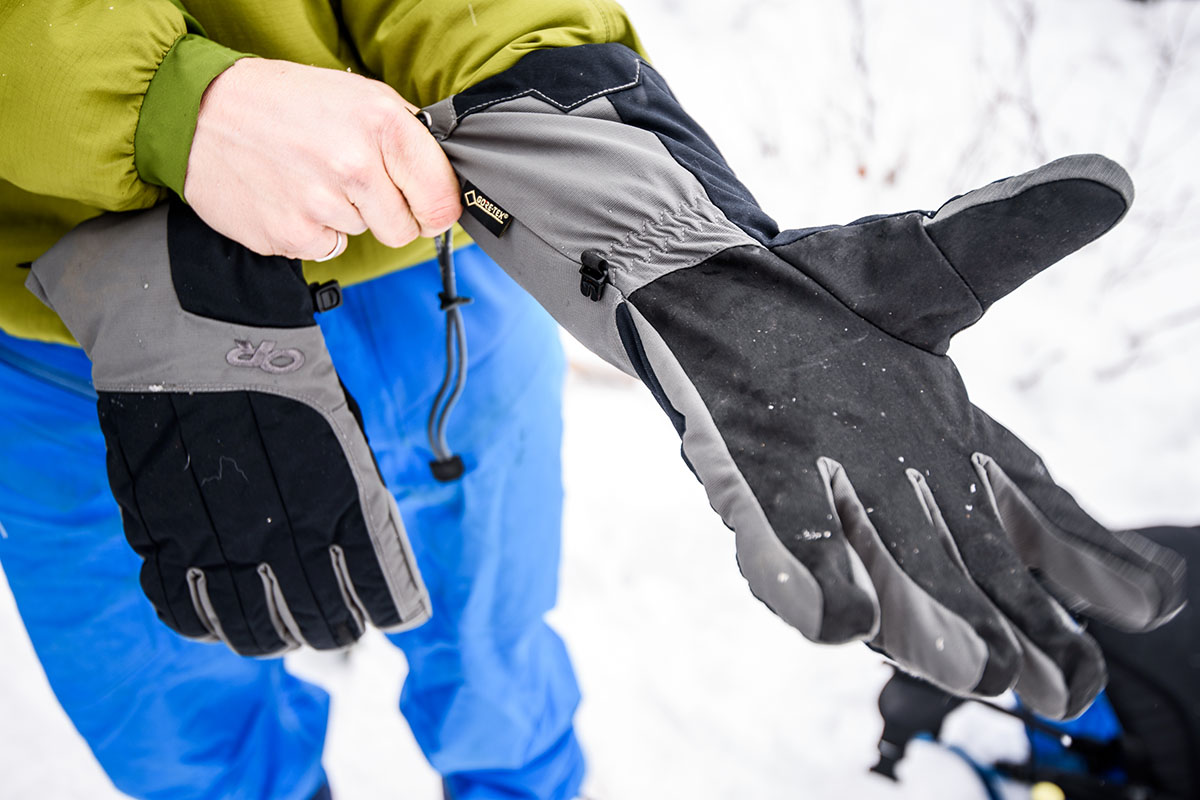 4. Protect Your Head and Ears
Fingers and toes are typically the first to get cold, but don't overlook head protection. Ski helmets have hit the mainstream now, and in addition to providing safety in a crash, they are generally quite warm and comfortable. That said, on very frigid days or for those who run cold (especially in the ears), you can opt to add a thin beanie or balaclava underneath for a boost in insulation. But keep in mind that you want to retain a snug fit to allow your helmet to do its job, so avoid bulky and overly thick knit hats.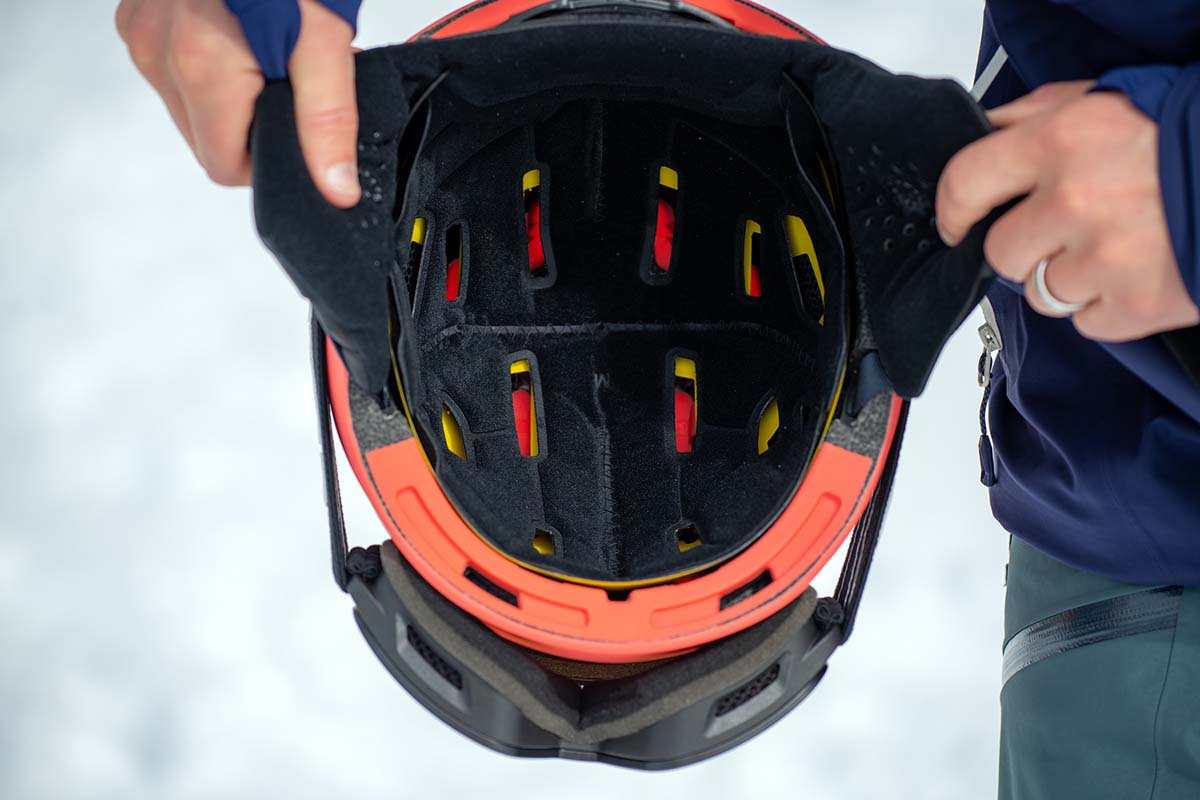 Another ski helmet feature that factors into warmth is an adjustable ventilation system. Found on high-end lids like Smith's popular Vantage, these allow you to open the vents to avoid overheating and sweating too much on the downhill or a sidecountry hike. This plays into warmth because standing in the lift line or riding the chair with wet hair can quickly give you the chills. Plus, for when you want to retain as much heat as possible, it's quick and easy to shut the openings. And a final tip: In wet and rowdy conditions, throw your waterproof ski jacket hood on over your helmet to provide yet another insulating layer to maximize comfort.

5. Cover Exposed Skin
Cold and wind can quickly creep in and chill any bare skin, so it's important that your entire body is covered while skiing or waiting on a gusty chairlift. This means making sure that no bare skin is showing, which is easier said than done. For starters, ensure that your face is covered—ski goggles will protect most of your upper face, but a balaclava or neck gaiter is a good way to cover the lower half. If your nose and mouth get cold, simply pull the gaiter up and over your exposed skin for added protection. Additionally, it's important to buy gloves or mittens that work with your ski jacket. Longer gauntlet-style ski gloves typically are the most effective at sealing out cold. Shorter undercuff gloves, on the other hand, tuck into your ski jacket, which requires a bit more effort and can let in cold air if your sleeves ride up.

6. Keep Moving in the Lift Lines
One of the quickest ways to grow cold is by standing still in long lift lines. Here, our best advice is to keep moving however you can. Swing your arms, slide your legs back and forth, do some squats—anything to increase blood flow and get your body in motion. Sure, you might look silly, but it's better than shivering on the chairlift and having stiff limbs. And if you're still feeling chilled at the top of your next run, put an emphasis on taking quick turns on the descent or opt for a trail with moguls or a catwalk that requires extra movement as opposed to a standard groomer—this way your body has to work a little (or a lot) harder and will generate some heat.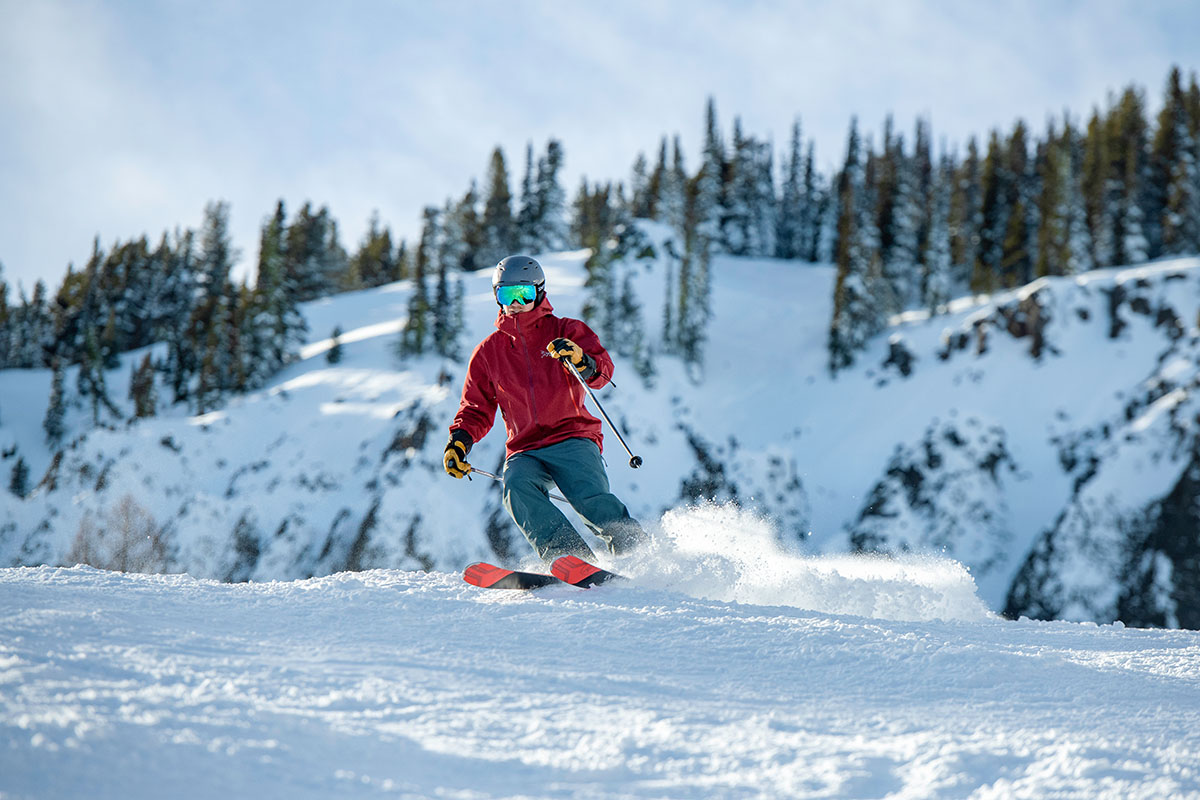 7. Swing by the Lodge
This one sounds like a no-brainer, but it's easy to get caught up in the excitement of fresh powder or a new section of the resort. But if you can't seem to get warm, it's worth taking a break in the lodge. Grab a hot drink like coffee or hot chocolate, fuel up with something (preferably warm) to eat, and take a seat by the fire. Your body needs the energy to keep moving, and it'll likely give you the morale boost you need to power through the rest of the day. If you ski with a backpack, you also can consider bringing along an insulated thermos with a hot drink or soup to enjoy mid-day. It definitely beats a half-frozen Clif bar.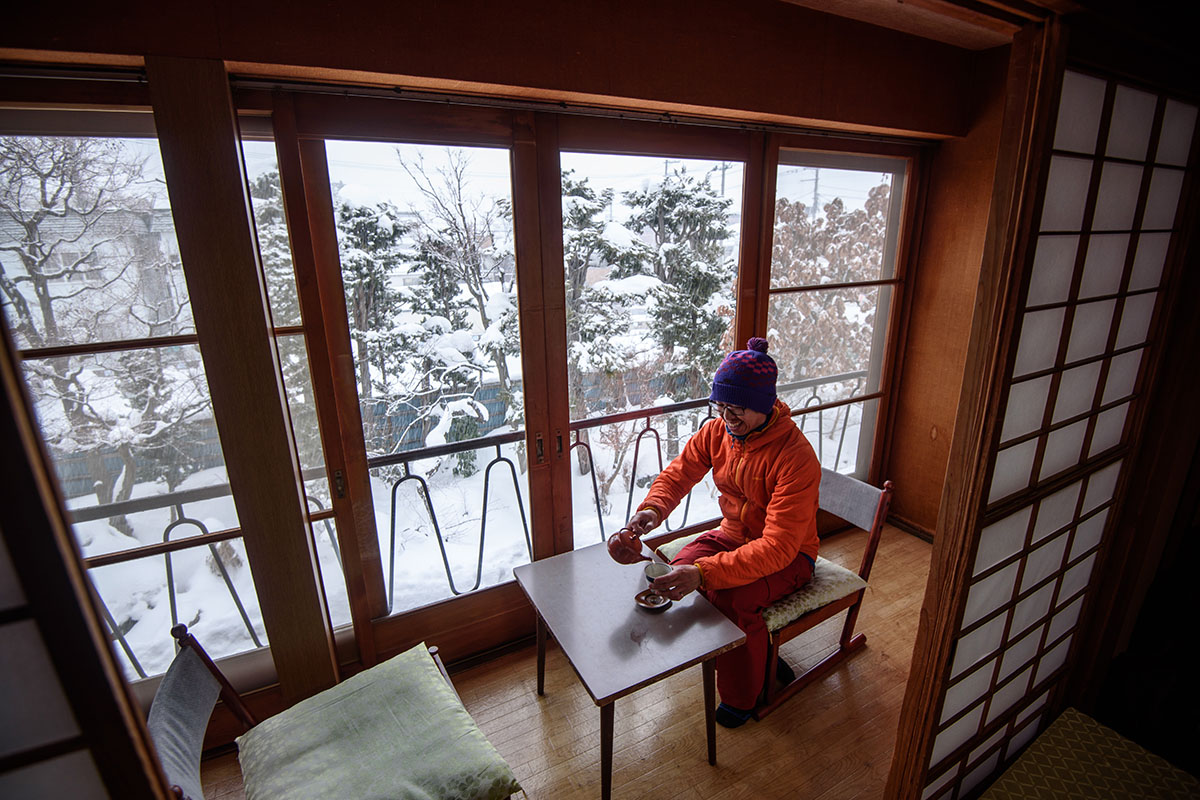 8. Dry Out Your Gear
When you're done skiing and if you plan to hit the slopes again the next day, your first priority should be properly drying out your gear. First, remove your boot liners so they have plenty of time to thaw. Next, shed all of your wet layers and unpack any items you have in your pack. If you have a fireplace or a wood stove, hang your gear nearby but avoid setting it too close—fire and extreme heat can have a detrimental effect on many materials. Otherwise, any spot that's warm and dry will do. If you have to drive to get to the resort the following morning, keep your boots, ski socks, and gloves near the floor heater to make sure they're as dry and warm as possible before heading out for the day.
Back to Our Guide to Staying Warm  See Our Ski Gear Reviews