The holiday season is in full swing, and REI's Holiday Warm Up Sale—which runs from Friday, Dec. 9 to Monday, Dec. 19—is a prime opportunity to save on top-rated gear for the outdoor lovers in your life. From winter jackets to camp stoves and accessories like gloves, headlamps, and winter traction devices, it's a great chance to score big-ticket items at a sizable discount. Of note: This sale is particularly heavy on REI-brand discounts, including steep savings on their in-house snow and winter jacket collections, baselayers, and ski accessories, among others. Below we outline the dates and details of REI's holiday sale, our favorite discounted items, and how to shop both in-store and online. 
This article has been sponsored by REI, but the picks and descriptions below were made independently and based on our experiences with and opinions of the products.

Dates and Details: December 9-19, 2022
From Dec. 9 through 19, you can shop in-store or online at REI.com and save up to 40% on products from top brands like Petzl, Hestra, Eureka, Mountain Hardwear, and more. As we mentioned above, there are also several notable deals on REI's in-house collection, including sizable discounts on insulation, baselayers, and accessories like hats, gloves, and mittens. Importantly, some of the deals are only available to members—a lifetime membership to the co-op is $30—and we call out those discounts where applicable below. Finally, members also get $20 off when they spend $100 at the REI Outlet (online only) between Dec. 16 and 19 with the code "OUTDEC22." Below we outline some of our top picks for on-sale gear, including winter and ski jackets, insulation, hiking accessories like headlamps and water filters, and even winter traction devices.

Our Favorite Holiday Warm Up Deals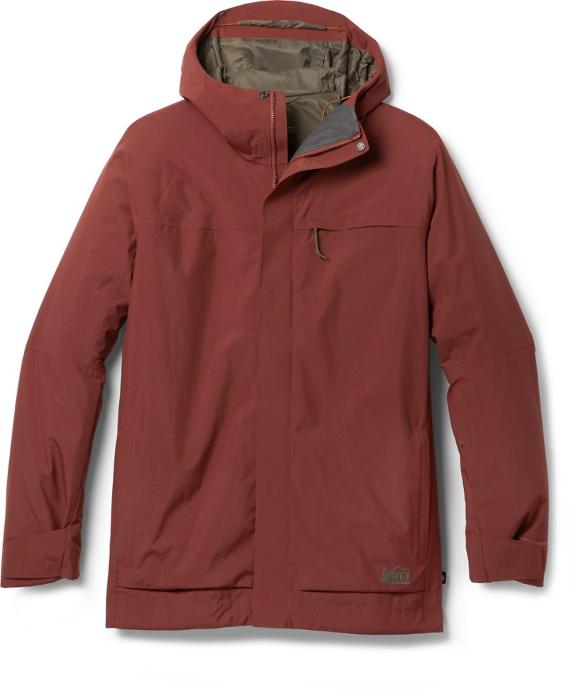 Ski jackets can get very expensive, but that doesn't mean you need to spend big to get a quality product. For resort skiers looking for a warm and well-built jacket, the REI Co-op Powderbound is a nice choice. For just under $200 (and around $140 for members during the sale), you get a waterproof build with 80-gram synthetic insulation around the core (with lighter 60g in the sleeves), great organization both inside and out, and useful features like a powder skirt and pit zips. We also like the simple design and minimalist branding, which means that the Powderbound can be worn both for skiing and everyday winter use. To complete your kit, the Powderbound Insulated Snow Pants and Bib Snow Pants are also 30% off for members. And for resort skiers looking for a more breathable and streamlined option with upgraded waterproofing, check out REI's uninsulated First Chair GTX below.
See the Men's REI Powderbound Jacket  See the Women's REI Powderbound Jacket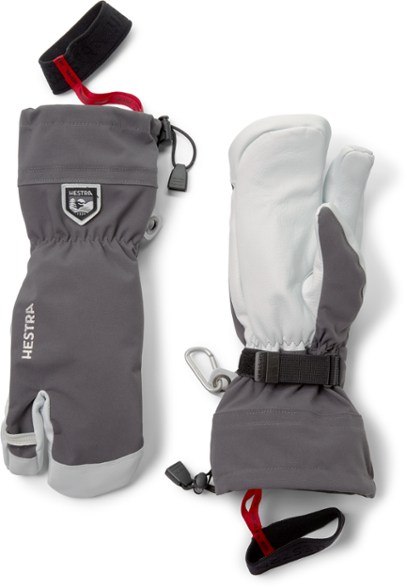 Ski professionals all over the world have trusted Swedish manufacturer Hestra for decades, and their Heli collection is one of the most venerable on the market. We like the Heli Three-Finger Insulated Gloves in particular, which combine attributes of glove and mitten designs with separate slots for the pointer finger and thumb to maximize dexterity without compromising on warmth. As expected from Hestra, the Heli's construction is top-notch, including a wind- and waterproof fabric along the back of the hands, polyester-insulated liners that are removable for easy cleaning, and hardwearing and flexible goatskin leather on the palms. If you prefer a more traditional style, the Heli Insulated Gloves and Insulated Mittens are also 20% off. Finally, for those looking for more of an everyday winter option, Hestra's Wayakama Gloves are our top pick this season with a sleek cowhide shell, cozy wool lining, and neoprene patch on the inside for added warmth. 
See the Hestra Heli Three-Finger Gloves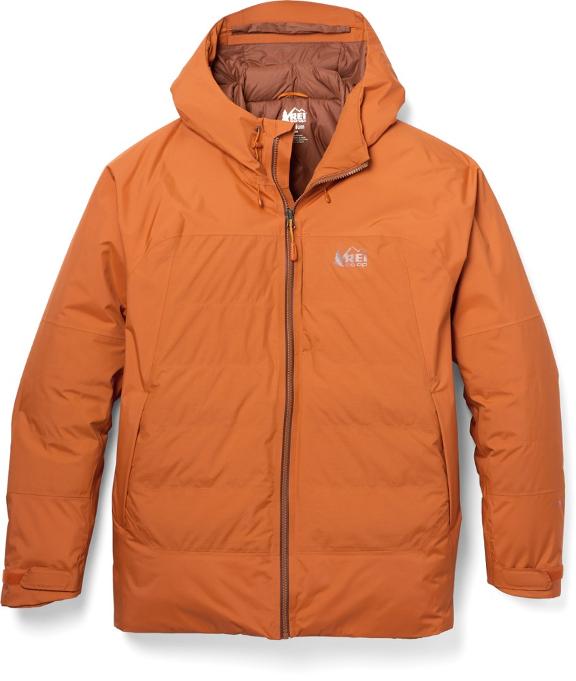 A quality winter jacket is one of the best investments you can make this time of year, and REI's own Stormhenge Down Hybrid stands out as an excellent all-around value. For an approachable $259 full MSRP and around $182 during the sale, you get reliable weather protection via a 2-layer waterproof shell and fully sealed seams, high-quality 850-fill down insulation with synthetic fill in moisture-prone areas, and even pit zips for dumping heat while on the move. Other technical features include a three-way adjustable hood that can accommodate a snow or climbing helmet, hipbelt-compatible hand pockets, and a lofty draft tube at the collar to seal in warmth. All told, it's a highly versatile and well-built design that transitions nicely between outdoor and around-town use—it can even pull double duty as a backup ski jacket or summer mountaineering piece. It's also sold in a parka-length version for men and women that's discounted from $299 to around $210 for members during the sale.
See the Men's REI Stormhenge Down Hybrid  See the Women's REI Stormhenge Down Hybrid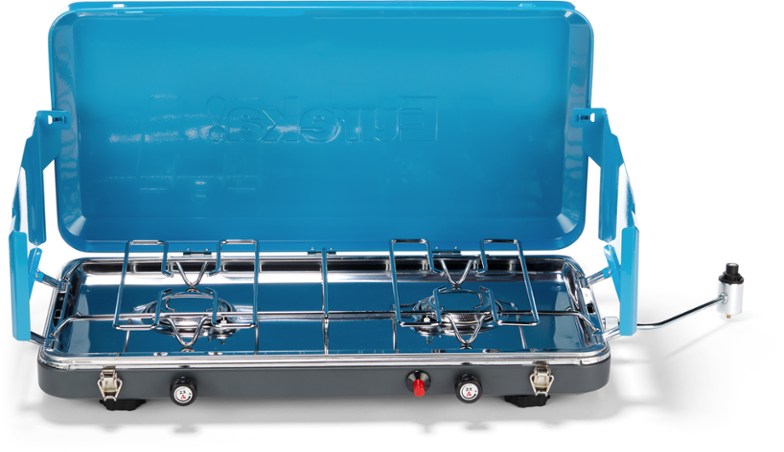 Camping stoves make it quick and easy to whip up delicious meals in the wilderness, and Eureka's Ignite Plus is one of the most well-rounded options on the market. The two 10,000-BTU burners pump out plenty of heat, the cooking area is wide and can accommodate bigger pots and pans, and Eureka didn't skimp on features with good simmer control and push-button ignition, which keeps your hands safe from large bursts of flame and makes the prep process a bit quicker. All in all, the Ignite Plus is decently powerful, solidly built, and comes with all the trimmings we look for in a quality camp stove. Finally, it's important to note that all camp stoves are 25% off through Dec. 19, and other leading options to consider include the more powerful Camp Chef Everest 2X, three-in-one Coleman Cascade, and single-burner Fore Winds Luxe.
See the Eureka Ignite Plus 2-Burner Camp Stove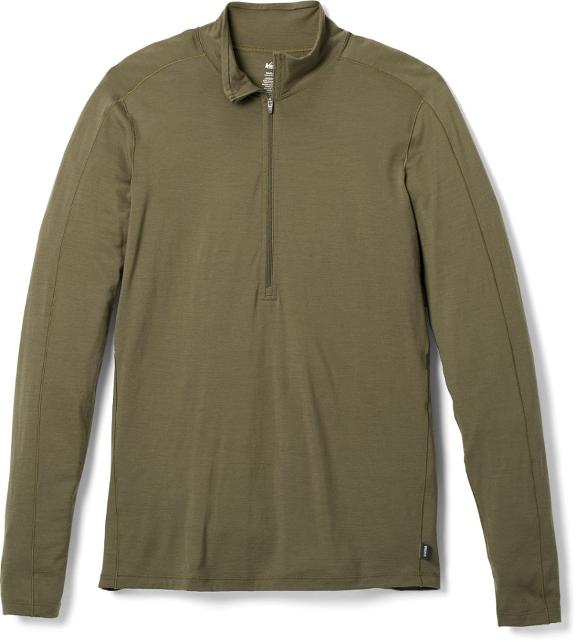 Of all of REI Co-op's in-house products, their merino baselayer is one of our favorites and stacks up very competitively to leading models from wool specialists like Smartwool and Icebreaker. The 100% merino build is extremely soft, has a good amount of stretch for mobility, and wicks moisture effectively, making it a viable option for everything from backpacking to cross-country skiing. It also boasts a UPF 30 rating to protect against harmful UV rays, has flat seams to reduce chafing, and is both Fair Trade Certified and meets the Responsible Wool Standard, which is a nice nod to REI's ongoing sustainability push. Finally, while we personally love the half-zip design for easy venting while on the move, the Merino 185 is also sold in a standard crew-neck version that's discounted from $80 to around $56 for members during the sale. For a step down in warmth, REI's thinner Lightweight baselayers are also 30% off.
See the Men's REI Merino 185 Half-Zip  See the Women's REI Merino 185 Half-Zip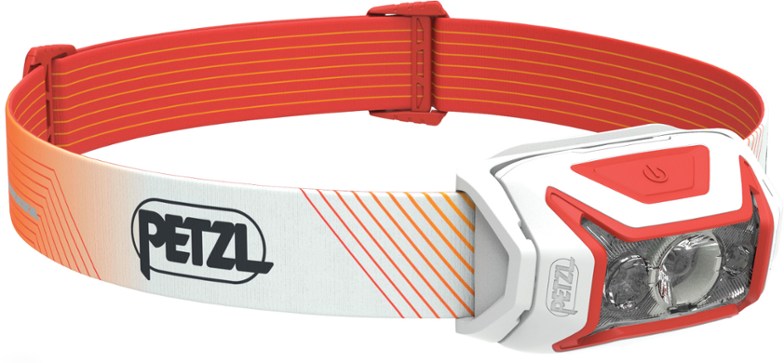 Every outdoor adventurer needs a quality headlamp, whether you're embarking on a long day hike or performing camp chores after the sun sets. Petzl's headlamps are some of our favorites year after year, and their Actik Core is our top-ranked overall design this season. In short, this headlamp is the complete package, featuring 600 lumens at maximum brightness, a long battery life with consistent performance across its burn time (some headlamps peter out, but the Actik stays bright until the end), a scant 3.1-ounce weight, and an easy-to-use interface. It also comes with a rechargeable battery pack that can be swapped for three AAAs, making it highly versatile and capable for everything from working in the garage to long backcountry missions when you don't have consistent access to a power source. Of note: All Petzl lighting is 25% off through Dec. 19, from the budget-friendly Tikkina to the minimalist, trail running-ready Iko Core.
See the Petzl Actik Core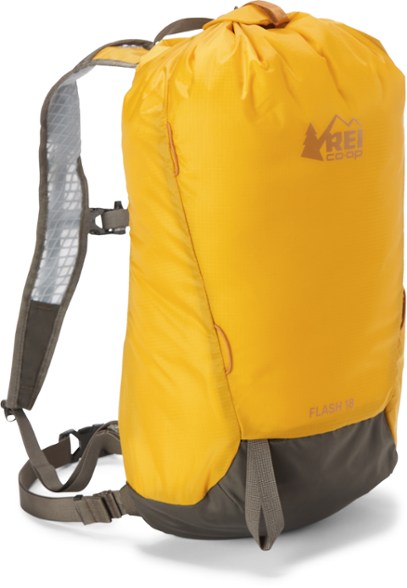 REI Co-op's Flash line of daypacks has been a mainstay among hikers, travelers, and those on a budget for years, and the recently updated Flash 18 is more competitive than ever. Simplicity wins out here: The Flash is frameless by design, meaning it lacks the rigidity of other daypacks and manages to keep weight extremely low at just 9.5 ounces (even less if you take out the back pad, hipbelt, and sternum strap). It also packs down extremely small for stuffing in a larger backpack or duffel during travel, is streamlined enough to double as a follower pack on multi-pitch rock climbs (we've been impressed by how well ours has held up to this type of aggressive use), and offers decent support and comfort when carrying lighter loads. Perhaps most importantly, the Flash costs just $40 (and around $28 during the sale for members) and is well built overall, including the use of recycled and bluesign-approved materials. Taken together, it's a great way to go fast and light on a budget. 
See the REI Co-op Flash 18 Pack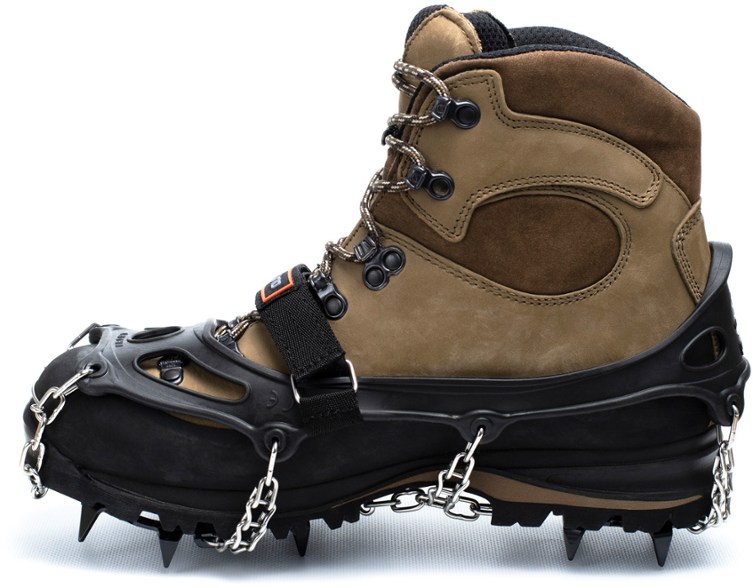 Winter traction devices—also known as microspikes, ice cleats, and snow grips (among other designations)—stretch across the sole of your shoe or boot and are designed to provide added grip on slick winter surfaces like ice or snow. Designs range from budget-friendly models for around-town use to aggressive options for hiking over steep and icy terrain, with Hillsound's Trail Crampons hitting a real sweet spot for avid winter hikers. The 11 carbon steel spikes are moderately deep (2/3 in.), burly enough to withstand regular use and abuse, and offer standout traction on steep and icy terrain. The Velcro strap across the foot and textured harness also make it easy to get a good fit over everything from hiking shoes to insulated winter boots, and the devices pack away neatly into their included carrying case for storage. For a more everyday-friendly option from Hillsound, check out their lower-profile, chain-free FlexSteps (discounted from $65 to around $42).
See the Hillsound Trail Crampons

REI Co-op consistently does a great job at providing a lot of bang for your buck (as evidenced by their Powderbound, Stormhenge, and Merino 185 Half-Zip above), and their HunkerDown 20 sleeping bag is another shining example. For a reasonable $199 full MSRP and around $140 for members through Dec. 19, you get good three-season warmth with 600-fill-power down insulation and a 20-degree temperature rating, excellent comfort and roominess thanks to the soft fabrics and rectangular shape, and a full suite of functional features. We especially like the oversized hood that can accommodate a standard pillow (bonus: It folds down when not in use) and wraparound zipper that allows you to open the bag up for use as a quilt in warm weather. Finally, we appreciate the brand's ongoing commitment to sustainability, including the use of RDS-certified insulation and bluesign-approved materials. For those who regularly camp with a significant other, REI also makes a double version for $329 (discounted to around $231 for members during the sale). 
See the REI Co-op Hunkerdown 20

For fast-paced outdoor adventures like day hikes and trail running, we opt for light, compact, and efficient water filters like the 3.9-ounce LifeStraw Peak Squeeze. Simply put, it's a great all-in-one system: The included soft flask is durable and easy to carry, and the filter can be threaded onto any other water bottles with standard-sized mouths or used as a gravity filter at camp (you'll have to purchase the tubing and "dirty" reservoir separately). In addition, the 3-liter-per-minute flow rate is impressively fast, and the 2,000-liter lifespan is twice the length of most competitors. Of note: You can purchase the Peak Water Filter Straw separately (around $15 during the sale), and the smaller 22-ounce bottle and Peak Gravity System (available in 3 and 8L capacities) are also 25% off.
See the LifeStraw Peak Squeeze 1L
There are tons of great deals on REI's in-house outerwear collection during their Holiday Warm Up Sale, and the Groundbreaker 2.0 Rain Jacket is yet another standout at 30% off for the men's model (the women's jacket isn't discounted). The design is on the cheaper and more basic end but checks most of the boxes for recreational use, including a 2-layer waterproof shell with a DWR finish and critically sealed seams, drawcord-equipped hood and hem, nicely sized handwarmer pockets, and light elastic at the cuffs to keep them in place. You don't get features like pit zips or internal pockets, and the in-house membrane won't hold up as well in heavy and sustained moisture, but it'll get the job done in light to moderate rainfall for far less than the competition. It's also sold in a wide selection of colorways and sizes, which should make it easy for most to find a great fit. Of note: REI's Groundbreaker Fleece Jacket 2.0 is also 30% off for members (the women's version is discounted, too).
See the Men's REI Groundbreaker 2.0 Jacket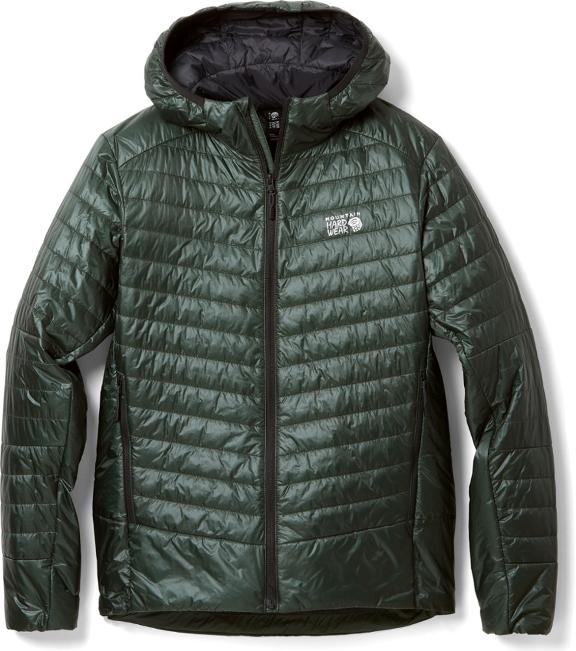 Mountain Hardwear's Ghost Whisperer is one of our favorite ultralight down jackets, and their Ghost Shadow follows a similar formula but with synthetic fill. This gives it the clear edge in weather resistance—unlike down, which tends to clump up and lose its insulating abilities when wet, synthetic fill will continue to keep you warm. Like the Ghost Whisperer, the Ghost Shadow is competitively light (11.7 oz. for the men's hoody) with a trim-fitting cut that slides nicely over a baselayer and contributes to the streamlined look. With 80g PrimaLoft in the core and 60g in the hood and sleeves, it's also warm enough to serve as a midlayer for activities like cold-weather backpacking or resort skiing. The minimalist design is decidedly thin and forgoes features like hood and cuff adjustments, but it's a quality down-mimicking piece for those who want to go fast and light while retaining some wet-weather assurance.
See the Men's Ghost Shadow Hoody  See the Women's Ghost Shadow Hoody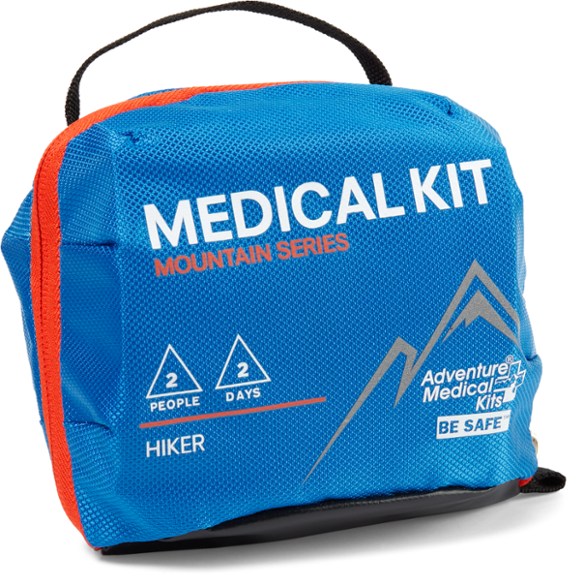 Whether you're hiking close to home or venturing far into the backcountry, a quality first-aid kit is an indispensable addition to your pack. Adventure Medical Kits makes things easy with their pre-built kits, and the Mountain Series Hiker Medical Kit here is a nice middle-of-the-road option for those who hit the trail regularly. The kit is clearly labeled with see-through, injury-specific pockets that make it easy to find what you're looking for quickly, from butterfly bandages to medical tape and medications for allergic reactions, pain, fever, inflammation, and more. It also includes high-quality tools like EMT shears and precision forceps, as well as detailed wilderness first-aid tips and information. And the entire package checks in at just 7.2 ounces, making it a no-brainer for throwing in your pack on upcoming adventures. If you're looking for something a little different, Adventure Medical offers everything from dog- and marine-specific kits to more backcountry-ready options for guides and outdoor professionals, all of which are 25% off through Dec. 19.
See the Adventure Medical Mountain Series Hiker Kit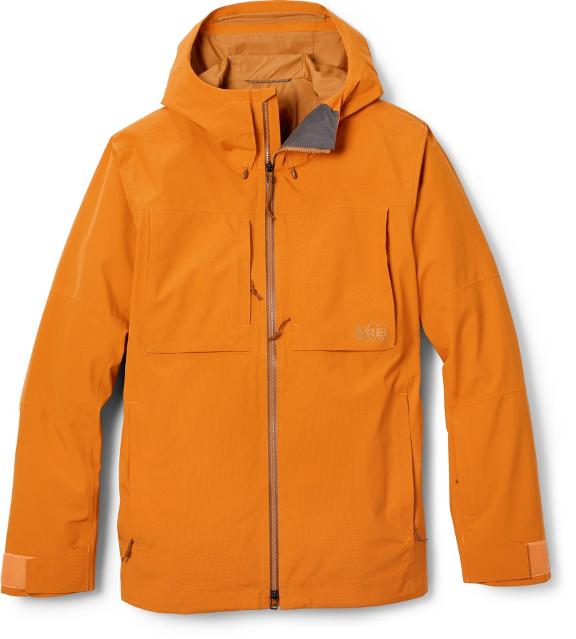 REI's Powderbound Jacket above is a great pick for those who want a warm and insulated ski jacket for cold resort days, but the uninsulated First Chair offers a sizable boost in breathability and weather protection for more intensive outings. The 2-layer Gore-Tex membrane provides class-leading waterproofing (and typically comes at a much higher price point), the interior is soft and comfortable for all-day wear, and you get premium touches like a helmet-friendly hood, two-way main zipper, integrated powder skirt, soft tricot lining along the hand pockets and collar, and pit zips to dump excess heat. All told, it's a thoughtfully designed hardshell that ticks all the boxes for season-long use and gets the clear edge over the Powderbound for occasional side- and backcountry missions. If you want an integrated setup, the First Chair GTX Bib Snow Pants are also 30% off for members through Dec. 19.
See the Men's REI First Chair GTX Jacket  See the Women's REI First Chair GTX Jacket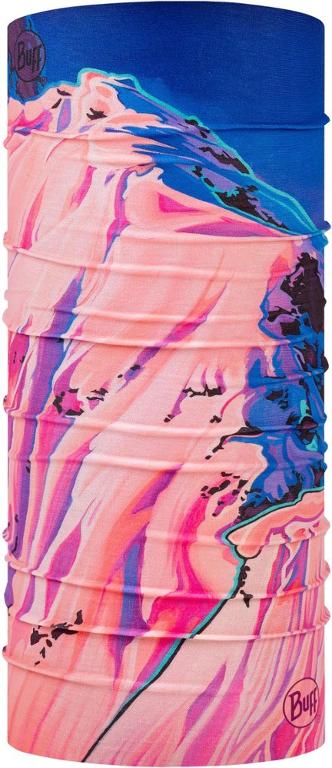 Depending on the conditions or your tolerance for cold wind and snow, a balaclava or neck gaiter might be a necessity while skiing and adventuring throughout the winter. Although ski jackets are often built with higher neck collars, these additional garments extend up to or over your nose and provide an impressive amount of added warmth and protection against the elements. Buff's Original Multifunctional Headwear is arguably the most ubiquitous design on the market, and for good reason: It can be worn many different ways—including as a headband, helmet liner, bandana, or standard neck gaiter—and is made with a stretchy fabric that's comfortable against the skin and protects against harmful UV rays (it offers UPF 50 sun protection). It's also sold in a ton of fun colorways and patterns, is good at wicking moisture, and dries out quickly, which is particularly helpful while working hard or when snow is falling. For a more odor-resistant option, Buff also sells a merino wool version that's 25% off through Dec. 19.
See the Buff Original Multifunctional Headwear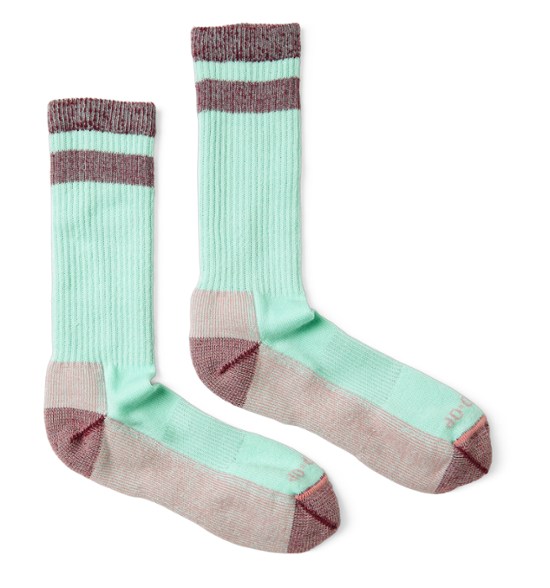 Merino wool hiking socks are the gold standard for many hikers: They're soft, breathable, and do a great job at fending off stink for long periods of time. REI Co-op's Merino Wool collection fits that bill nicely, and their Lightweight Stripe Hiking Crew model is an excellent pick for year-round adventuring. First and foremost, you get a healthy dose of merino (68%) along with nylon and a little spandex for good all-around durability and stretch. We've found these socks are highly comfortable, wick moisture well, and offer sufficient padding for most moderate hiking and backpacking with added reinforcements in friction-prone areas like the heel, toe, ankle, and footbed. And at 40% off the already-affordable $20 MSRP, they're a truly great value. Of note: The Blocked Hiking Crew Socks are also on sale for around $12 during the sale and have an identical overall construction but with different styling. 
See the REI Merino Wool Lightweight Stripe Crew Socks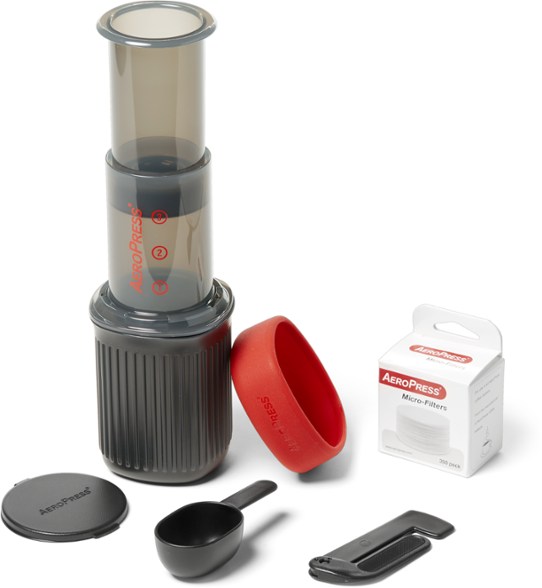 Many outdoor-goers turn to instant coffee when camping or backpacking, but there's no substitute for fresh-brewed java after a restless night in a tent. AeroPress' Go Travel Coffee Press is our favorite solution for making quality coffee miles from the trailhead, and it's telling that it's recently become our preferred at-home method, too. The process is quick and simple: Place one of the included micro-filters in the base (it comes with a whopping 350), screw it onto the bottom portion of the AeroPress, add a scoop or two of your favorite ground coffee, fill it up with boiling water, and press down. The entire unit is very functional, highly portable, and makes smooth, great-tasting coffee every time. It's impressively easy to clean, too—the filter and used grounds pop right out with a light push, which only adds to the backcountry appeal.
See the AeroPress Go Travel Coffee Press
Other Details on the REI Co-op Holiday Warm Up Sale
There are a few ways to buy during REI's Holiday Warm Up Sale. If you live near a brick-and-mortar REI, you can shop in store. This is a great way to try on gear and clothing in person and make sure you're getting the right fit. If an item is not in stock at your store, a sales representative can place the order for you online—you'll have the option of picking it up in store or having it shipped to your home address. Alternatively, those who prefer to shop at home can make purchases on REI.com or through the REI Outlet (remember, members get $20 off when they spend $100 or more at the REI Outlet between Dec. 16 and 19). Shipping is free on orders over $50 (members get free shipping regardless of the total), and you also have the option of sending your order to your local store for free pickup. Regardless of how you choose to shop, all items are covered by REI's 100% Satisfaction Guarantee and can be returned either by mail or in store within one year of purchase for members (non-members have a 90-day return window).
Shop the REI Co-op Holiday Warm Up Sale
Read More From Switchback Travel