Australia-based Sea to Summit is best known for their reliable waterproof gear and accessories, but the company made a big splash in sleeping pads for 2015. Sea to Summit went with circular Air Sprung cells as opposed to horizontal or vertical baffles. There are six sleeping pads (or sleeping mats as Sea to Summit calls them) in this line: the Ultralight, Comfort Light, and Comfort Plus, and each model is offered in a non-insulated and insulated version. The heavier the pad the more cells you get—ranging from 181 up to 548—as well as an elevated R-value for more warmth. To see how they stack up, check out our article on the best sleeping pads for backpacking. For casual camping, we've tested and written about camping mattresses.

Weight and Performance
We chose to test the Sea to Summit Ultralight Insulated, which weighs in at a light 15.3 ounces and has a respectable 3-season R-Value of 3.3. From our first time touching the pads, our editors were impressed with the soft feel but concerned about their thickness and durability. The plastic shell feels much more balloon-like than the smooth lightweight pads offered by competitor Therm-a-Rest. 
During our testing in Utah's Canyonlands National Park, the Ultralight Insulated was easy to inflate, taking only a couple breathes to inflate, and extraordinarily comfortable to sleep on. We would go as far as to say that it was one of the best night's sleep we've ever had in the backcountry. The circular cells are noticeably cushier than the linear baffles that many brands use, offering a softness that was more reminiscent of an actual mattress than hard ground. The packed size is tiny too—matching the smallest insulated pads on the market—measuring a mere 4 x 9 inches.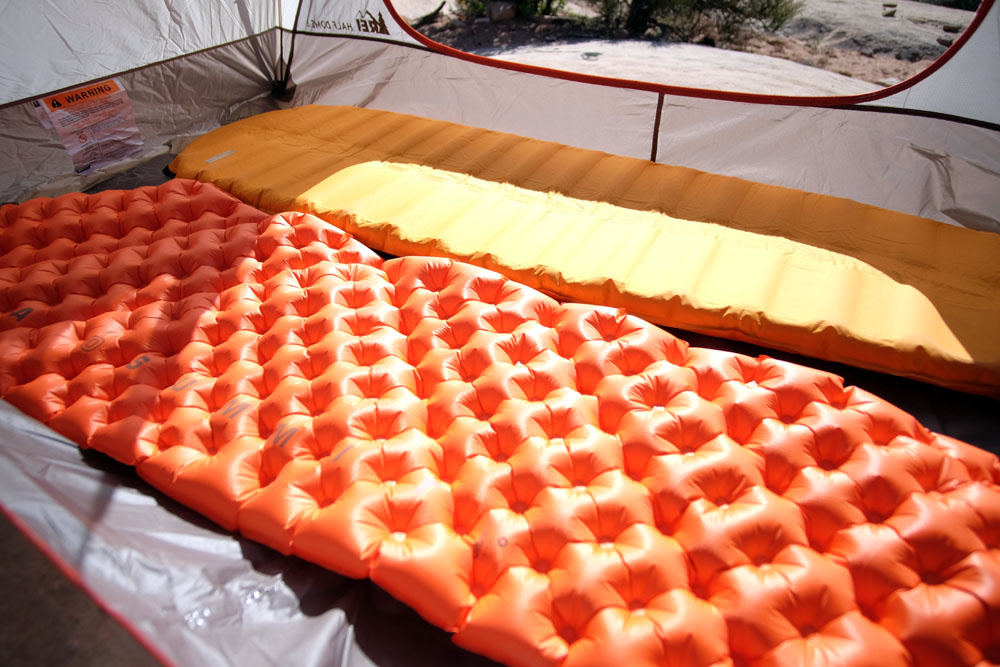 Durability
However, on our second night camping on a harder rock surface the sleeping pad punctured and deflated entirely. In the spirit of full disclosure, we carried the pad on the outside of our pack and didn't take any extra measures to protect it when setting up. But it was the only pad on this trip to pop, and we've very rarely had this happen in the past (often it's a slow leak caused by frequent use and not an actual pop). 
Our experience obviously was a very small sample size (1, to be exact). Given how new these pads are, there just isn't much information out there in terms of other people's experiences. But in this case, our gut instincts proved accurate: Sea to Summit has created an extremely comfortable pad that bucks past trends with its cell design. In doing so, they've created perhaps the most comfortable sleeping pads per ounce on the market. However, the main sacrifice may be the strength of the 40-denier exterior shell, resulting in increased chances of puncture. 
We plan on testing the Sea to Summit Comfort Light and Comfort Plus in the future for durability, and if anyone reading this review has a positive or negative experience with Sea to Summit pads, please feel to free to post in the comments or email us so we can include that information. 
If you're thinking about buying gear that we've reviewed on Switchback Travel, you can help support us in the process. Just click on any of the seller links above, and if you make a purchase, we receive a small percentage of the transaction. The cost of the product is the same to you but this helps us continue to test and write about outdoor gear. Thanks and we appreciate your support!
Depending on the seller, most products ship free in the United States on orders of $50 or more. International shipping availability and rates vary by seller. The pricing information on this page is updated hourly but we are not responsible for inaccuracies.
Learn More About Outdoor Gear