Since the original SPOT was released in 2007, the device has grown from a niche product used by ultra outdoorspeople to a go-to safety item that has just recently celebrated its 4,000th rescue. Now in its 3rd generation, the SPOT Gen3 is the core model in SPOT's lineup, and comes with a number of messaging options as well as emergency alerts, all of which are communicated via satellite. We've had a chance to try out the Gen3 and have put together some of our initial thoughts below.
Unboxing and First Impressions
The unboxing process is a rather quick one. With the device you get the Gen3 unit, one small carabiner attached to a Velcro strap, 4 AAA lithium batteries, one USB cable, and a quick reference guide. Before doing anything else, we highly recommend heading to the SPOT website and downloading a PDF copy of the full user manual before venturing outdoors. Additionally, you'll need to activate your account via SPOT's website.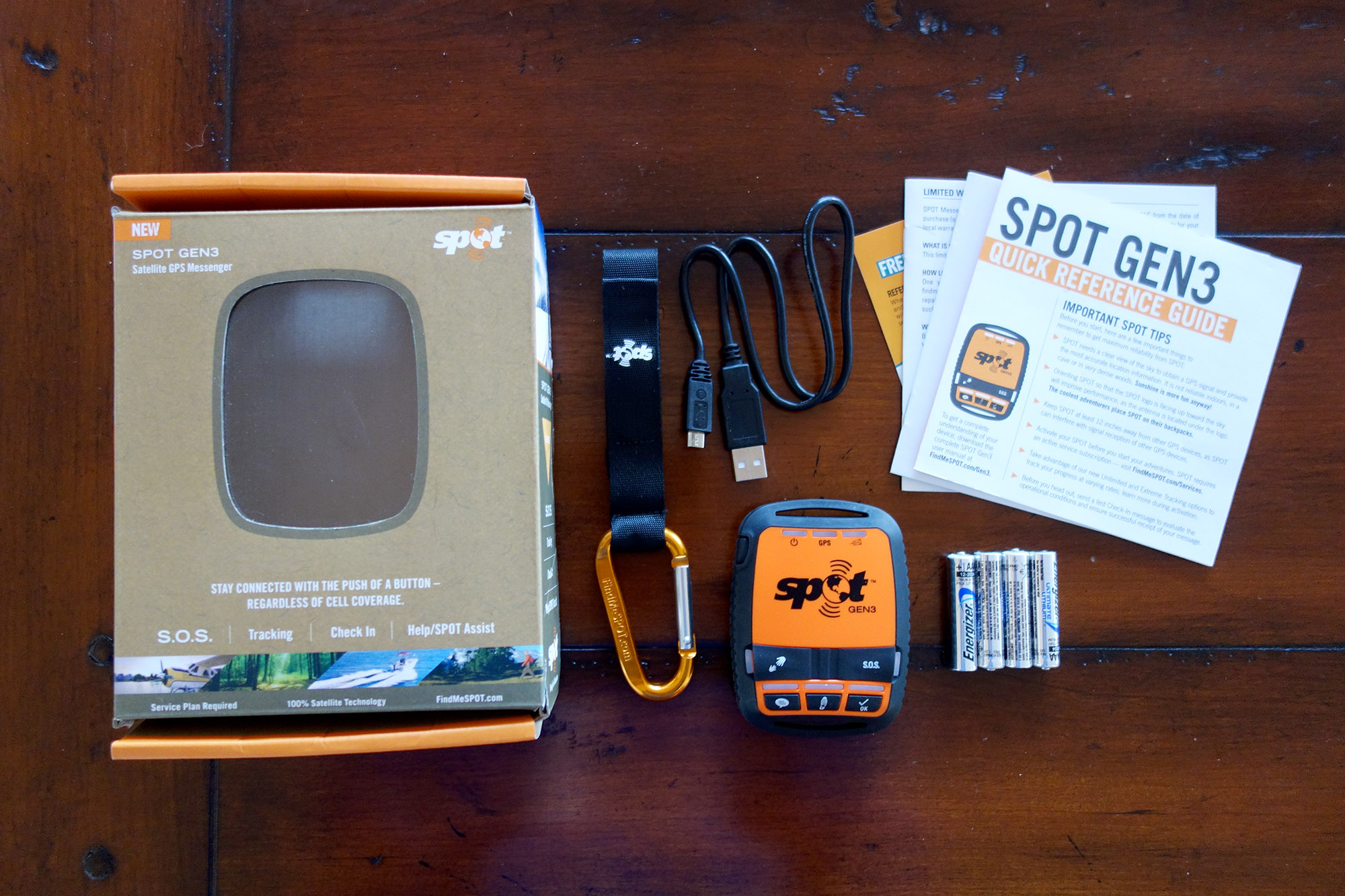 The compact form of the Gen3 makes it easy to either slip into or attach to the outside of a pack, and it's certainly built tough, with a hard rubberized plastic along the sides and top and bottom of the device. The three bottom buttons, which activate the custom message, check-in message and tracking, are all exposed. To avoid accidental activation of either the S.O.S alert or the Help/SPOT Assist, those two buttons are housed underneath protective flaps. Notably, all buttons on the Gen3 unit are easy to press and have a solid, confidence-inspiring feel—a well-documented shortcoming of the Gen2 model.
 
Hands-On Testing
The primary appeal of the Gen3—beyond its lifesaving potential—is piece of mind for the folks at home. They can receive messages and/or track where their friend or family member is from a home computer. We haven't had an opportunity to test the functionality of the emergency services (thankfully), but we have used the tracking and messaging features.

Custom and Check-in Messaging
A custom message can be created from your online SPOT account, which allows you to send an individualized note to your contacts. The other message button, indicated with a checkmark, is for notifying your recipients that everything is alright. Both message types are sent by email and/or SMS message, and include a listing of the coordinates of your current location. Below is a quick video example of using the check-in message function.
Tracking
For their Gen3 model, SPOT now offers what they refer to as Unlimited and Extreme Tracking services. What this tracking function amounts to is near real-time access to a breadcrumb trail of your GPS locations. You can establish beforehand how often you want these tracks to be sent (2.5, 5, 10, 30 or 60 minutes), and all you have to do is press and hold the button until it lights up. From there, attach the device to your pack, preferably with it aimed skywards, and head off.
We found the tracking to be a fun feature, however, it's less essential than the messaging and emergency services. It works in a similar fashion to a handheld GPS unit that will map your tracks, but is only relevant for you after the trip, where you relive your route on your computer. The main benefit is for folks at home that can follow your progress (this can also be accomplished by sending the occasional check-in message).
 
Understanding Limitations and Emergency Alerts
With these emergency devices, it's equally important to understand their limitations and risks. For one, the Gen3 needs a clear view of the sky to work consistently. As a test, we tried and eventually gave up attempting to send a message in very dense woods. In addition, the S.O.S. function should never be taken lightly and should only be used in emergency situations, as the recipients of your alert at the GEOS response center don't know the severity of your situation (note: you can cancel the S.O.S. message by pressing and holding the button after it has been activated). Alternatively, using the Help/SPOT Assist will send a notification to your contacts that you need help, but in a non-emergency situation (example: getting a flat tire). Used properly, the SPOT has shown to work, and the annual service fees are well worth it for many. Our brief time with the SPOT Gen3 has been positive, and we're looking forward to bringing along this device on future trips into the backcountry.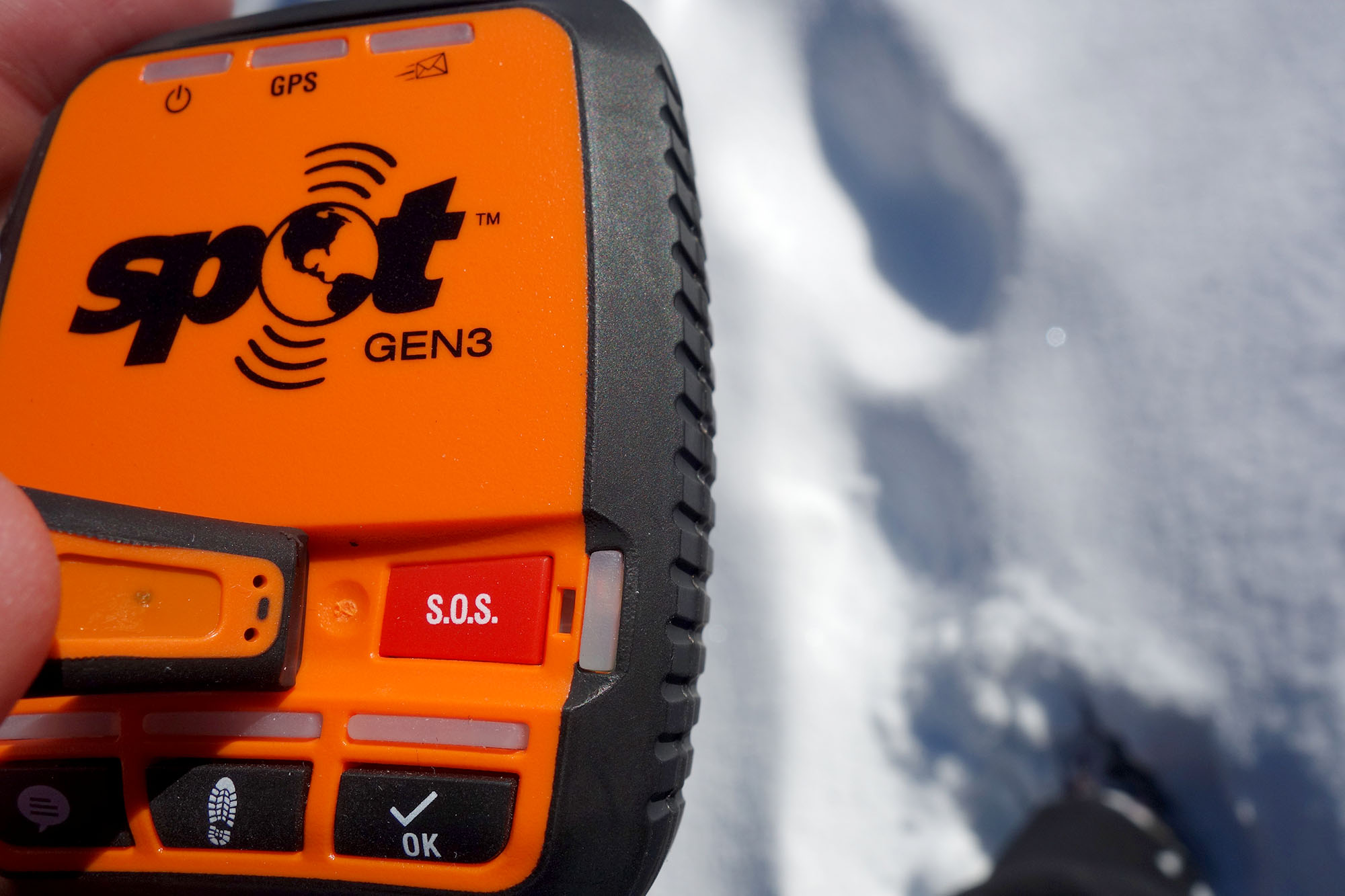 Learn More About Outdoor Gear