Thule, the Swedish company known mostly for their car rack systems, recently ventured into the world of backpacking with the successful introduction of their first technical packs. In 2016, they have expanded their line of packs to include smaller (15L, 20L, and 30L) daypacks. I had the opportunity to test the Thule Stir 20L, using it for a variety of activities including hiking, trail running, mountain biking, bike packing, and bike commuting. As promised, it held up admirably in all situations. The pack is impressively lightweight and minimalist yet rugged, and kept surprising me with its features. To see how the Stir 20 stacks up, see our article on the best daypacks. We've also tested and written about backpacking packs for overnight and extended trips.
 
Organization and Performance
Out of the box, the Thule Stir 20 appeared overly simple: its frameless design looks like a tube with shoulder straps. However, it soon became apparent that Thule's designers did their homework and managed to include many well-thought-out features while keeping the pack's weight at just over 1 pound. Despite the Stir's simplicity, great attention was paid to the details.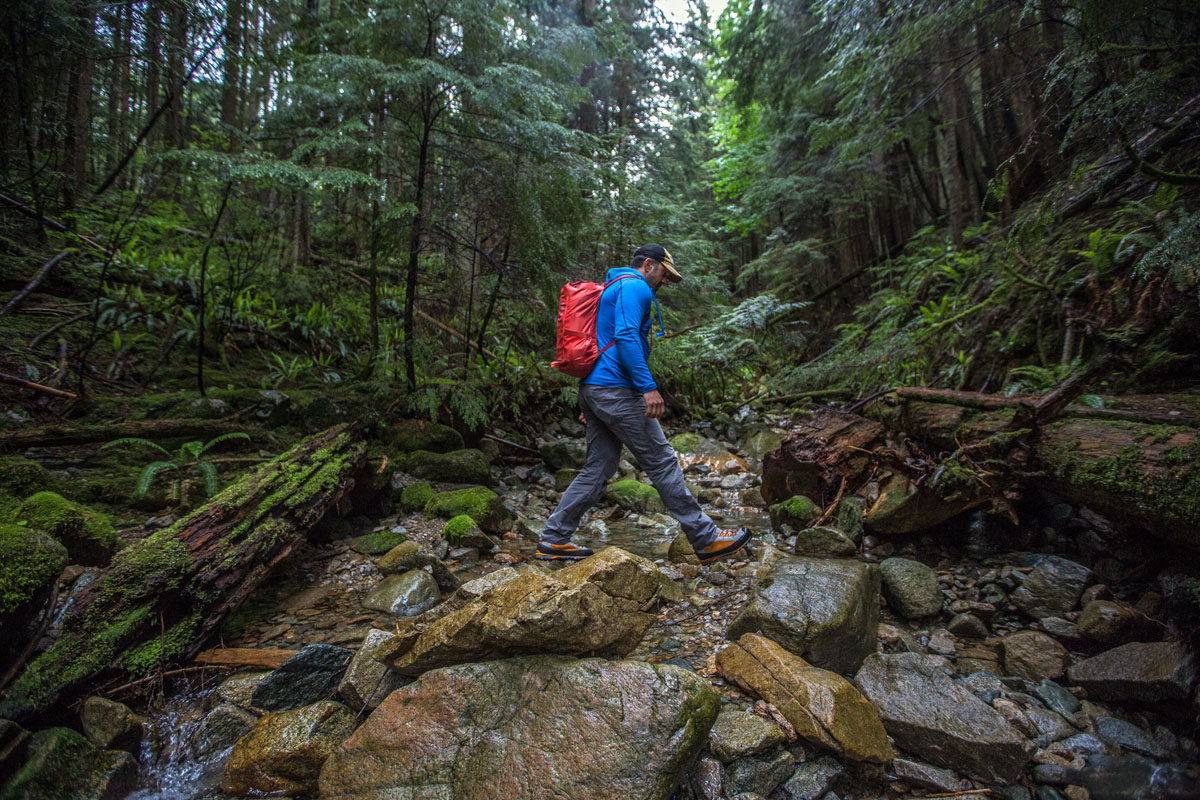 Main Compartment
The main compartment basically is a cylinder that holds the majority of the pack's 20-liter capacity. I stuffed it to the gills with camera gear, bike tools, spare clothing, food, and surprisingly, a large bike helmet. Everything fit and the pack holds its shape extremely well, but it isn't as stretchy as some other models (the Osprey Talon 22 comes to mind). Therefore, you won't be squeezing in an extra liter or two by stuffing it full of gear. In the end, this probably is a good thing for the Stir's durability—super stretchy materials seem to develop holes more quickly and generally don't last as long.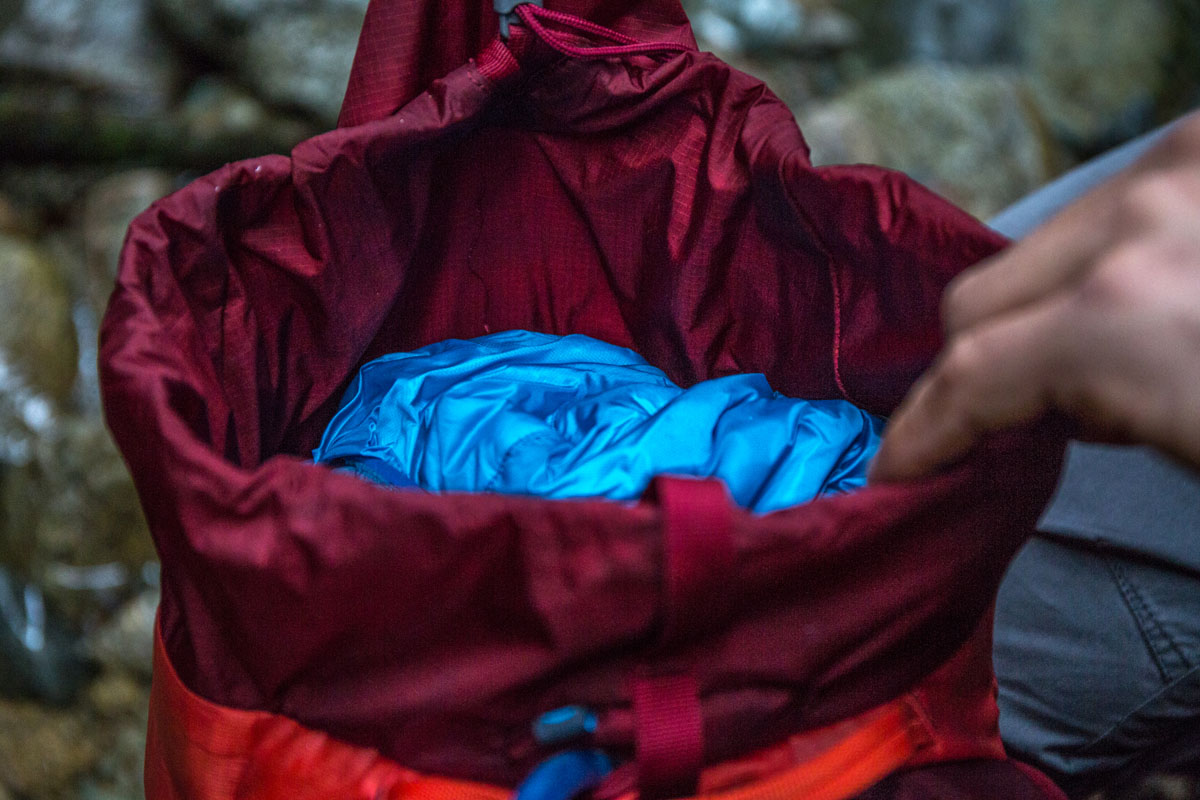 Within the compartment, a dedicated sleeve for a hydration bladder easily holds 3 liters of liquid with an opening through which to feed the bladder's hose for easy drinking access. The pack opens and closes with a cinch cord that, even with cold and tired fingers, can be opened with one hand in a single, fluid motion. There also is a flap covering this cinched closing that opens and closes with a hook/loop system. Though somewhat helpful, in severe weather the flap is not entirely successful in keeping the elements out.
 
Pockets
Down the length of the pack there is a "shove-it" pocket that closes with a snap but cannot be fully closed. This is unfortunate, but the designers did add a small drainage hole to reduce the chances of water pooling. To me, it would make more sense to have a means of closing the opening, though that likely would add weight and complexity to this ultralight pack. When the pack is full, I found that this pocket didn't work for large items and instead I used it for smaller items like trail maps.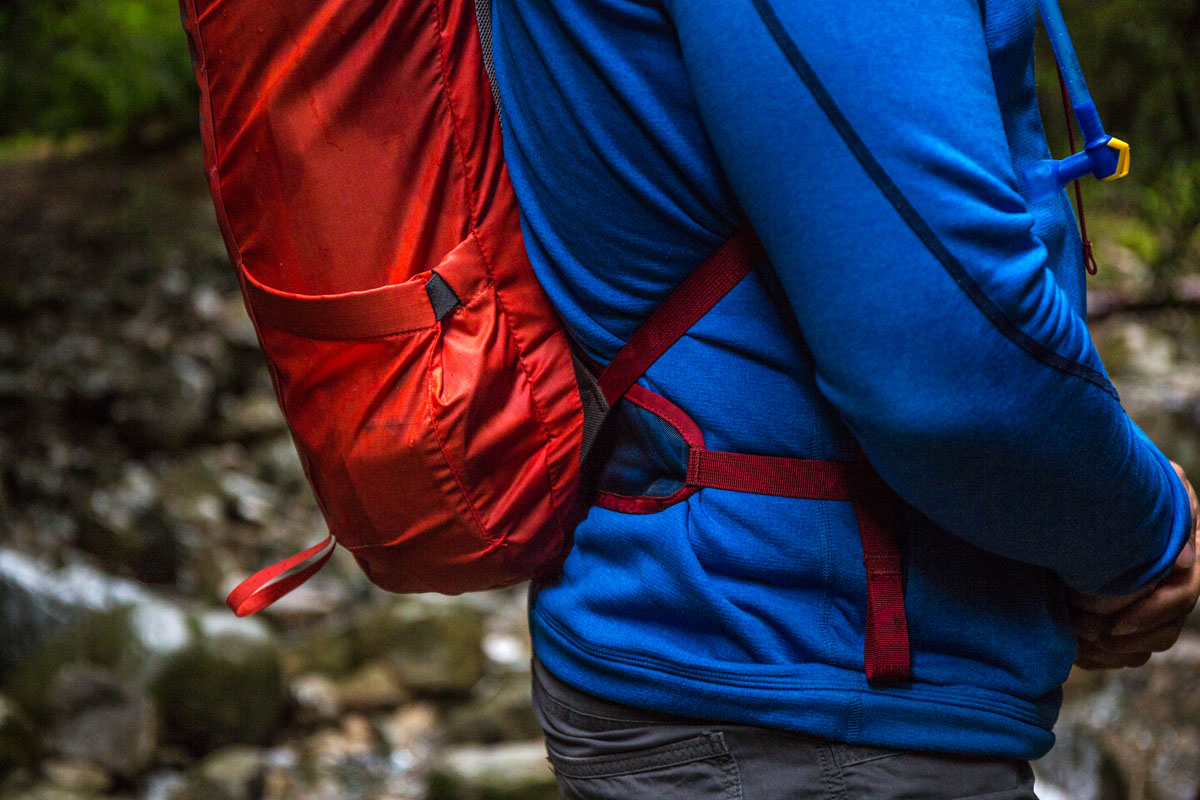 The two side pockets, likely intended for water bottles, also can hold extra items like bike tubes and tools, a spare jacket, sunglasses, bug spray, or sunscreen. These pockets cannot be cinched closed so they won't work for valuables. On the shoulder strap is a mesh zippered pocket where I like to keep items such as my inReach, cell phone, or Epi-pen.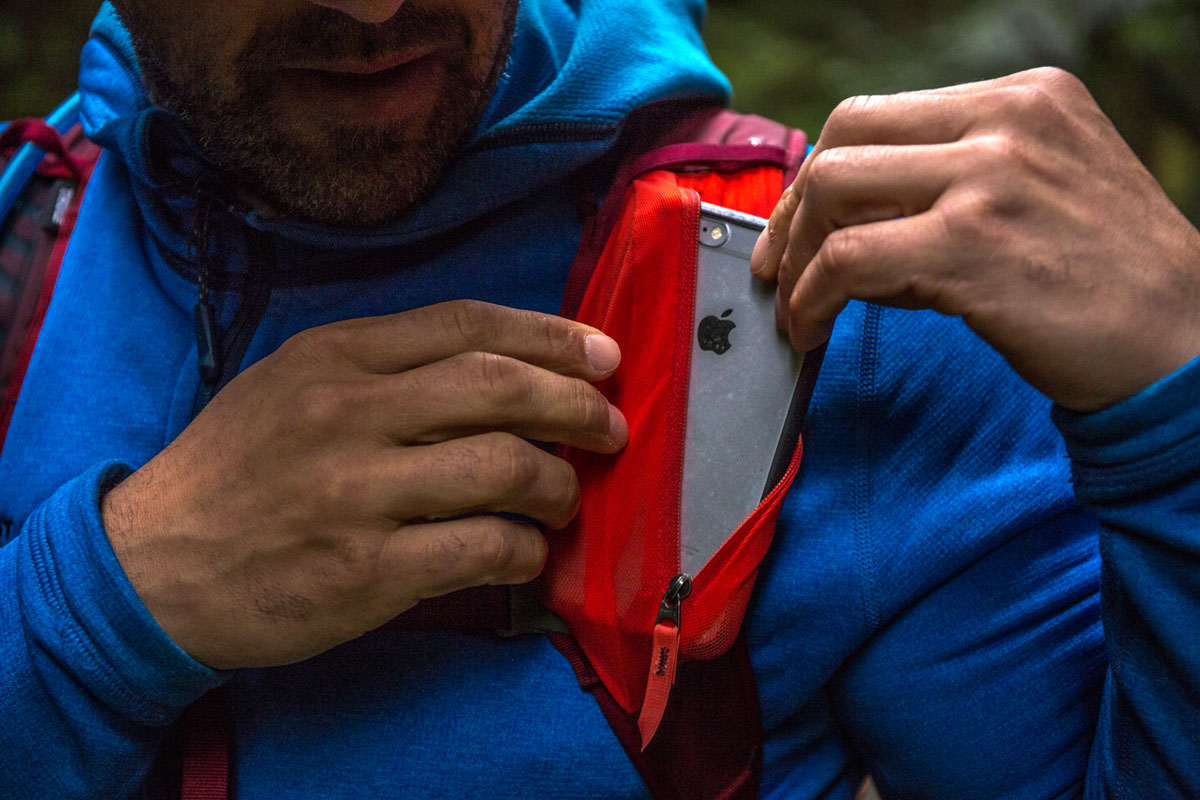 Shoulder Straps
In the style of many "fastpacking" packs, the weight is born by the shoulders rather than the waist or hips, but the design of the shoulder straps allows for this comfortably. The shoulder straps are wide and distribute weight well, and there is an adjustable (or removable) sternum strap to help keep the pack in place. The sternum strap is solidly attached and does not accidentally detach even when the pack is full and the straps are stressed, a common problem I've experienced with other packs. The minimal waist strap can be conveniently tucked behind the back panel, a feature I found useful when wearing the pack for riding when I did not need or want the extra tension around my waist.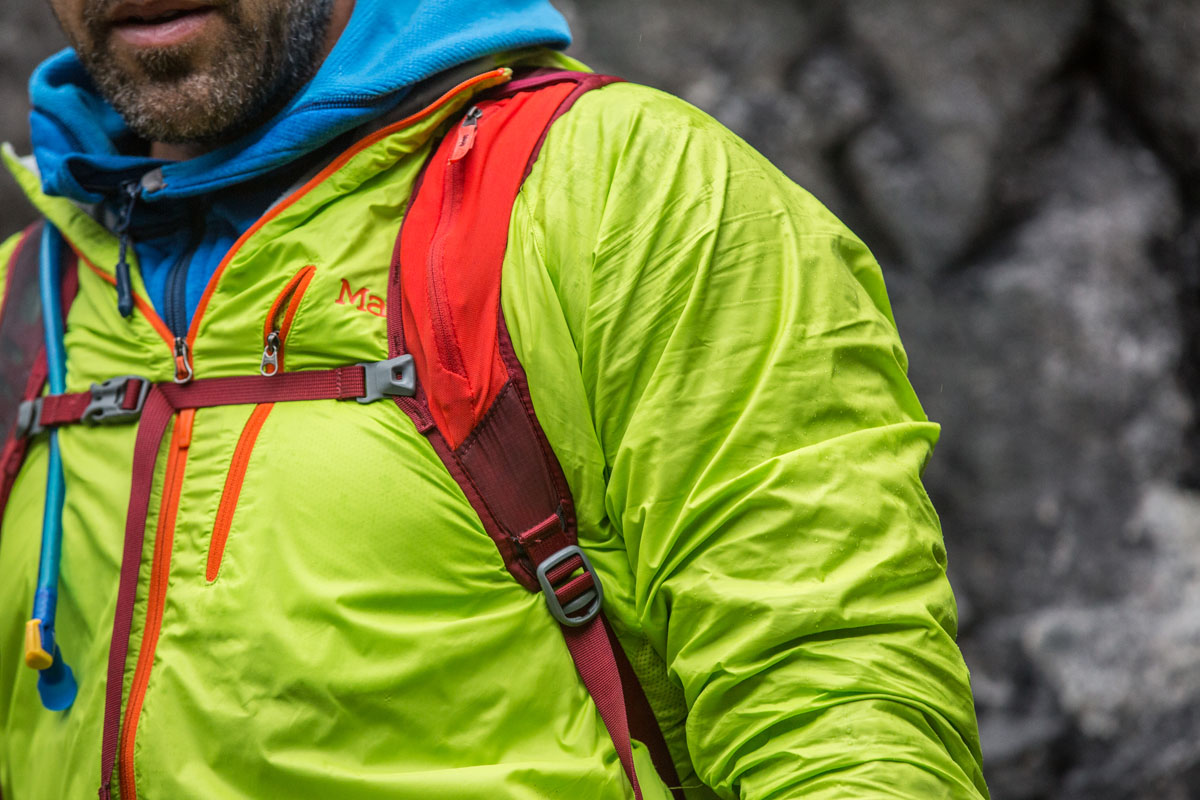 Daisy Chains
Though I haven't used them, there are several daisy chains stitched to the outside that could be used to attach items to the outside of the pack, as well as a loop that presumably can hold an ice axe. It is unclear, without some creativity, to determine how one would attach the ice axe handle to the top (typically there would be a strap on the top). You could add a piece of Velcro to the top of the daisy chain to allow for this. 
 
Construction
The Stir 20 is a frameless pack with some permanent padding but otherwise little support. The padding itself is firm, and though items in the pack could cause pressure points, even the pointy objects like a tripod did not poke through.
The outer material used for this pack—an elastin-coated nylon—manages to be extremely lightweight yet durable. I loaded this pack to the brim with gear, threw it into the back of vehicles and roof boxes, dropped and dragged it around rocky, jagged surfaces, gravel roads and damp forest floors, yet the pack has yet to show any real damage or wear.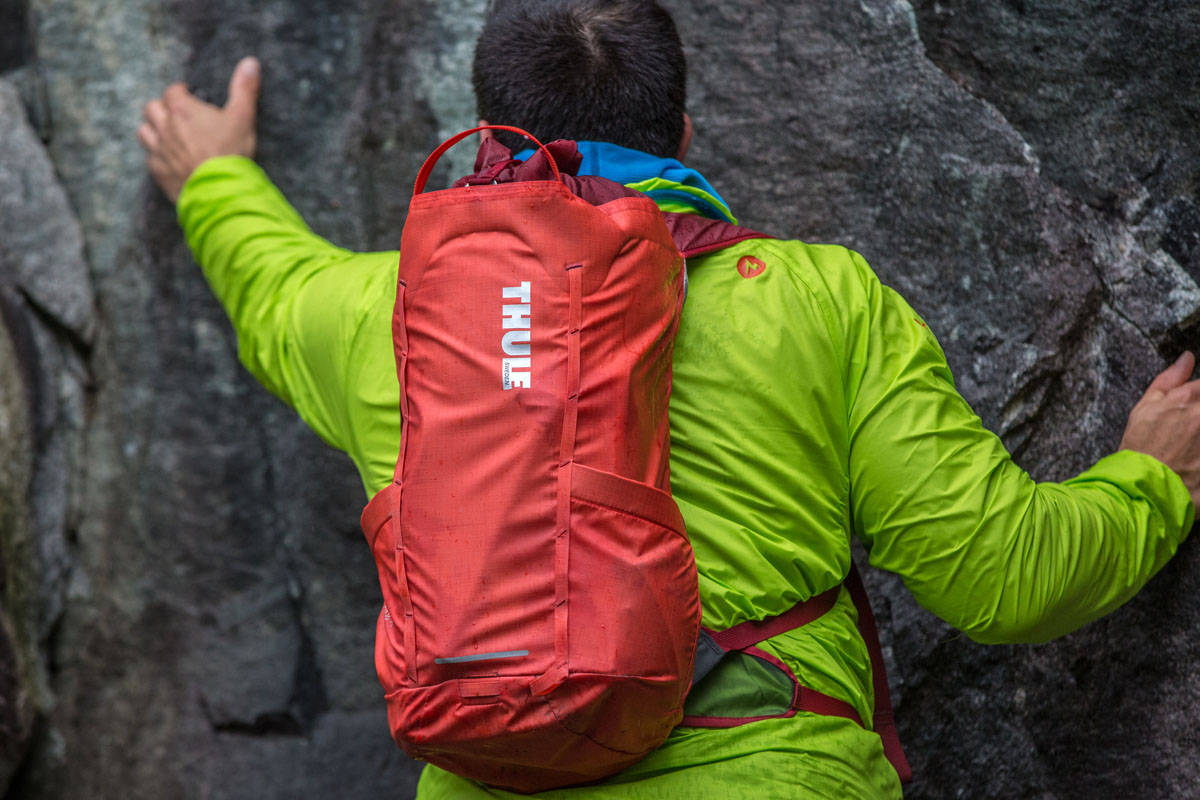 The Stir 20 has become my primary bike commuting bag, so I was also pleasantly surprised at how well it retains its shape. Even when the pack is not full, it does not sway with momentum, fold over, or flap in the wind. The pack also has endured numerous rain and hail storms and the nylon fabric did not allow moisture to penetrate. The top closure, however, did not deter all water and small amounts managed to trickle in. Therefore, it's probably worth putting electronics and other items that absolutely cannot get wet in a separate waterproof stuff sack.

Comfort and Fit
I do not have a petite frame and find that the Stir 20 is comfortable and fits snug to my body even during high exertion activities like running. Because the Stir series is unisex and one-size-fits-all, my significantly smaller wife tried it on as well. To fit her, we raised the sternum strap about 6 inches, and otherwise simply pulled the shoulder straps tighter. Surprisingly, it fit her well, and you can rest assured that we usually are not able to share a pack.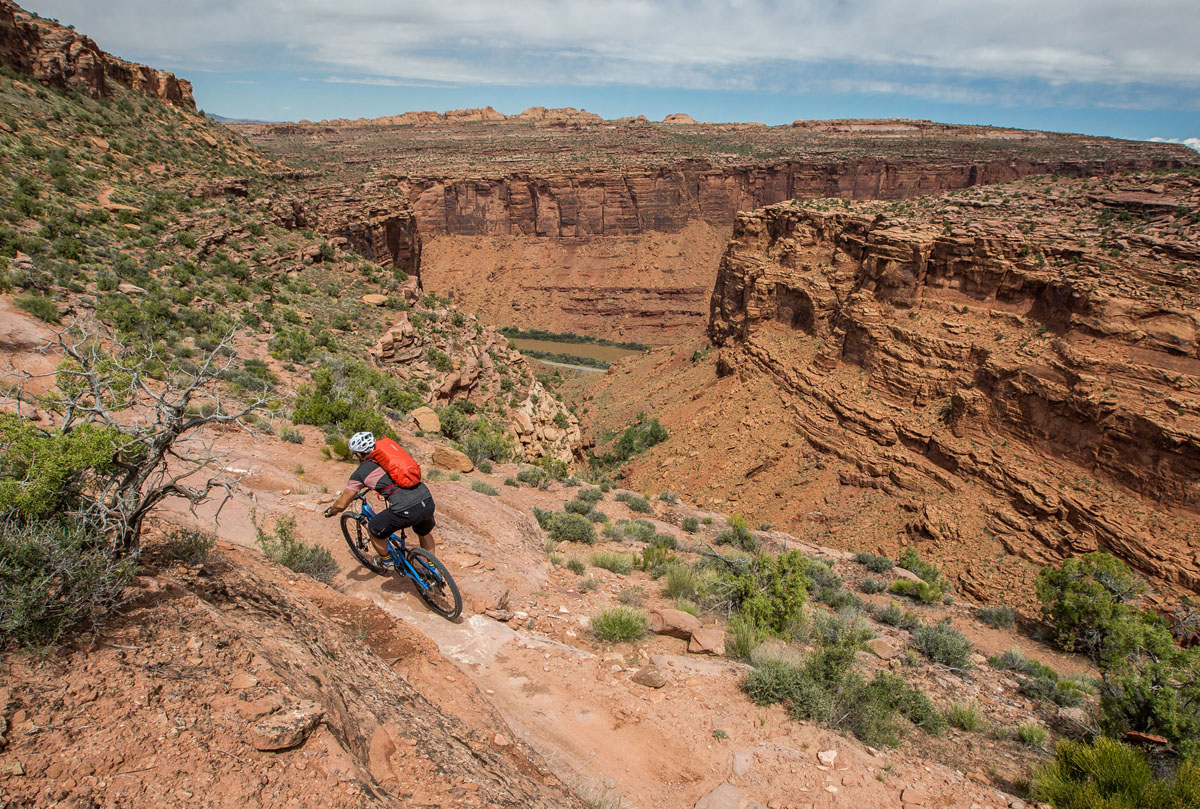 I sweat. In fact, I sweat a lot, which typically leaves my packs damp and heavy and often the items within the pack become damp and smelly. The shoulder straps and back panel of the Stir 20 are designed to breath and it works better in this regard than most packs I've owned. Air can flow through the contact points of the pack while in use, thus the panels themselves do not readily soak up the sweat. If the back panel does become saturated (like I said, I sweat a lot and also play in the rain) it dries quickly.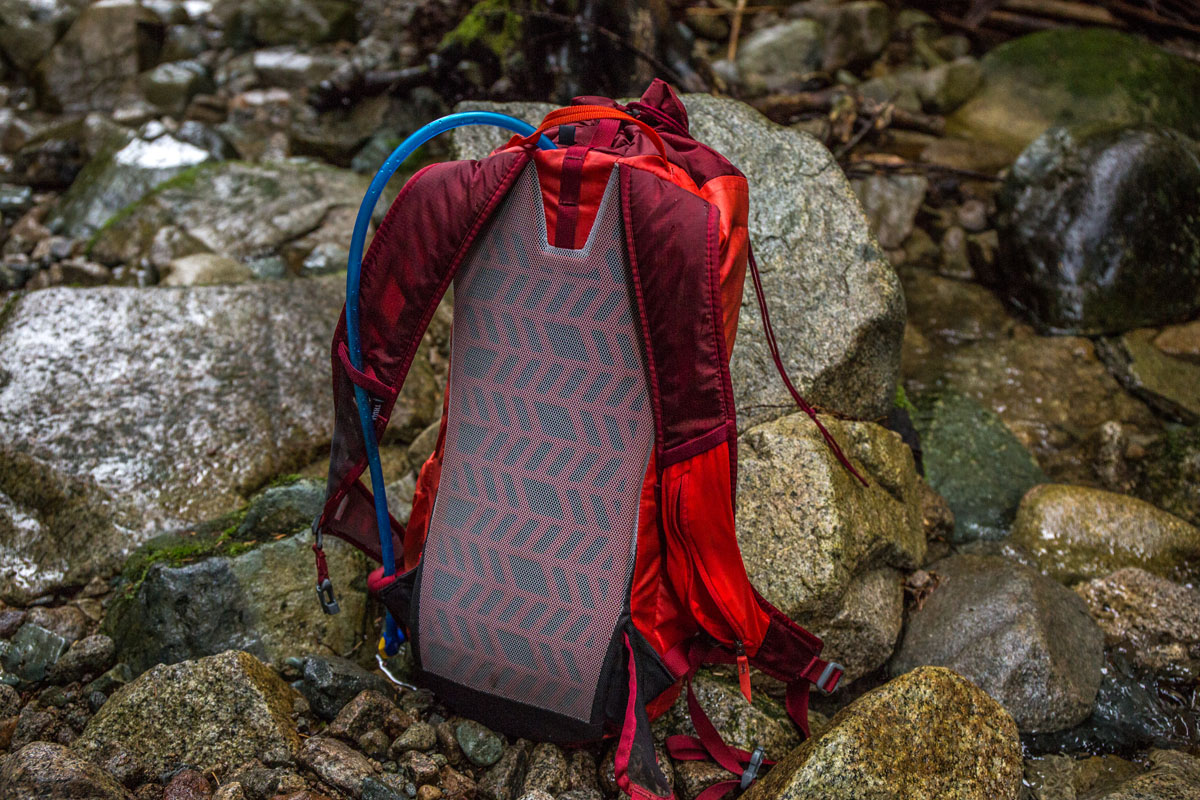 What We Like
We love the attention paid to every feature. The Scandinavian design is very clean, simple and functional.
Core material is very durable, water resistant and dries quickly.
There are two handles that come together much like a grocery bag that make the bag very convenient for picking up and hauling around. They are surprisingly functional.
Reflective elements help you to be seen better by passing cars and there is a loop attachment to put on a small light for added safety.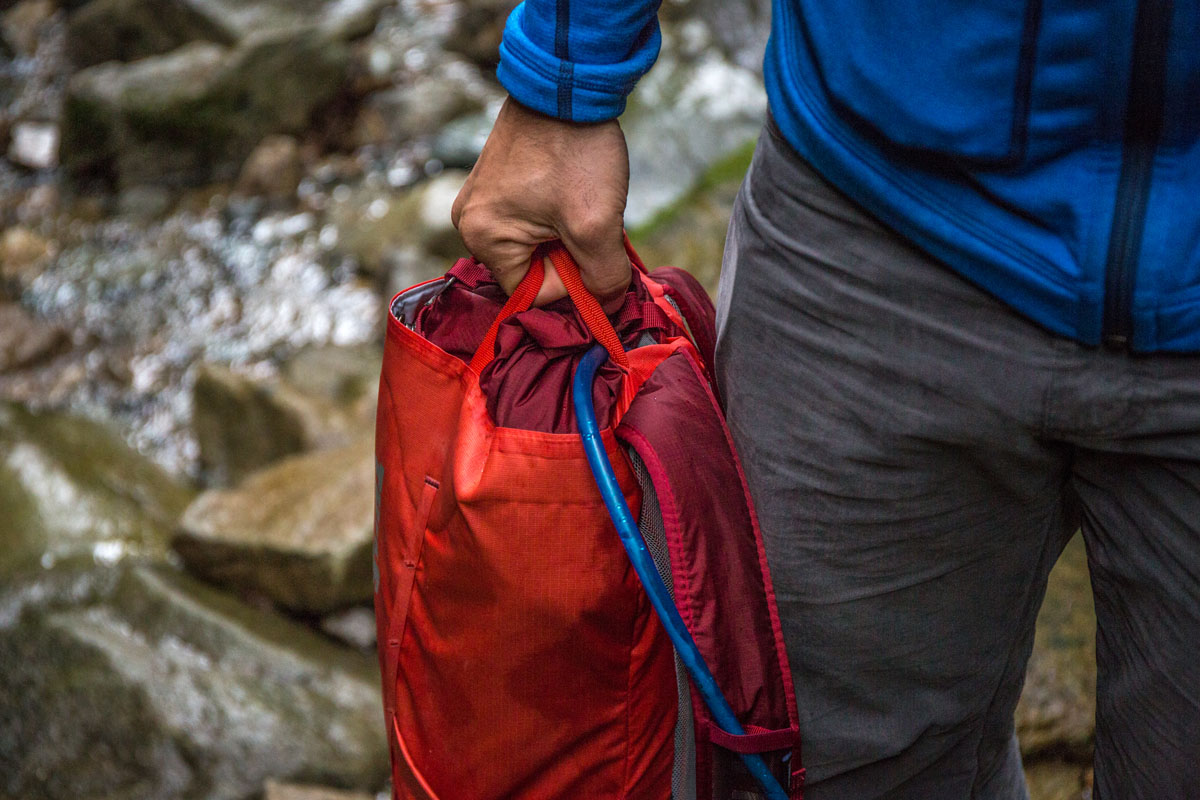 What We Don't
The small elastic band on each side pocket doesn't provide enough tension to hold items that are smaller than the pocket's capacity, making it possible to lose the item while bending over with the pack on. I also worry that while mountain biking important things could bounce out.
Cinch cord at the top has no "home", it tends to simply dangle and flap, which can be annoying.
Stuff-it pocket cannot be closed, and due to inflexibility, only very slim items can be easily fit.
The Competition
With its 20-liter capacity, Thule is jumping into a crowded field of ultralight daypacks. A current favorite of ours is the Granite Gear Virga 26, which edges the Stir in interior volume and overall weight while including 3 handy stretch exterior pockets. If you'll be doing more than just hiking, however, we prefer the Stir. Its versatile design breathes better, is more comfortable while biking, and the design is tougher overall, which should translate to a longer life. Another lightweight option is the Marmot Kompressor Plus 20. At $59, it's the value option in this segment (outside of the truly basic REI Flash 18), but comfort and durability fall short of the higher quality Stir.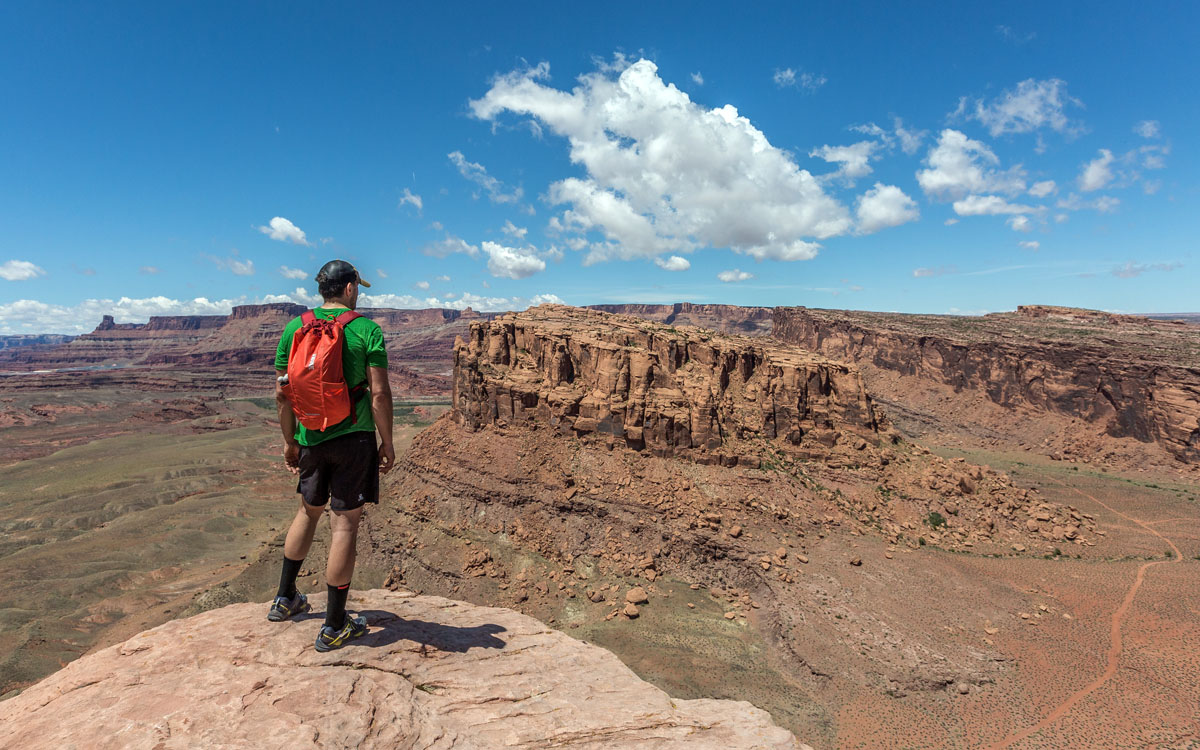 Perhaps the Stir's closest competition comes from a fellow European gear manufacturer. Deuter's Speed Lite 20 is a near match in terms of capacity, breathability, and thoughtful design. With a removable u-frame, compression side straps that double as ski holders, and exterior helmet attachment points, lightweight alpinists may prefer the Deuter, but for daily commuting, trail running, and hiking, we give the edge to the simpler and lighter Thule Stir 20. 
If you're thinking about buying gear that we've reviewed on Switchback Travel, you can help support us in the process. Just click on any of the seller links above, and if you make a purchase, we receive a small percentage of the transaction. The cost of the product is the same to you but this helps us continue to test and write about outdoor gear. Thanks and we appreciate your support!
Depending on the seller, most products ship free in the United States on orders of $50 or more. International shipping availability and rates vary by seller. The pricing information on this page is updated hourly but we are not responsible for inaccuracies.
Learn More About Outdoor Gear