Whether you're planning a week-long expedition or camping for a single night, having the right equipment for winter is crucial. Snow-covered landscapes can be magically enticing, but trips quickly can turn dangerous—or uncomfortable at the very least—if you're not adequately prepared. Our detailed checklist below covers critical winter camping equipment like tents and sleeping bags, cold-weather clothing, winter travel and avalanche safety gear, health and hygiene necessities, and personal items and extras you won't want to forget. For more information on each product category, many of the headings link to our category round-ups, which are the result of years of testing and opinions. For all of our recommendations in one place, see our detailed ski gear and winter gear reviews.
Winter Camping Equipment
Cold-Weather Clothing
Winter Travel & Avy Safety Gear
Health & Hygiene
Personal Items & Extras

❒ 4-Season tent

❒ Cold-weather sleeping bag

❒ Insulated sleeping pad

❒ Stove and fuel

❒ Headlamp

 

Optional:
❒ Stove platform

❒ Foam sleeping pad

❒ Sleeping bag liner

❒ Pillow

❒ Tent footprint/ground cloth

❒ Extra stakes and guylines

❒ Pack liner or waterproof stuff sacks

❒ Heavyweight down or synthetic jacket

❒ Hardshell or ski jacket

❒ Hardshell, softshell, or ski pants

❒ Baselayers

❒ Midlayer

❒ Gloves

❒ Warm socks

❒ Sunglasses and goggles

 

Accessories & Optional:

❒ Beanie or headband

❒ Liner gloves

❒ Long underwear

❒ Insulated pants

❒ Extra socks

❒ Down booties

❒ Gaiters

❒ Balaclava or neck gaiter

❒ Backcountry skis, splitboard, or snowshoes

❒ Climbing skins

❒ Backcountry ski or mountaineering boots

❒ Backpack or sled

❒ Poles 

❒ Avalanche beacon

❒ Probe

❒ Shovel

❒ Navigation

 

Accessories & Optional:

❒ Daypack or ski pack

❒ Slope meter

❒ Snow saw

❒ Crampons

❒ Ice axe

❒ Compass

❒ Waterproof map/guidebook photos

❒ Satellite messenger

❒ Backcountry radios

❒ Binoculars

❒ Toothbrush

❒ Toothpaste

❒ Toilet paper/baby wipes

❒ Hand sanitizer

❒ Deodorant

❒ Personal medications

❒ SPF-rated balm

❒ Sunscreen

❒ First aid kit

 

 

❒ Food

❒ Cookware

❒ Coffee, tea, hot chocolate, etc.

❒ Water bottles

❒ Thermos

❒ Animal-resistant food storage

❒ Camera

❒ Non-metal spoon

❒ Disposable hand wamers

❒ Lighters/waterproof matches

❒ Knife or multi-tool

❒ Whistle

❒ Basic repair kit

❒ Cell phone w/ charger

❒ Power bank

❒ Extra batteries

❒ Notebook and pencil

❒ Ziploc bags

❒ Moleskin

❒ ID, cards, cash

❒ Permit or park pass
Editor's note: The table above provides a brief overview of what you'll need to get outside, but our full PDF version is printable and offers a more comprehensive breakdown of the necessities and nice-to-haves.
See Our Winter Camping PDF

Winter Camping Equipment
Whether you're headed out for a quick overnight or embarking on a multi-day mission deep into the backcountry, the gear below is what we recommend bringing on every trip to comfortably spend days and nights outdoors in the winter. We've also included a handful of optional items that may or may not be worth packing depending on your preferences and objective(s).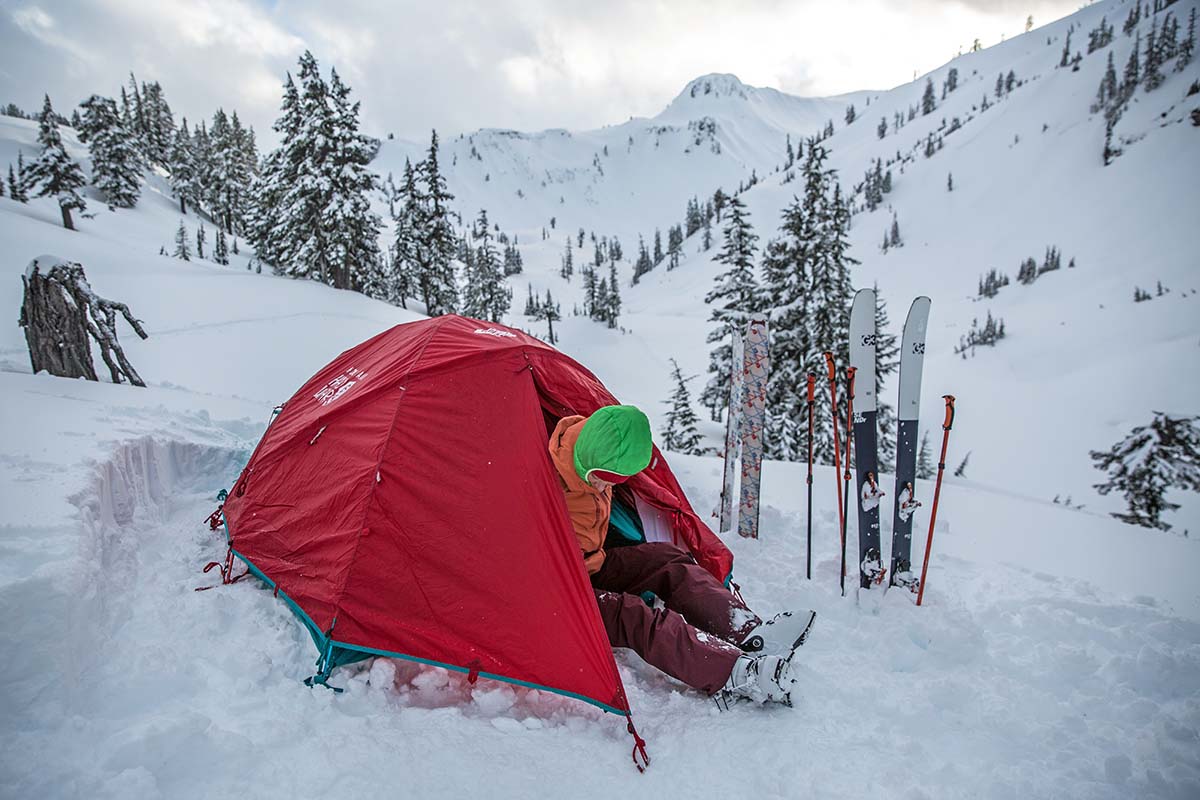 Our top pick: Mountain Hardwear Trango 2 ($900)
What we like: Tough build, great livability, and one of the most reliable options available.
What we don't: Heavy, pricey, and decidedly overkill for even shoulder-season camping.
*Editor's note: Many winter campers also bring along a basecamp shelter like the Black Diamond Mega Light for use as a camp kitchen/hangout space.
Our top pick: Feathered Friends Snowbunting EX 0 ($719) 
What we like: Remarkable warmth-to-weight ratio and packed with ultra-premium down fill.
What we don't: Expensive and not as widely available as many mainstream bags.
 
Our top pick: Therm-a-Rest NeoAir XTherm NXT ($240)
What we like: High R-value for below-freezing conditions but still competitively light.
What we don't: Pricey and overbuilt for non-winter use.
Our top pick: MSR WindBurner ($190)
What we like: Enclosed burner brings water to a boil quickly, even in gusty conditions.
What we don't: Expensive and no built-in igniter.
Our top pick: Petzl Actik Core ($80)
What we like: Reliable, bright, and compatible with both rechargeable and AAA batteries.
What we don't: Some find the battery difficult to access and swap out.

Optional Winter Camping Gear
Stove platform (we like MSR's Trillium Stove Base) 
Basic foam sleeping pad for added warmth
Sleeping bag liner
Backpacking pillow
Tent footprint/ground cloth
Extra stakes and guylines
Pack liner or waterproof stuff sacks
---

Cold-Weather Clothing
What you wear is always critical in the outdoors, but that's even more true in frigid conditions. You'll pay more for winter-ready warmth and protection, but the pieces below are exceptionally well made and should last a very long time (provided you take proper care of them). And don't skimp on the accessories—quality socks, gloves, and hats can go a long way toward keeping you comfortable when the mercury drops.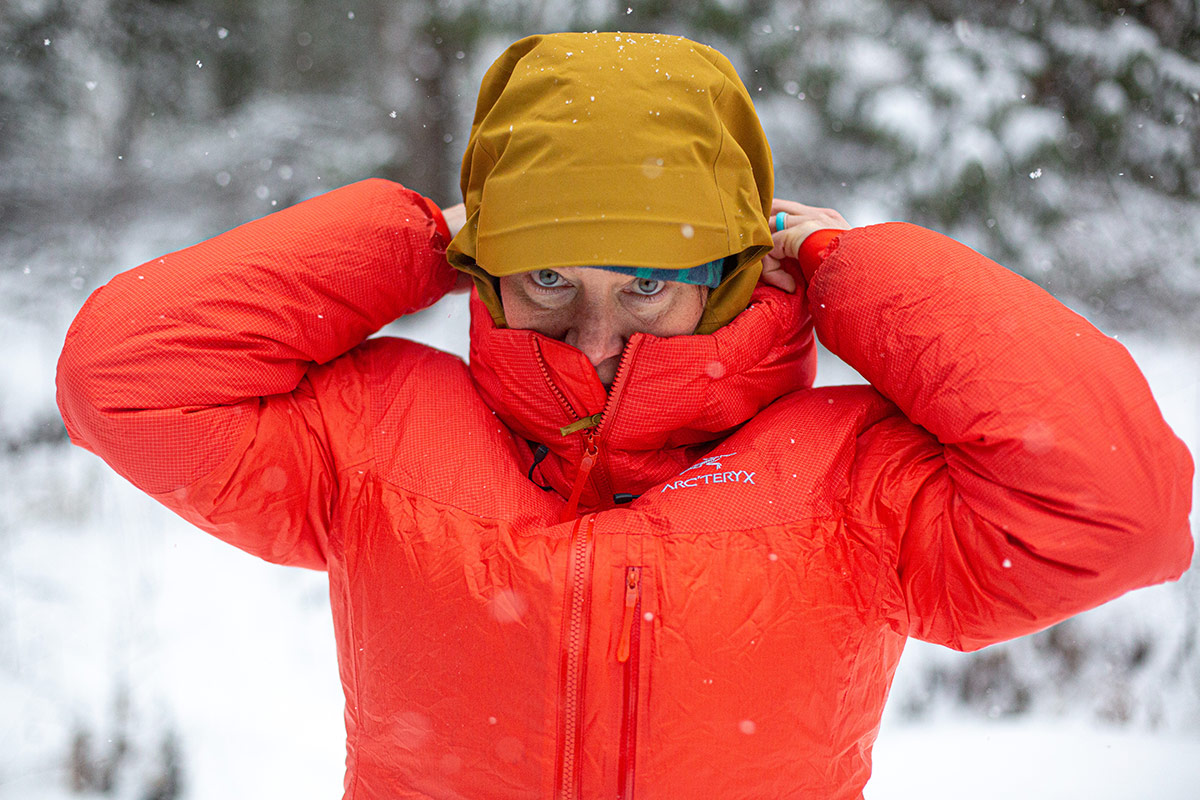 Our top pick: Rab Neutrino Pro ($400)
What we like: Remarkably warm for the weight and reasonably priced for the level of performance. 
What we don't: Fairly heavy and bulky; not versatile for year-round use.
Our top pick: Arc'teryx Beta AR Jacket ($600)
What we like: Extremely well rounded and plenty tough to withstand brutal alpine conditions.
What we don't: Arc'teryx gear doesn't come cheap; not ideal for fast-and-light missions.

Hardshell, Softshell, or Ski Pants 
Our top pick: Arc'teryx Sabre Pant ($600)
What we like: Top-notch protection and durability in a sleek package.
What we don't: Softshell pants are much more comfortable and breathable (at the sacrifice of weatherproofing).
Our top pick: Smartwool Classic Thermal Merino 1/4-Zip ($120)
What we like: Extremely soft, warm, and wicks moisture to an impressive degree.
What we don't: Requires good care to last; too warm for mild weather and high-output use.
Our top pick: Arc'teryx Atom Jacket ($280)
What we like: Hard-to-beat combination of warmth, breathability, and comfort.
What we don't: You can get more warmth for less weight with a down jacket.  
Our top pick: Black Diamond Guide Gloves ($180)
What we like: Well insulated, hardwearing, and comfortable.
What we don't: Takes some time to break in; below-average dexterity.
Our top pick: Smartwool Ski Full Cushion OTC ($29)
What we like: Plush warmth and high dose of merino (63%) for wicking moisture and fending off stink.
What we don't: If your boots are already snug, we recommend stepping down to the thinner Targeted Cushion OTC.
Our top pick: Smith I/O Mag Goggles ($270-$300)
What we like: Class-leading optics and quick lens-change system for shifting conditions.
What we don't: Pricey and can fog up during extended exertion.
*Editor's note: Snow blindness (i.e., sunburn on your eyes) is a major concern in winter, especially at altitude. For the best protection and coverage, we recommend bringing a pair of performance-oriented sunglasses or glacier goggles, which will vent better than ski goggles on the uphill.

Accessories and Optional Cold-Weather Clothing:
Beanie or insulated headband
Liner gloves
Long underwear
Insulated pants
Extra socks
Down booties
Gaiters
Balaclava or neck gaiter
---

Winter Travel and Avalanche Safety Gear
You won't be getting very far from the trailhead without a quality pair of skis or snowshoes, or a splitboard to plow through the deep stuff. And once you have those, you might need accessories like climbing skins (if you opt for skis or a splitboard), poles, boots, and a pack or sled to haul everything to your campsite. Finally, if you'll be crossing any avalanche terrain on your route, you'll need to bring along a beacon, shovel, and probe—after the proper training, of course.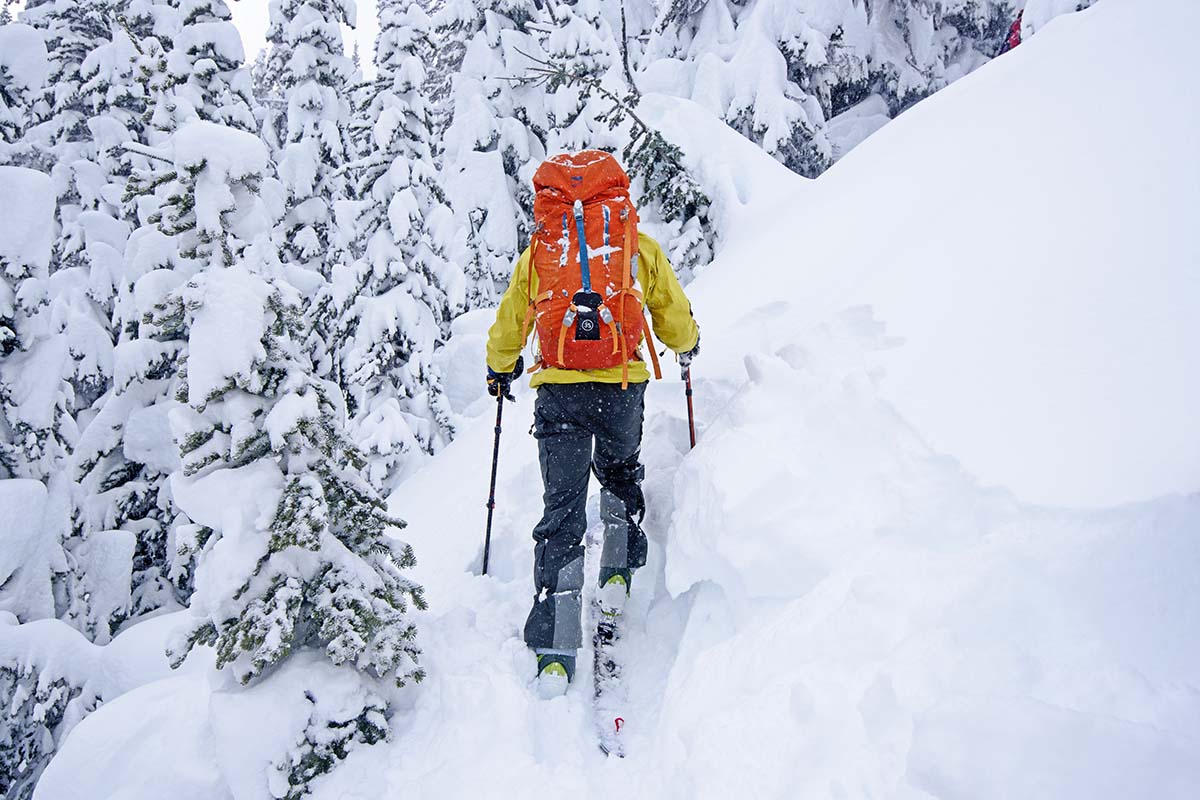 Our top pick: Blizzard Zero G 105 ($900)
What we like: Efficient on the uphill and fun on the descent. 
What we don't: Underbuilt for serious, big-mountain objectives; not the most nimble design.
Our top pick: Pomoca Climb Pro S-Glide ($220)
What we like: Near-optimal balance of glide, grip, adhesion, and packability.
What we don't: Not as long-lasting as 100% nylon designs.
Our top pick: Scarpa Maestrale RS ($949)
What we like: Well-rounded performance for both climbing and descending.
What we don't: Not burly enough to cross over well for frequent resort use.
Our top pick: Black Diamond Mission 75 ($255)
What we like: Generously sized with lots of winter-specific features.
What we don't: A sled will be less strenuous as the miles add up.
Editor's note: For multi-day trips, we love the combination of a sled and duffel. If you go this route, we recommend bringing along a small daypack or ski backpack for easy access to water, snacks, a warm layer, and avalanche gear.
Our top pick: MSR DynaLock Ascent Carbon ($190)
What we like: Four-season versatility and notably tough for a carbon design.
What we don't: Not intended for ski touring (for that, we turn to Black Diamond's Razor Carbon Pro).
Our top pick: Backcountry Access Tracker3 ($350)
What we like: A time-tested design with an intuitive interface.
What we don't: No Bluetooth connectivity; battery life and range fall short of more advanced designs.

Probe
Our top pick: Black Diamond QuickDraw Pro 240 ($60)
What we like: Lightweight, easy to deploy, and very readable depth markings. 
What we don't: Shorter than the 280 and 320 variations, which will run you additional $20-$40.

Shovel
Our top pick: Black Diamond Transfer ($65)
What we like: Sturdy and packs down reasonably small.
What we don't: Spending up will get you a more comfortable handle and even better packability.

Navigation: map, GPS, or app
Our top pick: Gaia GPS (app)
What we like: Easy-to-use interface with the option to clearly highlight slope angle.
What we don't: Monthly subscription required for offline access and many advanced features, including slope shading.

Accessories and Optional Winter Travel Items:
Daypack or ski pack
Slope meter (inclinometer)
Snow saw
Crampons
Ice axe
Compass
Waterproof map or digital photos of guidebook
Satellite messenger device
Backcountry radios (we love Rocky Talkies)
Binoculars
---

Health and Hygiene
We'd categorize winter camping as "type 2" fun: not always enjoyable while you're doing it, but worthwhile after the fact. Whether you're a seasoned pro or just dipping your toes, maintaining a good hygiene routine can help make the experience more comfortable. We consider the items below the bare necessities for staying clean and comfortable in the backcountry, and make sure to bring the appropriate sun protection, too—the sun's rays can be especially powerful when reflecting off snow.
Toothbrush
Toothpaste
Toilet paper and/or baby wipes
Hand sanitizer
Deodorant
Personal medications
SPF-rated lip balm
Sunscreen
First aid kit
---

Personal Items and Extras
Our list above covers the essentials and a few things that are really nice to have, but we have a few more items in our packs on our winter camping trips. Some are for more technical adventures, while others just make us a bit more comfortable in otherwise extreme conditions. Don't forget these bits and pieces before you set off on your snow-packed adventure.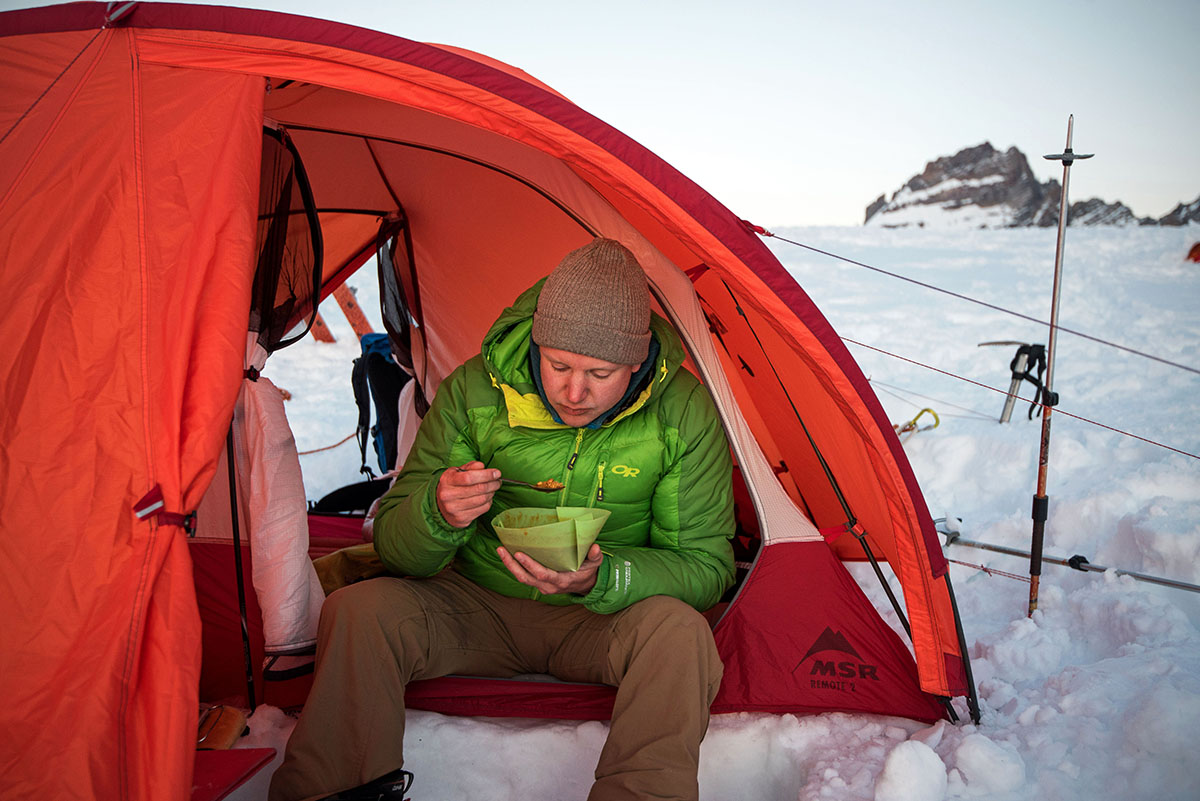 Food (dehydrated meals are easiest)
Cookware (including large pot for boiling water)
Coffee, tea, hot chocolate, etc.
Thermos
Animal-resistant food storage (Ursack, bear canister, etc.)
Camera
Non-metal spoon for eating (plastic or bamboo is best)
Disposable hand warmers
Fire starter
Lighters (it's best to bring two) and/or waterproof matches
Knife or multi-tool
Whistle
Basic repair kit (multi-tool, duct tape, extra cord)
Cell phone with charger
Power bank
Extra batteries
Notebook and pencil
Ziploc bags (for trash and waterproofing electronics)
Moleskin
ID, cards, and cash
Permit or park pass (if required)
---

Additional Winter Camping Tips
Use resealable bags for toiletries and other small items you don't want to lose or get wet, such as lighters and matches.
If you're limited on space, consider using dedicated compression sacks for soft gear like your sleeping bag, clothing, etc.
We recommend a 10-degree buffer for your sleeping bag. For example, if your bag is rated to 20 degrees Fahrenheit, expect to be comfortable down to around freezing.
You'll likely burn double the calories that you would during a warm-weather expedition, so don't be shy when it comes to chowing down. Regardless of your food choices, it's a good idea to lay out your food beforehand meal-by-meal to make sure it's all there, and we always pack an extra meal or two (plus snacks) in case the trip takes longer than expected. 
To keep your tent secure when camping on snow, bury your tent stakes sideways and pack snow overtop for better security. You can also purchase dedicated snow stakes or use gear like skis, ice axes, ski poles, or anything else that can be securely buried and not bend or break under stress.
Sleeping pad R-values are additive, meaning you can increase warmth by stacking your insulated sleeping pad on top of a lightweight and basic foam pad.
Cold temps mean you'll need to melt snow to make water, requiring more stove time than you need while camping in the summer. For two campers, we recommend an 8-ounce isobutane/propane canister for every two days, or .5 liters of white gas per day.
While a water reservoir is the most convenient option for drinking on the go, the hose will almost certainly freeze in winter conditions. For that reason, we prefer BPA-free plastic water bottles (like those from Nalgene) on our winter trips, and make sure to keep them somewhat insulated in your pack. Pro tip: Fill a bottle with hot water before you go to bed and keep it in your sleeping bag for extra warmth.
Be sure to share your itinerary with a trusted friend or family member before heading out, including your expected route and arrival/departure dates. It's also good practice to leave a second copy under your car seat in case of emergency.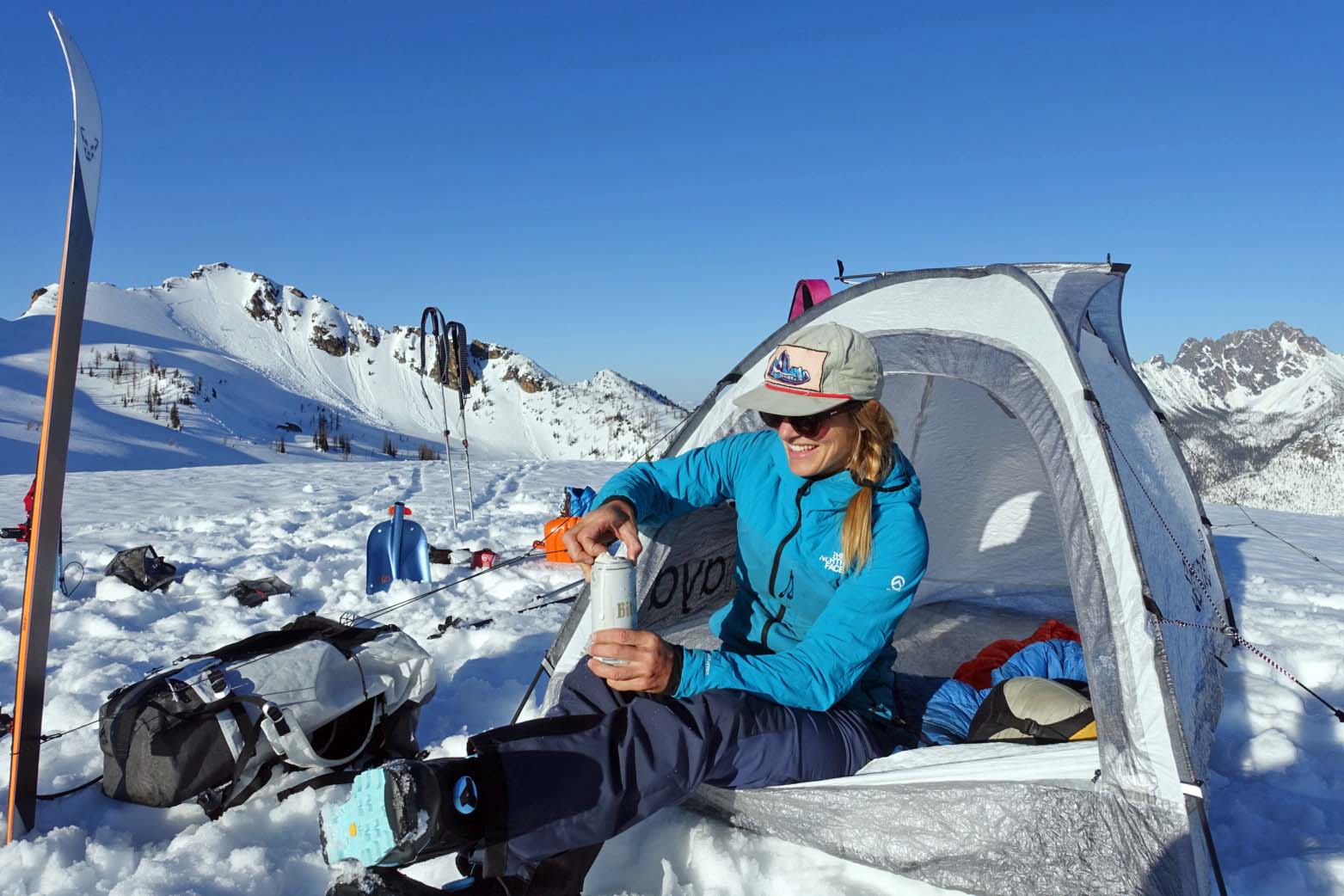 An Important Note on Avalanche Safety
If you're traveling into the mountains where there will be slopes greater than 30 degrees (you can use an inclinometer to check), avalanche safety gear is a necessity. The three most vital pieces of equipment for keeping yourself and your friends safe are a beacon, shovel, and probe (more on these above). Many serious backcountry-goers also opt to bring along an airbag backpack with an airbag that will keep them afloat in the unfortunate event that they're sucked into the hurling snow. And of course, the gear is useless without proper training, so we always advise taking at least a level 1 avalanche course—and practice, practice, practice—before venturing into avy-prone terrain. AIARE offers classes country-wide throughout the winter and early spring.


Where to Buy Winter Camping Gear
For both winter and summer outdoor activities, we do much of our gear shopping at REI Co-op. The selection is excellent, the staff generally are knowledgeable, and you get the brick-and-mortar bonus of more than 180 actual stores around the country. In the winter months, we often turn to websites like Evo and Backcountry for their larger inventories of winter camping and ski gear. Evo.com offers free shipping on orders over $50 and has a great online selection of skis, bindings, avalanche beacons and more, not to mention discounts on last year's items. Backcountry.com has free two-day shipping on orders over $50 and a solid selection overall, especially when it comes to certain brands that you will have trouble finding elsewhere. And last but not least, we always support buying gear at your local shop. It's a great way to support the community, get information about your trip, and try things on in-person.
See Our Winter Gear Reviews  See Our Ski Gear Reviews
Learn More About Winter Gear