Don't let the retro design fool you: the Fujifilm X-Pro2 is one of the top mirrorless cameras on the market in 2016. New to the camera are a higher resolution sensor, more advanced autofocus, and weather sealing, among other features. Below we break down the best lenses for the X-Pro2, including prime and zoom options from wide angle to telephoto. Fujifilm lenses go by the "Fujinon" moniker and are among the finest around in terms of image and build quality. Accordingly, you'll find fewer third-party lenses than usual on the list as Fujinons simply are that good.
Fujifilm X-Pro2 Kit Lenses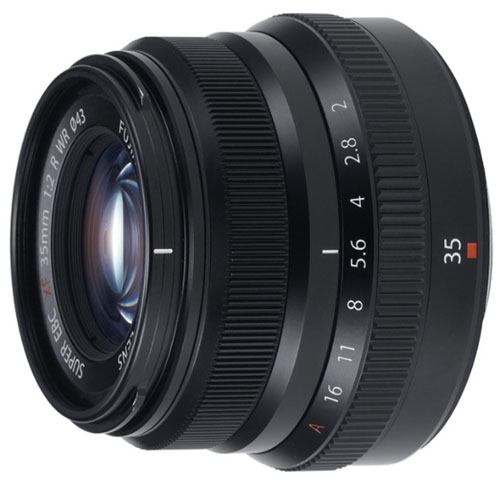 Weight: 6 oz.
35mm equivalent: 53mm
What we like: Small in size yet packs a punch in terms of image quality.
What we don't: No discount for the kit.
Fujifilm is best known for street photography and portraiture, so it's no surprise that the kit lens offered with the XPro2 is the 35mm f/2 (Fujifilm also favors prime lenses over zooms, so bucking the kit zoom trend is no surprise either). With this compact and lightweight lens you get good sharpness and excellent low light performance at a very reasonable price point. However, there is no discount with the kit: the 35mm f/2 is approximately $400 more than the camera, the same cost as the lens on its own. This issue aside, the 35mm f/2 is a superb lens that will help your X-Pro2 shine. For an even faster option, see the 35mm f/1.4 below. Editor's Note: At the time of publishing this kit was made "currently unavailable." We will keep up to date with whether or not it will return as well as future kit options for the X-Pro2. 
See the Fujinon 35mm f/2

 
Wide-Angle Lenses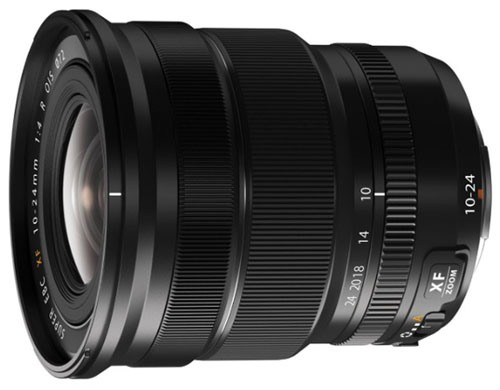 Weight: 14.5 oz.
35mm equivalent: 15-36mm
What we like: Super sharp and fast autofocus.
What we don't: No weather sealing.
The wide-angle lens options for the X-Pro2 are strong, and our top pick is the 10-24mm f/4. The only notable shortcoming is the f/4 maximum aperture, but the lens does have optical image stabilization for low light. Aside from that, you get superb optics with great sharpness and fast autofocus. And many of the issues that are commonly found with wide-angle zooms—heavy distortion, vignetting and softness—just aren't present on this lens. We would love to see weather sealing added in the future for our fellow outdoor photographers, but it's still a top-notch wide-angle option.
See the Fujinon 10-24mm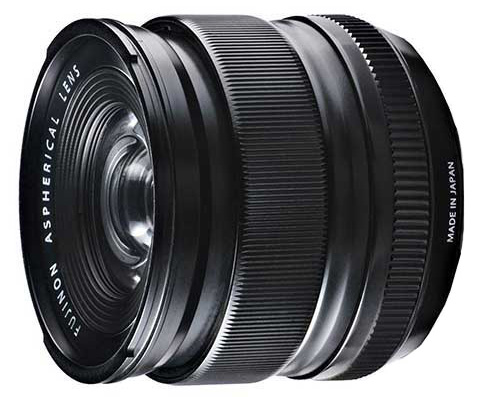 Weight: 8.3 oz.
35mm equivalent: 21mm
What we like: One step faster than the 10-24mm above.
What we don't: Pricey for a prime.  
If you frequently shoot landscapes or other wide-angle photos but don't want to go the zoom route, the Fujinon 14mm f/2.8 is the leading prime lens for the X-Pro2. With a focal length equivalent of 21mm on a 35mm camera, it's wide enough for grand landscapes but not too wide (you can read more about our favorite focal lengths for landscapes here). The lens also features a sturdy all-metal build and produces sharp, high-quality images with minimal distortion. Based on the price similarities, we favor the 10-24mm above for the versatility, but the 14mm f/2.8 is another outstanding lens. Another popular option is the fast Fujinon 16mm f/1.4, but that lens is heavier and we prefer the 21mm equivalent focal length.
See the Fujinon 14mm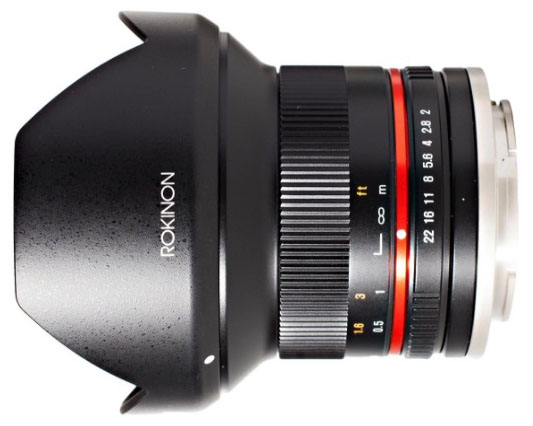 Weight: 9 oz.
35mm equivalent: 18mm
What we like: A great value for a wide-angle lens.
What we don't: Manual focus isn't for everyone.
Given the rather expensive wide-angle lens options for the X-Pro2 above, we are thinking outside the box with the Rokinon 12mm f/2.0. This manual focus lens comes in a variety of mounts and is very reasonably priced at just over $300. But perhaps most impressive is its maximum aperture of f/2, which is terrific for astrophotography and other low light photography. Manual focusing may be a hurdle for some photographers (we found it to be a bit clunky on this lens), but we love the sharpness and build quality. For comparison, the Zeiss 12mm Touit has similar optics and is more than double the cost.
See the Rokinon 12mm
Walk Around and Portrait Lenses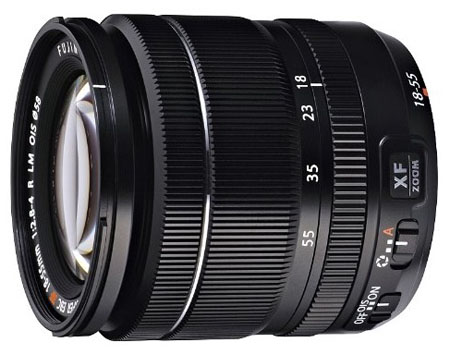 Weight: 11.6 oz.
35mm equivalent: 27-82.5mm
What we like: Great build quality and reasonably fast for a mid-range zoom.
What we don't: Not an all-in-one lens solution like the 18-135mm.
In classic Fujifilm fashion, the company disregarded the notion that 18-55mm lenses have to be mediocre from an optical perspective. The 18-55mm f/2.8-4 is the kit lens offered with the X-T1, but with a faster-than-usual maximum aperture, it's no slouch. Sharpness and color rendition are excellent and it has a sturdy metal build to boot. We do find 18mm at the wide end (27mm equivalent) to be too narrow for true landscape specialists, but this is a great travel and people lens for those who don't want to spend huge for Fujinon primes.
See the Fujinon 18-55mm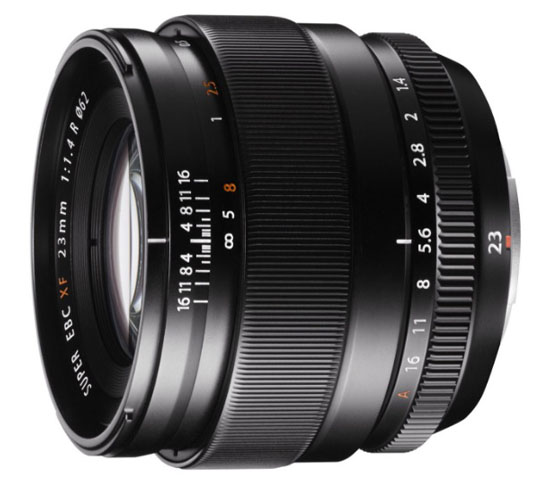 Weight: 10.6 oz.
35mm equivalent: 34.5mm
What we like: Fast and tack sharp.
What we don't: Pricey for a prime lens.
Street photographers flock to Fujifilm cameras, and the 23mm f/1.4 was built for exactly that. With essentially a 35mm equivalent (34.5mm to be exact), this lens is fast, sharp, and focuses quickly. Pairing this lens with the X-Pro2 gives you a street camera set-up that can compete with just about anything on the market, mirrorless or otherwise. The downside here is the price: $700 isn't that far off from some 35mm full-frame offerings, but that's exactly the type of photographers that Fujifilm is now aiming for.
See the Fujinon 23mm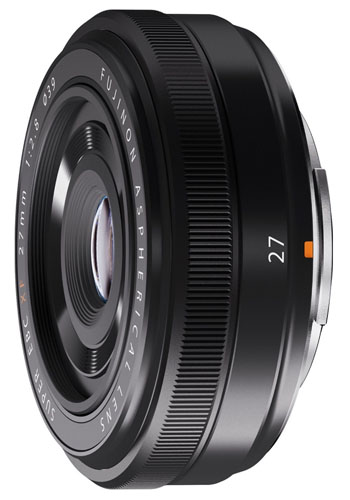 Weight: 2.8 oz.
35mm equivalent: 41.5mm
What we like: Compact and a good value.
What we don't: Optics are good but not great.
Let us start by saying that 27mm (equivalent to 41.5mm) is an interesting focal length, sitting in-between the popular 35mm and 50mm focal lengths. But if cost and weight are at a premium, this pancake-style lens has a super low profile and impressive optics for the price. At just 2.8 ounces, it's reasonably sharp, good in low light, and you'll barely even notice it's on your camera. We don't love this lens for enthusiasts and professionals, but it's a nice alternative for those who don't want to spend big for the 23mm f/1.4 above.
See the Fujinon 27mm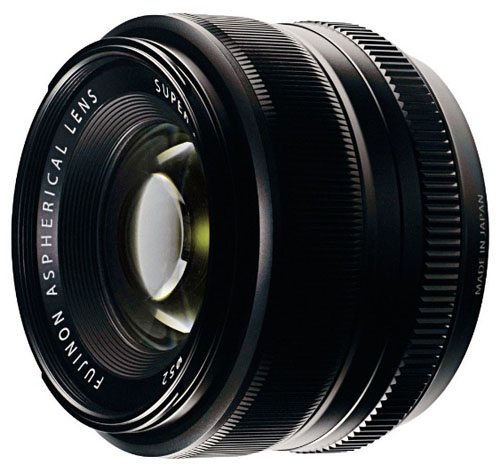 Weight: 6.6 oz.
35mm equivalent: 52.5mm
What we like: Sharpness and low light performance.
What we don't: Autofocus can be slow.
With a focal length equivalent of 52.5mm on a 35mm camera, this "nifty fifty" is another strong prime from Fujifilm. It performs extremely well in low light, is sharp, produces excellent bokeh, and weighs just 6.6 ounces. The biggest issue is that autofocus can be slower than you might expect from a 50mm prime (make sure that the camera has the latest firmware updates for the best performance). But the autofocus is accurate, which is critical, and it's an otherwise outstanding lens.
See the Fujinon 35mm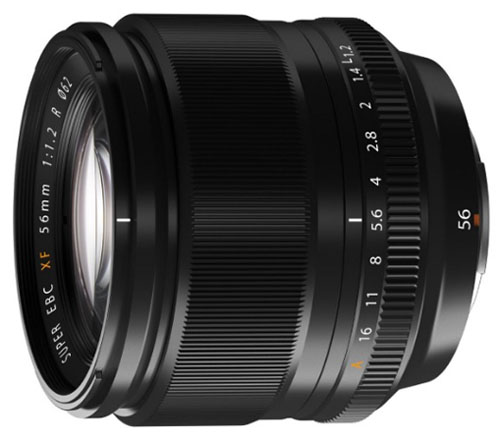 Weight: 14.3 oz.
35mm equivalent: 85mm
What we like: Superb optics and low light performance.
What we don't: No weather sealing.
This is the kind of lens that people switch camera systems for. If you had any doubts about mirrorless matching the image quality of Canon or Nikon DSLR lenses, give the Fujinon 56mm f/1.2 a serious look. This short telephoto is excellent for portraits with a blazing fast f/1.2 maximum aperture, almost no distortion, and sharpness edge to edge. All things considered, it's the best portrait lens for the X-Pro2 and can go head to head with any lens of its kind, mirrorless or otherwise. Our only real gripe is the lens is not weather sealed (many Canon "L" series or Nikon FX lenses are).
See the Fujinon 56mm
Telephoto Zoom Lenses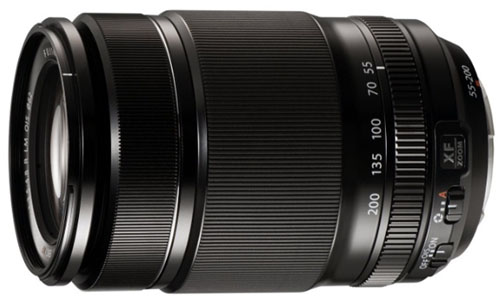 Weight: 20.5 oz.
35mm equivalent: 82.5-300mm
What we like: Good optics and low light performance for a telephoto zoom.
What we don't: Autofocus has a tendency to hunt.
Telephoto lenses seldom are perfect, but the Fujinon does everything that it should at a reasonable price point. It's sharp throughout its zoom range, performs well in low light for a telephoto zoom, and comes with optical image stabilization for hand held shots. The biggest shortcoming is its weight at 20.5 ounces, which can feel heavy and bulky on a compact mirrorless camera like the X-Pro2. The 50-230mm below is cheaper, lighter, and has a slightly longer reach, but is not nearly as good from an optical perspective. Those who need a faster telephoto should consider the pricey Fujinon 50-140mm f/2.8.
See the Fujinon 55-200mm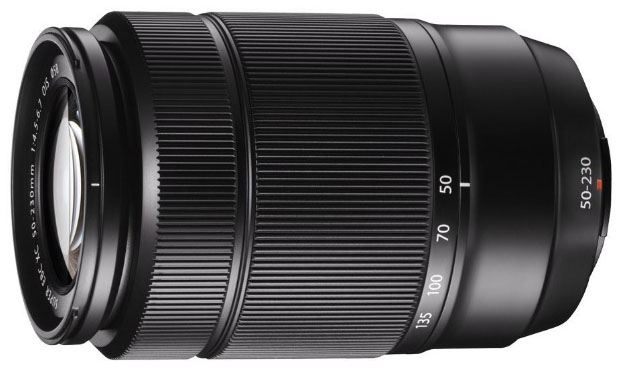 Weight: 13.2 oz.
35mm equivalent: 75-345mm
What we like: Lightweight and inexpensive.
What we don't: Subpar in low light.
We aren't crazy about the low light performance of this lens, even with the optical image stabilization. But if you want an inexpensive telephoto option for the X-Pro2, the 50-230mm f/2.5-6.7 is just that. This lens does have a long focal length range equivalent to 76-350mm on a 35mm camera, giving you more reach than the 55-200mm f/3.5-4.8 above. If you plan on doing most of your telephoto shooting in normal/bright conditions, the image quality of the Fujifilm 50-230mm should do the job.
See the Fujinon 50-230mm
All-in-one Lenses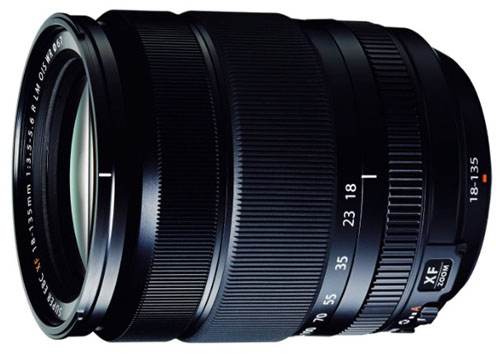 Weight: 17.3 oz.
35mm equivalent: 27-206mm
What we like: Weather sealed for outdoor photography.
What we don't: 27mm equivalent isn't wide quite enough for serious landscape photographers.
If you're looking for an all-in-one lens to pair with the Fujfilm X-Pro2, the 18-135mm f/3.5-5.6 is an excellent choice. With a focal length range of 27-206mm on a 35mm camera, this lens covers everything from wide angle to telephoto and is weather sealed. We love this lens for general uses like travel and as an everyday walk-around lens, but it's not wide enough for serious landscape photographers and feels a bit bulky on a small mirrorless camera body like the X-Pro2. We prefer more specific prime and zoom lenses over an all-in-one, but the 18-135mm f/3.5-5.6 a good option for travel and those who value the versatility.
See the Fujinon 18-135mm
Lens Comparison Chart
Our Dream Camera Bag for the Fujifilm X-Pro2
We have to start with the Fujinon 23mm f/1.4. This lens gives you a fast prime for street photography and travel, two of the things Fujifilm cameras are best known for. It's extremely well built, sharp even when wide open, and a fantastic all-around lens from an image quality perspective.
The X-Mount wide-angle lens options are more varied than for other types of mirrorless cameras, but we like the Fujinon 10-24mm f/4 best. The 14mm f/2.8 is tempting being one stop faster, but we value the versatility of the zoom at 16-35mm equivalent (the same as many full-frame zooms from Canon and Nikon). This lens has minimal distortion, is super sharp, and performs well across its focal length range.
We would forego the 35mm f/2 kit lens in favor of the Fujinon 35mm f/1.4. The f/2 isn't flawed by any means, but Fujifilm makes spectacular lenses and a maximum aperture of f/1.4 will provide the low light performance and bokeh that enthusiasts and professionals love. If the f/2 kit lens were discounted, we would give it stronger consideration, but not priced as is.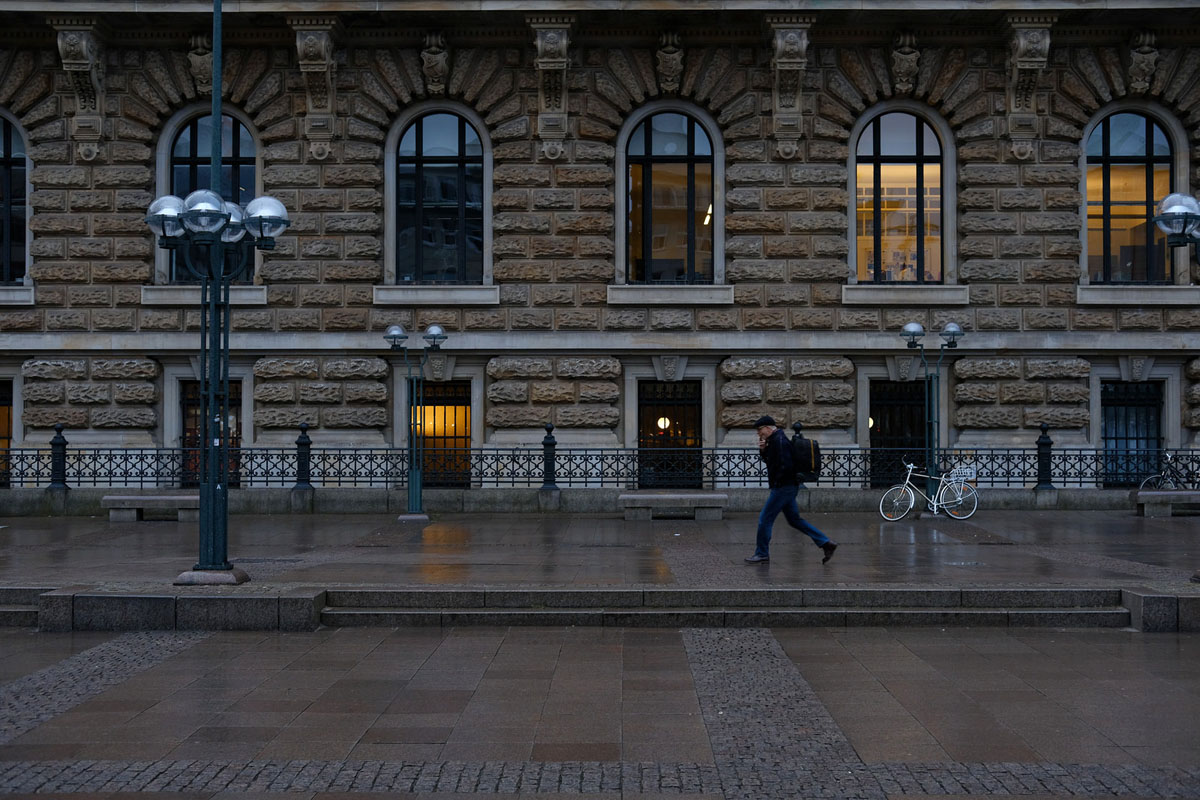 The premier X-mount portrait lens is the Fujinon 56mm f/1.2, equivalent to 85mm. F/1.2 is hard to come by, and particularly on APS-C format lenses, but it's available here from Fujifilm. If you specialize in people shots this lens may stay on your X-Pro2 the majority of the time, which is a good thing.
Finally, telephoto shooters should pick up the 50-230mm f/3.5-4.8. If you're like me, this lens will stay in your bag the majority of the time, but it's hard to skip telephoto altogether. Of the available X-mount choices, the 50-230mm offers the best combination of image quality and value.
Crop Factor and Focal Length Equivalent
The history behind crop factor is long, but what you need to know is that lens focal lengths are described using 35mm film as the reference point. Because the image sensors on Fujifilm mirrorless cameras like the X-Pro2 are 1.5 times smaller than a 35mm camera, you multiply a lens's listed focal length by 1.5 to determine its equivalent. For example, a Fujinon lens listed as 14mm will behave like a 21mm lens would on a 35mm camera.
If you've used a full-frame camera, crop factor can be very helpful in choosing your lenses. Different mirrorless cameras brands have different crop factors so it's important to understand the equivalent focal lengths to know what you are buying and make proper comparisons. To help in the process, we've listed the focal length equivalents in the specs below each lens and in our comparison table.
 
Fujifilm's Focus on Primes
One thing you may notice on this list is that Fujifilm seems to focus on prime lenses more than other lens manufacturers. Nikon and Canon, for example, are constantly improving and pushing their zoom offerings to consumers, but Fujifilm favors primes and it's apparent with the 35mm f/2 offered with the X-Pro2 (we know of very few other kits that come with a prime lens). Even the 18-55mm lens offered with the X-T1 has an f/2.8 maximum aperture at the wide end, which is faster than the norm.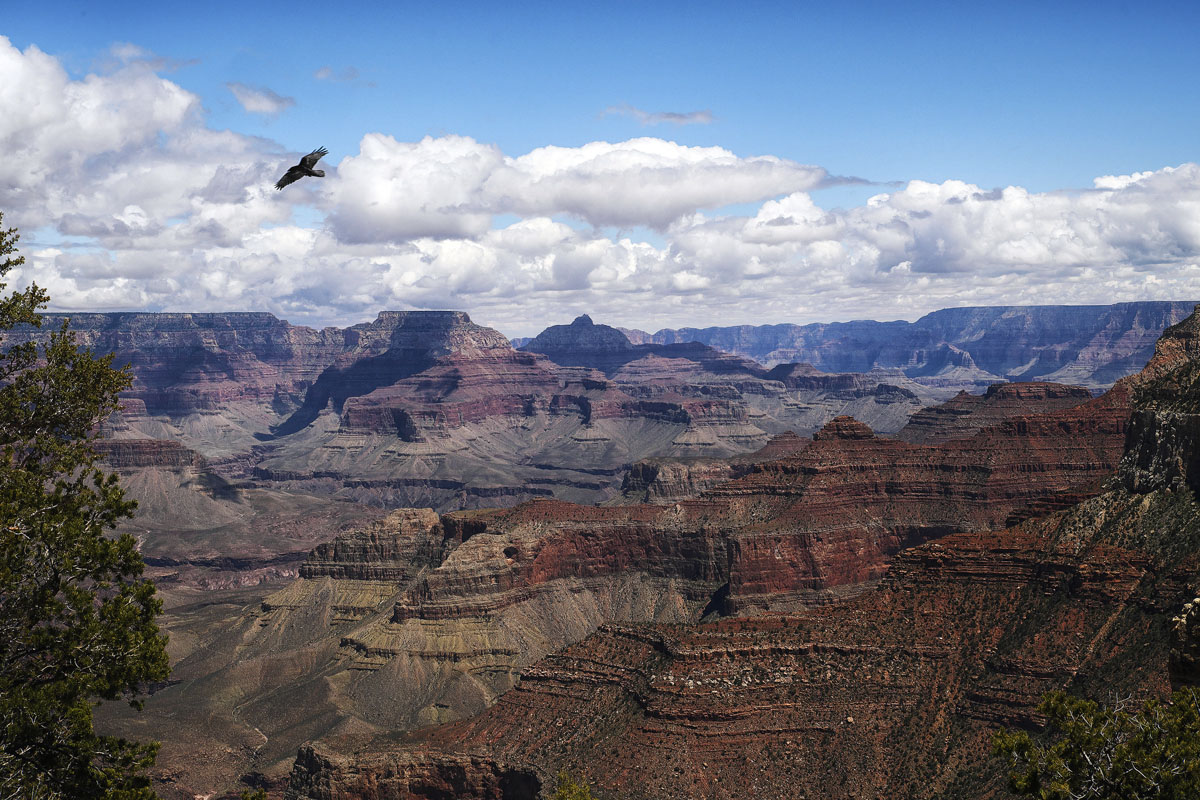 The bottom line is that the X-Pro2 speaks most to people who are seeking the ultimate in image quality—the target audience for is more akin to the full-frame market than the entry-level market. We love zoom lenses like the 10-24mm f/4, and the 18-55mm f/2.8-4 is much better than other kit lenses, but don't pass on the opportunity to grab a Fujinon prime or two. You won't regret it.
 
Adapters
If you have a collection of lenses from Canon, Nikon, or Leica and are making the switch over to Fujifilm mirrorless, buying an adapter can be an attractive option. There are a range of adapters to choose from, including the Fotodiox Canon EF/EF-S to Fujifilm X Mount and Nikon to Fujifilm X Mount. Keep in mind that in general, lens adapters may not connect as well to the camera's autofocusing system as lenses made by the manufacturer itself.
Given the cost and technical difficulties of adapters, we tend to think of them more for pricey full-frame lenses than crop sensor models. In addition, the weight and bulk of many DSLR lenses will be noticeable on a small mirrorless camera like the X-Pro2. Most lenses should be useable, but they are larger than lenses built specifically for mirrorless. 
 
The Zeiss Touit Collection
We wanted to acknowledge here the Zeiss Touit collection: a series of prime lenses with mounts for Fujifilm and Sony. First, we absolutely love Zeiss lenses and always are excited about their image and build quality. It just so happens that we think the Fujinon offerings for the X-Pro2 are superior, not to mention they are in the same price ballpark as the Touit lenses. However, if you own a Sony mirrorless camera like the Alpha a6300, the Touit lenses are nice high-end options where there isn't anything comparable from the manufacturer itself.