Rooftop tents have come a long way since their dusty beginnings in the wild outback of Africa and Australia. Originally designed for overlanders with rugged off-roading vehicles, they're now popular among campers and casual weekenders worldwide. And the allure is clear: you can score a self-contained camping set-up for a fraction of the cost of an RV or van. From European legacy brands to trendy start-ups, below we break down the best rooftop tent brands on the market today, including details on their history, popular models, and what sets them apart from the competition. For our top picks, see our article on the best rooftop tents. 
 
Location: Soquel, California
Popular models: Explorer Kukenam 3 and Low-Pro 2
What we like: Widely available, user-friendly, and customizable with a range of accessories.
What we don't: Limited hardshell options and not the most affordable softshells.
Long before they became mainstream among the casual outdoors crowd, rooftop tents were popular among rugged off-road adventurers in areas like western Europe, South Africa, and Australia. And while a few luxury overseas models managed to make their way across the pond, up until a decade ago, there were no U.S.-based companies making affordable rooftop tents for the masses. Then in 2010, following a surf trip in Venezuela—a country with a thriving rooftop tent scene—Evan Currid founded Tepui, a company that popularized rooftop tents in the States and simultaneously positioned itself as the go-to brand. Car-accessory giant Thule acquired Tepui in 2018, but their products and overall quality remain unchanged.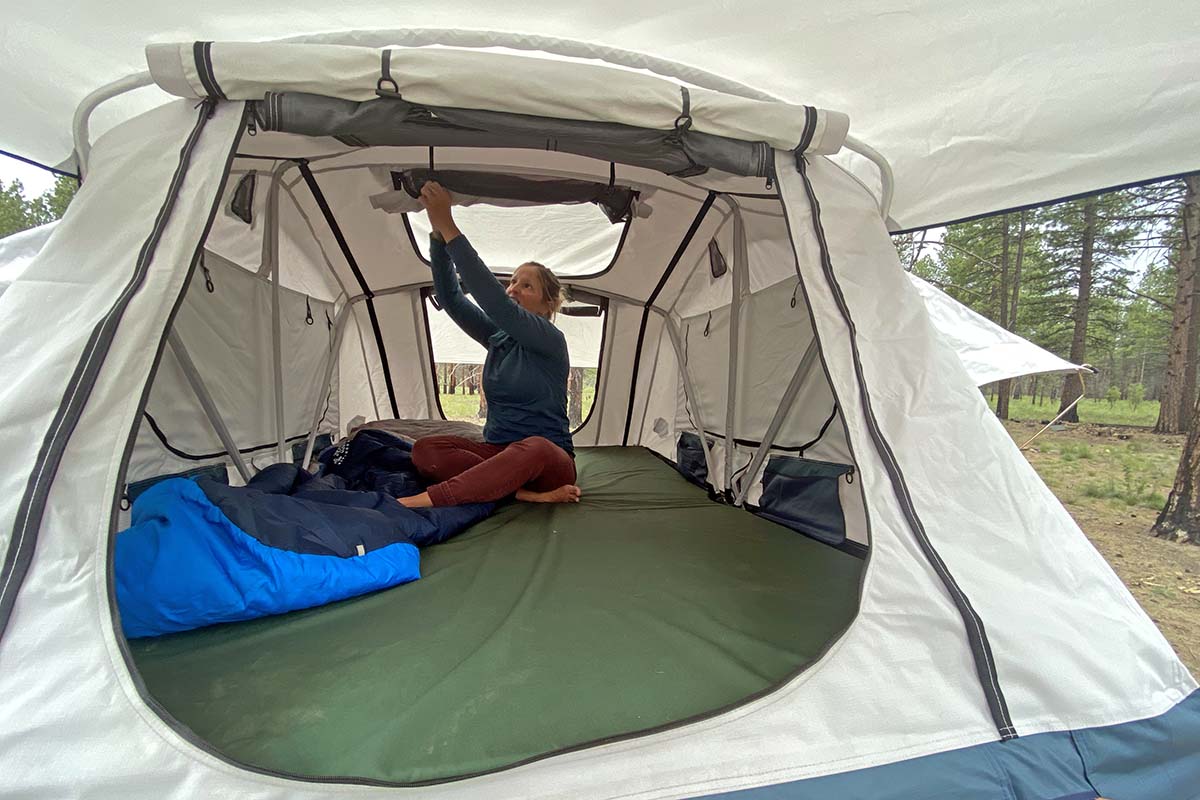 Thule Tepui's tents are well-built and easy to operate, widely available (they're one of the few brands carried by REI Co-op), and reasonably priced—a combination that makes them popular among casual weekenders and first-time rooftop tent buyers. You won't find ultra-premium hardshells here (for these, we recommend brands like iKamper, Roofnest, and Autohome below), and there are certainly cheaper softshells on the market (check out 23Zero or Smittybilt), but Thule Tepui tents are built to last and will get you outside with minimal hassle. What's more, Thule Tepui offers a full range of accessories such as LED light strips, sheet sets, boot bags, and awnings, which is great news for those looking for a one-stop shop. 
 
Location: Kent, Washington / Paju, South Korea
Popular models: Skycamp 2.0 and X-Cover
What we like: Premium, functional hardshells that sleep four; great customer service.
What we don't: Expensive and you'll have to buy most accessories separately.
iKamper's name might sound a little gimmicky, but this company designs some of the most functional and well-rounded hardshells on the market. Founded by entrepreneur Soon Park following his family's multi-year road trip in the U.S. (and brought to life by a wildly successful Kickstarter campaign), iKamper's aim was to create a hardshell that sleeps four. This is big news, particularly for families with kids: though superior to softshell tents in terms of durability and weather protection, hardshells are typically limited to just two sleepers due to their smaller floorplans (for more information, see our rooftop tent buying advice). But with an innovative fold-out design, iKamper expanded upon hardshells (literally) and has since become a respected name in the world of premium rooftop tents.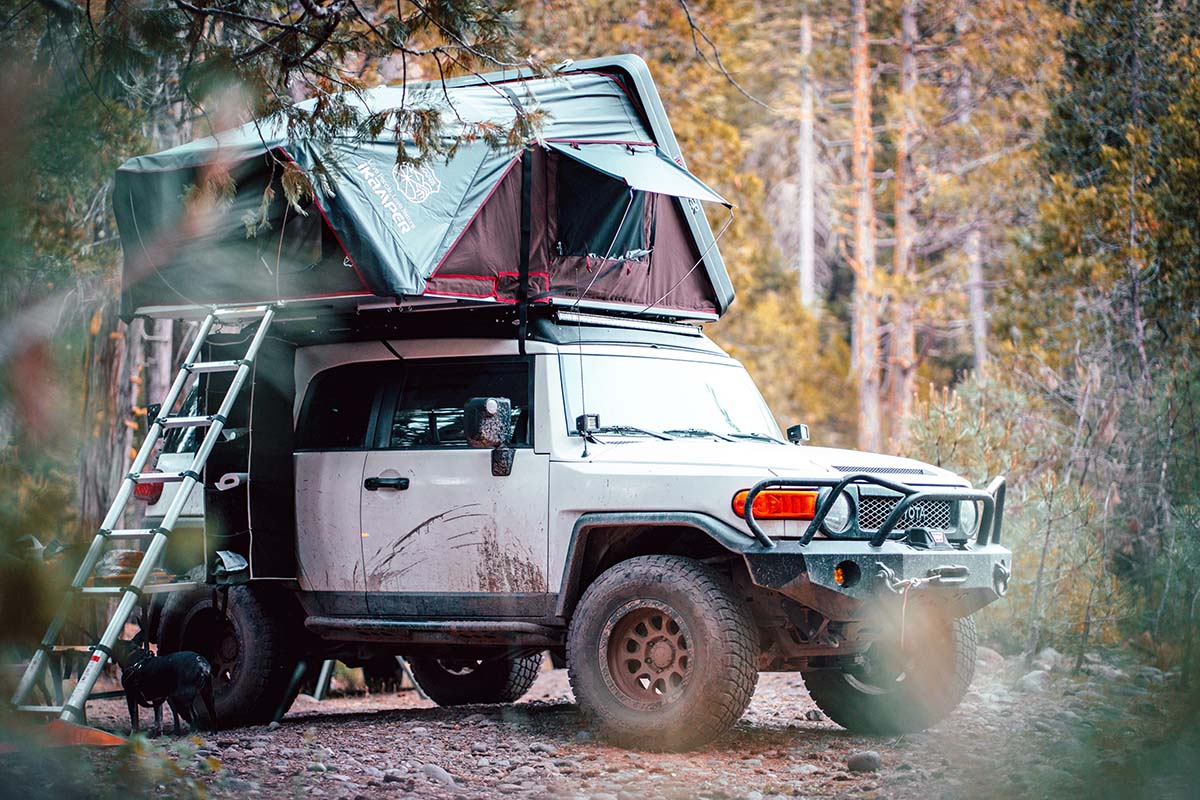 iKamper's lineup is undeniably limited—they currently offer the Skycamp 2.0, Skycamp 2X, Skycamp Mini, and hardshell/softshell hybrid X-Cover—but the combination of quality, convenience, and versatility is hard to beat. These tents set up quickly, have a top-of-the-line fit and finish, and come backed by great customer service. In fact, when one of our testers had a ladder break, iKamper express-shipped her a replacement and even included a free awning to compensate for the inconvenience. But you can expect to pay a pretty penny—the Skycamp 2.0 will set you back a staggering $3,899—and unlike many brands, iKamper doesn't include accessories like a shoe bag or LED lights with purchase. But iKamper tents have stormed the market for good reason and are great investments for those who get outside often.
 
Location: Boulder, Colorado
Popular models: Sparrow Eye and Condor
What we like: More affordable than iKamper and a great lineup of options. 
What we don't: Online-only shopping means you can't try before you buy.
Founded in Boulder, Colorado, in 2016, Roofnest was the first American company to bring pop-up and clamshell-style tents to the States, building off of the worldwide success of well-established international specialists like Autohome (Italy) and James Baroud (Portugal). Since then, their quality has improved immensely, and the brand now offers top-notch shelters that rival the likes of iKamper above. And importantly, by cutting out the middleman (Roofnest sells direct to consumer) and minimizing customization, they've been able to keep prices comparatively low. Unfortunately, this means you can't "try" before you buy, but Roofnest offers walk-through videos that provide a realistic survey of each tent.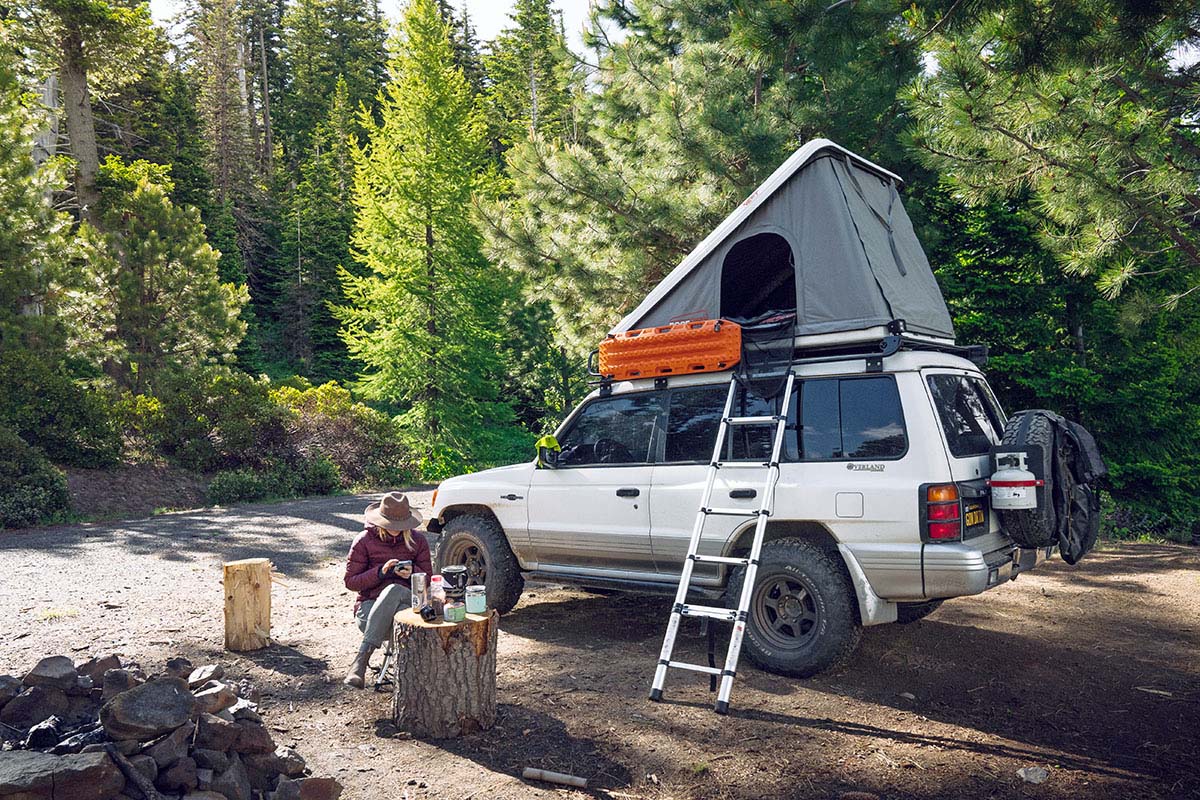 Roofnest's lineup is comprised of three main models—the Falcon, Sparrow, and Condor—all of which are well-built, come with a plush mattress, and set up easily with gas-powered struts. The Falcon clamshell line prioritizes functional durability and aerodynamics, with a 6.5-inch packed height and tough aluminum shell that accommodates accessory crossbars for your gear. The Sparrow comes in both pop-top and clamshell versions and is Roofnest's all-rounder: affordable, a breeze to set up (you can store your bedding and ladder inside), and compatible with external storage (the new Sparrow Adventure even comes with included crossbars). Finally, the Condor and Condor XL resemble the design of iKamper's Skycamp 2.0 but fold up even smaller and retail for roughly $600 less (plus, Roofnest includes accessories with purchase). For weekenders and overlanders alike, Roofnest makes some of the best hardshells on the market and is a name to have on your radar.
Location: Bend, Oregon
Popular models: Mt. Denali and Mt. Baker
What we like: Extensive selection and enticing rent-to-own program.
What we don't: Shipping is pricey and website is difficult to navigate.
Cascadia Vehicle Tents (CVT) is a bit of a dark horse in the world of rooftop tents. With offices and showrooms in Bend, Chattanooga, and Las Vegas, CVT offers an extensive selection of top-notch tents for almost every type of camper. Their lineup runs the gamut from the "ultralight" Mt. Bachelor (98 lbs.) and standard two-person clamshells to gargantuan softshells great for family camping—the Mt. Denali sleeps four with two separate mattresses and a room divider. They've even partnered with Australia's The Bush Company to manufacture a few rugged models purpose-built for overlanding (namely, the Alpha and Black Series Max).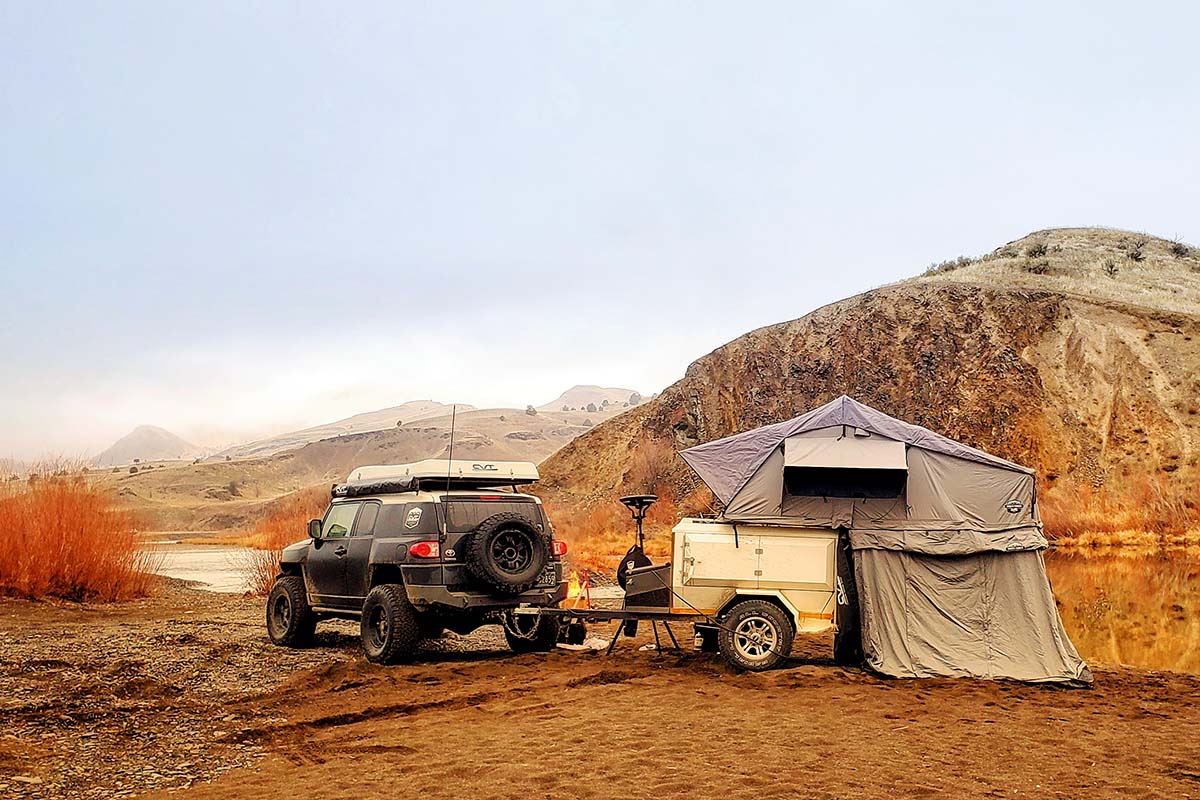 Here's the rub: CVT sells almost exclusively through their website and the three aforementioned showroom locations (they can also be found sporadically at few specialty retailers). This shouldn't deter too many modern consumers, but there's a lot of value in seeing a tent in person before making a purchase. What's more, CVT's website feels fairly dated and can be hard to navigate, and unlike iKamper and Roofnest, shipping costs extra (over $300). On the bright side, if you're close to Bend, Chattanooga, or Las Vegas, CVT offers a cool rent-to-own program in which 50 percent of your rental total will subtracted from the purchase price if you end up buying. In the end, if you have the patience for a little extra research and legwork, CVT's tents are undeniably premium and worth the investment, in our opinion.
 
Location: West Valley City, UT / Clayton South, Victoria, Australia
Popular models: Walkabout 62 and Weekender 56
What we like: High-quality, reasonably priced softshells.
What we don't: Utilitarian looks appeal to overlanders more than recreational campers.
23Zero's tents might not be the most flashy or attractive, but these rugged models are some of the most functional on the market for overlanding use. With one foot in Australia and the other in Utah, 23Zero knows the ins and outs of demanding desert roads better than most, and their softshell tents have the feature sets to prove it. Case in point: most models are made with the brand's innovative Light Suppression Technology for better protection against the relentless desert sun and heat. And arguably even more importantly, 23Zero tents represent some of the best values on the market, with durable materials and user-friendly designs that considerably undercut competitors like Thule Tepui and CVT.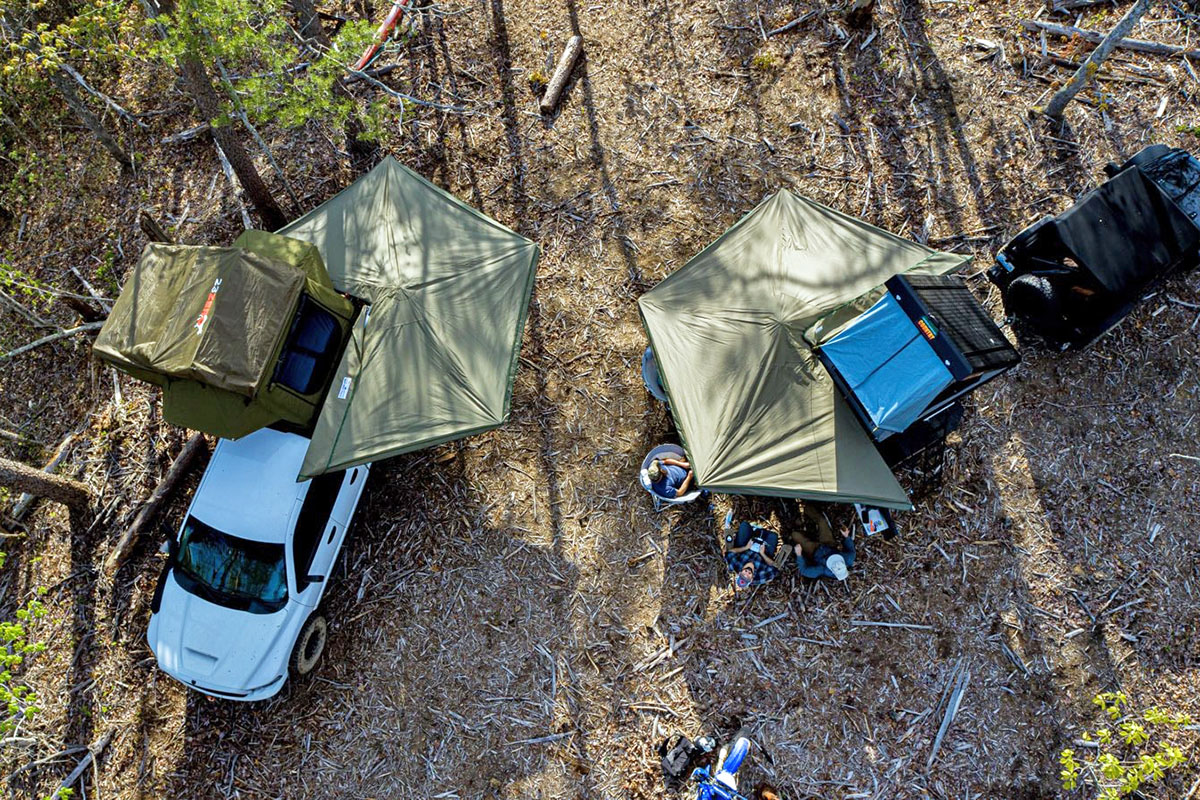 The biggest downside is convenience: these tents are only available through 23Zero's website and a number of specialty dealers throughout the U.S., and shipping is pricey at around $300. But the good news is that 23Zero offers great customer service and hard-to-beat pricing. And in terms of options, the company sells three softshell models in a number of capacities: the budget Weekender is the brand's lightweight model, the Breezeway offers great airflow and easy set-up, and the Walkabout provides 4-season comfort in a durable package. If your backcountry adventures often involve getting far off the beaten path—or if you're simply less concerned about looks than all-around value—23Zero should be on your short list.
 
Location: Porto, Portugal
Popular models: Evasion and Discovery
What we like: La crème de la crème: rugged, comfortable, and easy to set up.
What we don't: Extremely pricey.
If you're searching for the Mercedes Benz of rooftop tents, look no further than James Baroud. In short, this company offers some of the highest-quality hardshells on the market—all backed by a reliable and generous warranty (five years for most of the hardware and two for some of the features). Their most popular models are of the pop-up and clamshell variety, all of which feature a hydraulic-strut opening (set-up can be done in a matter of seconds, not minutes), creature comforts like a solar-powered fan complete with a dust filter, and a 3-inch-thick, high-density foam mattress. And while James Baroud is based in Portugal, they distribute in the U.S. through companies like Adventure Ready and Rhino Adventure Gear (both online and in store).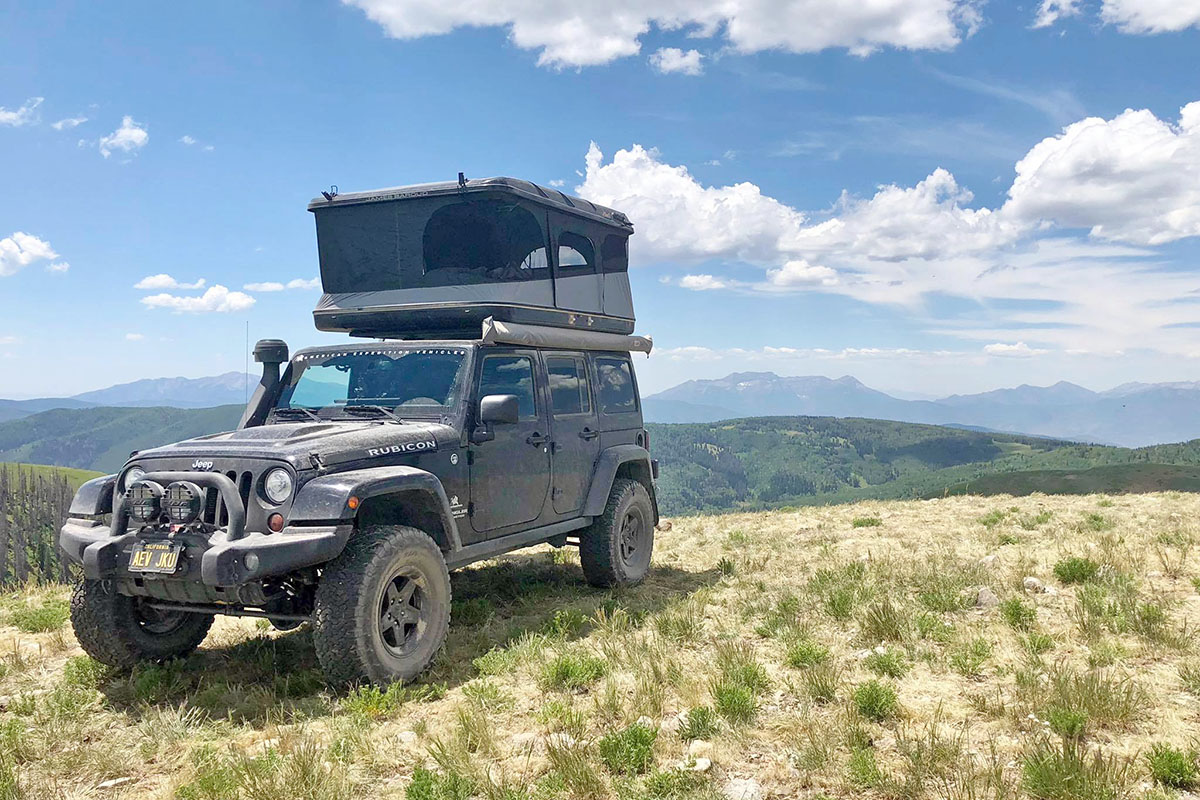 Not only are James Baroud tents practically synonymous with the term "glamping" (glamorous camping), but they're also built to withstand the true rigors of overlanding, including ceaseless jarring on bumpy roads and extreme sun, wind, and rain (they're tested in winds up to 60 mph). These tents have been hauled everywhere from the Utah desert to the grueling Dakar Rally, and there's no denying the street cred that comes with having one on top of your vehicle. But you do pay a serious premium for this level of craftsmanship, and in our opinion, upstarts like iKamper and Roofnest are hot on James Baroud's heels when it comes to quality, durability, and ease of use.
 
Location: Montovano, Italy
Popular models: Maggiolina AirLand Plus and Columbus Variant
What we like: Great legacy brand that specializes in simplicity and durability.
What we don't: Not the best values.
Unlike more modern brands like Roofnest and iKamper, aptly named Autohome is not a newcomer to the rooftop tent scene. In fact, this Italian company—distributed in the U.S. by Autohome USA—claims to have built the world's first rooftop tent back in 1958. Today, they offer three styles of hardshells—the Air Top, Columbus, and Maggiolina—that come in a range of lengths and widths to fit two to four sleepers. All in all, these tents are time-tested, weather-ready, and look good to boot. And what we like most about Autohome's offerings is their functional simplicity: all come with plush mattresses and aerodynamic builds, and the popular Maggiolina even goes old-school with a reliable hand crank for set-up.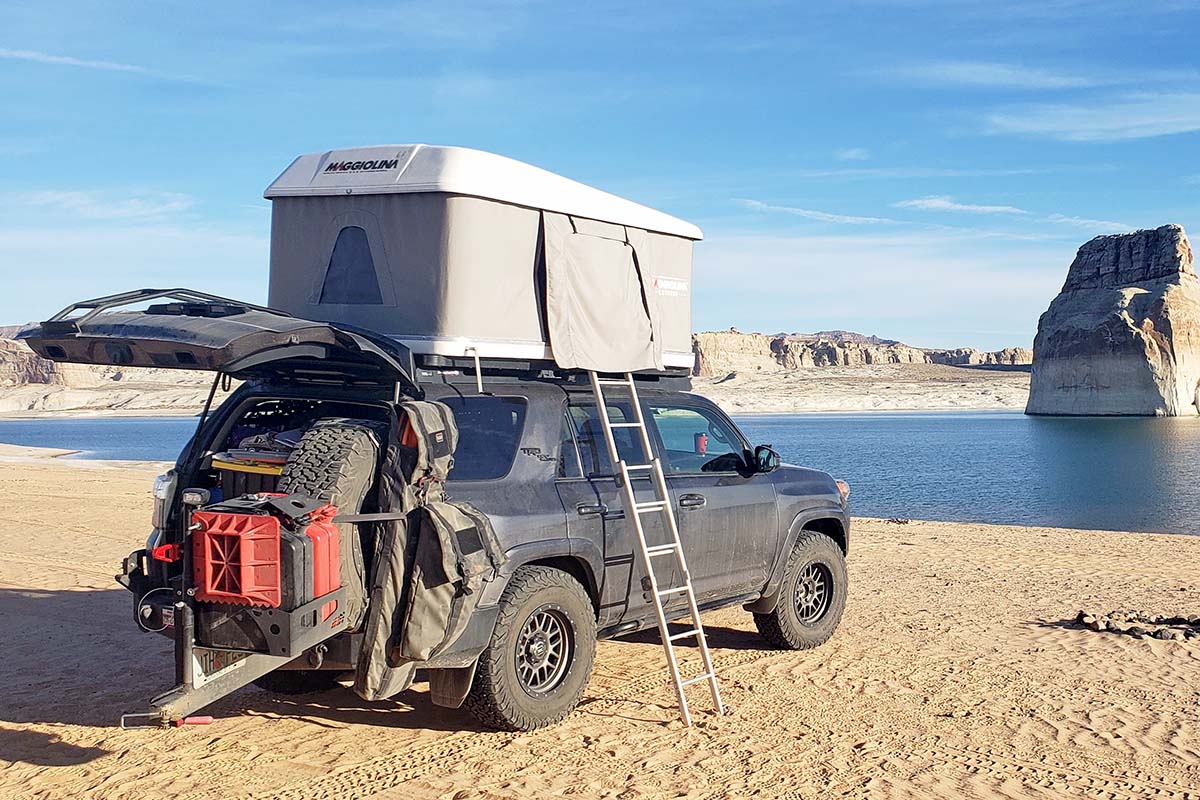 All that said, many modern brands have surpassed Autohome in both quality and value. For comparison, Boulder-based Roofnest doesn't have the same longstanding reputation, but their tents are similar in style and overall construction, have doors and windows that close all the way (Autohome's are flaps that zip closed only along the sides), and cost a few hundred dollars less when compared like for like. And the real clincher for us is shipping: while Autohome charges around $300 through their website, Roofnest offers free shipping to the lower 48.
 
Location: Santa Ana, California
Popular models: Ranger and Alpha
What we like: Easy to purchase your full set-up in one fell swoop.
What we don't: Lack the premium fit and finish of the more expensive models here.
Most of the brands above are rooftop tent specialists, but California-based Tuff Stuff stands out as one of the few generalists here. You can think of them as a one-stop shop for all things off-road adventuring, including winches, racks, and trailers. Therefore, it comes as little surprise that Tuff Stuff's tents are geared towards the overlanding crowd, which means an emphasis on function over form, durable materials, and relatively low price points. You don't get the sleek and classy look of a James Baroud or Autohome, but Tuff Stuff's tents are reasonably well-made and cost about half as much as similar models from those brands—that's a lot of bang for your buck.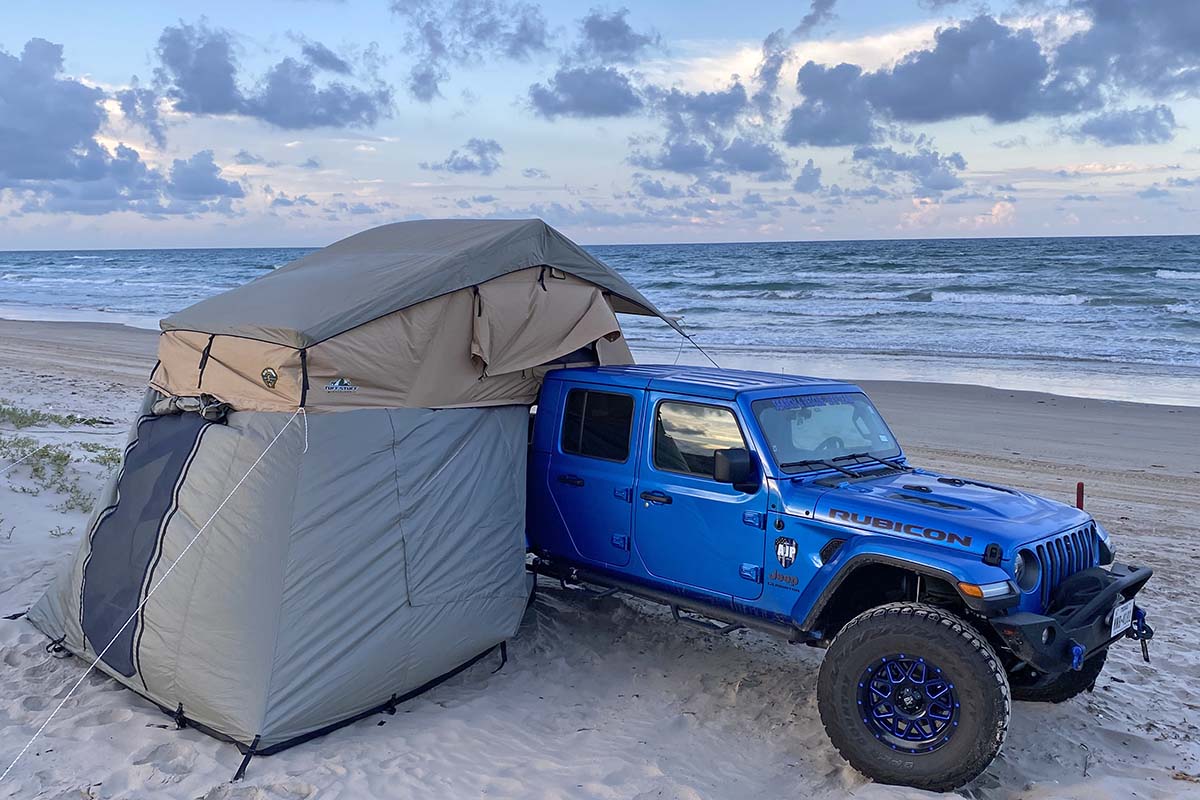 All in all, we consider Tuff Stuff a nice alternative for buyers who place a premium on convenience and savings over looks. Shipping is included in the price of all Tuff Stuff tents, and their website makes it easy to tack on a compatible awning or annex. And as a major bonus, Tuff Stuff also offers a plethora of rooftop camping accessories, from flushable outdoor toilets to refrigerators, shower tents, and more. Their tent inventory is limited to softshell and fold-out hardtops—you won't find pop-up or clamshell models here—but for overlanders and those on a budget, Tuff Stuff is a great brand to have on your radar.
 
Location: Compton, California
Popular model: Overlander
What we like: Excellent values and great overlanding appeal.
What we don't: Not the most durable or good-looking tents.
Like Tuff Stuff, Smittybilt specializes in truck and Jeep accessories and is well-known in the off-roading community. In other words, they're a far cry from trendy newcomers like iKamper and Roofnest. But what they lack in looks, they make up for in value and functionality. The Overlander is case in point: it's one of the most popular "budget" models available (it retails for around $1,195), comes with features like an LED strip light and telescoping ladder, and is built to last with a 600-denier polyester shell and sturdy metal components. Overall, we consider it a nice option for those looking to dip their toes into rooftop camping without breaking the bank.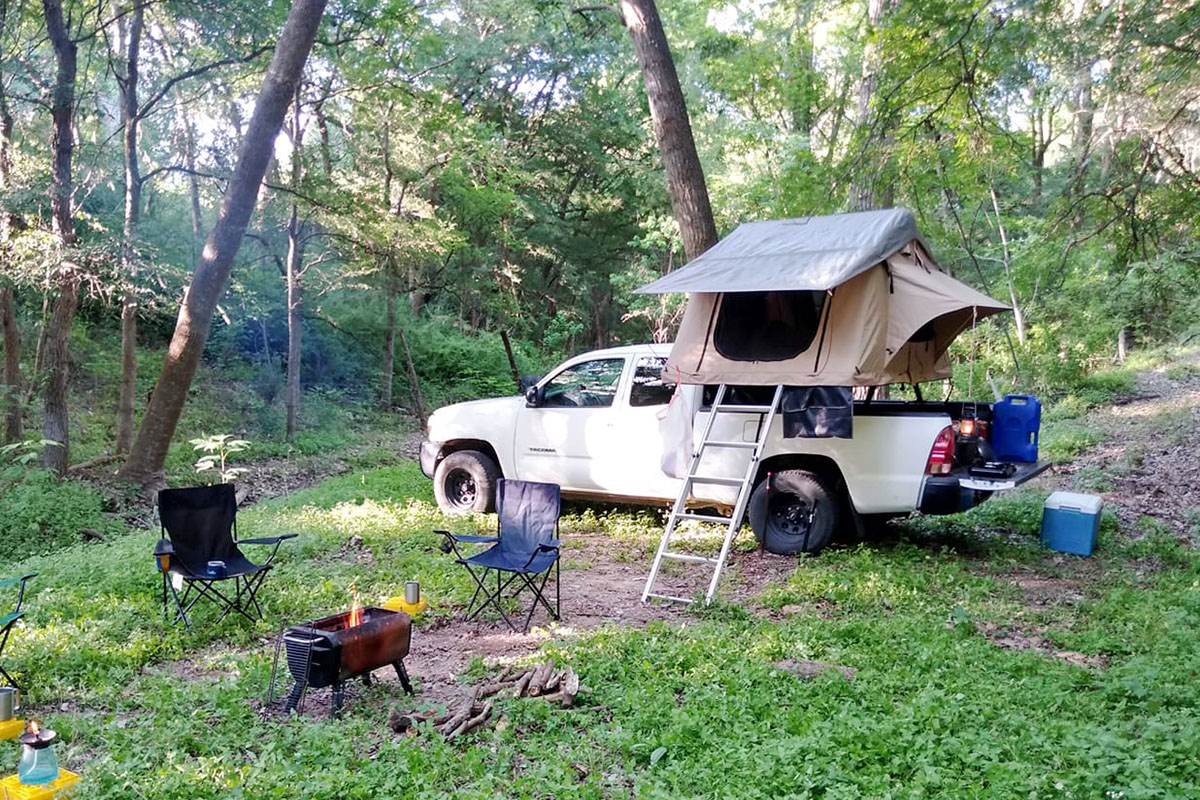 Although sold mainly through overlanding websites and Amazon, Smittybilt offers great customer service and a reliable warranty. Again, you miss out on the flashiness and photo-worthy good looks of models from some of the more modern alternatives above, but the tradeoff in savings is worth it for many. And for overlanders looking for more options in this category, we recommend checking out brands like ARB and Front Runner as well.
 
Other Rooftop Tent Brands
There's no denying it: the world of rooftop tents has seen a massive surge in popularity just in the last few years. As a result, manufacturers are popping up all over the place, and it can be overwhelming to wade through the options. We took care in curating the list above, focusing on the most established, well-rounded, and readily available (in the U.S.) brands, but our picks represent just a fraction of market. You can also find rooftop tents through other 4x4 accessory manufacturers (including ARB and Alu-Cab), high-end cottage brands like Freespirit Recreation and Treeline Outdoors, and a plethora of companies out of Australia and South Africa (Bundutop, Eezi-Awn, The Bush Company, and countless others). If you're new to the scene, we'd recommend sticking with the brands listed above for the most convenient buying experience and accessible customer service. Then, once you're a seasoned rooftop camper and understand your preferences and needs, you always have the option of branching out.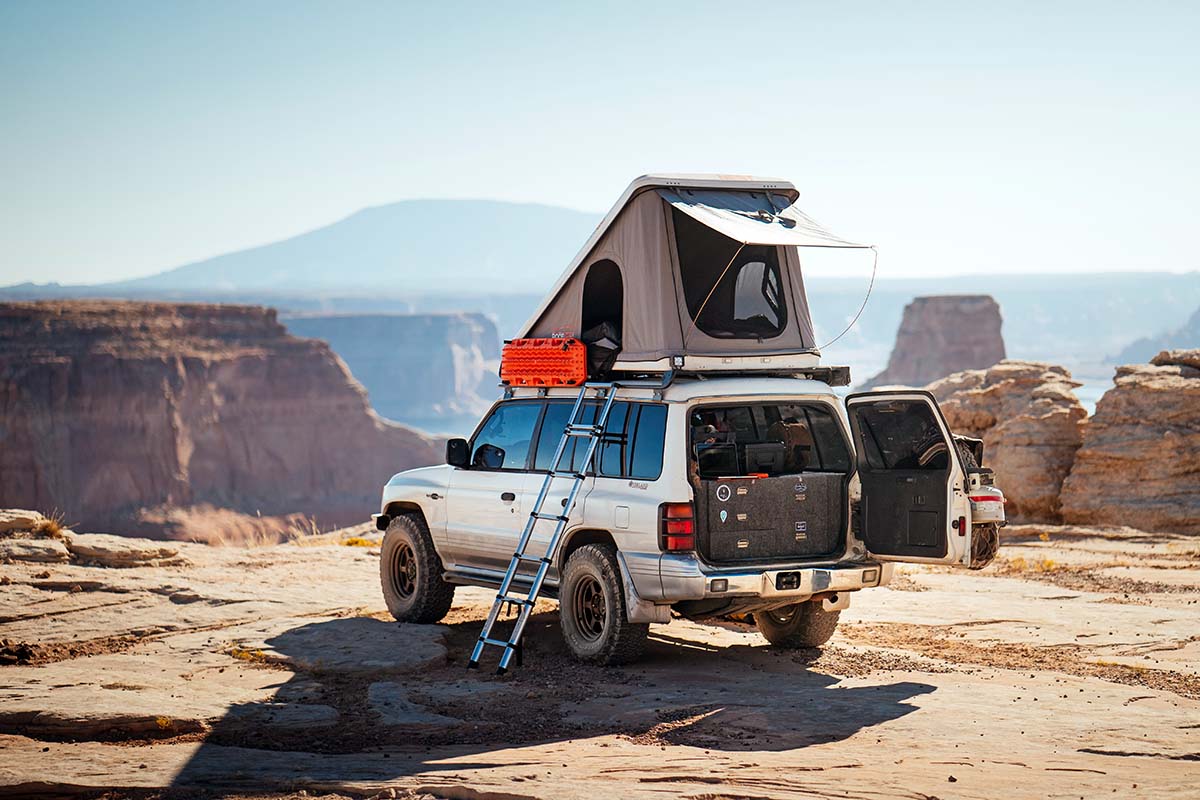 Where to Buy a Rooftop Tent
Many consumers will understandably want to purchase a rooftop tent in person: shipping is expensive, it's nice to try before you buy (especially given the steep investment), and vehicle accessory shops often offer help with installation. The good news is that many rooftop tents can be found in stores. Models from Thule Tepui and iKamper, for example, are sold at REI Co-op's brick and mortar locations (availability can vary), and off-road and vehicle accessory shops often carry brands like Autohome and CVT.
That said, shopping online can be a convenient alternative if you already have a tent in mind or if stores don't carry the brand you're looking for. Again, we like shopping through REI Co-op's website—their generous return policy, free ship-to-store pickup option, and member sales are great benefits—and Backcountry.com carries Thule Tepui tents as well. If you're looking for an overlanding-specific model, many are sold on specialty websites like Rack Attack, Off Road Tents, and 4 Wheel Parts, and even Amazon carries a few rooftop tents from brands like Thule Tepui and Smittybilt. Finally, there are direct-to-consumer companies like Roofnest, which manage to keep prices reasonably low by selling only through their own site.
Photo credit: Grace Nguyen (iKamper), Linhbergh Nguyen (Roofnest), Jacy Richards (CVT), William McQueen (23Zero), Steve Drewniany (James Baroud), Dan Bufford (Autohome), Markus Hogue (Tuff Stuff), John Rogers (Smittybilt).
Read More From Switchback Travel