REI Co-op Kingdom 6
Price: $499
Floor area: 83.3 sq. ft.
Doors: 2
Weight: 21 lbs. 6 oz.
Capacities: 4P, 6P, 8P
What we like: Very spacious interior, premium build quality, and tons of storage.
What we don't: Super tall construction isn't ideal for windy weather.
See the REI Co-op Kingdom 6
Standing at the top of REI Co-op's expansive camping tent lineup is the aptly named Kingdom series. Offered in four-, six-, and eight-person capacities, its familiar tunnel-like shape is a common sight at national parks and campgrounds around the U.S. We've used three generations of the tent over the years and, despite a growing number of challengers, continue to be impressed with its premium materials, long-lasting construction, open and livable interior, and thoughtful feature set. Below we outline our experiences with the Kingdom. To see how it stacks up to the competition, see our article on the best camping tents.
 
---
Table of Contents
---

Performance
Interior Space
With a long tunnel-like shape, two large doors, and near-vertical walls, the REI Co-op Kingdom offers fantastic livable space. Unlike dome-style tents that taper along the outside, the Kingdom's unique hubbed-pole system stretches the sidewalls to maximize the interior area. Additionally, the long rectangular design allows for most people to stand up throughout the tent (peak height is 75 inches). For sleeping, the 120-inch length just barely fits six standard sleeping pads side-by-side. And the open interior also works well with a large airbed or tall items like cots or a portable crib.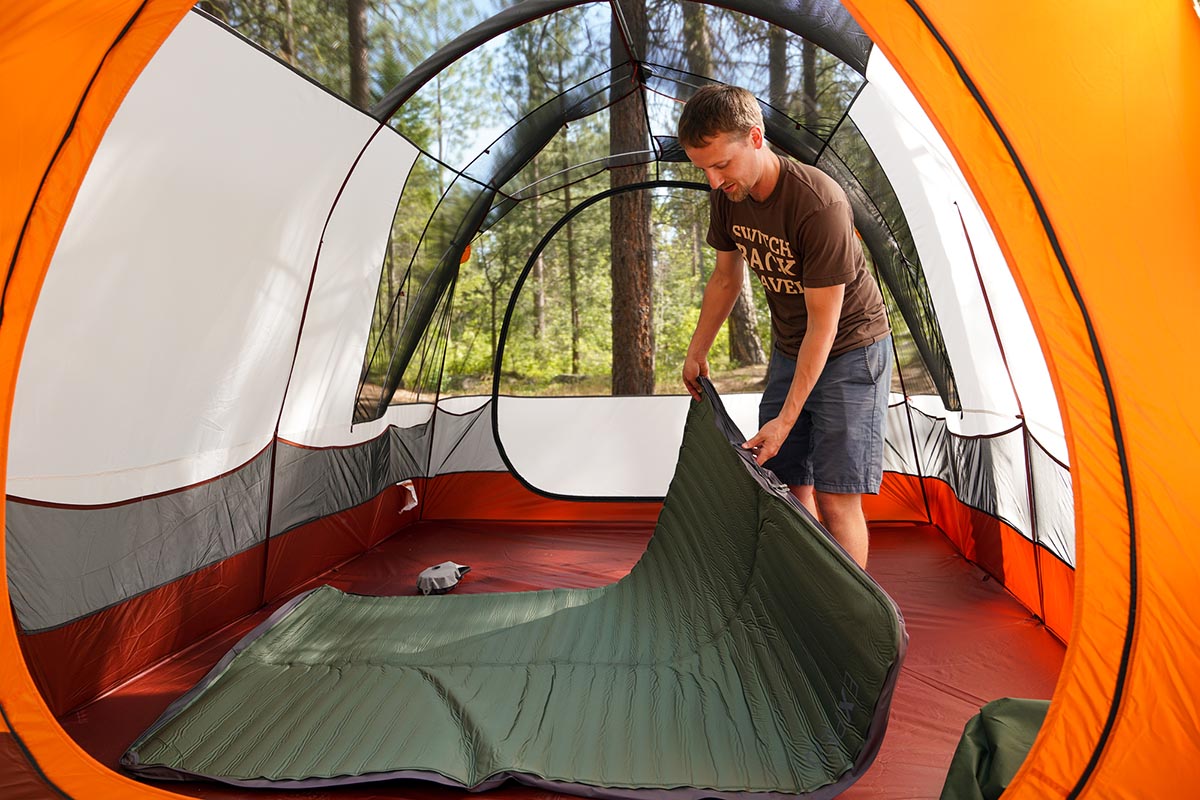 As with all camping tents, if you're on the fence in terms of capacity, it's a good idea to size up. Camping in the Kingdom 6 with six people doesn't leave any additional room for changing or daytime activities without pushing the pads and sleeping bags to the side. We've found the Kingdom 6 is suitable for three to four campers and a dog, and the Kingdom 4 is a great match for smaller parties in the two to three range. For large groups, REI also makes the Kingdom 8, which has a massive 150-inch-long footprint.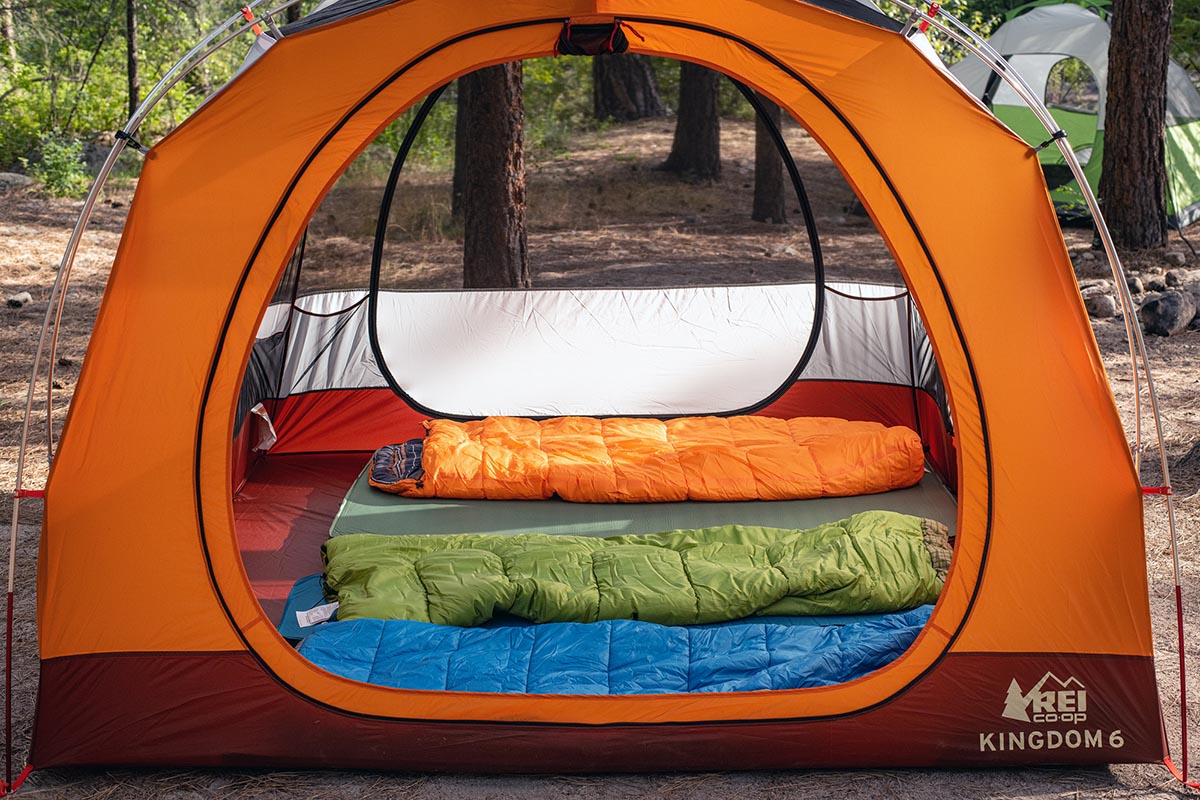 Weather Protection
In rainy conditions, the Kingdom is a strong performer. The tent's rainfly provides solid coverage almost all the way to the ground, and the seam sealing along the fly and floor has yet to fail us. One end of the tent body is completely protected by the rainfly and vestibule, while the other is open. But the good news is that REI beefed up the weatherproofing around this door, and we've found it does a fine job fending off moisture. That being said, adding the large Mud Room vestibule (covered below) on the open end is a nice way to ensure full waterproof protection.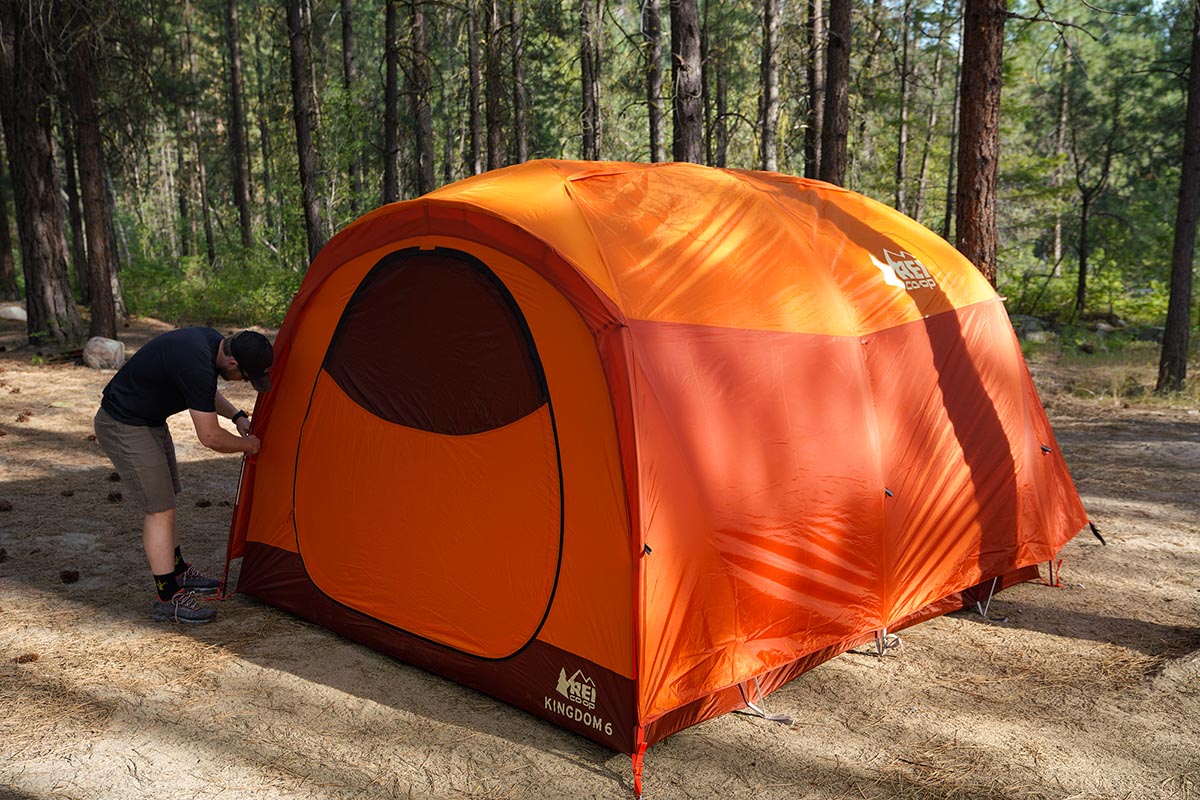 The Kingdom is designed to withstand a lengthy rainstorm, but its upright profile does not make it the best option in heavy wind. REI addressed this with an update last year that includes additional poles over the doors on each end for hunkering down, but the tent's very tall sides are simply not as sturdy as a dome-style tent in truly rough conditions. This won't be an issue for most car campers—and properly set up with guylines attached, the Kingdom is still a formidable beast. But for those who find themselves in remote places, camp in all four seasons, or need a very strong design, Cabela's Alaskan Guide Model, Marmot's Halo, or REI's own Base Camp might be better options.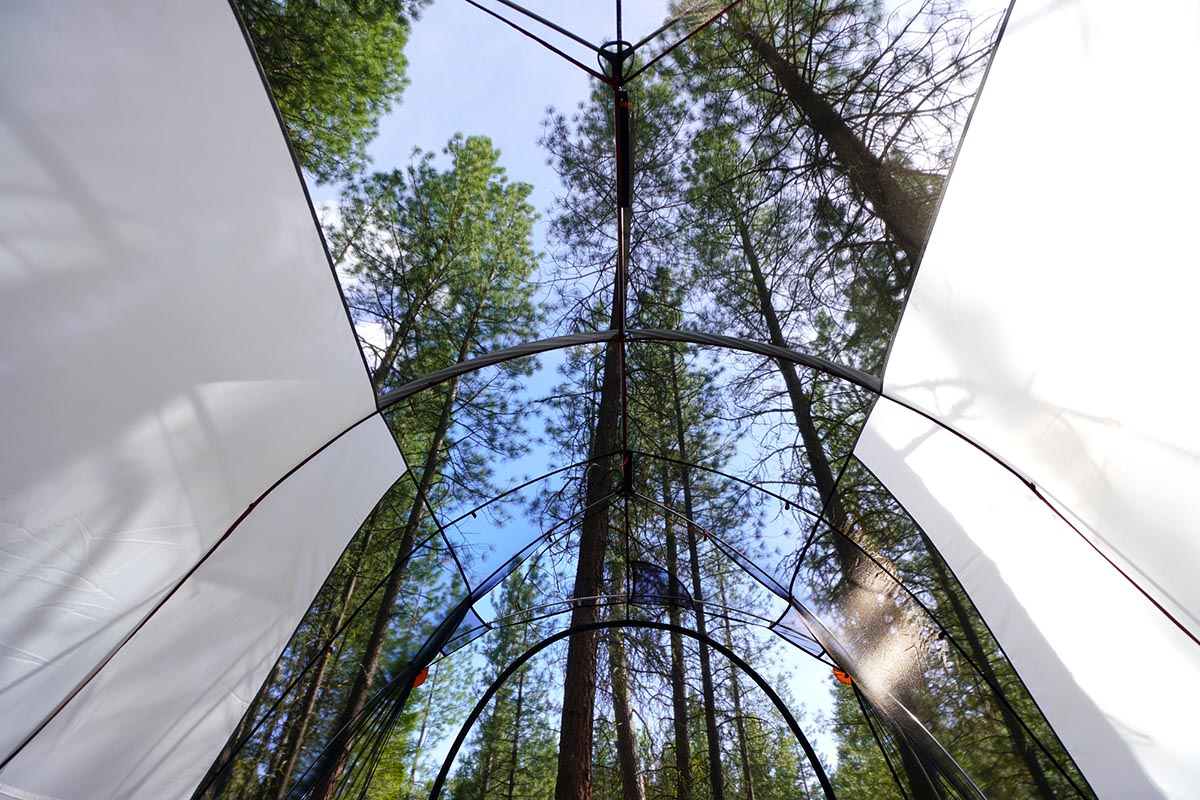 Ventilation
The REI Kingdom offers very good ventilation overall, with a double-wall design and plenty of mesh throughout the tent body. In particular, we like the adaptable rainfly that can be set up in three ways: fully deployed to provide maximum protection, rolled back halfway to reveal part of the mesh ceiling, or rolled up along the sides all the way to the mesh to create awning-like protection. With either rolling option, you can generate a lot of airflow and still easily secure the fly if weather moves in. And should the rain start to fall, the top of the fly includes four vents for additional airflow during nasty spells (although you may need to be strategic about which vents you open in sideways rain to keep water from dripping inside).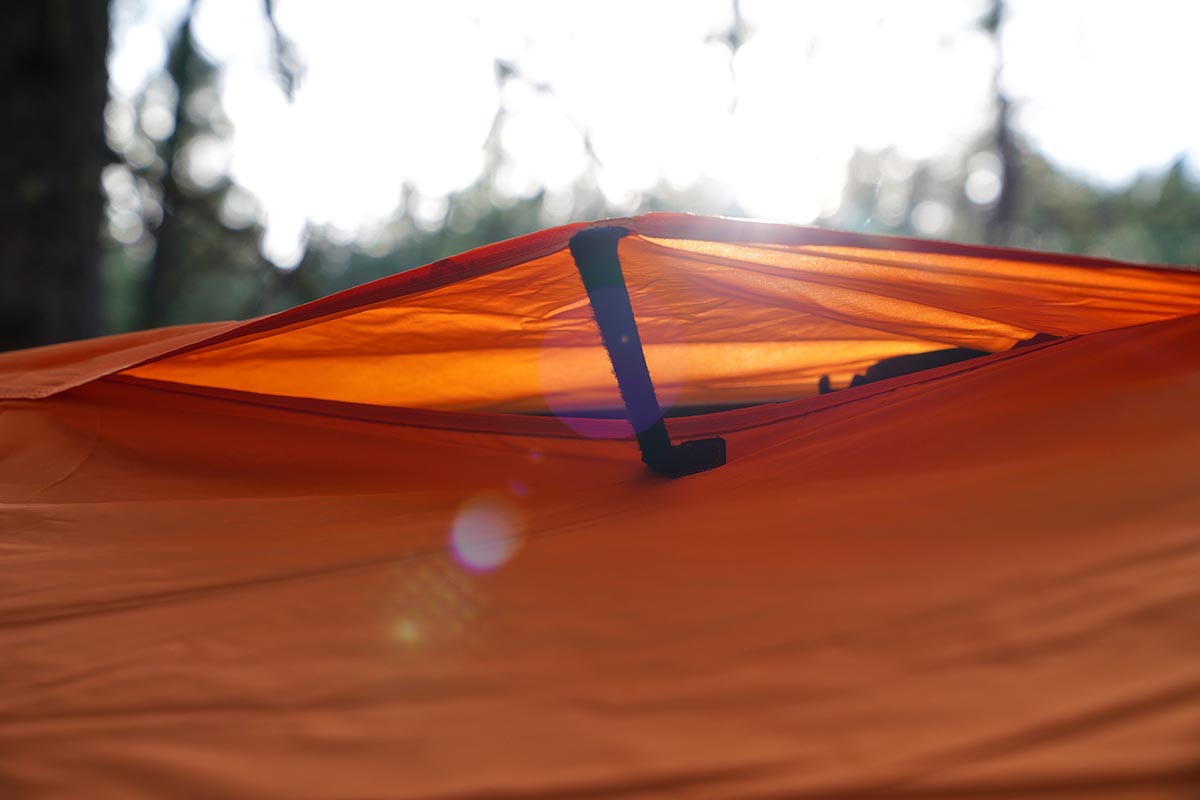 Storage and Organization
Organization is typically a strong suit on a premium tent, and the Kingdom is no exception. Conveniently placed mesh pockets line the entire length of the interior on both sides, so it's easy to keep personal items close at hand. There are also pockets along the ceiling at either end for storing the door when it's completely unzipped. The Kingdom 6 and 8 also feature a room divider, which clips to the hanging loops that line the interior. When set up, it can be zipped closed for privacy or to create a separate sleeping space.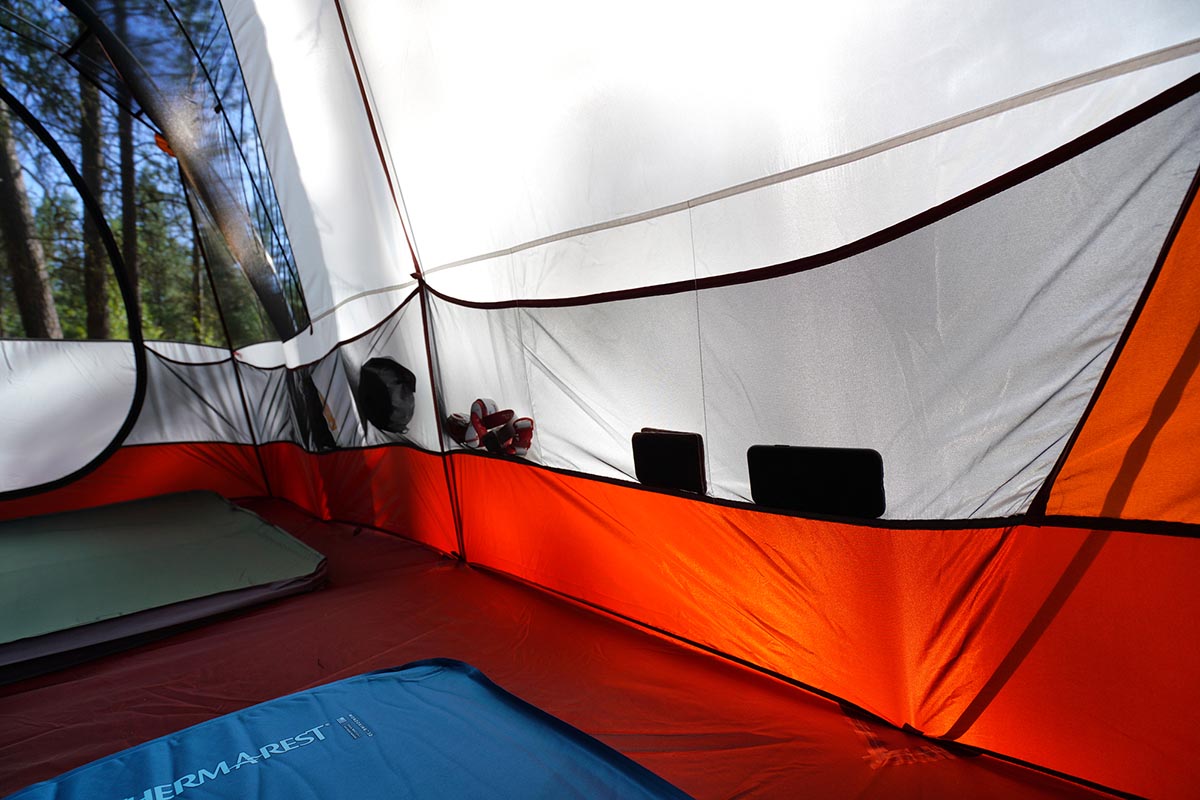 Along the exterior, the Kingdom has a single vestibule that covers the non-weatherproof door. The vestibule is fairly large for a camping tent at 29 square feet, and we like its revamped, adaptable design that can be converted into a generous awning with a pair of tarp poles (poles are not included). As we mentioned above, the other end is left open, but you can purchase an accessory Mud Room or Porch add-on for a big jump in storage and covered space (see our section on the Kingdom Mud Room and Porch Accessories below for more information).

Build Quality and Durability
Something that immediately stands out in setting up and using the REI Kingdom is its quality construction. The fabrics have a premium and substantial feel, the aluminum poles and hubs are sturdy, and the stitching and seam sealing are top-notch. We've used our Kingdom tents a lot over the years, including numerous trips with kids and dogs, and have yet to experience any significant durability issues. The 150-denier floor is thick enough that you won't necessarily need to add a footprint, though it's still a good idea if you're hoping to extend the tent's life. Over time, one of our Kingdoms has gotten a few snags in the mesh—possibly from some careless packing—but otherwise everything looks brand new.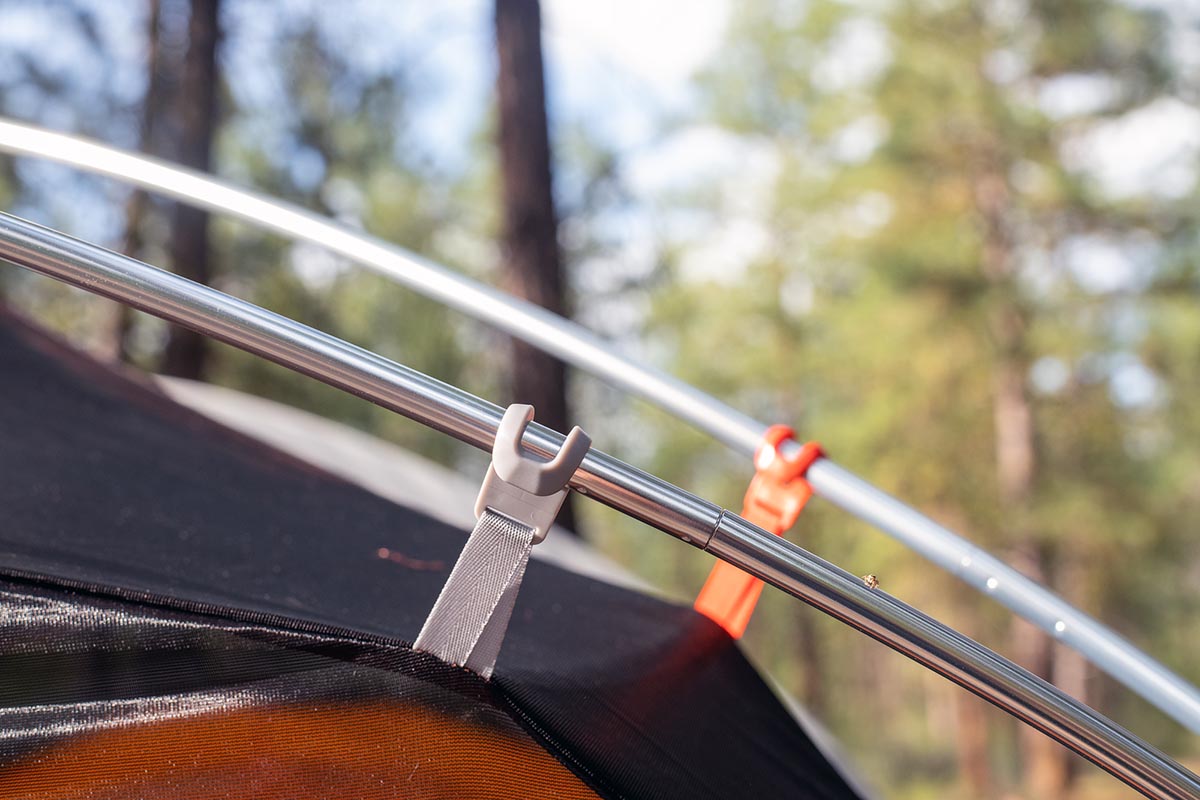 Weight and Packed Size
Tipping the scales at 21 pounds 6 ounces, the Kingdom 6 is a lot to haul around and store. For reference, most of its direct competitors weigh less, including Marmot's Limestone 6 (17 lbs. 3 oz.), MSR's Habitude 6 (14 lbs.), and REI's own Base Camp (20 lbs. 10 oz.) and Grand Hut (16 lbs.). The good news, however, is that REI includes a very convenient carry bag. The interior of the bag is divided vertically into three sections, so you can divvy up the poles, rainfly, and tent body. Pockets along the exterior fit the stakes and guylines. And importantly, it's all generously sized and can accommodate less-than-perfect packing (the carry bag also is large enough to fit the Kingdom's footprint if you decide to pick that up). And finally, backpack straps make it easy to transport the bag to and from camp, which leaves your hands free for carrying items like a cooler or stove from your car. Among tent bag designs, the Kingdom is one of our favorites.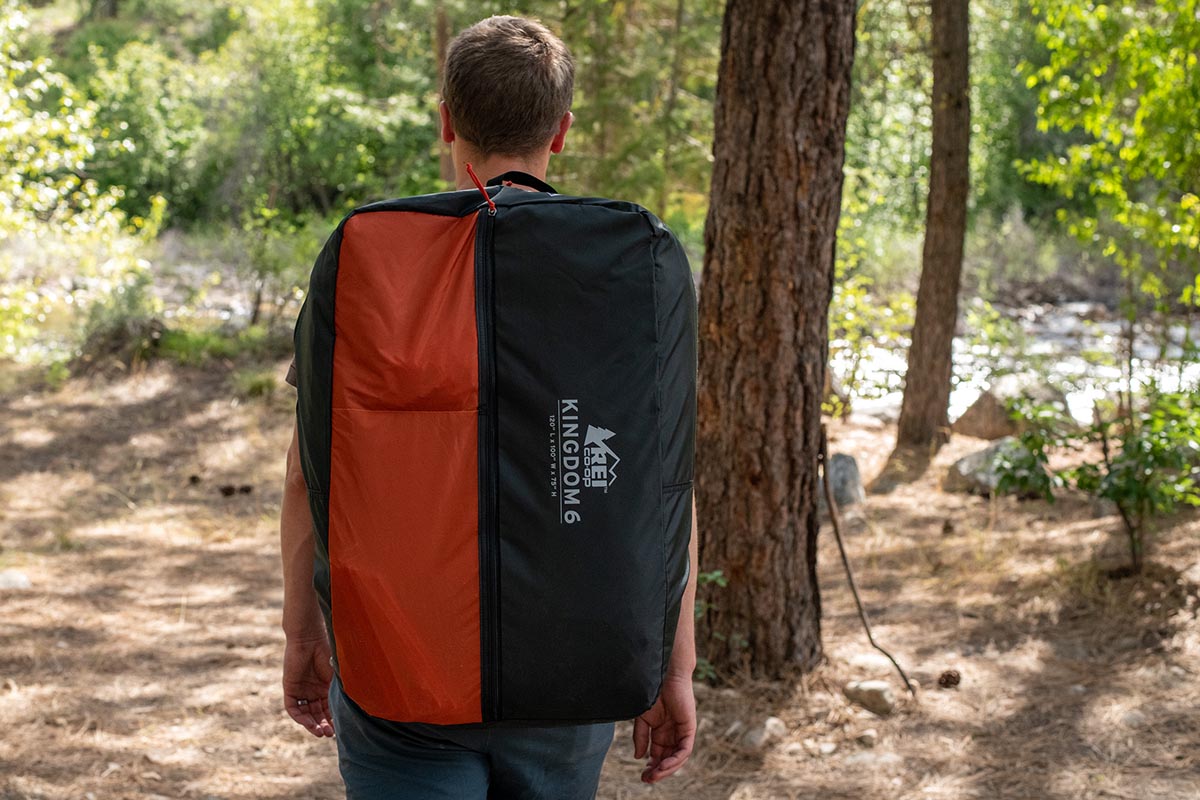 Set up and Take Down
We've owned four and six-person versions of the REI Kingdom and have found them to be very intuitive to set up. REI attaches the instructions to the included storage bag, but it's still a good idea to give the tent the backyard test before heading out on a trip. The main hang-ups to be aware of are that you need to slide the two hubbed poles underneath the sleeve at the middle of the tent before connecting them. And you'll want to ensure that you cover the non-weatherproof door with the vestibule (the tent body and rainfly are color-coded to help match them up). Because of its sheer size, it's a good idea to pitch the Kingdom with two people, but we've set ours up solo on a number of occasions in good weather.

Additional Capacities: Kingdom 4 and 8
We tested the six-person version of the Kingdom for this review and have also used two generations of the four-person model extensively over the years. Between the three sizes, we think the six-person is the most versatile, as it offers up an ideal amount of space for groups up to four (and even five if there are a few smaller kids along). REI also makes an eight-person version for large families and groups. All three designs share a lot in common, but the six and eight-person models include a room divider, while the four-person option does not. In choosing between the different capacities, we think it's worth erring on the side of a little extra space as long as the tent's footprint won't be too large for your camping adventures. Having room to change, set up a table, or just spread out are welcome luxuries on a trip.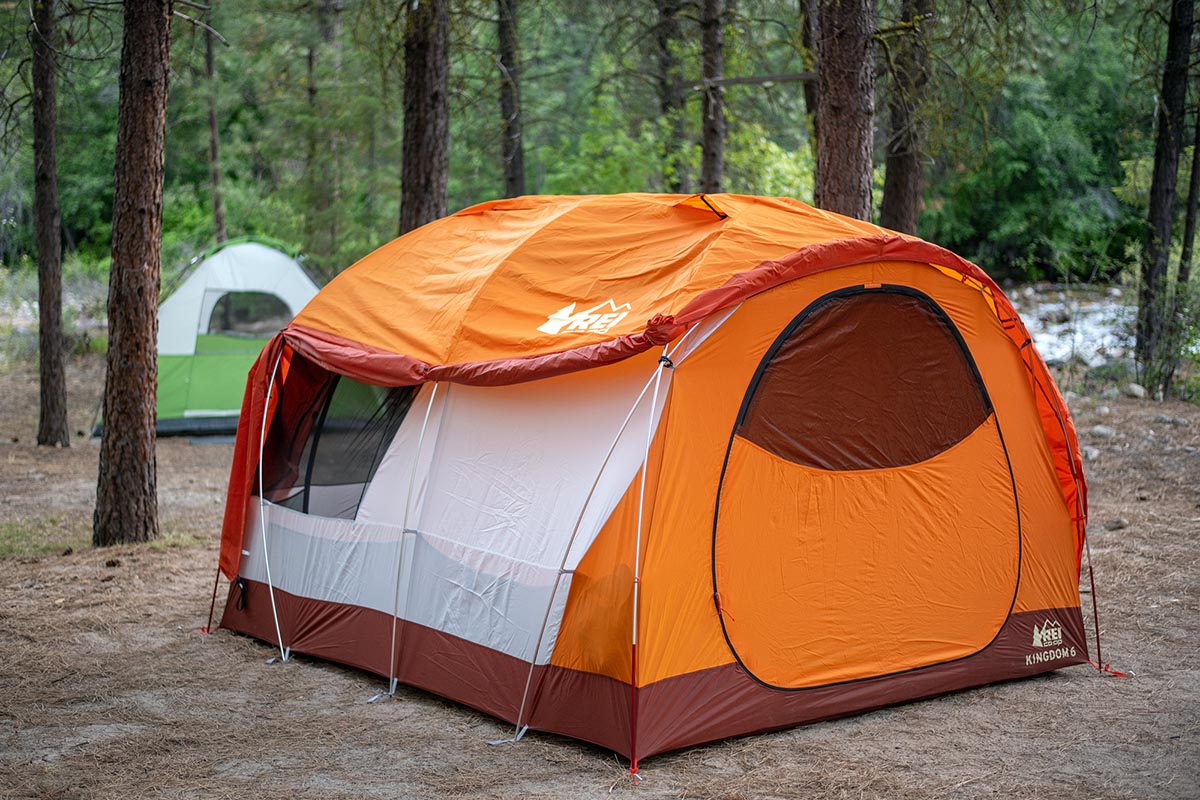 Kingdom Mud Room and Porch Accessories
As mentioned above, one end of the Kingdom's rainfly does not cover the door. You can leave it as is or improve weather protection and/or increase storage space with an accessory add-on. In the past, just one vestibule was available (the Garage), but currently REI has two options: the Kingdom Mud Room and Porch. Similar to the old Garage, but slightly smaller in size, the $100 Mud Room is a large, pole-supported cover. It connects directly to the tent, increases vestibule space by 50 square feet, and has two doors. The Mud Room functions as a great place to store items like a cooler and chairs, and it's even big enough to fit bikes. Further, its doors can be unclipped and rolled up to create a small sun shade.
The Kingdom Porch is a tall, canopy-like shelter that includes two removable walls, an 85-inch peak height, and 55 square feet of sun protection. It's pretty spendy at $199, but you can also use the shelter independently of the tent. That said, the Porch has clear limitations in rough weather and doesn't provide much in the way of gear storage. Plus, its removable walls are a little gimmicky and only provide modest wind protection. Overall, both accessories have their pros and cons, but we think the Mud Room is the one that makes the most sense for the majority of campers.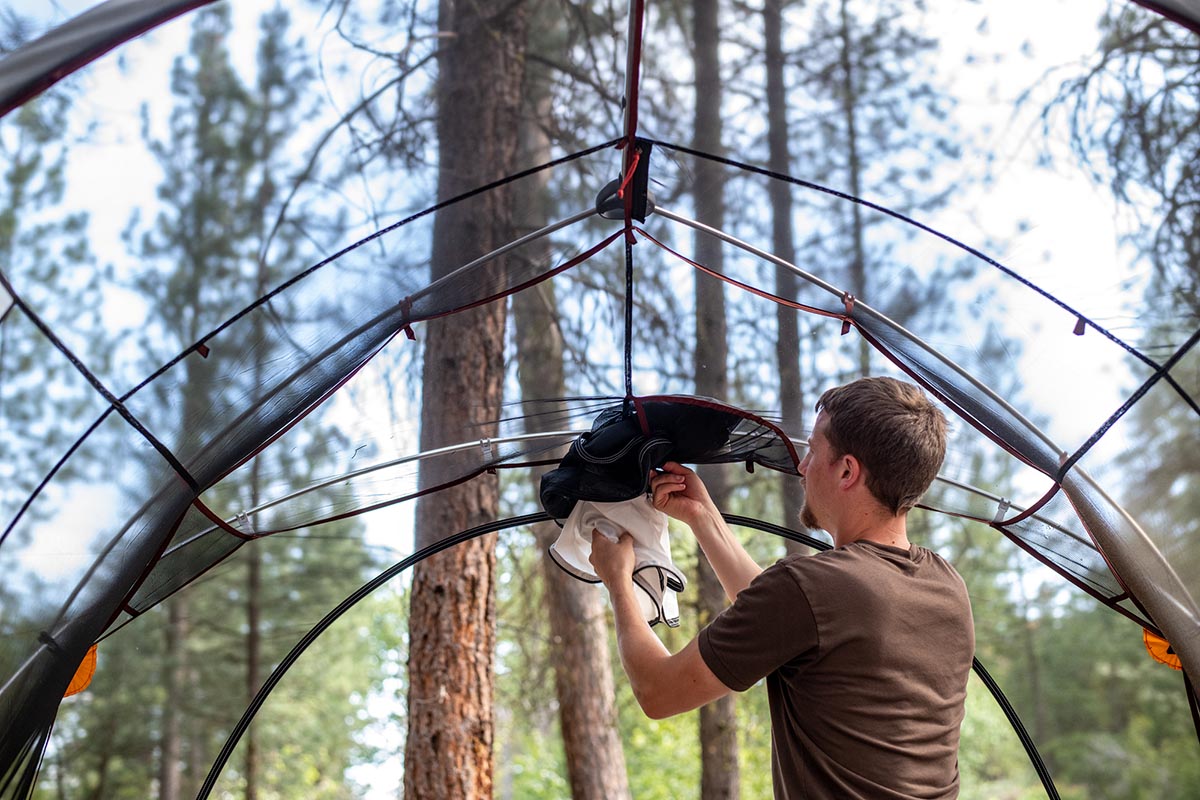 What We Like
We love the Kingdom's premium construction as well as its very roomy and livable interior.
With a 75-inch peak height and a tall, tunnel-like shape, it's easy for most people to stand up and move around inside. 
Adaptable rainfly and mesh along the tent body and doors can move a good amount of air in hot weather. The tent and fly also offer solid protection in rainy conditions.
Easy to set up, take down, and haul around with the backpack-style storage bag.

What We Don't
One end of the tent only has a weatherproof door for wind and rain protection.
Purchasing the Kingdom Mud Room add-on is an additional $100.
The tall, tunnel-shaped design isn't as strong in the wind as a well-built dome or hexagonal-style tent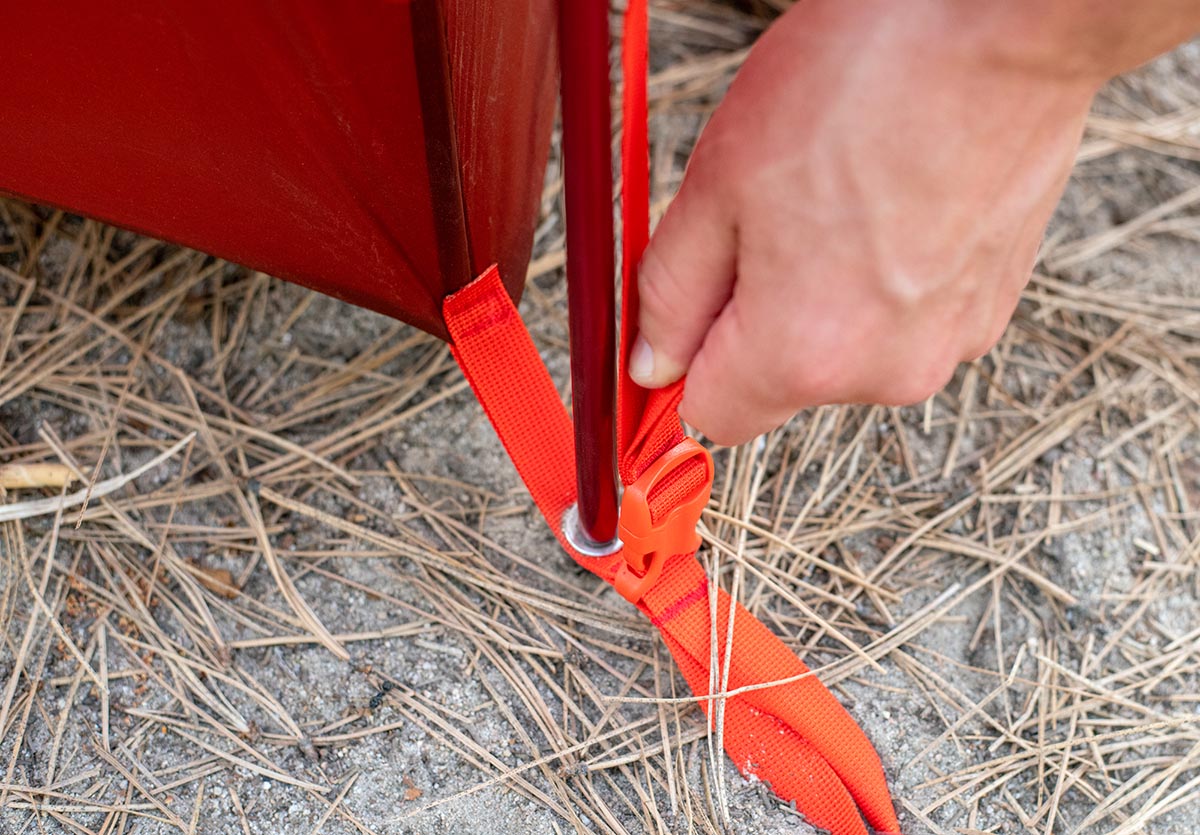 Comparison Table

The Competition
For us, the REI Co-op Kingdom stands out as the best all-around premium camping tent. But there are certainly a number of formidable challengers. One popular option is the Marmot Limestone, which is a twist on a traditional dome-style tent. The Limestone features X-shaped cross poles but adds separate poles along the upper portions of each side to increase interior volume. With tons of mesh and large doors, it has an open feel and offers impressive ventilation. But for $46 less, we prefer the Kingdom's slightly larger vestibule (it has 4 additional square feet of floor area), more adaptable rainfly, better interior storage, and more durable materials.
Next up is MSR's Habitude 6, which is a fairly recent addition to the tent market but has gained popularity quickly. Similar to both the Kingdom and aforementioned Limestone, the Habitude has a standing-height interior (77 in.) and generous floor area (83 sq. ft.), as well as ample interior storage for organizing gear and other extras. We also love the sturdy pole structure and polyurethane coating, which provide excellent protection against moisture, and the sloped walls are a better match for strong winds (the tradeoff is a little less roominess inside). However, the MSR only has one door and vestibule, which makes it less convenient to get in and out of, and it costs around $100 more than the Kingdom. In the end, both are premium, well-built options from highly reputable brands, but the Kingdom strikes us as the better value.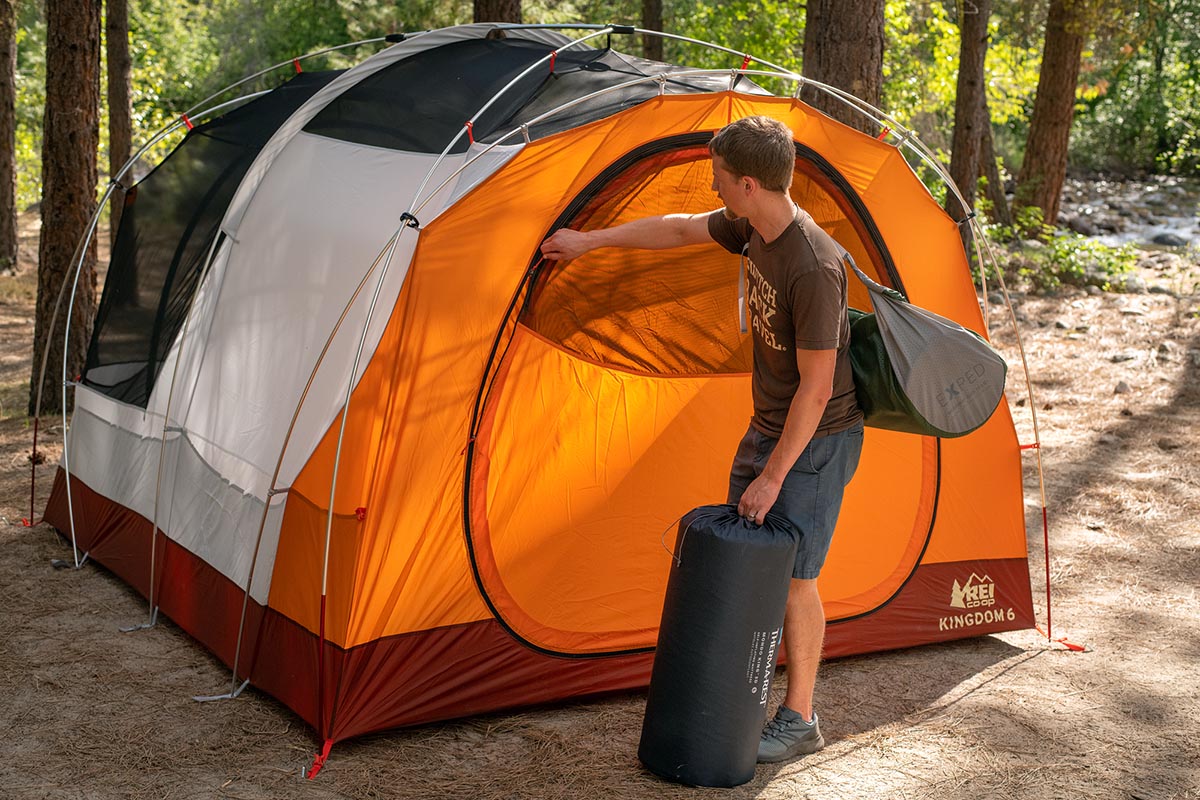 Another big seller in the camping world is Cabela's Alaskan Guide Model. Inspired by mountaineering tents, this four-, six-, or eight-person tent features a hexagonal shape and provides fantastic wind protection for a camping design. We don't love that it comes with fiberglass poles—aluminum is stronger and less prone to breaking overall—but the sturdy structure is a better performer than the Kingdom in strong wind. For the 3-season camper, we give the overall edge to the Kingdom. It's tough enough to handle most weather conditions, and with its tall tunnel-like shape and generous storage, is the more livable option.
Another option to consider is REI's own Base Camp. The two models use similarly high-quality materials but have completely different designs. The Base Camp is intended for 3+ season weather with a sturdier dome construction and overlapping poles (for more, see our in-depth Base Camp review), while the Kingdom's design maximizes airflow and interior space. And unlike the Base Camp, the Kingdom has the Mud Room and Porch accessories, which are a great way of increasing floor space and adding protection. In the end, the Kingdom's more vertical walls, superior ventilation, and full feature set make it our favorite camping tent on the market.
Last but not least, REI also offers their Grand Hut in four- and six-person variations. Stacked up against the Kingdom 6, the Grand Hut 6 weighs less at 16 pounds, has the same amount of floor area at 83.3 square feet, and features a taller peak height at 78 inches—all for a considerable $150 less. What do you sacrifice by saving with the Grand Hut? For starters, wind protection falls well short due to the tent's more upright walls and simple X-shaped pole design. The Grand Hut also isn't compatible with the Kingdom's accessory vestibules mentioned above, plus it has less interior storage and lacks a room divider. Both are well-built and functional designs from REI, but we give the Kingdom the slight edge as the more weather-worthy and feature-rich option.
Editor's note: We usually provide a live price comparison table below our outdoor gear reviews, but the Kingdom is sold exclusively by REI Co-op. You can see the Kingdom 6 page here and support us in the process. Thanks!
Learn More About Outdoor Gear