It's no secret that skiing is an expensive and gear-intensive sport. And whether you're doing laps at your local resort or skinning deep into the backcountry, you'll need a quality jacket and pant combo to keep you comfortable. From budget-oriented companies like Columbia to high-end, touring- and ski-mountaineering-focused brands like Arc'teryx and Norrøna, the picks on our list represent the most well-known and respected players in the world of ski apparel. Below we break down each brand individually, including a brief history and background, each company's most popular models, and what sets them apart from the competition. For more information and our top picks in each category, see our ski gear reviews.
 
Location: North Vancouver, Canada
Popular products: Sabre, Macai, Rush, Alpha SV
What we like: Top-notch quality, performance, fit, and styling.
What we don't: Incredibly pricey with no budget-oriented options.
Founded in the late 1980s as a climbing company, British Columbia-based Arc'teryx is one of the most venerable brands in the ski industry today. In many ways, they're the gold standard among backcountry enthusiasts, with a wide range of high-end and technical shells that excel in harsh conditions and mountain environments (this comes as little surprise given the company's proximity to the rugged and demanding Coast Mountains). One of our long-time favorites and the brand's flagship jacket is the Alpha SV shell (short for "severe weather"), a bombproof and premium design intended for serious alpine expeditions and multi-day ski tours. Like most Arc'teryx builds, the jacket has a high-end fit and finish, seals out weather exceptionally well (they use Gore-Tex for all of their waterproof clothing), and looks great to boot.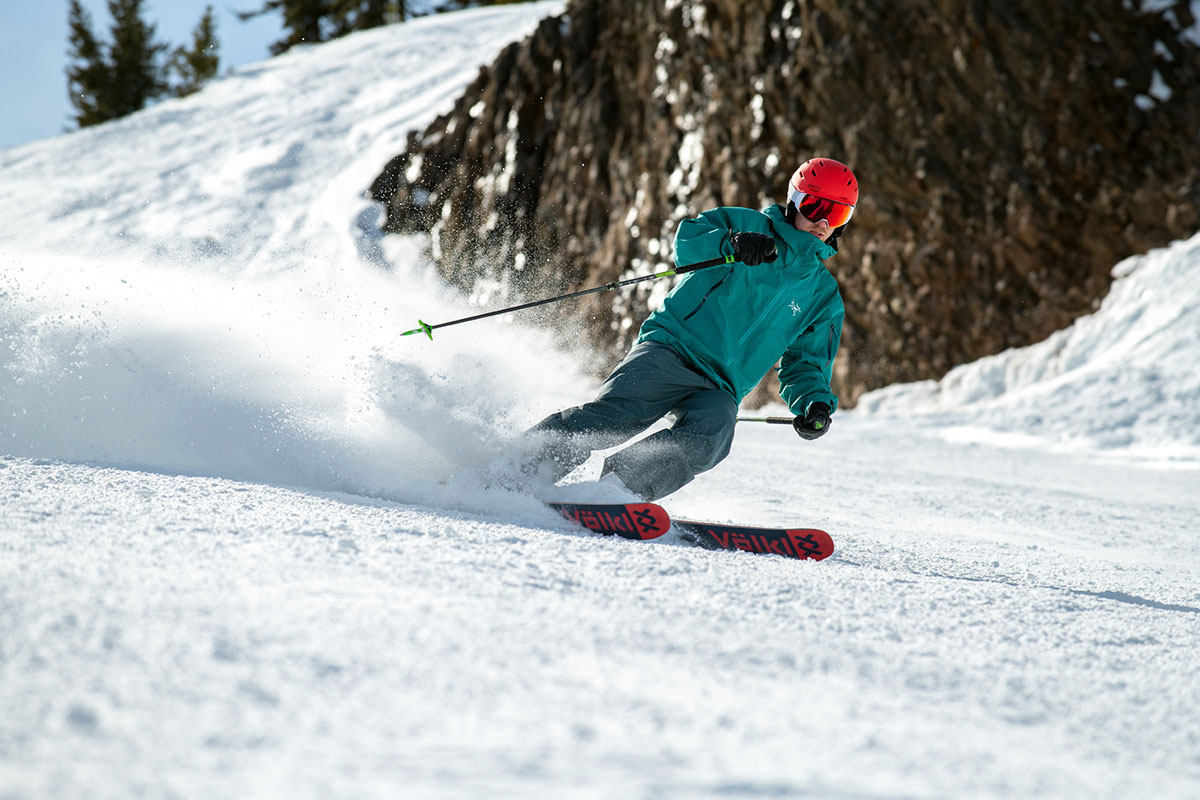 Arc'teryx's shells are undeniably high-quality and attractive with fantastic fits and useful features, but they're also some of the most expensive on the market. For example, the aforementioned Alpha SV comes in at a staggering $799. The company also offers more resort-friendly designs including the Sabre Jacket and Macai, although those will set you back a steep $700 and $999, respectively. In the end, most skiers just starting out might be better off saving with more budget-friendly offerings from brands like Columbia or The North Face below, but there's a reason that Arc'teryx's ski apparel consistently ranks at the top of our ski jacket and ski pant round-ups. For committed resort-goers and avid backcountry enthusiasts and ski mountaineers, it just doesn't get any better.
 
Location: Ventura, California
Popular products: SnowDrifter, Powder Town, Triolet, PowSlayer
What we like: Wide range of quality resort and backcountry options; strong focus on sustainability and social responsibility.
What we don't: Many of their jackets have boxy fits and you pay a premium for the brand.
Patagonia is one of the most respected and well-loved companies among avid outdoor-goers, and for good reason. Founded in 1973 by rock climber and now-environmentalist Yvon Chouinard, the company not only creates some of the highest-quality outerwear on the market, but also focuses a lot of its money and time on environmental and social stewardship. With initiatives like their Worn Wear used gear program, traceable down and recycled fabrics, and commitment to donating 1 percent of sales to environmental non-profit groups, Patagonia is head and shoulders above much of the competition when it comes to advocacy and sustainability. In fact, Chouinard recently transferred his ownership of the company (valued at around $3 billion) to a nonprofit and trust aimed at combating climate change and protecting undeveloped land.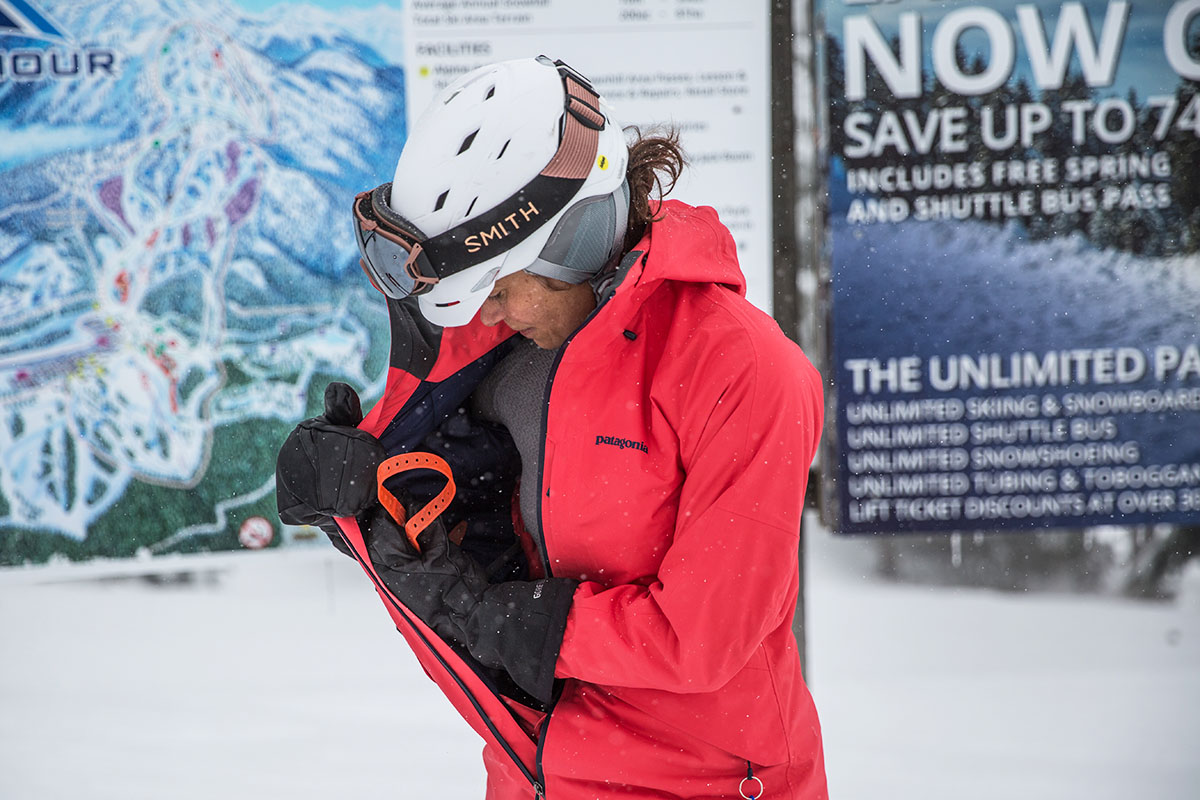 Patagonia revamped their ski lineup for this winter, including dropping the resort-ready Snowshot/Snowbelle and replacing the Powder Bowl with the more sustainably built Storm Shift. To help fill the gap, the new Powder Town Jacket comes in both insulated and uninsulated options for both men and women, as well as a 3-in-1 version that includes a zip-out synthetic jacket for added versatility on and off the slopes. The rest of Patagonia's ski jackets are tuned for backcountry use, ranging from the minimalist and breathable Upstride ($299) to the impervious-feeling PowSlayer ($749). You do pay a premium for the brand name, but the good news is that Patagonia has repair services at select locations, as well as a mail-in option, which makes it easy to extend your gear's lifespan and cut down on waste in the process.
Location: Oslo, Norway
Popular products: Alpha, Legendary, Odin Mountain
What we like: Their resort designs excel in comfort and all-around performance.
What we don't: Not many freeride or touring offerings.
Dating all the way back to the late 1800s, Norway-based Helly Hansen (HH) was originally created to provide waterproof clothing to workers at sea. And although rainwear is still a major part of their lineup, the brand has been a popular sight on the slopes for years. In fact, many of the liftees, ski patrol, and mountain guides we see at Colorado resorts sport custom-made HH gear. The company was also the baselayer provider of the U.S. Alpine Ski Team at the 2012 Sochi Olympics and now outfits Canada's alpine and para-alpine ski teams, which says a lot about the performance slant of their pieces.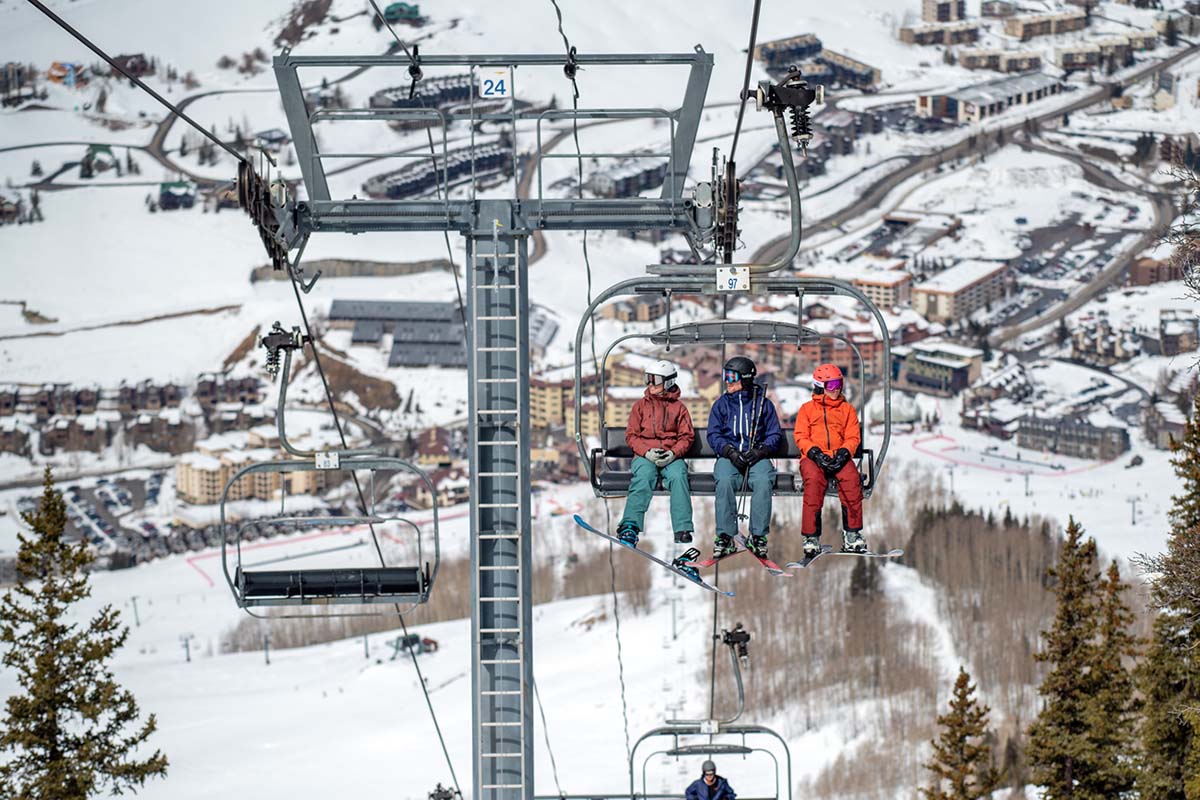 We've had Helly Hansen's Alpha 3.0 ranked at the top of our ski jacket round-up for years for its combination of warmth, freedom of movement, and clean styling. In short, you'd be hard-pressed to find better on-piste performance for less money (the Alpha 3.0 costs $475, while Arc'teryx's insulated Macai is over double that at $999). Helly Hansen also dips into the touring and freeride markets, although most of their standout products are resort-oriented. But it's worth noting that HH has held up to modern times better than the Spyders and Obermeyers of the world, which just goes to show that their Norwegian expertise and overall value are hard to match.
Location: Seattle, Washington
Popular products: Skyward, SkyTour, Hemispheres II
What we like: Consistently some of the best bang for your buck among performance designs.
What we don't: Lacks the fit and finish of Arc'teryx and Patagonia.
Outdoor Research (OR) might not have the same nationwide popularity as brands like Patagonia or Columbia, but this Seattle-based company has a loyal following among adventurers in the Pacific Northwest. We've tested a lot of their ski-specific apparel, including the backcountry-ready Hemispheres kit (since updated to the Hemispheres II), lightly insulated Kulshan Storm Bibs, and versatile Skyward and Skytour collections. We especially like their AscentShell membrane, an in-house waterproofing technology that outperforms much of the competition with a stretchy, breathable, and highly protective design. It's not as bombproof as premium Gore-Tex, but it's substantially cheaper and offers comparable all-around performance.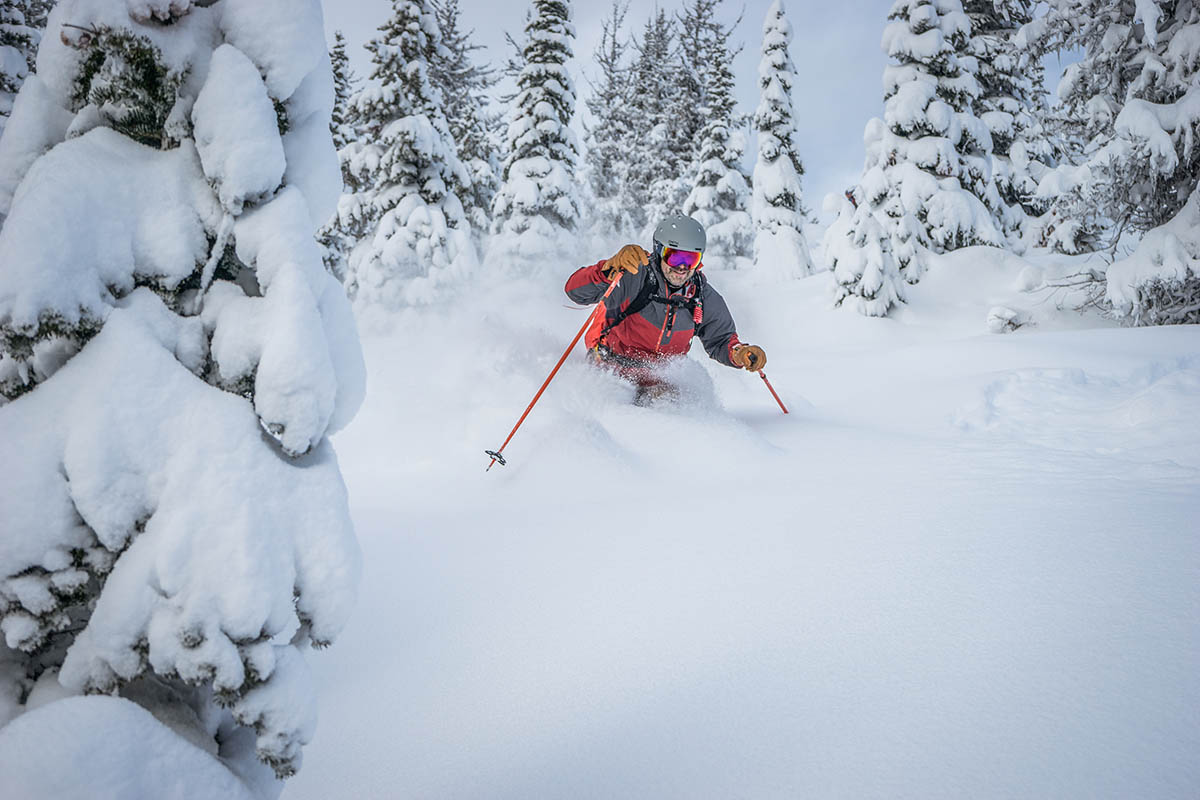 OR has a reputation for being value-driven, and their ski apparel typically undercuts the premium competition by $100 or more. That said, build quality is a step down from the painstaking attention to detail you get from Arc'teryx, Norrøna, or Patagonia, and we've had a few fit and finish issues throughout testing (see our in-depth review of the first-generation Hemispheres Jacket, for example). But if you're looking to level up from Columbia without reaching into the upper stratosphere price-wise, OR is a great middle ground. And as a bonus, all of the company's gear is backed by their "Infinite Guarantee," which provides some added assurance should you encounter a defect.
Location: Portland, Oregon
Popular products: Bugaboo, Alpine Action, Whirlibird
What we like: Extensive lineup of affordably priced but well-executed resort gear.
What we don't: A noticeable step down in quality from the brands above.
Columbia started in the late 1930s as a hat manufacturer but quickly evolved into the ubiquitous sportswear brand that we know today. From hiking pants to winter accessories and "athleisure," they have a longstanding reputation for creating capable products that regularly undercut the competition in price. Their focus on value holds true within their ski apparel collection, which is highlighted by the Bugaboo line. The Bugaboo II Interchange Jacket is a 3-in-1 piece that costs only $210 but offers enough warmth and weather protection to keep most resort-goers happy. Beginners and recreational skiers can get outfitted for under $350 by combining it with the insulated Bugaboo IV pants (and it's fairly common to find both items on sale).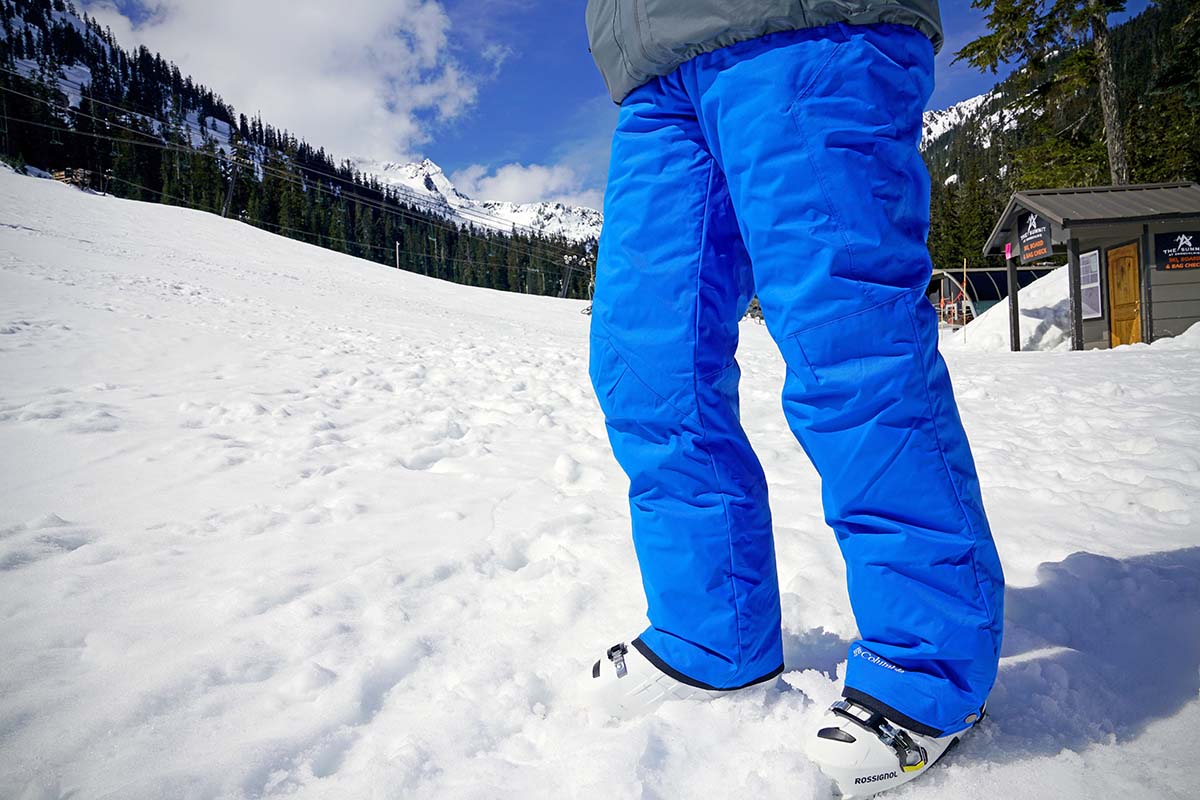 To be sure, Columbia's offerings are far less premium than those from brands like Arc'teryx, Patagonia, and Helly Hansen. With the Bugaboo, for instance, you get a basic shell and lining that aren't very breathable, feel bulky, and are more prone to wetting out than the Gore-Tex-equipped models from Arc'teryx (even Patagonia's proprietary H2No membrane is far superior at sealing out moisture). But not everyone needs technical features, standout mobility, or top-of-the-line waterproofing, and it's really hard to beat Columbia's combination of price and performance. In sum, there's a reason you see so many Columbia jackets on the slopes, especially in places like the Northeast where ski seasons are shorter and backcountry skiing isn't as prominent.
Location: Denver, Colorado
Popular products: Baker, Lab Coat, Malone
What we like: Trendy colorways, quality builds, and they don't take themselves too seriously.
What we don't: Fit can be a bit long and baggy, and not everyone loves the urban styling.
Like many outdoor companies, Flylow Gear got its start when its founders—two Colorado natives and avid telemark skiers—couldn't find gear that worked for them. In this case, they needed backcountry ski pants that weren't overly technical for mountaineering but also were a step up in quality and breathability from typical resort offerings. Since their first product debuted in 2005, Flylow has established itself as a competitive brand with an extensive lineup of backcountry- and sidecountry-ready apparel that stands out with its bright colorways, two-tone designs, and quality constructions.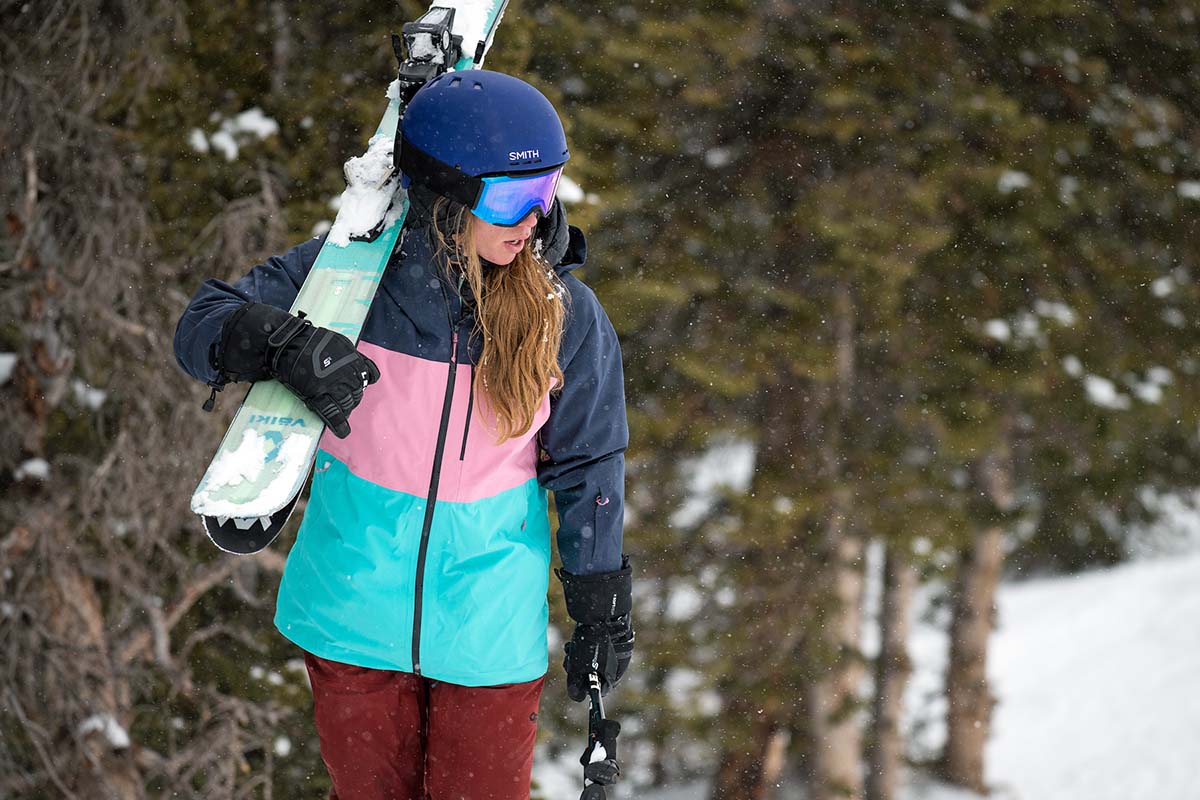 One of our favorite products from Flylow is their best-selling Baker Bib (top-rated in our ski bib article), which has a strong track record of excellent performance in deep conditions. The women's counterpart (the Foxy Bib) is similarly competitive with built-in stretch for added mobility while touring. In terms of jackets, their Lab Coat has been a longtime favorite, and the Quantum Pro and Malone/Lucy collection impressed us with solid weatherproofing from their in-house 3-layer builds. The brand is also pretty loyal to its fun-loving freeride roots—their product videos often include a humorous nugget or two—and their designs share a similar ethos. Some might not like the baggier looks or longer cuts that lean toward the park and snowboard end of the spectrum (all three of the aforementioned models included), but the high-end tech and urban styling nevertheless are appealing to many committed and performance-focused riders.
 
Location: Salt Lake City, Utah
Popular products: Mission, Recon Stretch
What we like: New to the apparel scene but quickly making a name for themselves.
What we don't: Fairly small number of offerings and unproven long-term durability.
Black Diamond is a climbing company at heart and a relative newcomer to the world of ski apparel, but they're making strides with a growing lineup of capable technical shells. Their leading design is the Mission Ski Shell, which is a non-insulated, Gore-Tex-equipped hardshell that stacks up very competitively to alternatives like Arc'teryx's Sabre/Sentinel. We've also been impressed by their more affordable Recon Stretch, which combines BD's proprietary waterproofing with four-way stretch for excellent comfort and mobility both in and out of bounds. All in all, BD excels in the big-mountain and touring worlds, and we found their ski jackets to be a good-looking bunch, with clean styling and classy color choices.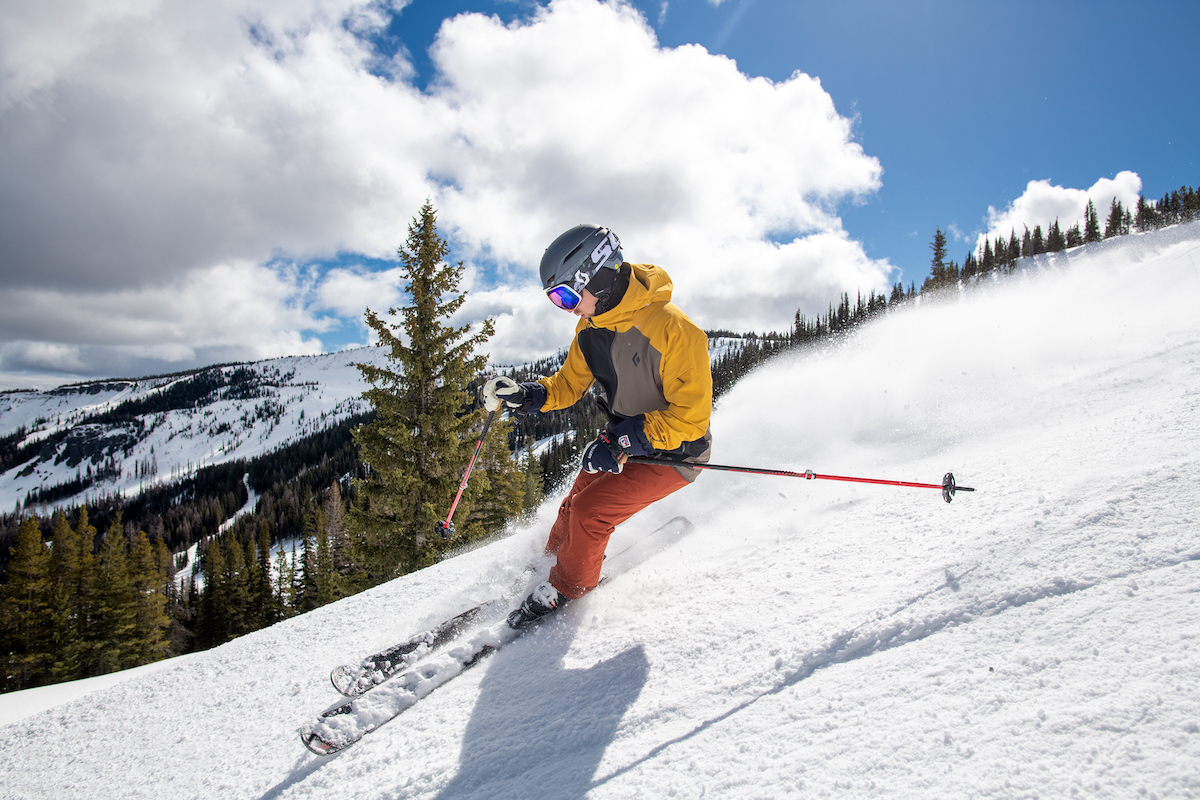 It's true that Black Diamond has a ways to go to match the top brands in reputation and total number of offerings, but they've shown an innovative touch of late. Like Outdoor Research, they've developed their own stretchy membrane, dubbed BD.dry, that balances weather protection with mobility, comfort, and breathability. Plus, they're utilizing a more environmentally friendly durable water repellent (DWR) finish that doesn't rely on PFCs on a number of their shells. Time will tell if they can catch up and become a big-time player, but they have name recognition and a knack for making quality products on their side.
 
Location: Alameda, California
Popular products: ThermoBall Eco Snow Triclimate, Freedom
What we like: Wide collection of winter-ready gear and accessories.
What we don't: Cheaper-feeling designs than many of the brands above.
Founded in the mid-1960s as a mountaineering retail shop in San Francisco, The North Face has become practically synonymous with casual winter apparel (the ubiquitous Denali fleece has been a mainstay in their lineup for years and a popular sight in any major city). It wasn't until the 1980s that they shifted their focus to ski apparel, but their current collection is nothing to scoff at. They do especially well in the resort category for jackets: their 3-in-1 ThermoBall Eco Snow Triclimate, for example, is nicely fitted, has premium features like pit zips for dumping heat quickly, and includes their down-mimicking ThermoBall Eco synthetic jacket, which we've found does a nice job mixing warmth and weather protection. The Freedom Pant is another favorite, with a great combination of insulation and durability for regular inbounds use.
Considering their top-notch athlete team and resources, it's surprising that The North Face has focused so much of their efforts on the budget, on-piste ski market. That said, they recently made a push at the premium and touring ends of the spectrum with their Futurelight waterproof membrane, which is featured in their alpine-focused Summit series and premium Patrol Inferno gloves and mittens. Time will tell how the technology fares over time, but we're happy to see the company has been making notable inroads in both quality and sustainability (including the use of recycled materials) of late.
Location: Oslo, Norway
Popular products: Lofoten, Trollveggen
What we like: A true Arc'teryx competitor in quality and attention to detail.
What we don't: Most products aren't ski-specific.
Norrøna might not be a household name like Arc'teryx or Patagonia, but this Norwegian backcountry specialist seems to be on the rise in the U.S., and we think the recent popularity is well-deserved. Overall, we've found their products to be very competitive with the likes of Arc'teryx for big-mountain and alpine uses, with premium Gore-Tex builds, functional feature sets, and precisely executed designs. Their flagship offering is the Trollveggen Jacket, which stacks up nicely with Arc'teryx's top-end Alpha SV. Throughout testing, we found it to be impressively weather-worthy, exceptionally hardwearing, and nicely appointed for demanding mountain missions.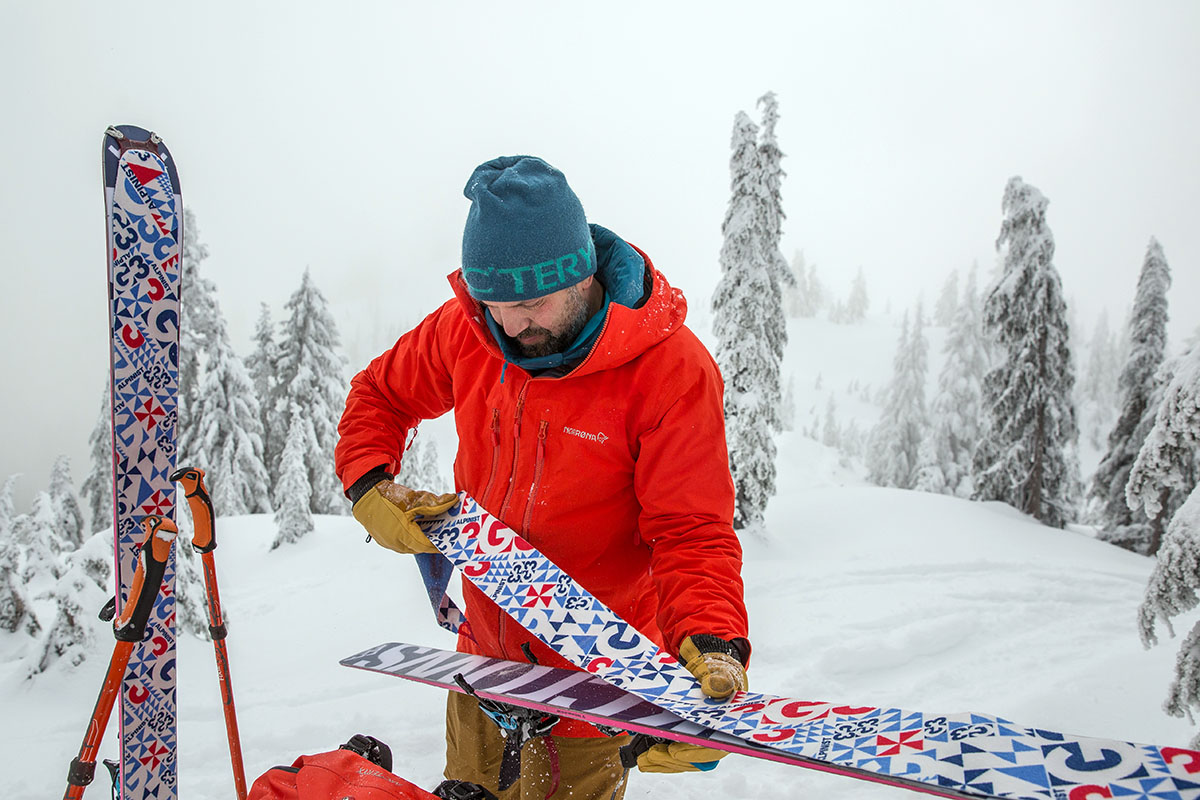 Where Norrøna falls short is in variety. It's true that their Lofoten collection is extensive and includes a number of insulated and non-insulated Gore-Tex designs, but most of their other pieces (including the Trollveggen) aren't ski-specific. To be sure, we consider that jacket a great all-around hardshell, but it lacks functional features like interior storage and a powder skirt. In other words, those looking for resort-ready gear can find more options elsewhere (Patagonia and Helly Hansen have a number of insulated models at more reasonable price points). But for serious mountain pursuits and committing alpine environments, Norrøna is a good brand to have on your radar and one of the most well-rounded Arc'teryx alternatives.
Location: Aspen, CO
Popular products: Capitol, Pyramid
What we like: Distinctive styling, high-quality materials, and local roots.
What we don't: Lineup isn't as extensive as those of larger brands.
Located at the base of Aspen Highlands Resort in Colorado—known for its infamous and expert-rated Highland Bowl—Strafe Outerwear is a technical apparel specialist with strong backcountry roots. Their Pyramid shell and Capitol Pant have been some of our favorite designs for off-piste use and nicely balance breathability and mobility—all while packing in more comfort than similar Gore-Tex-equipped options like the Arc'teryx Sabre and Black Diamond Mission kits. To be sure, Strafe's proprietary waterproofing is less weather-worthy than Gore-Tex and even falls short of OR's AscentShell membrane, but for those living in places with dry powder (including states like Colorado and Utah), the tradeoff in comfort is worth it.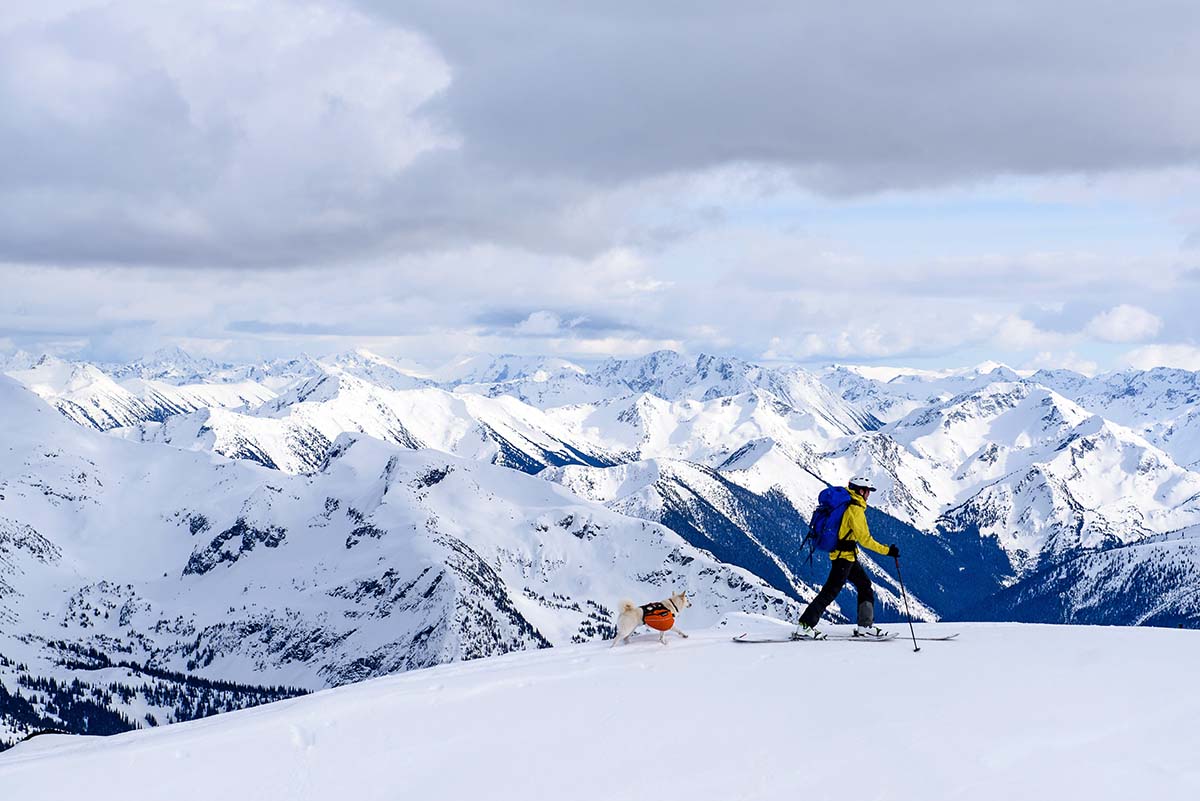 Strafe is relatively new to the scene (their first products were launched in 2010), which means you don't get the proven track record of brands like Arc'teryx and Patagonia that have been around and innovating for decades. This also translates to a less extensive lineup, including six jackets and four pant/bib designs at the time of publishing. But if you need a comfy backcountry set-up or frequently explore the sidecountry and alpine bowls at your local resort, Strafe is a good brand to have on your short list.
Location: Kent, Washington
Popular products: Powderbound, First Chair
What we like: Good bang for your buck and enticing member benefits.
What we don't: Limited selection and not a performance leader.
Major outdoor co-op REI jumped into the ski outerwear market last winter with a small collection of resort-focused pieces, and we've been pleasantly surprised by the overall value. Their Powderbound Insulated Jacket, for instance, costs just $199 but includes a waterproof build, cozy 80-gram synthetic insulation around the core and 60-gram in the sleeves, great organization, and functional features like a powder skirt and pit zips. The First Chair GTX is a step up pricewise at $299 but boasts more premium Gore-Tex waterproofing (not commonly found at this price point), a smooth interior, and a host of sustainability measures highlighted by recycled, bluesign-approved materials and a PFC-free DWR coating. Both lineups also include matching pants/bibs that share the same basic design and affordable pricing.
In addition to value, another big reason to shop at REI is their well-established member program, which includes benefits like a yearly dividend (you get 10% back on all full-priced items), access to Garage Sales, and discounts on gear rentals and shop services. We also appreciate the brand's ever-growing focus on sustainability, community initiatives, and conservation efforts. You don't get the same painstaking attention to detail or top-notch finishes as you do from brands like Arc'teryx or Patagonia—for example, the Powderbound is only critically seam-sealed, and the First Chair's 2-layer build sacrifices some breathability. But REI's recent foray into ski apparel has been a very promising one, and we're eager to see what they come up with next.
Location: Boulder, Colorado
Popular products: Copper, Field, Titan
What we like: Time-tested track record and nice variety of apparel, including race suits.
What we don't: Dated designs and styling.
Another Colorado brand, Boulder-based Spyder offers a respectable ski apparel collection ranging from insulated resort designs to premium hardshells. On the former end of the spectrum, the Copper Insulated Jacket is one of the brand's most popular pieces with Spyder's in-house waterproofing and synthetic PrimaLoft insulation, in addition to all the features we look for in an inbounds-focused piece—an adjustable and helmet-compatible hood (that's also removable), powder skirt, and functional storage. With roots in the ski racing world (Spyder is still a go-to company for race suits), the brand now appeals to a wider market of resort-goers and sidecountry explorers alike.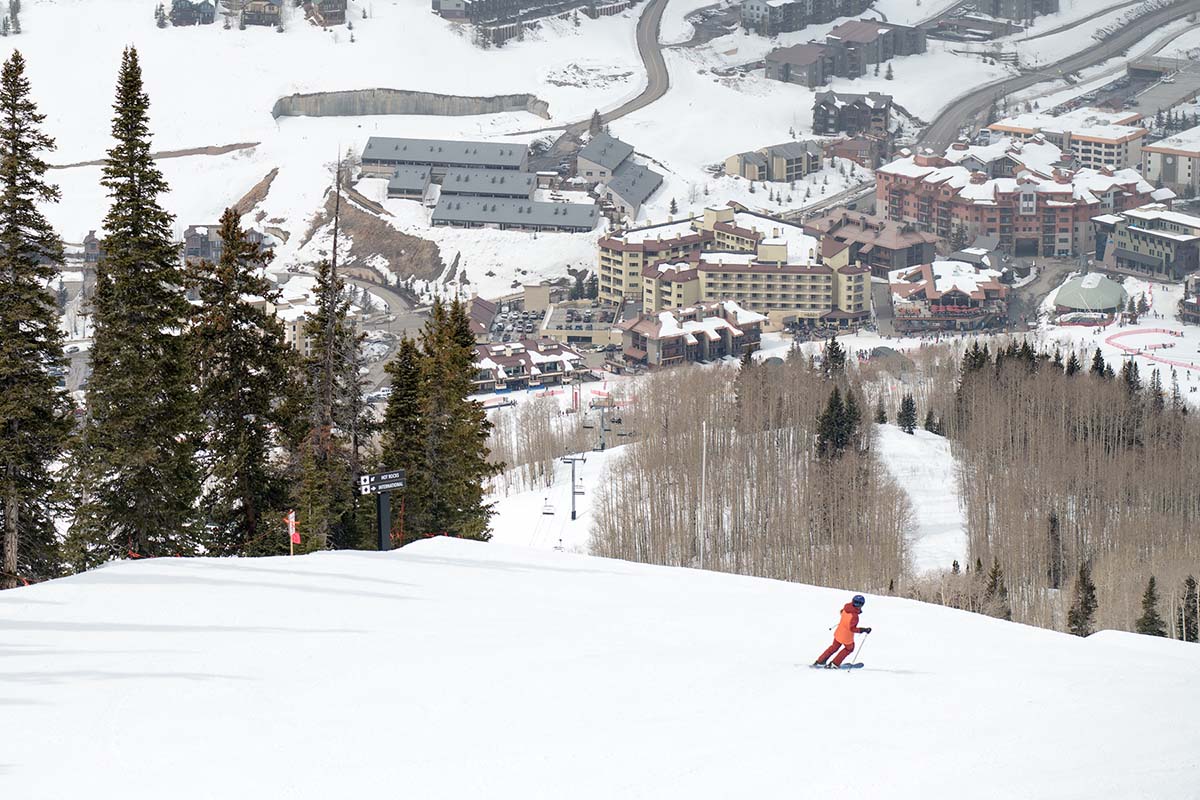 Similar to Obermeyer, Spyder products used to be a common sight at resorts in the early 2000s—their signature logo was ubiquitous on the slopes—but their styling hasn't gone through much innovation since. In other words, much of Spyder's lineup feels dated in this day and age, and the brand seems to have lost some of their footing in the resort market. The level of design and craftsmanship is still evident, but the fairly steep price tags and outmoded designs now fall short of the more modern competition.

Where to Buy Ski Apparel
We love supporting our local gear shops, but in the case of ski apparel, buying online often brings convenience and a wider selection of manufacturers, colors, and sizes. Web-based Evo (the company also has six flagship stores across the west, plus one in Canada) is one of our go-to retailers—especially for winter—with helpful online staff, large array of ski apparel and accessories, and free shipping. Backcountry also excels in the outerwear market, with some of the best variety of brands and available colors/sizes (as well as free shipping on most items). In addition, we've seen REI Co-op make a strong push in ski apparel in recent years, adding smaller companies like Strafe and Norrøna. Plus, you get the convenience of their nationwide stores and well-documented return policy and member benefits (10% back for full-priced items). Finally, a number of the companies above have modern websites that allow you to access their full collections, including Patagonia, Arc'teryx, Outdoor Research, The North Face, and more.
Learn More About Ski Gear