Superzooms, also called bridge cameras, continue their strong rise in popularity, offering the look and feel of a DSLR is an easy-to-use package that doesn't require changing lenses. Of course, the star of the show is the powerful zoom, which consistently tops 1000mm even at the budget end of the spectrum. The Achilles heal is the relatively small 1/2.3" image sensor found in entry-level models—the same as most other point-and-shoots—but these cameras make up for it in features. Below are our picks for the best superzooms of 2016, and you can see our detailed buying advice below the picks.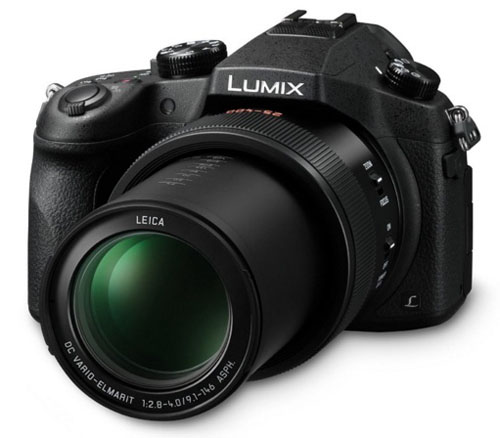 Zoom: 25-400mm
Sensor size: 116 sq. mm
Megapixels: 20.1
Weight: 29.3 oz.
What we like: The whole package and a good value.
What we don't: Some people may want more zoom.
It's very competitive at the top of the superzoom field, but we like the FZ1000 from Panasonic best. With this camera you get the same large 1" sensor as the Sony RX10 II below, double the zoom at 400mm, and the FZ1000 is about $600 cheaper. Both cameras shoot 4K video at 30 fps (they are the only cameras on this list to shoot 4K). The Sony RX 100 II does have a faster lens with a constant maximum aperture of f/2.8 instead of f/2.8-4, but that doesn't make up for the significant price difference in our opinion. Both are top-notch cameras, but the FZ1000 simply is a better value.
Who should consider the Panasonic FZ1000? It can be an all-in-one replacement for a digital SLR, and in particular, an intriguing option for travelers. 400mm is ample zoom for most normal telephoto uses and the image sensor is considerably larger than most other superzooms in the field. We don't love the nearly 30-ounce weight of this camera, which is on par with many cameras with interchangeable lenses. But the FZ1000 certainly is more convenient as you won't need to carry and change out multiple lenses.
See the Panasonic Lumix FZ1000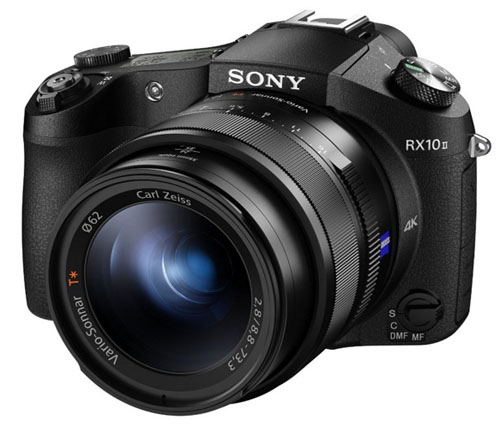 Zoom: 24-200mm
Sensor size: 116 sq. mm
Megapixels: 20.2
Weight: 28.7 oz.
What we like: Large sensor and superb optics.
What we don't: The high price and only 200mm of zoom.
Sony has dominated most of the non-DSLR camera market for the past few years, but they haven't reached the apex of the superzoom category. The RX10 II is impressive but $1,300 is a lot to spend for a bridge camera, even if it has a large sensor and fast lens. If the high price isn't enough to sway you toward our top pick above, the 24-200mm lens on the Sony RX 10 II has significantly less reach (200mm) than the Panasonic FZ1000 (400mm).
If cost is no issue, however, the Sony RX10 II is an excellent superzoom camera. It excels in low light—more so than any other model on this list—and images are sharp thanks to the Carl Zeiss f/2.8 lens. You also get 4K video and a very cool super slow motion function that allows you to shoot 1080p video at an incredible 960 fps. But for our $1,300, we would buy a mirrorless camera like the Sony a6000 with a telephoto lens. The total price and weight would still be less than the RX10 II. 
See the Sony RX10 II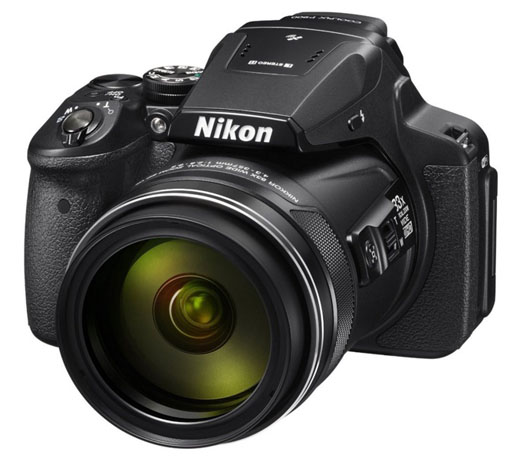 Zoom: 24-2000mm (that's not a misprint)
Sensor size: 28 sq. mm
Megapixels: 16
Weight: 31.7 oz.
What we like: Incredible zoom range.
What we don't: Small image sensor.
The spec sheet on the Nikon P900 requires a double take: a lens with an 83x optical zoom that equates to 24-2000mm on a 35mm camera. Taken together with the relatively small 1/2.3" sensor, those are two extremes to say the least. This is longest zoom of any fixed lens camera on the market, and for $600, the P900 is an intriguing option for birdwatchers and other telephoto enthusiasts looking for an easy-to-use setup.
All in all, the P900 is a fun camera that serves its purpose and should make most people happy (so long as you don't have unrealistic expectations). It shoots up to 2000mm with reasonable sharpness, the camera has image stabilization for hand-held photos, and autofocus is respectable for a superzoom. Any camera with a 1/2.3" sensor will have resolution limitations, and particularly if you plan on making large prints. But for non-professional birders and wildlife photographers, the P900 is a nice one-camera solution. 
See the Nikon Coolpix P900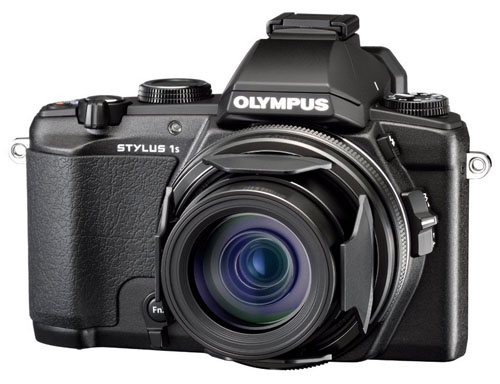 Zoom: 28-300mm
Sensor size: 43 sq. mm
Megapixels: 12
Weight: 14.2 oz.
What we like: Lightweight and compact for a superzoom.
What we don't: Smaller sensor than the two cameras above.
Perhaps the most impressive characteristic of the Olympus Stylus 1s is its weight. At only 14.2 ounces, it's one of the lightest bridge cameras on this list yet packs a very respectable 28-300mm lens and 1/1.7" image sensor. This all equates to big-time zoom and good resolution in a relatively small package. To put things in perspective, each of the cameras above weighs twice as much as the Olympus Stylus 1s.
Despite all the positives, the Stylus 1s does have limitations. You don't get massive zoom capabilities like the Nikon P900, and you don't get the extra large 1" sensor of the Panasonic FZ1000 and Sony RX10 II. This makes the camera a "tweener" compared to other high-end and mid-range options. What may bump it over the top is the f/2.8 maximum aperture, which adds solid low light performance to the mix. 
See the Olympus Stylus 1s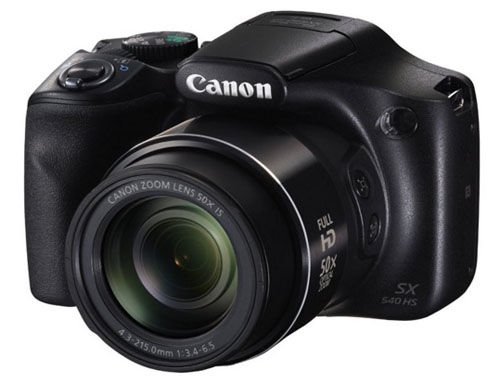 Zoom: 24-1200mm
Sensor size: 28 sq. mm
Megapixels: 20.3
Weight: 15.6 oz.
What we like: A great mid-range option.
What we don't: Pricey because it's a new model.
Canon has been a central player in the superzoom market for years, and the SX540 HS is their latest and greatest mid-range rendition. The main specs are impressive: 20 megapixels of resolution and 1200mm of zoom in a relatively light 15.6-ounce body. You also get nice features like image stabilization and built-in Wi-Fi for transferring and sharing images.
What makes this camera our top mid-range superzoom is Canon's easy-to-use functionality and consistent quality. People generally are very happy with their Canon purchases, and this camera comes from a long line of successful models. We wish the image sensor was larger, but Canon has covered most other bases with the SX540 HS, including a boost in megapixels from the older version. For those looking to save, the SX530 HS is now selling at a significant discount. 
See the Canon PowerShot SX540 HS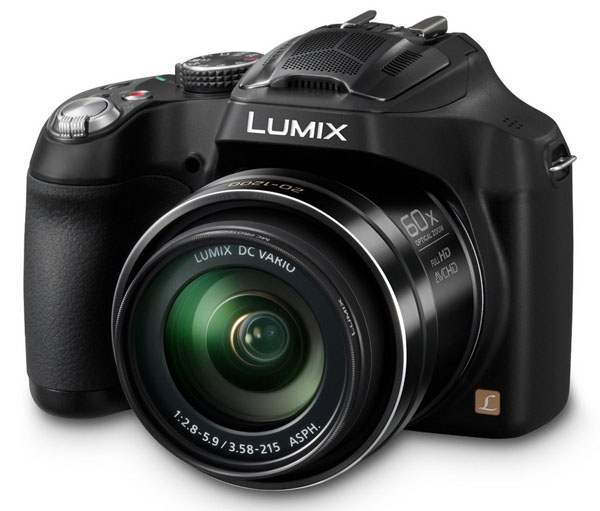 Zoom: 20-1200mm
Sensor size: 28 sq. mm
Megapixels: 16.1
Weight: 21.4 oz.
What we like: 1200mm of zoom for just over $300. 
What we don't: Light on features.
The FZ70 from Panasonic isn't young by any means—it was released at the end of 2013 and therefore is a couple years old and counting. And we have seen some significant price fluctuations over the past year that can make it more or less attractive. But for a superzoom camera in the $300 price range, we love the image quality. You get more zoom than the true entry-level options at the bottom of this list at a cheaper price than most mid-range models. The FZ70 isn't terribly heavy on features—video speeds are limited and the camera doesn't have Wi-Fi—but Panasonic superzooms do very well in terms of image and video quality. All in all, we like this camera at $330, but would like it even more if the price were to drop. 
See the Panasonic Lumix FZ70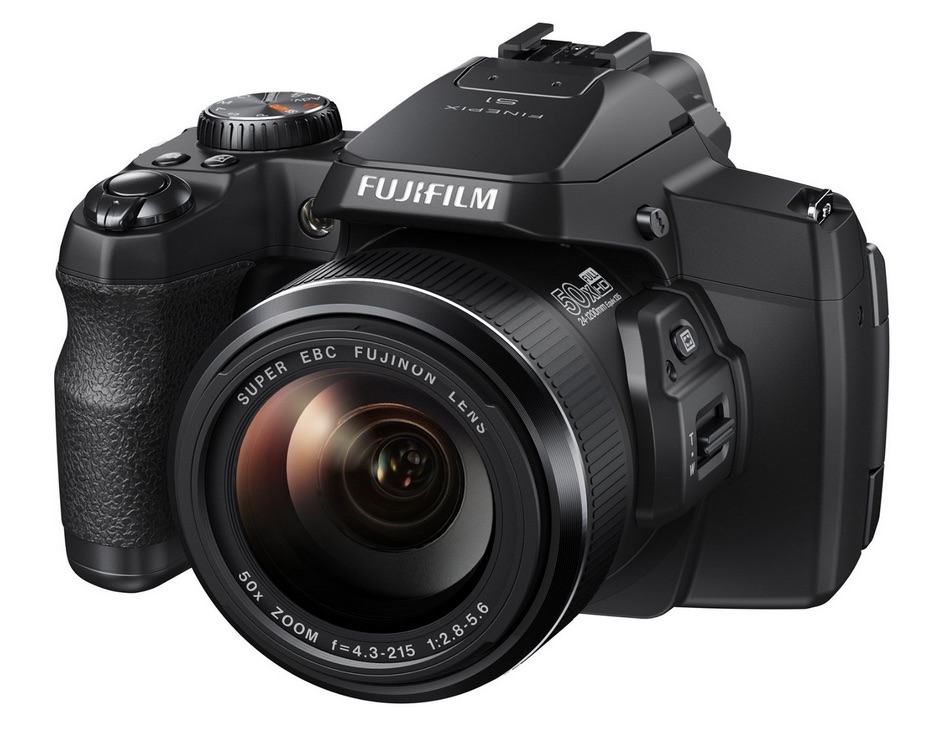 Zoom: 24-1200mm
Sensor size: 28 sq. mm
Megapixels: 16.4
Weight:
What we like: Weather sealing and electronic viewfinder. 
What we don't: Fujifilm isn't known for video quality.
The image sensor here is similar to the cameras above, but at well over $300 we are getting into some serious features. For all of you travel and outdoor photographers out there, the Fujifilm S1 is weather-sealed for protection from the elements (this is usually only available on high-end mirrorless cameras and DSLRs). It also boasts a fast f/2.8 lens, a handy electronic viewfinder, and image stabilization for better hand-held photographs. This all adds up to a fantastic camera for those who want the convenience of a superzoom without sacrificing on functionality. One gripe is that the video quality produced by the S1 is subpar, but that's not why most people choose this type of camera in the first place.
See the Fujifilm FinePix S1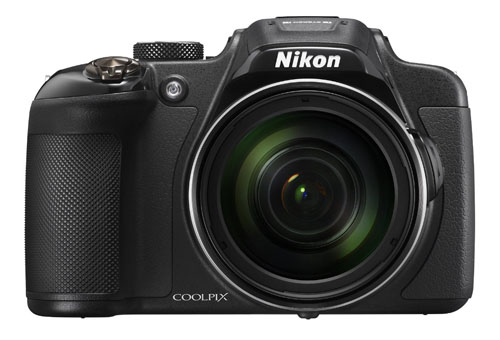 Zoom:  24-1440mm
Sensor size: 28 sq. mm
Megapixels: 16
Weight: 20 oz.
What we like: Electronic viewfinder and long reach at 1440mm.
What we don't: Small sensor.
Like the Canon SX540 HS above, the Nikon P610 is one of the leading mid-range superzooms on the market. With this camera you get many of the features and functionality of high-end models such as a swiveling LCD, built-in Wi-Fi and GPS, and perhaps most importantly, an electronic viewfinder (that's a very nice feature to have for those who don't like shooting off the rear LCD screen). Where the P610 falls short of the top of the pack is resolution: the camera has a small 1/2.3" image sensor and an f/3.3-6.5 lens that isn't fast enough for some lighting conditions. We still think you get a whole lot of functionality for the price, which may drop even further with the 2016 release of the new Nikon B700. 
See the Nikon Coolpix P610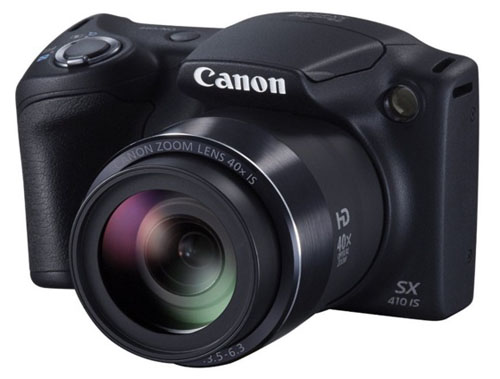 Zoom: 24-960mm
Sensor size: 28 sq. mm
Megapixels: 20
Weight: 11.5 oz.
What we like: Big zoom, light, and inexpensive.
What we don't: Rear LCD could be improved.
Canon has done a really nice job over the years with their entry-level bridge cameras, and with the 2016 release of the SX420 HS, the older SX410 HS currently is a great value at under $200. What are the differences between the two models? The SX420 HS got a small boost in zoom power from 960mm to 1008mm, and Canon added Wi-Fi and NFC connectivity to the mix (this is now fairly standard on new cameras). If these features are important to you, the new model is fresh to the market and selling for $299. We recommend saving with the older version, which we think is a better deal. All in all, both are great superzoom cameras for those on a budget.
See the Canon PowerShot SX410 HS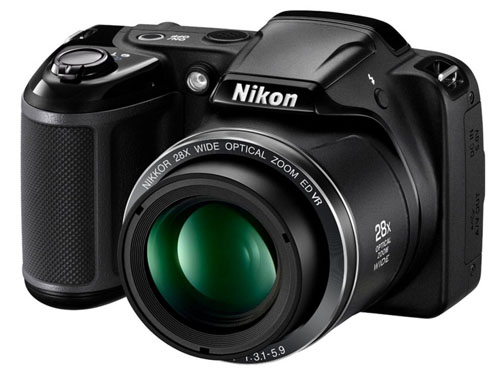 Zoom: 24-960mm
Sensor size: 28 sq. mm
Megapixels: 20.2
Weight: 15.2 oz.
What we like: A good superzoom option for those on a shoestring.
What we don't: Requires 4 AAA batteries.
At the cheapest end of the superzoom spectrum is the Nikon Coolpix L340. With this camera you don't get features like built-in Wi-Fi, 1080p video, or a swiveling LCD screen, but it does offer 960mm of zoom. Overall, the image quality produced by the L340 is in line with what you might expect from a camera in this price range. Photos in normal light generally are good but the camera is not a great low light performer and autofocus isn't as advanced as pricier superzooms on this list. For still photography in daylight hours, the Nikon L340 is a nice budget option. Those who plan on shooting stills in challenging conditions or who want 1080p or 4k video should look elsewhere.
See the Nikon Coolpix L340
 
 
Superzoom Comparison Table


Buying Advice

What Exactly Is a Superzoom?
A superzoom is a type of point-and-shoot camera that, as the name implies, features an extra long zoom range. There isn't a strict definition of superzoom, but in many cases you'll see an optical zoom of 1000mm or more (some high-end models have less zoom but better lenses and more features) and a body that more closely resembles a DSLR than a compact. A key distinction is that superzooms do not have interchangeable lenses like mirrorless cameras or digital SLRs. They are extremely popular for travel, wildlife photography and other uses that require a wide variety of focal lengths.
All superzooms under $500 or less have a 1/2.3" image sensor that is the same size as most entry-level point-and-shoots. This means that although you will get more zoom power than a DSLR and a similar feel, overall image quality unfortunately can't compete. That said, the lenses in this category are extremely impressive and most people choose a superzoom for its convenience and ease of use. You won't have to carry a large camera bag with multiple lenses and spend time switching them out. Instead, superzooms are an all-in-one solution that can capture just about any situation you encounter. 
 
Zoom Range
Most people shopping in the superzoom category want big-time zoom without having to deal with the cost and headaches of interchangeable-lens cameras. As an added bonus, bridge cameras actually can offer more zoom than DSLRs. For example, most crop sensor Nikon and Canon telephoto lenses max out at 300mm (equivalent to 450mm and 480mm, respectively), and you'll have to spend more for specialty lenses to get a boost from there. 
The top camera on this list, the Panasonic FZ1000, has a zoom equivalent to 400mm on a 35mm camera. When you start moving down the list and looking at superzooms with smaller sensors, zoom capability skyrockets all the way up to a whopping 2000mm on the Nikon P900. That's impressive to say the least.
The best choice for you depends on your intended uses. For travel photography, 400mm is a very healthy amount of zoom that should cover most of your shots in a variety of situations. Wildlife photographers—and birders in particular—who shoot small subjects from long distances will want a camera with even more zoom. You will have to sacrifice in terms of low light performance, but these superzooms still perform pretty well in most normal lighting conditions.
 
Image Sensor and Megapixels
As we've alluded to a number of times in this article, the size of the image sensor plays a central role in determining image resolution and quality. All entry-level superzooms have 1/2.3" image sensors, which equates to a surface area of approximately 28 sq. mm. A couple of mid-range models such as the Olympus Stylus 1s have 1/1.7" sensors that are 43 sq. mm. Our top two picks have large 1" sensors that are 116 sq. mm.
Photographers will notice a difference between the images produced by these varying sensor sizes. A 1/2.3" sensor can capture excellent photographs, but the images won't enlarge as well (you'll start to notice graininess more quickly), they may not be as sharp, and the level or detail and color rendition will drop. Again, any camera on this list is capable of taking great photographs, but a larger sensor will help your images look more professional.
Megapixels matter too, but not as much as marketers would lead you to believe. We always take note of megapixels, and particularly if other specs between two cameras are similar. But they rarely are a deciding factor and we think that the size of the image sensor is more important.
 
Low Light Performance
Low light performance correlates strongly with price and the superzoom category is no exception. Two central factors to consider when evaluating a camera's low light performance are the aperture range of the lens and ISO sensitivity of the camera itself. In terms of the lens, we make the "professional" cutoff at f/2.8, and you'll notice that the cameras at the top of this list meet the criteria. A fixed maximum aperture of f/2.8 is best, with many mid-range and entry-level superzooms falling off toward the telephoto end. Along with ISO sensitivity, these factors are most important in determining your camera's low light performance.
Travel and wildlife photographers who plan on shooting in dim natural light should consider a superzoom with superior low light performance (and unfortunately a higher price tag). If you plan on shooting most of your photos during daylight hours, you likely can get away with a mid-range or entry-level model. And remember that image stabilization helps, as can a tripod. It's difficult to shoot at dawn and dusk by hand no matter the aperture or ISO, so turn on image stabilization and add a tripod for less camera shake.
 
Weight
By definition, superzooms are DSLR-like in appearance, which also translates to their weight. On the list the cameras range from 11.4 ounces (the entry-level Canon SX410 HS) up to 31.7 ounces (the Nikon P900 with 2000mm of zoom). Generally, people don't choose superzooms for their low weight but there is notable differentiation between models. The good news is that with a superzoom, you have a complete camera set-up without the need to buy and carry separate lenses. Your camera bag will be smaller and they are simply easier to operate and pack away.
For those who really want a lightweight camera with big zoom, there is a relatively new breed of compact superzooms that more closely resemble regular point-and-shoot cameras. These cameras have the body of a normal compact but with a special lens designed to reach 30x zoom or more. Depending on the camera, the image quality can be questionable due to the small size of the internal components and lenses. Two of the best compact superzooms on the market are the Canon SX710 HS (25-750mm) and the Nikon Coolpix S9900 (25-750mm).
 
What About DSLRs and Mirrorless Cameras?
Superzooms are convenient, but it's logical to question whether you should buy a digital SLR or mirrorless camera instead. First, both DSLRs and mirrorless cameras have interchangeable lenses, which you'll have to consider in your cost and weight calculations. Second, most normal telephoto lenses from brands like Nikon and Canon max out at 300mm (equivalent to 450mm and 480mm on a 35mm camera, respectively).
For these reasons, most people who buy superzooms do so primarily for the convenience. Some are professional photographers looking for a simpler setup, and some are amateurs who want to save money or shoot without worrying about carrying a camera bag and changing lenses. The downside of superzooms comes with the smaller image sensors and lower resolutions, but these are sacrifices that many people feel are offset by the conveniences.
The bottom line is that if you want professional-grade images and plan on making large prints, you should consider an interchangeable-lens camera or one of the top two cameras on this list (both have 1" sensors and fast lenses). Amateurs and enthusiasts who don't need that level quality or want to save should be happy with the other models.  
Learn More About Photography